20 Modern Wedding Dresses for the Unconventional Bride
From down the runway at New York Bridal Fashion Week to down the aisle of your wedding.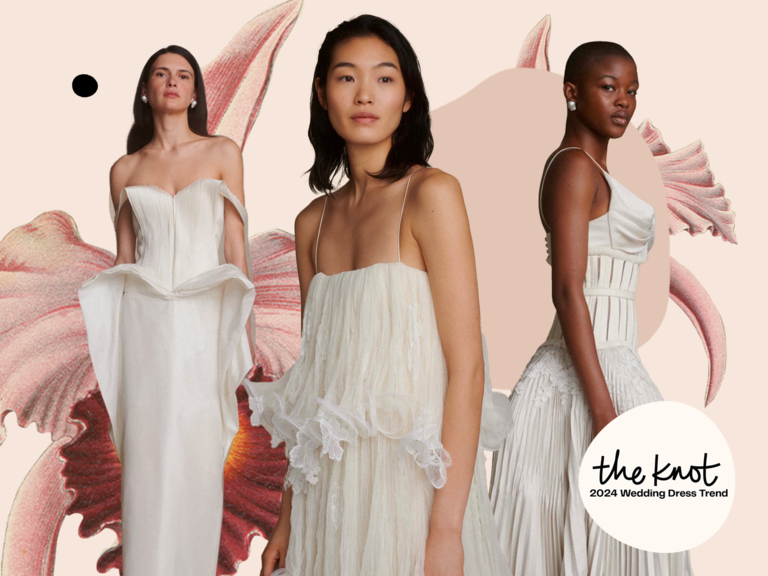 Photos: Danielle Frankel,Design: Tiana Crispino
We have included third party products to help you navigate and enjoy life's biggest moments. Purchases made through links on this page may earn us a commission.
For to-be-weds searching for a little something new in the world of wedding fashion, this spring's New York Bridal Fashion Week provided more than its fair share of inspiration. Modern wedding dresses took center stage in new ways than ever before, and emerged as one of the top wedding dress trends for 2024. To our pleasant surprise, it was up-and-coming brands like Danielle Frankel, Cinq and Varca who led the way through innovation, embracing both avant-garde and architectural elements in their designs. While these looks might not have been for the faint of heart, for the unconventional bride and fashion fanatic alike, they were welcomed with open arms.
The truth is that when it comes to wedding attire, there's no one size fits all option. A classic bridal look might not fit your personality, and that's okay! If you're a bride hoping to push the boundaries of tradition on your big day, the good news is that there are so many unique and modern wedding dresses on the market right now. Keep reading to discover 20 of our favorite shoppable looks inspired by the runway. Then, head to our bridal salon directory to find out where you can try them on in person.
What Does Avant-Garde Mean? (And What Does It Mean for Modern Wedding Dresses?)
In terms of fashion, avant-garde styles tend to embrace experimental elements, whether it be through unique structure, texture or silhouettes. With many modern brides on the search for a non-traditional wedding dress, we've seen more and more brands introduce these aesthetically innovative designs in recent years. Danielle Frankel's Daphne gown, which features dramatic structural elements as part of its skirt, and Cinq's Gayle dress, which offers a deconstructed take on the classic bridal ball gown, are just a few examples of the artistically off-beat pieces we observed at New York Bridal Fashion Week this spring that are paving the way for the future of bridal design.
Our Favorite Avant-Garde Modern Wedding Dresses for 2023-2024
Danielle Frankel Daphne Gown
Structure with a bit of sass—the Daphne gown is a bold bridal pick we love. A piqued bust and origami-like folds made from hand-tucked silk taffeta set the strapless column gown apart.
Size Range: 0 - 12
Price at time of publish: $6,490
Cinq The Madelena Dress
The Madelena dress offers Gilded Age glamor with a modern twist. Made from duchess satin, the deconstructed mini dress features dramatic puff sleeves, a bustier bodice and elegantly draped sashes that extend from the waist.
Size Range: Custom
Price at time of publish: Varies
Lola Varma Romi Gown
This fashion-forward look gives the term 'understated' a whole new meaning. The sleek slip dress is topped off with a structural sheer overlay that makes for an eye-catching yet subtle bridal ensemble.
Size Range: Custom
Price at time of publish: Varies
Vivenne Westwood Audrey Gown
This old Hollywood-inspired look will bring the best of the silver screen to life for your big day. The ivory silk column gown boasts a myriad of Vivienne Westwood's iconic broken pearls that cascade from the neckline down the bodice.
Size Range: Custom
Price at time of publish: Varies
Cortana Arianne Top, Skirt and Jacket
This three-piece set allows for countless ways to switch up your look throughout the day, which is great news if you're a bride who loves options. You can pair the strapless top and skirt with the structured cape for your grand entrance, then remove it to free up your arms for dancing.
Size Range: Custom
Price at time of publish: Varies
Cinq The Gayle Dress
As a modern take on a classic ball gown silhouette, the Gayle dress rewrites the rules when it comes to bridal attire. A layer of distressed fabric adds an element of deconstruction to its grand full skirt.
Size Range: Custom
Price at time of publish: $850
Reev Bridal Clementine Gown
You'll feel like you've time traveled into the future when you step into this unique look. The mock neck cape, made from soft satin crepe, features geometric cutouts, an open back, and a dramatic draped train.
Size Range: Custom
Price at time of publish: $850
Danielle Frankel Wren Gown
For brides hoping to capture an ethereal look for their big day, the Wren gown is our go-to. Its strapless column silhouette features tiers of tulle trimmed in hand appliquéd chantilly and corded lace that will create a sense of movement as you walk down the aisle.
Size Range: 0 - 12
Price at time of publish: $8,990
Vivienne Westwood Georgiana Gown
This regal gown brings the Georgian era to life in the 21st century. Inspired by the Duchess of Devonshire, the 18th-century style gown is made modern through pearl embellishments and colorful 3-dimensional flowers made from recycled plastic.
Size Range: Custom
Price at time of publish: Varies
Christie Nicole Pixie Gown
Looking for a wedding gown that pulls out all the stops? The Pixie gown is for you. Made from soft pleated tulle, its plunging V-neckline and voluminous frilled sleeves that are reminiscent of angel wings are guaranteed to turn heads for all the right reasons.
Size Range: Custom
Price at time of publish: $8,250
Danielle Frankel Aria Gown
The Aria gown incorporates elements of traditional bridal attire in a way that's entirely unique. Its streamlined silhouette is met with eye-catching statement sleeves made from Chantilly and corded lace appliqué.
Size Range: 0 - 12
Price at time of publish: $6,990
Varca The Vivienne Gown
Inspired by Vivienne Westwood, this namesake gown embraces the modern punk style the designer was known for. An oversized floral motif on the bodice makes a bold statement against a delicate organza skirt.
Size Range: Custom
Price at time of publish: Varies
Sandra Mansour Vibration Dress
This futuristic mock neck gown is guaranteed to bring the drama on your big day. Silver lace, champagne-colored satin and geometric side cutouts meet to create a unique otherworldly look.
Size Range: Custom
Price at time of publish: $3,196
Maticevski Arrival Gown
Equal parts wedding dress and architectural display: This pick is certainly one to remember. The modern gown features an off-shoulder neckline, asymmetric sleeves and a structural skirt that extends into a train.
Size Range: 2 - 10
Price at time of publish: $2,620
Danielle Frankel Remy Gown
Here's a pick that's anything but ordinary. With a ruched sweetheart neckline, exposed corset waist and umbrella pleated skirt, the Remy gown offers a contemporary take on a classic bridal look.
Size Range: 0 - 18
Price at time of publish: $9,890
Cinq The Ottilia Gown
This swoon-worthy gown is an ideal pick for the modern bride and vintage lover alike. Distressed layering, an asymmetric neckline and an exposed corset on the outside of the dress are just a few of the details that make the Ottilia gown a standout pick.
Size Range: Custom
Price at time of publish: Varies
Varca Robin's Reign Gown
For to-be-weds looking to embrace bridal glam in a way that feels fresh and modern, the Reign gown is a gorgeous option. The A-line look features an off-shoulder neckline, an exposed boned bodice and bursts of feathers, pearls and crystals throughout.
Size Range: Custom
Price at time of publish: Varies
Vivienne Westwood Moonlight Gown
You're guaranteed to feel like a goddess in this Ancient Greece-inspired look. The gold silk column gown features a dramatic draped skirt, corset bodice and embellished braided chains across its asymmetric neckline.
Size Range: Custom
Price at time of publish: Varies
Rosie Assoulin Million Pleats Dress
There are about a million reasons why we love the 'Million Pleats Dress'. To start, its classic A-line silhouette is made modern by structured pleating, offering an elegant yet understated look.
Size Range: Custom
Price at time of publish: $3,495
Varca The Aries Gown
Vintage meets modern with the Aries gown. A 1920s inspired drop-waist bodice is met with a structured tulle skirt that extends into a dramatic train. Talk about a showstopper.
Size Range: Custom
Price at time of publish: Varies