Seattle, Washington $10K Budget Challenge Wedding
Sure, we know the average wedding will run about $27,000, but that didn't stop us from asking wedding planners all over the country to accept TheKnot.com $10K Budget Challenge. Here, Sandra Watson of Go2Girl Event Planning & Design shows us how to do it in Seattle.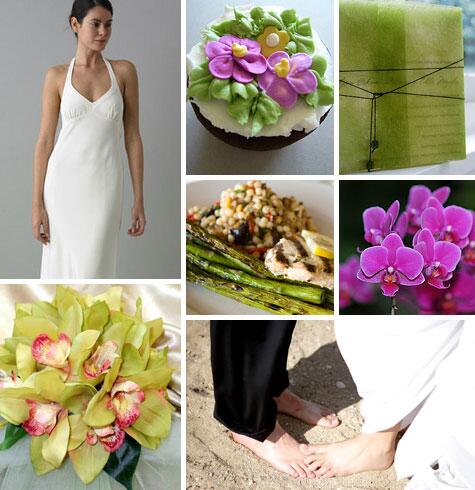 The Setting
Your wedding will be a day at the beach: laid-back, relaxed, casual, and comfortable. The indoor, Sound-side ceremony will be followed by a dinner reception for 100 guests in the same location.
The Ceremony
The ceremony will take place at 1 p.m. at Golden Gardens Bathhouse, a Seattle beach venue with views of Puget Sound and the Olympic Mountains. Eight chairs will be set up for family in the front row -- all other guests will stand for the short, sweet ceremony. Create an aisle: Sprinkle pale green rose petals down a pathway. Hire Jonny Akamu Haglund to play romantic Hawaiian-style music on the guitar.
The Bouquets and Boutonnieres
Floral designer Raul Ramirez of Metropolitan Market will provide the flowers. In lieu of a bouquet, wear purple dendrobium orchids in your hair. Your groom can don a purple and green orchid on his lapel. Also, provide boutonnieres for your dads and corsages for your moms.
The Officiant
Have a friend get ordained online for free with the Universal Life Church Monastery (TheMonastery.org). A friend's casual and warm presence is perfect for a laid-back ceremony.
The Stationery
Check out Yumminess, an invitation line that allows you to save some dough by doing the assembly work yourself. Everything is precut and printed, and all the supplies are provided for you.
The Attire
An early afternoon beachside wedding calls for a simple, flirty, and comfortable gown. A great example: the Sophia dress from J.Crew. The groom can go casual in his own light khakis and pair them with a new, good-quality shirt, such as one from the Alfani line at Macy's.
The Transportation
With your ceremony and reception held in the same place, you won't need to be whisked around all day. Ask a friend or family member with a great ride to drive you to and from the event.
The Reception
For the reception, guests will enter the bathhouse, where they'll find tables (provided by the bathhouse) topped with white linens. For beach-themed table decor, lay loose tropical-looking orchids in the center, sprinkle petals and beach sand with a hint of glitter, and create romantic lighting with candles in Glassybaby votive holders.
The Reception Dinner
Play up the laid-back feel with a summer-themed meal of hors d'oeuvres from Ravishing Radish Catering. Instead of a full bar, stick to wine. Offer a white option and a red option from Esquin Wine Merchants.
The Reception Music
Ask the ceremony guitarist to play for the first 30 minutes of the reception. Then, have a string duo from Emily & Friends take over.
The Photography and Videography
Professional photography is a must! Have Georgie Hockett of 25th Avenue Photography cover three hours of your wedding -- that'll be enough to capture your ceremony, portraits, and key highlights.
If you can't live without a video of your nuptials, let close family members or friends capture the day. The personal touch is priceless.
The Wedding Cake
Mini cupcakes are a fun substitute for a traditional, tiered confection. Check out Look Cupcake. Two flavors you should be sure to include: summery lemon cake with strawberry filling and chocolate cake with whipped ganache.






Ceremony: $1,904.00
Marriage license: $64
KingCounty.gov for info
Site rental ($150/hour for 8 hours): $1,200
Staff fee: $160
Site booking fee: $20
Alcohol permit: $60
Maintenance fee: $150
Golden Gardens Bathhouse, Seattle.gov/parks
Officiant: $0
TheMonastery.org
Guitarist (2.5 hours): $250
Jonny Akamu Haglund, EmilyandFriends.com
Flowers: $337.21 (includes tax)
Petals for aisle: $150
Petals for tables: $50
Orchids (for your hair): $10
Boutonnieres: $23.97
Corsages: $43.98
Stems of orchids (15): $30
Metropolitan Market, Metropolitan-Market.com
Reception: $6,087.17
Hors d'oeuvres: $1,800
Staffing, delivery, set-up, and taxes: $3,114.36
Ravishing Radish Catering, RavishingRadish.com
Wine (2 cases, includes tax): $223.42
Esquin Wine Merchants, Esquin.com

Mini cupcakes (12 dozen): $198
Cupcake tower rental: $50
Look Cupcake, LookCupcake.com
Linen rental (includes tax, delivery, and pick-up): $230.46
Grand Event Rentals, GrandEventRentalsWA.com
Votive holders (20): $110
Glassybaby, GlassyBaby.com
Votive candles (24): $6.56
IKEA
Glitter: $4.37
Jo-Ann Fabric and Craft Stores
String duo (1.5 hours): $350
The Fremont Duette, EmilyandFriends.com
Photography & Videography: $770
Photography (3 hours and hi-res USB photo stick): $770
Georgie Hockett, 25thAvenuePhotography.com
Videography: $0
Ask a friend!
Stationery: $218.70
50 invitations: $174.70
Yumminess, Yumminess.net
Postage (for invitations and reply cards): $44
USPS.com
Attire: $418.36 (includes tax and shipping)
Wedding dress: $343.28
Floral flip-flops: $33.34
JCrew.com
Alfani textured microfiber shirt: $41.74
Macys.com
Transportation: $0
Ask a friend!
Hair & Makeup: $216
Bridal hair (onsite): $110
Makeup (onsite): $70
Tip: $36
Off White Makeup & Beauty, AnOffWhiteSeattle.com
GRAND TOTAL $9,951.44
Where applicable, Seattle sales tax of 9.5% has been included in the budget and the gratuity (20%) has been included in the reception total.