The Best Credit Cards for Wedding Planning
Paying for a wedding can be challenging, but couples can use credit cards to their advantage.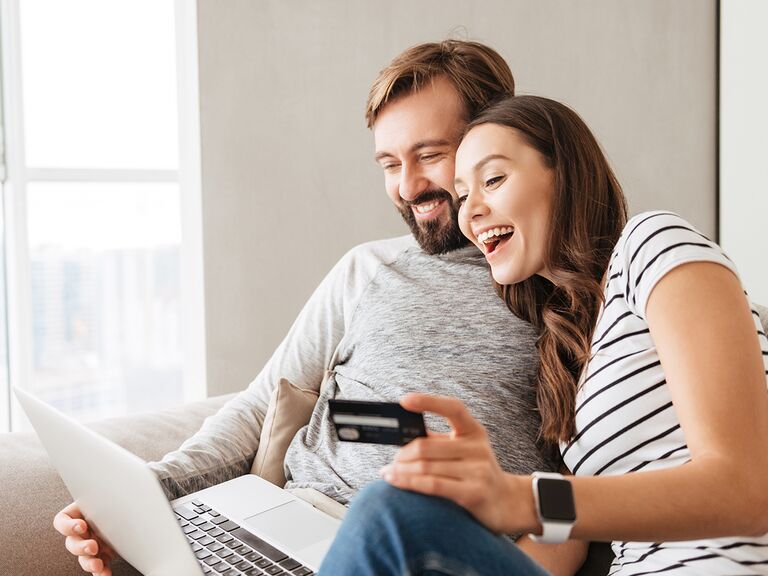 Dean Drobot/Shutterstock
It's not exactly breaking news that weddings can get very costly, very fast. Even with a global pandemic keeping most nuptials postponed or completely repurposed well into the new year, the average wedding cost usually hovers around $28,000. While some couples are getting crafty with DIYs and others making sacrifices during the planning process, many have discovered hacks and incredible savings by thinking and spending strategically with credit cards. Whether you're looking to conserve extra funds around the big day or simply saving any last cent for a honeymoon of a lifetime, using the best credit cards for wedding expenses responsibly can help make more of your dreams come true.
Can credit cards be helpful when trying to save for a wedding?
Many people grew up learning to fear credit cards. Though they can help as financial tools, credit cards can be categorized with debt and tempting options that will deter you away from your important goals when used irresponsibly.
But when used with caution and self-discipline, credit cards can be beneficial chess pieces in a larger money game. According to the author of Broke Millennial and personal finance expert Erin Lowry, "there are three common types of reward structures" to be cognitive of.
The Sign-On Bonus: "You get miles or points after you spend a certain amount of money." This could prove useful when planning your honeymoon or a destination wedding.
The Flat-Rate Cash Back: "You get a certain percentage of cash back every time you make a purchase." If you're early in the wedding planning process, this could be your best option, especially when making larger purchases.
Rotating Categories: "You get a small percentage of cash back every time you make a purchase, usually 1%. And then increased cash back in different categories each quarterly." If you're flexible with your spending, rotating categories may be a great choice for you!
Erin advises, "Your goal should be to match a credit card to your regular spending instead of changing your patterns for a specific credit card." She also gives sound advice when it comes to considering a credit card with an amazing rate — but a steep annual charge. "Many reward cards can come with annual fees that can give you a bit of sticker shock." She cautions reward-seekers to look at a credit card from every angle to see if it will fit best into your lifestyle and budget.
The best credit cards for….
Large Wedding Expenses
Before we think about traveling for the honeymoon, we have to get to the altar first. Whether it be a wedding venue cost or putting a card down for flowers, you're going to want a card with a generous sign-on bonus and cash back advantage.
Our pick for the best credit card for big wedding purchases is the Capital One Savor Cash Rewards credit card for couples because you'll get more when spending on entertainment, dining, and there's a cash bonus.
The Rewards
One-time $300 cash bonus (hello, wedding accessories or travel budget!) after you spend $3,000 on purchases within the first three months
Earn 4% cash back on dining and entertainment (like, say, a live band or DJ…), 2% at grocery stores, and 1% on all other purchases.
How It Can Help
If you start early enough in the wedding planning process, this card can be used for your major expenses like the venue, entertainment, and decor. As the cash back begins to roll in, your other purchases become less expensive, and in some circumstances, your budget may even grow.
Honeymoon or Travel Expenses
You're finally, officially each other's better half, and with wedding stress behind you, it's time to celebrate. Perhaps you're planning a European adventure or a tropical getaway for you and your love. No matter your destination, costs are never far behind. Between flight fares, lodging, tourist activities, and beyond, you're going to find yourself with a bill as high as your wedding without some foresight.
According to NerdWallet, the Chase Sapphire Preferred Card is your best bet when planning your first vacation as newlyweds.
The Rewards
80,000 bonus points after you spend $4,000 on your account within the first three months from your account opening. (That's $1,000 toward travel when redeemed through Chase Ultimate Rewards®.)
You can also earn up to $50 in statement credits that can go toward grocery store purchases.
Earn 2x the points on dining and travel, plus there are still additional travel perks!
Travel perks include no foreign access fees, partner benefits, and 1:1 point transfer.
How It Can Help
Imagine you and your soon-to-be spouse have been dreaming of a trip to Cabo after the nuptials. Should you apply for this card and get approved, you can potentially put a couple of wedding expenses toward the card and receive enough rewards to get free flights and some extra cash for groceries while you enjoy your stay.
Other good options: The Platinum Card from American Express has a generous perk package including a 100,000 point welcome bonus, $100 annual Saks Fifth Avenue credit, $100 fee credit for TSA PreCheck, $200 airline fee credit, $200 Uber savings annually, and access to over 1,300 airport lounges across 140 countries. Also, the Capital One Venture Rewards credit card is a top contender. You can enjoy a one-time bonus of 60,000 miles once you spend $3,000 on purchases within three months, earn unlimited 2X miles on every purchase, receive a $100 application fee credit for TSA Pre, and no foreign transaction fees.
Newlywed Nesting and DIY Wedding Projects
Maybe you've spent the last few weeks tuning into Netflix's Marriage or Mortgage, but even if you haven't, you're likely aware that couples can struggle when choosing between a wedding or a starter home. Even if planning to rent after "I do," newlyweds look forward to the prospect of nesting and making their house warm with decor and furniture updates.
NerdWallet encourages new homeowners and interior experts alike to look at the Bank of America Cash Rewards credit card. (Not to mention it can help with your wedding, too!)
The Rewards
3% cash back in the category of choice: gas, online shopping, dining, travel, drug stores, or home improvement/furnishings.
2% back at grocery stores and wholesale clubs like Costco or Sam's
3% and 2% back on the first $2,5000 in combined choice category/grocery store/wholesale club purchases each quarter, then earn 1%
How It Can Help
Perhaps you want to take on some DIY projects for your wedding. That means you'll be finding yourself in the aisles of craft stores and e-commerce retailers. With this card, you're able to let your money really work for you in the area that is going to be the most expensive.
Alternately, you and your partner may be planting roots in your first home together. While you may have scored that killer kitchen appliance from your registry, perhaps you came up short in other categories. This credit card can allow you to get more when spending money on those expensive bed sheets you've been eyeing since they popped the question.
Other good options: IKEA Visa Credit Card, allowing you to score 5% back on IKEA purchases, 3% back on dining, grocery, and utility spending, and 1% back on all other purchases. Additionally, the Amazon Prime Rewards Visa Signature Card can be a gamechanger. It allows for 5% back at Amazon and Whole Foods, 2% back at restaurants and gas stations, 1% back on utilities and all other purchases. Plus no annual credit card fee!
Even the best credit cards for wedding expenses should be viewed as tools and not free money. Be sure to have open conversations with your future spouse on finances and ensure you're selecting a credit card best for your lifestyle and financial goals.