Are Wedding Loans a Good Way to Cover Costs?
Join us for a class in Personal Loans 101.
by Rachel Torgerson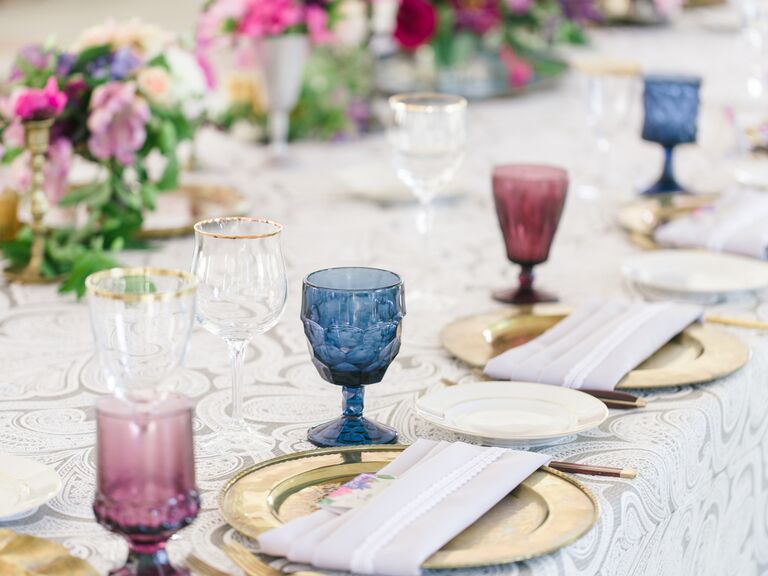 While the national average cost of a wedding is $33,931, it's important to remember that it's possible to have an amazing wedding on any budget. The keys are saving, setting priorities and sticking to the number you start with—but we're not saying it's always easy to do. For example, if you have $10,000 and you want a New York City wedding, you may have to skip the Saturday night sit-down dinner idea. No matter where you live, though, saving and paying for a wedding is an important part of the planning process.
While you may be considering taking out a personal loan or using credit to pay for your wedding, there are plenty of other ways to save on wedding costs. That said, there's a ton of information out there about paying for the wedding with personal loans or using a credit card. It shouldn't be your go-to method, but if you're considering those options, use this as a starting point.
What are "wedding loans"?
First things first: There's no such thing as a "wedding loan." You can't just walk into a bank and request a wedding loan. What we're talking about here is using a personal loan for the purpose of funding your wedding. Most financial advisers would tell you to stop here and not pursue wedding loans. "Taking out a personal loan is kind of a last-ditch effort," says Lauren Lyons Cole, certified financial planner and personal finance contributor for financial-planning website Mainstreet.com. "The problem with personal loans is that most often people are taking them out because they're trying to spend cash they don't have. I would also lump in credit card spending here, because I think a lot of people pay for wedding-related things with a credit card and they may or may not have the cash to pay it off in full." Personal loans are good to avoid spiraling into credit card debt, but maybe not as a quick fix for a down payment on your venue. That being said, taking out wedding loans isn't unheard of, and there are a few ways to go about getting a personal loan to help cover wedding costs.
Should you get a wedding loan?
This means you'd be covering your wedding costs with money you don't have, be it from a personal loan or a credit card. This is a decision to make with your partner, because it'll affect financial decisions on your marriage later. It's important to talk about whether or not that financial burden is something you want to deal with when you get back from the honeymoon.
Below is a list of the ways to cover the costs of a wedding with loans. (Again, this is just to inform you on how it's done—we don't recommend it!)
What are other ways to cover wedding costs?

Using an Online Personal Loan Company to Pay for the Wedding
A ton of Internet loan companies have sprung up over the past few years, and most offer crowd-sourced loans. Here's how it works: Online investors front money for you once you've been approved by the company in much the same way you'd be approved by a bank. Then you pay them back including interest in the same way you would a bank. A good site (read: trusted) for online wedding loans is Upstart. Sites like Upstart will have you safely fill in your information, then bring up the types of loans (and the personal loan rates) that you qualify for. "Unless you can pay off the monthly balance immediately, credit cards are not a great option for long term debt," says Jungwon Byun, head of growth at Upstart. "The Upstart platform is smart; we use education and employment in addition to credit history to determine the APR. The entire process is also online and very simple, making it a fast and easy way to borrow." If you're interested, you can move forward with the application process for your wedding loan. If not, just stop there.

Taking Out a Home Equity Line of Credit to Pay for the Wedding
This one is only for homeowners and usually for parents paying for their children's nuptials. The idea behind a home equity line of credit is that you borrow against the mortgage on your home. Again, though, it's not a good idea. Neither the financial experts nor we would recommend doing such a thing. "I've seen parents take out a home equity line of credit, which is basically borrowing against the value of your home," says Lyons Cole. "Especially for a lot of parents, if you're throwing a wedding, you're probably mid-40s to 50s, you're not that far away from retirement, you probably just put your kid through college—there are so many expenses and pressures put on a parent, and chances are you need that money for something else."
Using a Credit Card to Pay for the Wedding
We should warn you that most financial advisers are wary of credit cards and lines of credit when it comes to alternative ways to pay for your wedding. For Lyons Cole, this is one of the fastest ways to get into deep debt. "Obviously, as a financial planner, my advice would always be to create a budget and only pay for things you can afford," says Lyons Cole. "Don't go into credit card debt for a wedding."
That said, if (and only if) you have the cash to pay for your wedding, a credit card can be a good option. Here's why: Using credit can protect your money from fraud and earn you points for flights and even hotels (hello, honeymoon!). Just try not to pay for wedding things with money you don't have yet, and you'll be fine.
Extending Your Engagement and Saving Up for the Wedding
Ding, ding! This is the way to go. Avoid wedding loans and take some time to create a wedding budget and truly save up for the things you want. There's no harm in a long engagement. Many times, venues are already booked more than a year in advance anyway. Having one will allow you to have enough time to truly plan the wedding and save up for the items that are nonnegotiable, and even splurge on a few things you've always hoped to have. "I would rather have you postpone your engagement six months to a year to save money," says Lyons Cole. "Paying forward by saving is much better than paying backwards with debt."
How much money can you get with a wedding loan?
Personal loans can range from anywhere between $1,000 and $50,000. The same goes for online companies like Upstart. "Upstart offers three and five year loans, with no prepayment penalty. You can decide what amount and term length you and your partner are most comfortable with," says Byun.

How do you get a wedding loan?
At the risk of sounding like a broken record, getting a wedding loan may not be the best idea out there. But if you're still reading and you've made up your mind, here's everything you'll need to get a personal loan to cover wedding costs.

Make Sure You Have Good Credit
If you're looking to get a wedding loan, you'll have to ensure your financials are order. The biggest factor, traditionally, is your credit score. Anything above 700 is usually considered a good credit score. However, you can still get a loan with a lower score. At lending website Upstart.com, you'll still need a score of 620 or higher to qualify for a loan, says Byun. To figure out your credit score, there are a number of free credit score sites. (We trust CreditKarma.com to easily figure out your credit score.)
Have Your Financial Documents in Order
Beyond the credit score, your institution will want to take a look at your proof of income, bank statements and any other debt you might have (student loans, mortgages, etc.). You'll have to check with your institution to find out what specific documents and qualifications you'll need. In other words, online wedding loans require many of the same types of documentation as any other loan. "At Upstart, we've worked hard to automate much of our process. This makes applying for a loan incredibly simple and fast. Our customer service team is also available to help every step of the way," says Byun.
But again, don't feel like you have to turn to a wedding loan to pay for your big day. There are lots of ways to save and cut wedding costs. We know budgeting for the wedding can be arduous, and there are just some things out there that are too cool not to have, but we simply have to impress upon you that starting your future in debt is not a good way to kick off your marriage. Need a basic rundown of a simple wedding budget? Looking for expensive wedding dates to avoid? Or need simple planning advice to get a handle on the whole process? We've got you completely covered, below.
Helpful Budgeting Links
> 30 Ways to Save Money on Your Wedding
> Just Engaged and Completely Overwhelmed? Read This Now!
> Wedding Ideas That Won't Blow Your Budget
> Expensive Wedding Dates to Avoid in 2015 and 2016
> Watch Our for These Hidden Wedding Costs
Disclosure: This post contains affiliate links, some of which may be sponsored by paying vendors.
XO Group Inc. and its affiliates do not provide tax, legal, financial, accounting or similar advice. This material has been prepared for informational purposes only, and is not intended to provide, and should not be relied on for, tax, legal, financial, accounting or similar advice. You should consult your own advisers before engaging in any transaction.