20+ Extra-Merry Christmas Card Messages for Your Girlfriend
It's cold outside, but you'll keep her warm with these toasty tidings.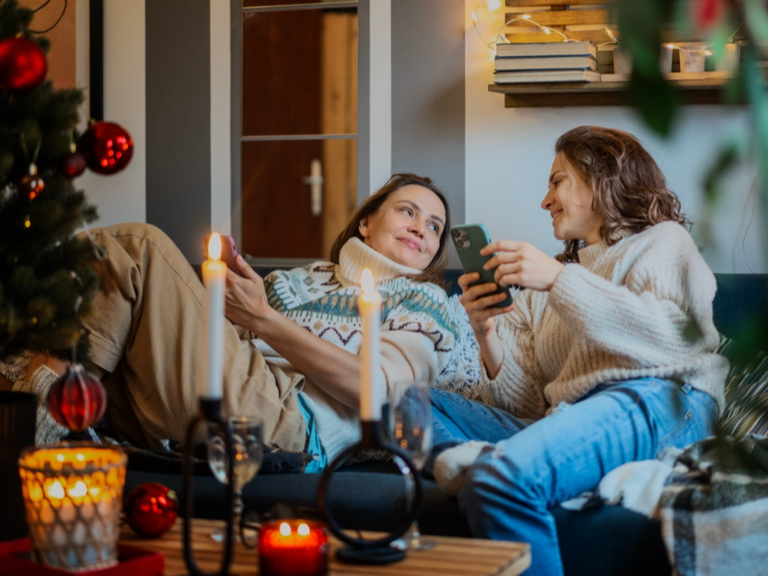 Photo: Olezzo / Shutterstock
There is something undeniably special about writing a Christmas card message for your girlfriend inside a festive greeting card, enclosing it in an equally noteworthy envelope (with fitting gold and/or silver flourishes, because 'tis the season to be extra) and presenting it to her with a big ol' bow on top. But why is that? Well, picture this: twinkling lights, cozy nights by the fire, hot cocoa (or hot toddies) in hand and holiday anthems blasting in the background. It's a time when hearts are open, love is in the air and the spirit of giving, especially if that also means a Christmas gift for your girlfriend, takes center stage. So what better time to share genuine feelings and appreciation for your girlfriend than during this magical season? Even if you're not the "jolliest" wordsmith on the regular, you might surprise yourself and rise to the occasion during the most wonderful time of year! And we have your back if you're still coming up blank on how to say "merry Christmas" to your girlfriend.
Read on for tips on what to include in your sweet nothings. Remember to personalize your Christmas wishes for your girlfriend based on your unique relationship and the stage you're at. Be sincere and genuine in your sentiments and your GF will absolutely appreciate the thought and effort you put into your Christmas card—it'll end up "snow" adorable.
In this article:
What to Write in a Christmas Card to Your Girlfriend
Okay, so you've ordered that special holiday card and found that perfect jewelry gift, romantic gift or cheesy pair of couples holiday sweaters. Now it's time to sit down, pour yourself a tall glass of eggnog and begin ideating your Christmas gift message.
Start by thinking about your girlfriend. What makes her unique and special to you? What memories have you shared together recently? Reflecting on these moments can help you craft a heartfelt message that's personal to your relationship. Next, consider your shared interests in the context of the holiday season. Do you both love winter sports like skiing or snowboarding? Maybe you could make a playful reference to playing hooky one day between Christmas and New Years and hitting the slopes together. Does she live for Food Network holiday bakeoff shows? You could promise you'll surrender the remote and let her pick what to watch, as long as you get samples of whatever yuletide yummies she whips up after the fact.
Also, remember to think about the festive season as a whole. What does Christmas mean to both of you? Is it about spending time with loved ones, spreading kindness or creating new traditions? Sharing your thoughts on what this season means to you and how your relationship is the metaphorical "shining star atop your Douglas Fir" of life will result in a truly heartfelt and meaningful Christmas love note to your girlfriend.
And finally, feel free to look to other sources for inspiration. Have a favorite holiday movie or song (we could go on for hours about ours)? Maybe there's a line or lyric you can use to light up your loving words. Or, perhaps you could piece together some of the best parts of Christmas cards you've received in the past—this thoughtful patchwork of phraseology is bound to make her heart grow three sizes!
Christmas Messages for Your Girlfriend: Cute
Cute Christmas card inscriptions never fail because they add a touch of playfulness and whimsy to your message. They're like sprinkles on a gingerbread cookie or a cute little Santa hat on a reindeer—they just make everything a little more fun! By opting for a cute Christmas greeting for your girlfriend, you're showing her that you don't take yourself too seriously and that you're willing to embrace the lighthearted side of the holiday season.
You make the holiday season extra sweet, like a candy cane dipped in dark chocolate cocoa and topped with marshmallow fluff. Yes, I *can* be that cute.
I must love you lots; my holiday decorating quota was met on December 4th, but I still have room for more… How did this happen?!
Forever grateful to have you by my side, my love. Let's make this Christmas the merriest one yet!
With you, every day feels like a sleigh ride through a winter wonderland. Let's continue making memories this time around, preferably under some mistletoe.
Like a snowflake, you're one-of-a-kind, unique and absolutely stunning. Winter has never been this magical before. P.S. Can we be kids and make paper snowflakes next Friday night?
Christmas Messages for Your Girlfriend: Funny
If forgoing the emotional tones and sentimentality in the "merry Christmas" message for your GF is more your speed, then try out something funny or punny. Comedic messages are super versatile and suit various stages of a relationship—whether you've been together for a short time or you're a seasoned Christmas-celebrating couple. As for the angle? Lean into what'll make your girlfriend smile, laugh or use all the cracking-up emojis.
You're the reason I'm not on Santa's naughty list this year. Merry Christmas, you Nice-List perfectionist—I love you!
It's been such an amazing year with you. Now that we're careening headfirst into the Christmas season, I want to wish you all the joy, love and presents your credit card can handle.
Well it's official, we've become the couple who twins in ugly sweaters at Christmas. 'Tis the season to be cheugy.
I wouldn't be able to handle this time of year without you (work holiday parties, Secret Santa swaps, cookie exchanges, tree lighting celebrations etc.)—thank you for being my number one. I elf-in love you!
Find you a girlfriend who has a gift-giving love language. Lucky me.
Christmas Messages for Your Girlfriend: Long Distance
Living far away can be tough during the holiday season, but that's not to say you can't make holidays happy despite the distance. With the best Christmas messages for your girlfriend woven into your message, you can bridge that gap and make your GF feel cherished—even from afar. Tell her how much you miss her and her obnoxious, yet adorable fuzzy Xmas socks. Remind her of that time when you two had a snowball fight (er, makeout session) that lasted too long, landing you both in bed for Christmas and New Years—nostalgia has a magical way of making distance feel a little less vast. Look ahead to the holiday traditions you dream of creating together and let her know that you're ALL IN on building a lifetime of Clark Griswold-type Christmases under one roof.
Just like the twinkling stars above, our love shines brightly, no matter how far apart we are. Merry Christmas.
This Christmas, I'm reminded that absence makes the heart grow fonder. I can't wait for the day when we don't need to go far for weekends together and, even more, for the Christmas mornings when we can sit next to each other on the couch with coffee and eat cookies for breakfast.
Even though we can't be together this Christmas, know that my love for you knows no distance. Sending you warm and toasty vibes and a virtual hug (don't worry, a gift is on its way too).
The scent of pine always reminds me of the Christmas tree farm we went to a few years back. Looking forward to picking out more trees and making the coolest core memories in the future.
You know how much I miss you? I bought a pair of Old Navy Christmas pajamas and sent you some to match. Let's do a 'fit check on Christmas Eve.
The Best Christmas Quotes for Your Girlfriend
Using quotes and lyrics from iconic holiday movies and songs as your Christmas sayings for your girlfriend is a great idea. They can add a touch of familiarity and shared memories to your message, since these borrowed lines encapsulate the spirit of the season, plus so many emotions you might want to convey (especially if you're usually not one for mushiness in your card captions). So, whether you want to channel some Mariah-style merriment or think Buddy the Elf feels more like you, these lines are the perfect inspiration.
"I don't care about the presents underneath the Christmas tree/I just want you for my own/More than you could ever know/Make my wish come true/All I want for Christmas is you." — Mariah Carey, "All I Want for Christmas Is You"
"I just woke up thinking about going home with you and got very excited about Christmas." — Abby, "The Happiest Season"
"The mood is right/The spirit's up/We're here tonight/Oh, and that's enough/Simply having a wonderful Christmastime." — Paul McCartney "Wonderful Christmastime"
"You have such a pretty face. You should be on a Christmas card." — Buddy, "Elf"
"It's Christmas Eve and we are going to celebrate being young and being alive." — Miles, "The Holiday"
Sample Christmas Letter to Your Girlfriend
Feeling inspired yet? If not, please take some cues from this full-on sample letter. Start with a warm and affectionate greeting—throw in your nicknames for each other, if it feels natural. Extend your warmest Christmas wishes, then include some mentions of special holiday memories or traditions you've shared together and/or what you can't wait to see unfold in the future. End the message with a loving closing and your signature. And if a P.S. makes sense, then go for it! Our best advice: Get creative and mix and match elements to create a card that perfectly suits your personality and the preferences of your GF.
To My Forever Snow Bunny,
As I sit down to write this Christmas card, I can't believe how fast this year has flown. It feels like just yesterday we were celebrating New Years, full of hopes and dreams. Yet here we are, hurrying into another holiday season, and I am THRILLED to share it with you—my best friend.
This past year has been an incredible journey, filled with so many amazing moments that I'll never forget. From the laughter that echoed through our adventures to the quiet, intimate moments when it felt like the world belonged just to us. But what truly makes this holiday season special is the opportunity I have to spend it with you. You're not just my girlfriend; you're my confidant, my partner-in-crime and my source of endless joy. You shine so brightly in my life, like the North Star on a dark winter's night.
Every day with you feels like Christmas Eve when I was a child, when I'd go to bed elated about waking up the next day and seeing what Santa had delivered under our tree. It's a feeling of wonder, anticipation and pure magic that you bring into my life, not just during the holidays, but every single day.
And, speaking of gifts, I can't wait to give you yours this year. I've been planning it out all year, searching for something that can capture even a fraction of the love and happiness you've brought into my world.
Love you lots and then some,
[Your Name]