32 Extra-Thoughtful Gifts to Give Your Girlfriend
Go on, she deserves it.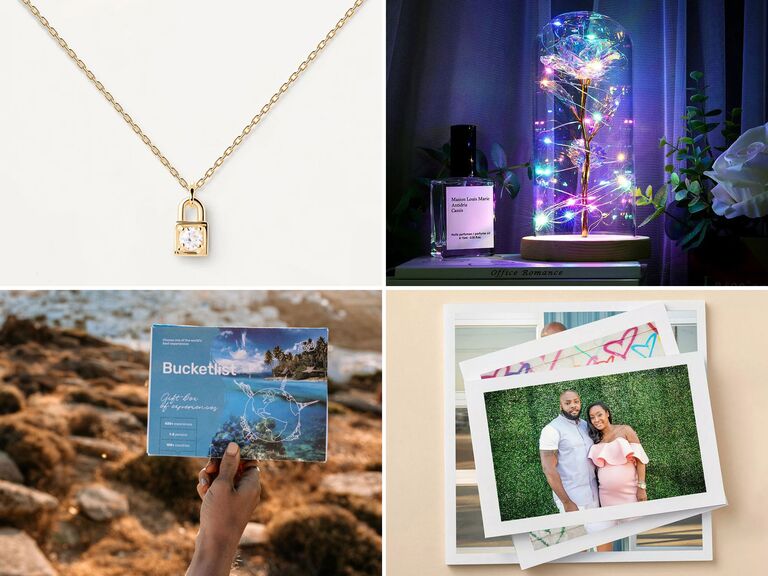 We have included third party products to help you navigate and enjoy life's biggest moments. Purchases made through links on this page may earn us a commission.
If you're looking for a thoughtful gift for your girlfriend, you've come to the right place. We've gathered some pretty darn good options (if you don't mind us saying so ourselves) that you can buy online right now. With so many occasions to shop for, finding sentimental gift ideas for your girlfriend can definitely feel challenging after a while. Not sure how to trump that awesome present you got her last year? We're here to help. Whether you're buying a gift for your girlfriend's birthday, the holidays, your anniversary or another important occasion, we've got plenty of ideas to inspire your search.
Of course, it can be equally as tricky to find the perfect gift if you're in a relatively new relationship. If this is your first time buying your partner a present, don't worry. There are a few different routes you can go down. Try taking a cue from one of her favorite hobbies or picking out a small token that reflects your relationship so far. For example, if you first got to know each other over a few glasses of wine, a wine tumbler is a special gift. Or, if you bonded over your love of music, a vinyl record from one of her favorite artists will do the trick.
Regardless of how long you've been in the relationship (and how many gifts you've exchanged in the past), we've got some advice that's applicable to everyone. When it comes to buying a gift for your girlfriend, think about what's most important to her. Is she constantly gushing about her pet? If so, a custom portrait of her furry BFF will mean a lot. Does she love trying new things? Gifting her a virtual painting class or subscription of tea from around the world are both great ideas. You probably know her a lot better than you think—just trust your instincts and you'll be fine! In the meantime, we've put together this handy gift guide to get you started.
1. Sentimental Star Map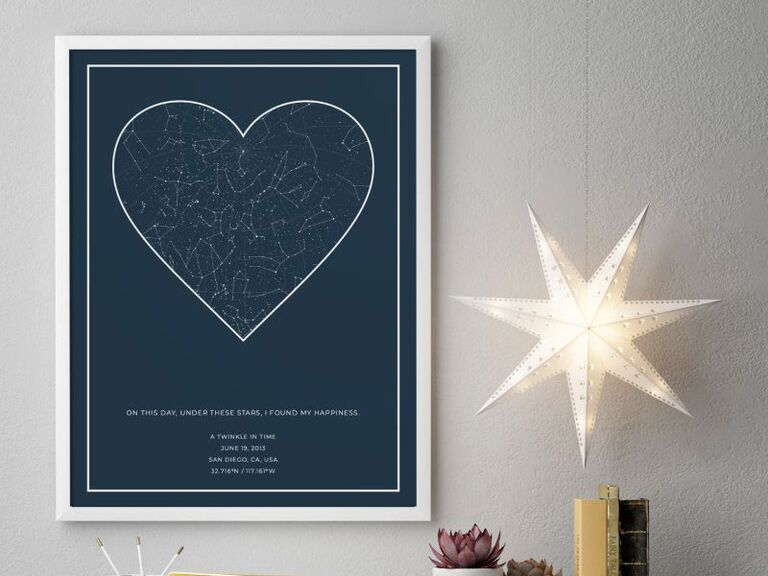 Twinkle In Time lets you create a custom snapshot of the night sky for your sweetheart. The star map reflects the time and location of your choosing and comes personalized with the date and coordinates. You can also add your own personal message underneath. This one reads: "On this day, under these stars, I found my happiness." (Not sure what to write? Let our favorite love quotes for her inspire you.)
2. Sweet Doughnut Message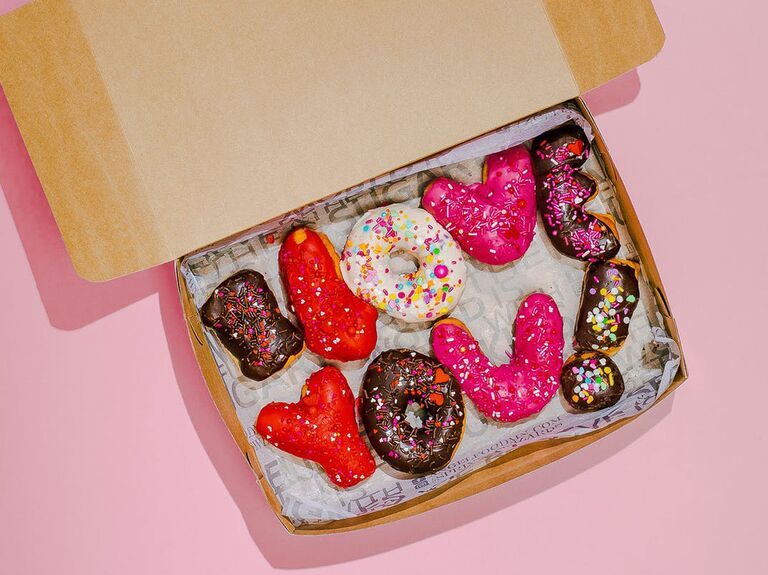 What better way to say "I love you" than with a box of tasty doughnuts from Minneapolis' famous Angel Food Bakery? The company ships nationwide Monday to Friday through Goldbelly. Standard shipping is free, but if you're looking for a last-minute gift for your girlfriend (that's still incredibly meaningful), you can choose to upgrade. Since you can ship it directly to your S.O., it's a great gift for long-distance couples too.
3. Keepsake Photo Book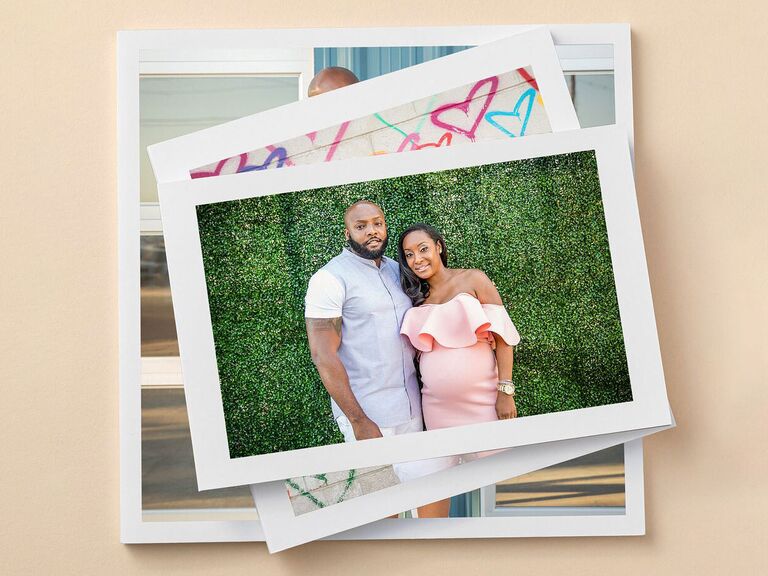 A custom photo book is one of the most thoughtful gift ideas for your girlfriend. It's an opportunity to put all of your favorite memories together in one place so they're easily accessible whenever she feels like a trip down memory lane. This softcover album is available in six different sizes and your images are printed on high-quality matte paper. The icing on the cake? You can request gift wrapping so it's ready to hand over right away.
4. Sparkly Tennis Bracelet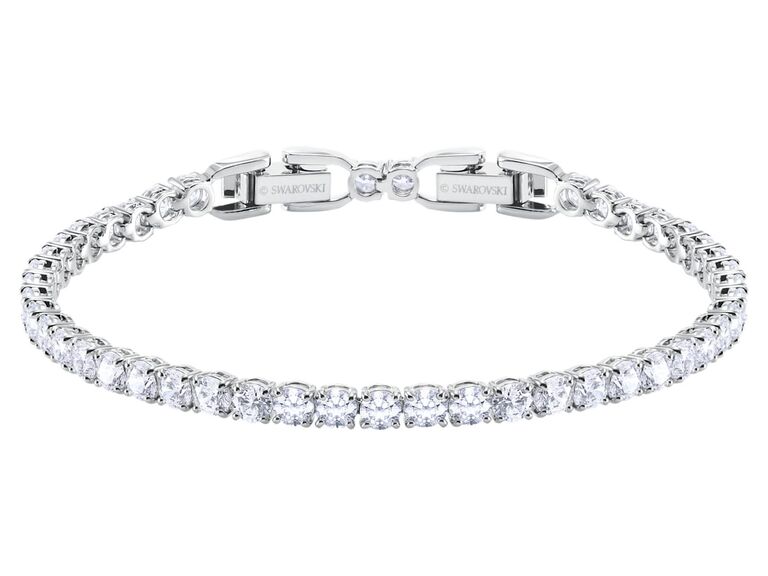 A nice piece of jewelry will instantly show your other half that you're in it for the long haul. It's an especially meaningful gift for your girlfriend if you want to demonstrate your commitment but aren't quite ready to pop the question. Any girl who appreciates classic jewelry will welcome this addition to their collection. Swarovski's stunning tennis bracelet features crystals in an elegant prong setting on a silvery, rhodium-plated metal. The result is a sleek, timeless bracelet that'll be an excellent birthday, holiday or Valentine's Day present.
5. Delightful Heated Slippers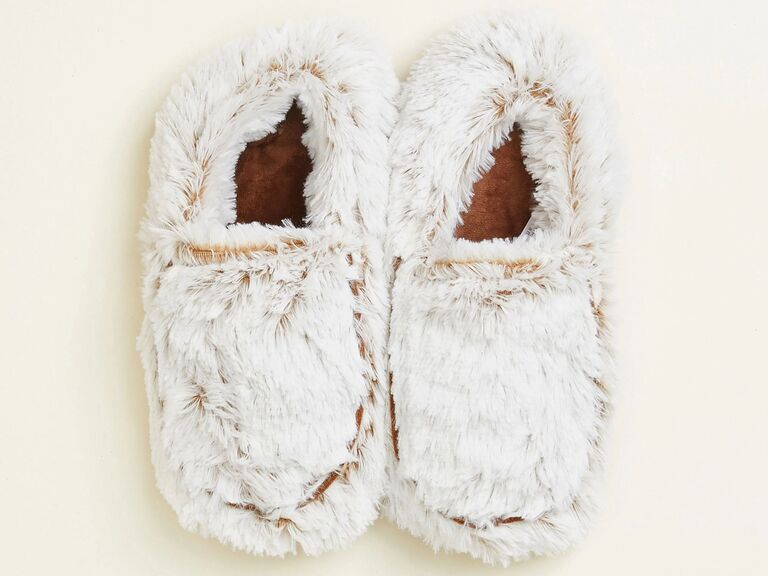 You don't have to break the bank to show your girl a little extra thought. These slippers are a small but meaningful gift for your girlfriend that she'll probably never want to take off (except when she's heating them in the microwave or cooling them in the freezer). Yep: These magic slippers can be heated up or chilled for warm comfort or cooling relief whenever she needs it. Oh, and did we mention they're lavender-scented? Thinking of getting a pair for yourself too? We don't blame you!
6. A Shared Experience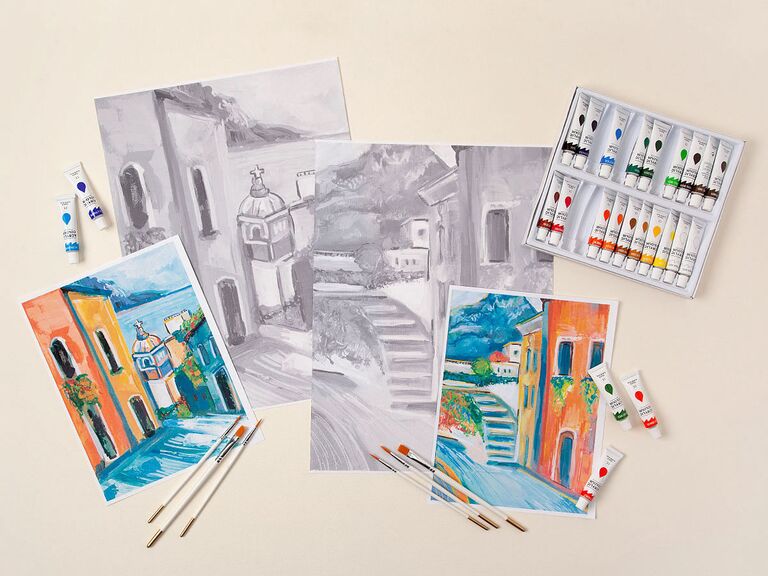 What better way to show her you love spending time together than with an experience you can enjoy as a team? There are so many awesome Uncommon Experiences to choose from, including virtual classes that are perfect for two people. Our pick? This date night painting class that comes with a paint-by-shadows kit for you and your boo. This thoughtful gift for your girlfriend will be fun for both of you.
7. Romantic Fairytale Rose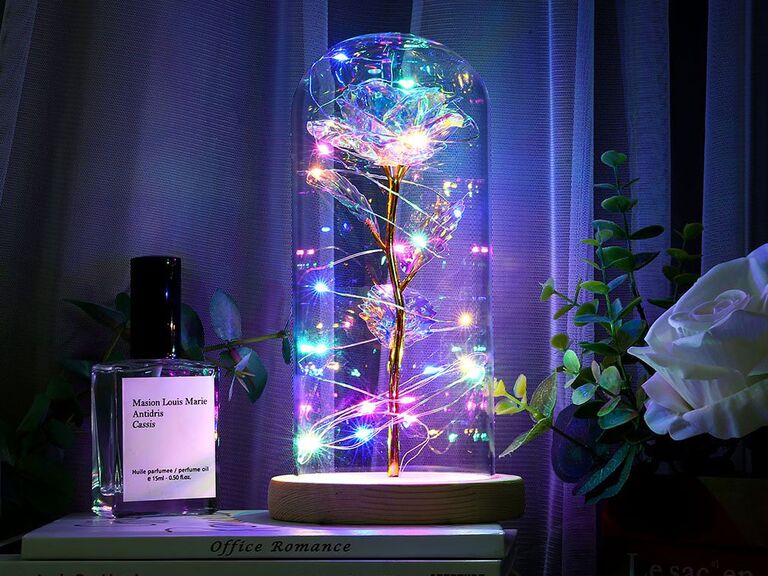 Looking for a rose to give your rose? This romantic keepsake is a good gift for any Disney-obsessed girlfriend. Inspired by the enchanted flower from Beauty and the Beast, the handmade iridescent rose features a carved wooden base, glass dome, 20 fairy lights and a gold stem.
8. Cute Cashmere Cardigan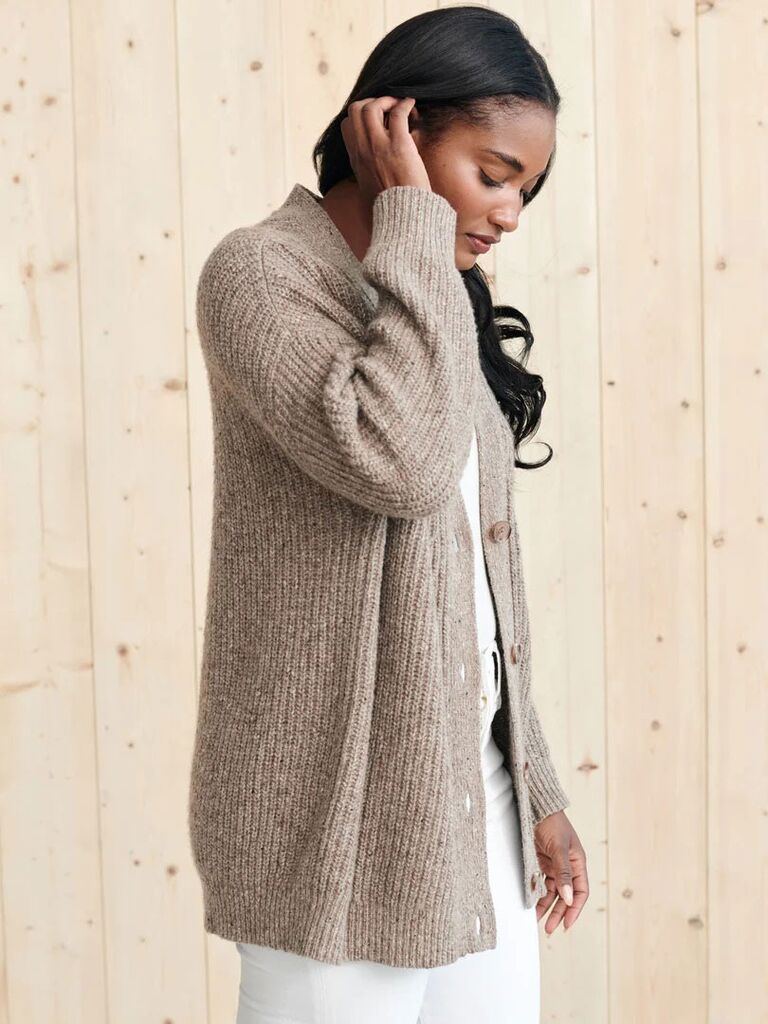 If you're on the hunt for a thoughtful Hanukkah or Christmas gift for your girlfriend, take inspiration from the season. Cashmere clothing is a great option if you live somewhere that gets chilly in the winter time. It'll show her you care about her comfort and want to protect her from the cold weather. This cozy cardigan is sure to keep her warm and on-trend on the daily. Better yet, it's crafted with the environment in mind using recycled cashmere (that's just as snug as brand-new cashmere, BTW). Choose from nine neutral colorways and sizes XXS to 3X.
9. Modern-Day Mixtape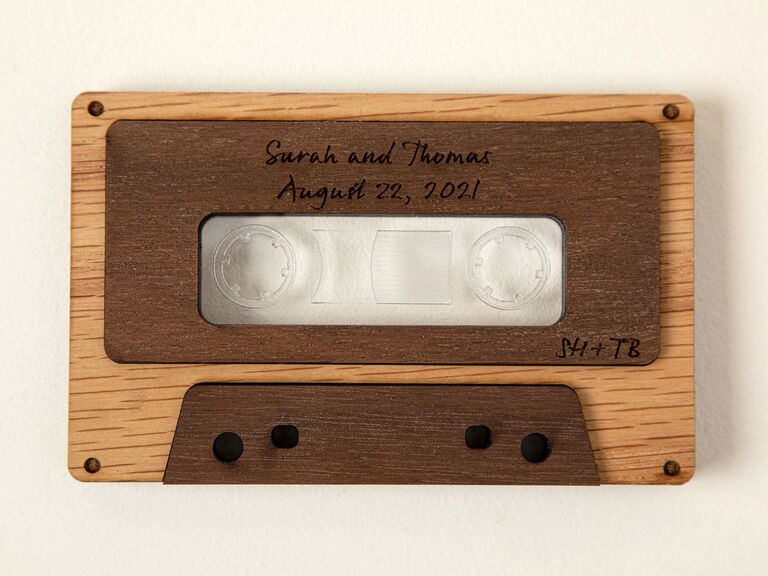 Here's a cute, thoughtful gift for your girlfriend that's totally affordable to boot. It's a keepsake wooden cassette tape engraved with a personal detail on the front (think: your names, a meaningful date or a sweet message like "Happy Birthday"). On the back, there's a QR code that links to your very own playlist on your preferred music-streaming platform. If you and your partner have a song that you associate with your relationship, that's a great starting point. Otherwise, feel free to get as creative as you like choosing songs that express your love or reflect her unique taste in music.
10. Tasty Tea Subscription
Meaningful gift ideas for your girlfriend don't have to be overly sentimental or romantic. Sometimes, simply showing her that you'e paying attention to her likes and interests is more than enough. If she's a self-proclaimed tea lover, surprise your GF with a subscription to Atlas Tea Club (also known for its gourmet coffee subscriptions, if that sounds like a better fit). Each month, your other half will receive a delivery of delicious green or black tea from around the world. Choose a three-month, six-month or year-long subscription to get them started. A gift that keeps on giving is really thoughtful, if you ask us.
11. Adorable Love Journal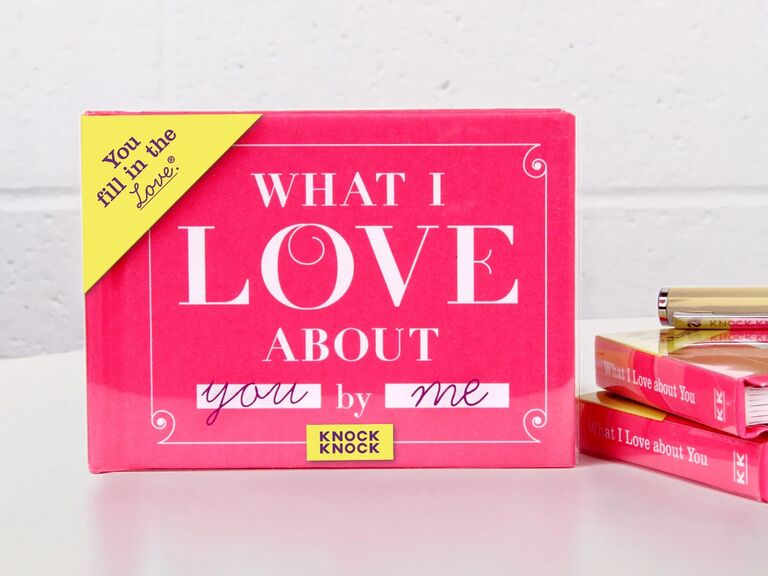 As far as sentimental gifts for your girlfriend go, this one is as sweet as it gets. It's a fill-in-the-blanks journal chock-full of opportunities to let her know all the things you love most about her. If you find it difficult to express just how much she means to you, these thoughtful prompts are a great way to get the ball rolling.
12. Disney-Inspired Drinkware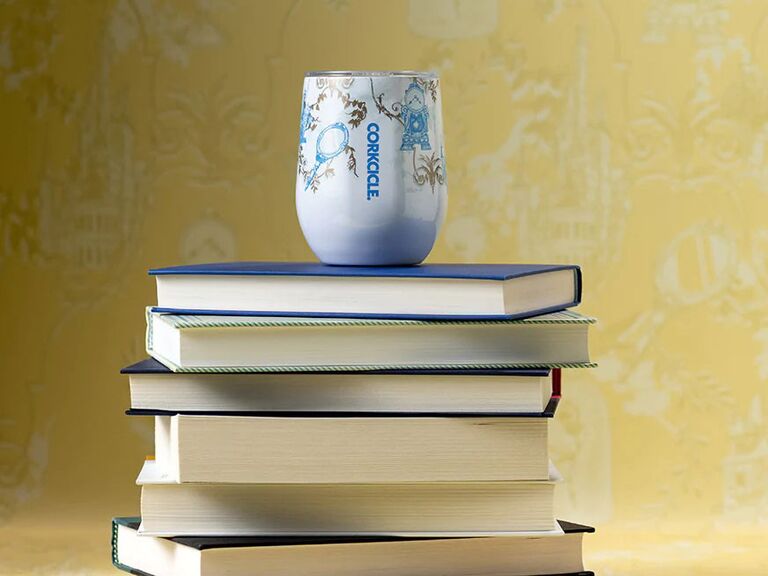 Practical presents can still make thoughtful gifts for your GF—it's all about how you present it. Personalizing your present with a monogram, your initials or a special date is one way to make it extra-meaningful. Another fail-safe way to up the ante? Choose something that shows you really know her. A travel wine tumbler inspired by her favorite movie or series will score major brownie points. Corkcicle has collaborations with Disney, Marvel, Harry Potter, Star Wars and more, so you can nab beautiful drinkware to fit any of those themes. We love this Beauty and the Beast-inspired stemless wine glass for anyone obsessed with Disney princesses.
13. Couple's Activity Book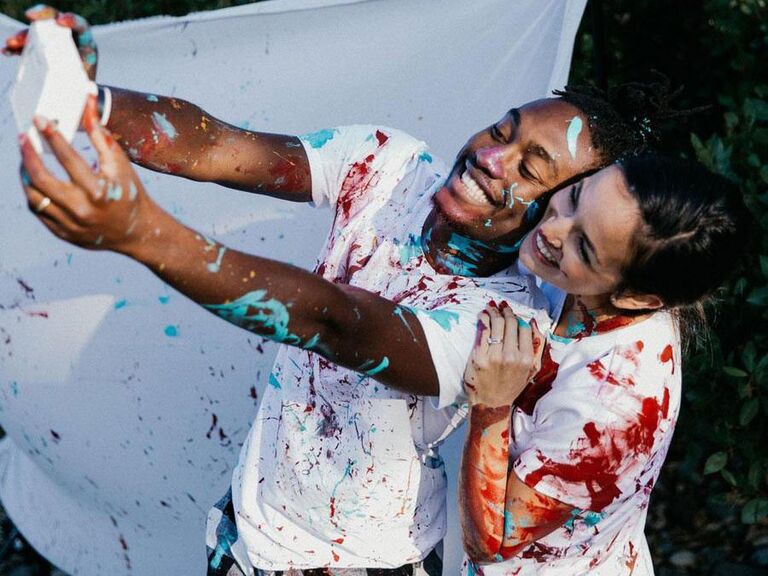 The Adventure Challenge is a cool activity book filled with fun scratch-off challenges that couples can complete together. The trick? You don't know exactly what adventure you're about to embark on until you've scratched it off, and by then you have to commit. That said, each date idea has helpful hints that'll let you know if you need to go anywhere or buy anything to complete the activity. Once you've had your fun, there's space to add a photo and some notes you can look back on in the future. (Psst, grab 10% off sitewide with our exclusive code: THEKNOT10.)
14. Luxury Silk PJs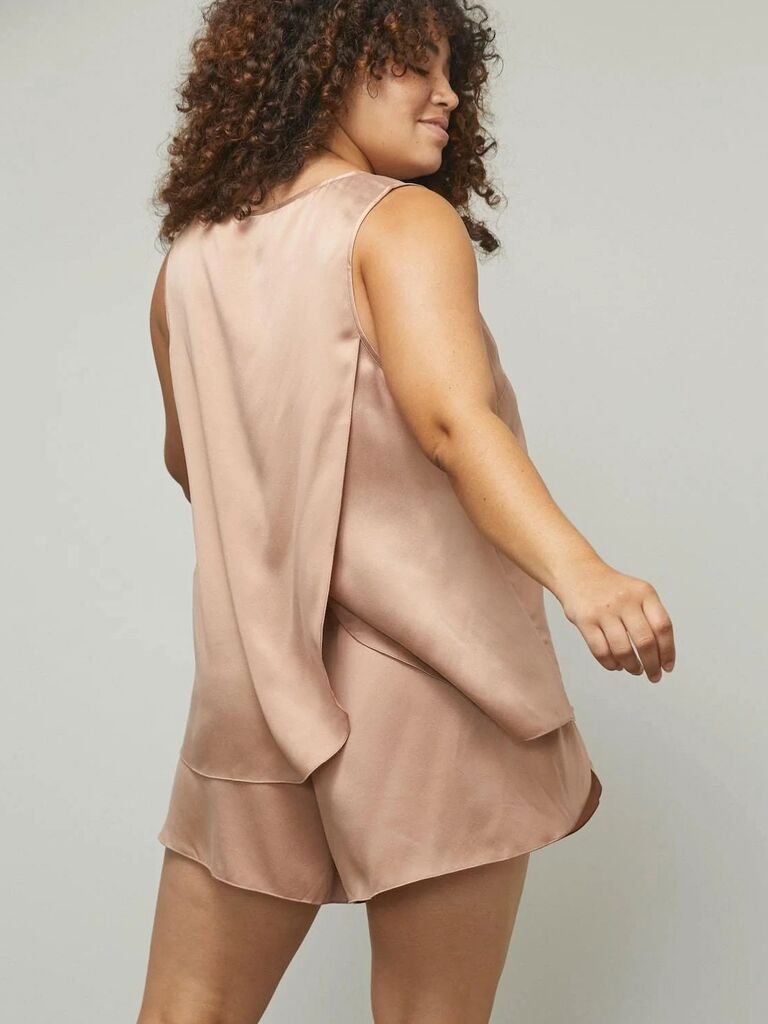 Lunya's bestselling loungewear is the perfect treat for your girlfriend, whether you're on the hunt for thoughtful birthday, Christmas or Valentine's Day present ideas. This chic set isn't just pretty to look at; it's also soft, thermoregulating and 100% machine washable. Make it even more meaningful by having the top embroidered with her initials.
15. Birth Flower Necklace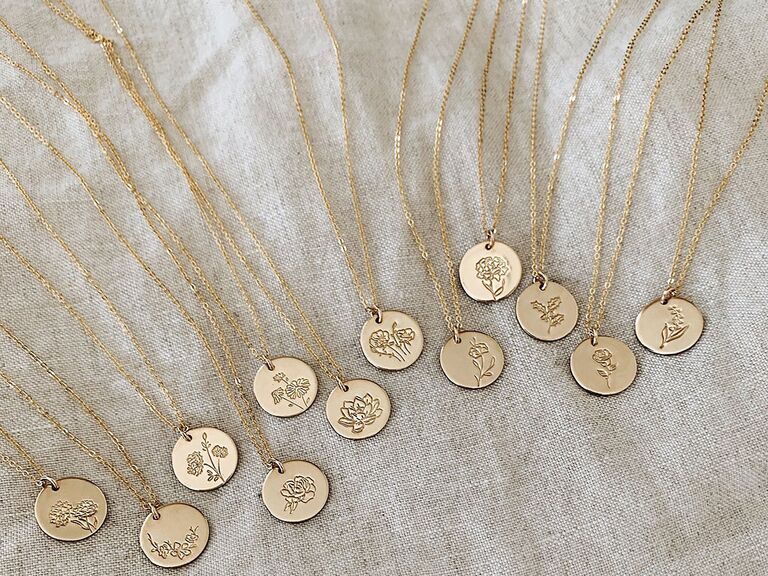 Picking out a piece of jewelry that represents something unique about your partner really takes it to the next level. Mady by Mary sells dainty birth flower pendants for every month of the year. Choose from a silver, gold or rose gold finish to suit your S.O.'s style.
16. Comforting Weighted Pillow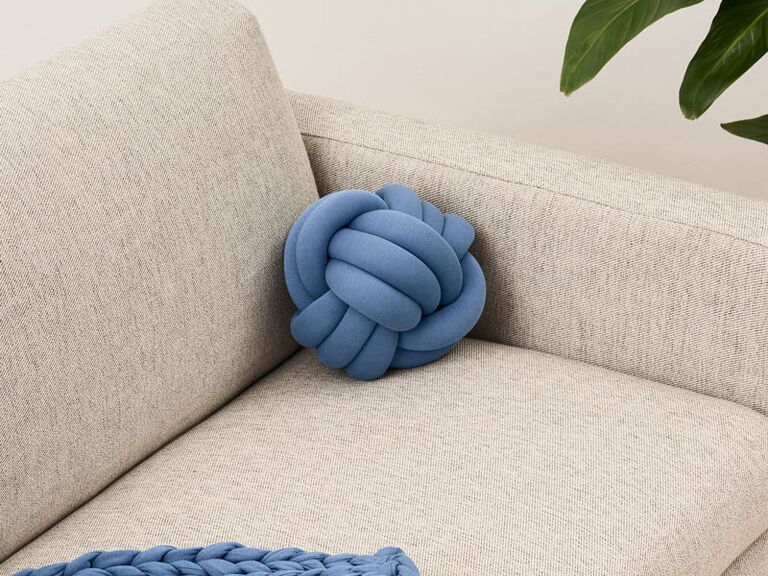 A weighted pillow isn't just a thoughtful holiday gift idea for your girlfriend, it's a great gift idea for any time of year. This genius invention from Bearaby is a ball of sensory delight designed to de-stress by keeping anxious hands busy and activating pressure points. The type of sensory therapy depends on which size pillow you choose. The small option is great for stowing in a handbag or on her desk (plus it's an excellent stocking stuffer), the large pillow can be used as lap pad or sleeper cushion, and the medium one falls somewhere in between. It's a really sweet gesture for anyone who could use a little stress or anxiety relief.
17. Wireless Charging Tray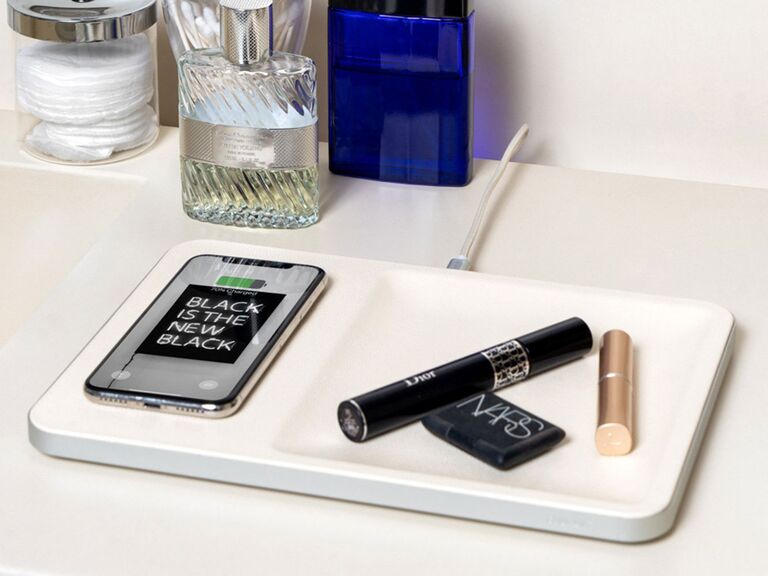 This elegant accessory is actually a wireless smartphone charger and Italian leather valet tray in one. Your partner can use it to store loose ends like keys, jewelry and earphones, while also charging her phone without the hassle of finding a cable. Have it monogrammed with her initials to turn it into a personalized gift for your girlfriend.
18. Symbolic Elephant Bracelet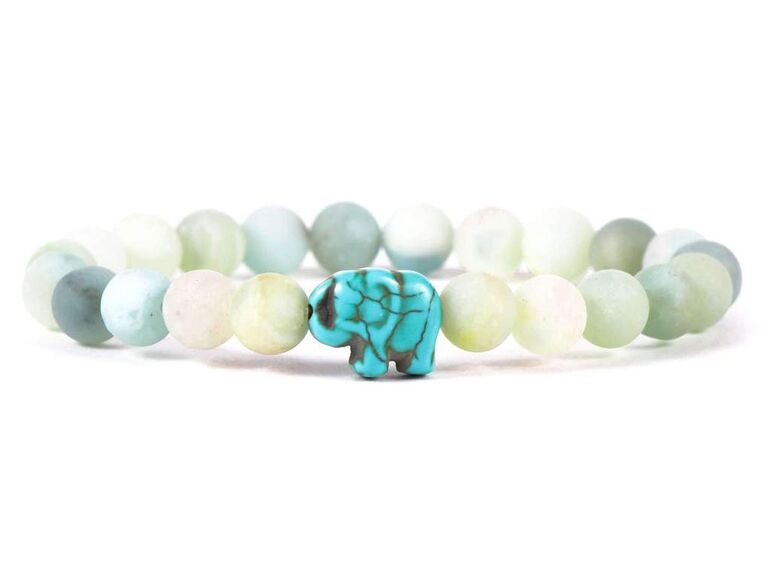 There's nothing better than a gift that gives back. This beaded elephant-themed bracelet is a small gift for your girlfriend that's big on meaning. The jewelry comes with the details of a wild elephant your S.O. can keep track of. She'll receive the elephant's name, age, picture and the details of their story. A percentage of the bracelet's proceeds is donated to Save the Elephants, a conservation charity based in Kenya.
19. Smart Indoor Garden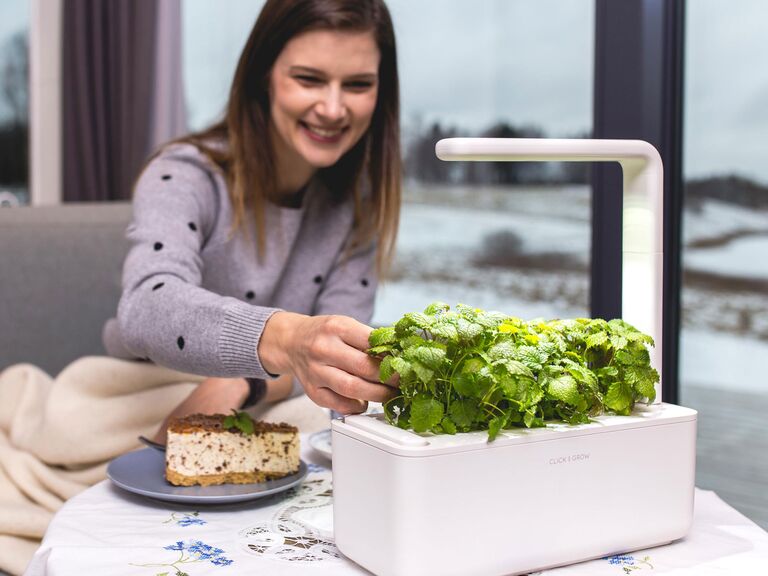 Does your girl have a green thumb? If so, she'll love owning a smart garden from Click & Grow. This unique gadget regulates light, water and nutrient levels so looking after her plants has never been easier. Plus, it'll let your S.O. grow her favorite greens or flowers indoors (perfect for anyone who doesn't have a backyard). Talk about thoughtful gifts to get your girlfriend!
20. Bucket List Experience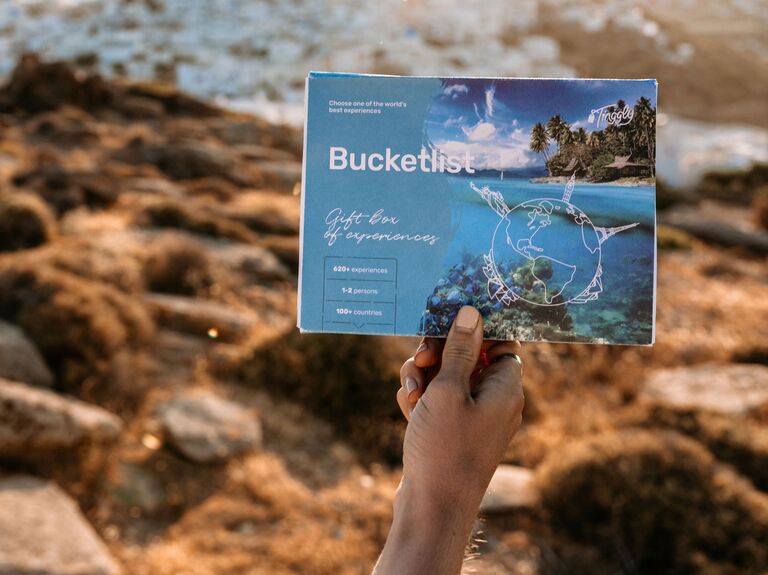 Okay, but what could be cooler than helping your GF check something major off her bucket list? Tinggly lets you do just that. The site's one-of-a-kind gift packages give the recipient a choice of thousands of awesome experiences, from snorkeling with turtles to tasting her way through an Italian city. There are even experiences designed for two, so if you're lucky, she might just let you tag along. Deliver your gift virtually or as a physical gift box she can unwrap on Christmas morning or over a celebratory birthday dinner.
21. Long-Lasting Roses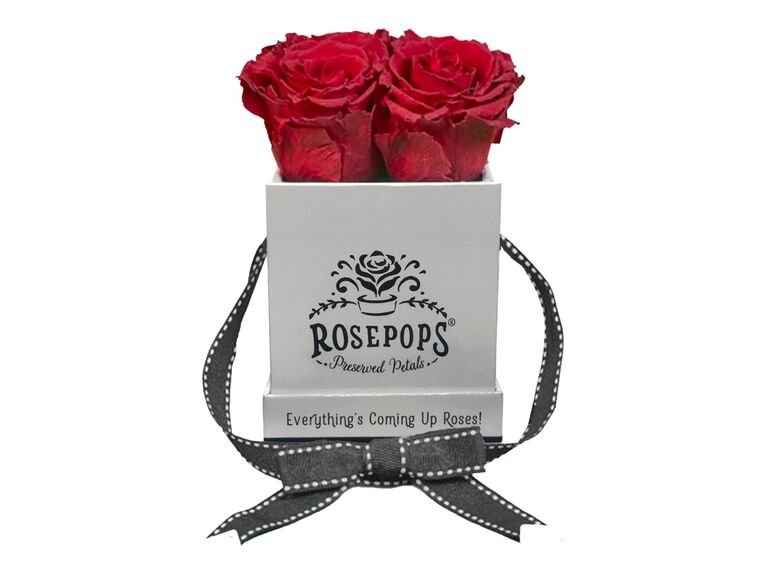 A fresh flower arrangement is always going to be a meaningful gift for your girlfriend. But, if you want to take it a step further for a special occasion, you might want to check out Rosepops. The company specializes in preserving beautiful roses that are then placed in a nice gift box they pop out of once opened—hence the name Rosepops. It's a clever way to keep petals from getting disheveled during shipping (and the flowers last for several months!). Want some more good news? You can get 15% off sitewide with our code THEKNOT15.
22. Meaningful Padlock Necklace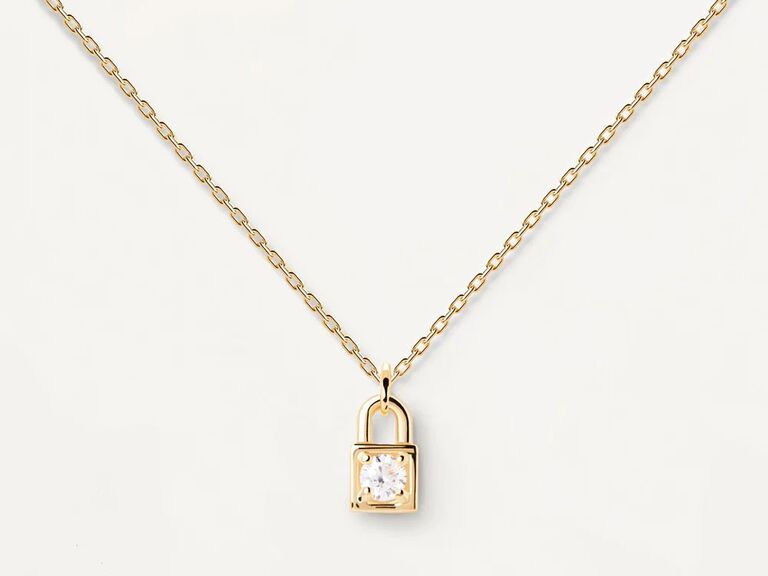 Jewelry makes for some of the best (and most thoughtful) gifts for girlfriends no matter the occasion. Spoil her on her birthday, Valentine's Day or Christmas with this dainty gold-plated sterling silver necklace. The padlock pendant is incredibly symbolic—just think of the "love lock" tradition (like in the movie To All the Boys: Always and Forever).
23. Date Night Subscription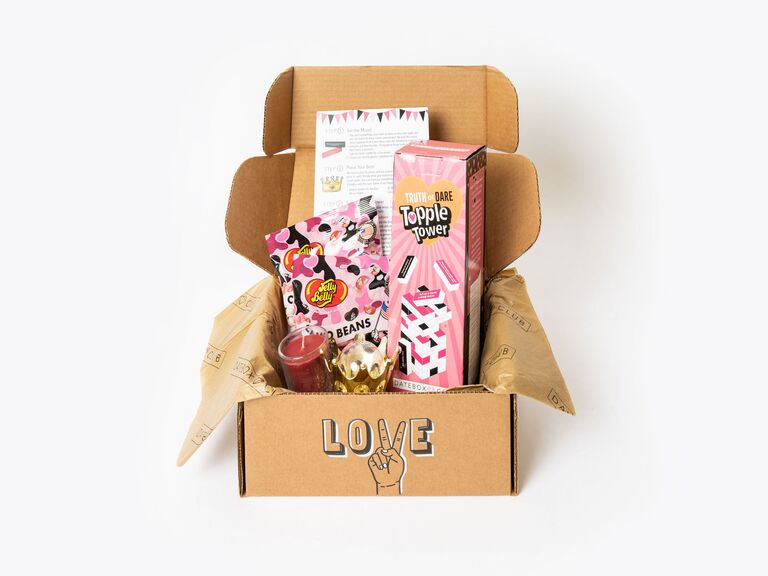 If you've been together for a while, you might be starting to run out of date ideas. DateBox Club offers a monthly subscription that'll bring a jam-packed evening of fun right to her door. Activities range from fun games to arts and crafts, and everything you need will be included in the box. Not quite up for the commitment of a monthly subscription? You can start off by gifting your girlfriend a single date box. Or, for some slightly more adult fun, check out the Tub Time intimacy box.
24. Tickets to a Show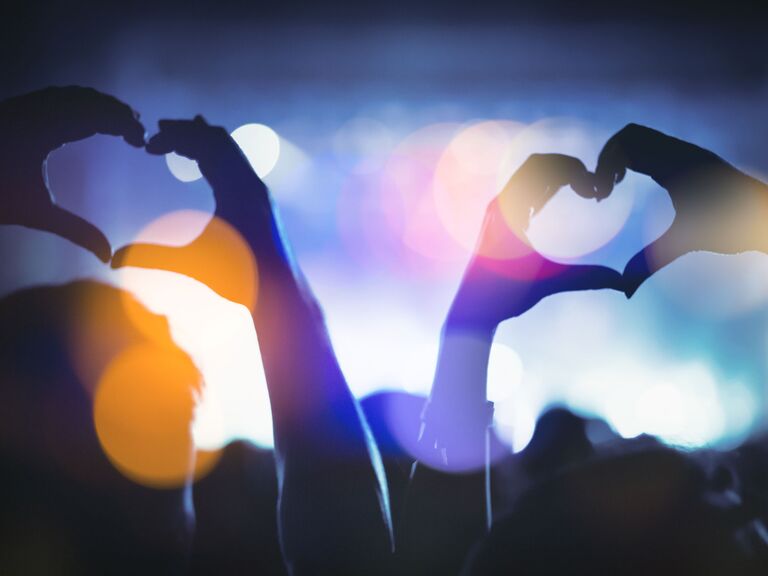 Want to really surprise your girlfriend with a special gift? Check out Ticketmaster to see what's going on nearby and pick up a couple of tickets. Whether she's into music, sports, theater or all of the above, there's bound to be something to excite her.
25. Therapeutic Massage Tool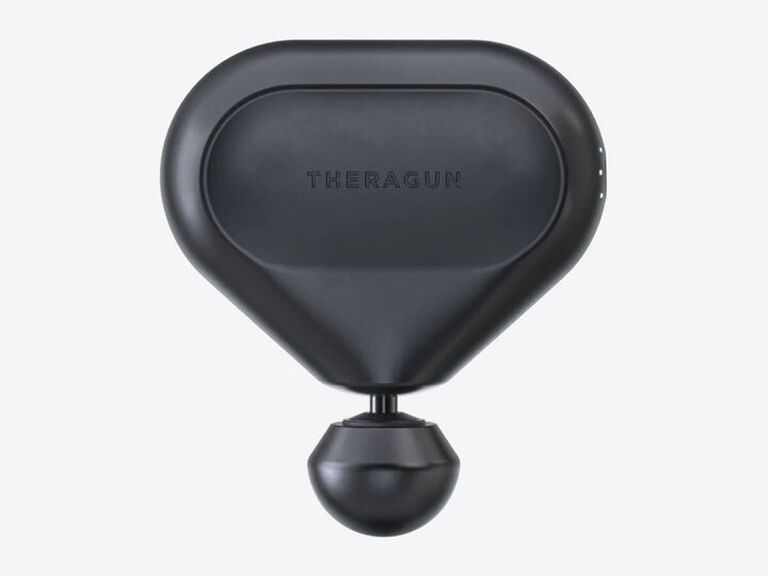 A mini Theragun might be one of the more expensive ideas on our list of gifts for your girlfriend, but trust us when we say it's a game changer. This portable massager can easily be stowed away in her gym tote or backpack for on-the-go therapy. It's a small but mighty device any athlete or fitness enthusiast will find extremely thoughtful.
26. Splurge-Worthy Sleep Mask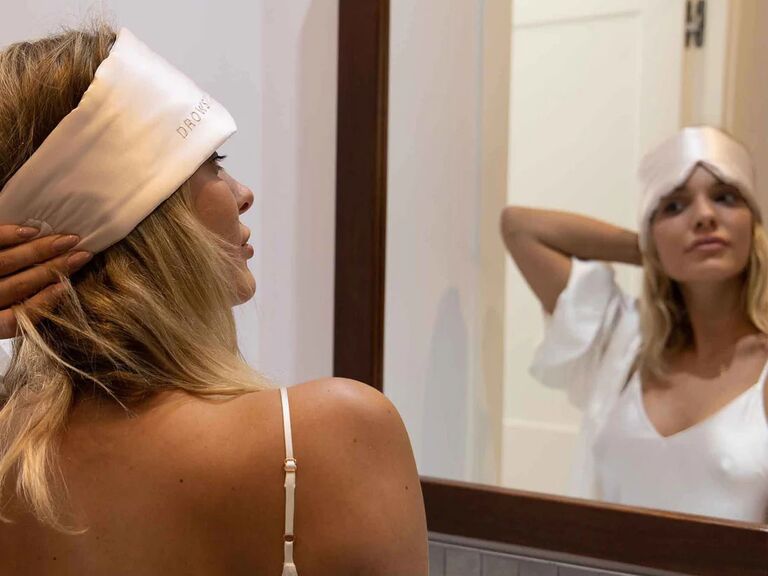 Thoughtful gifts come in many different forms. It all depends on your other half's preferences. If your girlfriend's love language is acts of service, she'll appreciate you looking out for her health by gifting this wonderfully squishy eye mask that promotes more restful sleep. It's made from cool silk and designed to block light out completely for uninterrupted snoozing any time of the day.
27. Thoughtful Rose Memento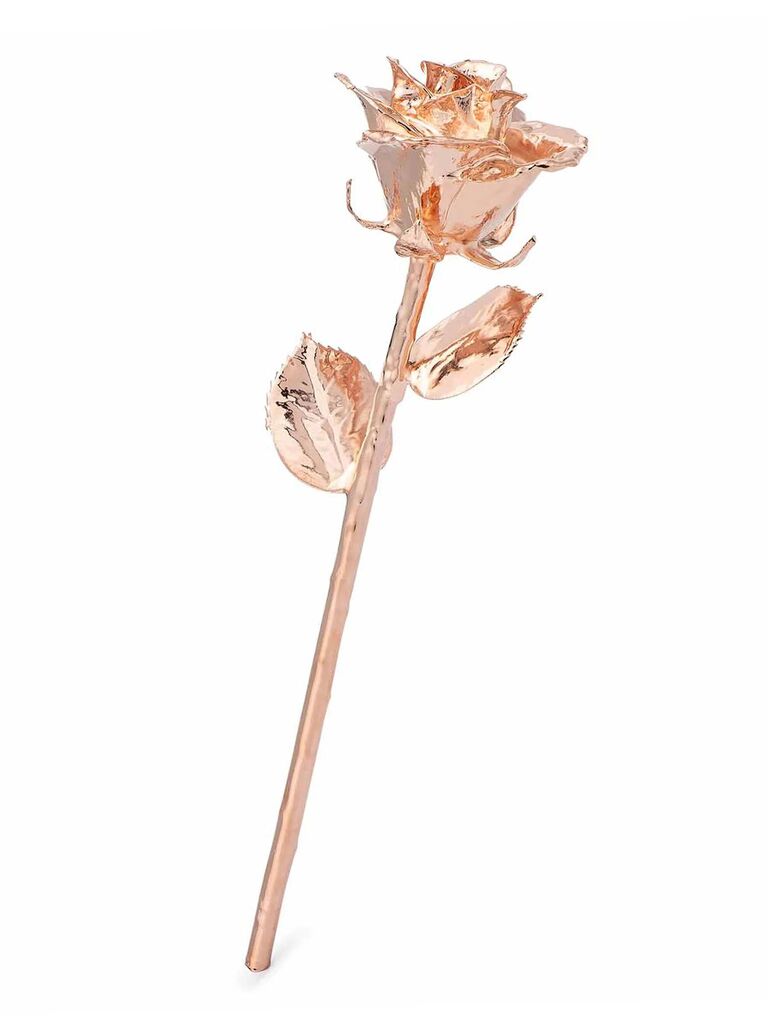 How's this for a sentimental gift idea for your girlfriend? It's a romantic keepsake she can hold onto for a lifetime. Each beautiful rose is picked in its prime, preserved in a durable shell and dipped in real rose gold. The result is a beautiful and precious flower that'll last forever (just like your love). Have the stem engraved with your names for an extra-meaningful touch.
28. Surprise Weekend Break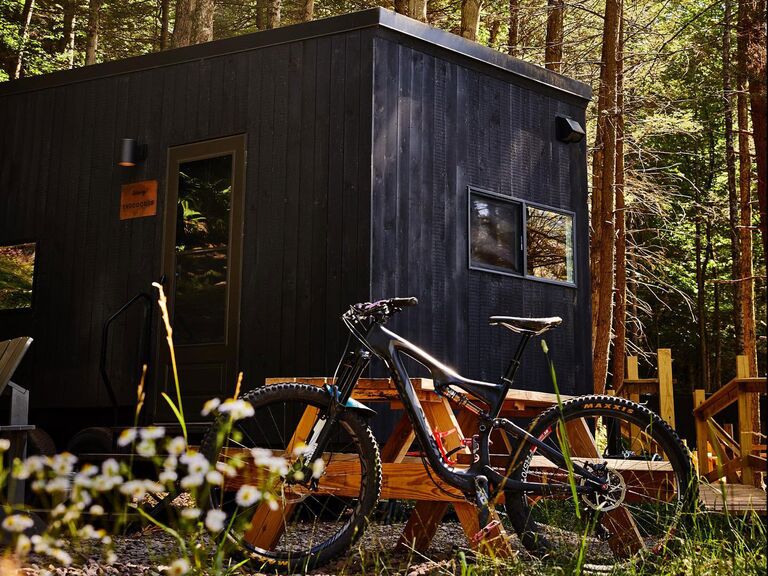 Does your GF plan pretty much everything when it comes to date nights, travel and beyond? Now's the time to take a weight off her shoulders and show her you can be equally as thoughtful when it comes to planning your lives. Treat her to a spontaneous weekend break for just the two of you (pets optional) at one of Getaway's cozy cabins. They have locations throughout the US just two hours away from major cities, so chances are there's one nearby. They're ideal for switching off from city life and enjoying nature.
29. Watercolor Pet Portrait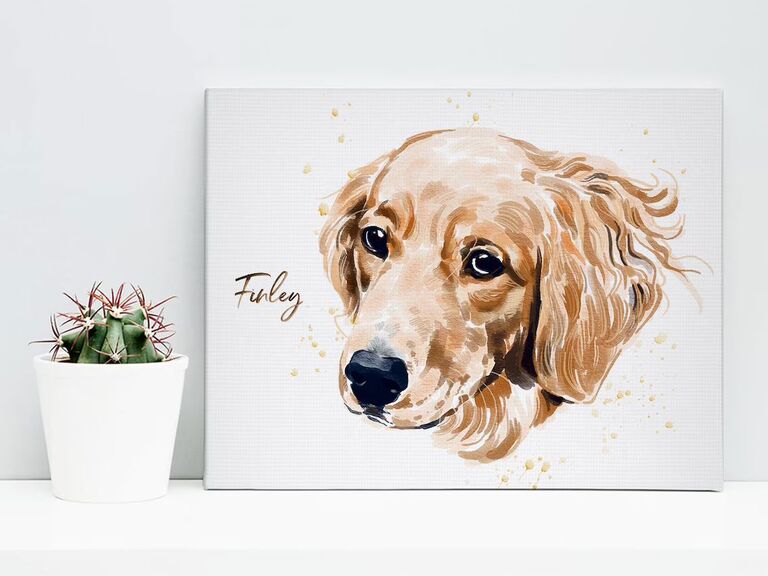 Consider this cute personalized gift for your girlfriend if she's the type who puts their pet above all else. You S.O. might just tear up when they see the one-of-a-kind portrait of their pup. Choose from a print, framed print or wrapped canvas in a range of sizes to suit your budget and your girlfriend's home.
30. Farmers Market Favorites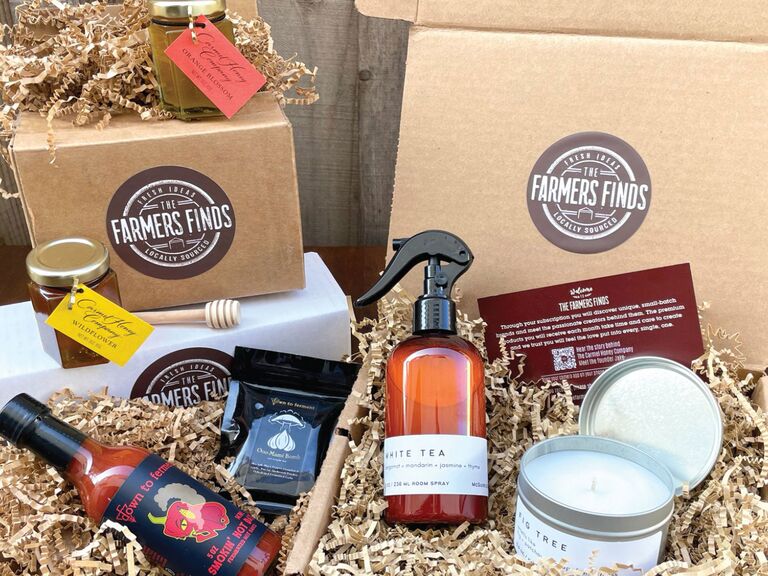 If she loves browsing the farmers market but can't always get there, bring the farmers market to her. This clever subscription includes two to three premium, small-batch products from artisans across the US. Past boxes have included everything from honey and homemade salsa to soap and candles. Sign her up for one month, two months, three months, six months or a year.
31. Personalized Photo Magnet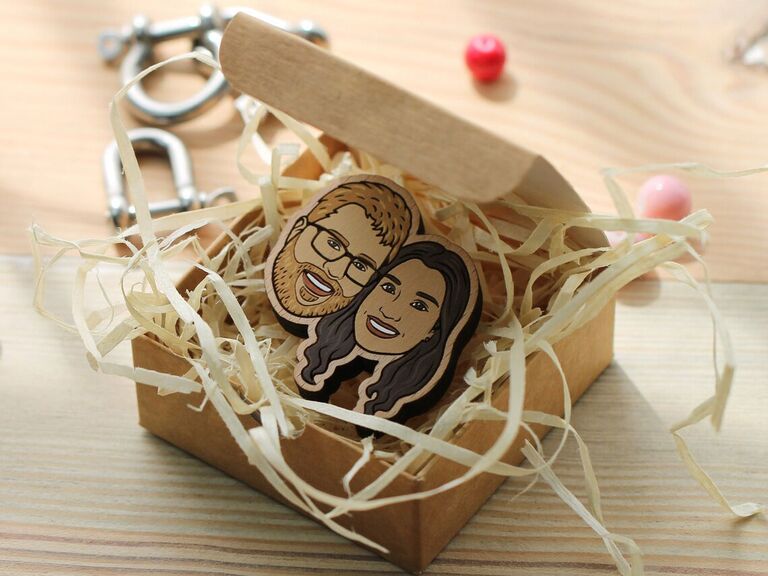 Etsy is chock full of cute, meaningful gifts for your girlfriend that'll instantly bring a smile to her face. This handmade wooden magnet can be designed in the likeness of you and your significant other. She can use it to display a favorite picture of you two, keep track of important documents or even just decorate her fridge. If you happen to be shopping for the holidays, it's a great stocking stuffer.
32. Unique Birthday Candle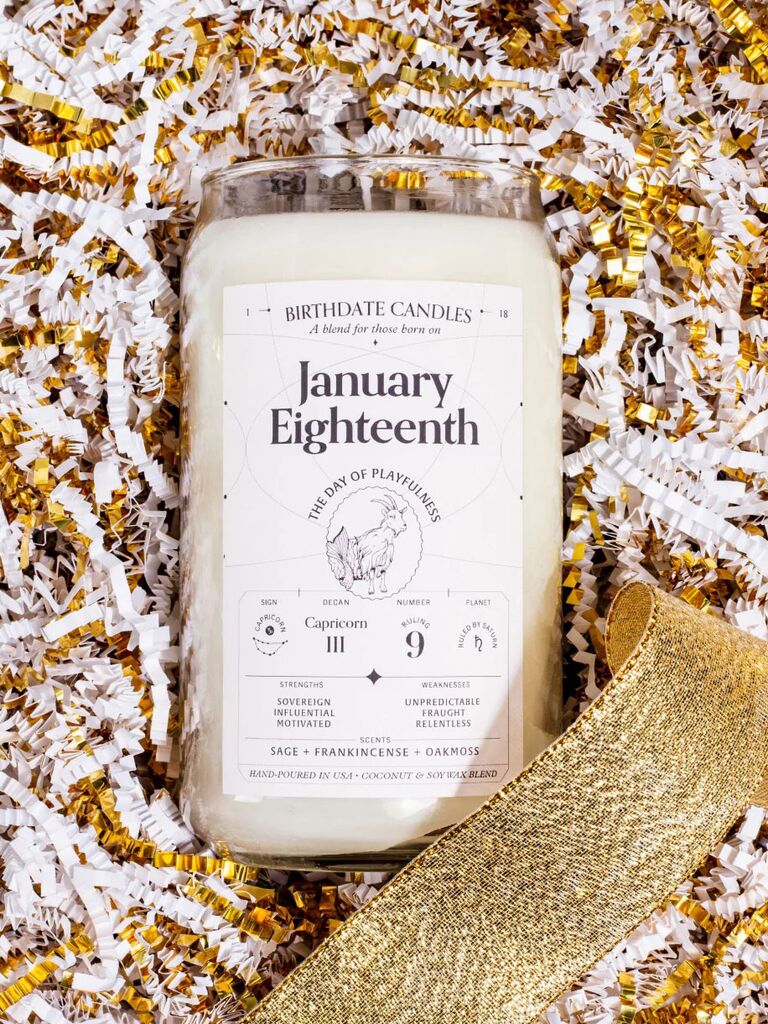 Celebrate something that makes your other half unique, like the date of their birth. Birthdate Co. has a beautifully scented candle for every day of the year, and each one is labeled with a fun analysis of people born on that day. It's a combination of astrology, numerology and tarot.