It's Official: Chunky Stacked Wedding Rings Are Back in Style
We love a '90s moment.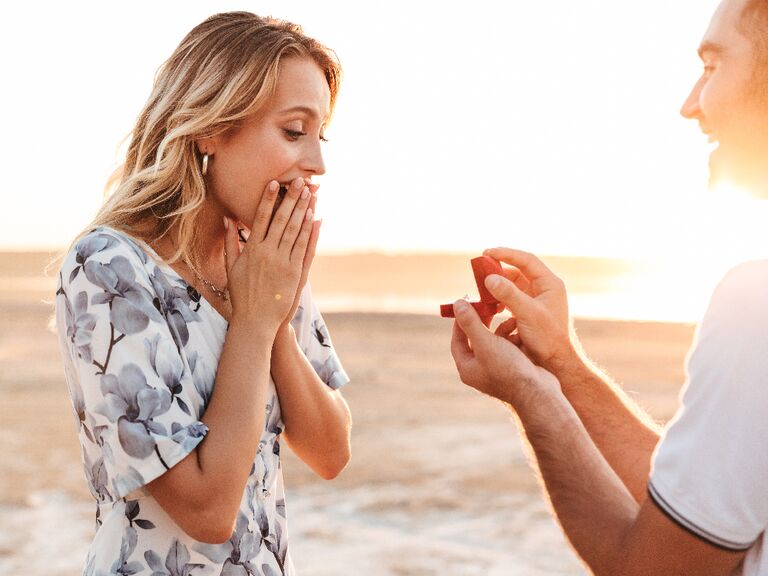 Dean Drobot/Shutterstock
We have included third party products to help you navigate and enjoy life's biggest moments. Purchases made through links on this page may earn us a commission.
While engagement and wedding ring trends come and go, some things rarely change over time—especially when it comes to aesthetics. Diamond shape, for example, is one stylistic element that's remained largely the same over the years. The most popular shape, of course, is a round diamond. In fact, according to The Knot 2022 Jewelry and Engagement Ring Study, round center stones have been the most common engagement ring shape since 2015.
That said, we certainly see fluctuations in style preferences. For example, oval center stones have sharply risen in popularity over the past few years, while we've seen white gold metal become less common as yellow gold hues have been on the rise since 2017. And when it comes to bands, thin and delicate rings have been incredibly common in recent years. But the '90s called, and they're here to tell you that chunky stacked wedding rings are back in style.
Meet the Expert: Nicole Wegman is the founder of Ring Concierge, a celeb-favorite luxury jewelry brand designed for women, by women.
The Rise of Chunky Stacked Wedding Rings
According to Wegman, chunky engagement ring and wedding band stacks are quickly rising in popularity. "While clients are still opting for a dainty, thin engagement ring band, they are starting to gravitate towards a chunkier wedding band," she tells us. "Having a thin engagement ring gives them the opportunity to really play around with the size and look of their wedding stack."
The rise of chunky wedding band stacks can be attributed to quite a few factors. Some may want to model their wedding ring aesthetic after celebrities who often change up their own stacks, like Hailey Bieber, Meghan Markle, and Ariana Grande. But according to Wegman, the recent popularity of chunky wedding ring stacks is correlated to the resurgence of 1990s-inspired fashion and jewelry trends. We have, of course, also seen this manifest in weddings, through the popularity of slip dresses and puff sleeves, frosty makeup looks and nostalgic music selections.
But why is the '90s trending in the wedding industry right now? "What's old always becomes new again," Wegman explains. "Our clients love creating a full bridal stack look, which means incorporating multiple bands. Some couples are buying a few to have for their big day or adding in a band for different life milestones, like an anniversary or a push present."
Plus, she adds that curating a thicker stack gives the appearance of bigger jewelry. (After all, who doesn't want that?) "A chunkier design adds an unexpected twist to a bridal stack, along with additional finger coverage. It helps create a big moment in a prominent way."
Another major benefit of creating a chunky wedding ring stack? You'll have styling flexibility for years to come. "Opting for multiple bands also allows the wearer to mix up their look depending on what they're wearing, where they're going, and more," Wegman notes.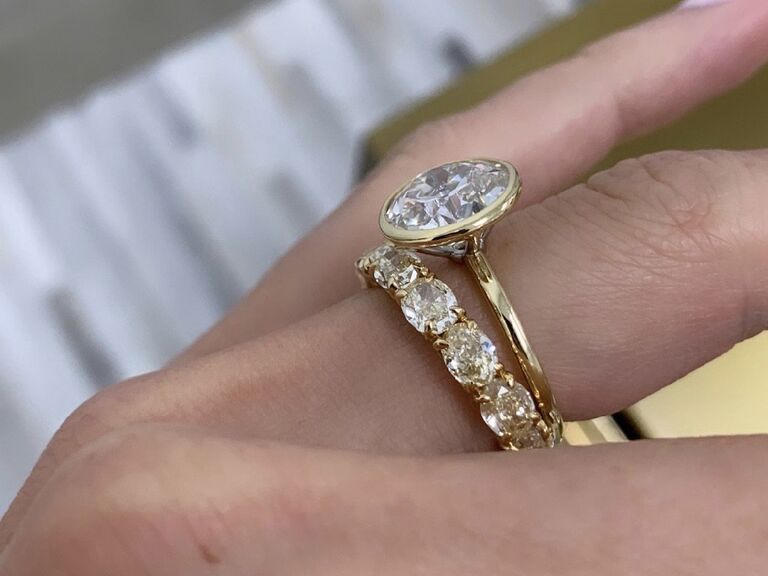 Of course, committing to a chunky engagement ring or wedding band now at the height of its popularity may feel daunting to those who want a timeless look—but Wegman tells us that there are ways to curate your aesthetic so that it's always in style. "There's a way to create this look without it feeling too trendy," she shares. The trick? Consider a bezel-set ring. Wegman tells us that this up-and-coming style, which was one of our top engagement ring trend predictions for the year, "offers the best of both worlds" thanks to its unique, vintage-inspired setting. "The thin bezel-set band around the diamond can give off a '90s feel without being too trendy, meaning it won't go out of style in five years. It'll be a piece you can wear forever, and even pass down from generation to generation."