Our Favorite '90s-Themed Wedding Ideas That Really Are All That
Don't call it a comeback.
The '90s are back and better than ever—but don't call it a comeback. Influences from the decade have been creeping into style trends for a number of years, especially in the wedding industry. In fact, trends from the 1990s have consistently popped up on bridal fashion runways and in wedding color trends. (Bright neons and slinky slip dresses, anyone?)
Whether you're a true '90s kid or you simply love the decade, there are plenty of tasteful ways to have a '90s wedding. In fact, you don't even need a full-blown '90s themed-wedding to incorporate your favorite elements from the Y2K era. Here, we've rounded up our favorite '90s wedding ideas to emulate your favorite decade on your big day. From crop top dresses to holographic color schemes and cassette-shaped sweet treats, these '90s-themed wedding ideas really are all that.
Colorful Balloon Arch
First impressions are everything—and since decor sets the tone for your nuptials, start off strong with a wow-worthy balloon arch over the entrance to your venue. We love this colorful creation, which is bursting with bright tones worthy of a true '90s party.
Denim Jacket
We can't talk about the '90s without mentioning denim jackets. For the ultimate '90s-inspired wedding outfit, throw on a custom jean jacket over your dress or button-down during the reception. Bonus points if you and your S.O. get matching styles with your last name, or if you cover them with your own colorful decorative patches.
Glow Sticks
Consider this '90s wedding idea an absolute must. Glow lights are synonymous with arcades and game halls, so recreate the vibe by passing out glow sticks for guests to wear and wave throughout the reception. Or, take a cue from this couple with a glow stick lighting installation.
Paint-Splattered Sneakers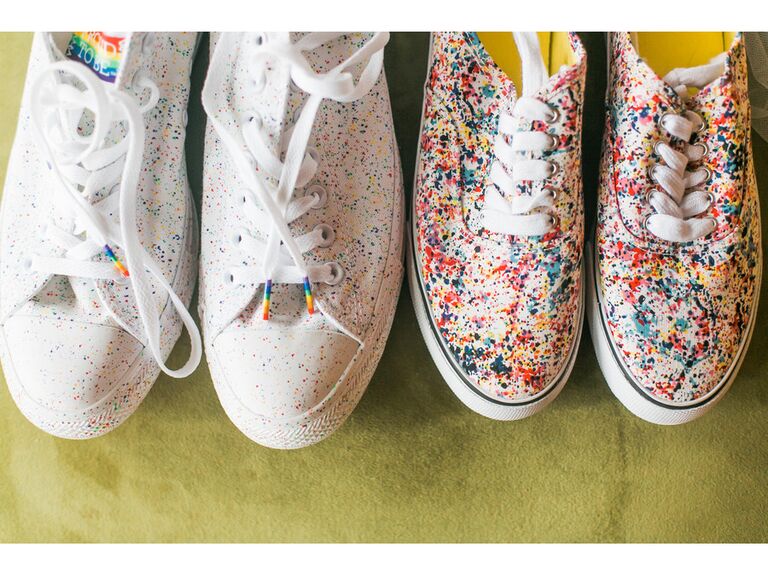 Style in the 1990s was defined by explosive, bright colors, which is why these paint-splattered shoes would make an epic footwear choice. (Psst: For a completely custom look, consider turning this into a fun DIY project for you and your S.O. before the big day.)
Cowl-Neck Slip Bridesmaid Dresses
Popularized by style icons like Kate Moss and Carolyn Bessette-Kennedy, the '90s slip dress is back in a big way. While you can opt for a slinky cowl-neck sheath for a second reception outfit or your rehearsal dinner dress, you can also get them for your 'maids to give your wedding party a cool-girl '90s vibe.
Bounce Castle
Bounce castles became a mainstream party activity by the 1990s, and there's no reason you can't have one on your wedding day too. In fact, we highly recommend it—we have a feeling your guests will be seriously impressed by your attention to detail. (Plus, everyone will love the chance to relive their childhood days.)
Record Stationery
*Record Scratch* *Freeze Frame* Of all the '90s-themed wedding ideas on our list, consider this one a favorite. Stationery that stands out in the mail is a sure way to get your guests' attention and give them a taste of what's to come on the big day, and we're obsessed with this '90s-themed wedding invitation suite.
TV Show Motifs
If you have a favorite '90s sitcom, there are plenty of ways to weave it into your wedding decorations. We love how this couple created table numbers based on their favorite '90s shows—it's a subtle way to pay homage to the series that shaped your early days. (Looking at you, Friends fans.)
Custom Converse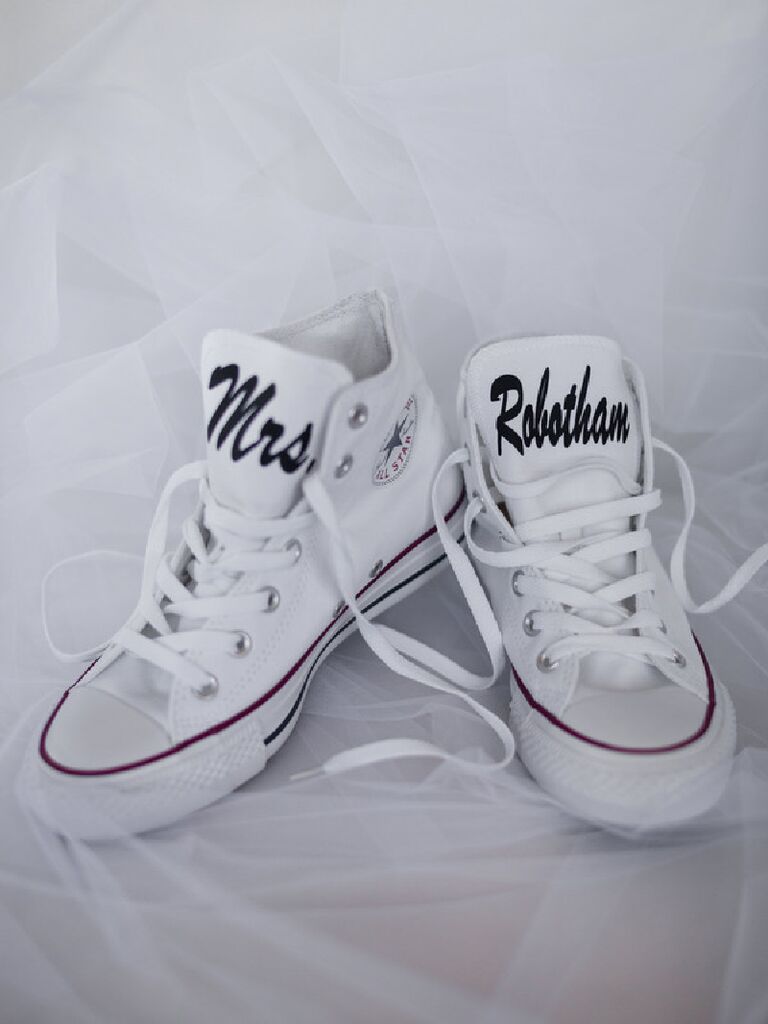 While Converse All-Stars have been around since the early 1900s, the shoe became a staple of the '90s grunge aesthetic. Plenty of rockstars and actors favored the iconic kicks, and so began the Converse frenzy. If you're envisioning a grungy '90s outfit on your wedding day, add a pair of worn-in All-Stars to complete your look.
Sunglasses
Colorful square shades had a moment in the '90s—and luckily for you, these fun frames make for great wedding favors. Stock up on shades to pass out to your guests during the big day (and add your wedding date or hashtag for a personalized touch). Not only will they be extra-useful for an outdoor ceremony, they'll make for great photo booth and dance floor accessories.
Neon Suit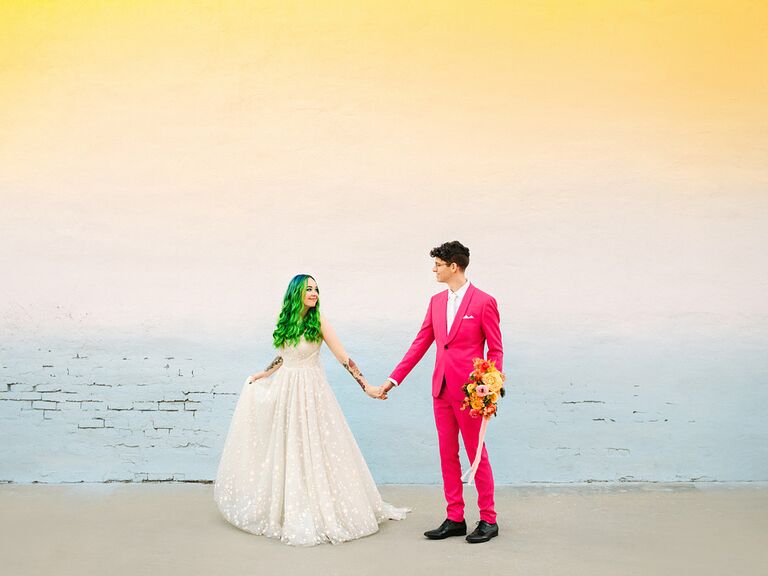 There's no such thing as too much color, especially for a '90s wedding. This vibrant hot pink wedding suit is perfect for to-be-weds who aren't afraid to go bold on the big day.
Extravagant Veil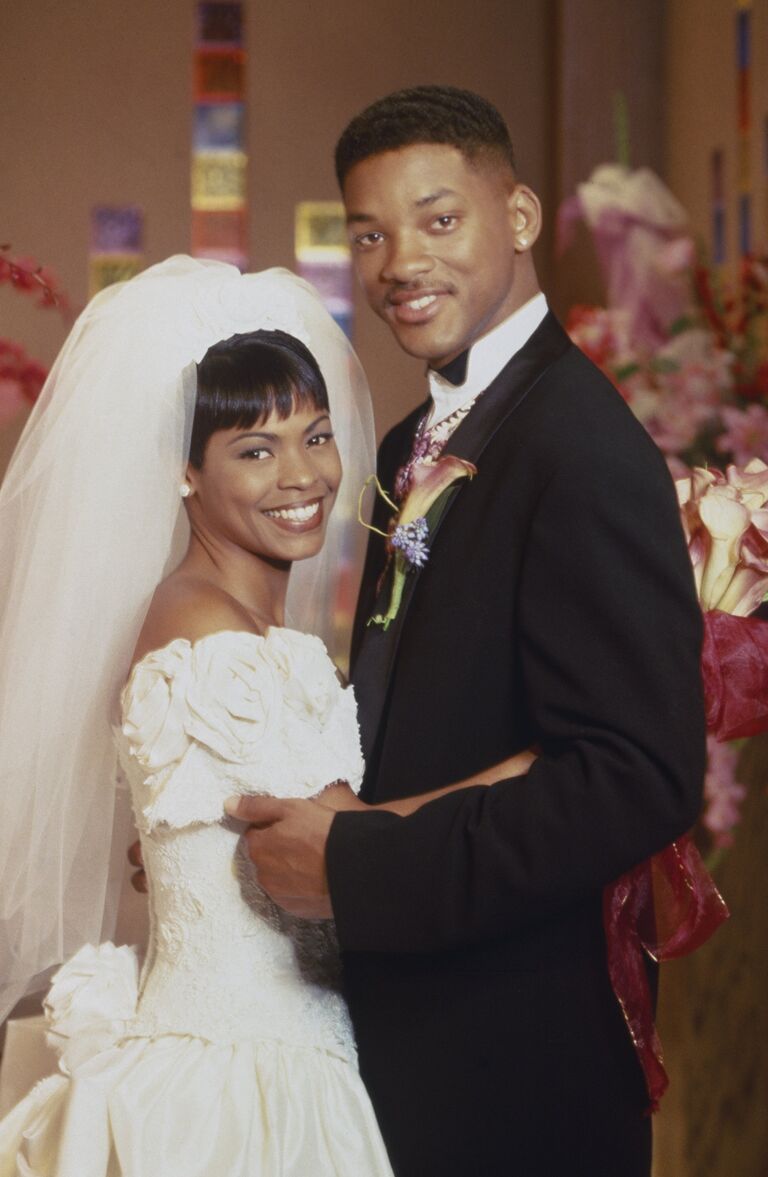 Inspiration for your '90s wedding can be found in your favorite movies and TV shows of the era. When it comes to fashion, we love how Lisa accessorized her look with an over-the-top veil for this memorable Fresh Prince of Bel-Air wedding.
Graffiti Cake
Graffiti and street art exploded in the '90s, and the classic font is often associated with this decade. Give your wedding cake a true 1990s finish by asking your pastry chef or caterer to add graffiti-inspired text or art around the tiers—it'll make your sweet treat look super on-trend.
Reception Video Games
Gamers who spent a fair amount of quarters playing video games at their local arcade will love this '90s-themed wedding reception idea. Set up a designated area for guests to show off their gaming skills—you can even up the ante by hosting a competition to see who can earn the most points over the course of the evening.
Graffiti Wall Photos
If you don't want graffiti on your cake, you can still incorporate the idea by taking wedding photos in front of a graffiti mural near your venue. Scope out your location to see if there are any art displays nearby to serve as a backdrop for group pics. (Pro tip: Your photographer and venue staff may be able to help you scout out the photo spots, especially since they're localized experts.)
Cassette Cookies
Long before the days of Spotify and Apple Music, cassette tapes were all the rage. And while younger generations might not understand their cultural significance, true '90s kids will be blown away by cassette-inspired cookies like these. If you're looking for subtle '90s-themed wedding ideas, start with your desserts. These creative cookies will add a hint of the decade to your dessert table without making too much of a statement.
'90s DJ
To truly party like it's 1999, you'll need live entertainment that can queue the best hits of the decade. DJs rose to fame in the '90s, so it's only fitting to hire a professional for the reception. (We recommend using The Knot Marketplace to find the best vendors for your team of pros.) Alternatively, you can also consider hiring a '90s cover band if you're truly committed to the theme.
Crop Top Wedding Dress
It's no secret that crop tops were everywhere in the 1990s. If you want to bare some skin on the big day, consider wearing a two-piece wedding dress. Plenty of bridal retailers offer wedding-worthy crop top wedding dresses, though you can always opt for a classic gown during the ceremony and change into a second, '90-inspired wedding dress for the after-party too.
Matching T-Shirts
Surprise your guests with an unexpected quick change into matching shirts for a wedding entrance that'll leave a lasting impression. We love how this bride donned matching attire with her wedding party, complete with '90s inspired graffiti print.
Song Lyric Quotes
What's a '90s wedding without your favorite tunes from the decade? We have a roundup of the best '90s love songs for your wedding playlist—but you can take it a step farther by displaying your favorite lyrics on a decorative sign in your venue.
Animal Print Accents
This decade was all about excess, and animal print certainly had its moment back in the day. For a simple nod to the decade, wear an accessory in your favorite pattern. These leopard-print loafers are a chic way to embrace your wild side.
Unicorn Blow Up
We get all the Lisa Frank vibes from this massive unicorn blow-up, which would create an unforgettable photo op for your guests.
Statement Sleeves
Fashion in the '90s was all about extravagance, and statement sleeves are one trend that dominated the bridal fashion runways. Look for a wedding dress that has a puffed off-the-shoulder neckline or sheer balloon cuffed sleeves to give your look a hint of '90s flair.
Holographic Invitations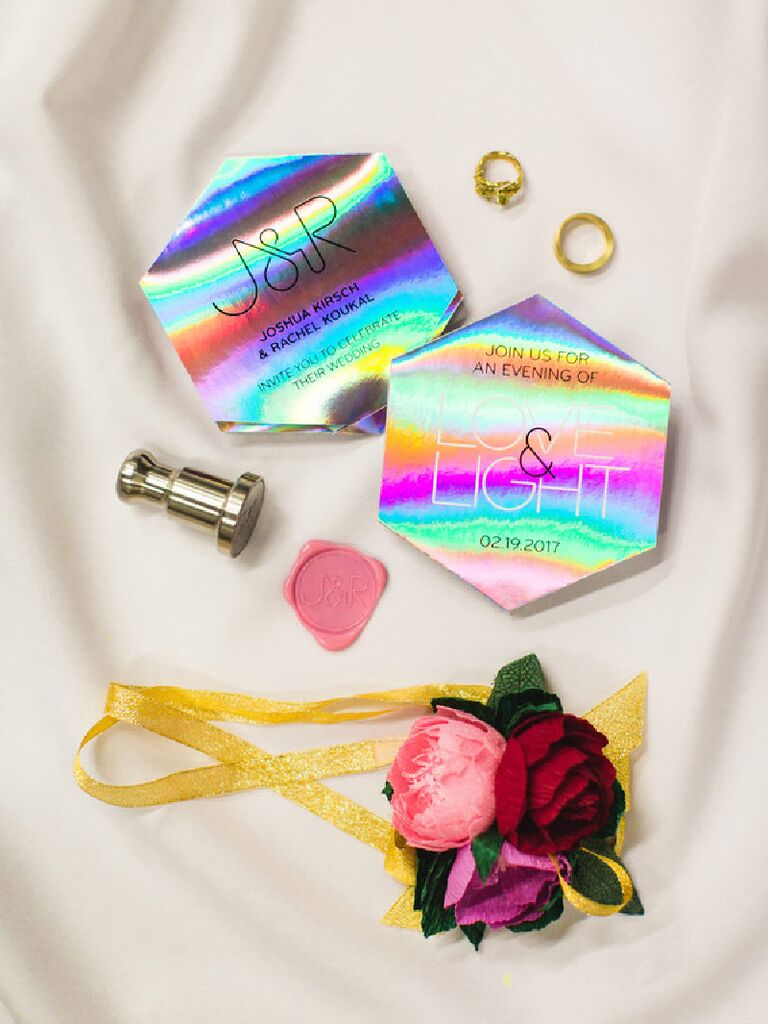 Holographic color schemes started popping up in the early 1990s thanks to the growing popularity of rave parties, making this iridescent palette perfect for your stationery. We love how this couple opted for shiny invites that give off reflective, glowy shades of pink, blue and silver, making them the perfect way to introduce guests to a true '90s wedding.
Sequin Reception Dress
If you've ever owned an oversized sequin purse, you'll be obsessed with this dress that looks just like it. For a sparkly second outfit, consider a number with all-over sequins that bring back memories of your former go-to handbag.
Geometric Table Runner
In keeping with the holographic aesthetic, this iridescent geometric table runner would reflect off the lights in your reception venue, giving off cool shimmery hues to make your event one to remember.
Custom Neon Sign
A custom neon sign is perhaps one of the easiest ways to decorate your '90s-themed wedding reception. Opt for a glowing creation that depicts your last name or your wedding hashtag—the best part is that you can repurpose it in your home after the big day.
Statement Headpiece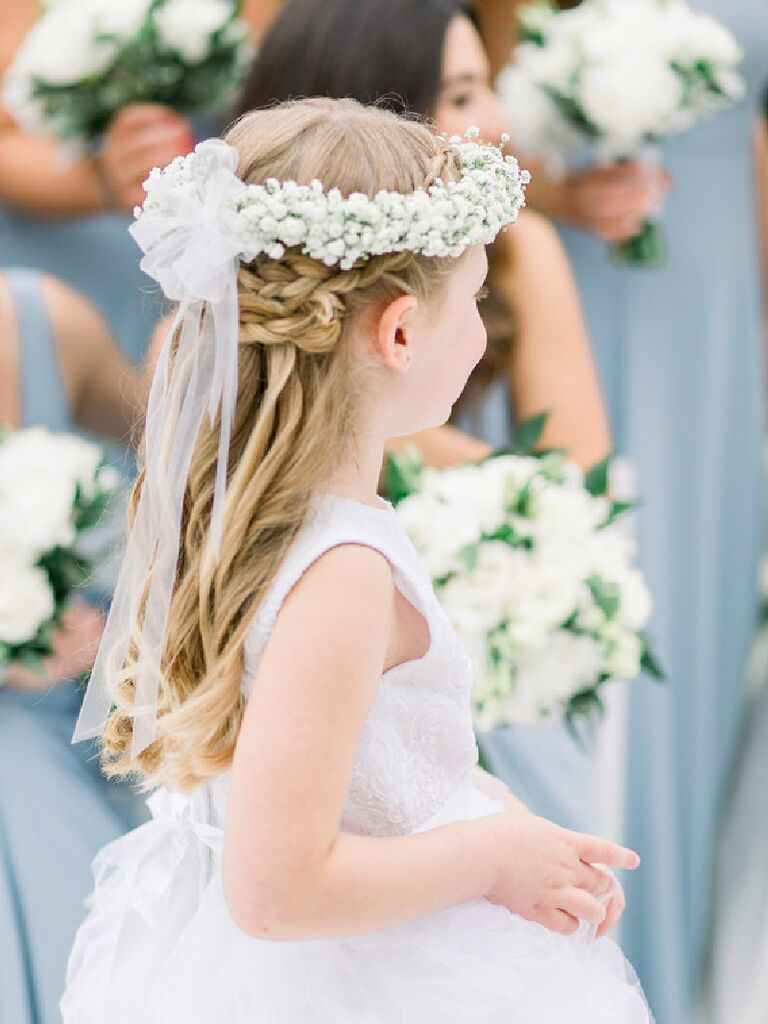 While wedding dress trends evolved throughout the '90s, one thing is certain: statement headpieces were always in style (as evidenced by celebrity brides like Céline Dion and Mariah Carey). While you don't have to go all out with a lavish jeweled headpiece with a trailing veil, consider adding a special something to your hair for a '90s-inspired je ne sais quoi, like a clip or a bridal headband. You can also add 1990s hair accessories to your bridal party attire as well (like this flower girl's floral and tulle crown).
Lace Accents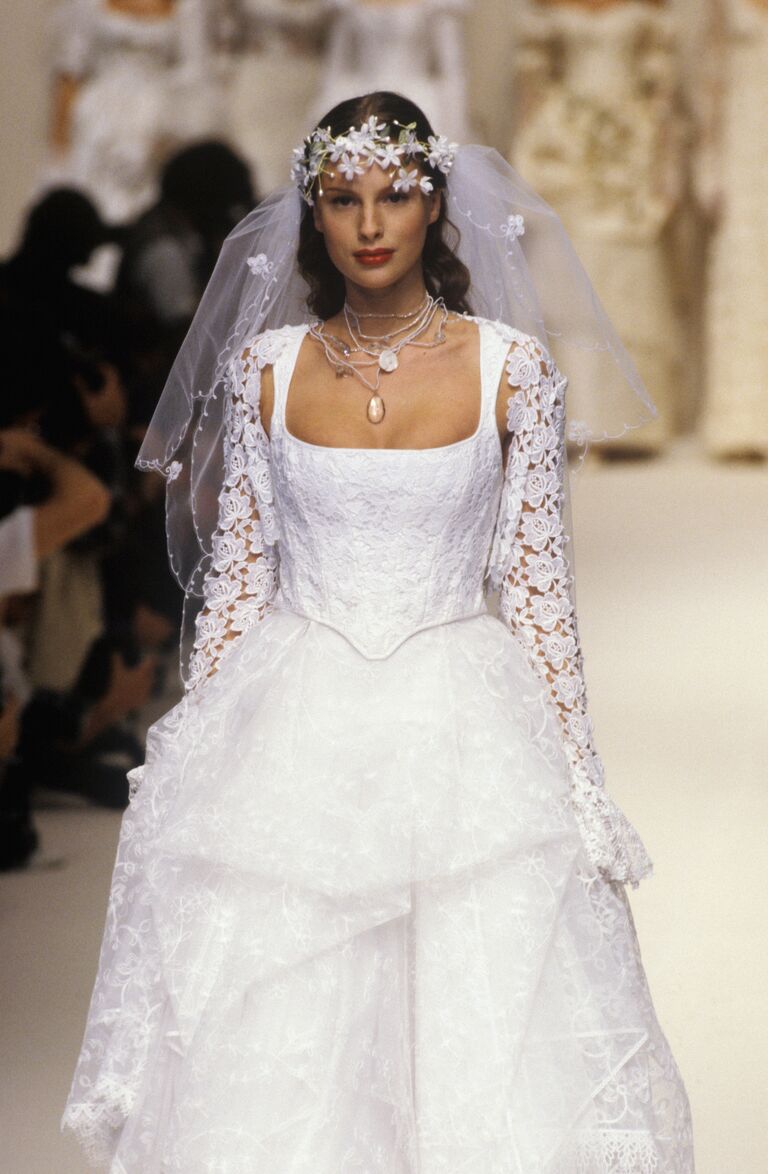 Lace was a beloved fabric for wedding dresses in the 1990s, as seen here in a runway shot from designer Lolita Lempicka. If bold veils or puff sleeves aren't your vibe, you can still create a wedding look inspired by the 1990s with lace long sleeves and overlay.