The Most Popular Engagement Ring Designs Right Now
See which stones, settings and cuts real couples are currently obsessing over.
by Maggie Seaver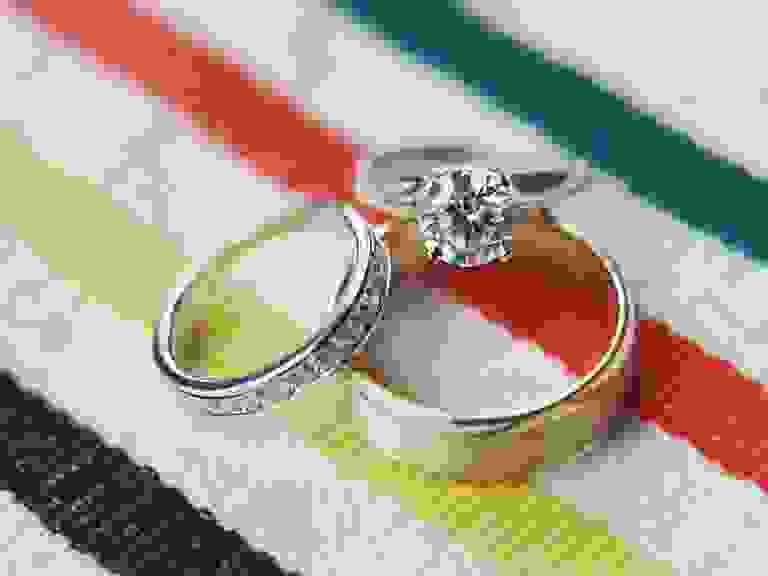 Wondering whether your sparkler is on trend? Thanks to The Knot 2015 Jewelry and Engagement Study, we're able to see the full scope of which engagement ring shapes, settings and styles are making the cut these days. Here's a breakdown of current ring preferences, based on our survey.
Popular Stones
When it comes to center stones, diamonds are still the rock of choice—no surprise there!
63 percent favor a clear diamond center stone with side stones or accents (or both)

21 percent favor a clear diamond solitaire

8 percent favor a non-diamond precious stone (think: colored stones like morganite, sapphire and emerald)

5 percent favor a three-stone diamond
Favorite Setting Styles:
32 percent prefer a prong setting

22 percent prefer a halo setting

17 percent prefer a pavé setting (with diamonds)

8 percent prefer a channel setting (with diamonds)
Must-Have Setting Metals:
68 percent like white gold

14 percent like platinum

5 percent like yellow gold

3 percent like rose gold
Check out our full cheat sheet on engagement ring settings here.
Trendiest Cut:
49 percent prefer a round cut

22 percent prefer a princess cut

6 percent prefer a cushion cut

2 percent prefer an asscher cut
What are these four Cs everyone keeps talking about? Read up on them here.
And both ring givers and receivers appreciate quality over quantity. Fifty-seven percent of those receiving the ring, and 85 percent of those buying and giving the ring, prefer a smaller, better quality diamond over a larger stone of lesser quality. Clearly, when it comes to one of the most important baubles you'll ever have, quality never goes out of style.