A Cleveland Bachelorette Party City Guide to Plan Your Weekend
Escape to the "City of Light" on the utimate bride crew getaway to Cleveland.
Sean Pavone/Shutterstock
We have included third party products to help you navigate and enjoy life's biggest moments. Purchases made through links on this page may earn us a commission.
Cleveland is a city that has it all. So it's no surprise that there's a good time to be had on a Cleveland bachelorette party weekend. With a great food and drink scene, as well as plenty of opportunities for fun and adventure, this is the perfect bachelorette party city to meet up with all of your friends and celebrate the bride-to-be.
Cleveland Bachelorette Party Planning in this Article:
Cleveland Bachelorette Party Ideas and Themes
Cleveland is a Midwest city with a whole lot of charm. At a Cleveland bachelorette party, you'll find something for everyone—including spas, pole dancing classes, bar crawls, and good eats. So if your bride wants to do a little bit of everything, you won't be wanting for options. (Plus, The Knot Shop has plenty of gear to outfit and thank your bride tribe.)
For the Foodies
There is a robust (and often unknown) food scene in Cleveland and you and the girls should take advantage while you're here. Along with brunch and dinner plans, consider joining a guided food tour and tasting tour throughout the city.
For the Beer Lovers
Cleveland has its own brewery scene, with lots of options to choose from. Consider tours and tastings at Bookhouse Brewing, Noble Beast Brewing Co., Masthead Brewing Co., and Great Lakes Brewing Company for starters. Or take a brewery tour to try three spots in a three-and-a-half-hour go.
For the City Explorer
There's loads to do and see around Cleveland, especially if you know where to look. A few highlights worth visiting while you're in town: The Cleveland Botanical Garden, home to 20 unique gardens and numerous butterflies; the Cleveland Museum of Art with free admission and thousands of worthy artwork; and the Rock and Roll Hall of Fame, perfect for a music-loving bride.
Cleveland Bachelorette Party Itinerary and Activities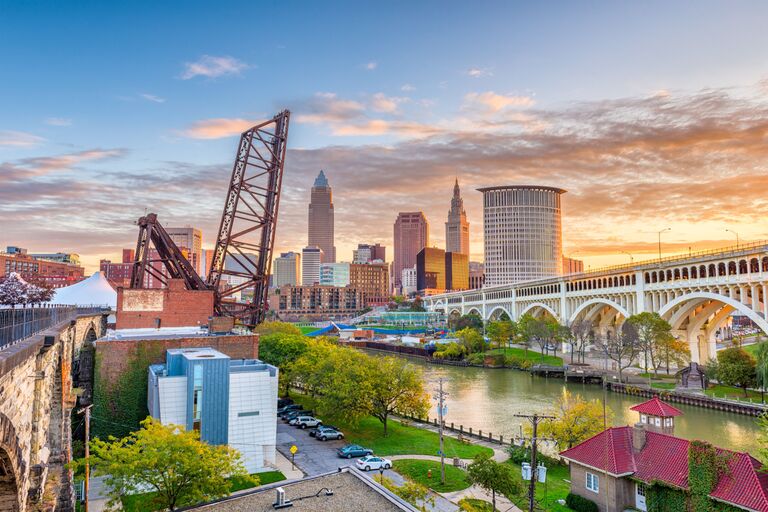 Day 1
Morning: Get your weekend off to a sweet start with breakfast or brunch at Brewnuts. This innovative donut shop offers the sweet treats in seasonal flavors. Some favorites include maple bacon, peanut butter cookie butter, and blueberry-filled toaster strudel. The shop also offers craft beer, as well as custom orders, so you can have some picked up for your house or hotel if your bride tribe is arriving at different times.
Afternoon: Get things of to an exciting start at BeFitness, where you can book an aerial dance or pole dance class for your group. While you're breaking a sweat learning aerial techniques or how to work a pole, you can enjoy drinks (bring your own) and light snacks, if you book the two-hour party class.
Evening: For your first evening out, start with drinks and appetizers at Alley Cat Oyster Bar. Happy hour includes $5 wine, select cocktails, and $4 beer, along with light fare including oysters, popcorn shrimp, and chicharrones. Plus you'll have beautiful views of the Cuyahoga River. Just a short walk away is your dinner spot: Lindey's Lake House Flats. Here, you'll find the same river views and cozy digs, with delicious options like ale battered fish and chips, cedar plank salmon, jumbo lump crab cakes, and shrimp and grits. Don't miss the coastal paloma and the cran-apple mule. Once you've had your fill, head over to Punch Bowl Social for a night of fun. Here you'll find a mega-lounge in Yacht Rock style, with a rooftop bar (among several bars in the space), craft cocktails, milkshakes (some boozy), bowling, karaoke, and mini golf on the menu.
Day 2
Morning: Start the day with brunch at Dante Next Door. This casual spot offers breakfast and brunch items with an Italian twist, including pasta carbonara frittatas, orange marmalade pancakes, and "occhio di bue" with focaccia, among other classic favorites and wood-fired pizzas.
Afternoon: Head to the water for a uniquely Cleveland experience. Aboard the Brewboat, you'll provide the pedal power to take a scenic cruise along the Cuyahoga River. Aboard the cycleboat, you'll BYO wine and bear, crank up your own playlist, and enjoy a day on the water and in the sun.
Evening: Tonight, keep dinner a bit more casual with beer, pizza, and sandwiches at Southern Tier Brewing Company. From there, it's a quick walk to your entertainment for the evening: the fun at Pickwick and Frolic. Pick your poison at this lively club: A night of cocktails from the lounge's champagne bar, the martini teach and taste, a comedy show, or the frolic cabaret.
Day 3
Morning: Today, start with a nice brunch at the Prosperity Social Club where dishes like eggs florentine, breakfast empanadas, and pierogies accompany tasty hand-crafted brunch cocktails like the maple ginger old fashioned, rust belt shandy, and vodka-spiked blueberry lemonade. (brunch is only served on Sundays).
Afternoon: Today is all about R&R for the bride. Choose between a spa day at the Woodhouse Spa, where you can book a bachelorette party package with customized treatments that range from manis and pedis to massages. Or get out your artsy side and make your own scented candle at The Cleveland Candle Co., the perfect memento for your bride to take home.
Evening: For your last dinner, head on over to Parallax, a great spot for sushi, specialty cocktails, and sparkling wine. And go out on a high note: either at Galaxy KTV Bar, which hosts four different karaoke rooms so you and your crew can belt it out without strangers watching, or over at The Treehouse for drinks, music, and a fantastic patio.
Cleveland Bachelorette Scavenger Hunt
Turn your itinerary into a game with a Kansas City scavenger hunt for some fun and friendly competition. Distribute a list of activities with points awarded for each completed task and ask participants to provide proof with pictures. Download an editable template to customize the list and include local attractions and sights. Don't forget to give the winner a prize such as a cute souvenir.
Places to Stay in Cleveland for a Bachelorette Party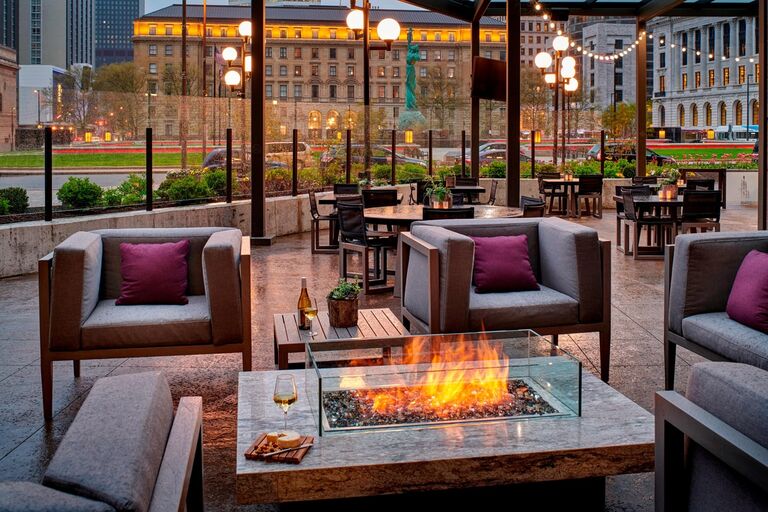 Stay in the downtown area or in Treemont for the best access to most of the city's activities. You'll be close to the water for river views and dining, and in walking distance to many points of interest. Still, cabs are easy to grab and there are public transportation options, so it's not a problem if you can only find spots a little outside the city to accommodate your group.
Best Cleveland Bachelorette Hotels
The Cleveland Marriott Downtown at Key Tower is a budget-friendly option within walking distance to the river and many attractions. Enjoy the hotel's outdoor patio, state-of-the-art spa, and multiple bar options.
The Schofield Hotel is in the heart of downtown in a historic 1902 building. Modern and a bit hipster, it offers cozy rooms, in-room spa services, complimentary morning coffee service, and a yoga mat in every room.
The Hilton Downtown Cleveland is also within walking distance of much of your itinerary. A bit on the higher price point of things, it's still budget-friendly with luxe rooms and amenities, including an indoor pool and a top-floor bar overlooking Lake Erie.
Pro tip: The Knot has partnered with Hotel Planner to help you secure the best group hotel rate and get free hotel advice from an expert travel planner.
Best Cleveland Bachelorette Party Home Rentals
There are plenty of housing options for a Cleveland bachelorette party, so check out TripAdvisor, VRBO, Airbnb, Expedia, and Hopper Homes.
A Three-Bedroom Near Downtown is a great and affordable option for smaller groups (sleeps up to 8) looking for modern digs within easy walking distance to city attractions.
For 8 or less, an Eco-Friendly Cabin near downtown might be the ticket. The cozy home offers easy access to public transportation and outdoor space for hanging out.
For larger parties (up to 16), consider staying a little outside of downtown in The Westside Warehouse Five-Bedroom Home in the Detroit Shoreway neighborhood. Modern, with a billiards table and plenty of outdoor space, it's an affordable option.
Cleveland Bachelorette Party Nightlife
People don't give Ohio the credit it deserves. Cleveland, among other cities throughout the state, is full of fun bars and restaurants to help you and your group make the most of your bachelorette party trip.
Best Cleveland Bachelorette Restaurants
Marble Room Steaks and Raw Bar: If you're looking to indulge in a fancy meal at a local steakhouse, Marble Room is a great place for seafood and chops. What used to be a bank, is now a luxury steakhouse, serving raw bar items, caviar service, quality chops, and a variety of sushi rolls and crudo.
The Bourbon Street Barrel Room: For something a little different, the Bourbon Street Barrel Room is a Cajun restaurant with delicious traditional dishes. Here, you can find flavorful jambalaya, gumbo, and even bite into a fluffy beignet.
Butcher and the Brewer: If a brewpub is more your style, Butcher and the Brewer is the perfect place to grab some plates to share, and a housemade beer. Fill the table with appetizers like crispy pork belly, flank steak with a chimichurri sauce, creamy bone marrow, and of course, a giant warm pretzel.
Best Cleveland Bachelorette Party Bars
Porco Lounge & Tiki Room: Tropical drinks are always a good idea and Porco is the place to indulge in some. They have individual cocktails and giant group drinks to enjoy together like the Scorpion Bowl filled with a generous amount of rum, the Maiden Voyage, or Botany Bay with a group minimum of eight to consume this cocktail containing a whole bottle of high-quality rum and sparkling wine.
The Fairmount Cocktail Bar: The Fairmont is a great place to grab a cocktail and some vegan dishes. They add little touches to their drinks to make them special like a house-made ginger beer for their Moscow Mules or freshly grown spearmint for their Mojitos.
Cloak & Dagger: This gothic bar has cool decor and the cocktails to match. Sip on drinks like the Fell Asleep Beneath with house cantaloupe meloncello gin, French aperitif, elderflower, oat milk, orange liqueur, lime, vanilla, and melon bitters or Don't Go Off Wandering with green tea, whiskey, and herbs like basil, chive, oregano, thyme, and tarragon with toasted Sichuan peppercorn.
Expert Cleveland Travel Tips
When flying to Cleveland, it's about a 2-2 ½ hour nonstop flight from NYC on United, American, and Delta and about a 4 ½ hour nonstop flight from LA on Spirit and United. The best months to visit are September, October, April, and May, when the weather is generally pleasant. Cleveland is very drivable if you have your own car or plan to rent a car, but they do have Uber and Lyft available, in addition to public transportation.