7 Snowy Getaways Perfect for a Winter Bachelorette Party
Did someone say après ski?
by Maggie Seaver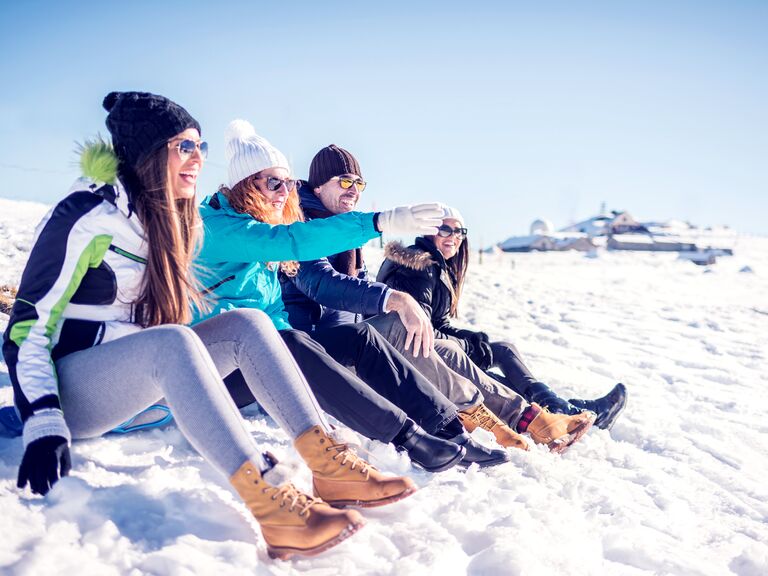 With a late winter or early spring wedding date in the books, you're likely looking for winter bachelorette party ideas. You could head south or out west for bathing suit weather—but you may be even more enticed by a cozy, snowy girls' weekend at a spa or ski town in the mountains. Mmm, just picture it: sweater weather, skiing (or not), hot tubs, boozy cider, roaring fireplaces, snow flurries and facials. Head to one of these awesome destinations for a winter wonderland bachelorette party for the books.
1. Jackson Hole, Wyoming
For fresh powder, Western vibes and crisp mountain air, take your crew to Jackson Hole, Wyoming. This up-and-coming hot spot boasts some of the best slopes in the US, not to mention gorgeous hotels, awesome bars, award-winning spas and spectacular views.
2. Aspen, Colorado
You haven't quite partied until you've partied in Aspen. Besides the potential celeb sightings and world-class skiing, there's no shortage of off-the-mountain fun. If you want, a trip to Aspen can consist only of après ski, happy hour and late-night festivities.
3. Reykjavik, Iceland
Feeling adventurous? Get your group to Iceland for a one-of-a-kind trip you'll be Instagramming for months. Explore the spectacular landscape, see the Northern Lights and enjoy incredible food and nightlife (trust us, Icelanders know how to throw down). And yes, it's chilly, but don't forget to pack a swimsuit to visit Blue Lagoon, the rejuvenating geothermal spa that'll change your life.
4. Park City, Utah
While its reputation as a ski and snowboarding destination precedes it, the Park City shopping, restaurant and bar scene are top notch too. Whether you're looking for rustic saloon vibes or champagne and s'mores at the St. Regis, skiers and non-skiers will have a blast in this friendly ski village.
5. Banff, Alberta, Canada
There are some places simply too beautiful to put into words—Banff is one of them (but we'll try anyway). Situated in the province of Alberta, Canada, Banff has everything you need to do a bachelorette party right. Take a gondola ride for panoramic views of the Rocky Mountains, hike to Lake Louise, go for a dip in the hot springs, then head out for a night of cocktails and dancing.
6. Burlington, Vermont
If you find yourself on the East Coast, head to Burlington, Vermont, for a cozy, quintessential New England experience. And for any beer lovers out there, Vermont has the most breweries per capita in the US—do we really have to twist your arm?
7. Lake Tahoe
Another destination where you'll find a perfect blend of partying, relaxation and outdoor activities is stunning Lake Tahoe. Ski, snowshoe and snow tube by day, hit the spa in the afternoon, then head to Uncorked Wine Bar for a tasting before heading out for the night.