28 Beach Wedding Hairstyles That Are Breezy and Beautiful
Styles so gorgeous you have to sea them to believe them.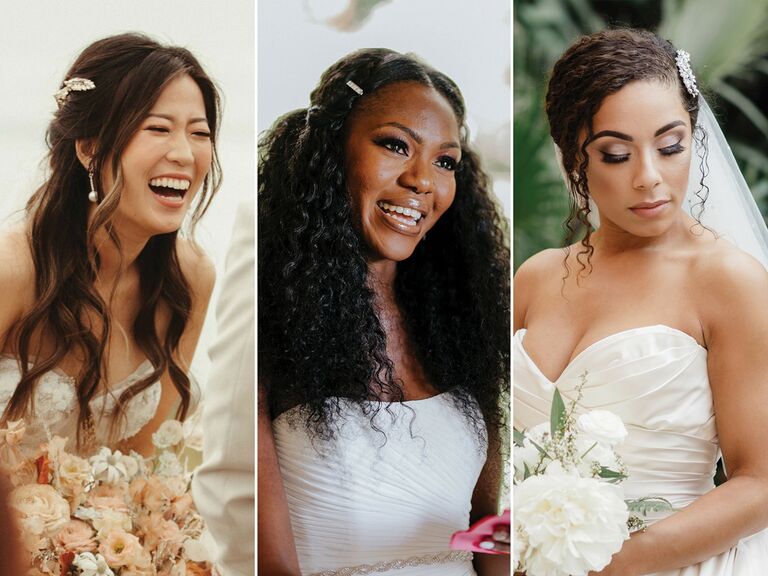 Saying "I do" at a waterfront location means gorgeous views and unmatched ambience (read: tons of Insta-worthy pictures). But the open air venues can also pose unique challenges for your tresses, like increased humidity and strong breezes. To help you feel your most confident, we rounded up 28 beach wedding hairstyles (for long hair, short hair, and medium-length hair) that will hold up against any inclement weather that heads your way. Pulling your hair back (whether half up or into an updo) or using a hair accessory (like flowers or a headband) can help you secure your hair in place so you can focus on what really matters: marrying the love of your life. Whether you're exchanging vows at an elegant destination wedding or laid-back local celebration, we've got the perfect hairstyle for every kind of celebration. Ready to get inspired? Scroll through 28 stunning beach wedding hairstyles, below. (Psst: don't forget to save your favorites and send them to your wedding hairstylist.)
In this article:
Half-Up Beach Wedding Hairstyles
We love these half-up beach wedding hairstyles because they're the perfect combination of form and function: You can still show off your tresses while keeping them out of your face. Plus they work for any hair length.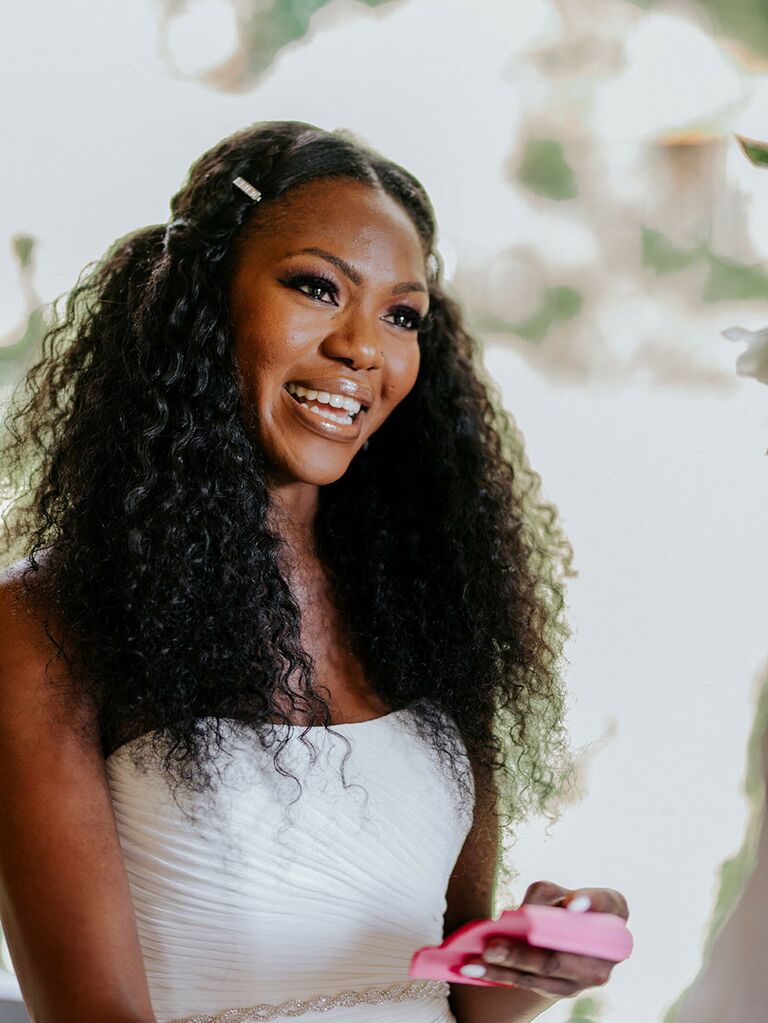 For a modern half-up beach wedding hairstyle, pin the front part of your hair back with a sparkly hair piece.
Dreaming of a beachy boho look? Braid the sides of your hair and pin them together in the back.
For a romantic, laid-back vibe, create a braided half-up look but leave two pieces out in front.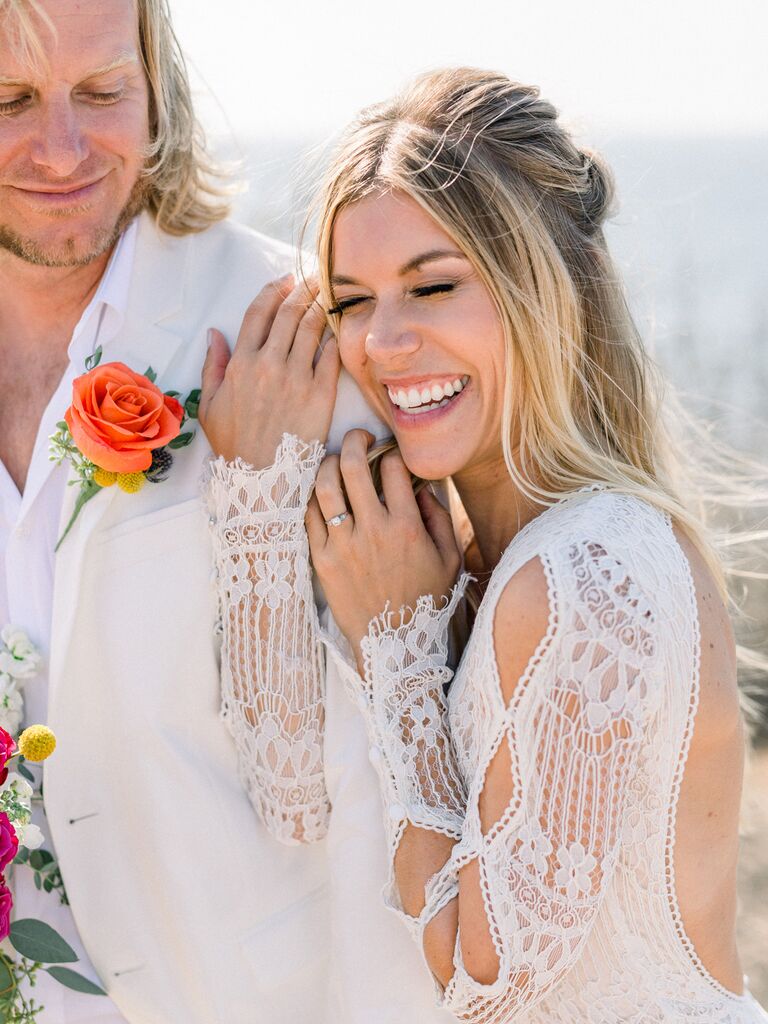 Pin the sides up in the back and leave pieces out in front for an easy beach wedding hairstyle. Finish with a wave spray for added texture.
Hairstyles for a Beach Wedding With Flowers
Pull inspiration from your nature-filled wedding venue and incorporate florals into your 'do. See our favorite hairstyles for a beach wedding with flowers, below.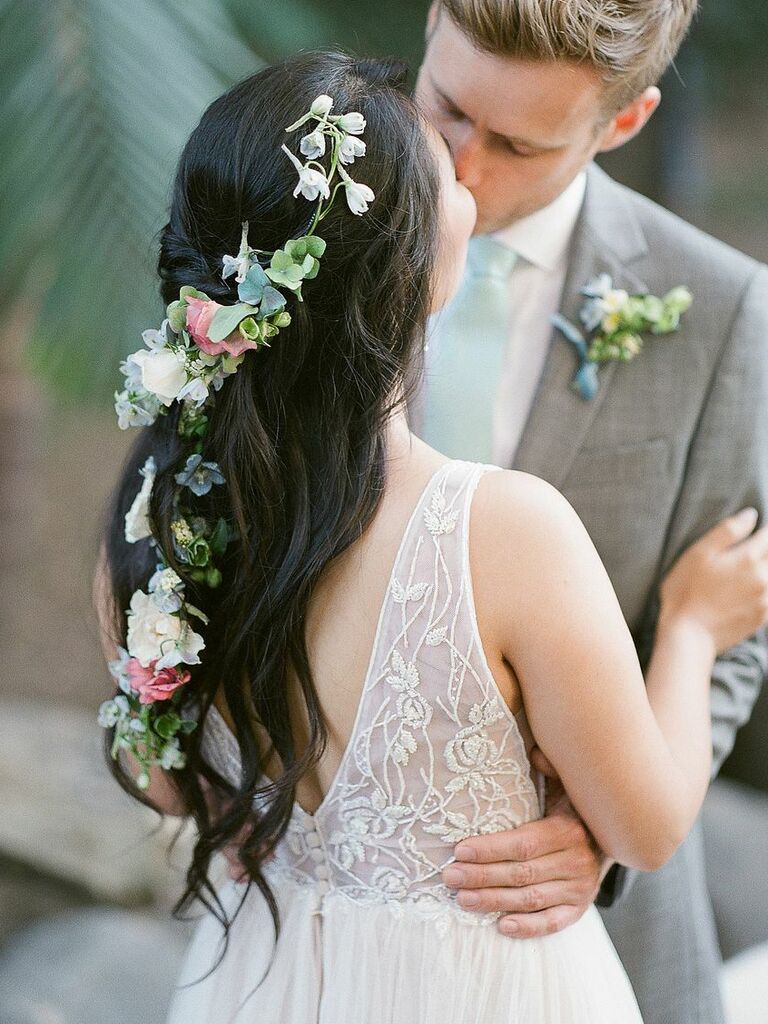 For a unique beach wedding hairstyle, braid one side back and add a floral hair vine into the other side for a creative, asymmetrical hairdo.
Rock your natural texture and place a delicate flower crown (we love this one made of greenery) for a simple beach wedding hairstyle.
Make a classic chignon feel more bohemian by adding sprigs of baby's breath around the top for a subtle halo-effect.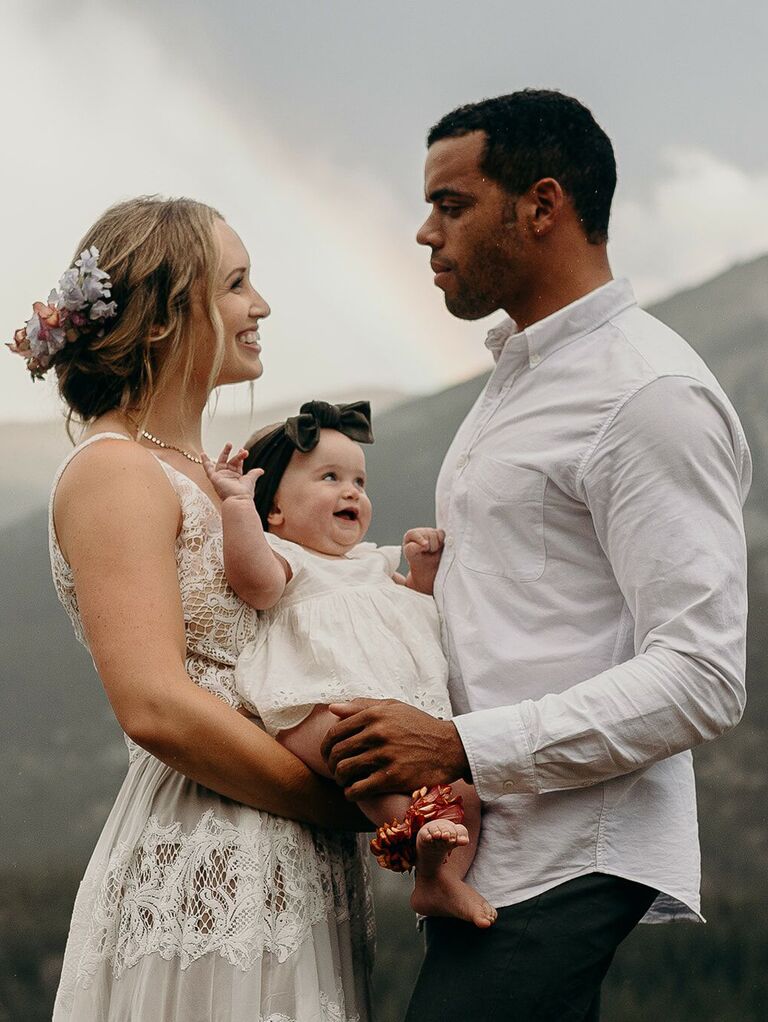 We love this hairstyle because it looks better the more undone it gets. Pull your hair back into a loose, messy bun and add a large barrette of flowers on top of it.
Dreaming of a classic half-up hairstyle? Braid your hair back and then add small blooms (like these pretty orchids) into the braids.
To create a reverse braided updo, ask your hairstylist to start at the bottom of your head and add flowers on top.
Beach Wedding Hairstyles With Headband
Use a headband to tame humidity-induced flyaways and to keep your hair out of your face when the seaside breeze picks up. Get inspired by these looks below.
Pull your hair back into a half-up hairstyle and top it with a sparkly headband for a simple, elegant look.
Show off your bohemian style by asking your stylist for loose waves and top it with a beaded headpiece.
For a vintage-inspired beach wedding hairstyle, style your hair into sleek, old-Hollywood curls and place a beaded headband around the crown of your head.
Beach Wedding Hairstyles With Veil
A pretty veil will float gorgeously above the sand. Place it atop an updo, half-up hairstyle or down style for an elegant vibe.
Keep your hair and veil out of the way with this glam half-up hairstyle. Pin the sides of your hair in the back of your head and place the veil at the center.
Achieve a laid-back look by rocking center-parted waves and place the veil at the crown of your head. Pro Tip: Don't forget hairspray to keep it all in place!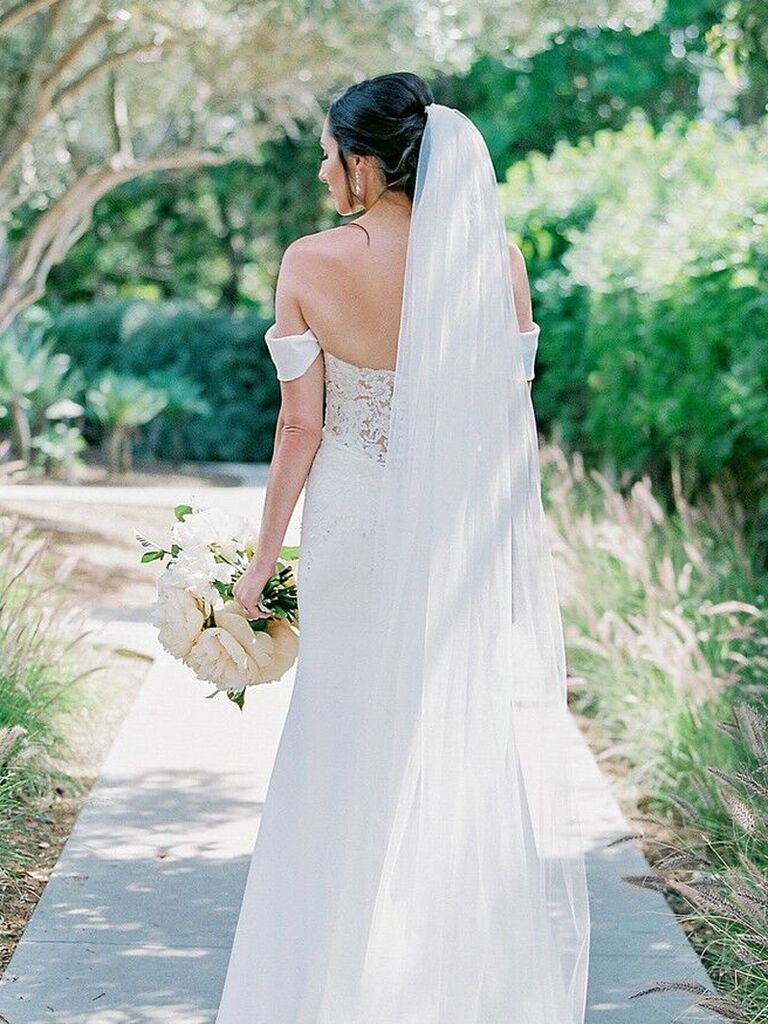 Pin your veil at the top of a classic chignon and then pull pieces out front for a wispy, elegant look that'll stay put.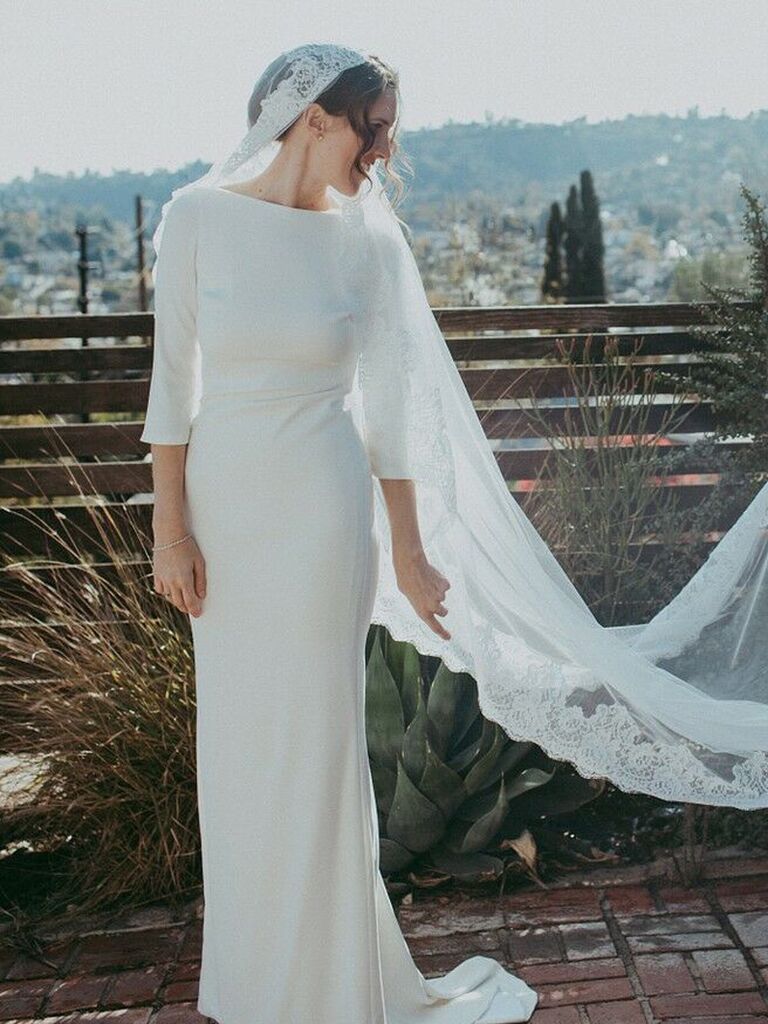 An intricate, elegant Cathedral lace veil will look stunning against your simple beach background. Plus, it'll protect your hair from the elements.
For a whimsical look, have your stylist create a chic topknot and place your veil underneath. (Flower accents are optional, of course.)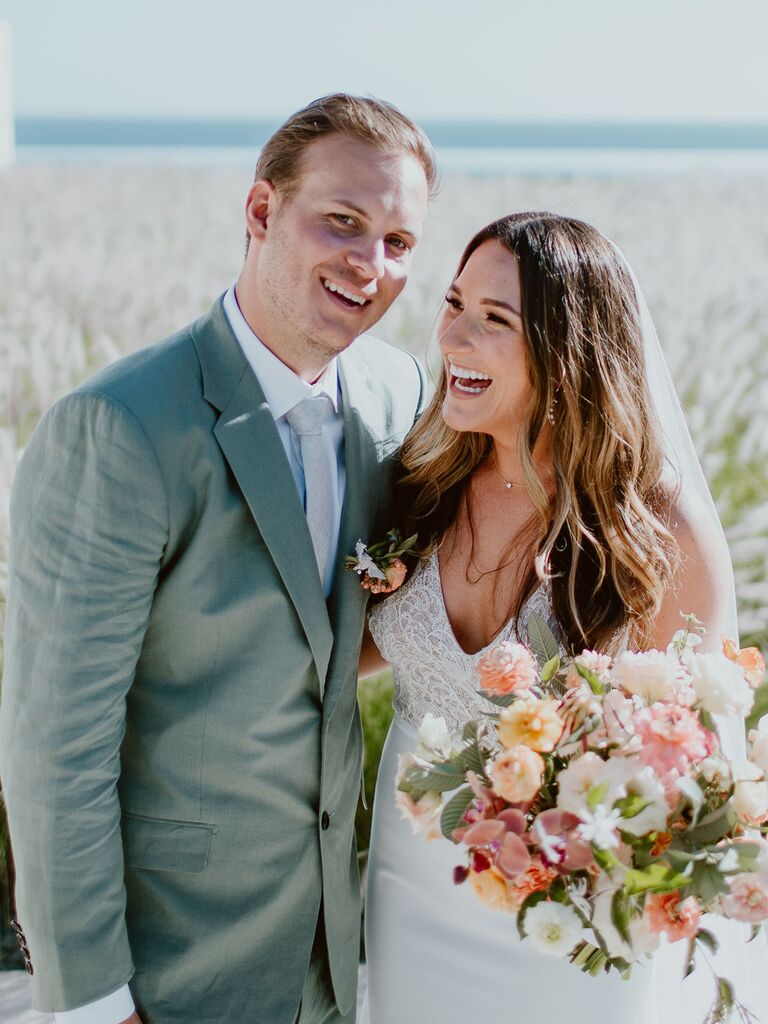 Use a wave spray and an oversized curling iron to achieve beach waves. Then, pin your veil in the back of your head for a sweet, simple hairstyle.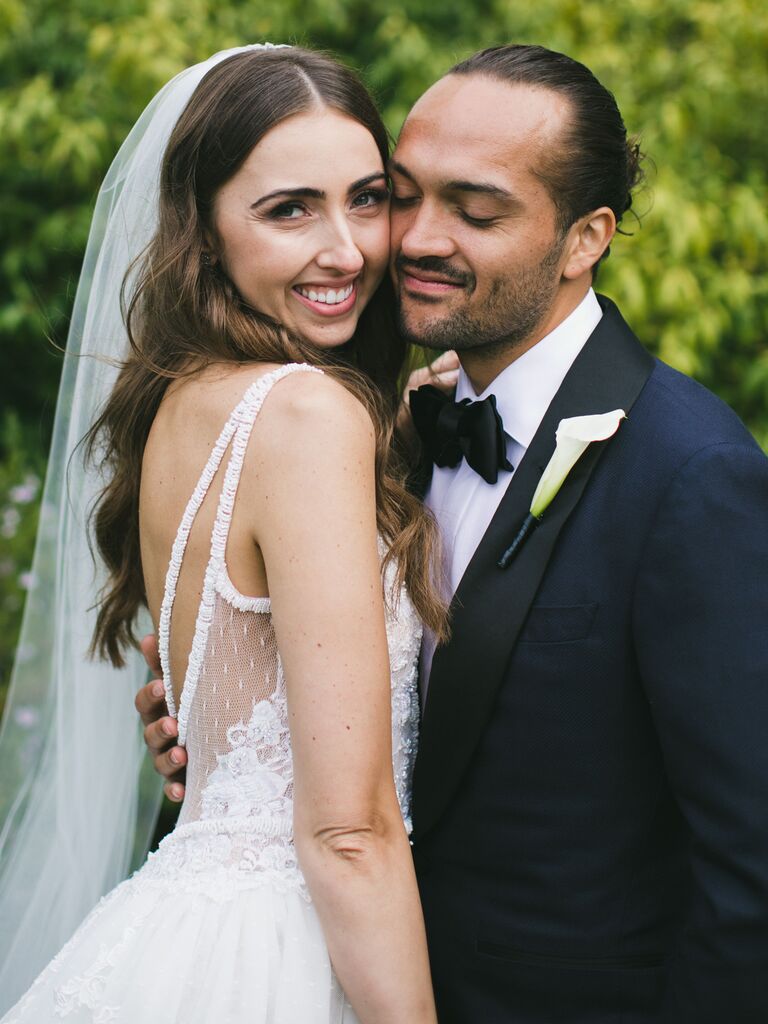 You can still have a sleek wedding hairstyle at your beach wedding. Part your hair down the middle and pin the sides back behind your ears. Then, pin your veil at the top.
Secure your hair in a sleek, low bun and leave two pieces out in front for a romantic touch. Add in a sparkly headpiece and airy veil to finish off the look.
Beach Wedding Updo Hairstyles
We love updos for a beach wedding because they ensure your hair doesn't get in the way. Plus, they'll add an elegant touch to your wedding day look.
You can't go wrong with a trendy topknot. It's chic and practical—what more could you ask for?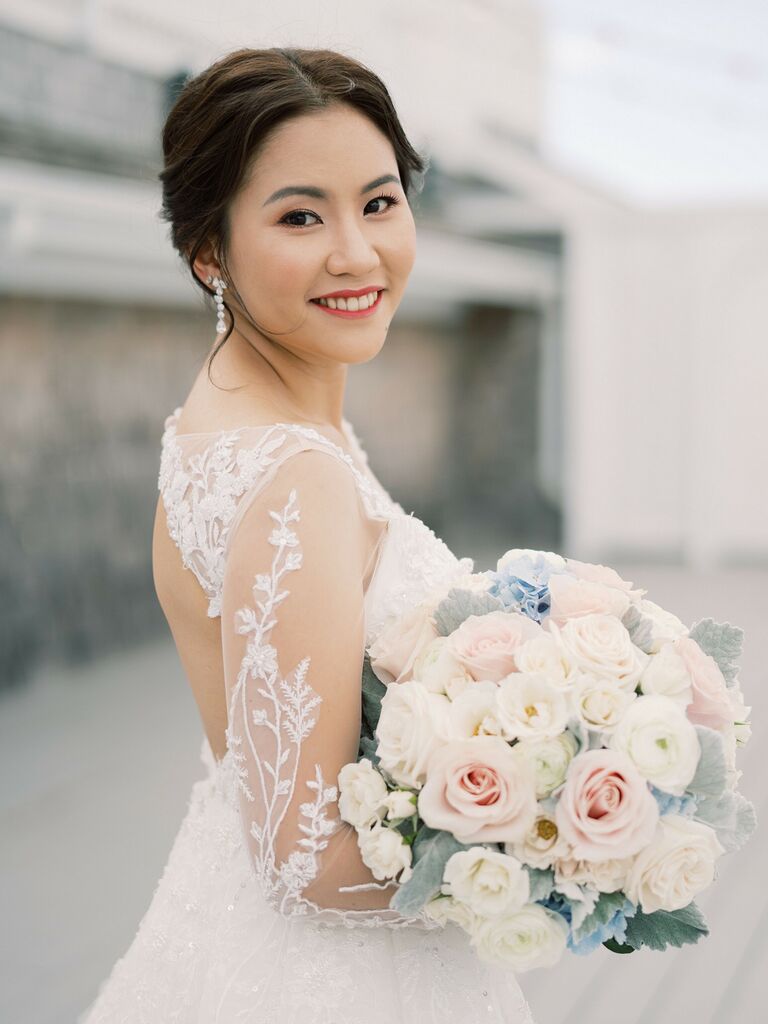 Weather-proof a low, loose bun by securing the sides with bobby pins so the wind doesn't cause any pesky frizz.
A classic French braid (or Dutch braid) is pretty and practical. Not only will it hold up against any inclement weather, it'll also accent any wedding day outfit flawlessly.
Looking for a fuss-free beach wedding updo hairstyle? Gather your hair back into a messy low bun. Pull out pieces around your face for that perfectly undone look.
A low ponytail just might be one of our favorite beach wedding hairstyles. It shows off your gorgeous hair and offers total security, so you can exchange vows seaside without worry.
Style your short tresses up and over the top of your head for an edgy beach wedding updo hairstyle. Styling gel will hold it in place no matter what weather comes your way.
If you ask us, a loose fishtail braid just might be the quintessential beach wedding updo hairstyle. It'll keep your hair up and out of the way—and it'll look better with every sea salt-infused breeze that comes your way.