Wedding Hairstyle Tips for Every Hair Type
Find the perfect wedding hairstyle, whether your locks are fine or thick, straight or curly.
by The Knot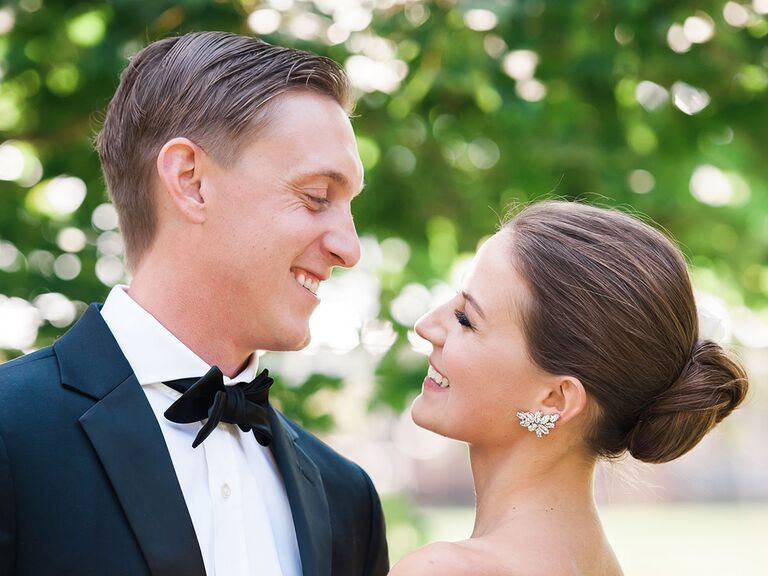 For many brides, deciding on the perfect wedding day hair is as important as finding the dress. Your best option is to work with the locks you have and the details most important to you (like your mom's chandelier earrings, a cascade veil or your celebration's über-formal style). Follow these tips to play up your hair's best qualities for your day-of 'do.
Curly Hair
Don't fight what nature gave you—own it! If you have curly hair and it's August, it won't matter how hot you make the flatiron. Those curls could be back within an hour. Instead of ditching the curls, play them up. Whether it's summer or winter, look for styling products with humidity-fighting ingredients to help keep frizz at bay. And don't be afraid to befriend the bobby pin. Just maintain a touchable curl with well-placed pins so your stylist can ease up on product.
Straight Hair
You can't fight your natural texture—even tight curls may fall before the end of the ceremony. Keep curls big and loose, or go for a sleek style, like a low bun to one side or a bowlike French twist to show off your hair's silky smooth texture. 
Fine Hair
If your hair is very fine or thin, keep it simple. Choose an updo so you don't have to worry about your locks going limp. But that doesn't have to mean boring—go for an updo that's as playful as you are. Add twists, fishtails, braids, fresh flowers or hair accessories. Fine hair should be slightly dirty before going into an updo, since freshly shampooed hair is often too soft to hold pins. Add a little texture and fullness with a texturizing spray. 
Thick Hair
Show off lush locks with a twisted half-updo—braided and twisted styles are more formal than simply wearing your hair down. If you want to wear it down, plan for extra time at the salon to first straighten your thick hair and then curl for extra control. A dime-size drop of pomade raked through with your fingertips gives hair height, structure and texture while preventing flyaways. 
Oily Hair
If your hair is grease prone, you might want to think twice about wearing it down. A low-maintenance updo will keep you from touching your hair, which encourages oil production. Keep your roots fresh and clean all day with a dry shampoo, which will absorb oil and add a subtle scent. In a pinch, a touch of baby powder does wonders. Just don't forget to pat it in until you can't see any white residue.
Long Hair
You'll have plenty of good material to work with, whether you go down, up or half-up (lucky you!). One look we love: an edgy ponytail. It works best with hair that's shoulder-length or longer and has plenty of layers. Consider braids, curls and twists to take advantage of your length. And here's an unexpected tip: If you're wearing a backless dress and want to keep your hair down, it could stick to your back (yikes). Prevent this with a nongreasy styling gel. 
Short Hair
Many brides crave long hair to create an ideal bridal look, but chin-length hair can actually be even more effective for many styles (it weighs less, so it takes fewer pins and products to keep it up). Short hair can handle impressively pristine pin curls (think old-Hollywood style), but you'll need to keep firm-hold hair spray on hand throughout the celebration. For a spritz that's strong but lightweight, try a volumizing hair spray. 
Colored or Chemically Treated Hair
If you chemically straighten, relax, color or treat your strands, your hair is likely fragile and prone to breakage. Pick a style that conceals damaged ends, like a French twist—your stylist can use pomade to increase shine and smooth down your strands. 
Accessorized Hair
Okay, this one is more of a style preference than a hair type, but if you have a specific, must-wear accessory in mind, let that influence your final hairstyle. (Bring any hair accessories you plan to wear on your wedding day to your hair trial so your stylist knows exactly how to work it into your final look.) To determine your look, think about how you can best show off your accessories—if you have a great necklace or statement earrings, sweep your tresses up and keep your décolletage bare. 
Adding a Veil
If you want to wear a veil, choose a hairstyle that works with it. For example, you can wear it below a chignon or just above a half-updo. You might even consider keeping a fabulous style under wraps for your ceremony, so it's even more dazzling at your reception. Just be sure your stylist shows you or your maid of honor how to remove your veil without messing up your style.
Natural Hair
Chances are you wear your hair in a way that's both easy and flattering on a day-to-day basis. Even if it's a basic ponytail, your hairstylist can help you create a wedding-worthy version of the look you're most comfortable with. And when all other inspiration escapes you, it's always helpful to match your hairstyle with your wedding style. If you're getting married in a ballroom, look for images of twists, buns and other formal updos. If you're marrying in a casual, backyard celebration, look for slightly less "done" styles like loose half-updos. 
Find all the bridal beauty tips and advice you need right here. 

Ready to book your hairstylist? Find the right beauty pro here.