Wedding Hair Extensions 101: Everything You Need to Know
Plus, pros and cons of each type.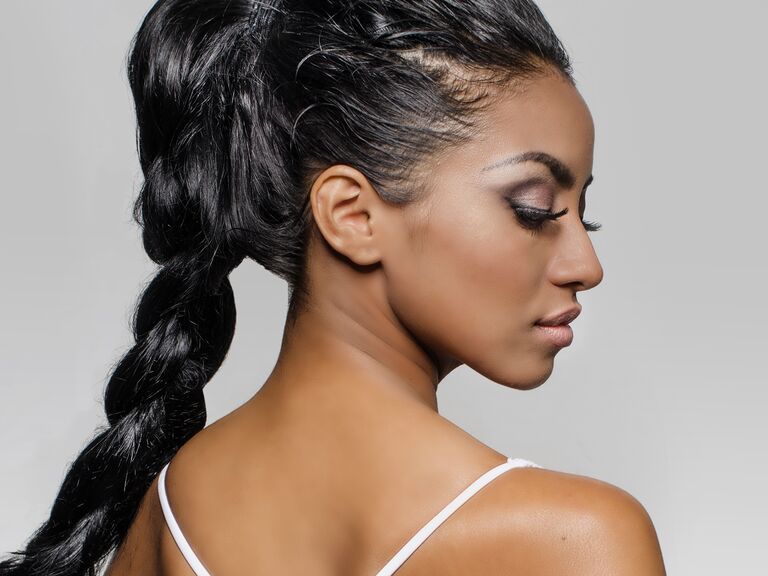 BCFC/Shutterstock.com
Here's the truth: Many to-be-weds consider hair extensions for their nuptials, but shy away from the idea because they're unfamiliar or intimidating. But the process of getting hair extensions doesn't have to be stressful. If you're dreaming of a Pinterest-worthy style, your best bet is to use hair extensions for your wedding in order to get the length and volume you're looking for. Adding in extensions can help you achieve thicker braids, fuller half-up styles, more dramatic updos and longer 'dos.
There's no shame in giving your hair a boost. Whether you've experienced stress-related hair loss from the pandemic, you have short hair or you simply want a little extra oomph, you should do what makes you feel most confident. Between clip-in extensions and more permanent hair extensions, there's an option that will work for you—and we're here to help you find it. Below, we explain everything you need to know about hair extensions for your wedding; plus we walk through the pros and cons of each type.
Hair Extensions for Your Wedding: Yes or No?
If you're on the fence about getting hair extensions for your wedding, we recommend speaking directly with your hair stylist. They're the professionals, and they'll be able to help guide you in the right direction. Plus, they know what hair type you have as well as what kind of style you want to rock on your big day.
However, the number one thing to consider when making this decision is to think about what will make you feel the most confident. Will having long, luscious locks give you a boost of fierceness in front of the camera? Or will you be constantly worried about how they look during the ceremony? Additionally, consider how integrating extensions into your wedding day look can open up several different styling options. (Read: That boho fishtail braid you pinned could actually work!) Finally, you'll need to consider the cost of them and factor that into your budget.
How much do hair extensions for a wedding cost?
The price of hair extensions varies by the type. For example, clip-in extensions are much more adorable than permanent ones. Additionally, the type of hair used (synthetic versus human hair) can affect the price. For example, ponytail extensions made of synthetic hair from Insert Name Here range from $45 to $54. Permanent hair extensions, on the other hand, can cost anywhere from $200 to $600. Before you commit to any kind of extension, consult your hair stylist so they can come up with a plan that works best for your hair and your budget.
The Most Popular Hair Extensions for Weddings
Unsure about what type of hair extension is right for your wedding hairstyle? Below, we break down the four most popular types and list the pros and cons of each.
Clip-In Hair Extensions for Wedding
Clip-in extensions pieces of hair (usually synthetic) with small clips that you can fasten to your own hair. Because they're offered in a variety of sizes and weights, you can completely customize your look. Add in a few for a touch of volume or several all over your head for a fuller, longer look.
Pros:
Seamless application: Clip-in hair extensions come with a clip already sewn into the hair extension, so using them is intuitive and straightforward—all you have to do is snap them in.
Affordable options: If you're on a budget, clip-ins can be less expensive than the other types of extensions. Psst: This is a great hack to save some money while still achieving a gorgeous head of hair.
Multiple clips: Each kit contains about 10 to 12 clips with different widths so your hair stylists can clip them wherever needed to complete your look. This is a great option for to-be-weds who want to add a little volume or a few inches of length to their hairstyle.
Cons:
Possible breakage: If you have fragile hair, the clips may not be the best extension choice for you—they have the potential to cause hair breakage or split ends if taken out incorrectly. But since you'll mainly just be wearing them for one day, this con is minimal.
Updo Hair Extensions for Wedding
Instagram-famous brand Insert Name Here paved the way for this unique category of hair extensions. The online retailer offers clip-in ponytails and buns for to-be-weds dreaming of a bold updo. Whether you're looking for an Ariana Grande-inspired ponytail or a perfect ballerina bun, these extensions can help you achieve your dream wedding hairdo. Place the comb at the top of your own ponytail and wrap the extra piece of hair around your elastic for a polished, on-trend wedding day updo.
Pros:
Simple to use: Since these extensions are built to wrap around your natural hair, they're incredibly easy to apply. Pull your own hair into a ponytail or bun and clip them in at the base. That's it!
Nearly undetectable: If you're rocking an updo at your wedding, many people likely won't be able to tell you're wearing extensions at all. They'll simply compliment you on how amazing your ponytail, bun or braid looks!
Cons:
Potentially heavy: While these products are built to be as light as possible, a super-long ponytail could weigh on your head after a few hours. If you're concerned about this, consider switching out your extra-long pony for a bun to relieve some of the pressure on your head.
Not for all hair types: These types of extensions are built to add onto an existing ponytail or bun. That means if you don't have enough hair to support them, you won't be able to use them. However, you could use other kinds of extensions on your hair or consider wearing a wig. Whatever makes you happiest!
Halo Hair Extensions for Wedding
Halo hair extensions come in a half-circle shape with a translucent cord to hide them. To apply them, tie your hair up into a half-up topknot (be sure to leave two pieces out in front) and place the cord around the top of your head so the extra hair is sitting in the back of your head. Then, fasten the clips to your own hair and let your hair down. Gently brush out the top of your hair to fully disguise the cord, and you're done!
Pros:
Easy application: The halo hair extension is only one piece, so all you need to do is place it in your hair. That means no glue, clips or tricky procedures."
Natural look: Not only is it easy to apply, but it also looks incredibly natural. The one-piece addition blends seamlessly into your locks for flawless, luscious results.
Cons:
No updos: According to stylists, buns and ponytails are much harder to do while you're wearing the halo. It's best to choose another hair extension option for your day if you've been dreaming of an updo.
Permanent Hair Extensions for Wedding
Maybe you've been dreaming about longer hair for a while. Your wedding is a great opportunity to try out permanent hair extensions. Permanent hair extensions are sewn, glued or taped onto your hair and last from four to eight weeks. That means you could potentially rock your long locks for your rehearsal dinner, wedding day and honeymoon.
Pros:
Long-lasting wear: If you want the long hair look every day (from your rehearsal dinner through your honeymoon, for example), then this is a great option to consider. If it's just for your wedding day, though, you might want to consider more temporary extensions.
Instantaneous long hair: If you've had short or fine hair your whole life and want to change things up, getting permanent hair extensions is an instant way to guarantee longer hair. Instead of waiting months or even years for your hair to grow, you'll be rocking long hair in just a few short hours.
Cons:
Possible hair damage: These extensions definitely provide long wear, but they can be damaging to those with sensitive or thin hair. If your extensions are heavy and constantly weighing down on your hair, it can cause hair loss or breakage.
Higher maintenance: Permanent hair extensions require a lot of specific cleaning and maintenance tricks. Before you commit to permanent extensions, be sure you're ready to commit to the upkeep involved too.