3 Types of Hair Extensions—and the Pros and Cons of Each
Brittany Lo of Beautini shares her expertise about halo, clip-in and permanent hair extensions for your wedding day.
by Brittany Lo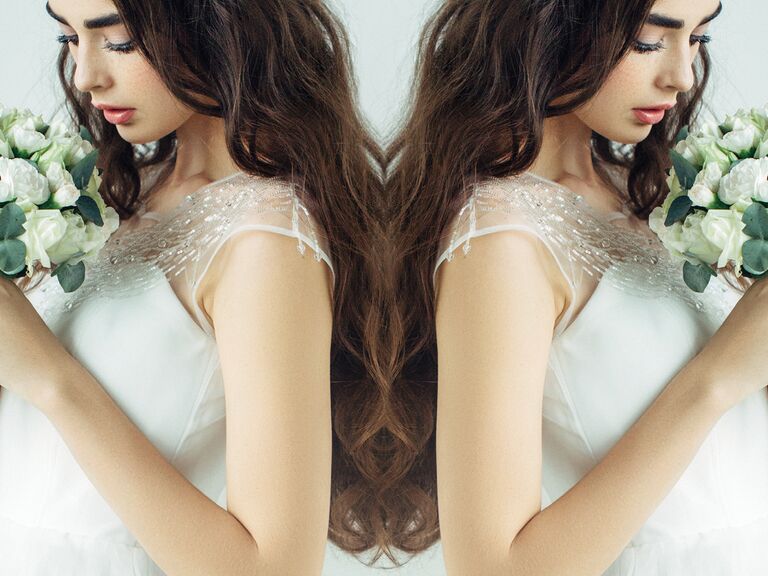 Many brides consider hair extensions for their wedding day, but shy away from the idea because it's unfamiliar or intimidating—but the process of getting hair extensions doesn't have to be stressful. If you're striving for Pinterest-worthy hair on your wedding day, your best bet is to add hair extensions to get that added length and volume you're looking for. From clip-in extensions to more permanent hair extensions, you're guaranteed to find an option that works best for you. Here are three options, below.
1. Halo Hair Extensions
Pros 
Easy Application: The halo hair extension is only one piece, so all you need to do is place it in your hair. That means no glue, clips or tricky procedures.
Natural Look: Not only is it easy to apply, but it also looks incredibly natural. The one-piece addition blends seamlessly into your locks for flawless, luscious results.  
Cons
No Updos: According to stylists, buns and ponytails are much harder to do while you're wearing the halo. It's best to choose another hair extension option for your day if you've always wanted a bridal updo.
2. Clip-In Hair Extensions
Pros
Seamless Application: Clip-in hair extensions come with a clip already sewn into the hair extension, so using them is intuitive and straightforward—all you have to do is snap them in.
Affordable Options: If you're on a budget, clip-ins can be less expensive than the other types of extensions. This is a great bridal beauty hack to save some money while still achieving a gorgeous head of hair. You can find decent clip in extensions starting at about $60. Any option between the $60–$200 range is ideal (these are my personal favorite option for extensions).
Multiple Clips: Each kit contains about 10 to 12 clips with different widths so your hair stylists can clip them wherever's needed to complete your look. This is a great option for brides who want to add a little volume or a few inches of length to their hairstyle.
Cons
Possible Breakage: If you have fragile hair, the clips may not be the best extension choice for you—they have the potential to cause hair breakage or split ends if taken out incorrectly. But since you'll mainly just be wearing them for one day, this con is minimal.
3. Permanent Hair Extensions
Pros
Long-Lasting Wear: Permanent hair extensions are sewn, glued or taped onto your hair and last from four to eight weeks. If you want the long hair look every day (from your rehearsal dinner through your honeymoon, for example), then this is a great option to consider. If it's just for your wedding day, though, you might want to consider more temporary extensions. 
Instantaneous Long Hair: If you've had short or fine hair your whole life and want to change things up, getting permanent hair extensions is an instant way to guarantee longer hair. Instead of waiting months or even years for your hair to grow, you'll be rocking long hair in just a few short hours. This is an excellent beauty hack for how to update your hair aesthetic.
Cons
Possible Hair Damage: These extensions definitely provide long wear, but they can be damaging to those with thin or sensitive hair. If your extensions are heavy and constantly weighing down on your hair, it can cause hair loss or breakage.
Higher Maintenance: Permanent hair extensions require a lot of specific cleaning and maintenance tricks. Before you commit to permanent extensions, be sure you're ready to commit to the upkeep involved too.
Prior to your hair trial, review any photos you've chosen as inspiration for your wedding day hairdo to see if you might need a little extra volume or length to make it work. Then ask your hairstylist for recommendations on where to find extensions and what type is best for you. If you're considering wearing extensions, I highly recommend you buy them before your trial so you can see the full look then.
Brittany Lo is the founder and CEO of the New York City-based beauty services company, Beautini, and an ultimate beauty junkie. She's been obsessed with makeup her entire life, and knew she'd end up dedicating her professional professional life to making women feel beautiful for the most important day of their lives.