38 Pretty Wedding Hairstyles for Long Hair
Whether you prefer up, down or half-up, half-down, there's a wedding hairstyle perfect for you and your long mane.
by Sophie Ross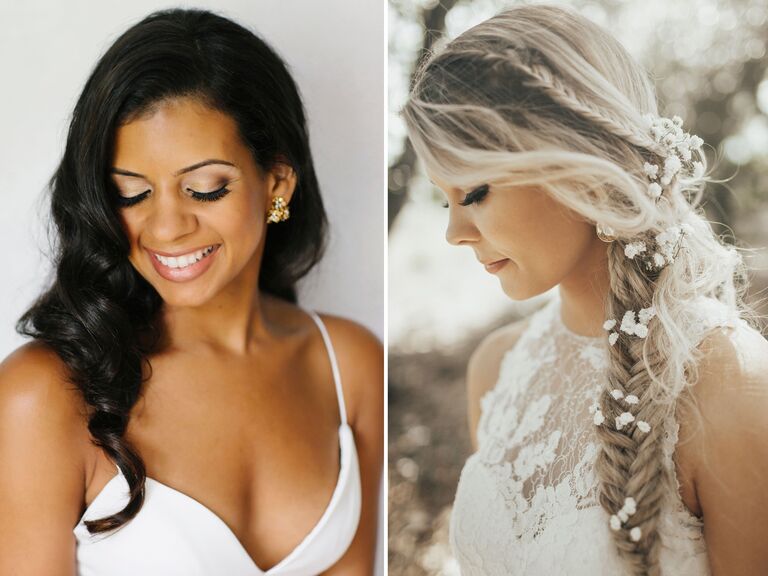 If you have long hair (or plan on getting extensions for your wedding day), then you probably realize your hairstyle options run the gamut. After all, you have plenty of hair for your hairstylist to work with.
Maybe you feel stuck due to the breadth of options you have—but between braids and beachy waves, we have every base covered. Get inspired by 38 of our favorite wedding hairstyles for long hair, below.
1. Loose Waves With a Long Veil

2. Down With a Beaded Crown

3. Curled With Hair Accessories

4. Romantic Twisted Crown Updo

5. Updo With a Glam Beaded Hair Pin

6. Stunning Sideswept Waves

7. Half-Up With a Fishtail Crown

8. Soft, Side-Parted Waves

10. Ponytail With a Gold Headpiece

11. Bouncy Waves With a Floral Hair Clip

12. Vintage-Inspired Sideswept Look

13. Loose Waves With a Glam Hairpiece

14. Dramatic Ballerina Bun With a Beaded Accent

15. Wavy Ponytail With a Dainty Headband

16. Tousled, Voluminous Curls

18. Middle Part With a Flower Crown

19. Sideswept Fishtail Braid

20. Loose Waves With a Chic Tiara

21. Pulled Back in a Half-Up Style

22. Braided With a Porcelain Floral Headpiece

23. Pinned Back With a Glam Hair Clip

24. Curled With a Crystal Crown

25. Sophisticated, Pearl-Embellished Chignon

27. Piece-y Fishtail Braid

28. Half-Up With a Flower Crown

29. Boho Braid With Interspersed Blossoms

30. Celtic Knot With Soft Curls

31. Loose Waves Worn Half-Up With a Long Veil

32. Perfect Curls With a Flower Crown

33. Braided Bun With an Embellished Barrette

34. Down With a Rhinestone Headpiece

35. Ringlets With an Oversize Flower Crown

36. Half-Up With a Jeweled Comb

37. Bohemian Updo With White Flowers

38. Dramatic Fishtail Braid