Beautiful and Easy DIY Wedding Program Templates
Get crafty with your ceremony programs for the ultimate personal touch. Give one of these gorgeous and free wedding program templates a try.
We have included third party products to help you navigate and enjoy life's biggest moments. Purchases made through links on this page may earn us a commission.
Wedding programs let your guests know what to expect during your wedding and introduce your wedding party. They can also be a great keepsake for you and your guests. You could pay a talented professional to make your wedding programs, but iIf you're looking to save money or are seized by the DIY spirit, then make your own with a wedding program template.
Not sure how to make a wedding program? It's seriously easy. Just download a free wedding program template and get a little crafty. Ideally, you'll want to start with some time to spare before your wedding, so you can practice putting together the program until you make it just the way you want. Then call all your best friends and family members to form an assembly line. (Do we sense a wine and DIY party in your future?)
To get you started on making a great wedding program for your special day, check out these wonderful and unique wedding ceremony program templates.
Heart Fan Ceremony Programs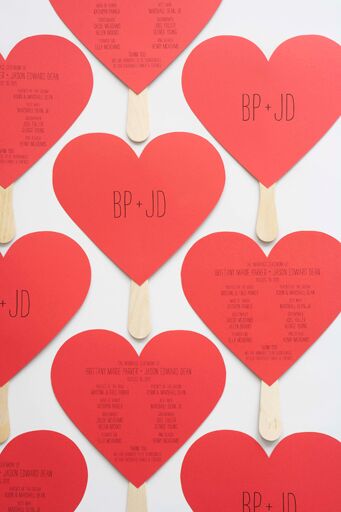 These wedding program templates are simply adorable, and they're fun to make, too. With the help of your family and friends, you'll be able to put these programs together fast. Just make sure anyone writing on the programs has good penmanship.

222 sheets 8.5" x 11" red card stock
100 wood fan handles
Heart-shaped program template
Laser or inkjet printer, with extra ink cartridges
Scissors
Pencil
Double-sided tape gun and extra tape (we recommend the 3M Scotch ATG 700 Transfer TapeDispenser), or glue sticks

1. Download the template here. Customize and print your programs.
2. Print 110 copies onto red card stock using a laser or inkjet printer (10 extra copies are for inevitable mistakes when cutting). Using scissors, cut each program into a heart shape, following the outline on the template and cutting inside the line so the outline doesn't show.
3. Assemble your programs. Place your hearts back-to-back. Try to pair up hearts that match each other as closely as possible, as there will be some inconsistencies due to the hand cutting.
4. Once you're happy with your pairs, take the first 2 hearts and lay them side-by-side, right sides down, on your work surface. Center a fan handle on one of the hearts, left to right, and position it vertically so that the top 6 inches of the handle lay inside the heart, and the bottom 3 inches lay outside of it, forming the handle. Dispense glue or double-sided tape on one side of the top 6 inches of the handle and press into place. Dispense glue or double-sided tape along the heart-shaped areas of the same heart as well as the second side of the handle. Align the second heart, right-side up, over the glued side and press down firmly.
5. Repeat for all programs. Makes 100 programs.
Variations
Paddle fans, as these types of fans are known, can be made in any shape—a circle, oval, square, rounded square, egg, leaf or traditional fan shape (resembling a quarter circle). If you have a longer ceremony, you can print on both sides of the fan, adding a bit of decorative flourish along the borders.
Suggested Font
Strangelove Text
Red Poppy Ceremony Program Fans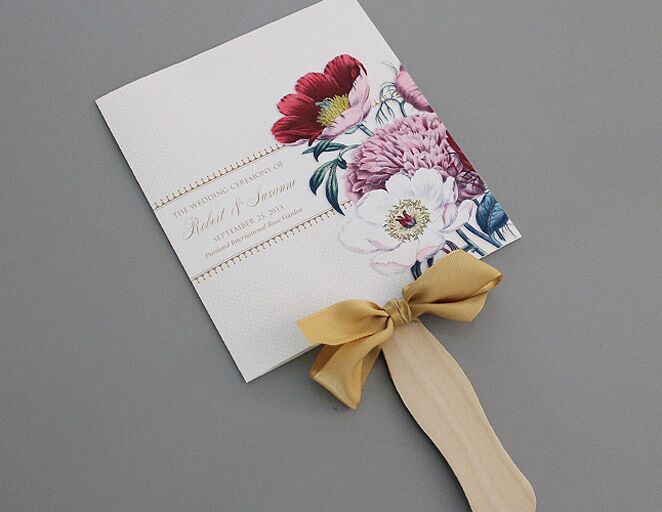 If you are planning a sophisticated wedding, these elegant programs are a great option. The flower pattern adds beauty to the program, and the bow is an extra special touch your guests will appreciate.

Double-sided tape
Wood fan handles
Ruler
X-acto knife
Paper trimmer or scissors
Ribbon or spray paint (optional)
Microsoft Word

1. Download the template here and open in Microsoft Word. Add your ceremony and wedding party details. You can change the formatting and fonts, but stay within the trim lines. Print the template on 8.5" x 11" card stock. Sixty-seven pound paper works best as most home printers can handle the weight just fine, and it's heavy enough to give a professional feel to your DIY project. Makes 1 5.25" x 5.25" paddle fan per printout.
2. With the non-blade point of an X-acto knife and a ruler, score the program down the center fold. Scoring makes for a straight fold. Fold the program in half to make a booklet.
3. Using a paper trimmer or scissors, trim the three outer edges of the program—be careful not to cut along the fold line.
4. Adhere double-sided tape to both sides of the fan stick, and the reverse side of program. Tape works better than glue as it won't leave a soggy mark on your paper.
5. Line up the fan stick in the middle of the bottom edge of the program. Fold the program over the fan handle and press for good adhesion.
6. Dress up the fan handles with ribbon (gold finishes the project off nicely). Another idea is to spray paint the handles an accent color. Paint them before taping them to the program so as not to get paint on your paper.
Tip: To speed up the assembly process, create a production line. Recruit friends and family to help with the project, and have one person score and fold, another trim, and another tape and press. Make an afternoon of it and have fun with the creative process.
Modern Double-Sided Ceremony Programs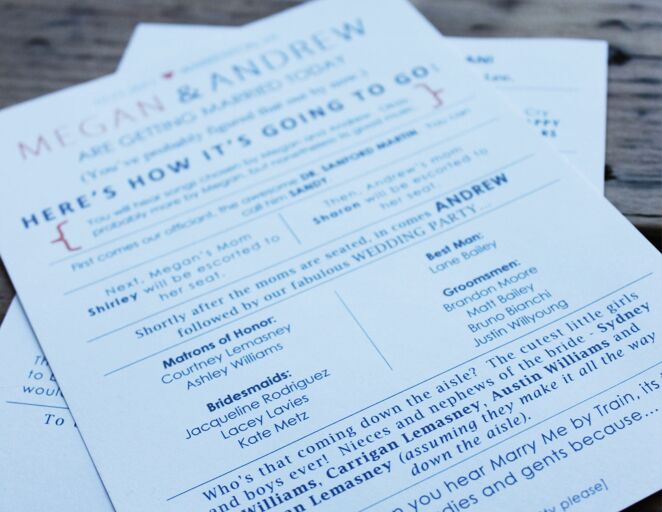 This wedding ceremony program template offers up a distinctly modern look with bold fonts and plenty of space to add in all the special moments of your day. Get creative and tweak this template to make it your own.

5.5" x 7.5" white card stock
Laser or inkjet printer
Microsoft Word

1. Download the template here.
2. Edit in Microsoft Word as necessary.
3. Print on front and back of card stock.
Classic Blue Victorian Ceremony Programs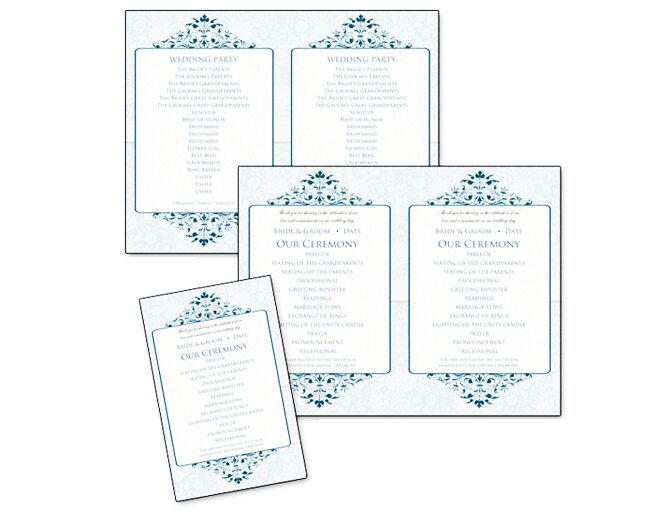 This simple-yet-elegant wedding program template looks beautiful. Plus, it's a great choice if you don't have the time or patience to devote hours to assembling your programs. The right cardstock and a high-quality printer will ensure that these programs look wonderful for your day.

50 sheets of 8.5" x 11" 65lb white card stock
Paper trimmer or scissors
Laser or inkjet printer
Microsoft Word

1. Download the template here.
2. Open in Microsoft Word and customize with your wedding details.
3. Print and cut in half with paper trimmer or scissors. Finished item is 5.5" x 8.5." Makes 100 programs.
Simple Ceremony Program Fans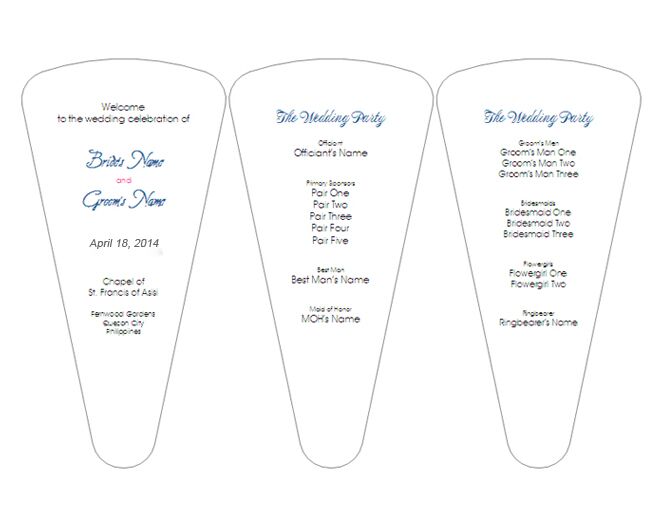 A fun and unique program option for couples who want to keep things simple, this template is both pretty and functional. If you plan on having an outdoor ceremony, especially in the warmer months of the year, guests can use this program to stay cool before your ceremony begins.

2-110 lb (or heavier) card stock 8.5" × 11"
1-3/16" eyelets
Scissors or rotary paper trimmer
Eyelet-setting tools
Microsoft Word
Laser or inkjet printer

1. Download the template here.
2. Open in Microsoft Word and customize text with your wedding details.
3. Print on card stock. Three pieces can be printed on an 8.5" x 11" 110lb sheet.
4. Cut on solid lines. You may use the cutter or X-acto knife for the straight lines. Use scissors for the curved lines. After all pieces are cut, it's time to put the eyelet that attaches all the pieces together.
5. Use the eyelet-setting tools to punch and set the eyelet. Optional: Tie a ribbon through the eyelet hole.
Heart Tree Ceremony Programs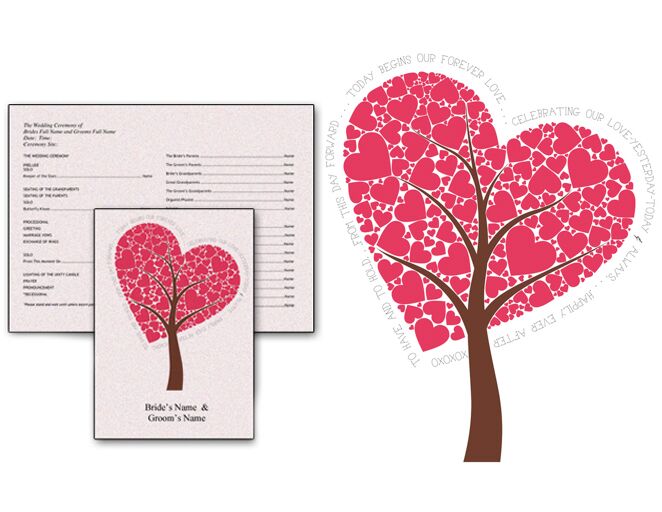 Classic and heart-warming, this wedding ceremony program template will be a hit at any wedding. With minimal assembly required, these programs are also a great choice for couples on the clock. Give your guests a reason to smile with this cute design.

50 sheets of 8.5" x 11" 65lb white card stock
Paper trimmer or scissors
Laser or inkjet printer
Microsoft Word

1. Download the template here.
2. Open in Microsoft Word and customize with your wedding details.
3. Print and cut in half with paper trimmer or scissors. Finished item 5.5" x 8.5." Makes 100 programs.
Want more inspiration? You'll love these 25 creative program ideas.
Not sure where to begin with your wedding planning? Take our Style Quiz and we'll pull together a custom wedding vision and vendors to match, just for you. After that, create a free, personalized wedding website to keep your guests informed (and excited!) about your plans, and a time-saving Guest List Manager to organize your attendees. Even better? You can sync your Guest List Manager and wedding website to update everything at once.