The Complete Scottsdale Bachelor Party City Guide
Find golf, thrills and a party atmosphere in this desert town.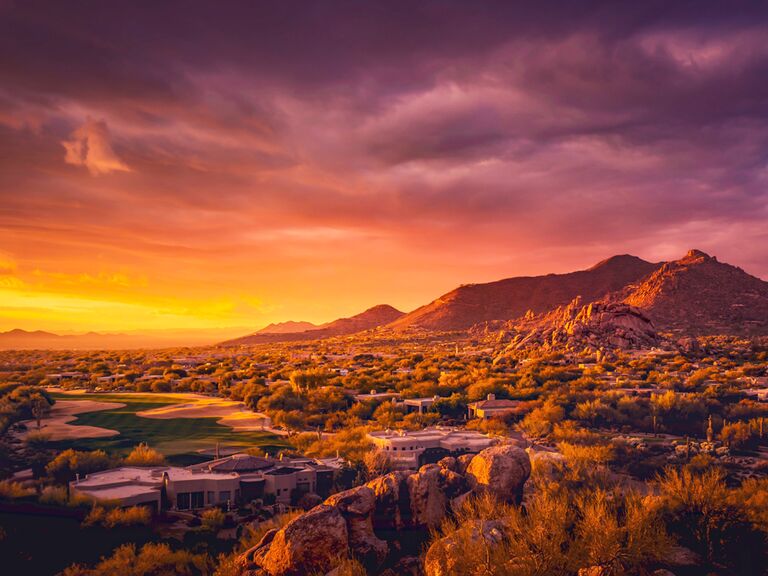 BCFC / Shutterstock
We have included third party products to help you navigate and enjoy life's biggest moments. Purchases made through links on this page may earn us a commission.
There are a few things that come to mind when it comes to a Scottsdale bachelor party, but golf is certainly top of mind. Still, even the non-golfers in your group can find plenty to do at this popular bachelor party destination. In this desert oasis, pool parties, thrill rides and lively nightlife are all expected.
In This Article:
What Are Some Scottsdale Bachelor Party Ideas?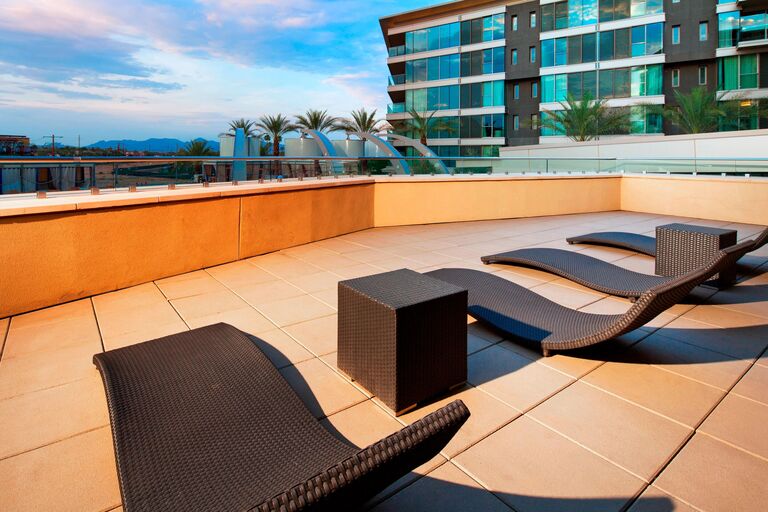 From golfing to seeking out the local party scene, the city of Scottsdale has a multitude of activities for bachelor parties. You simply have to know where to look. (Plus, The Knot Shop has some great gift ideas to thank the guys for making the trip.)
For the Golfers
Golf is king in Scottsdale and nearby Phoenix. If you want to play 18, your toughest decision will be which course to play. With so many across the region, groups can pass a whole weekend solely dedicated to the game.
For the Adventurers
There are various ways to find your thrills in Scottsdale be it hiking, mountain biking, or an off-roading ATV adventure through the area's outdoor spaces.
For the Partiers
By day and by night, Scottsdale has a wild party scene. No, it's not the retirement community that sometimes comes to mind, this Arizona hot spot has pool parties, nightclubs and bars that will rival some of its more cosmopolitan cousins.
What Do You Do at a Bachelor Party in Scottsdale?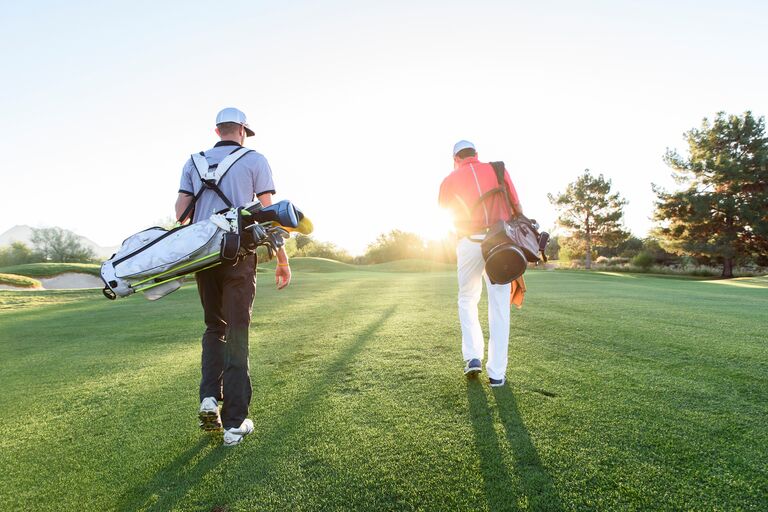 Our three-day Scottsdale bachelor party itinerary will have you exploring the best Scottsdale has to offer—delicious eats, quality experiences and a good time for all.
Day 1
Morning: Start the weekend at the Daily Dose Grill, a great breakfast spot for an easy meal of omelets, benedicts, pancakes, French toast and waffles—all your breakfast staples to fuel you up for the adventures ahead.
Afternoon: Go off-roading in the desert on an adrenaline-filled ATV tour. The two-hour excursion takes you about 40 minutes outside of Scottsdale into the Tonto National Forest where you'll drive, off-road, of course, through desert landscapes of sand and cacti and some of the best desert mountain views.
Night: For your first night, head to Old Town's Entertainment District. El Hefe Super Macho Taqueria is the spot for dinner, with tasty tacos and other Mexican fare on the menu alongside a nightclub vibe and fantastic drinks. After dinner, hop to a few of Old Town's best bars, including the Zuzu Lounge at Hotel Valley Ho for cocktails on an upscale patio; Geisha Sushi and Karaoke Lounge, a popular nightspot with private karaoke rooms, cocktails and sake; the Cottontail Lounge, which sits poolside at the W Hotel offering a bottle service kind of night with live DJs; or Casa Amigos, a night club and bar with tequila drinks and an epic party atmosphere.
Day 2
Morning: Butters Pancakes and Café is a great place to fill up in the morning, with plenty more on the menu than its name implies. You'll also find crepes, waffles, skillets, breakfast burritos and sandwiches and a number of benedict options.
Afternoon: Head to a desert pool party at the Maya Dayclub, a 20,000-square-foot outdoor space that offers a Vegas-style pool party. The day includes poolside bars, live entertainment, bottle service and party games including skeeball, giant pong and connect four. Plus you can have lunch while you party with wings, burgers and beer, among other libations and bites.
Night: Go casual tonight for dinner at the Scottsdale Burger Bar, which features 12 styles of specialty burgers or the chance to build your own. The Cheeto Burger is a must-try, topping the patty with hot Cheetos, jalapenos and cheddar cheese sauce. After dinner, head to The Whining Pig for more than 125 craft beers on offer in a lively atmosphere.
Day 3
Morning: Ohso Brewery & Distillery is a great spot for brunch, where every entrée comes with a 10-ounce local beer or monster mimosa. On the food side of things, you'll choose from donut holes, breakfast nachos, biscuits and beer gravy, chorizo egg skillets and so much more rib-sticking goodness.
Afternoon: You didn't come to Scottsdale to skip the golf. This is a golfer's paradise. Choose between some fantastic links for your tee time, including The Estancia Club, a rock-and-cactus landscape that offers 18-holes and wild greens; the Desert Mountain Club, which offers six Jack Nicklaus Signature courses and a par-54 championship course; or the Troon North Golf Club, which offers 36 holes with Pinnacle Peak as a backdrop.
Night: Your last night is at the Second Story, which offers tasty bites like tempura shrimp, beef tartare, crispy pork belly and rigatoni. But the highlight of this spot is its drink options, including a lengthy whiskey menu that's worth tasting throughout the night.
Where Should I Stay in Scottsdale for a Bachelor Party?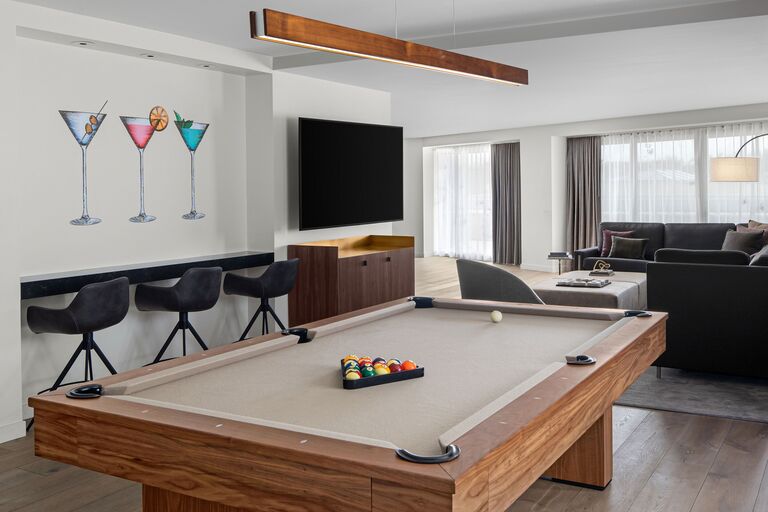 You won't find a bad spot to stay in Scottsdale, you just have to pick what you want. Groups should consider staying close to the thriving Old Town neighborhood or the adjacent Entertainment District, the restaurant scene in North Scottsdale or a central location with easy access in and out of the city for a direct line to golf courses.
Best Scottsdale Bachelor Hotels
W Scottsdale: In the Entertainment District, the mid-budget property is called "the hotel that never sleeps," and that's because of its lively party atmosphere that revolves around its outdoor pool and in-hotel Cottontail Lounge.
Talking Stick Resort: Affordable and fun, this spot offers everything you need in one spot: a casino, live music, in-hotel restaurants and seasonal pool parties.
Scottsdale Marriott at McDowell's Mountains: For a stay on the luxe end of things, book this resort 15 minutes from Old Town. It even offers on-site golf and a large outdoor pool.
Best Scottsdale Bachelor Party Home Rentals
Big Party House (Entertainment District): Close to this buzzy area, this property is ideal for groups of 10. Outfitted with a private pool, hot tub and fantastic outdoor space for hanging out, bachelor parties will enjoy the privacy and the proximity.
Four-Bedroom Home (Old Town): This rental offers a pool, fire pit and covered patio for those looking for quality indoor and outdoor space.
Five-Bedroom House (Old Town): This spot offers a large pool, bocce ball court, billiards room and outdoor lounge space with a fire pit that will work for groups of up to 15.
Scottsdale Bachelor Party Nightlife
Delicious steaks, pizza, and tortillas are abundantly available in Scottsdale. Wash them down with a cool brew or bottle of Champagne at one of the many bars are clubs catering to bachelor celebrations across town.
Best Scottsdale Bachelor Restaurants
Fat Ox: Gents with discerning tastes should make a beeline for Fat Ox. Italian classics including homemade pasta, prime steaks cooked over wood and charcoal, and European cheeses comprise unforgettable Scottsdale feasting. There won't be any complaints here. Private dining rooms, including a courtyard patio for up to 30 guests, are available for bachelors to congregate.
The Mission: A more casual get-together can be enjoyed at The Mission, a Latin restaurant in the heart of Old Town that blends influences from Spain, Mexico, and across Central and South America. Homemade tortillas, sauces, and salsas bring out every dish, and don't miss their hefty tequila list either. Choose from cozy outdoor seating by the fireplace and lively community lounge tables, all to the soundtrack of faraway Latin beats.
Pizzeria Bianco: For big-city vibes and award-winning eats, you'll want to make the 20-minute drive across to Phoenix. Here in buzzing downtown, you'll find Pizzeria Bianco, made famous by celebrity chef Chris Bianco in the Netflix series, Chef's Table. The pizzeria is so beloved by Arizonians, there are now five outposts in the city. Try the classic Margherita, a simple yet complex melody of local flavors showcasing the bounty of the state.
Best Scottsdale Bachelor Party Bars
Rusty Spur Saloon: When in the wild wild west, channel your inner cowboy, and there's no better place to do so than at the Rusty Spur Saloon. This historic cowboy-themed bar is the last of its kind in Scottsdale, but that doesn't mean it's going anywhere. The venue is busy enough for live country music seven nights a week; a spectacle that never fails to draw a crowd. March up to the 70-plus-year-old bar in your boots, cool down with an ice-cold beer and jam out.
Wasted Grain: An Old Town hotspot that's basically got 'bachelor bash' written all over it, Wasted Grain is a live music venue, bar, and nightclub that bounces from wall to wall. Local and national live bands stop here to perform, and there's always some excuse for a big celebration, whether that's a sports game, food festival, or just a typical Friday night. Show up in your matching tees: there's a good chance your fellow revelers will want to get involved.
Jade Bar: Jade's a real treat for the boys. The upscale bar is situated at the Sanctuary Camelback Mountain Resort & Spa, adjacent to the acclaimed Elements restaurant. You'll climb up garden steps to incredible views of Paradise Valley—it doesn't get more AZ than this! The bar is known for exceptional cocktails that use farm-fresh local fruits, herbs, vegetables, and juices. Dress up, these are going to be quite the holiday snaps.
Expert Scottsdale Travel Tips
Most flights will pull in at Phoenix Sky Harbor International Airport. As with many cities in the region, you'll absolutely need a car to get around Scottsdale. Phoenix is a 20-minute drive away, and it's not uncommon for travelers to explore them in tandem. It's best to visit between October and April, when temperatures are pleasant for outdoor fun. However, during the summer, flight and hotel prices hit rock bottom—perfect if you plan on staying indoors under the comfort of cool air conditioning.
Allyson Johnson contributed to this article.