Destination Weddings Can Cost Less—Here's Why
It sounds crazy, but it's true—these destination wedding perks could potentially save you a little dough.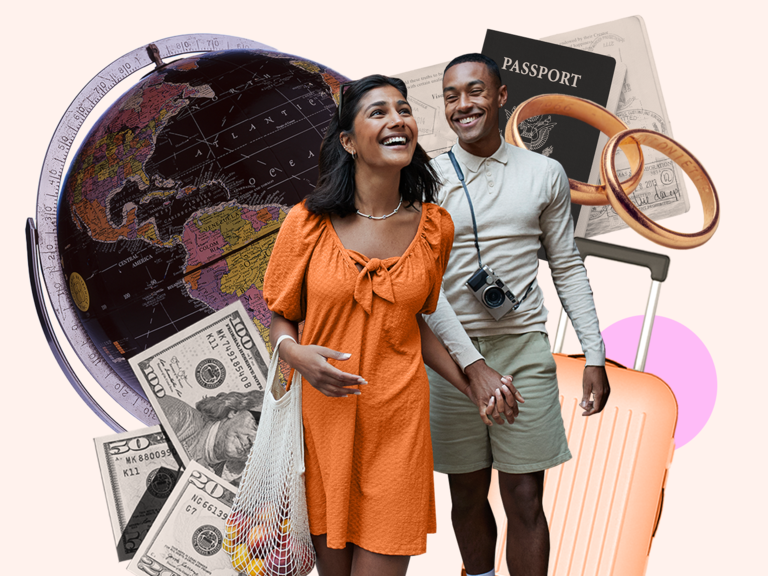 Photo: Getty | Design: Tiana Crispino
You don't need to be a multimillionaire to marry abroad. In fact, destination weddings can be even more affordable than a US wedding. You might be scratching your head though and we understand why. After all, the average cost of a wedding is $30,000 for a ceremony and reception, according to The Knot 2022 Real Weddings Study. Add a destination wedding into the mix and couples face pricey travel costs and currency exchanges. Not to mention—the destination weddings that go viral on social media are held at lavish villas where the bride walks down the aisle in a custom Chanel gown. Rather than the Instagram-perfection destination weddings you've seen online, though, let's get started with why it's cheaper oftentimes to consider this route.
The average cost of a destination wedding in 2022 actually went up from previous years. It is now $35,600, a nine percent jump from 2021. Much of this has to do with the return of weddings following COVID, including destination travel. After digging into the numbers surrounding destination wedding spend specifically, we learned an international destination wedding costs an average of $32,100, and a domestic destination wedding costs an average of $36,400.
This is incrementally higher than the average cost of weddings in the US, but only by a slight increase. (After all, factors like transportation, accommodations and other added expenses while abroad or outside of your comfort zone of a hometown can increase the overall budget.) But we're here to let you in on a few secrets for why a destination wedding an actually help you save money and can be more affordable than a local wedding in the US. So what factors could possibly make this true? We can think of a few.
1. Destination Weddings Often Have a Smaller Guest List
One of the largest influencers on any wedding budget is the size of the guest list. And since many couples invite fewer guests to their destination wedding—whether they host a destination wedding purposely to ensure a smaller guest list, or have to whittle down the head count after deciding to marry away—their overall wedding spend can often be less, despite being a trip away. True, couples tend to spend more per guest (many couples actually help finance their loved ones' travel and accommodations), but the beauty of a tighter guest list is being able to treat your group of attendees right.
Find your kind of venue
From barns to ballrooms, discover reception venues that feel like you.
2. You Can Take Advantage of All Those Points
To reduce costs, over a quarter of all couples planning destination nuptials use reward points to pay for a portion of costs. This includes airfare to hotel and restaurant perks. Not quite what you were expecting, is it? This means a destination wedding could end up being a more cost-effective option for your nuptials in the longer term as you acquire more points across categories. So sign up for a credit card with a great rewards program (and obviously be good about paying it off on time) to start racking up points as you pay for wedding expenses.
3. You Can Tack on a Honeymoon for Less
It's not uncommon for couples to stay in their destination after saying "I do" for a romantic honeymoon. In fact, we call it a minimoon (mini honeymoon) for couples who choose to extend their stay for romantic downtime, followed by local exploration and relaxation. Depending on your hotel, you might be able to take advantage of a romance package or a similar deal that allows you to tack on an extended stay after booking your entire wedding, not to mention a few dozen rooms for you and guests, with them. (Also, don't be afraid to use the "we're getting married or this is our honeymoon" card!)
And while you're at it, arrive a few days early with your wedding party and enjoy a belated bachelor or bachelorette party thanks to your destination amenities (hello, resort spa). That means no extra trip (aka travel costs and time-off requests) for your crew—trust us, they'll thank you.
4. Many Destinations Have Wedding Packages and/or Vendors on Site
It's no secret a wedding venue with either a preferred venue list or an on-site staff of its own can be super cost-effective. So whether you're destination wedding is in Arizona or the Amalfi Coast, you can choose a hotel or another venue that comes with its own favorite planner, caterer, cake baker, photographer, décor and party rentals. These types of inclusive wedding packages make it so much easier for you to focus your funds on other priorities, be it travel, honeymoon activities or just plain savings.
5. There Could Be a Favorable Exchange Rate
This won't be the case for every destination, but your dollar might stretch far if your international wedding location has a good exchange rate. Mexico, for example, is an ideal beach-y wedding destination where you'll get real bang for your buck.
6. Peak Seasonality May Differ at Your Destination
Fall is the most popular season for weddings across the US. In fact, 9/23/23 is the most popular wedding date of 2023, trailed by numerous weekends spread across October. However, a destination of choice (say, Cape Town, South Africa or Buenos Aires, Argentina) may have an alternate seasonality for climate. This could significantly impact cost if you want to marry during an off-season, for example.
Say you want to marry in Kenya during peak season: the weather is hotter, the conditions are more arid, and most safari lodges are packed as the opportunity to spot wildlife is greater without foliage. However, the green season is considered more affordable and it provides a much more lush backdrop and pleasant conditions for a destination wedding. These are the types of considerations to keep in mind for wedding costs and more.