Your Guide to Having an Alcohol-Free, Dry Wedding
If you're planning a booze-free bash for your big day, here are some tips for how to best pull it off—plus mocktail inspo!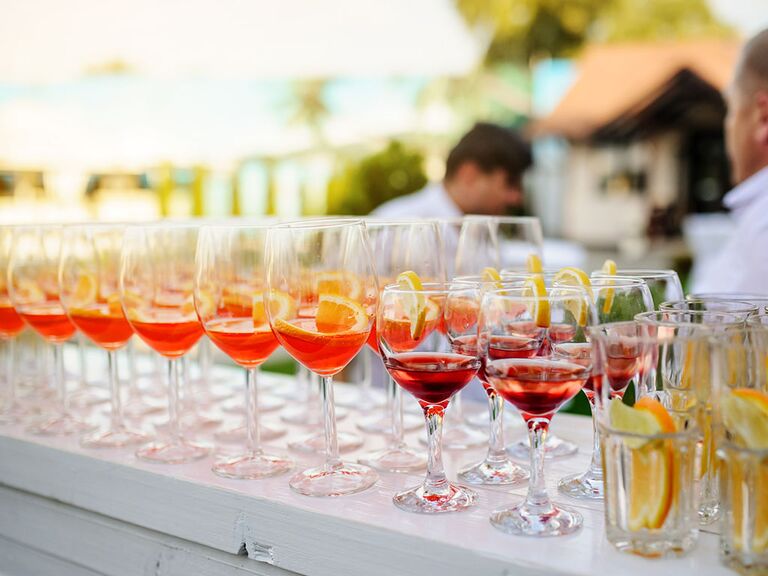 Shutterstock
Your wedding day will be one of the most special experiences you'll have in your life, so it should be exactly what you're hoping for and more. That means that certain elements of a traditional wedding may or may not be something you're planning on folding into your own wedding day. If you're not a big drinker or perhaps live a sober lifestyle, alcohol may be something you're planning on not including at your wedding—and doing so would make your celebration a "dry wedding."
What Is a Dry Wedding?
Put simply, a dry wedding means a wedding without alcohol. This is becoming increasingly popular, especially in recent years given the greater emphasis being placed on health, mental wellbeing, mindful consumption and even sobriety. "People are becoming more aware of the potential risks accompanying overindulgence in alcohol and are leaning towards less restrictive ways of celebrating special occasions," says Jacqueline Vizcaino, owner of Tinted Events Design and Planning in Atlanta, Georgia. "Dry weddings allow couples to create a unique and meaningful wedding without alcohol, meaning everyone can enjoy the festivities without any risks."
There are several reasons why a couple might choose to have a dry wedding, including their own personal beliefs on alcohol, their religion or their culture, and there are a great deal of benefits that come along with the decision, including a less expensive bar tab and a tamer crowd that is less prone to injury. Overall, an alcohol-free wedding often means a sober wedding, which typically leads to a tamer, more aware crowd that is more focused on the events of the day.
How to Say No Alcohol on the Invitation
While most guests attending your wedding will be happy to be a part of your big day, alcohol or no alcohol, it can be helpful to set the expectation ahead of time that your wedding will be dry. Vizcaino recommends including a mention of your no-alcohol policy on your invitation. "Try phrasing it in an informative and inviting way, such as: 'We are delighted to share this special day with you and kindly ask that no alcoholic beverages are brought to ensure a safe and enjoyable celebration for all of us,'" she suggests. "If you want to put a positive spin on it, add a line about how you look forward to celebrating with them more healthily and mindfully." She also recommends incorporating some additional information about the non-alcoholic beverages or perhaps the food you will be providing to give your guests a little something extra to look forward to.
Is It Rude to Bring Alcohol to a Dry Wedding?
Regardless of the alcohol policy at a wedding, it would be considered rude to bring alcohol unless it was specifically noted to do so in a BYOB fashion. Especially if a wedding is dry and it was indicated to guests well in advance, it would be rude to bring alcohol to a dry wedding. Also, Diane Kolanović-Šolaja, Creative Director and Owner of Dee Kay Events in Manalapan, New Jersey, points out that a no-alcohol policy may mean legal obligations for the venue and the marriers themselves. "If you sneak in alcohol, and something happens, the venue and the newlyweds may have to fit the bill," she says. "Wedding insurance and general liability insurance may have strict clauses when it comes to alcohol and dry weddings, but your selfish act may cost thousands."
How to Have a Dry Wedding
Follow these expert tips to have a fun and celebratory dry wedding that will be meaningful to you and will wow all your guests.
Choose the right venue.
The right venue can make all the difference when it comes to having a dry wedding, as it sets the tone for your entire event. "A more relaxed setting, like a park or garden, may be more fitting than a stuffy banquet hall," says Vizcaino. She also points out that some venues may have their own rules regarding alcohol, so it can be helpful to broach the subject right off the bat upon considering a certain venue.
Be upfront on the invitation.
It is important to be clear and upfront about your dry wedding right on your invitation. "There is nothing wrong with having a dry wedding, but it is the couple's responsibility to convey this message to the potential guests," says Dominic Fournier, co-owner of The Wedding Duo. "This also helps avoid any awkward or uncomfortable conversations on the wedding day. We suggest stating this fact in your invitations."
Invest in great music.
If possible, consider investing in high-quality entertainment to get people up and dancing who otherwise may feel that they need a little liquid courage. Kolanović-Šolaja suggests working with your DJ or band to come up with a few songs that would get your crowd going. "If hiring a band or full DJ is out of budget, you can add a musician or two to compliment your DJ," she says. "A saxophone player or electric violinist can add a ton of engagement on the dance floor, with or without alcohol."
Work with your bartender to create special drinks and experiences.
Just because you're not having alcohol, doesn't mean you can't have a bartender—or some fun drinks. Vizcaino suggests having a signature mocktail or non-alcoholic beverages on the menu that can add flair and fun to your dry wedding celebrations. "Add fresh fruit, herbs, or spices to make the drink more exciting and unique," she adds. Beautiful glassware can also level-up the bar experience when hosting a dry wedding.
Focus on good food.
If drinks are not an offering on your big day, then more attention will go to the food quality, caliber and flavor. Kolanović-Šolaja recommends working with your caterer to add more items to your cocktail hour or have special chef stations that you usually wouldn't see at a wedding. "If within budget, perhaps have a chef's tasting dinner—an elevated meal that would not be expected at a typical wedding," she says. "Bring in a food truck at the end that just serves your favorite soft-serve ice cream or your favorite late-night snack or maybe even have a separate room for dessert, so it is an experience all in itself."
Consider shifting your timeline.
A sober wedding may be more conveniently held during the daytime, not only because it's likely less expensive, but also because guests may be more comfortable with the not-drinking aspect of the event. "A daytime or brunch wedding removes the expectation of a rager at night and gives a bit more flexibility to your guests," says Kolanović-Šolaja. "Also, you may want to shorten the celebration to three to four hours total instead of a traditional five hours—with introductions, first dances, and dinner service, cutting the wedding shorter will eliminate the last hour of guests leaving early."
Alcohol-Free Wedding Reception Drink Ideas
The list of fun alcohol-free wedding drinks, also known as "mocktails," are truly endless. Here, wedding pros share some of their favorite drink ideas for dry weddings.
Make-Your-Own Mocktail Bar
Kolanović-Šolaja recommends teaming up with a professional mixologist to create a base mixture, a "shot," and a garnish. "Instead of giving your guests only 2 or 3 signature drinks, they have endless possibilities if they make their own," she says. "For example, perhaps have ginger beers, energy drinks, and some juice combinations as the base and then the 'shot' can be fresh wheatgrass, lemon, or blue spirulina for added color and fun, and then garnished with fresh fruit."
Lavender Lemonade
Fournier is a big fan of this calming non-alcoholic cocktail that is made from four simple ingredients: lemon juice, honey, dried lavender flowers and water. "As pleasing to the eye as it is to the palette, this lovely lemonade can be made in batches and displayed during cocktail hour," he says. "If lavender is part of your overall color scheme, this is a mocktail match made in heaven!"
Virgin Margaritas
"Virgin margaritas are perfect for adding a festive twist to your alcohol-free wedding reception," says Vizcaino. "Simply remove the tequila and use limeade, pineapple juice, and soda water instead, adding some salt and sugar to intensify the flavor."
Dessert Drink Station
Coffee is always a popular after-dinner drink offered at weddings, and you can take things to the next level at your dry wedding. In fact, Kolanović-Šolaja suggests going all out with a dessert drink station clad with non-alcoholic espresso martinis, mini milkshakes, and fruit smoothies served in a fancy cocktail glass.
Non-Alcoholic Beer
Booze-free beer is anything but boring. In fact, there are countless companies creating craft beers with less than 0.5% ABV, which basically means they're alcohol-free. "Non-alcoholic beers still have that full-body flavor that many people enjoy," adds Vizcaino.