It's Time to Normalize Fun, Non-Alcoholic Drinks at Weddings
Experts share why including mocktails on your bar menu is a must.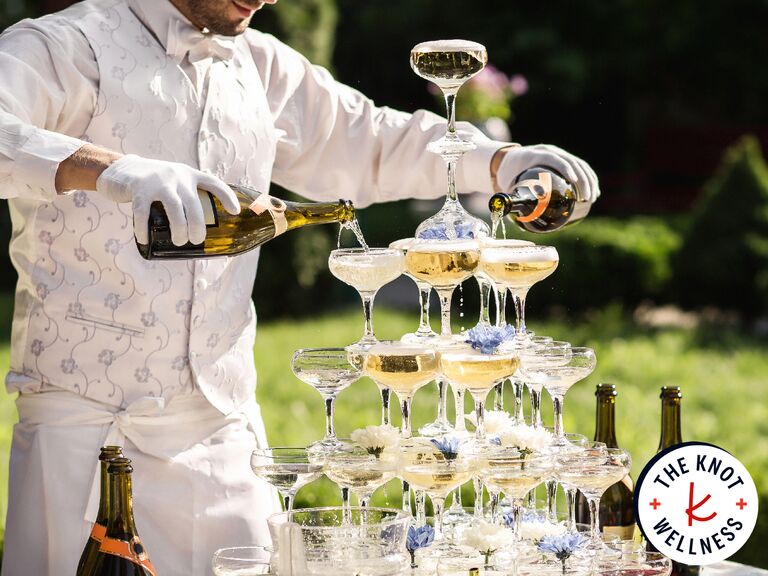 Shutterstock.com
We have included third party products to help you navigate and enjoy life's biggest moments. Purchases made through links on this page may earn us a commission.
When you picture a wedding, what comes to mind? Perhaps a white dress, a couple exchanging vows, a tiered cake, a romantic first dance. Do you envision alcohol? Maybe an open bar, or a champagne toast? Weddings look different for every couple, but one of the most common elements is alcohol. For what seems like centuries, celebratory events and alcoholic beverages have gone hand in hand. These days, guests love to joke about open bars at wedding receptions, with memes and social media discourses running rampant about how alcohol is a necessary component of any gathering. And although beverages can (and should!) be enjoyed by those who want, it's also time to shift the narrative to include mocktails too.
In 2022, more people are reevaluating their consumption habits as the conversation about wellness becomes more nuanced and intricate than ever before. While alcohol will continue to play a role in weddings, it's also important for couples to consider offering non-alcoholic beverages too, particularly for guests looking to abstain from drinking for any reason. Because while it may seem like water, juice or soda are acceptable dry options, taking care of your sober guests goes far beyond the surface level. Here, experts break down exactly why it's time to normalize mocktails at weddings.
Inside the Rise of "Damp" and "Sober Curious" Lifestyles
If you've spent any time on social media recently, you may have noticed an uptick of people talking about "damp" or "sober curious" lifestyles. (On TikTok, the hashtag #sobercurious has been viewed over 83 million times.) Of course, this concept of abstaining from alcohol isn't new, and it's much different than full-fledged sobriety. Challenges like "Dry January" have been around for years, prompting people to abstain from alcohol for a period of time. But experts say that there's been a shift in relationships with beverages, and it's likely a lingering effect of the pandemic.
"People are reconsidering their alcohol consumption post-pandemic," says Hilary Sheinbaum, author of The Dry Challenge. "In 2020, because so many people were home and feeling the stress of pandemic life and being quarantined, they turned to alcohol as a way to pass the time, to relieve stress, or to socialize with friends over a Zoom happy hour. People were able to access their bar carts a lot more frequently and easily."
Now that social events (especially weddings) are ramping up again, Sheinbaum says that many are recognizing how alcohol impacts their overall health—and some are ready to take a step back. "People are more conscious about what they're putting in their bodies, and that includes beverages," she says.
It helps that the mocktail industry has blossomed in recent months. According to Sam Kasten, founder of Virginia-based non-alcoholic beverage distributing company Umbrella Dry Drinks, this newfound interest in mocktails is growing because people are more mindful about their overall wellness, and they're becoming aware of how many dry options are out there. "In the past year, we have seen this industry explode because there's such a need for it," she explains. "If alcohol isn't serving you, there are so many options that make you feel sophisticated, fun, and like you're included in the party."
Couples Can Help All Guests Feel Included With Mocktail Options
As you plan your wedding, it's important to make all guests feel welcomed and taken care of, whether they're fully sober, or even if they just don't want to drink alcohol. In fact, going the extra mile to offer a special, celebratory non-alcoholic drink will make your big day thoughtfully inclusive of all—particularly for those who don't feel comfortable explaining why they aren't drinking. "Having beverages that go beyond water and soda is important, especially because there are dry wines, beers, and spirits that can help your non-drinking guests feel just as welcome to the bar as any other guests," Sheinbaum says.
Kasten, who began her own sobriety journey in 2018, confirms this sentiment. "There's nothing more boring than drinking water or a soda when everyone else around you is having a fun, festive drink," she shares. "We're so aware of people's allergy restrictions and dietary preferences, but it seems like alcohol is still the one component that's not quite there. When people do have sophisticated non-alcoholic options, it feels like a win."
This concept is echoed by Jen Batchelor, CEO of non-alcoholic beverage brand Kin Euphorics, which she launched with supermodel Bella Hadid. "We've heard from countless couples that having a non-alcoholic beverage option creates a certain harmonious energy in the room," she tells us. "At the very least, it gives those who planned to abstain a way to do that and still feel included."
Ultimately, this shift toward intentional consumption will change the way couples, guests and vendors approach alcohol's relationship with weddings. "It's absolutely time to normalize the mindset that you don't have to drink to have a good time," Sheinbaum adds. "Weddings are really about celebrating love and the couple's partnership; they're not about getting wasted. While drinking has been a big component of weddings, especially when there are speeches and toasts, weddings are about two people coming together, and you want to remember those moments. When there's an opportunity to be fully present and enjoy yourself, you can't go wrong."
The Best Non-Alcoholic Drinks to Order For Your Wedding
Although it may seem like adding mocktails to your bar menu will hike up the price, that's not necessarily the case. The first thing Sheinbaum suggests couples do is touch base with their venue or serving staff to inquire about including mocktail options within the beverage package. If you're planning on having a signature cocktail, for example, ask if it's possible to put an alcohol-free version on the menu too. "It doesn't necessarily take much effort to ask in advance what kind of ingredients they have behind the bar, and it can really go a long way and make a huge difference when it comes to your non-drinking guests," she recommends.
Another option for offering non-alcoholic wedding drinks is to provide your own. You should always talk to your venue before bringing outside beverages, as this isn't always permitted. But, if your vendors approve, consider stocking the bar with a few of non-alcoholic drinks for weddings. First, consider searching for local distributors that specialize in mocktail products, like Kasten's Umbrella Dry Drinks company in Alexandria, Virginia. (Pro tip: Beyond a simple Google search, social media sites like Instagram, Facebook or even TikTok can help you discover small mocktail businesses near you.)
Beyond that, you can find plenty of non-alcoholic wedding drinks online too. Here, we round up six of our favorites to help you get started.
Spiritless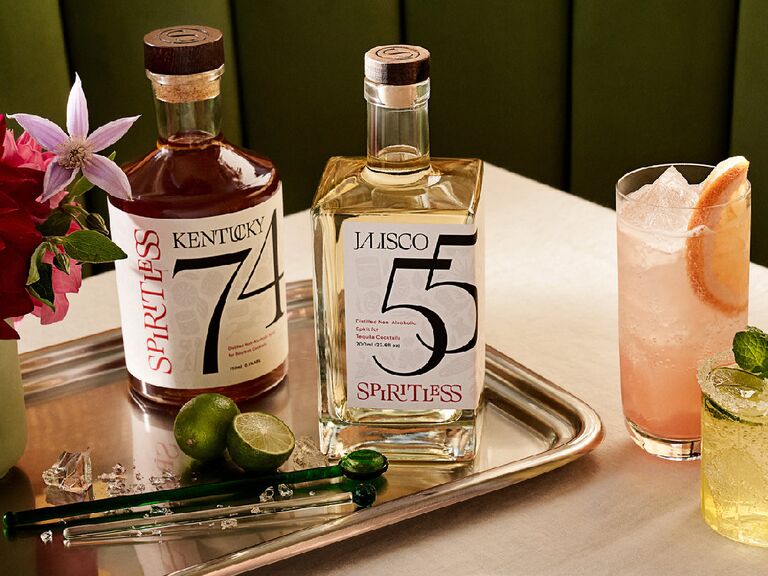 Based in Austin, Texas, Spiritless is a non-alcoholic beverage company that specializes in, well, dry spirits. In addition to liquor-free renditions of bourbon and tequila, they also have a variety of mixers. Ask your venue staff if they have any of Spiritless' products behind the bar—and if not, see if you can bring a few bottles to take care of your non-drinking loved ones.
Starla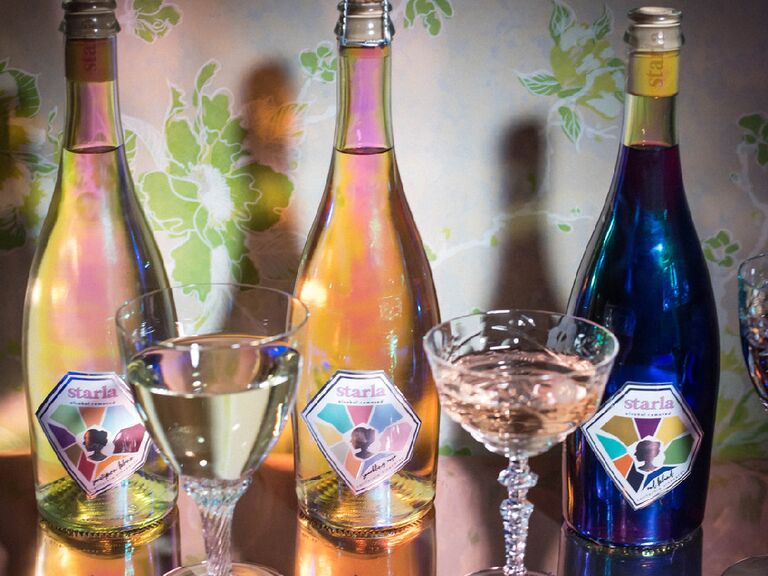 Yep, non-alcoholic wine exists too. Starla's collection of alcohol-removed wine—designed to show "how luminous your life can be on your terms, without alcohol"—includes a sparkling rosé, sauvignon blanc, and a red blend. Packaged in chic, stylized bottles, these creations are perfect for celebrating with a glass in hand…minus the wine hangover.
Kin Euphorics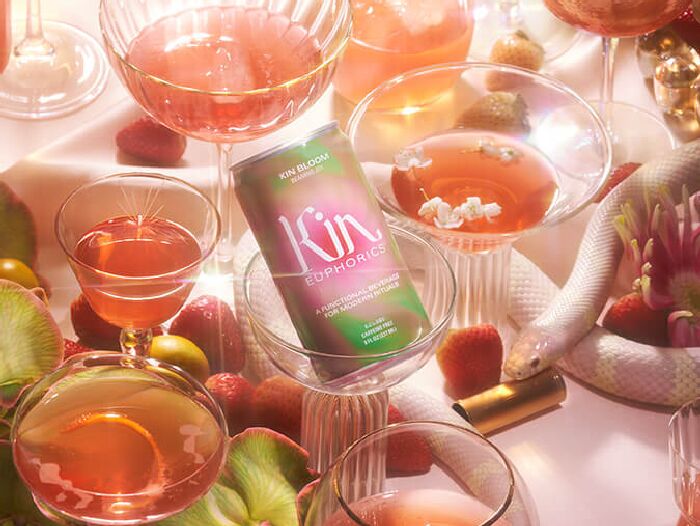 One major perk that sets Batchelor and Hadid's company apart from other non-alcoholic drink brands is that its formulas are packed with euphorics, which claim to replenish and rebalance the endocrine system naturally. "Euphorics are designed to help you feel good from the inside out, brain to belly," Bachelor explains. "When you can sip on something sexy—and by virtue of this choice, also do something great for your system—it's a win-win." While you can't go wrong with the brand's sparkling Kin Spritz for social gatherings, we particularly love their new Kin Bloom pack: a fusion of strawberry, oak, and rosemary citrus flavors reminiscent of summery rosé.
Betty Buzz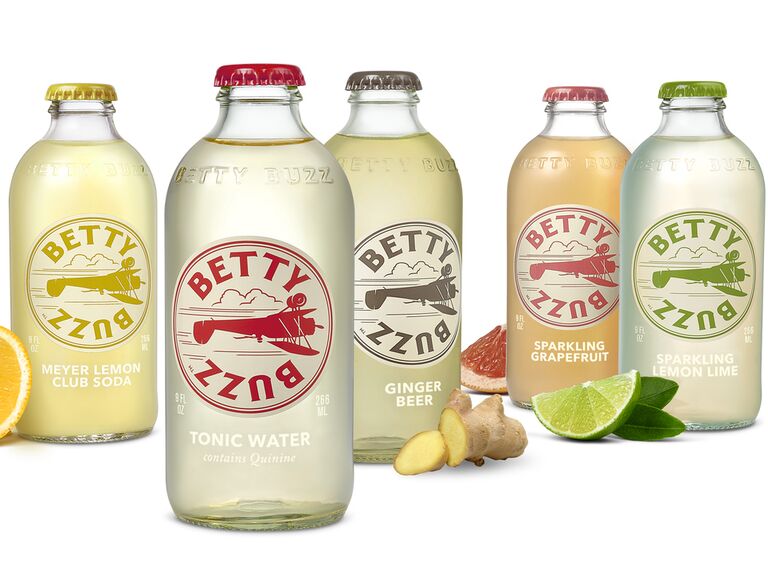 Blake Lively founded Betty Buzz, yet another celeb non-alcoholic beverage brand perfect for wedding receptions. "Over the past many years of mixing but not drinking cocktails, it became clear mixers are the unsung heroes of the drink world and deserve just as much love as alcohol," she wrote on the company's site. They offer exactly that: tasty mixers that are perfect without their alcoholic counterparts. Browse the site's extensive collection of flavors, like lemon club soda, sparkling grapefruit or ginger beer to add to the cooler on your big day.
Ritual Zero Proof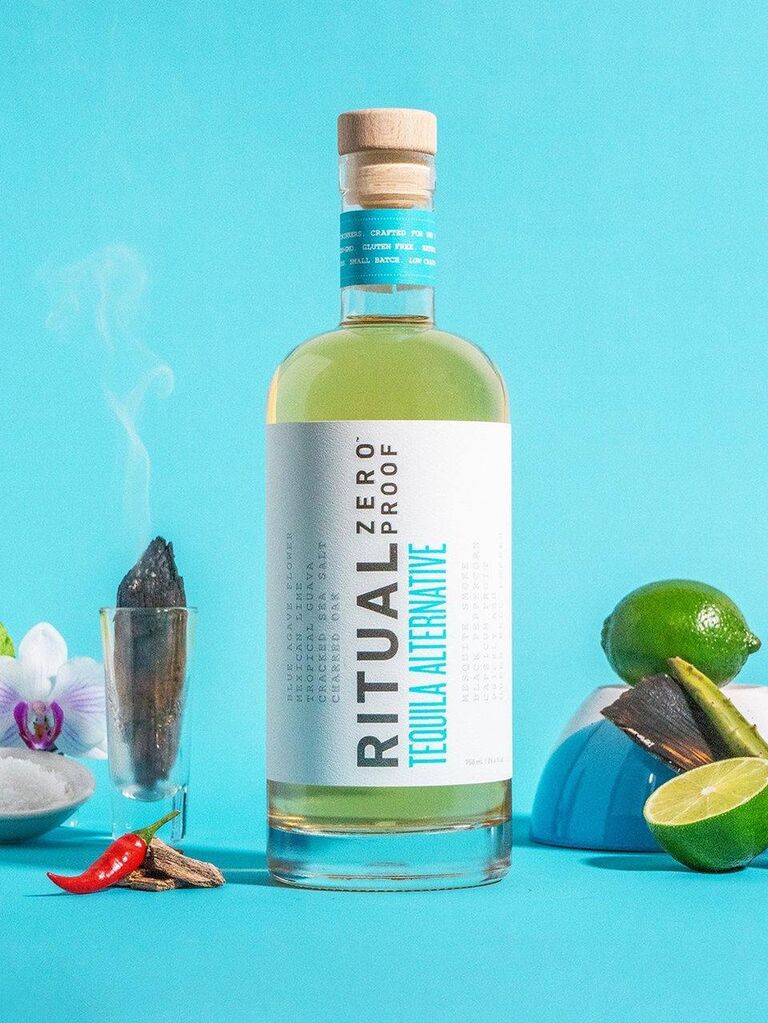 Ritual Zero Proof beverages are crafted, not distilled, for those looking to enjoy alcohol-free spirits. The brand offers just about every liquor replica imaginable, including tequila, rum, whiskey, gin, as well as pre-made mixed mocktails. If you're allowed to bring your own mocktail mixers to your venue, Ritual Zero Proof has every spirit you could need for creative and custom drinks.
Surely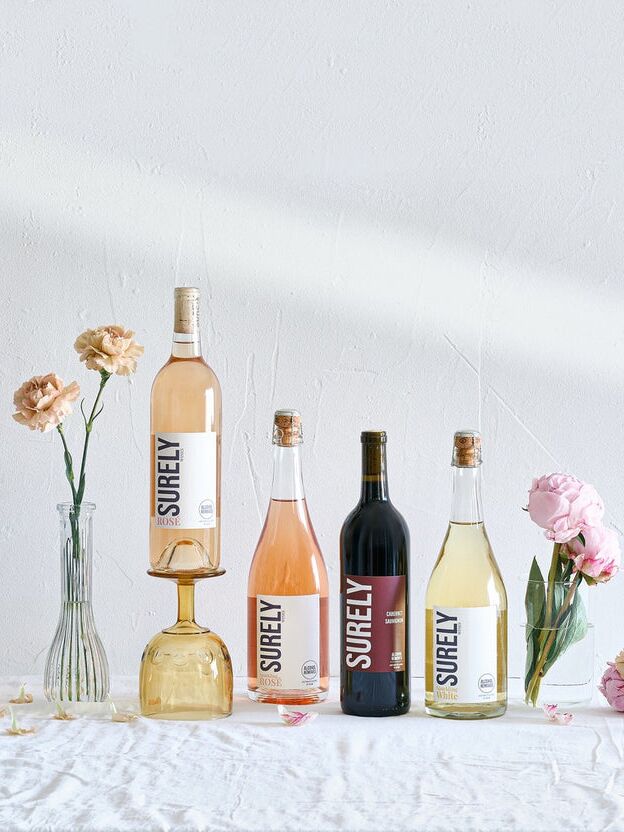 Crafted using premium California wine region grapes, Surely non-alcoholic wines serve as great dry options for your wedding. With a range of red, white and sparkling, varietals there's a Surely blend for every wine-lover on your guest list.