21 Mocktail Ideas for Every Wedding Theme
Not drinking at the wedding? No problem!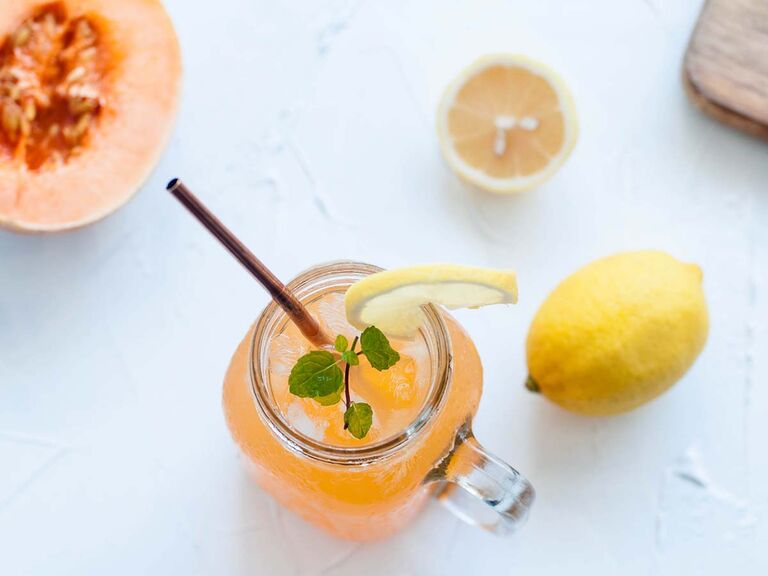 Karl Tapales
Because a common battle waged by couples is whether or not to have an open bar, it's easy to forget that alcohol isn't always the most important ingredient for a killer reception and there are some amazing mocktail ideas your guests will love. In fact, 8% of weddings are dry or sans-alcohol entirely. Couples can opt for alcohol-free or limited alcohol options for a list of reasons, including budget savings and lifestyle preferences. So if you're looking to host a wedding reception without alcohol or want more beverage options for your guests, here is a list of 30 creative mocktail ideas you can serve.
Classic Wedding
A twist on a timeless classic: The 'New' Old-Fashioned
The Old Fashioned is a beloved classic sipped by every whiskey-loving relative in your family tree. The alcohol-forward option is a slow sipper; strong, pronounced, and not something you can down too quick. To keep the same look and feel, substitute bourbon for bourbon tea blend and stick with the cubed ice.
Recipe: Classic Old Fashion Mocktail, Tea Nation USA
For a mocktail idea that's a bit inventive and unique: Lemon Drop Martini Mocktail
If the couple was known for hosting parties and leaving the bars at 2 am, this mocktail option might be a playful nod to their past. A little bit sweet and tart, the lemon drop martini mocktail is for the party attendee who wants to have something out of the ordinary and special while skipping on the alcohol accompaniment.
Recipe: Lemon Drop Mocktail, Food Banjo
The ultimate crowd-pleaser: The Mocktail Mule
Traditional Moscow Mules are popular because they are everything a drink should be: smooth, refreshing, with a subtle kick from the ginger to keep you feeling on your toes. Typically made with vodka, you can substitute it with club soda and keep the notes of ginger beer (it's non-alcoholic), lime juice, and simple syrup. (They're the real stars of the show anyway.)
Recipe: Non-Alcoholic Moscow Mule, Like Mother Like Daughter
Rustic
A twist on a timeless classic: Mint Julep Mocktail
Mint Julep drinks look and feel just a little more classy, don't they? And serving it in a gorgeous glass doesn't hurt. This alcohol-free cocktail combines ginger ale, simple syrup, and fresh mint for a nose-tingling alternative to the original.
Recipe: Mint Julep Mocktail, Kleinworth & Co
For something a bit inventive and unique: Applepom Fizz Mocktail
Are you looking for something more inventive for those mason jars? Search no further than the Applepom Fizz mocktail. This drink is fragrant, visually appealing, and feels just as special as moonshine, a blend of ginger, pomegranate juice, cinnamon, sparkling apple cider, and club soda.
Recipe: Applepom Fizz Mocktail, Sweet Cayenne
The ultimate crowd-pleaser: Fizzy Basil Lemonade Mocktail
It's hard to imagine a wedding with Southern charm without lemonade. A drink that children and grandparents can enjoy, this fizzy elevation on a classic beverage has herbs and seltzer, bringing it to the next level.
Recipe: Fizzy Basil Lemonade Mocktail, The Kitchn
Beachy
A twist on a timeless classic: Mai Tai Mocktail (Or Mai Tai-ed The Knot Mocktail)
If you're having a beach wedding, we can only imagine that you're looking forward to a wedding that is low stress, a good time — a day at the beach. Beach trips call for colorful, tropical drinks in hand. Mai Tai is a classic, and the mocktail version is just as flavorful and gorgeous to look at. Yes, you can still add an umbrella to this alternative.
Recipe: Mai Tai Mocktail Recipe, Liz On Call
For something a bit inventive and unique: Non-Alcoholic Sangria
One of the best parts about a beach wedding is your proximity to brilliant colors, sometimes exotic animals and creatures, and the juiciest fruit imaginable. A drink that really leans into all that we love about beaches and summer is sangria. Traditionally a fruit-infused wine, this non-alcoholic spin combines grape juice and citrus flavors.
Recipe: Non-Alcoholic Sangria, Recipes From A Pantry
The ultimate crowd-pleaser: Love On The Beach Mocktail
A sweeter take on the all-time favorite, Sex On The Beach, this mocktail idea embraces its fruit-forward history with peach nectar, white grapefruit juice, and cranberry juice. Serve it in a hurricane glass with sliced fruit, and no one will miss the alcohol.
Recipe: Cuddles on the Beach, Mix That Drink
Sweet & Romantic
A twist on a timeless classic: Pink Champagne Mocktail
Champagne is a wedding staple with its joyful bubbles and the giddy effect it has on people. If you're hoping to serve something just as fizzy, fun, and fanciful, look no further than this pink champagne mocktail. Its flavor is lifted by ginger ale, fruit juice, and frozen orange concentrate.
Recipe: Pink Champagne Mocktail, All Recipes
For something a bit inventive and unique: Blushing Rose Mocktail
If you're hosting a dreamy wedding that is totally romantic, we're confident you have an affinity for florals. So embrace your love for petals with this signature mocktail, the Blushing Rose. It has pomegranate juice, rose nectar, and lime — something we're sure is a unique blend for guests. Note, we recommend subbing rice wine vinegar for the sake it calls for.
Recipe: Blushing Rose, The Spruce Eats
The ultimate crowd-pleaser: Frozen Peach Bellini Mocktail
If peaches are in season during your wedding, you don't want to skip spotlighting them during the reception. This specific recipe cuts down on the sugar calories with an artificial sweetener and is enhanced with ripe peaches, lime juice, and apple juice.
Recipe: Frozen Peach Bellini, Spicy Southern Kitchen
Moody & Modern
For a twist on a timeless classic — Frostbite Martini Mocktail
For guests who want to feel sophisticated with something sparkly in hand, consider serving The Little Kitchen's take on a martini, the Frostbite mocktail.
Recipe: Frostbite Martini Mocktail, The Little Kitchen
For something a bit inventive and unique: Black Magic Mocktail
If you're set on having a wedding reception complete with dramatic decor and mood lighting, you have to take the same approach with the drinks. So wow your guests with this dark-hued mocktail idea, Black Magic. It's an alcohol-free potion of activated charcoal, honey, lime, and beet juice.
Recipe: Black Magic, Maine Spirits
The ultimate crowd-pleaser: Dark Invader
A drink that can impress both children and adults? Now that's a game-changer. You'll be hard-pressed to find a guest who doesn't love this vanilla, pineapple, and blackberry concoction.
Recipe: Dark Invader Mocktail, The Washington Post
Vintage Eclectic
For a twist on a timeless classic: Sidecar mocktail
When we think retro, one drink comes to mind: the sidecar. Typically a sweet and sour mix paired with whiskey, the mocktail is tamed by honey and tea. (Plus, this creative twist is sure to impress the older crowd that were throwing them back in the day.)
Recipe: Sidecar mocktail, BBC Good Food
For something a bit inventive and unique — Blue Shoe Mocktail (Or, Something Blue Mocktail)
Something old, something new, something borrowed, something blue...like a mocktail? With a vintage eclectic vibe, nearly anything goes. So raise a toast to your new life ahead with a little extra color in the glass.
Recipe: Blue Shoe Mocktail, Mix That Drink
The ultimate crowd-pleaser: a Tom Collins mocktail
The original is nearly identical to the mocktail; simply remove the booze. This retro signature cocktail is part lemon juice, sugar, club soda, and non-alcohol gin. (Yep, that's a thing.)
Recipe: Tom Collins Mocktail, Cook at Home Mom
Boho
For a twist on a timeless classic: Coconut Lavender Lemonade
So the classic here is lemonade — even non-alcoholic drinks need a little 2021 makeover. This option takes on new life with notes of lavender and coconut. It's an effortlessly delicious drink that feels just as special as popping bubbly.
Recipe: Coconut Lavender Lemonade, Buzzfeed
For something a bit inventive and unique: Rosewater and Strawberry Smash Mocktail
Boho weddings are a time to embrace all things floral and natural. And this mocktail idea checks off both things. This mocktail is stacked with strawberries, raspberries, nectar, and unsweetened coconut milk.
Recipe: Rosewater and Strawberry Mocktail Smash, Family Style Food
The ultimate crowd-pleaser: Hard Kombucha
Consider swapping (or adding!) a Kombucha station for the mimosa station! Guests can decorate their healthy beverages with jalapeno slices, floral detailing, fruit, and natural garnish.
Recipe: 5 Easy Kombucha Mocktails, Get Inspired Everyday
No matter your menu, we know your guests are most excited to celebrate you and your union. So whether you're cheersing with a cocktail or raising a toast with something alcohol-free, it's important to remember what we're celebrating: love and hopes for the future.