15 Must-Have Midnight Wedding Snacks
Sweet or salty, your guests will flip over these late-night munchies.
Wedding receptions are a party after all, especially if you've booked a good band or DJ but despite the fun, late-night weddings can leave guests exhausted. Surprise your family and friends with delicious treats toward the end of your reception that will have them back on their feet and ready to hit the dance floor. Check out our favorite trendsetting late-night snack ideas.
1. Doughnut Holes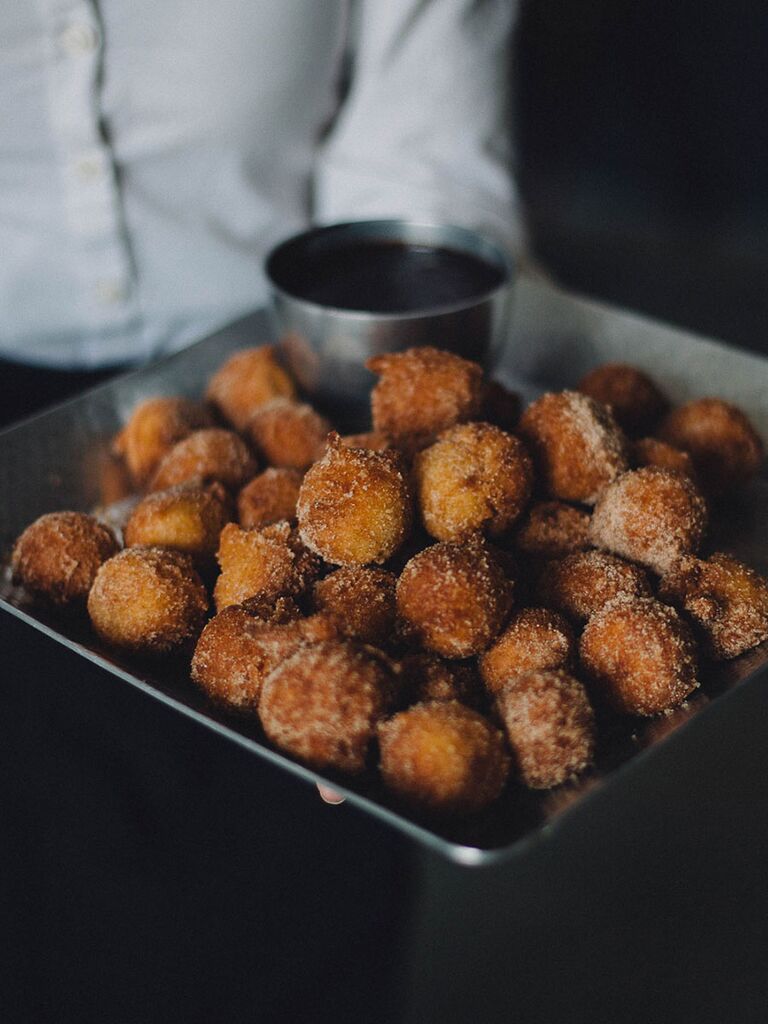 These bite-size treats are a crowd favorite that are perfect for any guest with a sweet tooth. Add a sugary glaze for a dipping sauce for an even tastier snack.
From: A Bright, Modern Wedding at Pallet23 in Cincinnati, Ohio
2. Asian Takeout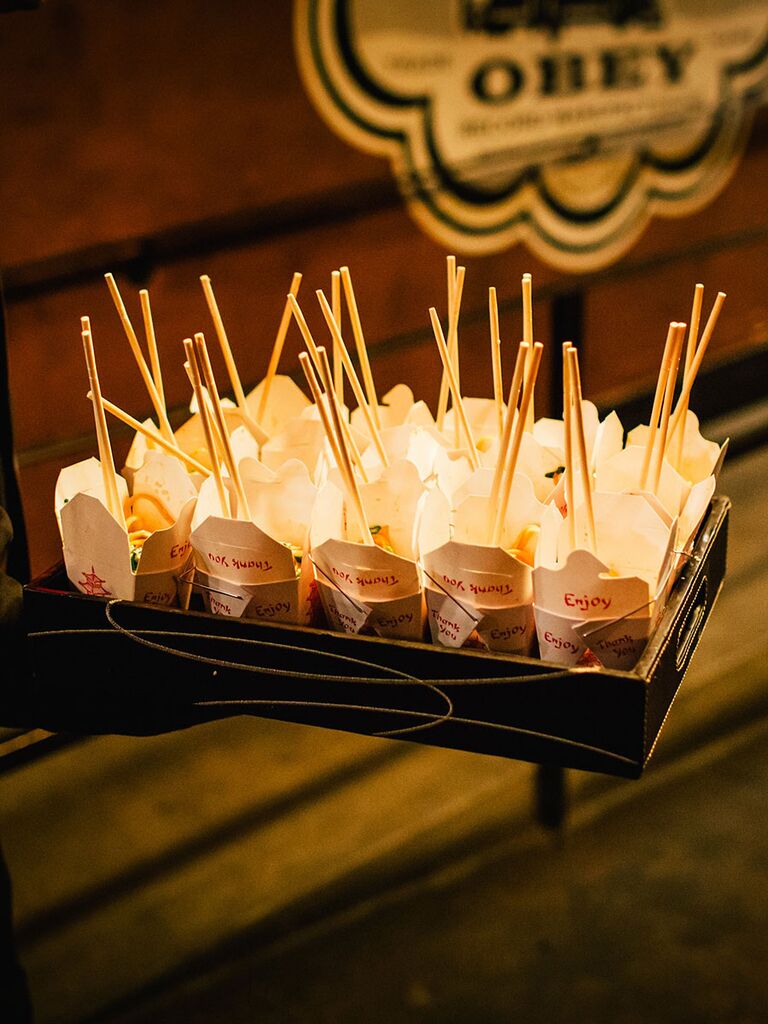 Your guests will love a hearty helping of lo mein at the end of the reception and the take-out boxes lets your guests save any left-overs for later.
From: A Jewish Winter Wedding in Brooklyn, New York
3. Milk and Cookies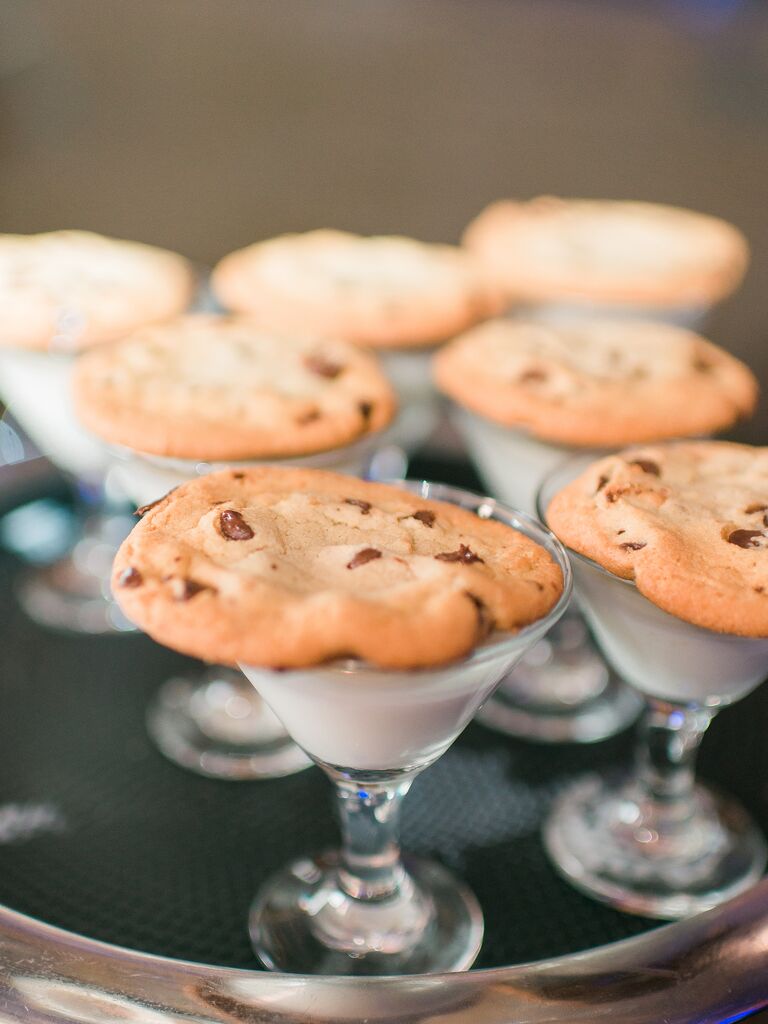 Cap the night with a chilled glass of milk paired with homemade chocolate chip cookies. Your guests will love the sweet, simple treat that leaves them with a bit of nostalgia.
From: A Classic Wedding With a Historic Twist at Union Trust in Philadelphia, Pennsylvania
4. Pizza Slices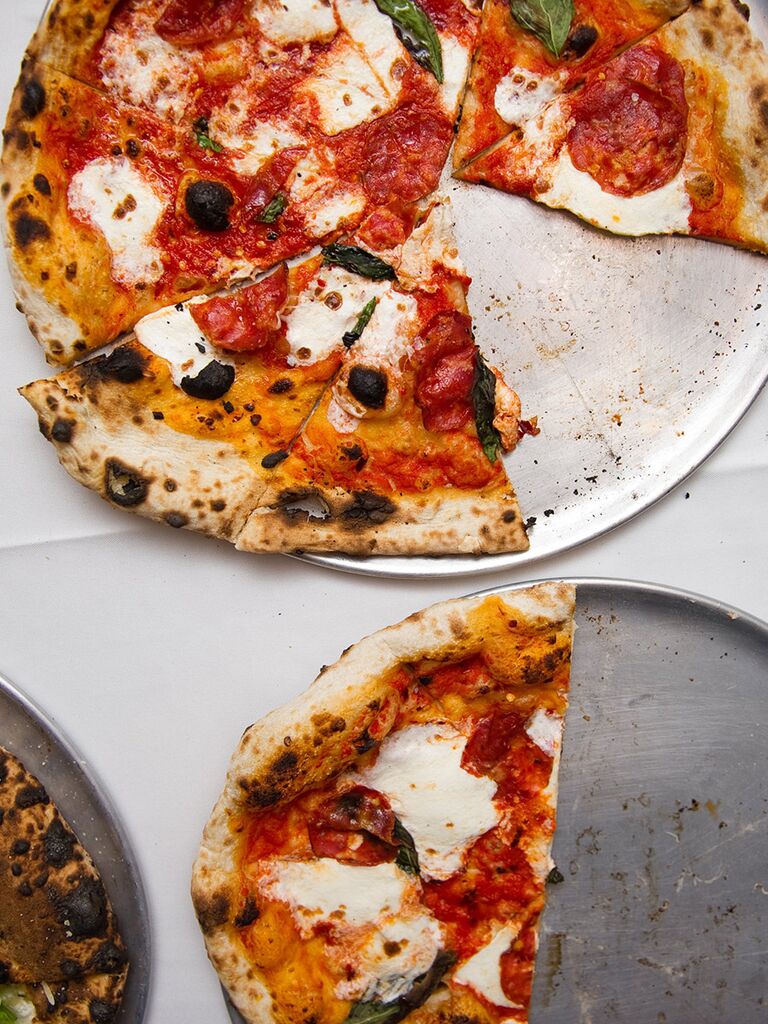 Give your guests a slice of heaven with a hand-tossed pizza. Or better yet, set up a make-your-own pizza bar where guests can create a mini masterpiece with the toppings of their choice.
From: A Whimsical Wedding in Brooklyn, New York
5. Food Truck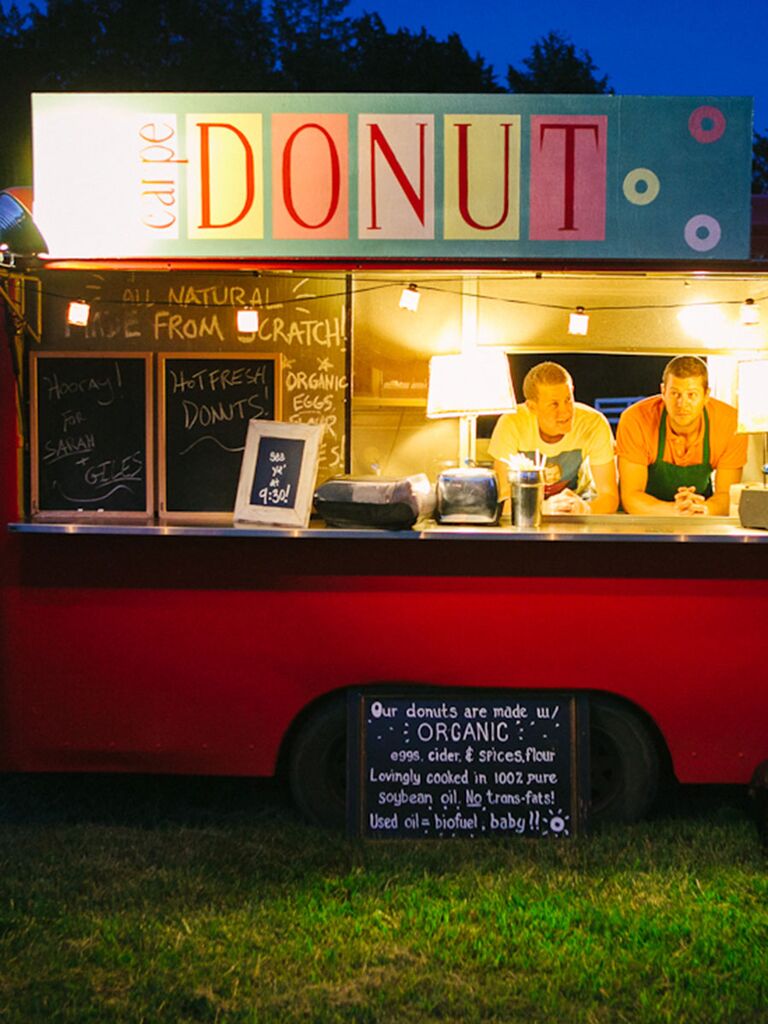 If a heavier sit-down dinner was served earlier in the night, opt for a lighter dessert option. Sweet treats like different flavored doughnuts are sure to please every guest.
From: A Rustic, Spring Wedding at Castle Hill Cider in Keswick, Virginia
6. Fast Food Bites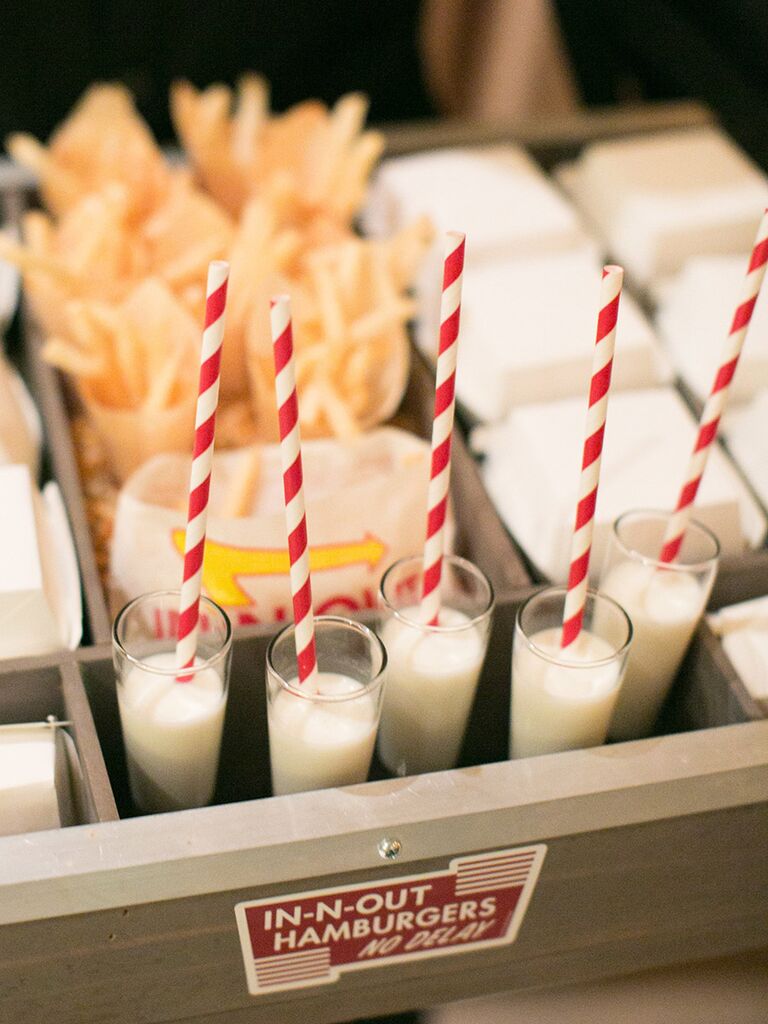 Have a guilty-pleasure food? Serve up your fave sweet or salty treat from your go-to fast-food spot.
From: An Elegant Wedding at San Francisco City Hall in San Francisco, California
7. Soft Pretzels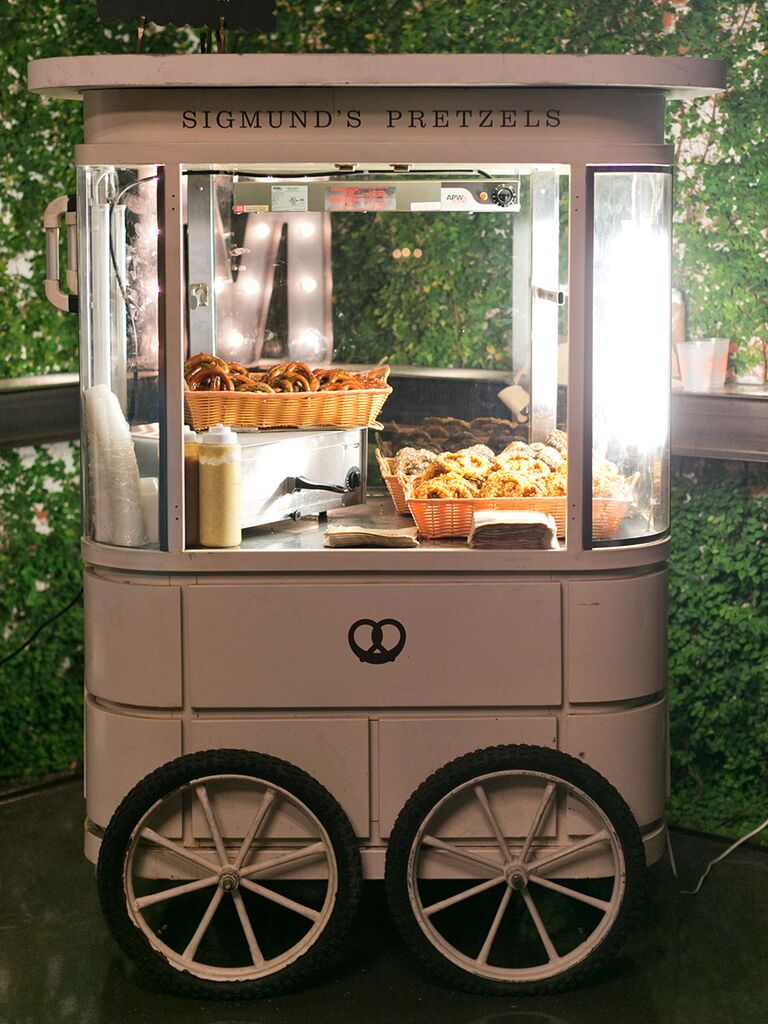 Offer a variety of pretzels (we're talking cinnamon, salty and cheese-filled) with some tasty dipping sauces so your guests can enjoy a twist before doing the Twist on the dance floor.
From: An Industrial-Chic Garden Wedding at the Foundry in Long Island City, New York
8. Shots of Espresso
A bold espresso will get guests out of their food coma and back out on the dance floor.
From: Angellique & Adrian: A Modern Wedding in New York, New York
9. Ice Cream Sandwiches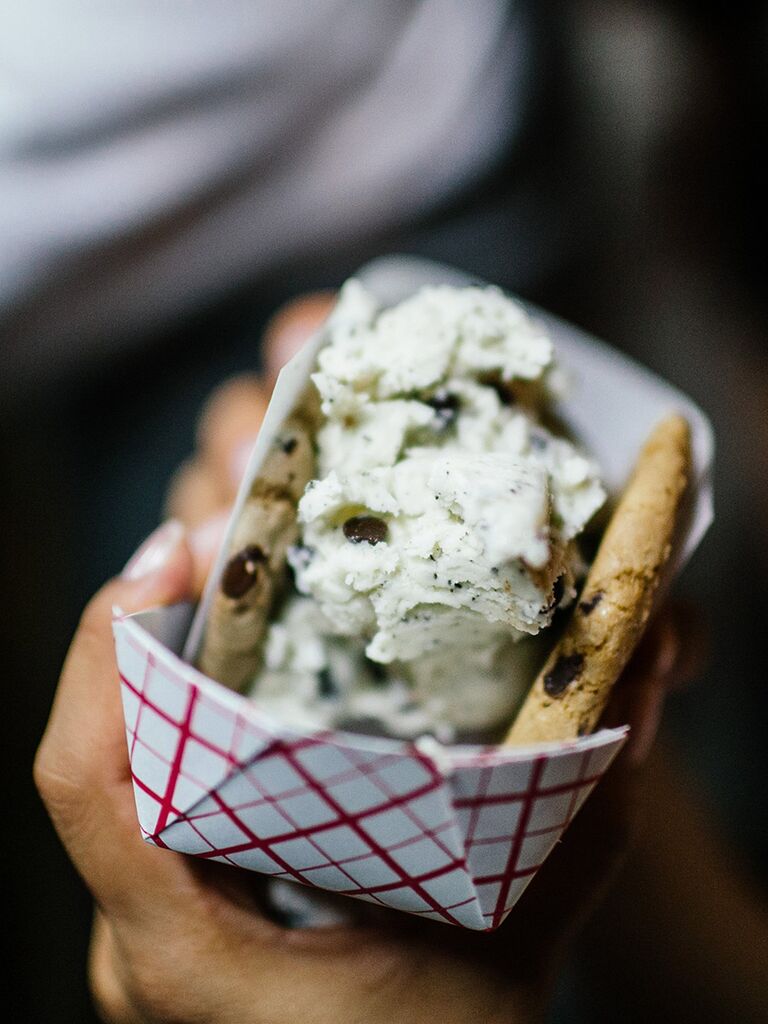 Nothing says summer quite like ice cream sandwiches. Your guests will be lining up for a taste of these frozen desserts smushed between two chocolate chip cookies.
From: A Green Building Wedding in Brooklyn, New York
10. Chocolate-Covered Bacon Strips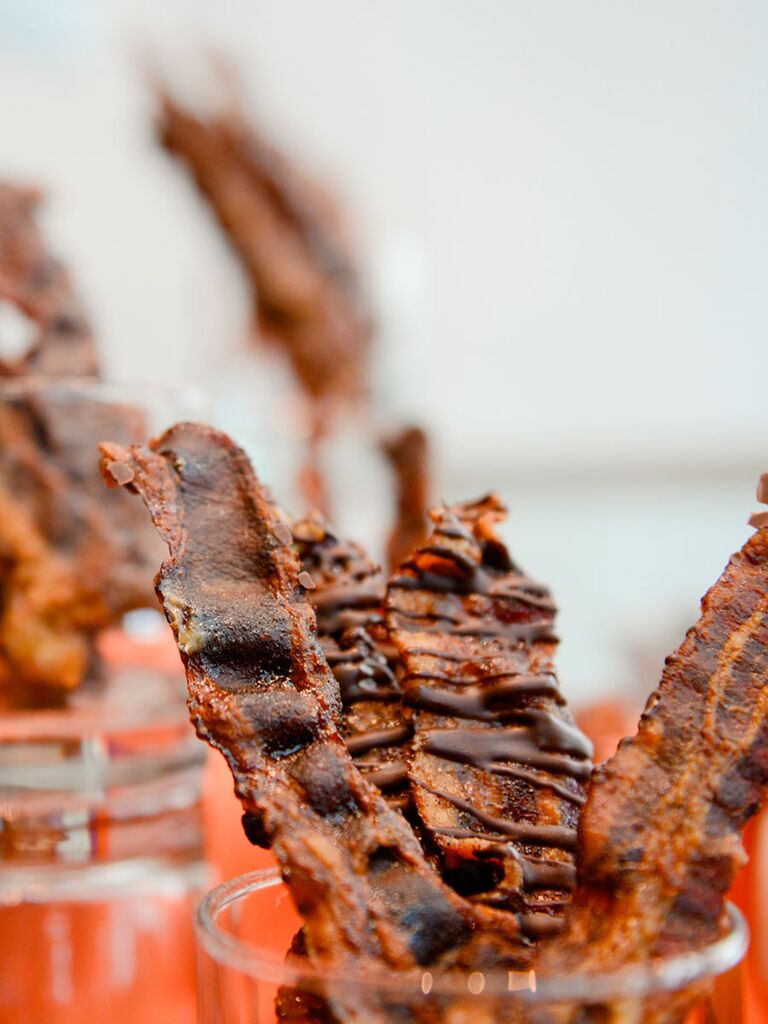 It sounds so wrong, but tastes so right. This combination of sweet and salty will send your guests' tastebuds on a foodie journey.
From: A Bold Purple and Orange Wedding at The Cable Center in Denver, Colorado
11. Sliders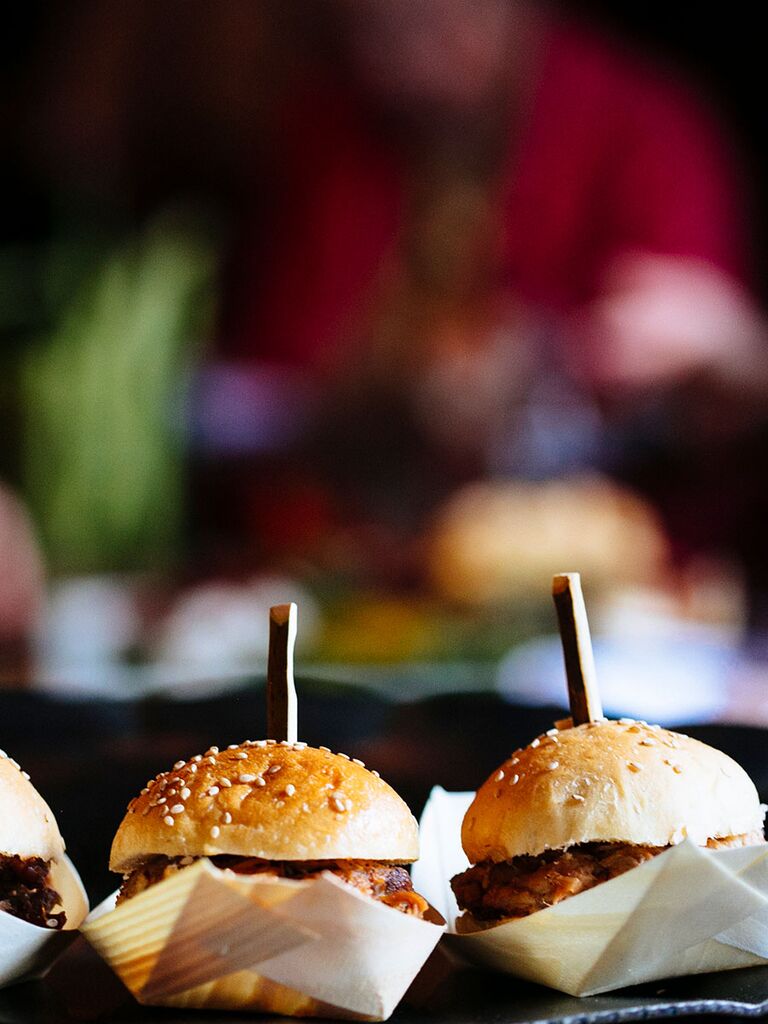 These bite-sized burgers are a simple but tasty snack that will be great at any outdoor BBQ reception.
From: A Relaxed Fall Celebration at The Dairy Barn in Fort Mill, South Carolina
12. Popcorn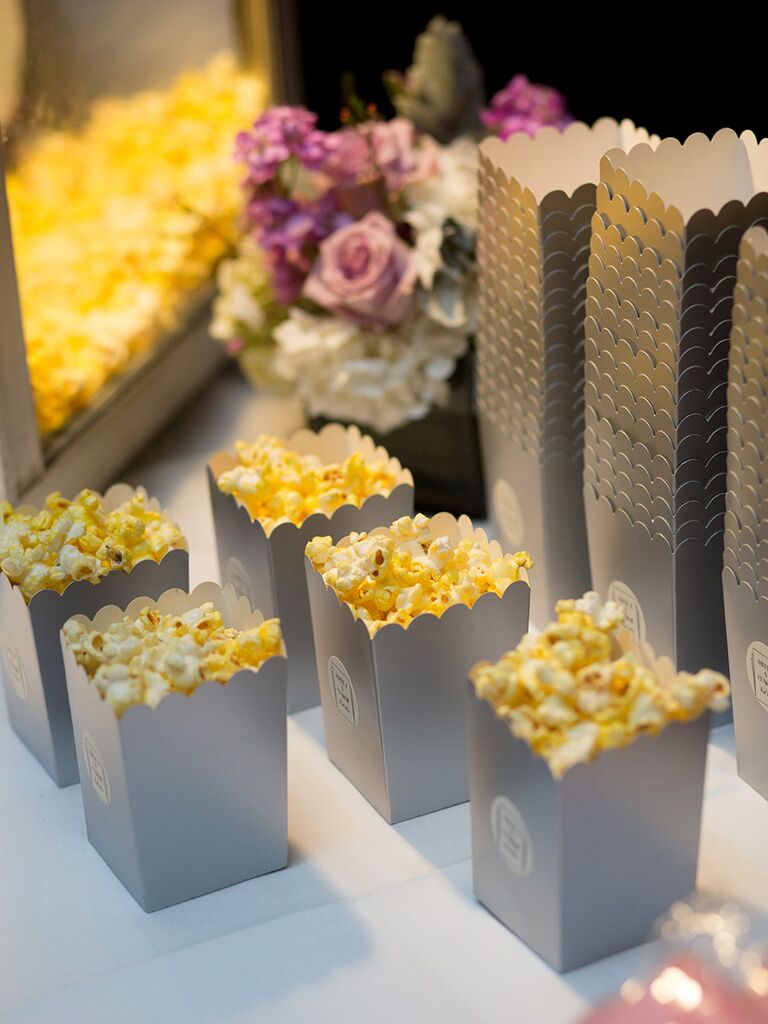 Serve up the snack of all snacks with a helping of buttery and salty goodness. And monogrammed to-go boxes will your guests to snack while still grooving on the dance floor.
From: A Vintage-Inspired, Industrial Wedding at the Roundhouse in Beacon, New York
13. Gourmet French Fries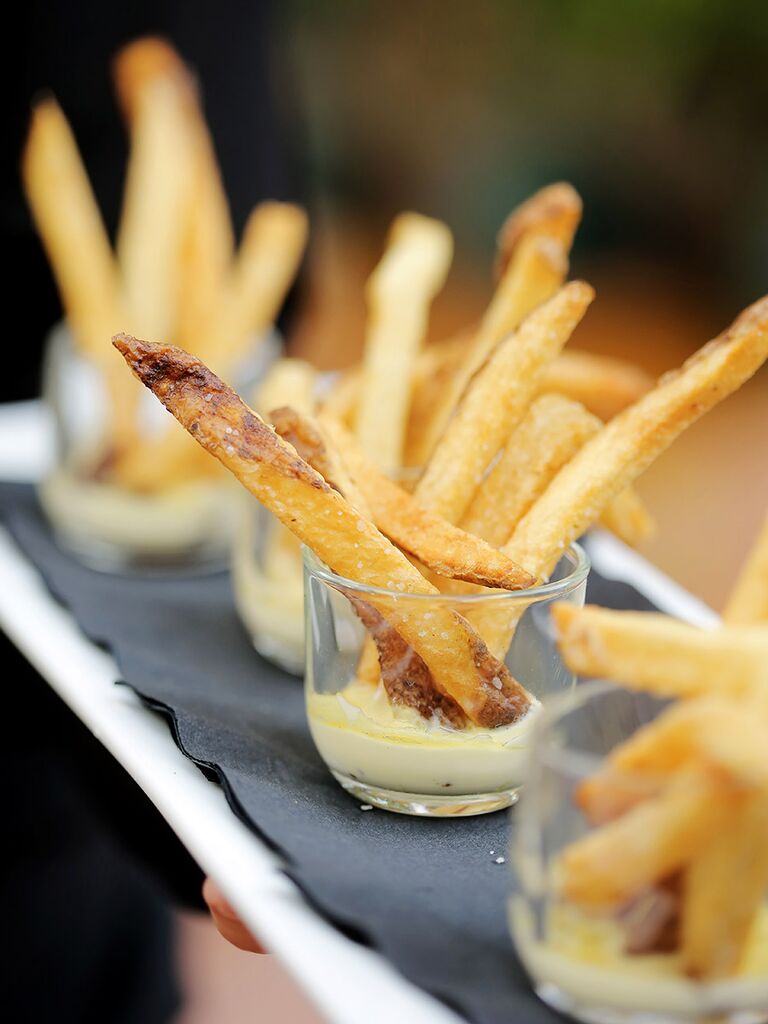 Just because you're serving up snack food doesn't mean the presentation can't be fancy. Individual French fry servings portioned into cups with dipping sauce is equal parts tasty and easy to enjoy.
From: A Modern Mountain Wedding at La Caille in Sandy, Utah
14. Jarred Dessert with Fresh Fruit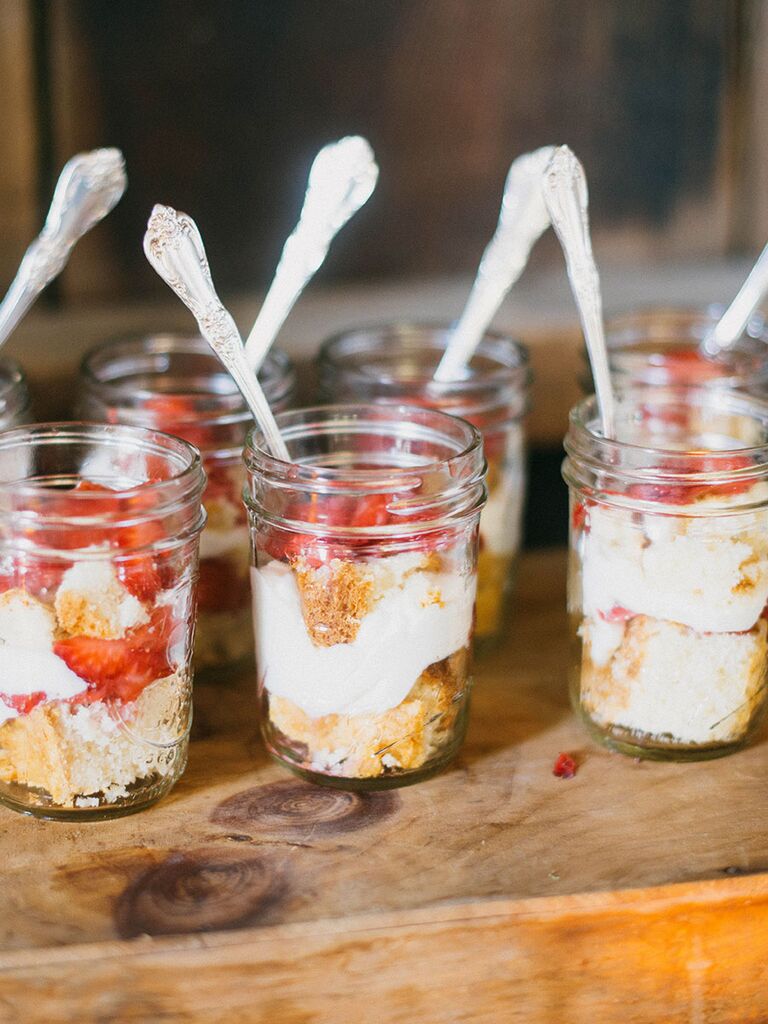 Custard desserts in Mason jars are the perfect complement to an intimate down-home reception. Add fresh fruit for a sweet, summery taste.
From: A Fourth of July Wedding at Dana Powers House in Nipomo, California
15. Grilled Cheese and Tomato Soup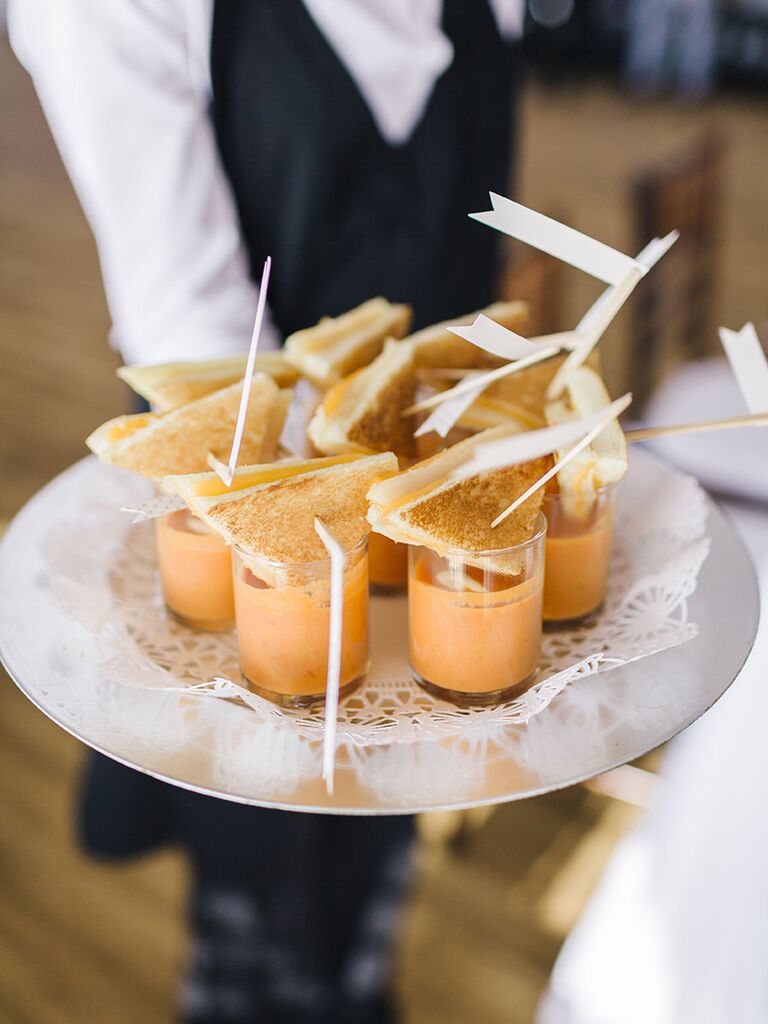 Serving up mini food pairings is trending. Go for something playful like tomato soup and grilled cheese, or more gourmet like almonds and dark chocolate.