Brunch Receptions Are Seriously Trending—Here's How to Do It Right
Celebrate your nuptials with French toast and mimosas.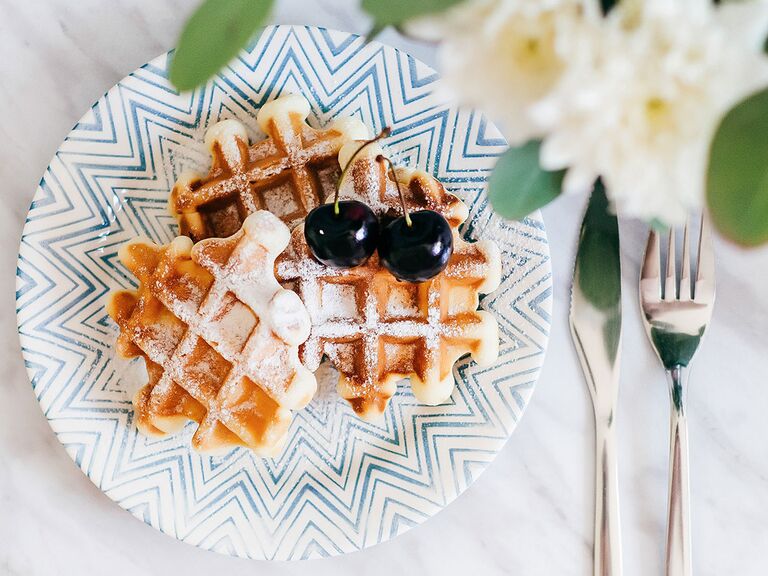 Unsplash

Who doesn't love a spread of crave-worthy brunch fare? Waffles, omelets, pastries and local fruit, all washed down with freshly-brewed coffee, mimosas, Bellinis and Bloody Marys—we could go on and on. Say your vows at sunrise with a breakfast spread to follow, or have a brunch-inspired reception any time of day. Here are few tips for throwing a fabulous brunch reception your guests will be talking about forever.
Timing Is Everything
A typical brunch reception will usually take place between 11 a.m. and 2 p.m. If you'd like it to be more of a breakfast, 9 a.m. is usually the earliest starting time to consider. Your guests' stomachs may not be ready to handle heavy food right away. Serve juices, coffee and cocktails along with some light, fruity nibbles before moving onto the main course, to avoid overwhelming guests who may still be wiping sleep from their eyes. Then, of course, comes coffee, dessert and wedding cake. Brunch is best served buffet style or as a seated meal (or a combination of the two). The other alternative is a cocktail brunch, where guests enjoy passed delicacies hors d'oeuvres style ( scrambled egg tartlets and mini French toast bites) and cocktails like mimosas, Bellinis, champagne and punch, as they mingle and celebrate.
Festive Vs. Formal
Morning naturally sets a more mellow tone. A brunch can still be festive (think brightly colored flowers and mimosas), but it probably won't include a crazy dance party. Satisfy friends and family with a bountiful buffet and fresh juice bar. For a more formal atmosphere, go for fine china, champagne and a three-course meal. Have a decadent raw bar if you're really looking to impress. Also consider the time of year. If your wedding day falls during leaf-turning season, choose an ideal space where windows frame the colorful mosaic of gold and red hues. Planning a winter wedding? Consider a cozy brunch by a roaring fire. In springtime, a tented garden soiree or a restaurant's rooftop are both beautiful ways to celebrate in the newly warm weather. When choosing a brunch spot, remember to see it during the time of day you're planning your reception—ask yourself, is it dark and depressing due to a lack of windows? Does the sun beat down during the day, making the room sweltering hot? This will help you notice any potential issues ahead of time.
Brunch Budgets
Serving brunch is one of the most cost-effective receptions you can have: They can range in price from $20 per head and up, depending on the menu and the site you choose. Your liquor costs will be much lower than an evening affair, and you won't have to shell out money for a full live band (unless you want to, of course). Plus, reception sites are often less expensive to rent in the morning, midday and early afternoon.
Brunch Food Trends
One word: frittatas. According to James Beard Award–winning chef and restauranteur Rocco DiSpirito, this Italian vegetable-and-egg dish is all the rage. "The frittata feels lighter yet substantial without being rich. It's full of vegetables so it appeals to the health conscious and can be prepared with delicious cheeses and herbs." Want to forgo the eggs altogether? Grilled veggies are a tasty alternative. "Smoked things—not just salmon and sable, but tuna bacon and salmon bacon, smoked tuna and smoked meats, and even smoked vegetables—are great for late morning or early afternoon," DiSpirito says. Southern-inspired comfort food, like shrimp and grits, chicken and waffles, and homemade bicuits are also making a comeback. Provide creative variations to satisfy any guests' cravings for lunch: grilled chicken salad wraps, open-face sandwiches made on homemade dill sponge bread, caprese salad and smoked salmon wraps instead of the traditional bagels and lox. Also, you can never go wrong with food stations, a lively (and less crowded) alternative to the standard buffet that are definitely still trending. Consider an omelet, French toast, crepe or pancake station (with various toppings and syrups). Offer an espresso bar or made-to-order drip coffee station, with an option for hot chocolate and tea for non-coffee drinkers.
Tasty Tidbits
Keep in mind your health conscious guests and think beyond simply pancakes, cheesy eggs, bacon and sausage. Consider more abundant healthful or vegetarian offerings, like fruit yogurt, egg-white omelets, gourmet pizza, poached salmon, vegetable tarts, grilled veggie sandwiches, whole-grain baked goods and salad nicoise. And to add a little flair, think beyond the ordinary. Instead of muffins and croissants, feature orange-scented scones and walnut banana bread. And just because it's before noon doesn't mean you can't have a wedding cake. You may opt for a lighter confection, such as tres leches, mille crepe, carrot, lemon, angel food or coffee cake. And the easiest way to lighten up a midday wedding dessert is to serve it with fresh fruit.
Think Drinks
Go light on the liquor, and if you'd like to serve it, consider offering it after some food has been eaten. Don't forget morning favorites, like Bloody Marys, mimosas, screwdrivers, mint juleps, punch, tequila sunrise (grenadine, tequila and orange juice), Bellinis or champagne with a few berries dropped in. And, of course, include delicious nonalcoholic breakfast beverages such as coffee (Americano, cafe au lait, espresso, cappuccino or Thai iced coffee), tea, (black, green, mint, spiced, chai, chamomile, Earl Grey and English breakfast), fresh juices, hot chocolate and fruit smoothies. For a Southern affair, think iced tea with lemon, peach tea, fresh strawberry or watermelon lemonade, and raspberry ginger ale punch.