15 Cute Cookies That Celebrate Your Engagement
Meet the sweetest way to say "congrats."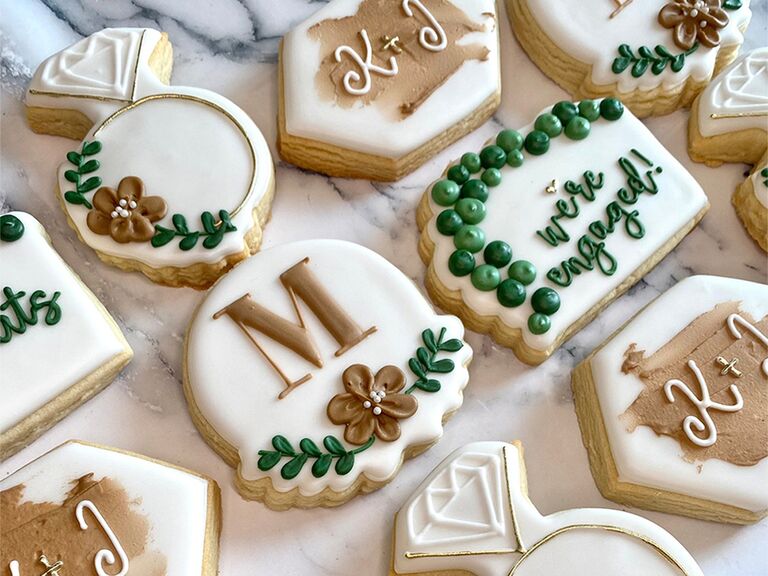 We have included third party products to help you navigate and enjoy life's biggest moments. Purchases made through links on this page may earn us a commission.
Engagement cookies are a cute and delicious way to toast your engagement. They work equally well as bridal shower desserts as they do as engagement party favors, and they come in all shapes, sizes and colors. From diamond ring cookies complete with glittering gold bands to monogrammed sugar cookie hearts, cookie favors are a sweet way to celebrate.
These 15 cookies are delicious, cute and often fully customizable—and can be ordered online, which means no last-minute pickups at the bakery. But as you're ordering, be sure to build in processing time: Some bakers require more time than others to create and ship your dreamy engagement confections. For more ideas and tips, check out The Knot Marketplace. But without further ado, here are 15 engagement cookie sets that will charm your friends and family.
Cheryl's Long Stemmed Buttercream Frosted Celebration Cookies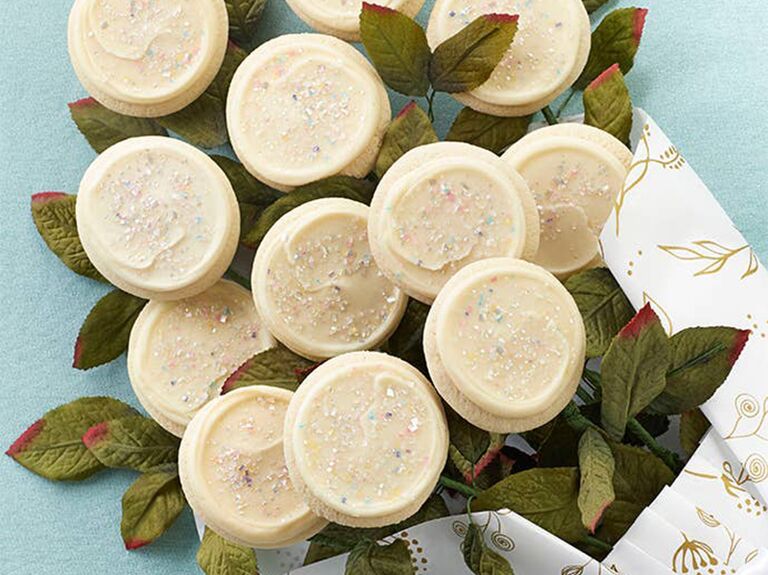 Dessert doubles as the centerpiece with these buttercream-frosted sugar cookies from Cheryl's styled as a bouquet. For an intimate affair, you can buy one cookie bouquet. For larger events, you might purchase two or three and place them at tables throughout the venue.
Sugar Batch Cookies 2 Dozen Mini Wedding Proposal Decorated Cookies
The stick people drawings on this mini cookie set are too cute. In addition to square-cut illustrated cookies, they also feature diamond ring cookies. Bag up sets of them as an engagement party or wedding favor.
Rising Cakes Wedding Cookies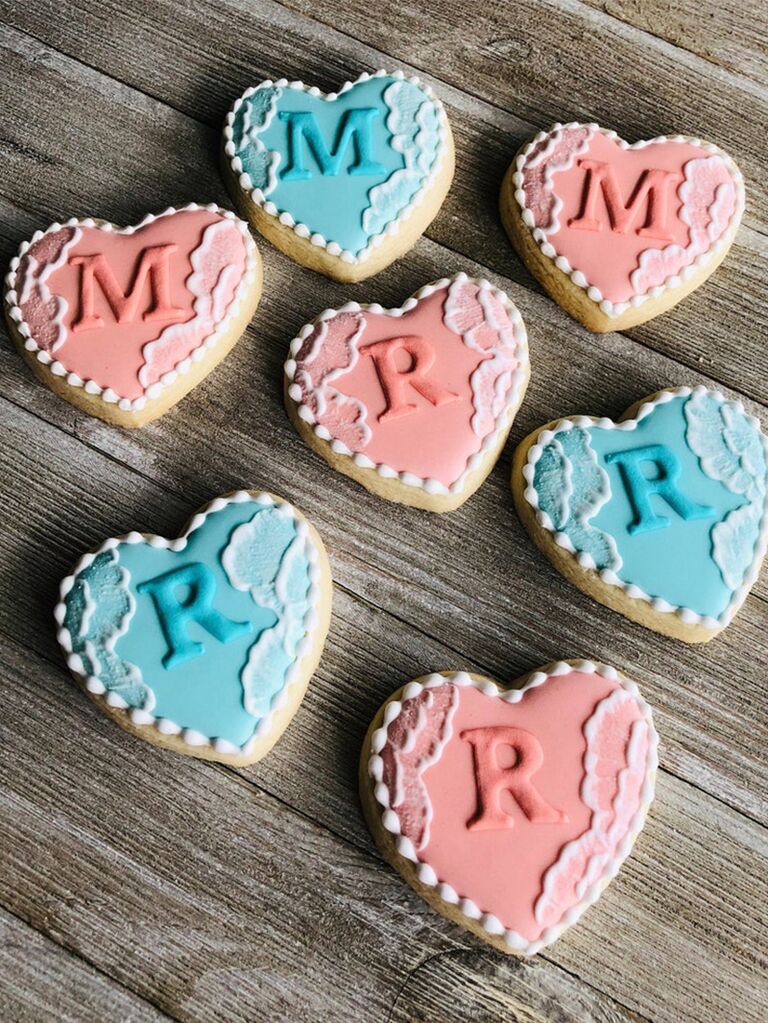 These aren't your run-of-the-mill heart cookies; they are decorated with colorful icing and the couple's initials and elevated by a lace embroidery effect on the edges. Personalize these custom cookies to match your wedding theme.
Jacques Torres Chocolate Jacques' World Famous Chocolate Chip Cookies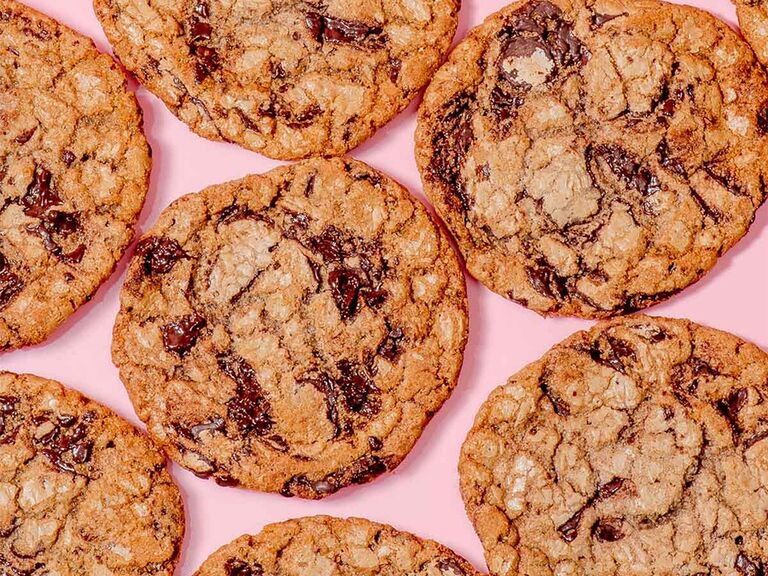 If you're more of a chocolate chip person than a sugar cookie person, you might consider a dozen (or more) of these gourmet chocolate cookies from chocolatier Jacques Torres. The extra-large size makes the classic cookie feel extra festive.
The Jewelers Daughters Engagement Wedding Cookies
Frosted with royal icing, these cute engagement cookies feature a diamond ring personalized with the couple's first names. You can also choose the hue of the sweet rosebuds that adorn the confectionary bling. The seller can also further customize the cookies to include a shower or engagement party theme, or even add pictures of the happy couple.
Kt SweetShopee Engagement Cookies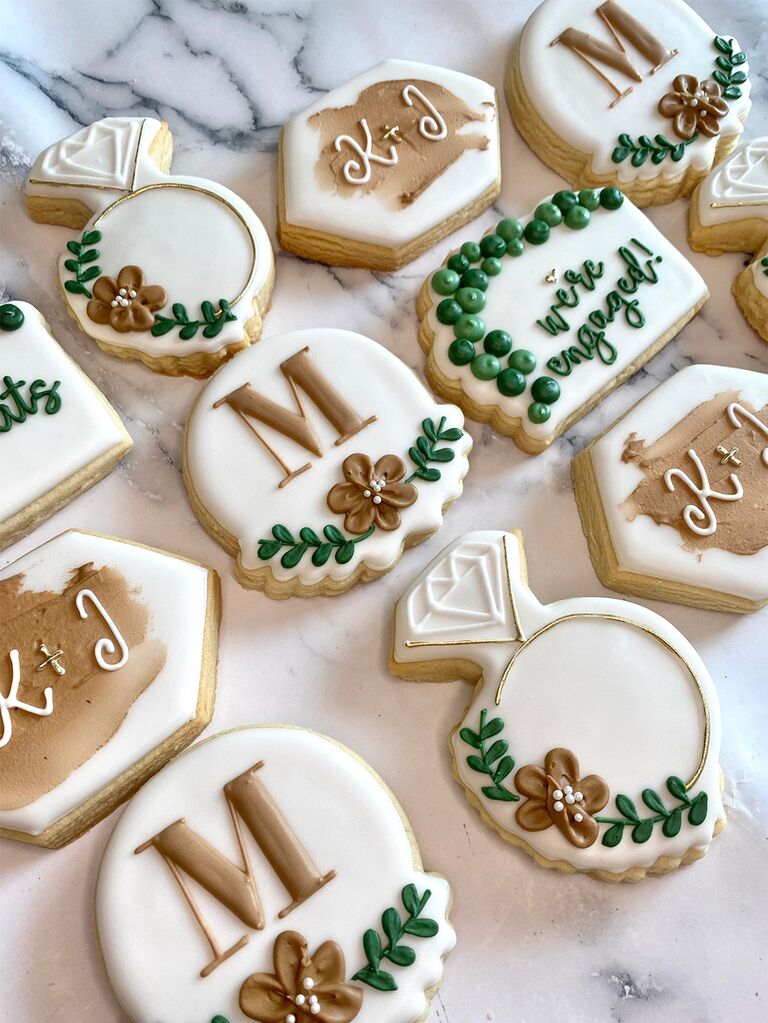 This engagement cookie set features cookies with different versions of the couple's monogram as well as diamond rings and a declaration of the engagement. The broad brushstroke of icing behind the couple's monogram makes the sweet treats feel surprisingly modern.
Sugar and Scribe Mini Heart Sugar Cookies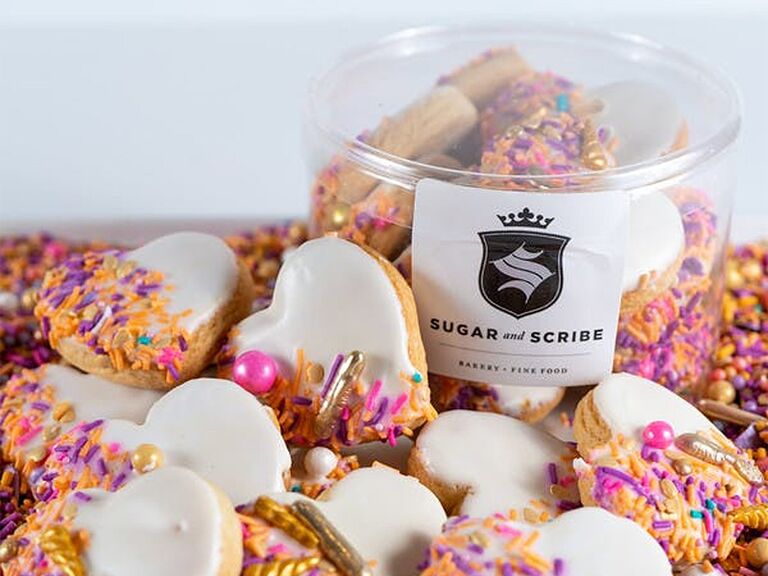 For a fun and festive cookie set ideal for a celebratory engagement party, look no further than these iced and sprinkled mini hearts baked by La Jolla, California-based bakery Sugar and Scribe. The mix of small and oversized sprinkles (including unicorn horns) make them particularly magical for a bachelorette party or even a baby shower.
Baketini Bake Shop Custom Cookies Pink Diamond Cookies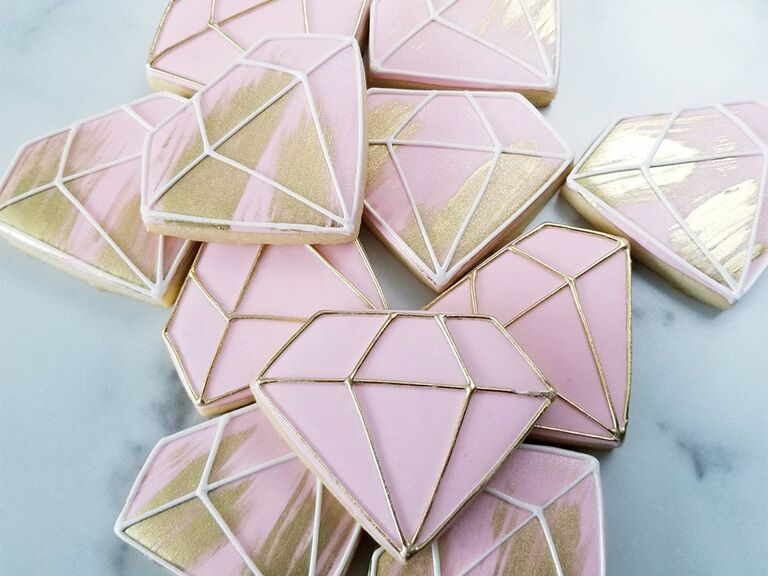 Pink diamond cookies with gold brushstrokes offer further evidence that "diamonds are a girl's best friend." Customize the icing color to fit your fête at checkout—robin's egg blue diamonds would be especially fitting at a Breakfast at Tiffany's shower.
Rising Cakes Wedding Cake Cookies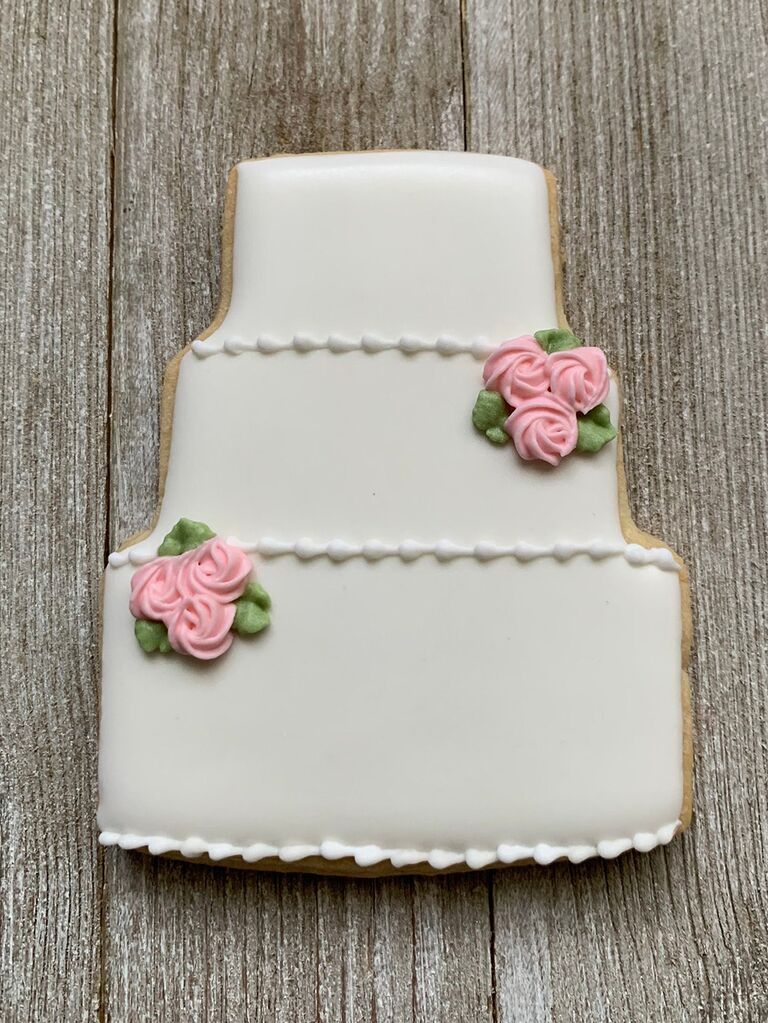 Sometimes less is more. Three tiers accented with iced piping and rosettes are the only accents on these simple but sweet wedding cake cookies, which nod to your big day.
Token of My Confection Love Sugar Cookies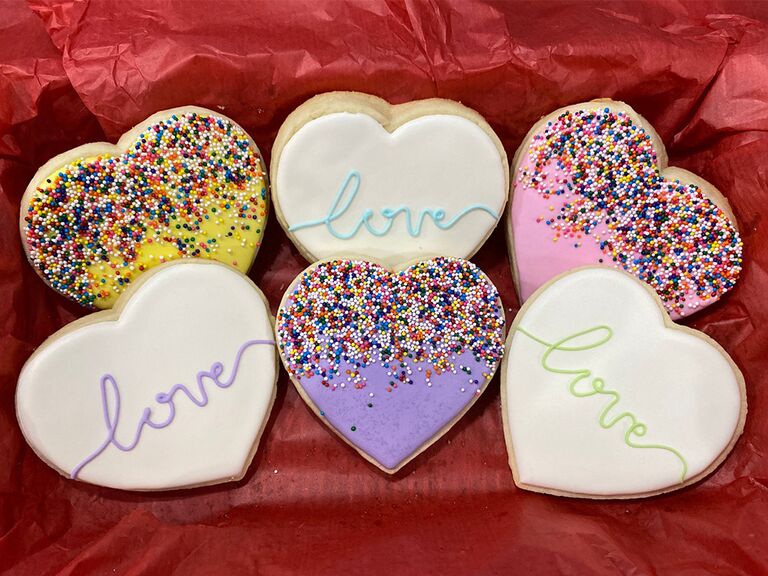 These sugar cookies adorned with colorful icing, sprinkles and the word "love" would work equally well for an engagement party or a Valentine's Day gift. You can also personalize the writing on the cookies to include names, a wedding hashtag or date.
Milk Bar Chocolate Confetti Cookie Tin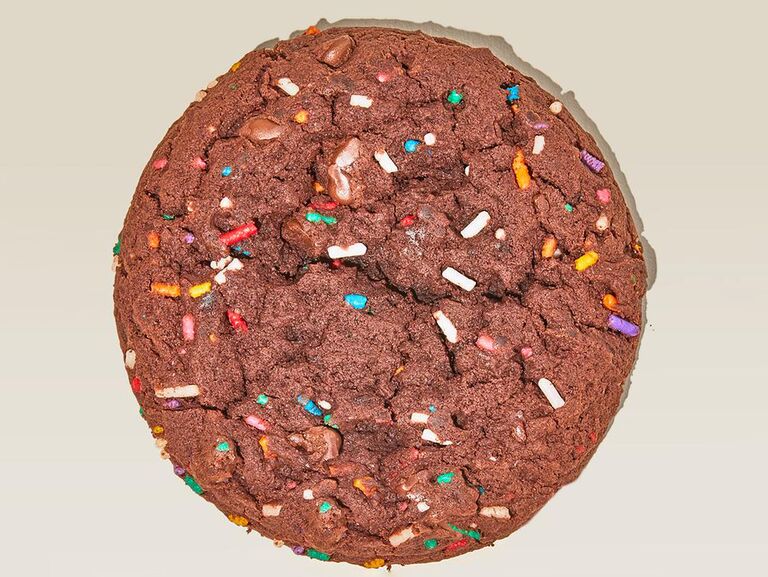 If you want to serve a seriously good cookie at your engagement party, consider opting for Milk Bar's Chocolate Confetti Cookie. Baked with rainbow sprinkles and mini chocolate chips, they prove that classic Funfetti can indeed be improved upon.
Nannycakes Bakery Teacup Theme Floral Cookies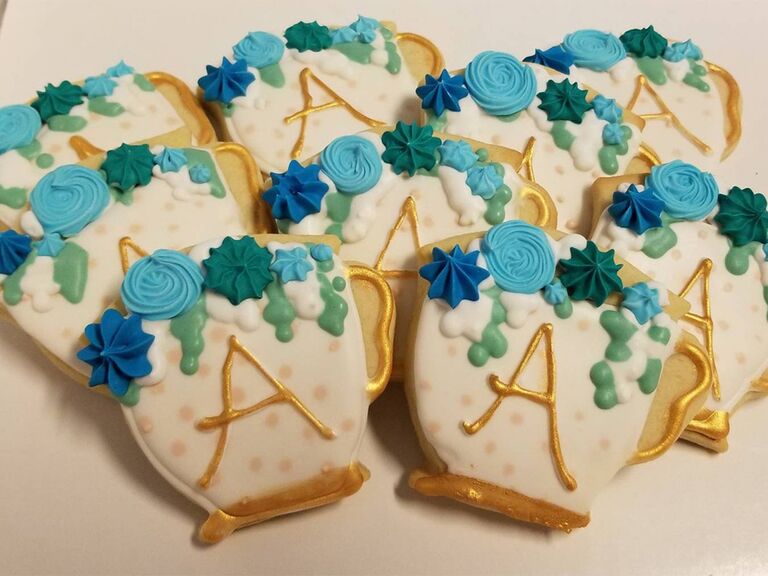 Hosting an engagement tea party? You might need these teacup cookies, which brim with flowers and can be customized with first initials.
Daniellas Desserts Engagement Sugar Cookies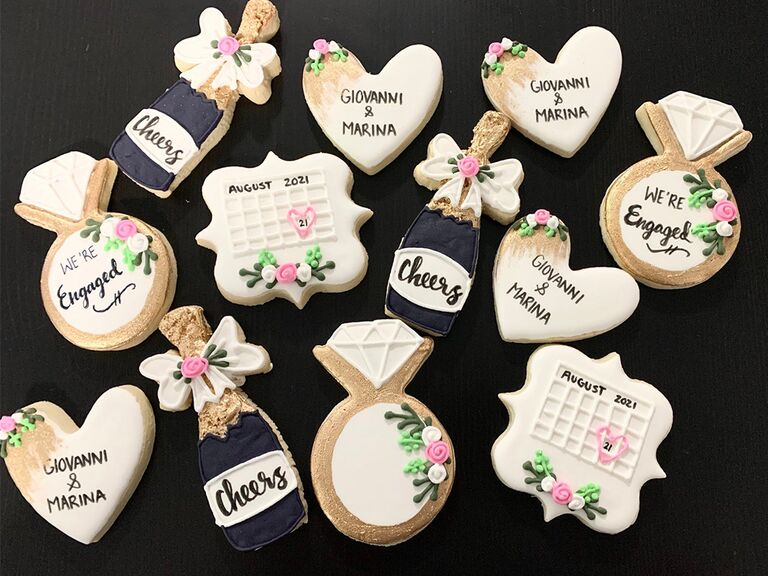 This celebratory cookie set comes with shapes including hearts, champagne bottles, rings and even calendars. They can make a tasty and unique way to announce your engagement on social media or even act as a delicious save-the-date.
Doughp Perfect Gift Box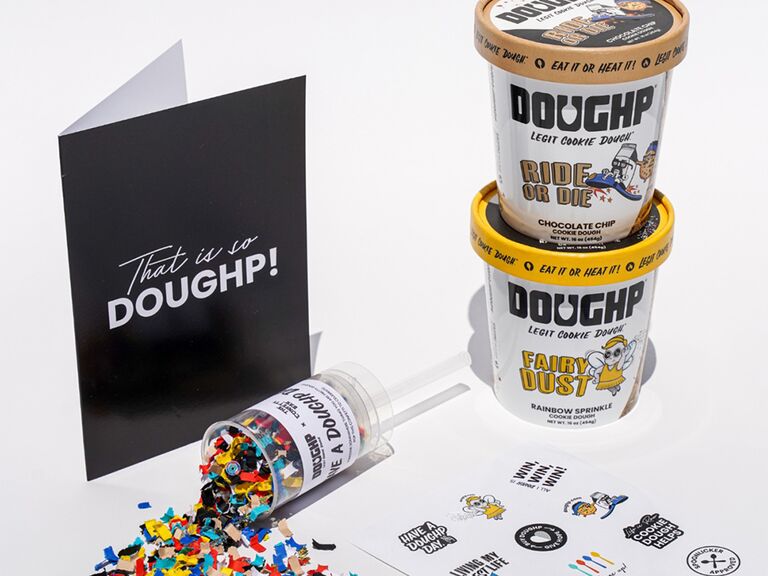 Sometimes, the cookie dough is the best part of the cookie making process. With Doughp's unique recipe, your recipient will get delicious, safe-to-eat cookie dough that can actually be baked up into cookies, giving them the best of both worlds. To make things extra celebratory, the gift box also comes with a popper full of festive confetti.
Sweet Art Sweets Wedding Cookie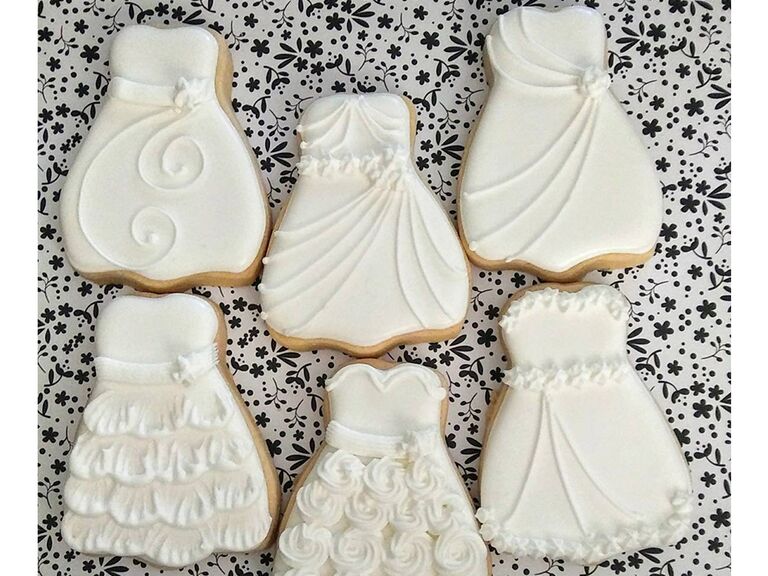 You may not get to say yes to every wedding dress you love, but this sweet set of dresses celebrates all kinds of elegant and edible styles. Lace, taffeta, ribbons—now you don't have to choose.