6 Essential Dress Shopping Tips for Mom
Taking your mom dress shopping for your wedding? Follow these guidelines to find the perfect dress for her.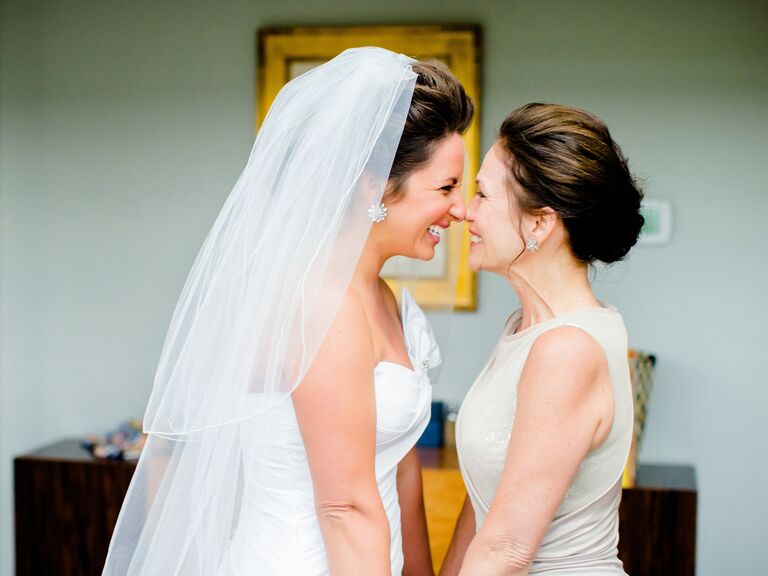 Leo Timoshuk
Your mom will be included in so many special moments on your wedding day. All eyes will be on her as she walks into the ceremony and when she's announced at the reception. And what about all those pictures? While she may not have shopped for a dress this important since her own wedding, we've got some tips to get the process started.
1. Talk to Her
Your mom probably already knows a lot about your wedding (thanks to all those panicky phone calls and her support through countless cake tastings), but talk to her some more about your vision for the day—how formal it's going to be, the overall style you're going for and your color palette. Since pictures are always better than words, show her some photos you've pinned to your inspiration board so she has a visual guide to start her search in the right direction.
2. Start Early
We recommend shopping around the six-month mark. That will give your mom plenty of time before the wedding day to find something she really loves, and to schedule fittings for any alterations, if necessary. Plus, by then you'll likely have chosen your own attire as well as the bridal party's look. These will be key for your mom, so she can purchase a dress that coordinates accordingly.
3. Consider the Wedding Colors
While some brides do prefer that their moms wear a color in the same palette as the bridal party (say a mauve or plum gown if the bridesmaids are in lilac or lavender) or even match it exactly, there's no set rule that all the dresses must coordinate. The key thing for your mom's dress is for it to complement (and not clash with) the day's hue. Metallics, navy, blush, chocolate brown and jewel tones are all beautiful and safe bets for a mother of the bride or groom. Traditionally, avoiding dresses in white, ivory or champagne (that are too close to the your gown's hue), black (which can suggest mourning) and red (or similarly "flashy" shades) is the standard—though these traditions are shifting and we've seen moms look chic and tasteful in all of the above. If your mom is considering something in one of these categories or she's just not sure about the color, let her know your thoughts.
4. Think About Style
Obviously your mom doesn't want to upstage you, but that doesn't mean she has to dress frumpy, conservative or matronly either. There are plenty of options available that will give her that glamorous look without being too over the top. Depending on the formality of the wedding, anything from a classic suit or a chic sheath to a cocktail dress or formal gown can work. If you would like your mom to wear a style she's not happy with or she likes something you're not exactly thrilled about, talk to each other and do your best to find a compromise that works for both of you—it's your day, but it's just as special for her and she should feel comfortable with her choice.
5. Consider Logistics
Just as with your own gown, logistics such as the time of day, setting and season of the event will dictate the appropriate attire for her. For example, she can get away with dressing up a notch, but donning a sequined ball gown for a champagne brunch will make her feel out of place. Or if it's a rustic affair on a vineyard, she'll want to forgo a long, voluminous gown that skims the dirt paths and dewy grass. A few other things to remember when putting together her wedding wear: Religious and cultural customs may dictate a certain dress code for the ceremony, so she should be prepared to cover up if required (a jacket, cardigan or chic shawl should do the trick).
6. Coordinate With Your Future Mother-in-Law
It's a bit old-fashioned, but traditionally, the mother of the bride picks her outfit first, setting the tone for what the mother of the groom will wear. Nowadays though, who buys first doesn't really matter as much, as long as both women are comfortable and feel great in what they decide to wear. Your mom and your future in-law don't have to match, but you should make sure their looks don't clash. Encourage them to have a conversation to get a sense of what the other plans on wearing (talk about sleeve and hem length, neckline, color and style). And if they get along well they may even want to go shopping together to offer each other style advice and make sure they find looks that coordinate nicely, or alternatively you could go shopping with each of them separately and relay any guidelines. If you discover they both want to wear the same color, choose different shades of the hue for an easy compromise.
Shop mother of the bride dresses here.