17 Top Places to Buy Bridesmaid Dresses Online
Plus, what you'll need to know before you buy.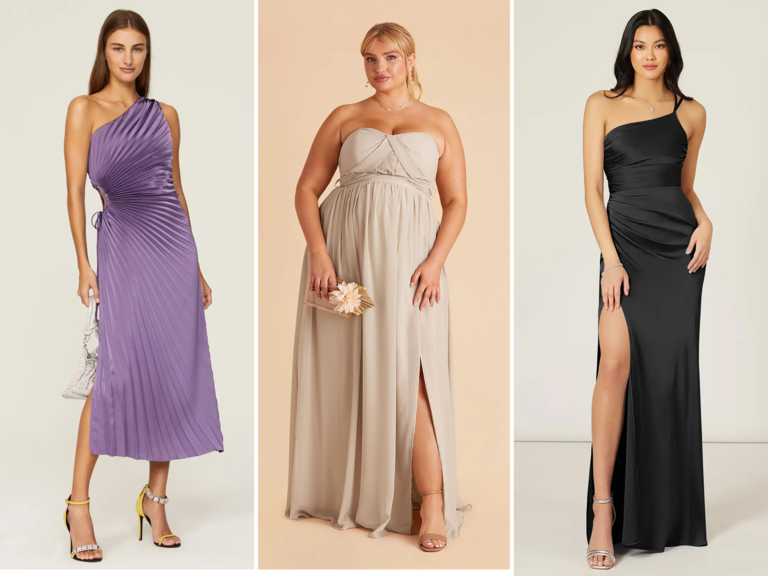 We have included third party products to help you navigate and enjoy life's biggest moments. Purchases made through links on this page may earn us a commission.
There's nothing better than celebrating your impending nuptials with your besties. Of course, there's one area that can definitely be stressful for both the bridal party and the bride-to-be: finding the perfect bridesmaid dress. For the bride, there's the pressure of making your bridal party vision a reality while also taking into consideration a range of personal tastes, body types and budgets. And for the supportive bridesmaids, it isn't always thrilling when you have to pay for an evening gown you don't necessarily love—or even want to wear again.
The good news when it comes to buying a bridesmaid dress: Many of your favorite online retailers are now making it easier to find gowns you'll actually love without all the added stress. From helpful bridal party concierge services to brands that offer affordable bridesmaid dresses without skimping on quality, shopping for wedding attire on the web has never been more convenient. Check out some of our favorite places to buy bridesmaid dresses online for a seamless experience both you and your bridal party will appreciate.
In this article:
The Best Places to Buy Bridesmaid Dresses Online
BHLDN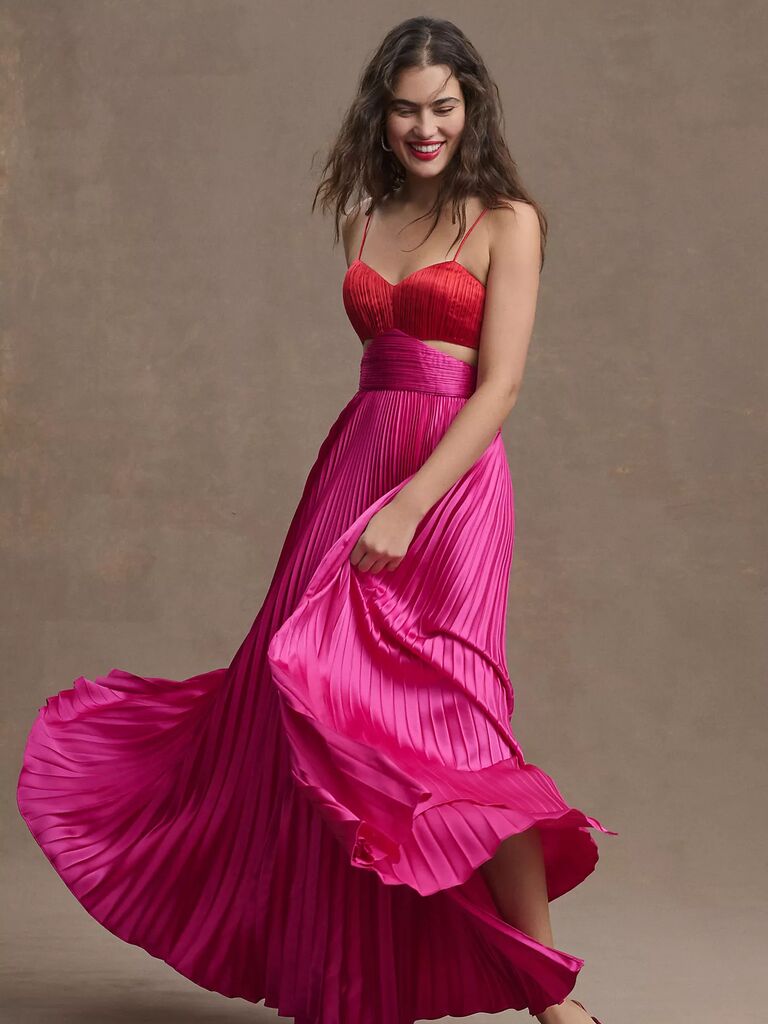 AMUR Elodie dress, $698, Anthropologie.com
Why we love this brand: Whether you shop BHLDN in store or online for bridesmaid gowns, their wide range of timeless and trendy options have bridesmaids obsessed.
Why you'll love this brand: As Anthropologie's wedding shop, BHLDN has a curated selection of styles from a range of designers and offers everything you'll need to look stylish on the big day–from mother-of-the-bride dresses to flower girl looks. If shopping from home, you can take advantage of their virtual styling appointments where you'll work with a live stylist over Zoom to put together your dream bridal party looks. BHLDN's assortment of dresses include a variety of silhouettes, lengths and details and also come with an extended 60-day return policy to give your bridal party flexibility and peace of mind while trying different options.
Size range: XXS - 3XL
Prices starting at: $125
Lulus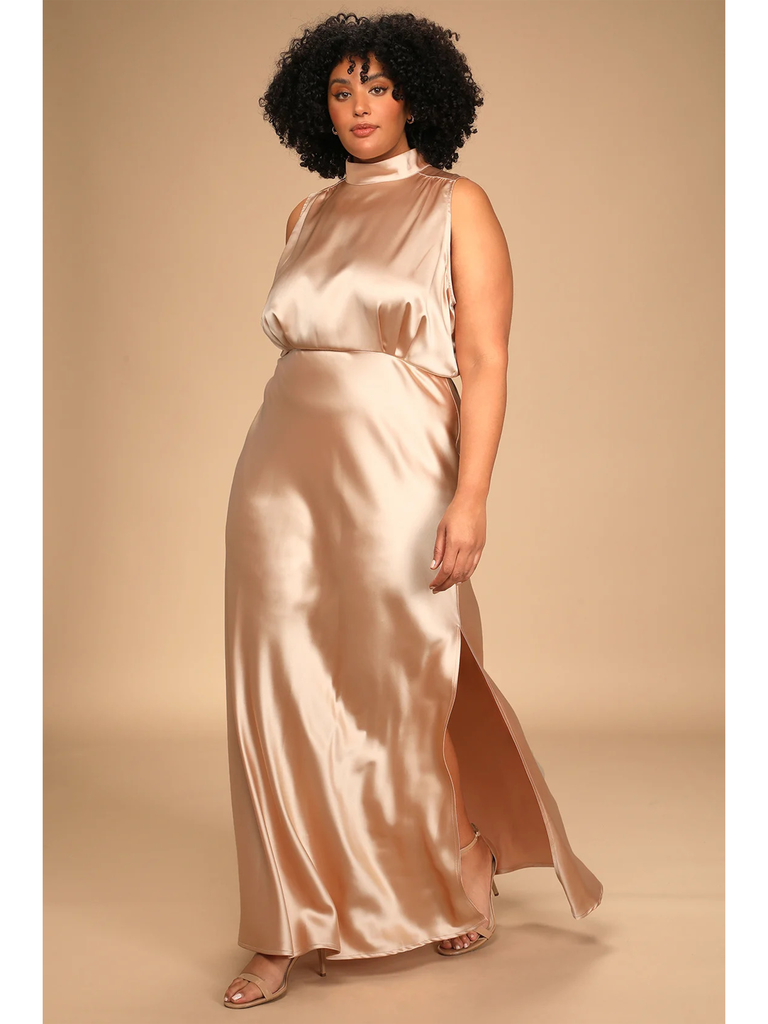 Lulus Classic Elegance Mock Neck Maxi Dress, $84, Lulus.com
Why we love this brand: As one of the top online destinations for bridesmaid dresses, Lulus offers looks you'll love for prices your wallet will appreciate.
Why you'll love this brand: If you're on the search for an affordable bridesmaid dress (that don't look it), Lulus has your back. The beloved online retailer offers a bridal concierge to help as you decide between over 100 different styles to match your wedding party's different personalities. Then, they'll place your picks on hold and help to get your squad organized. Lulus' helpful and knowledgeable team members will work one-on-one with each of your bridesmaids to help them find the right style and fit.
Size range: XXS - 3XL
Prices starting at: $49
Reformation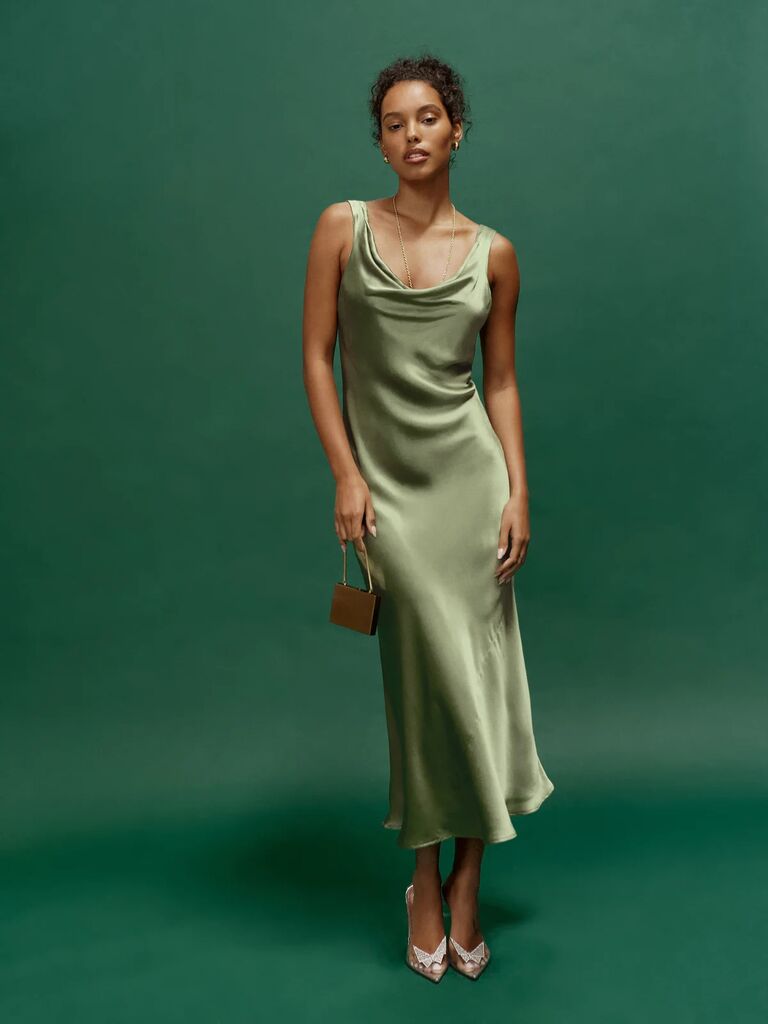 Reformation Bryn Silk Dress, $328, Reformation.com
Why we love this brand: Ethically made from deadstock and vintage fabrics, you can look good and feel good while wearing Reformation.
Why you'll love this brand: Since 2015, Reformation has been one of few retailers to be certified climate neutral, with plans to become climate positive by 2025. But sustainability is about much more than fabric— it also implies getting the most use possible out of your garment. Fortunately, with Reformation's timeless looks, that isn't hard to do—your wedding party will be wearing their gown for years to come! Reformation checks all the boxes when it comes to choosing a bridesmaid dress by offering high-quality pieces and a wide range of sizes, colors, and styles to choose from. They're also one of our go-to places to shop petite looks that don't sacrifice on style.
Size range: 0P - 24
Prices starting at: $98
Rent the Runway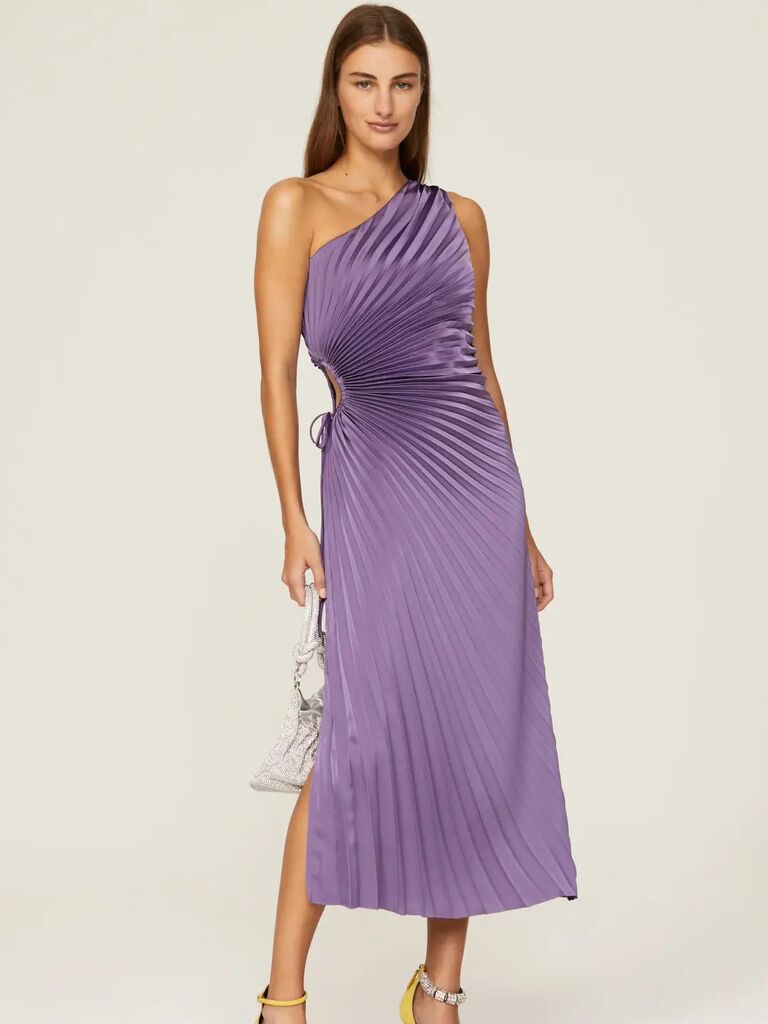 DELFI Collective Solie Dress, $90 one-time rental, Renttherunway.com
Why we love this brand: With hundreds of designer brands and styles to choose from, and the option to save money by renting your gown, Rent the Runway ensures that your closet will never have to look like Tess's from 27 Dresses.
Why you'll love this brand: One of the worst things about being a bridesmaid is when the bride has her heart set on an overpriced gown that you know you're never going to wear again. That's why going with Rent the Runway can feel like a bridesmaid gift in itself—the bridal party isn't being asked to buy something that isn't necessarily their style or in their budget. Not only will Rent the Runway's designer gowns make jaws drop, but they also have a variety of true bridesmaid dresses your ladies can rent instead of laying out serious money to own. In addition to one-time rentals, they also offer monthly memberships so you and your bridal party have designer options for all of the upcoming wedding festivities. Tip: Size runs can be limited in certain styles, so keep that in mind if you have a large bridal party.
Size range: 0 - 22
Prices starting at: $30 for one month
Birdy Grey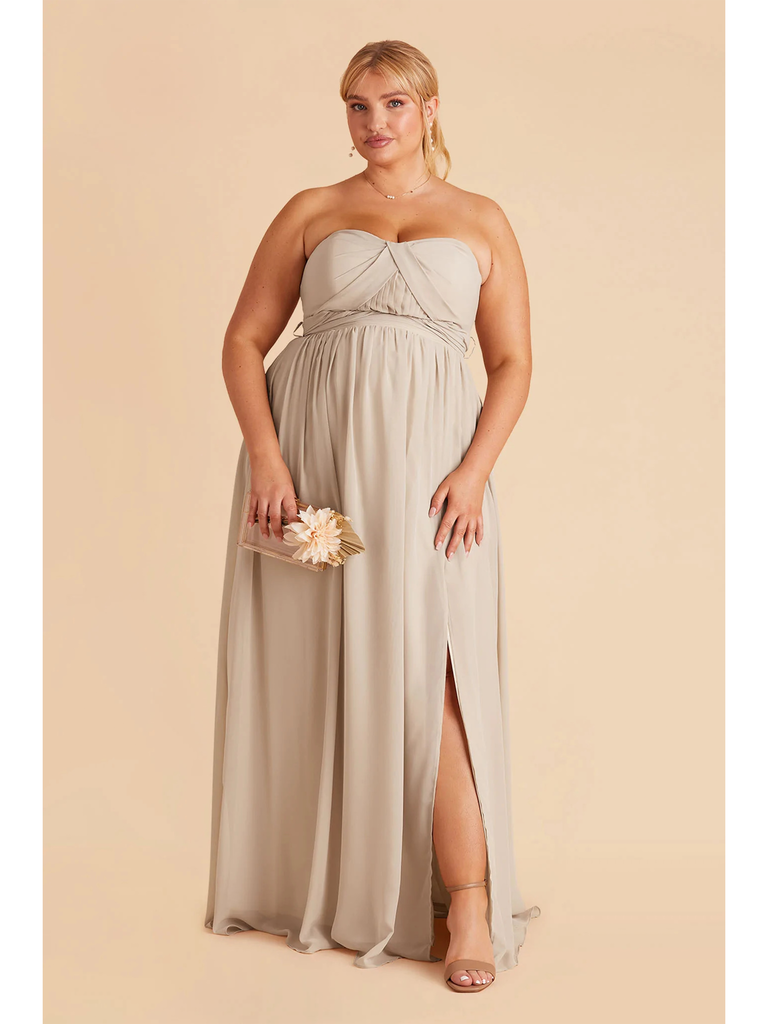 Birdy Grey Grace Convertible Dress Curve, $99, Birdygrey.com
Why we love this brand: We've got 99 reasons to love Birdy Grey, but perhaps our favorite is their commitment to providing gorgeous size-inclusive gowns for just $99 all year round.
Why you'll love this brand: Haven't quite decided on a color for your wedding party yet? Not to fret—Birdy Grey offers free swatches with countless color and fabric combinations to choose from. No matter the color you pick, your bridesmaids will have plenty of options when it comes to style. All dresses come ready to ship with free exchanges and easy returns. Oh, and did we mention every gown is $99?
Size range: XS - 3XL
Prices starting at: $99
Azazie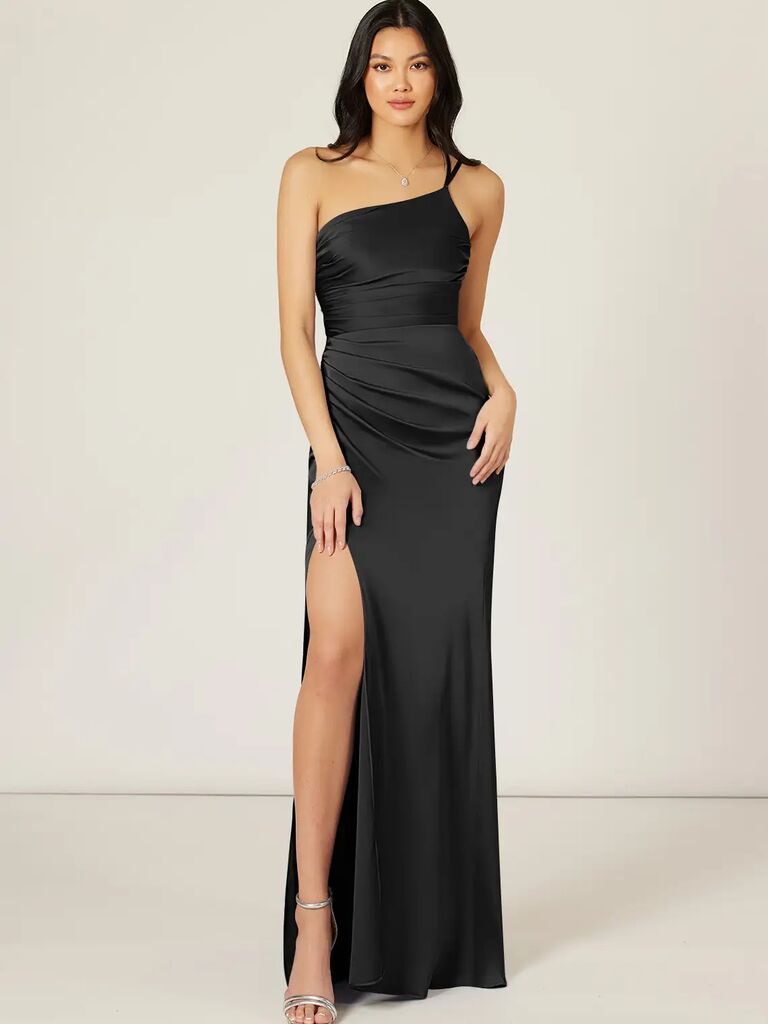 Azazie Eren Stretch Satin Dress, $99, Azazie.com
Why we love this brand: Affordable prices and two-day shipping make Azazie the perfect option for when you need to find a dress in a pinch.
Why you'll love this brand: Azazie has made the process of shopping for bridesmaid dresses from home a breeze for the entire bridal party. This online boutique has more than 500 budget-friendly styles in 80 plus color options for an abundance of options. To start, brides can order swatches ranging from matte satin to signature sequin to decide on the color palette and fabric. Then, bridesmaids can pick samples of their favorite designs to try on at home before buying to ensure they love the look in person. But what your bridal party will appreciate even more than the quality of these affordable dresses is the inclusive sizing that ranges from 0-30. Another big pro? There's also the option of requesting custom measurements.
Size range: 0 - 30; Custom sizing available
Prices starting at: $79
Show Me Your Mumu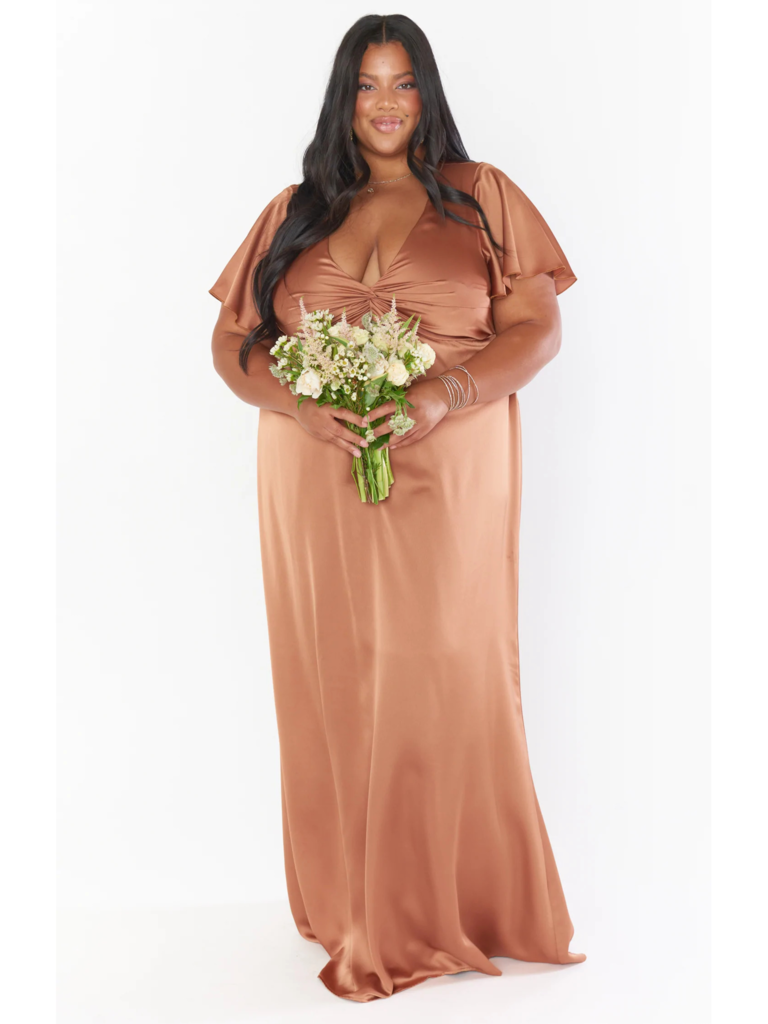 Show Me Your Mumu Rome Twist Gown, $198, Showmeyourmumu.com
Why we love this brand: Inclusivity is at the forefront of this brand's mission— whether it be through their inclusive size range or dedication to donating to communities in need.
Why you'll love this brand: A thoughtful array of bridesmaid and wedding guest dresses isn't the only thing you'll find at Show Me Your Mumu— they're also an ideal online destination to shop for all your wedding events. Based in Venice Beach, California, their designs feature a bohemian flair the beach town is known for. But don't worry, you won't have to make the trip to the West Coast to find your dream dress. Show Me Your Mumu offers virtual showroom appointments for you and your whole bridal squad.
Size range: XXS - 3XL
Prices starting at: $98
Revelry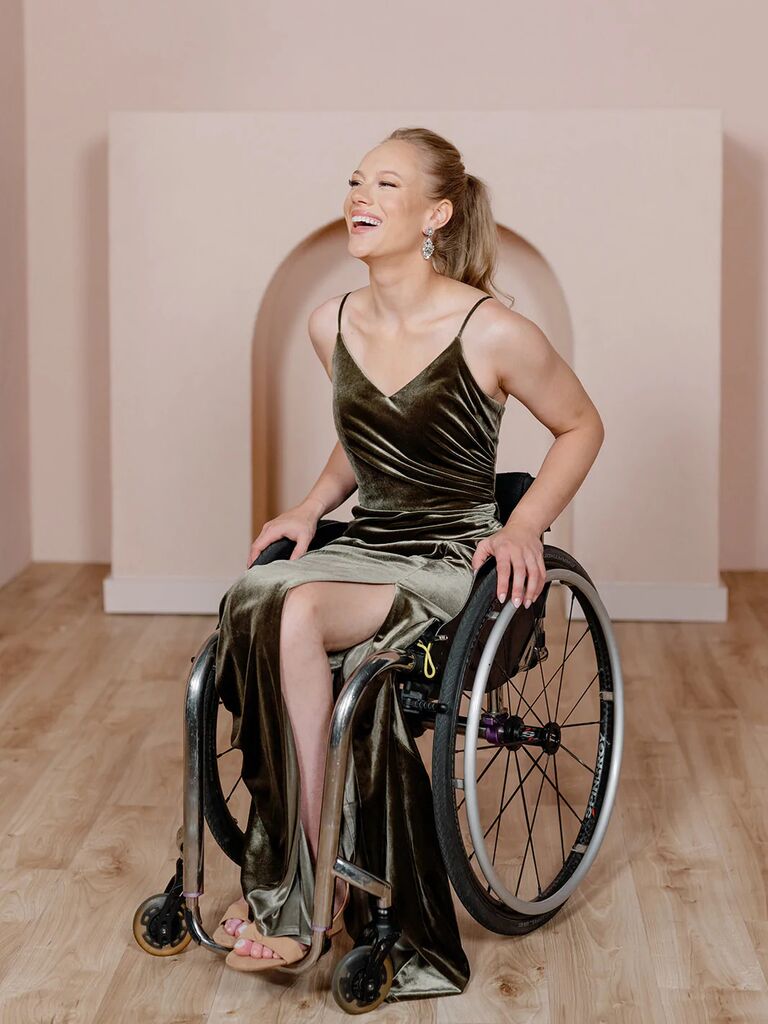 Revelry Rory Velvet Dress, $189, Shoprevelry.com
Why we love this brand: Designed for the modern bridesmaid, Revelry's gowns are made to fit you, not the other way around.
Why you'll love this brand: Understanding the stress that comes with shopping for bridesmaid gowns, Revelry's founder hoped to reimagine the process from start to finish. With Revelry you can try before you buy—they'll send up to 10 fabric swatches of your choosing, along with dress samples, directly to your door. Revelry's gowns are then made-to-order, so you get the perfect fit every time.
Size range: 0 - 32
Prices starting at: $150
REVOLVE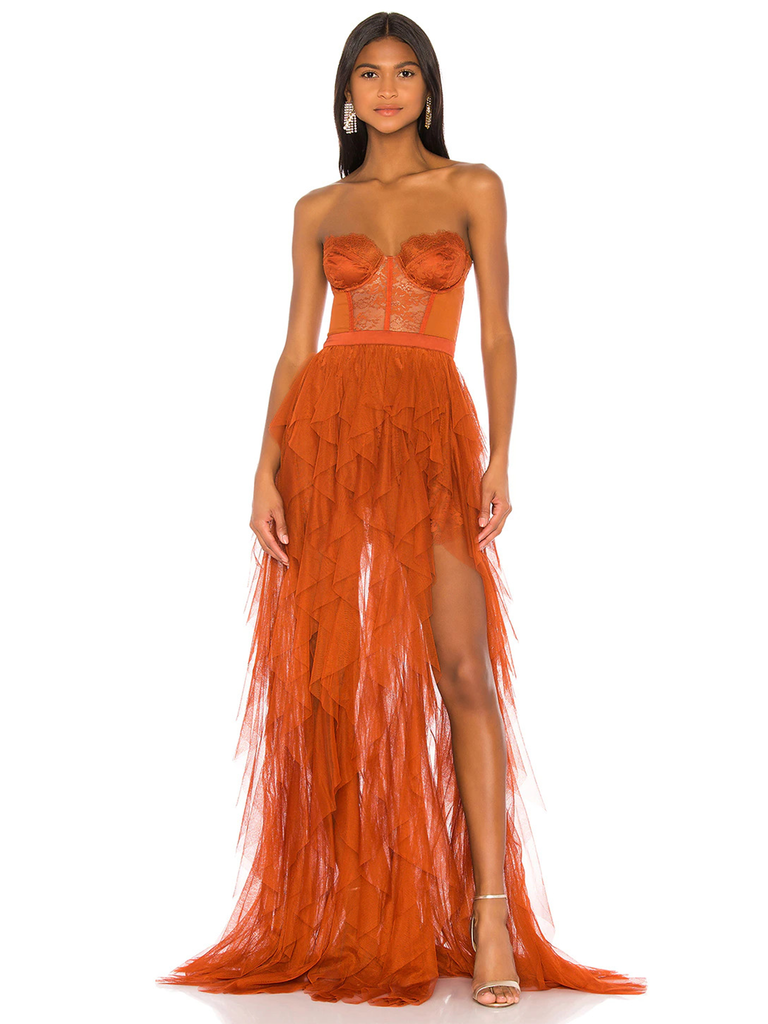 For Love & Lemons X REVOLVE Bustier Gown, $348, Revolve.com
Why we love this brand: Who says walking down the aisle can't feel like walking down the runway? REVOLVE's fashion-forward bridesmaid dresses are guaranteed to make a statement.
Why you'll love this brand: If we're talking trendy bridesmaid dresses, chances are we're talking about REVOLVE. The site is regularly updated to keep up-to-date with the season's most popular dress styles. If you need help finding the right pick, their team of style experts can assist you with all your sizing and fabrication questions.
Size range: XXS - 4XL
Prices starting at: $80
Kennedy Blue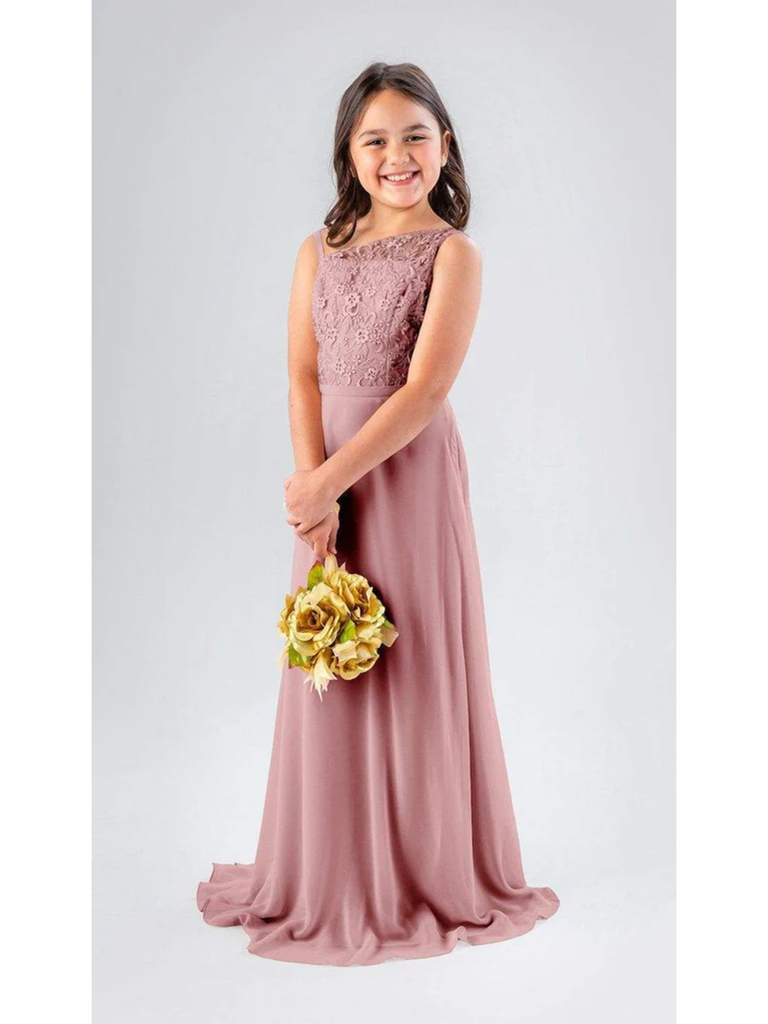 Kennedy Blue Ireland Dress, $110, Kennedyblue.com
Why we love this brand: With over 56 color options and sizes ranging from 00 to 32, this family owned company takes the stress out of dress shopping.
Why you'll love this brand: Kennedy Blue understands that no two bridesmaids are the same. From the flower girl to the mother-of-the-bride, each member of your I-do-crew deserves a dress just as special as they are. That's why Kennedy Blue gives you the option to try on dress samples and browse fabric swatches before you make your final decision. Even better news? They'll send them directly to your door for free. You'll love their wide range of dresses including options for junior bridesmaids, maternity, and mothers-of-the-bride.
Size range: 00 - 32
Prices starting at: $99
ASOS
ASOS Design Beaded Bodice Anarkali Dress, $280, Asos.com
Why we love this brand: ASOS' budget-friendly bridal party options let you save money without sacrificing on style.
Why you'll love this brand: ASOS isn't just a go-to spot for trendy everyday wear. They also offer a diverse collection of affordable bridesmaid dresses, with everything from dainty mini dresses to long gowns decked in sequins and tulle. Plus, the site boasts a range of sizes, including petite, plus size, tall and maternity to help ensure each bridesmaid looks and feels her best for your special day.
Size range: 0 - 26
Prices starting at: $26
Nordstrom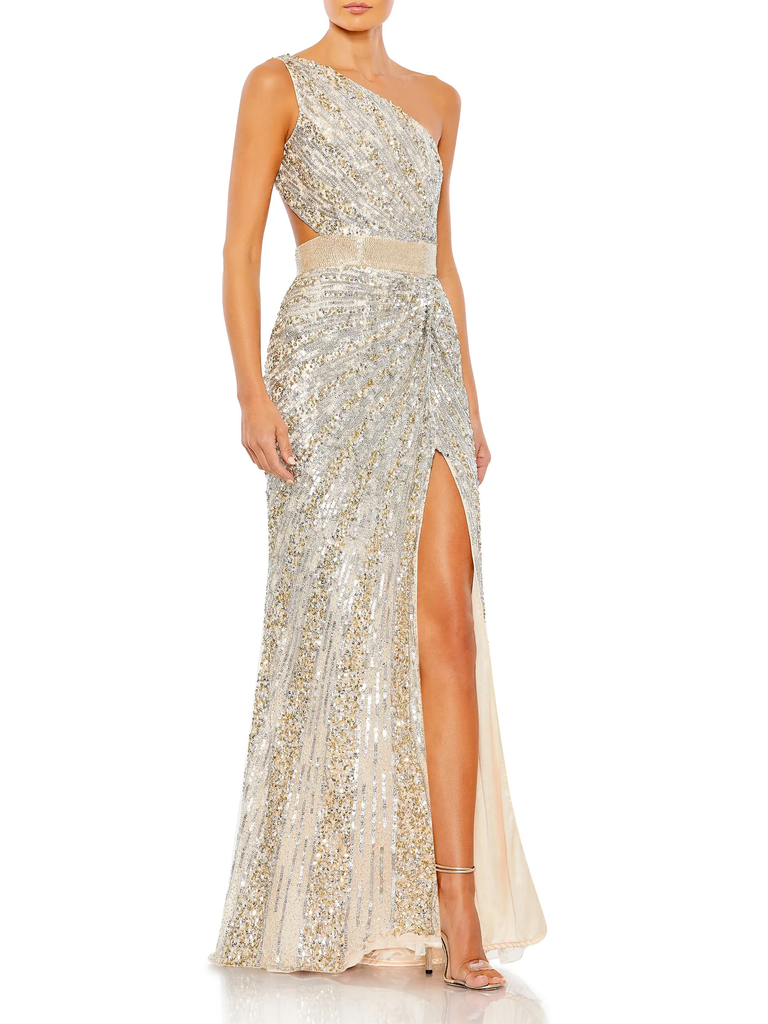 Mac Duggal Sequin Beaded Lace-Up Gown, $598, Nordstrom.com
Why we love this brand: Live near a Nordstrom location? In-store order pickup, returns and tailoring services will be your saving grace during the chaos of wedding prep.
Why you'll love this brand: Whether you're shopping for wedding dresses or fashion-forward mother-of-the-bride looks, Nordstrom's wedding shop has plenty of options. But did you know that you can also score a gorgeous bridesmaid gown here too? Whether you opt for one of their designer brands carried online or stick to ready-to-wear, Nordstrom's fast shipping and easy return policy makes the process painless. Not to mention, their convenient in-store services, such as styling and alterations ensure your bridal party will find the perfect fit.
Size range: XS
Prices starting at: $58
Jenny Yoo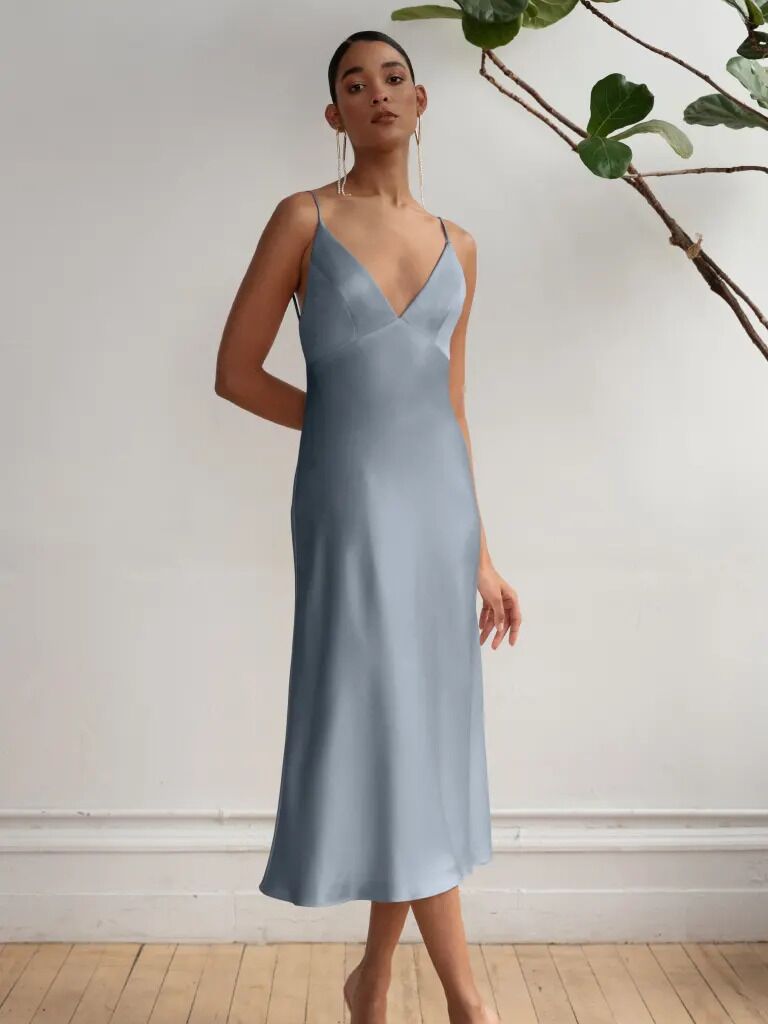 Jenny Yoo Bellini Dress, $220, Jennyyoo.com
Why we love this brand: Jenny Yoo's beloved line of bridal party gowns is all about making the chic bridesmaid shine.
Why you'll love this brand: The refined looks available online from Jenny Yoo are airy and timeless with a focus on details. Their gorgeous gowns are available in over 50 different colors, making it easy to find the perfect pick no matter your wedding theme. From luxe chiffon to delicate lace fabrics, you'll fall in love with the swatch samples before even trying on their flattering gowns. Once you've narrowed down your favorite styles, your bridesmaids can order in sizes 0-16 online or 00-32 in one of over 200 stores.
Size range: 00 - 32
Prices starting at: $198
Dessy Group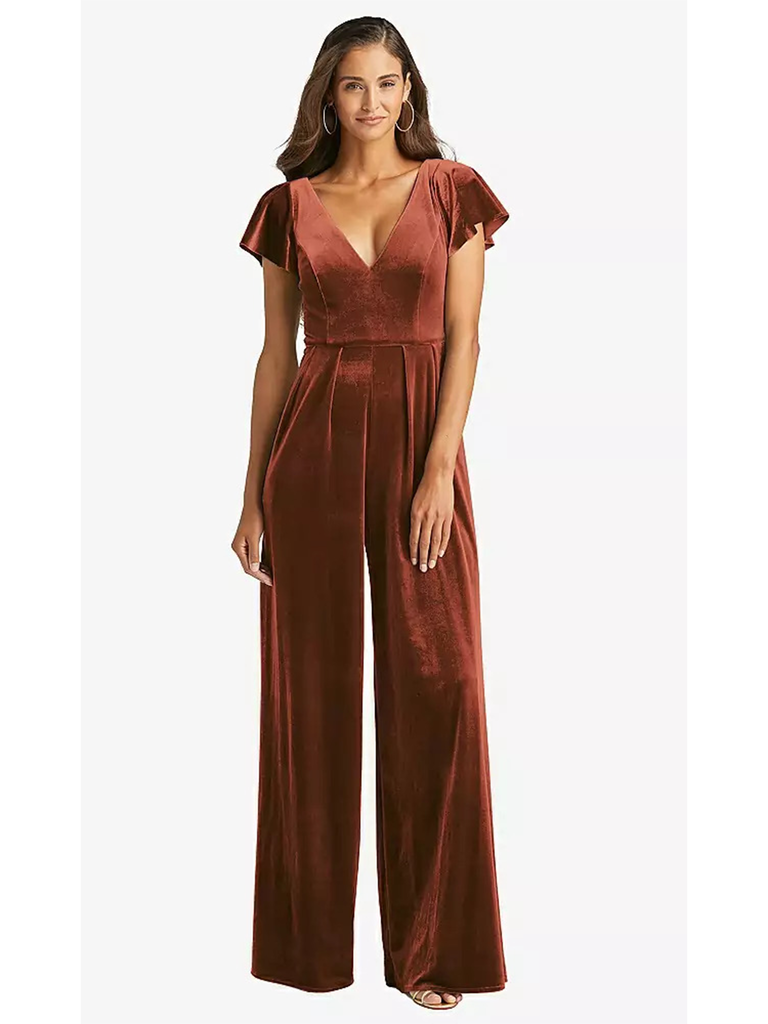 Dessy Flutter Sleeve Velvet Jumpsuit, $208, Dessy.com
Why we love this brand: The Dessy Group boasts an array of elegant bridesmaid dresses and uniquely modern jumpsuits.
Why you'll love this brand: Under The Dessy Group umbrella, brides will find many beloved brands for bridesmaid dresses including Dessy, Alfred Sung, After Six and Jenny Packham. Get five free swatches when you pay for shipping to check out their range of colors as well as diverse fabrics in person. Have some fun mixing and matching modern styles across brands or stick to one dreamy design—either way your bridesmaids are going to look flawless.
Size range: 00 - 30
Prices starting at: $139
David's Bridal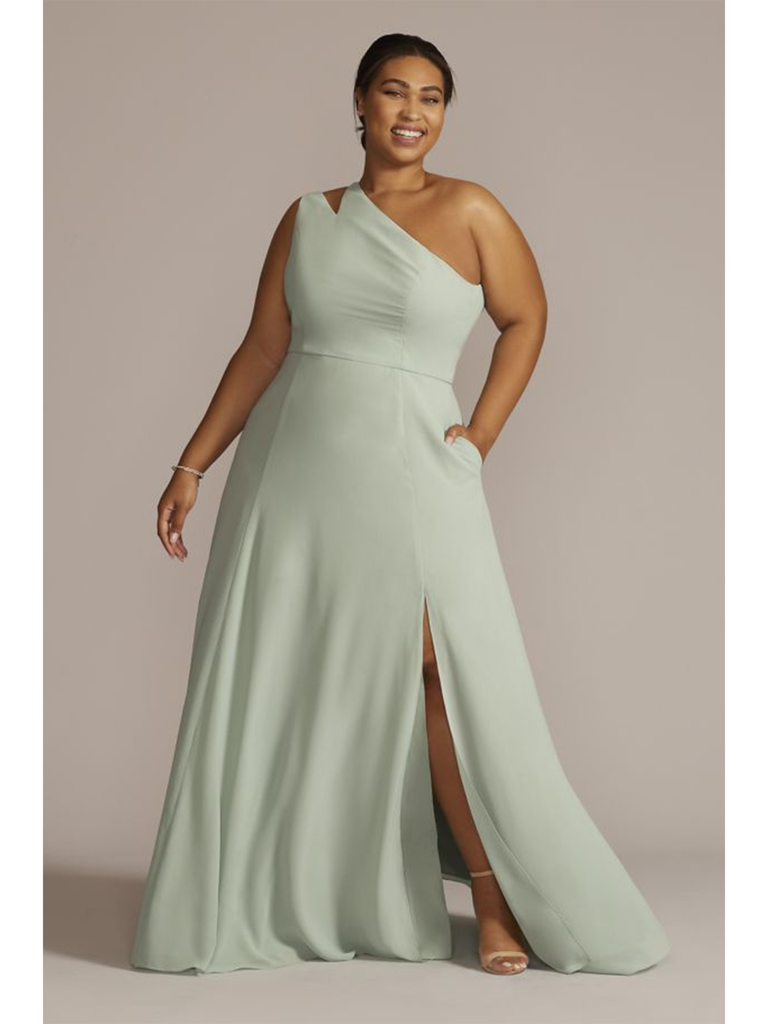 Celebrate DB Studio One-Shoulder Dress, $100, Davidsbridal.com
Why we love this brand: David's Bridal is your one-stop shop for all things wedding wardrobe, whether you're shopping online or in one of their many convenient locations.
Why you'll love this brand: Chances are you've heard of David's Bridal, but you might not realize how easy it is to shop their beautiful bridesmaid dresses online. From convertible dresses to complement a range of wedding colors to mermaid floor-length looks worthy of a black-tie bash, their party dresses will have wedding guests swooning. Not only are their bridesmaid dresses size-inclusive but they also have a wide selection of options under $100.
Size range: 0 - 30
Prices starting at: $70
Shopbop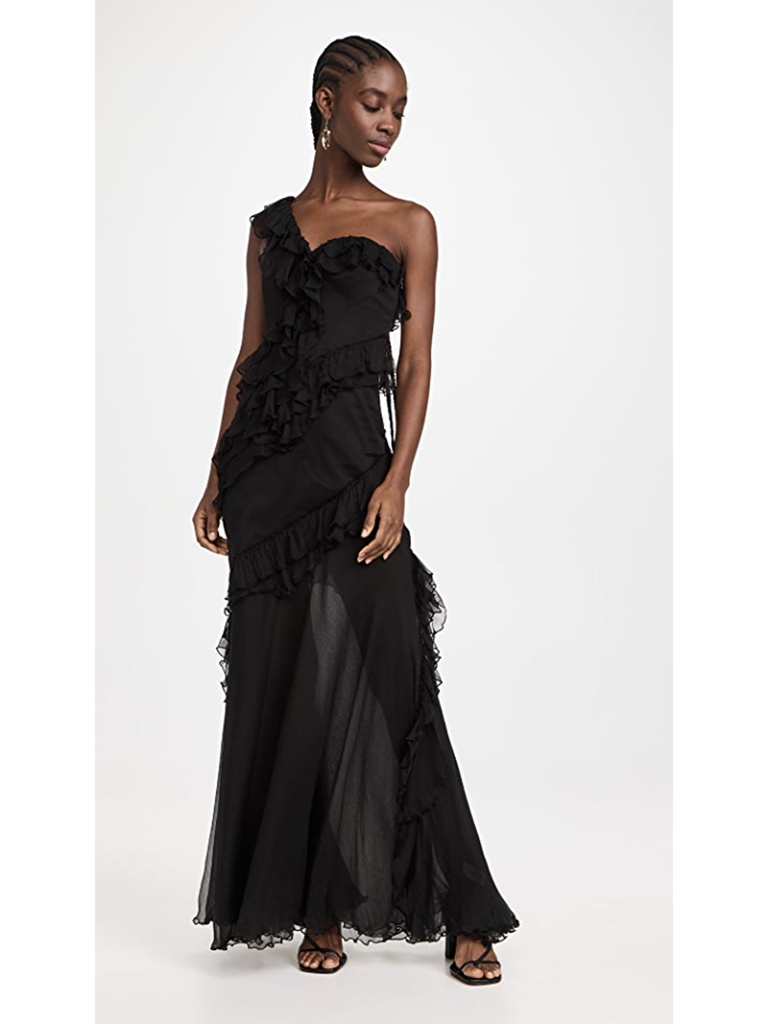 AMUR Harlow Gown, $698, Shopbop.com
Why we love this brand: Who says bridal party looks have to be boring? Shopbop's vibrant assortment of gowns is sure to have you feeling inspired.
Why you'll love this brand: If you're looking for unique, fashion-forward looks for your bridesmaids, look no further. Shopbop has all your favorite luxury brands and designers in one place. In their wedding shop you'll find looks for all your wedding festivities, from the bachelorette party to the big day. If you and your squad are known to take any opportunity to put on a show stopping fit, you'll love the selection at Shopbop.
Size range: 00 - 3XL
Prices starting at: $98
Bloomingdale's
Amsale Draped Satin One Shoulder Dress, $495, Bloomingdales.com
Why we love this brand: Whether you're in a pinch for time or not, Bloomingdale's ready-to-wear dresses are an excellent option.
Why you'll love this brand: With all the designer brands you love in one place, you'll be sure to find the perfect looks for your wedding party at Bloomingdale's. By going this route instead of custom bridesmaid dresses, your bridal party has the ease of being able to try on gowns with fast shipping and easy returns. Plus, they'll have the added convenience of being able to stop in to one of countless store locations for a styling session. Bloomingdale's also offers virtual appointments for a stress-free experience.
Size range: 0 - 24
Prices starting at: $198
Tips for Buying a Bridesmaid Dress Online
Finding the right retailer is just one piece of the puzzle. To make your shopping experience as seamless as possible, there's a few things you'll want to keep in mind.
Take your measurements and review size guides
If you're planning to attend a virtual or in person styling appointment, you'll want to come prepared. Having your measurements ready to go can help narrow down your options so that you find the right dress faster.
Accurately finding your measurements, however, is not always an easy task. Fortunately, we have advice from industry experts on how to get the job done. Head to our complete guide on how to measure yourself for a bridesmaid dress at home for tips. Once you know your measurements, carefully read the size guide on the site to make sure you're getting the right fit—bear in mind that bridesmaid sizes often differ from your regular dress size.
Purchase your dress six months in advance
Gowns will sell out— especially during peak wedding season. To avoid having to show up to the wedding in a dress you're less than thrilled about, plan ahead. We recommend starting your search as early as possible. Purchase your bridesmaid dress at least six months in advance of the wedding date. If you're a bride, you should select your dresses at least eight months in advance, to give your crew ample time to order.
Even if the dress you're eying is fully-stocked, it's better to air on the side of caution to potentially save yourself from avoidable stress. Remember: Bridesmaid gowns are not always the perfect fit— you may need to factor in the time you'll need for tailoring and alterations.
Order swatches when possible
Many online retailers can send fabric swatches or dress samples directly to you for free or for a small fee. We highly recommend taking advantage of this offering. Seeing the fabric in person can make or break your decision when it comes to choosing the right bridesmaid dress. Ensure your wedding vision will come to life by comparing each swatch to your own wedding look.