25 Summer Mother-of-the-Bride Dresses for Catching Rays (and Compliments)
Let's just say, the sun won't be the only thing looking hot, Mom.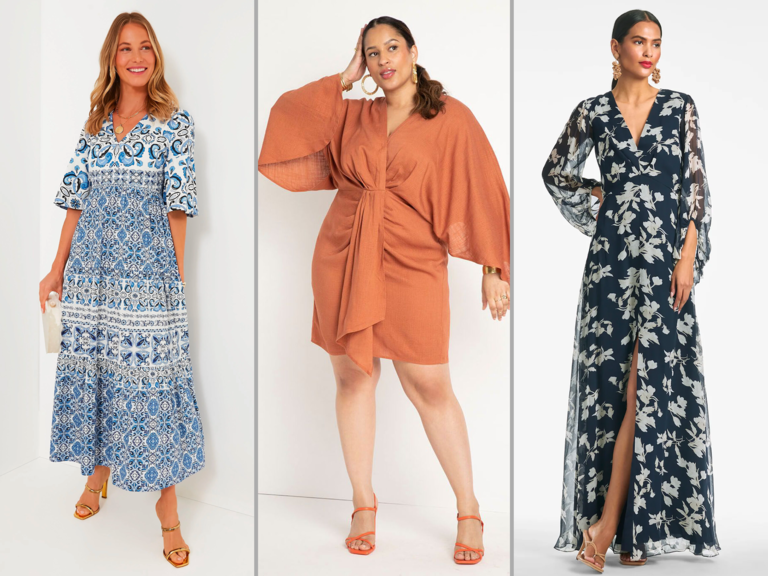 Photos: Tuckernuck, ELOQUII, Sachin & Babi
We have included third party products to help you navigate and enjoy life's biggest moments. Purchases made through links on this page may earn us a commission.
As the mother-of-the-bride, you play such a special role in the wedding—and we believe you deserve an equally special outfit. Thankfully, when it comes to summer mother-of-the-bride dresses, the options are virtually endless. From casual sundresses to formal gowns, we've rounded up everything under the sun to help make choosing your look a breeze.
But, before we dive into our favorite summer MOB dresses, here are a few tips to consider: First, it's always a good idea to discuss your outfit with the bride to ensure you're both on the same page. It's courteous to ask if there's a preferred wedding party color palette, as well as if there are any colors you should avoid—such as white, ivory or champagne. For more advice, check out our comprehensive guide to mother-of-the-bride attire, which details everything you need to know.
What Color Should the Mother-of-the-Bride Wear for a Summer Wedding?
So, now that we've covered not wearing white, what colors are best to wear to a summer wedding? Well, we asked The Knot's Executive Editor, Lauren Kay.
"Bright hues like poppy pink, yellow and sapphire are safe bets, plus they photograph well. Prints are fair game too. You don't want to upstage the bride—if you're considering a flashy color like red, or an eye-catching style, run it past your daughter first."
25 Summer Mother-of-the-Bride Dresses for 2023 Weddings
These editor-approved summer mother-of-the-bride dresses are perfect for every venue and location, from indoor to outdoor, from garden to beach. Browse our picks alongside the bride to find a look you'll both love.
Sachin & Babi Jenny Gown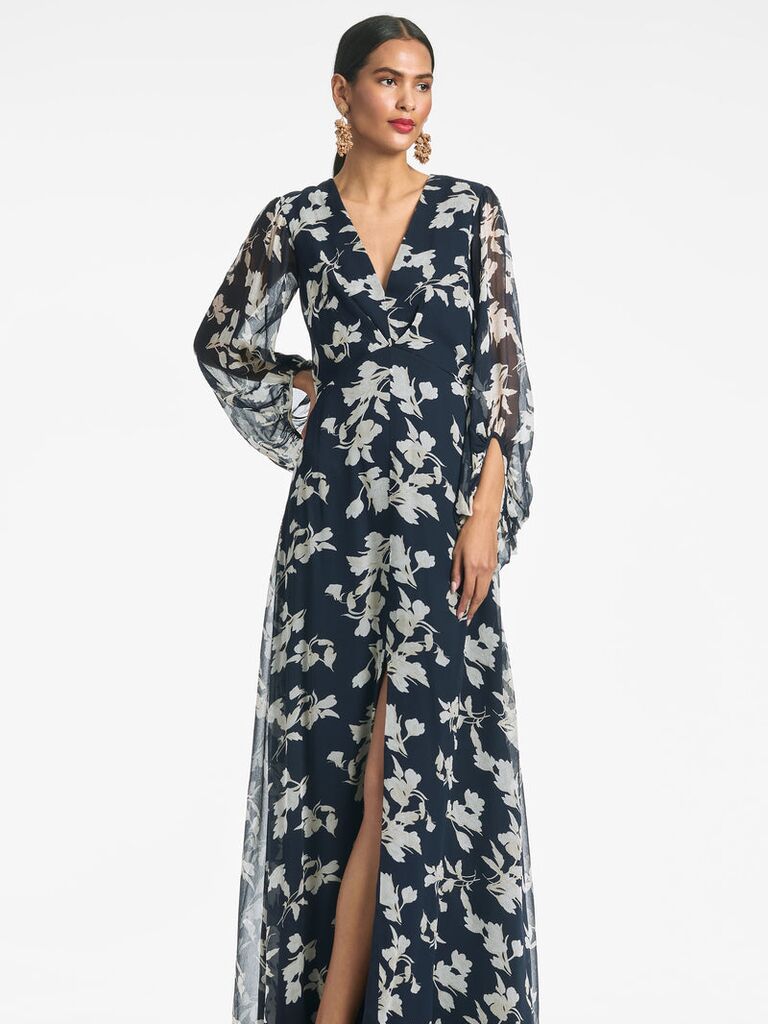 Made from chiffon fabric, and featuring a center leg slit, this lightweight gown is sure to keep you cool as you head down the aisle and onto the dance floor. Go on then Mom, show them your moves.
Dress code: Semi-Formal | Size range: 0 - 22W
ELOQUII Draped Linen Dress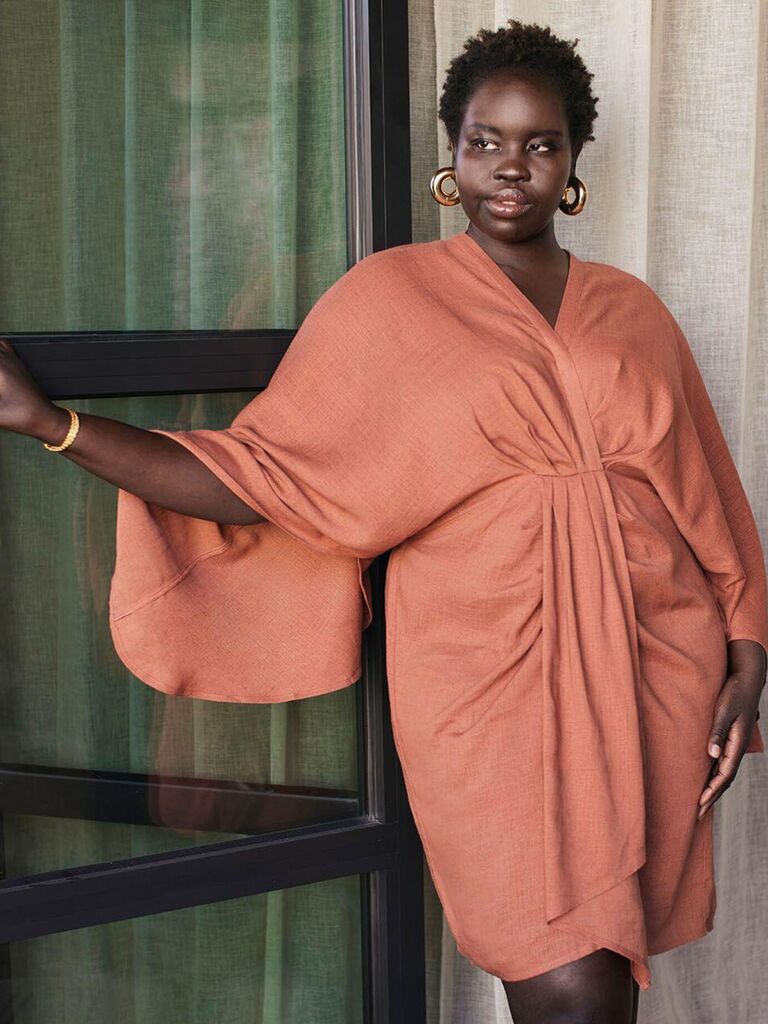 Destination wedding on the calendar? You'll need a stylish linen dress to get you in the vacay mindset. We love that this option features a flattering ruched waist and comfortable bell sleeves.
Dress code: Casual | Size range: 14 - 28
Boston Proper Hibiscus Dreams Print Asymmetrical Ruffle Detail Maxi Dress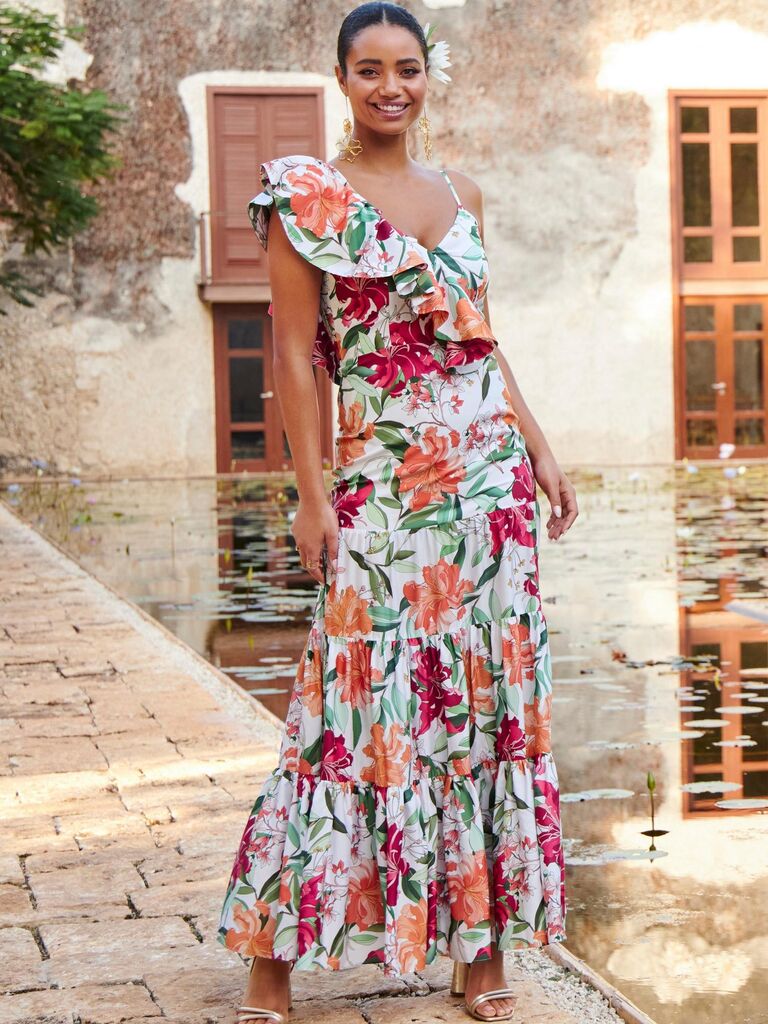 Seriously Mom. . .what's not to love about this darling maxi dress? Its tropical floral print was practically made for summer while its asymmetric neckline adds a unique touch to the tiered silhouette.
Dress code: Semi-Formal | Size range: 0 - 18
Banana Republic Zela Chiffon Maxi Dress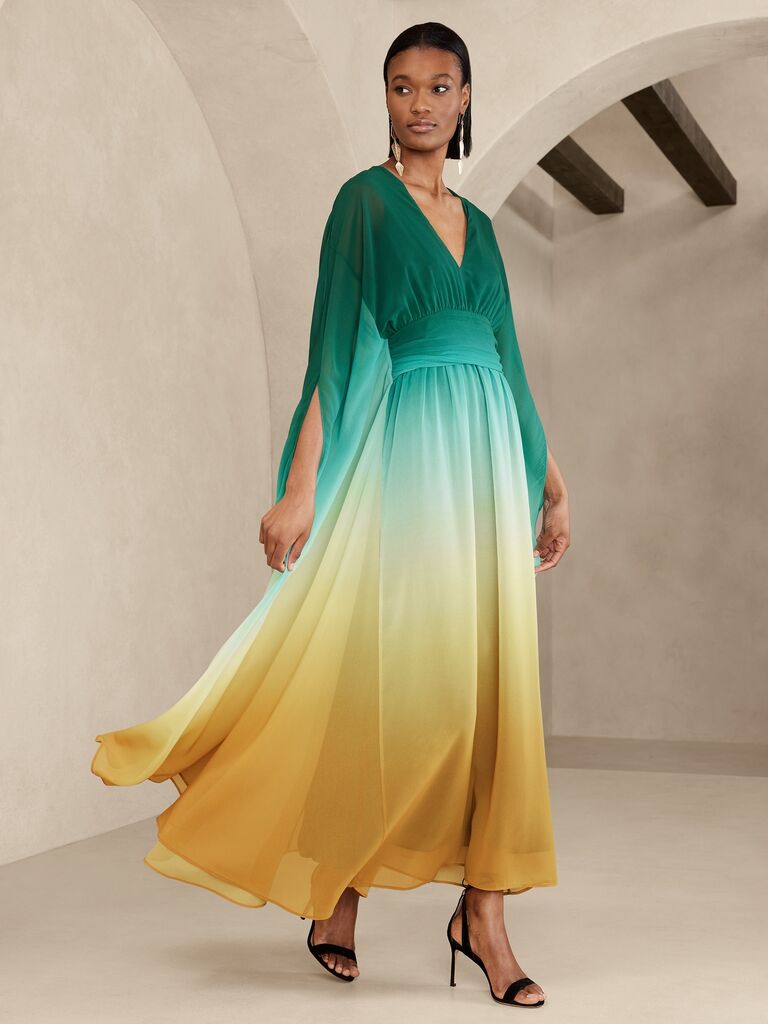 Expect to catch a few adoring stares in this number. Of course, its colors are oh-so gorgeous, but on top of that, its breezy silhouette makes it a dream for warmer weather.
Dress code: Formal | Size range: 0 - 14
Kennedy Blue Tabitha Mother of the Bride Dress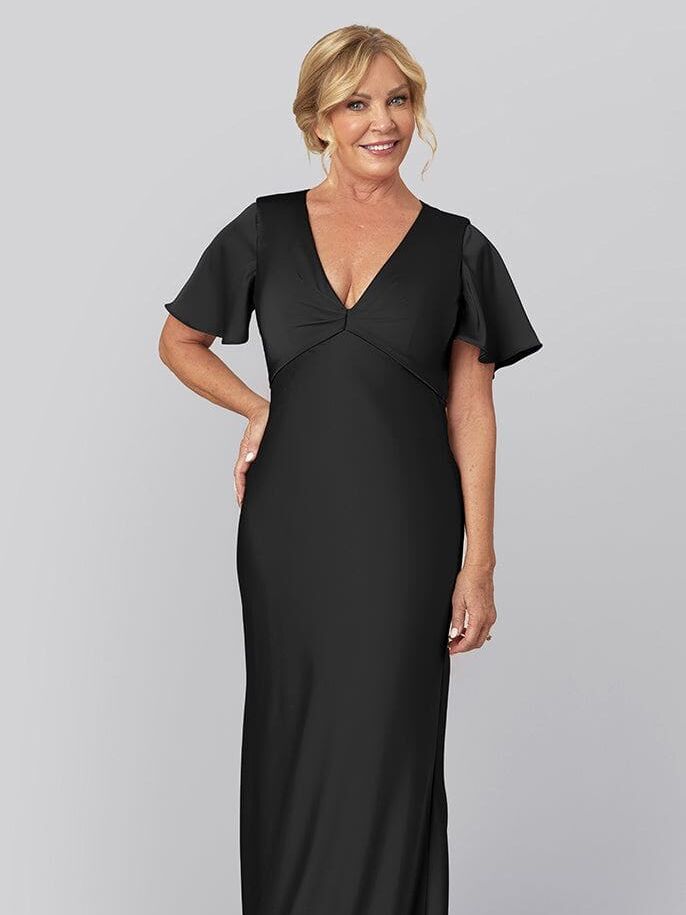 Beauty is pain? As if. This elegant maxi dress is as comfortable as it gets. With breathable flutter sleeves and a breezy silhouette, it's an all-around win. Pair it with with a raffia handbag to give your look a distinct summer touch.
Dress code: Formal | Size range: 00 - 32
ELOQUII Smocked Bodice Asym Neck Dress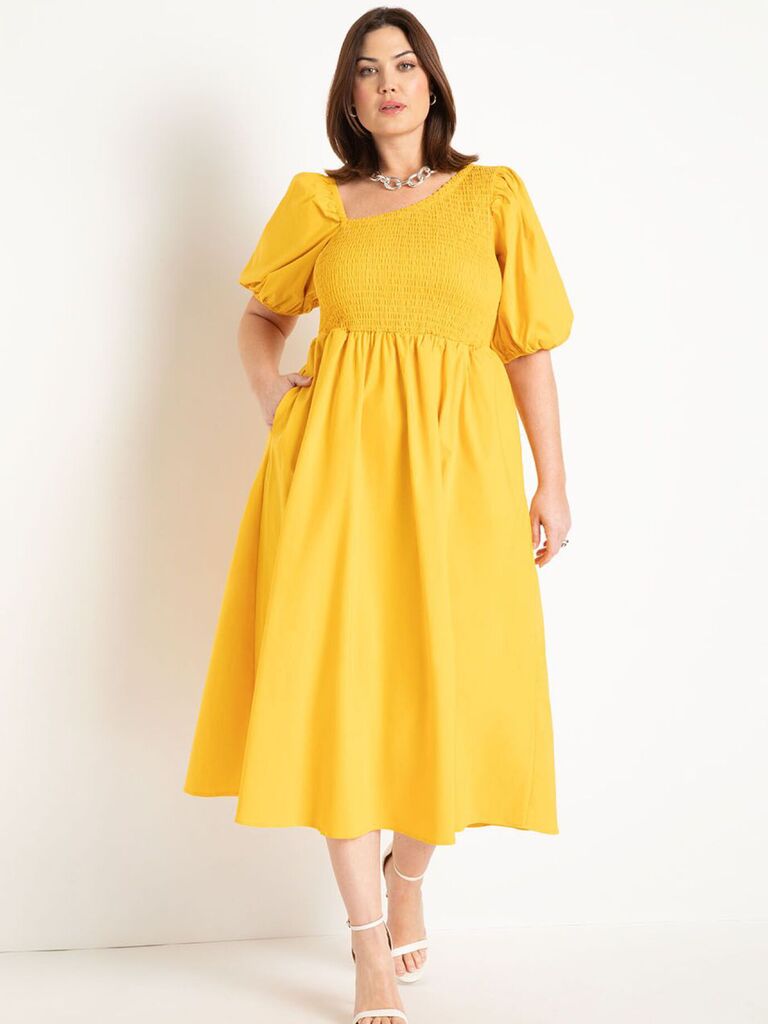 How about a vibrant yellow look to match the summer sun? This smocked midi dress is so bright, you might just need a stylish pair of sunnies to match. Not to worry, we've got plenty of those for you too.
Dress code: Casual | Size range: 14 - 32
Tuckernuck Majolica Tile Ginger Dress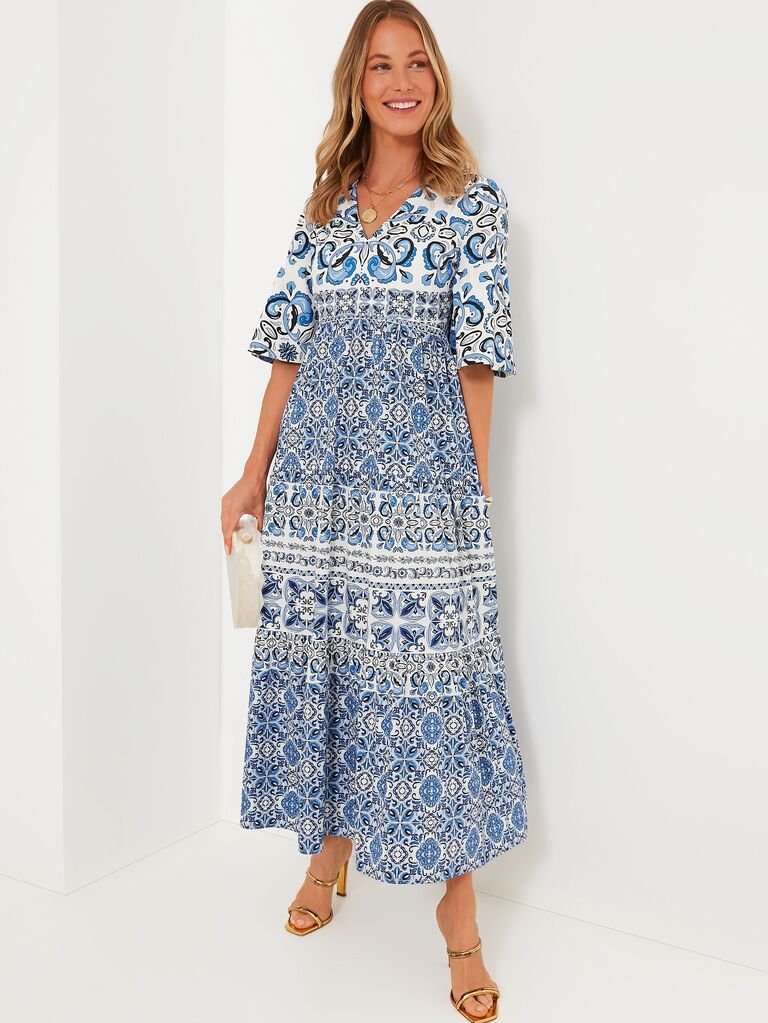 No matter where you're heading this wedding season, you can channel an 'Italian summer' vibe in this printed maxi dress. Its distinctive pattern is sure to make a statement against a glistening coastal backdrop.
Dress code: Semi-Formal | Size range: XXS - 3XL
Kennedy Blue Blake Mother of the Bride Dress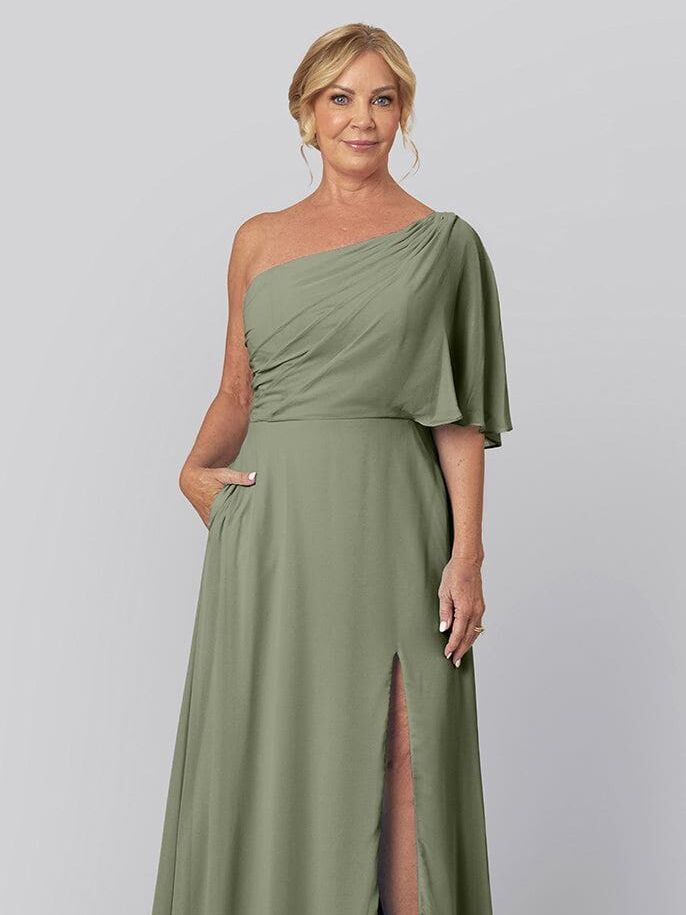 You certainly won't be getting the cold shoulder in this stylish gown. Its asymmetric neckline and side leg slit make it totally summer-approved in our books. Plus, it's available in a wide variety of sizes and colors.
Dress code: Formal | Size range: 00 - 32
Mac Duggal Tiered A-Line Long-Sleeve Chiffon Gown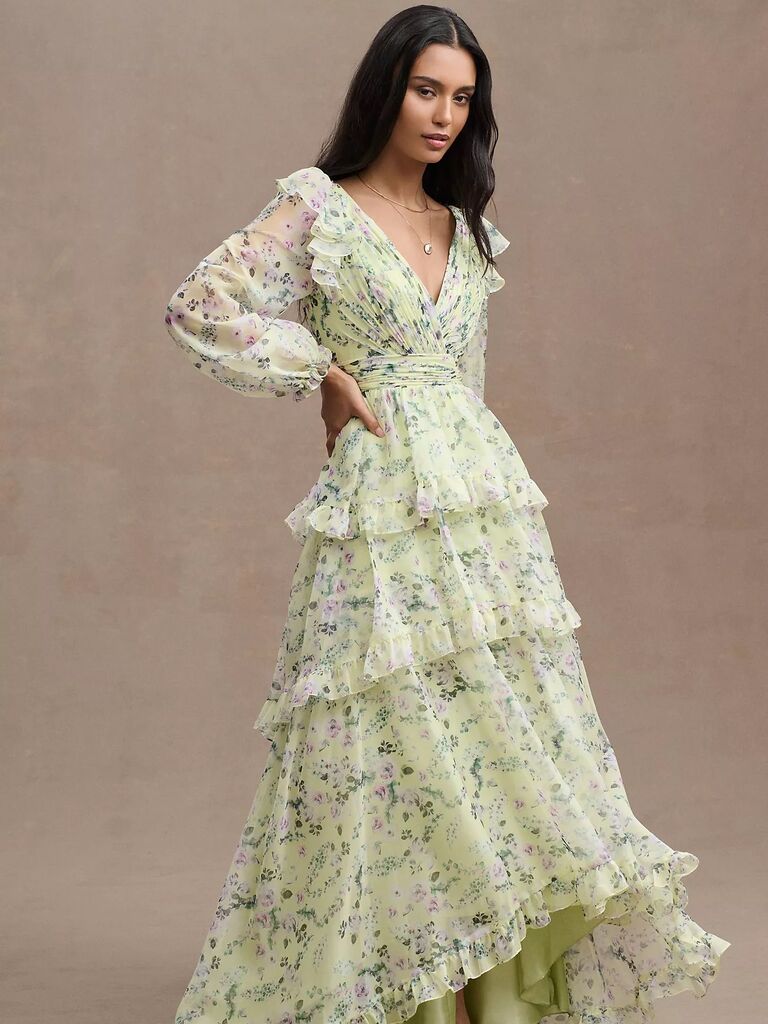 Summer offers the perfect chance to break out the neons—that's right Mom, it's time to go bold. Whimsical ruffling and a charming floral print make this long sleeved maxi dress an ideal pick for a garden wedding.
Dress code: Formal | Size range: 4 - 24
Lane Bryant Pleated Satin Gown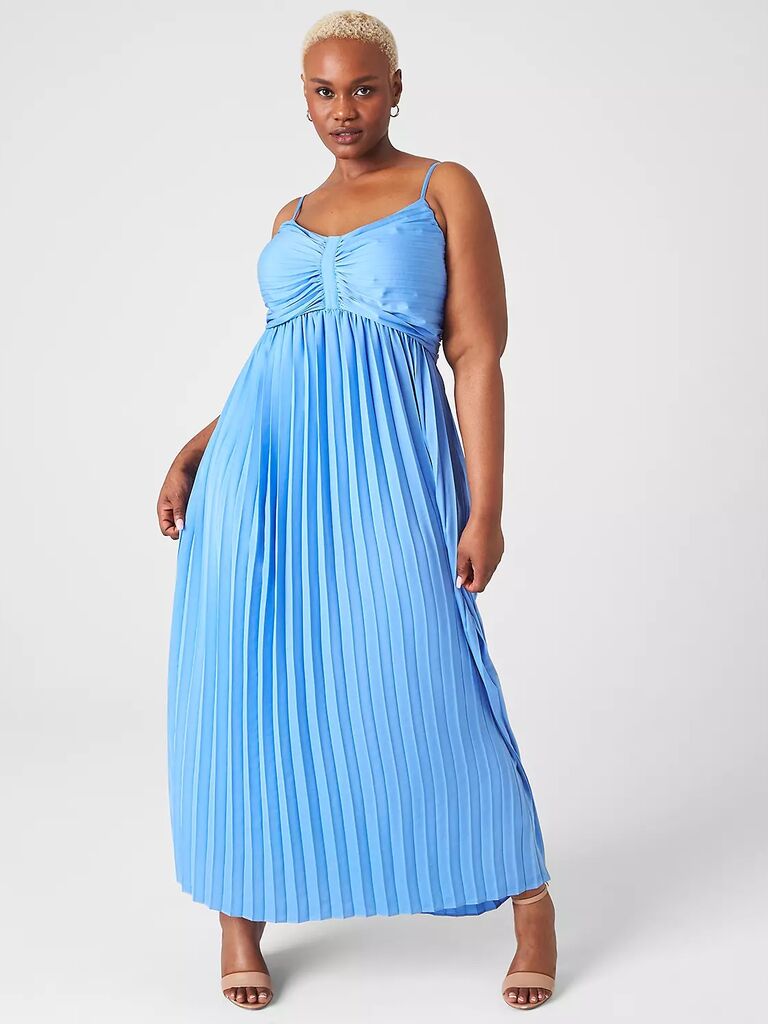 You can be your daughter's something blue while rocking this sky-colored pick. With a classic empire waist and an elegantly pleated skirt, the maxi dress will certainly have you set to walk down the aisle in style.
Dress code: Semi-Formal | Size range: 12 - 28
Ted Baker Cross Front Pleated Dress With Knit Bodice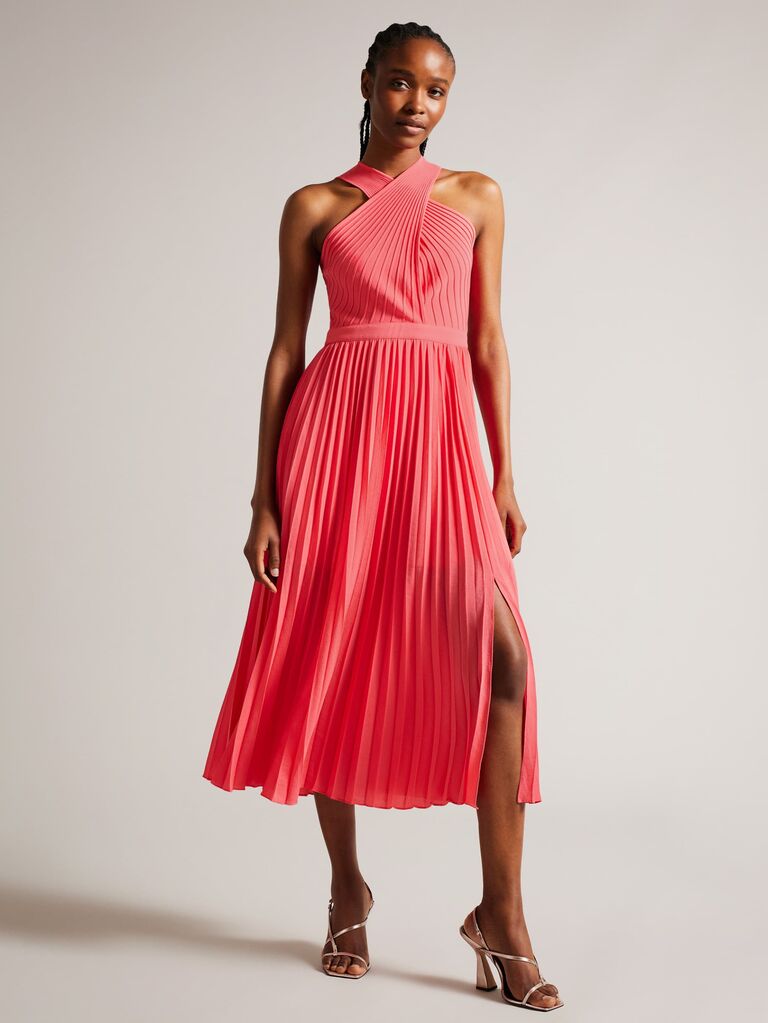 Don't fret about the forecast. Instead, beat the heat in this breezy look. Its salmon color screams summer (though its silhouette would lend itself nicely to fall as well).
Dress code: Semi-Formal | Size range: 2 - 12
Maeve Printed Flutter-Sleeve Babydoll Dress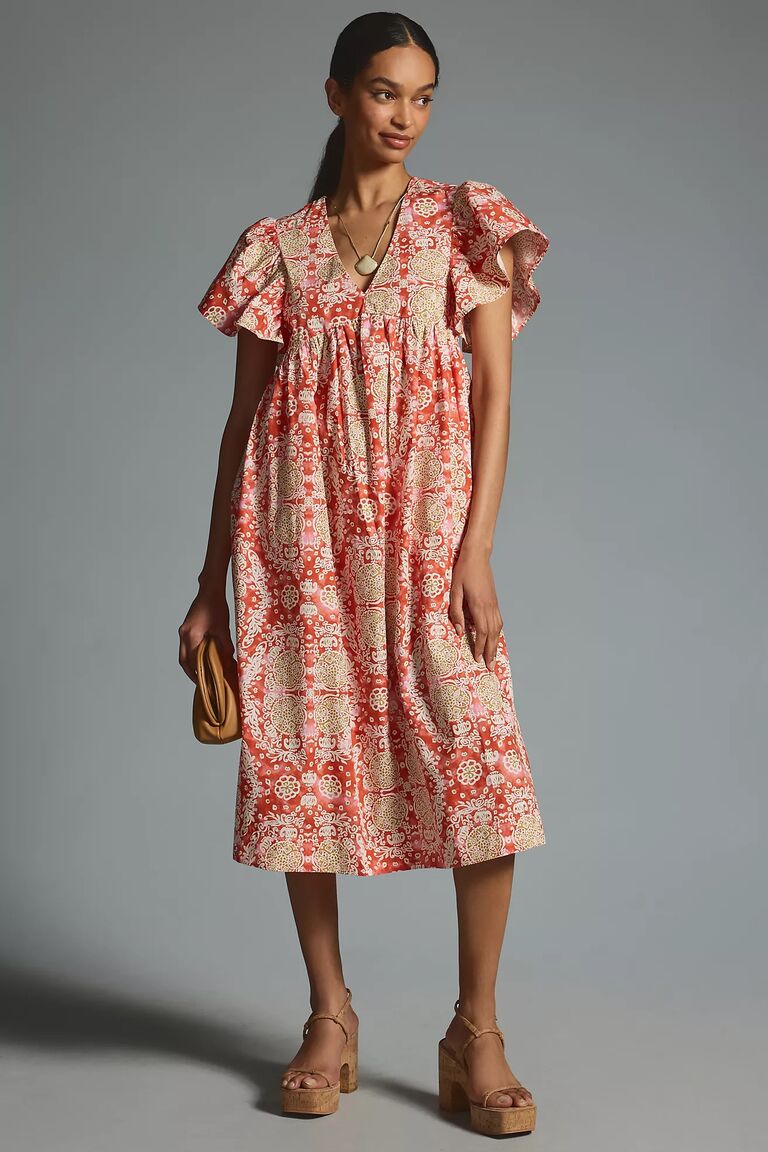 Helping plan a wedding is certainly not effortless, but your attire can be. This casual babydoll dress is ideal for capturing that laid back vibe we know all you moms are searching for. Not to mention it's available in standard, petite and plus sizing.
Dress code: Casual | Size range: XXSP - 3XL
Lane Bryant Convertible Off-The-Shoulder Tiered Midi Dress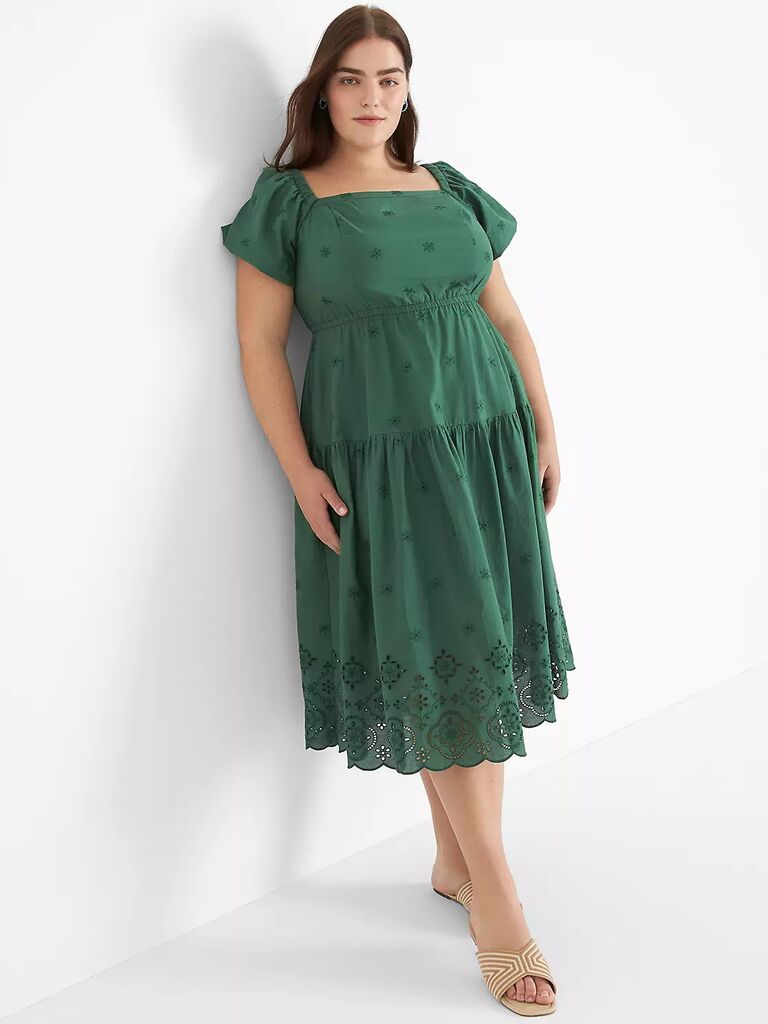 We love this midi dress for a casual backyard wedding and we think that you will too. Between its charming puff-sleeves, flattering square neck and breathable eyelet cutouts, it checks off all our boxes when it comes to plus-size MOB attire.
Dress code: Casual | Size range: 14 - 24
Anthropologie The Somerset Maxi Dress
Hey Mom: This is Anthropologie's best-selling and best-reviewed dress ever, so you can rest assured knowing you made the right pick. It's available in a variety of fun designs, and we think you just might want to snag one of each.
Dress code: Casual | Size range: XXSP - 3XL
Sachin & Babi Beatrix Gown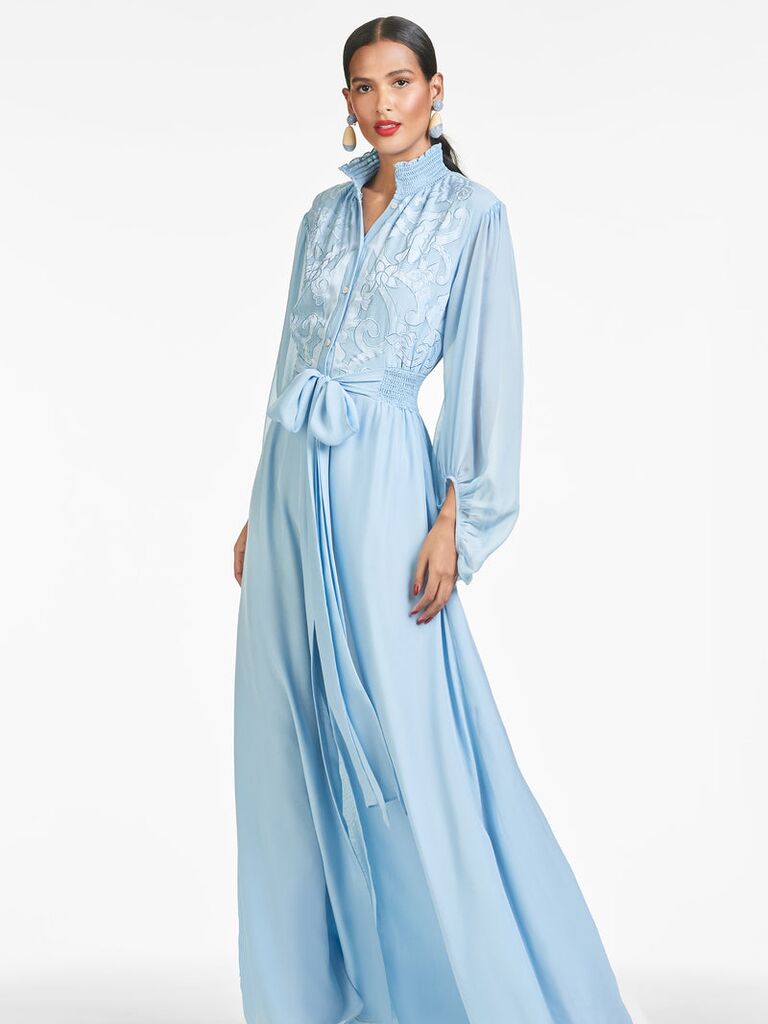 Who says moms can't hop on the cottagecore trend too? We totally approve of it. This pastel blue gown features balloon sleeves, elegant embroidery and a timeless silhouette. One word: Swoon.
Tuckernuck Exclusive Poppy Tie Shoulder Dress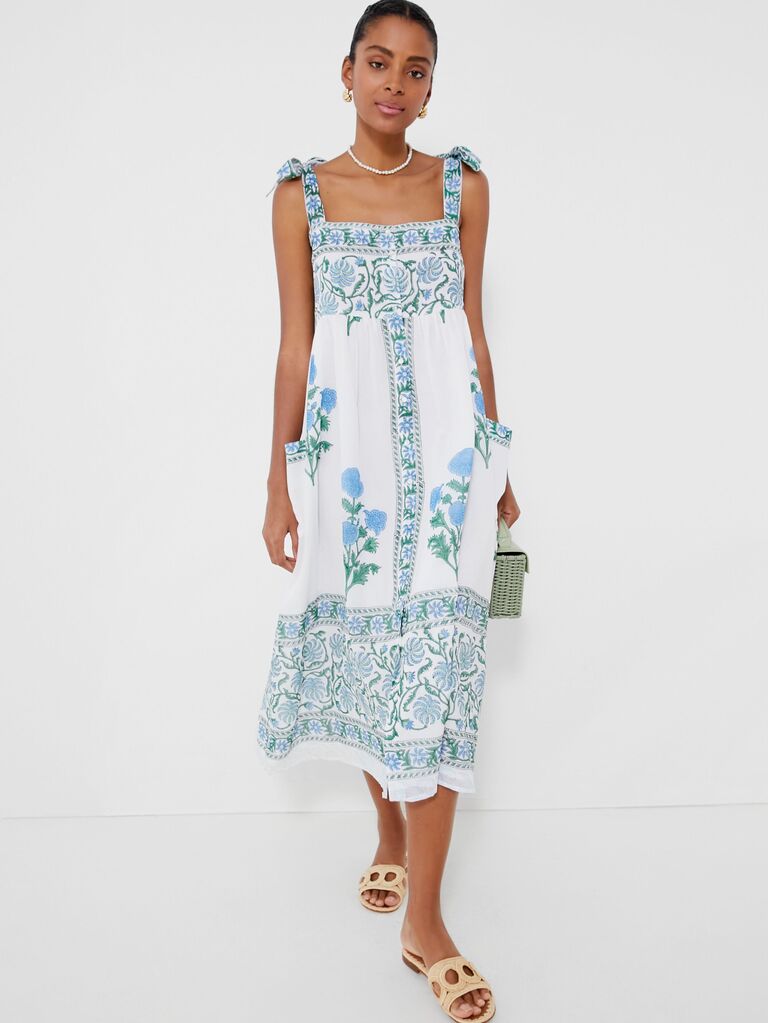 Hello boho, meet chic. We can guarantee you'll love this casual midi dress long after the wedding. Pair it with your favorite sandals and a rattan bag for a seaside soireé.
Dress code: Casual | Size range: 0 - 4
Sachin & Babi Belladonna Gown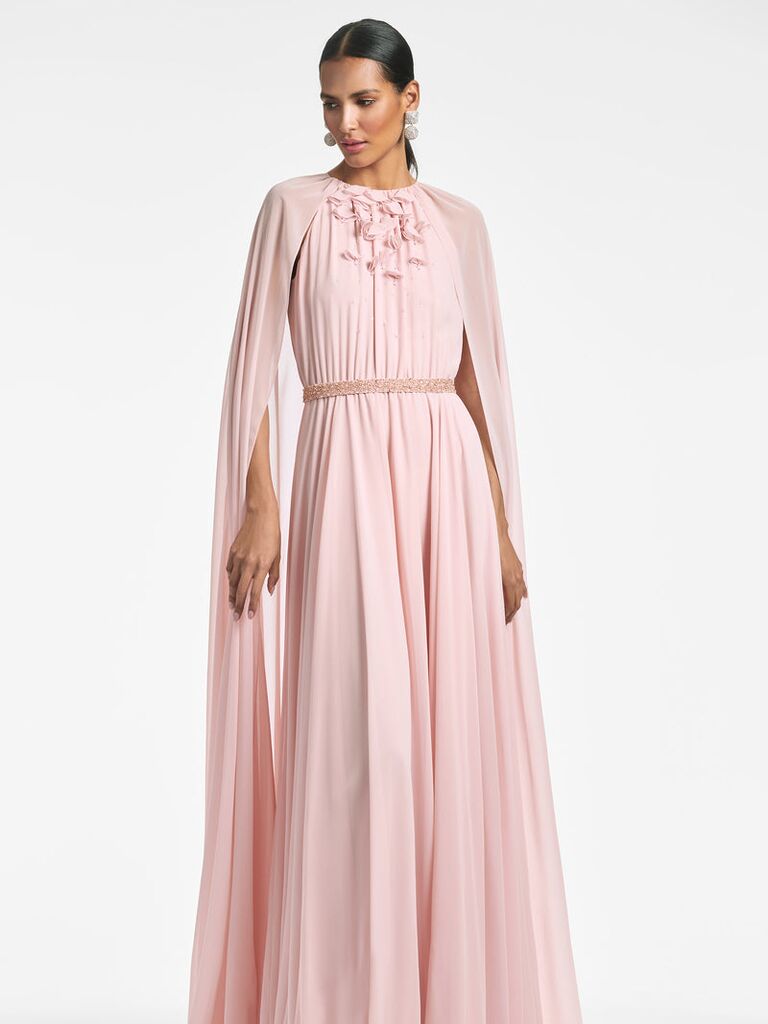 We're positively *blushing* over this fashion-forward pick. Chiffon cape sleeves make it ideal for transitioning from warm days to cool nights in the summer.
Dress code: Formal | Size range: 0 - 22W
Kennedy Blue Dylan Mother of the Bride Dress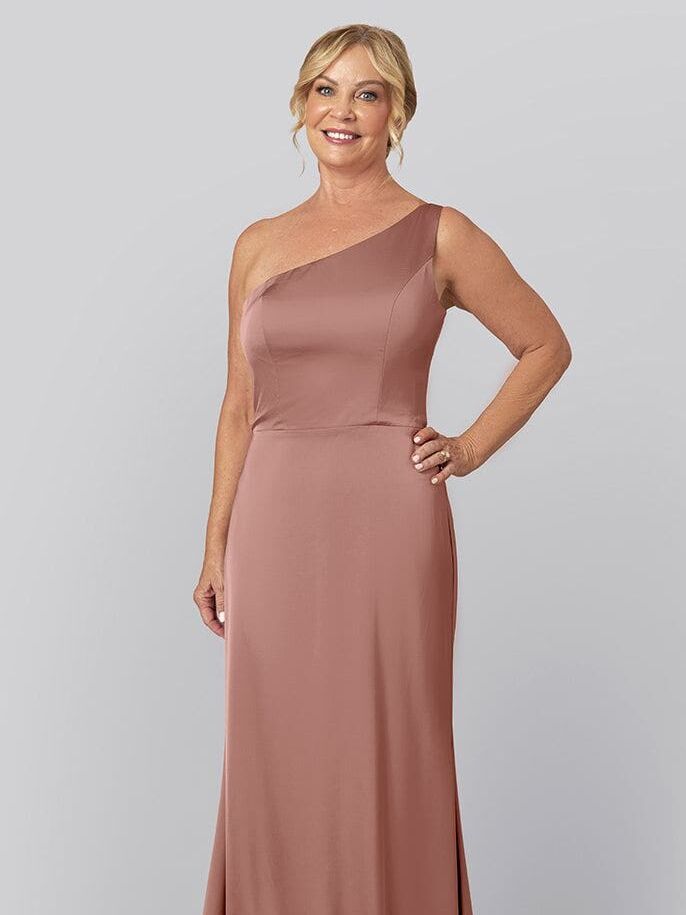 Show off your summer tan in this stylish one-shoulder number. Available in a wide range of colors and sizes, it offers a little something for everyone to love.
Dress code: Formal | Size range: 00 - 32
Mac Duggal High Neck Floral Embellished A-Line Gow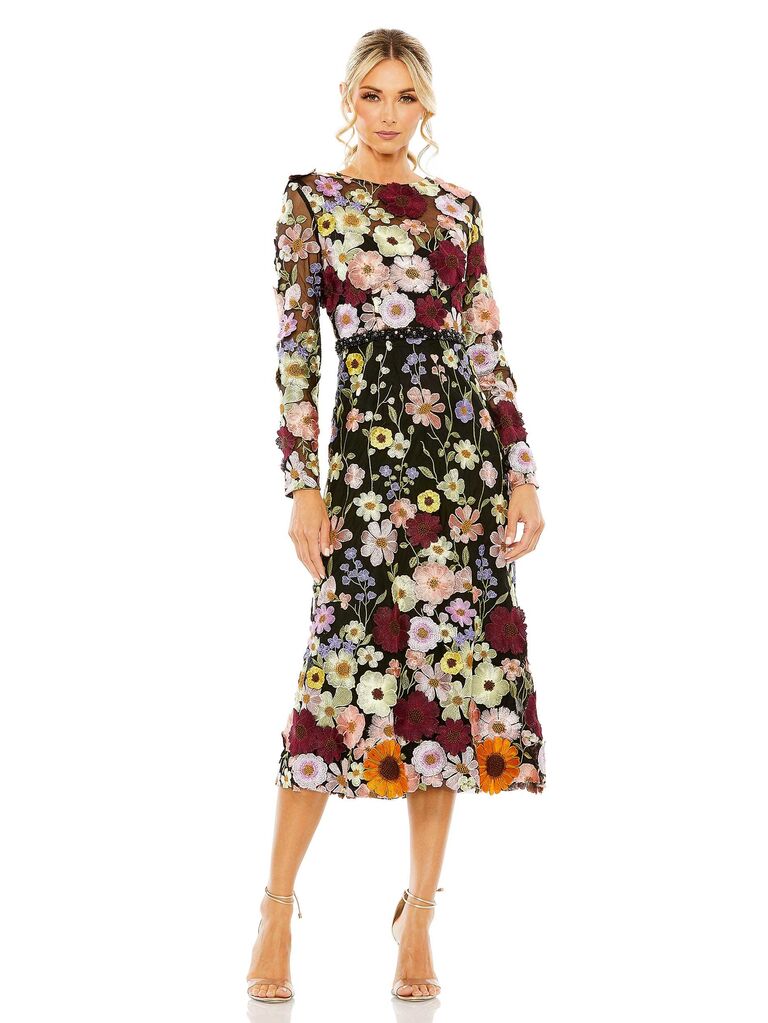 It's no mystery why our love for this midi dress is *blooming*. Hand-stitched floral appliqués beautifully adorn its bodice and skirt, while an illusion neckline and sleeves add an additional eye-catching element.
Dress code: Semi-Formal | Size range: 2 - 20
Tadashi Shoji Tipton Crinkle Chiffon Gown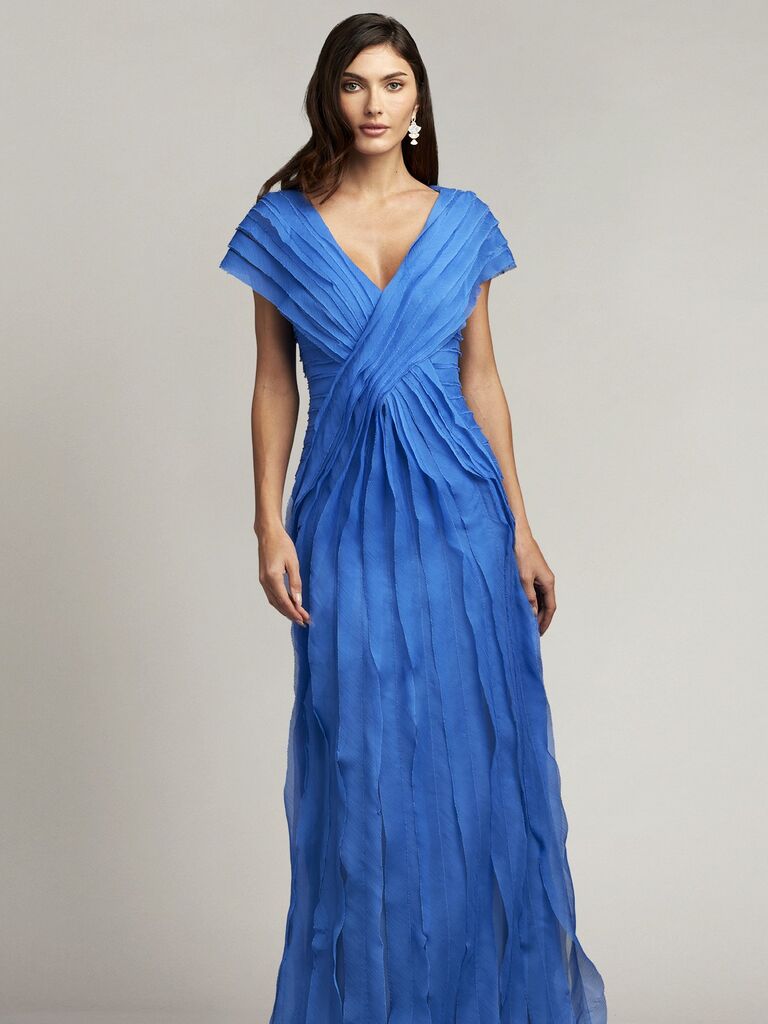 This ocean-inspired gown is guaranteed to make a big splash this summer (pun intended). Its unique chiffon ruffle detailing is reminiscent of waves in the loveliest way possible.
Dress code: Formal | Size range: 0 - 16
Sachin & Babi Cinzia Gown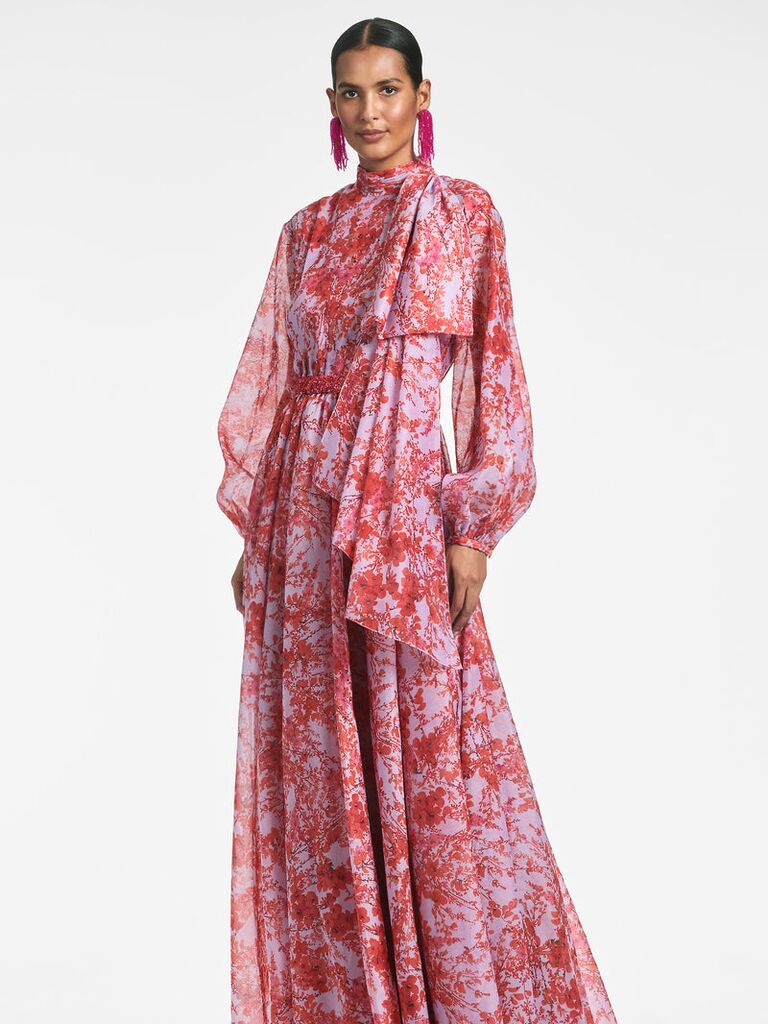 Here's a pick you're sure to love for a summer wedding. Because it's made from lightweight organza and features sheer balloon sleeves, it's ideal for keeping cool while having your arms covered.
Dress code: Semi-Formal | Size range: 0 - 22W
Mac Duggal Embellished Illusion Cape Sleeve Trumpet Gown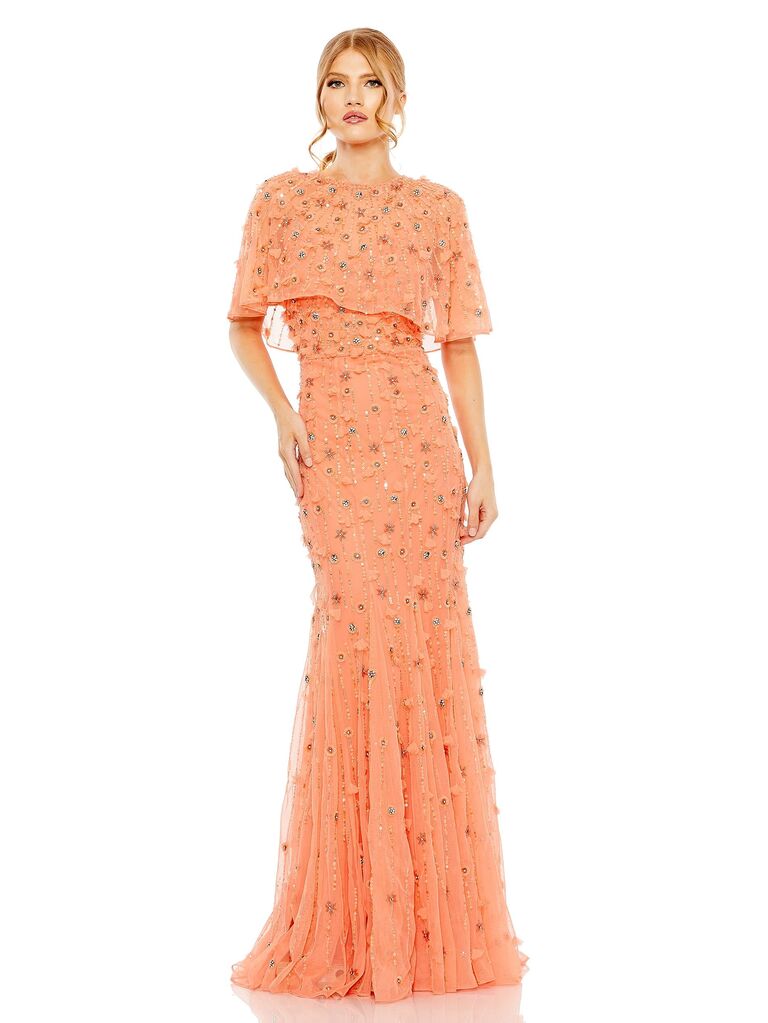 This dress' bright orange color is just one of its many eye-catching elements. Coupled with all-over beaded embellishments and a stylish illusion cape, it's bound to turn heads for all the right reasons.
Dress code: Formal | Size range: 4 - 20
ELOQUII Kimono Sleeve Maxi Dress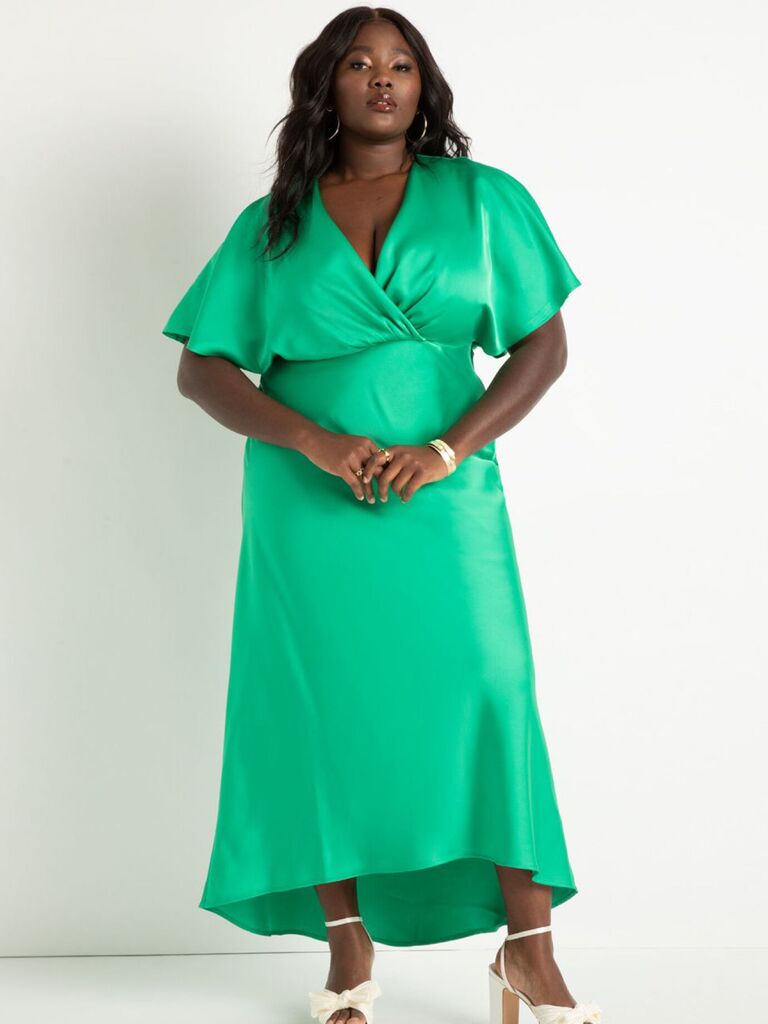 Royals are known to wear bright solid colors so they can be spotted in a crowd, and one thing's for sure, you'll look absolutely regal in this green gown. Not only is its color great for any season, but it also compliments every skin tone (especially in photos).
Dress code: Semi-Formal | Size range: 14 - 32
Tuckernuck Yellow Floral Phillipa Maxi Dress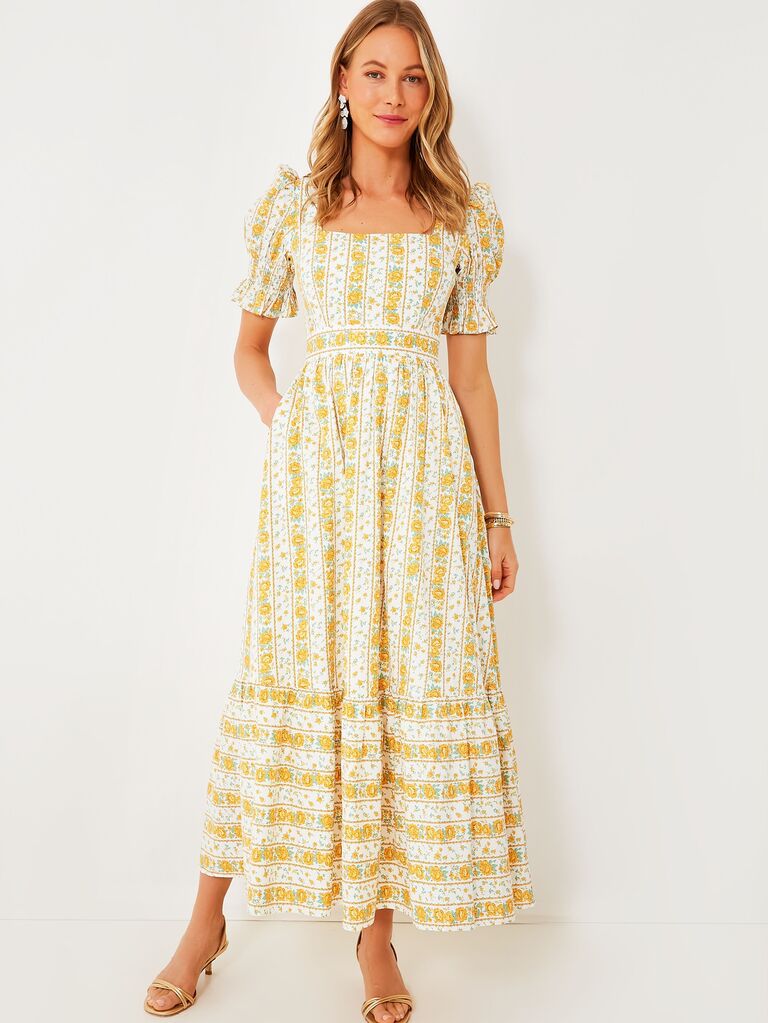 This summer pick is as stylish as it is versatile—which is good news if you're heading to a destination wedding and want to pack light. Rock the boho midi dress with woven espadrilles for the wedding, then with sneakers for everyday wear.
Dress code: Casual | Size range: XXS - XXL
Mac Duggal Flounce Sleeve Midi Dress
You'll be looking stylish in sage when you step out in this elegant midi dress. Given its all-over sequins and beaded floral embellishments, it transitions perfectly from day to night.
Dress code: Semi-Formal | Size range: 0 - 16
What to Look for in a Summer Mother-of-the-Bride Dress
Before you hit 'add to cart' be sure that dress you're eyeing can stand up to the summer heat. Here's three key things to look for while shopping:
Bright Colors
Not only are bright, vibrant colors synonymous with summer, they're also more practical. Lighter shades can help you stay cool throughout a long day spent in the sun. Of course, the color you wear will likely depend on the overall theme of the event, but when possible, we recommend avoiding light-absorbing colors like black. You'll thank us later.
Lightweight Fabrics
This probably goes without saying, but lightweight fabrics will be your best friend during a summer wedding, especially if the event is taking place outdoors (hello humidity). Our cheat sheet? Linen, chiffon and georgette = in; velvet and crepe = out.
Breathable Silhouettes
Breathable silhouettes are key to keeping cool and being able to dance. In our books, that's a win-win. When in doubt, opt for an A-line look—they're totally timeless, i.e. you won't look back at the wedding photos with regrets.