Here's Your Official Mother of the Groom Dress Rundown
You should probably send this to her before she does any shopping.
by The Knot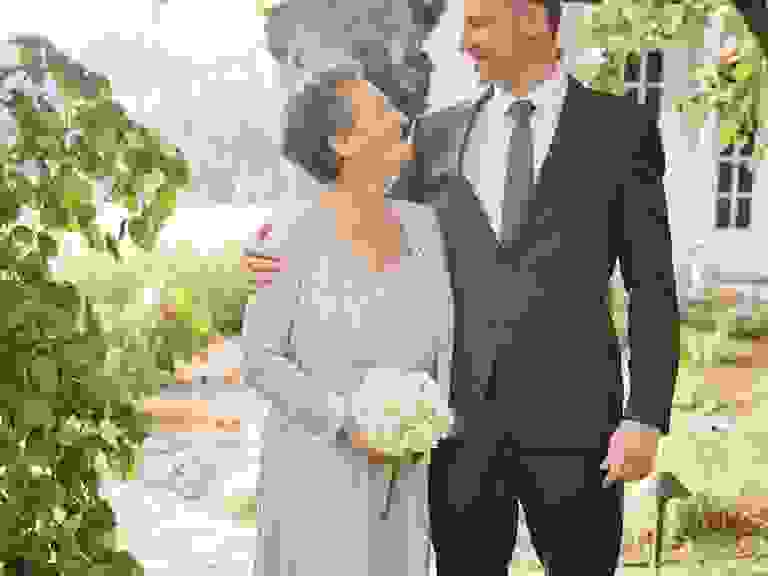 Hudson Nichols Photography
Both you and your partner's moms should feel special and amazing on your wedding day—they're arguably just as excited (if not more) than you probably are for the festivities. And like anyone in a wedding, getting dressed is half of the fun. 
There's important etiquette involved when choosing one of the many available mother of the groom outfits. You should make sure the mother of the groom looks and feels her very best by starting with this quick attire rundown—and feel free to send this to her now, just to be safe.

The mother of the bride usually gets her dress first, and the mother of the groom can go from there. 
Traditionally, the mother of the bride purchases her dress first. Her choice is meant to subtly dictate what the mother of the groom will wear and set the tone of the attire. This may seem a bit old-fashioned, but these days, it should be more of a conversation than a big to-do. The mother of the groom should get a sense of what the mother of the bride is wearing (length, color, style), and then find something similar that she's comfortable wearing. If anything, this is a great opportunity for both moms to get to know each other and maybe have an afternoon out.
Avoid clashing colors or overdressing.
By coordinating the dresses together, the mother of the bride and mother of the groom can avoid picking clashing colors or one dressing far more or less casually than the other. If they don't have a one-on-one phone call, you and your partner should be the line of communication between them. 
That said, accidents and miscommunications do occur, and sometimes the mother of the groom and mother of the bride will end up with very similar gowns, whether it's in cut, material, or color. Take this opportunity to focus on differentiating through accessories: shawls, handbags, earrings, jewelry.
To avoid clashing colors, a good tip is to pick an accent color in your overall palette, something that won't directly match the bridesmaids yet complements them nicely.
Give her guidance on what to wear. 
It depends on your wedding style, but for an evening wedding, it's safe to say a formal dress or a dress suit is the right idea. Mother of the bride and mother of the groom dresses get a bad rap for being "matronly," but there are so many elegant, formal options that are both appropriate and chic. When it comes to color choices, navy's an always-popular hue, followed by blush and shades of nude. And while everyone likes a black dress, it's also considered very formal. Maybe skip black unless you're having a very fancy wedding.
One very important note: obviously, white is off the table. Even off-white shades like beige or ivory must be chosen carefully. What looks fine in the dress shop or a photograph might appear dangerously close to white in the light of the venue. Approach neutral shades with great caution to avoid an embarrassing faux-pas.
Overall, you can give her ideas on style, length, formality and color. You can point her in the right direction, but try to respect her vision for her outfit as well so that she finds something she's comfortable in. 
She should customarily run it by you. 
There's no denying she should look and feel amazing on the wedding day. But kindly ask her to run it by you before making any final decisions, just so you're in the loop about what the colors will look like together for wedding photos. 
If the groom has a stepmom, protocol is a little different. 
Traditionally, the mother of the bride will typically only involve the mother of the groom in the "mom dress discussion," but situations can vary. If stepmoms are brought into the conversation, they typically come third, following the mother of the groom. Your family may do things a little differently, but that's usually how tradition goes.
The degree of closeness of the stepmom to the wedding party is important for this, as well as family traditions. These factors can affect whether step parents are treated as direct family – earning them a front row seat – or as guests, sitting elsewhere. If you are a guest – sitting with guests –  dress like a guest rather than attempting to match or coordinate with the bridal party. While this conversation can be awkward, it is almost certainly less awkward than drama the day of.
You and your partner can provide guidelines and let any stepmoms involved know what's appropriate. Make sure you communicate clearly and give advance notice.
The mother of the groom should start dress shopping around the six-month mark. 
Brides get their dresses early and moms in the party should follow suit. That way, she has plenty of stress-free time to have alterations made and fittings scheduled, if necessary. Mother of the groom gowns can present all the same fitting challenges as a wedding dress, so plan accordingly.