Finding Your Mother of the Groom Dress Q&A
Mom, it's your son's wedding. You should -- and deserve to -- look your best! The first step is finding your dress, but hold off on the shopping until you read this.
by Heather Hall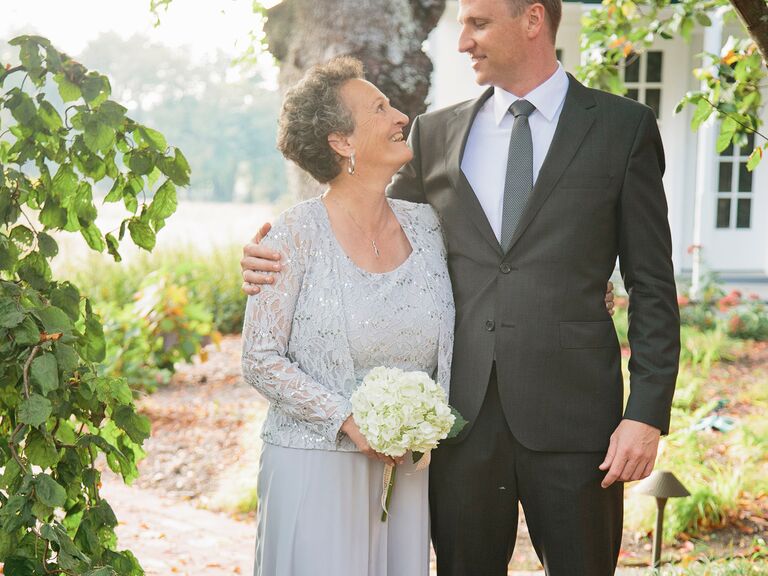 photo by
Hudson Nichols Photography
Q. What's the dress-buying protocol for moms? Do you need to coordinate outfits with the mother of the bride?
A. It's customary for the mother of the bride to purchase her dress first. Her choice is meant to subtly dictate what the mother of the groom will wear and set the tone of the attire. This may seem a bit old-fashioned, but we suggest you at least have a conversation. Get a sense of what she's wearing (length, color, style) before you buy your dress. Then you're free to find something similar that you'll feel comfortable wearing.
Q. Does the mother of the bride usually call the mother of the groom after she buys her dress?
A. If the bride's family plans to uphold wedding etiquette, then yes, you should expect a phone call from the mother of the bride. This is presumably meant to prevent overdressing and clashing colors, and open a line of communication. If she doesn't call, your son might subtly deliver the details your way.
Q. Does the groom's stepmom have to abide by the same dress-buying rules too?
A. Not usually. The mother of the bride will typically only involve the mother of the groom in the mom dress discussion, but situations vary. Express your attire concerns to the bride and groom. They'll let you know what's appropriate and provide some guidelines. Otherwise, wear what makes you feel good.
Q. When should I go dress shopping?
A. Start shopping around the six-month mark. That way you have plenty of stress-free time to have alterations made and fittings scheduled, if necessary, before the wedding.
Q. What is an appropriate outfit for the mother of the groom? Are there color restrictions?
A. For an evening wedding, a formal dress is the right idea. If that's not your style, then a dress suit can work too. Don't worry about looking matronly, because there are plenty of elegant, formal looks that are both appropriate and fashionable. Start your search in our Dresses for Mom gallery. When it comes to color choices, navy is the number-one most requested color for the mothers of the bride and groom. Other popular colors include blush and shades of nude. Traditionally, you want to avoid white, black and red. White can appear to rival the bride, black can suggest mourning, and red gowns have the potential to seem flashy. That said, we've seen moms look elegantly tailored in white, chic and classic in black and tastefully stunning in reds. The bottom line? Talk to the bride before you start shopping. If she's indifferent, then buy whatever you want. If she expresses concern, look to more subdued-but-stately colors in neutrals, burgundy, lavender, silver and shades of blue.
Q. How much say should the bride have in my outfit?
A. You should do your best to respect her wishes. She may also have ideas on style, length and formality. It's a good idea to consult her on color, especially if you have your heart set on white, black or red. She may be too reserved to say anything, so regardless, think about the wedding details (color scheme and season) as you shop. Those will point you in the right direction and keep all parties happy.
Q. Is there such a thing as looking too young or sexy?
A. There's no denying that you should look -- and feel -- fabulous on your son's wedding day. But if you're questioning the style, run it by the bride first just in case. If she seems concerned, then look for a more modest backup (nothing frumpy, of course!).

Special thanks to Jeanne Hennessey, owner of Lorraine Roy Designer Collections, who specializes in mother of the groom and bride gowns; and Leora Platt, fashion expert at Teri Jon!