The 25 Most Beautiful Fall Dresses for the Mother of the Bride
They'll look stunning against the autumn foliage.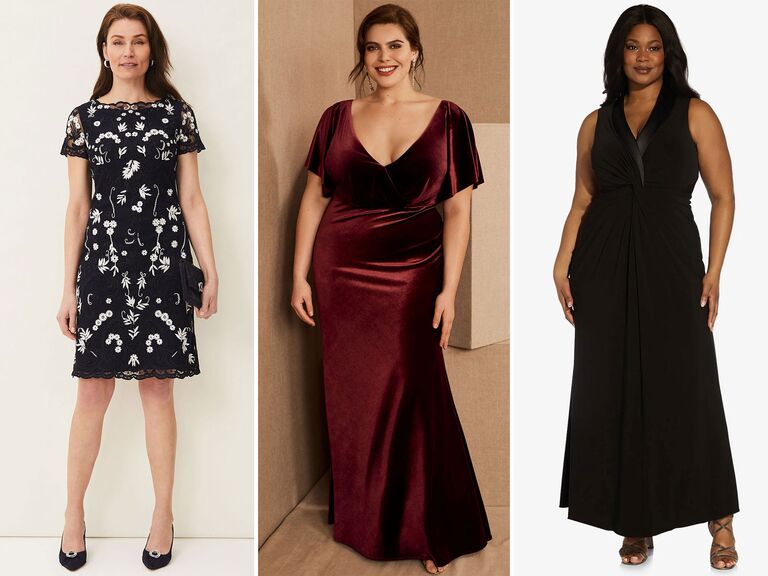 We have included third party products to help you navigate and enjoy life's biggest moments. Purchases made through links on this page may earn us a commission.
With the autumn season comes scenic fall foliage, cooler temperatures and refreshing, crisp fall air. It's also an exciting time for wedding fashion—especially for fall mother-of-the-bride dresses. From elegant floor-length gowns to modern short frocks, there's no shortage of dressy and casual styles from retailers like David's Bridal, Nordstrom, Adrianna Papell and more.
But first, you might be wondering what colors and styles are appropriate for fall—and we're here to help. We're breaking down everything you need to know about fall MOB dresses. Then, we've included a roundup of shoppable fall outfit ideas to jumpstart your inspiration. (For even more style advice, check out our mother-of-the-bride attire guide with answers to your most-asked questions.)
In this article:
What Should the Mother of the Bride Wear to a Fall Wedding?
Keep reading for our expert advice on all things fall mother-of-the-bride dresses, including what colors, fabrics and styles are most common for the season.
Fall Dress Colors for the Mother of the Bride
When it comes to fall colors for mother-of-the-bride dresses, the season shifts from summer's bright and light shades to autumn's dark and rich hues. We start to see deep jewel tones (think: sapphire blue, emerald green, citrine yellow and amethyst purple) and wine-inspired colors, like burgundy, merlot, cabernet and chianti. You also can't go wrong with versatile dark shades, including black, navy and green, which are not only great for autumn but can also be worn all year round.
Fall Dress Fabrics for the Mother of the Bride
As temperatures get cooler, fabrics for mother-of-the-bride dresses become thicker. We love the look of sultry velvet gowns, but you also can't go wrong with romantic lace, silky-smooth satin or luxe crepe. If the wedding date lands closer to the end of summertime, like in September or even early October, look for lightweight fabrics with moisture-wicking properties, like cotton or silk. Additionally, fabrics with embroidery or embellishments, such as floral appliques, glittery sequins and fringe, are great ways to achieve a glamorous fall look.
Fall Dress Styles for the Mother of the Bride
For fall MOB attire, expect to see longer skirt hems and sleeves. Dresses with long sleeves, three-quarter sleeves and flutter sleeves are great options, but strapless and sleeveless styles are not completely out of the question. (Plus, you could always pair a sleeveless silhouette with a shawl to stay warm.) Depending on the wedding dress code, venue and climate, you might be able to wear a midi or a knee-length dress. If the fall wedding you're attending requires black-tie or formal attire, look for gowns with more coverage, longer hems and formal fabrics. While cocktail, semi-formal and casual weddings tend to have more flexibility regarding skirt length and styles.
Our Favorite Fall Dresses for the Mother of the Bride
Now that you know what to look for in fall mother-of-the-bride dresses, we're diving into our top picks for autumn. From black embellished gowns to jewel-toned velvet numbers, you'll be impressed with our range of MOB-worthy styles.
1. Jenny Yoo Ellis Velvet Open Back Dress in Dark Berry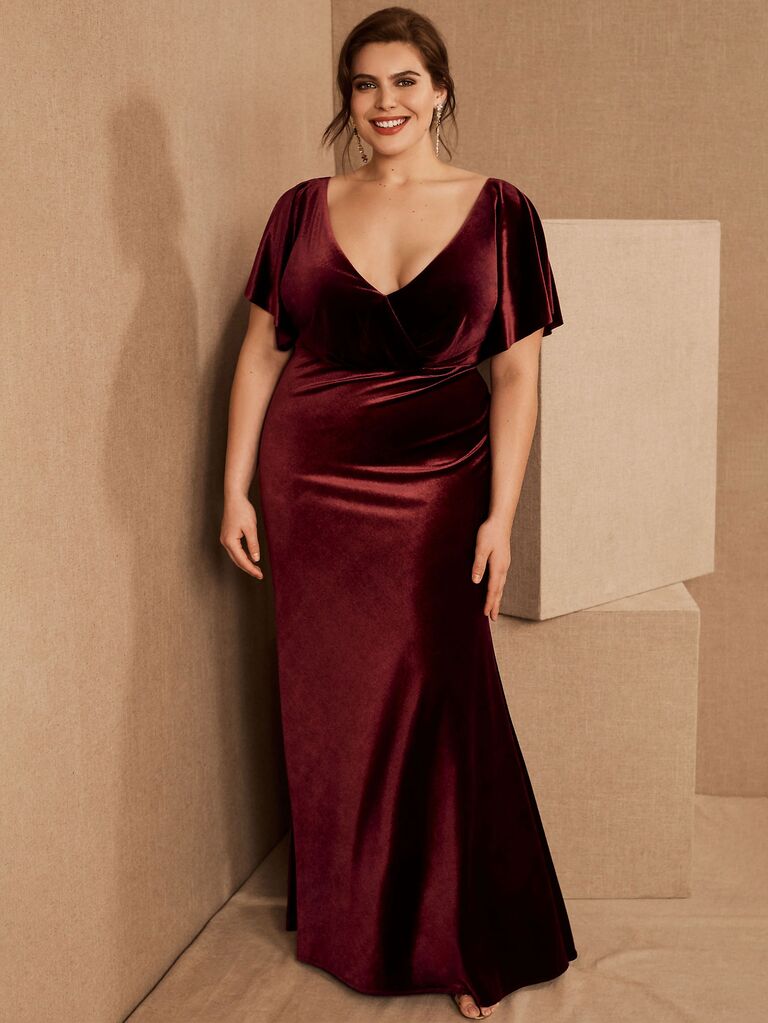 We're obsessed with sultry velvets for autumn. This mother-of-the-bride dress for fall weddings has flutter sleeves, a V-neckline and an open back topped with a tie. Choose from an array of fall-worthy hues, from Dark Berry and English Rose to Marigold and Sage.
2. Adrianna Papell Short-Sleeve Beaded Cocktail Dress with Popover in Dusty Emerald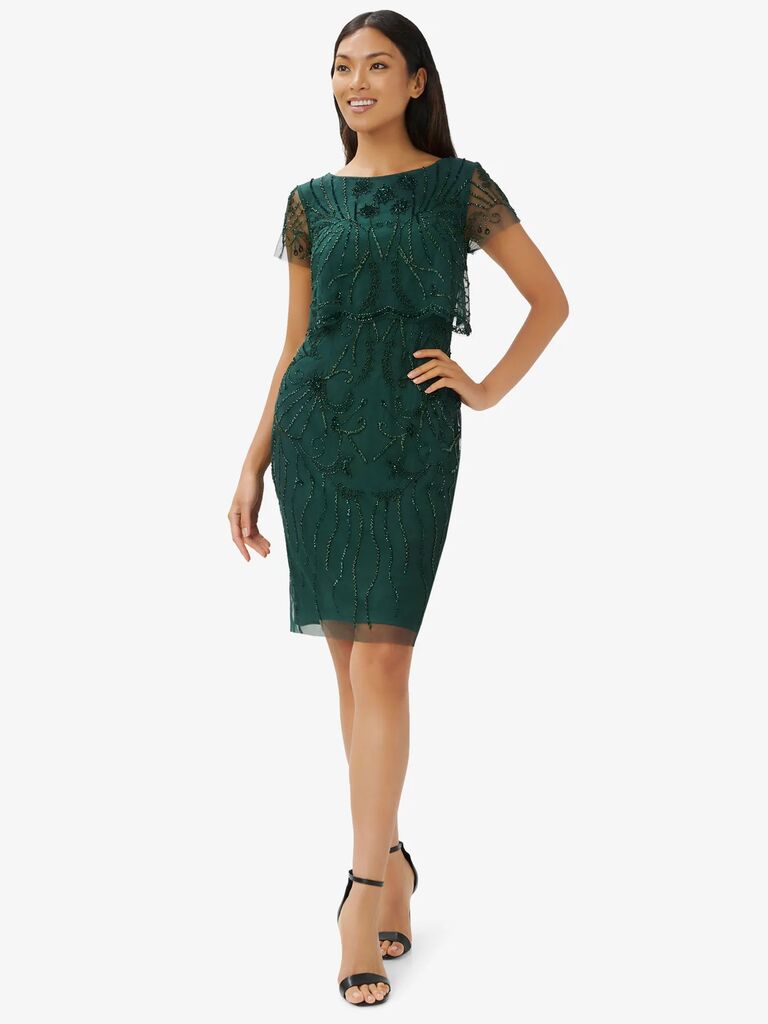 Here's another bejeweled mother-of-the-bride dress for fall. From the deep emerald hue to the hand-beaded silver pattern, you'll be a vision on the dance floor. And thanks to the fun embellishments and knee-length silhouette, it's a foolproof option for a cocktail-required party.
3. Oleg Cassini Plus-Size Sequin Lace Capelet Jersey Sheath Dress in Wine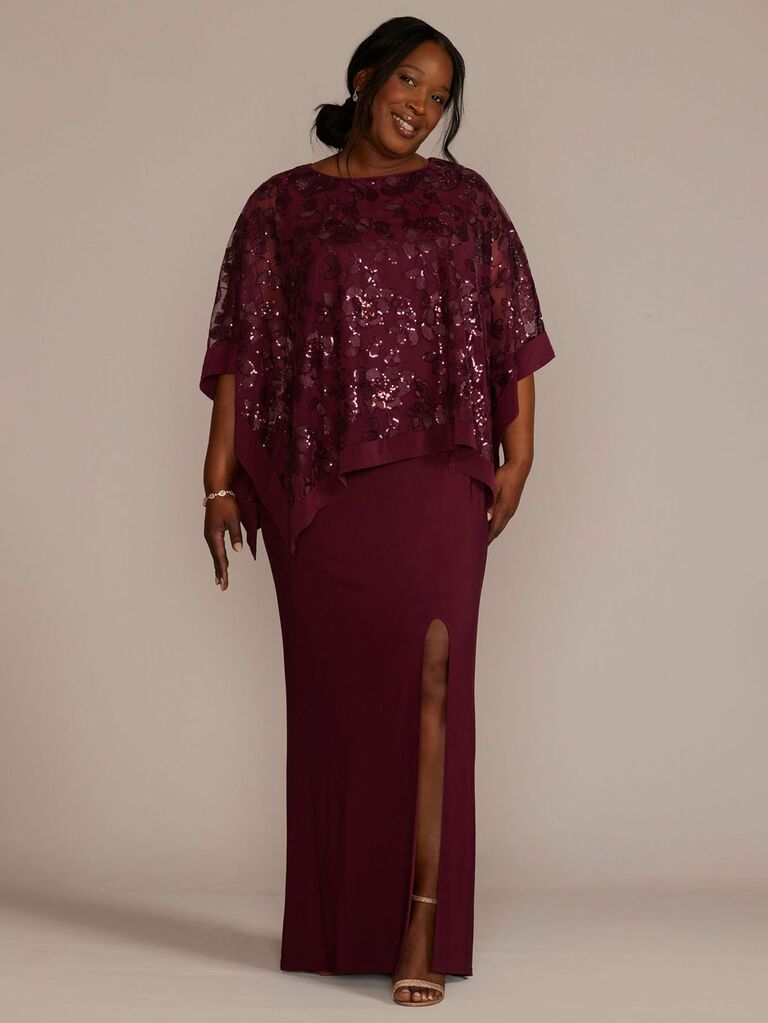 We're starting off with a sparkling fall ensemble that's stunning for the mother of the bride. The plus-size jersey gown has a polished form-fitting silhouette that's perfect for the ceremony, while the flowy sequin lace capelet will bring a fun element for when the reception starts.
4. Phase Eight Floris Embroidered Shift Dress in Navy/Ivory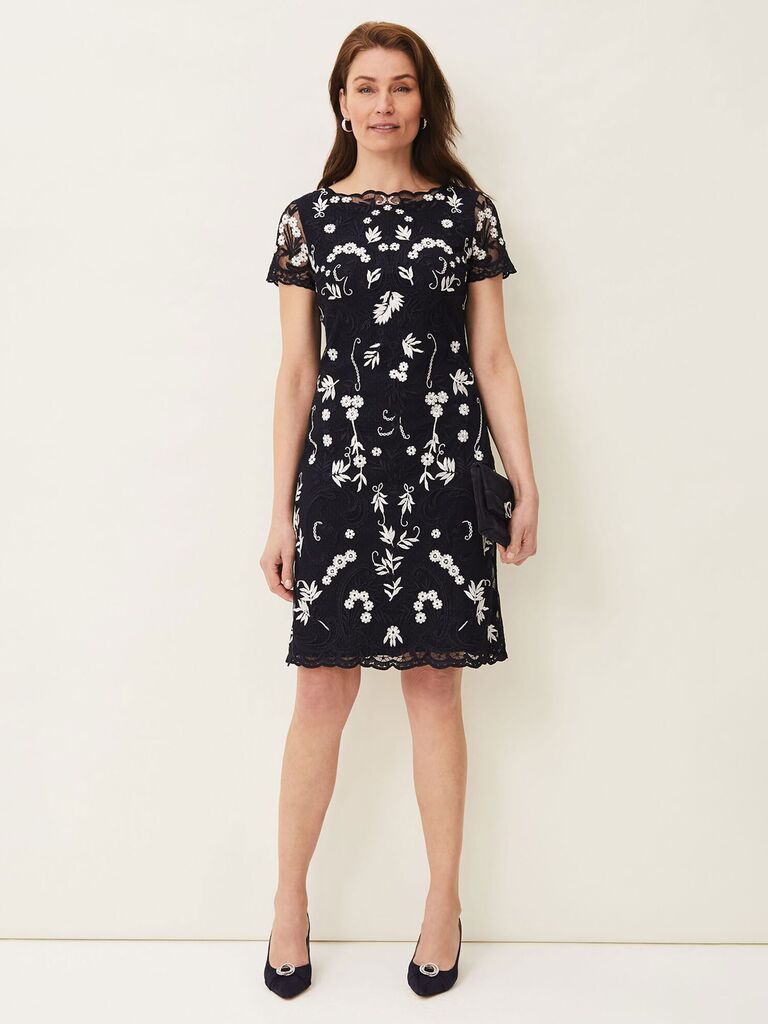 The intricate floral embroidery adds a sophisticated element to this knee-length fall mother-of-the-bride dress. Other standout features include the sheer lace sleeves and delicate scallop trim. Style your outfit with gold or silver jewelry to pop against the dark navy hue.
5. Adrianna Papell Plus-Size Metallic Signature Blouson Gown in Burgundy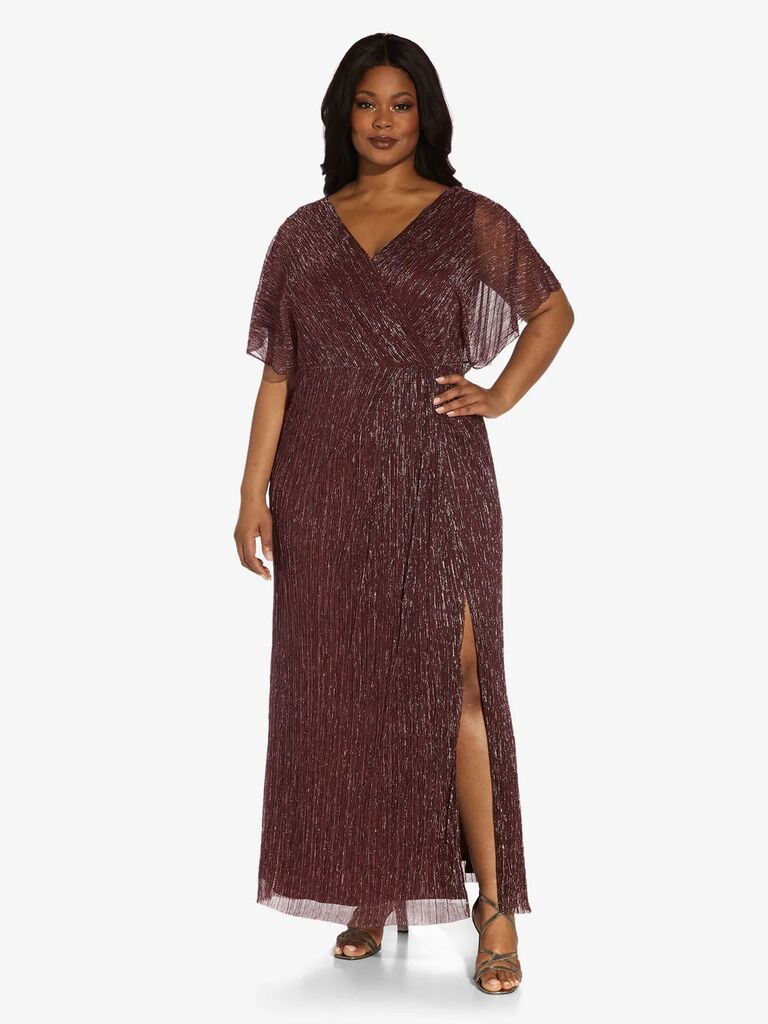 As mentioned above, burgundy is one of our go-to mother-of-the-bride fall colors. The embellished gown, crafted with Adrianna Papell's signature blouson bodice, is an excellent choice for your child's nuptials. The flowy elbow-length sleeves, surplice neckline and long, flowy skirt make up this eye-catching ensemble. Bonus: This gown comes in standard and plus sizes.
6. Azazie Cecily Mother-of-the-Bride Dress in Plum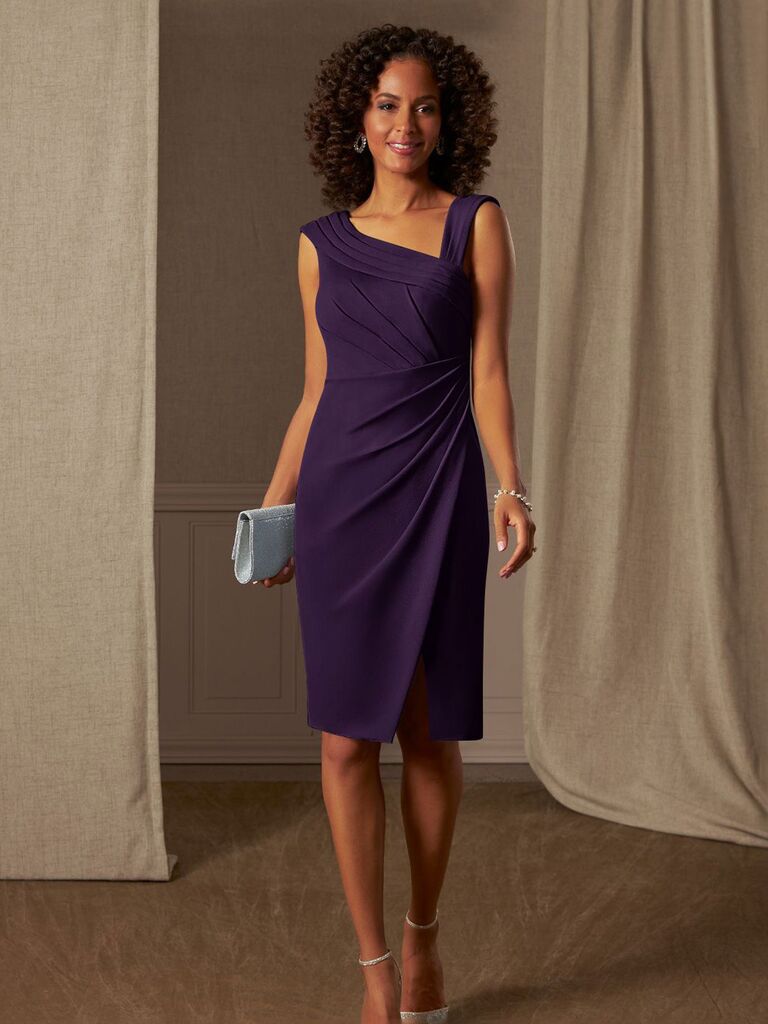 This knee-length autumn mother-of-the-bride dress is a sleek option for a cocktail party. Crafted from luxe stretch crepe, it boasts an asymmetrical neckline, pleated shoulders and a refined pencil skirt with even more pleating. Accessorize with gold jewelry and metallic heels for a touch of sparkle.
7. Mac Duggal Long-Sleeve Jersey Gown in Olive Green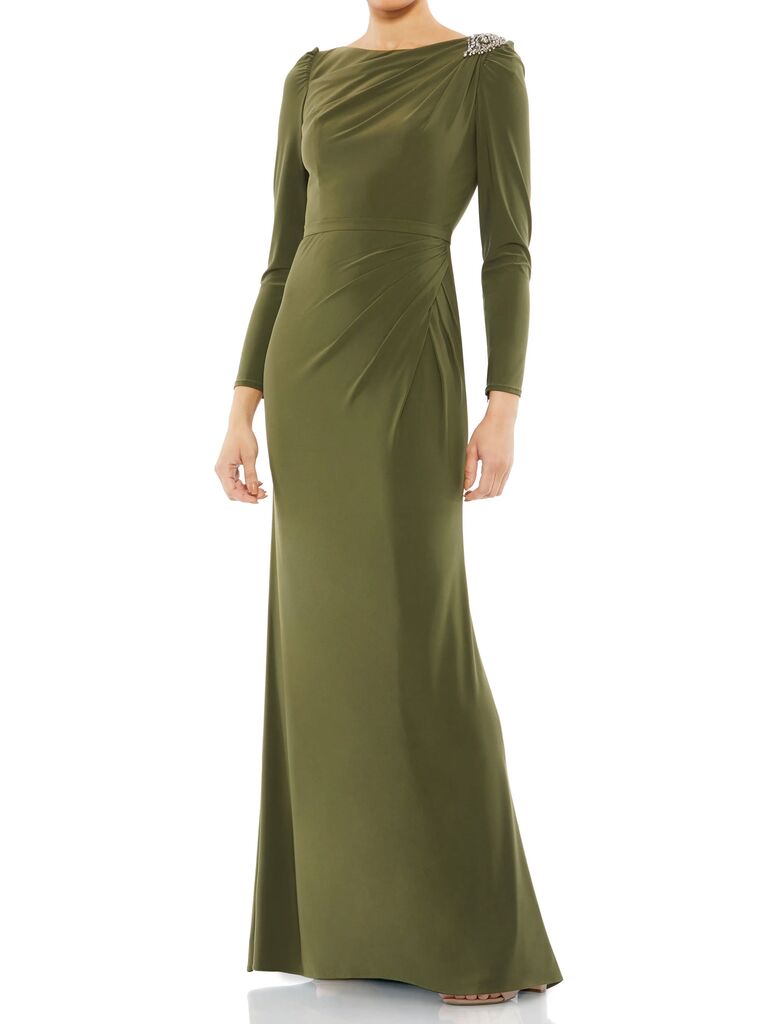 Long sleeves are a beautiful way to elevate silhouette, plus it's very on theme for the fall attire. The refined long sleeves are topped with shimmering crystals at the shoulders, while the gathering on the bodice hugs your waist. The rich Olive or Mauve hues feel romantic and modern for the season.
8. Kiyonna Wildflower Embroidered A-Line Velvet-Trimmed Dress in Onyx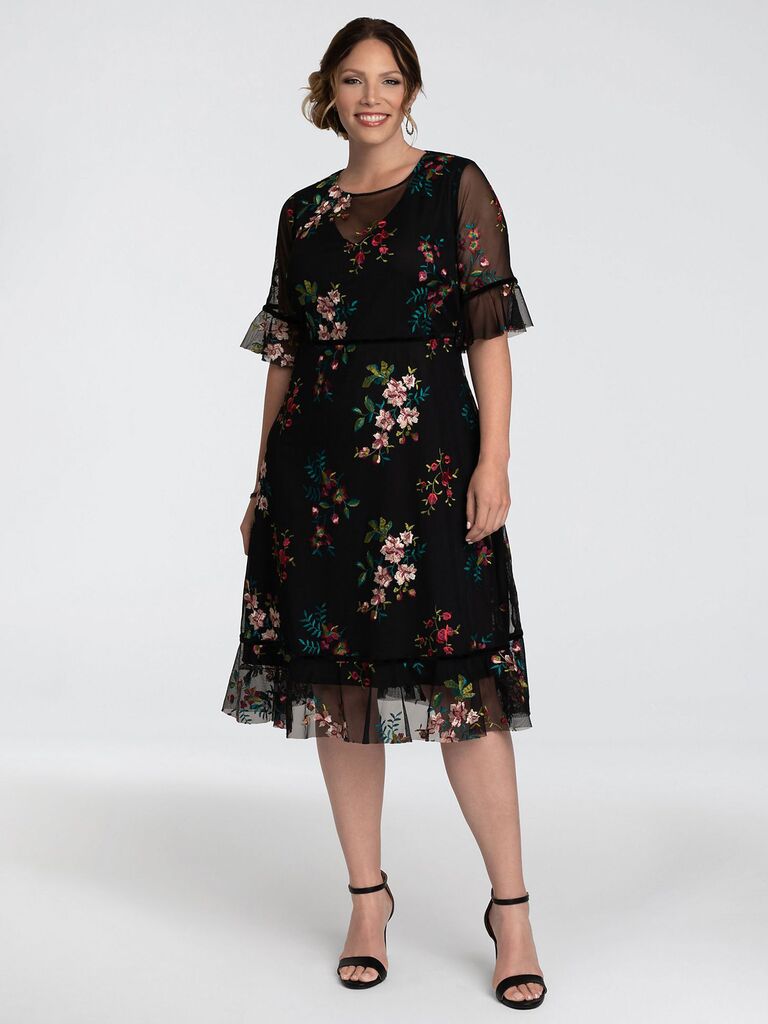 If your style leans more bohemian, this wildflower-adorned mother-of-the-bride dress is a fall favorite. The floral frock is embellished with botanical embroidery and velvet trim for an enchanting ensemble. Ruffles on the sleeves and A-line hem bring even more personality to the beautiful silhouette.
9. Adrianna Papell Beaded Evening Gown in Cassis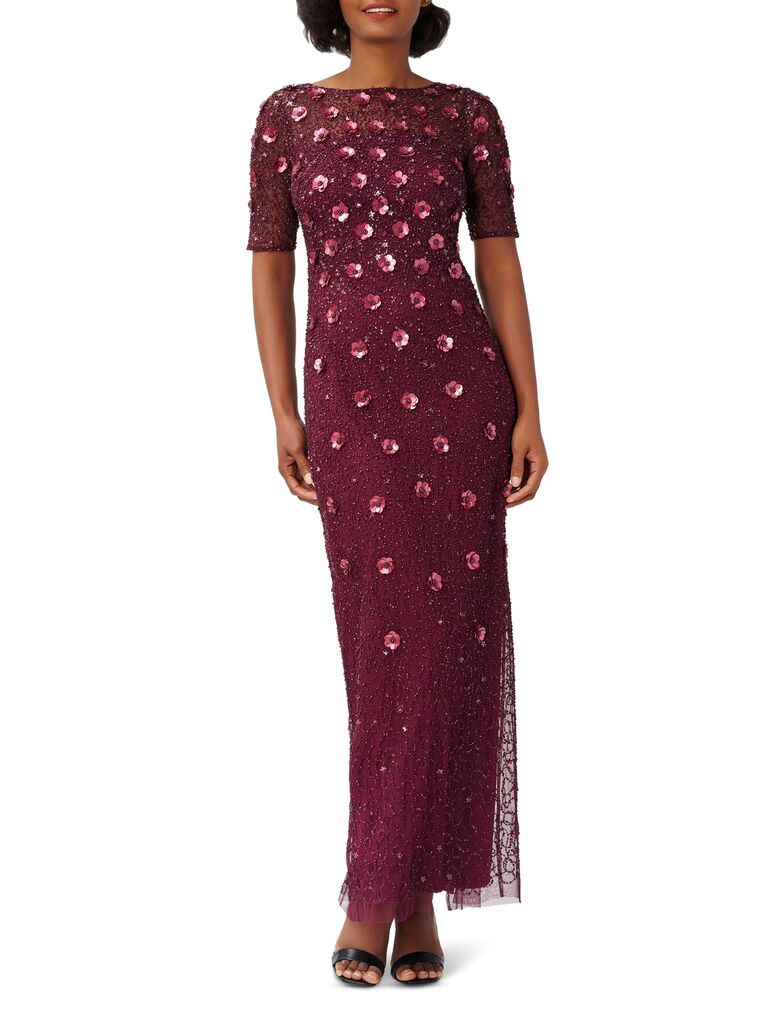 You'll be dressed to impress in this showstopping fall dress for the mother of the bride. The dress is adorned with a glittering assortment of beads, sequins and floral appliques. The embellishments are balanced with short sleeves and a relaxed maxi skirt with a classy back slit.
10. ELOQUII Satin Maxi Dress in Black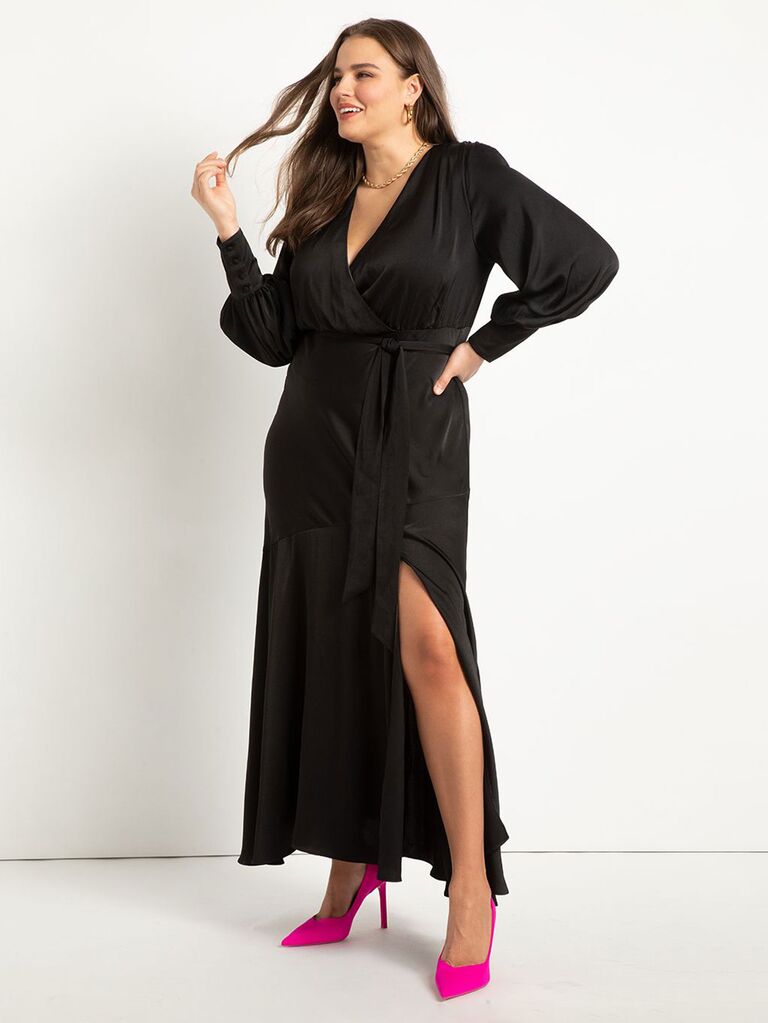 If you're looking for fall mother-of-the-bride dresses that you can rewear, look no further than this chic maxi. You can dress up the wrap-style silhouette with fine jewelry and statement heels, or you can dress it down for more casual events. The elasticized waist seam and self-waist ties ensure a comfortable fit. Plus, it comes in a rainbow of colorways, from Teal and Magenta to Black and Sage.
11. Hutch Floral Hi-Low Gown in Black Floral Jacquard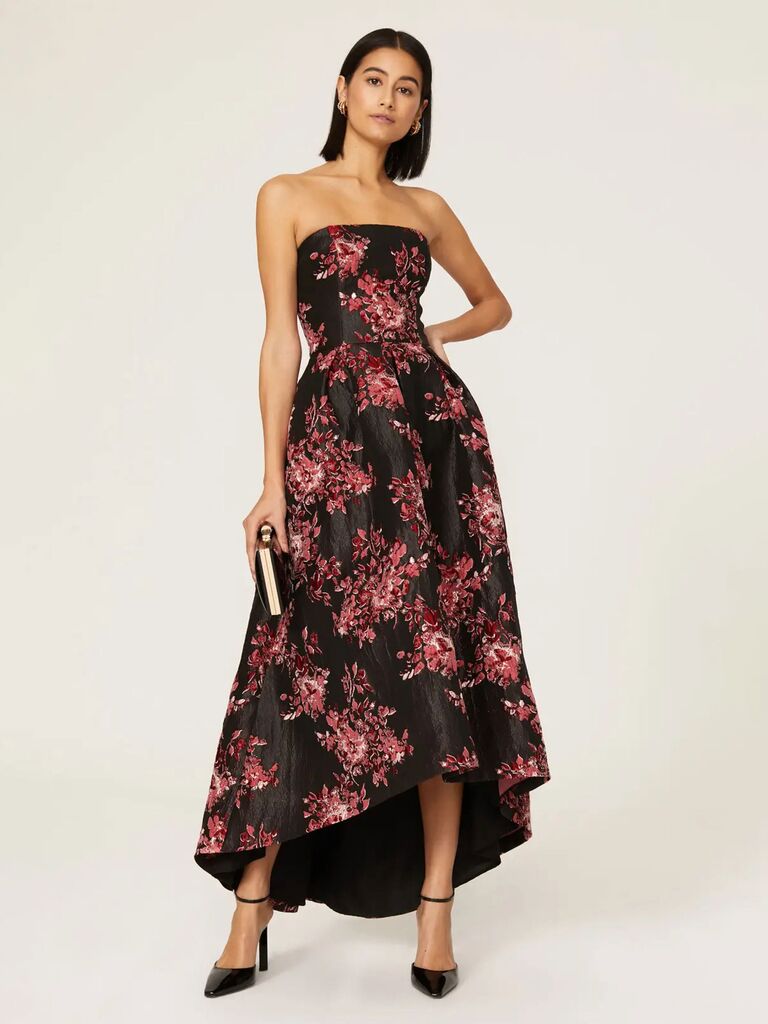 The best part about renting your future MOB dress is that you can wear a designer piece for a fraction of the price. This beautiful botanical gown by Hutch has a strapless neckline, high-low skirt and is covered in an allover black and red floral jacquard pattern. Best of all, you can rent this style starting at $41 for a four-day rental.
12. Connected Plus-Size Embroidered Overlay Dress in Black Pink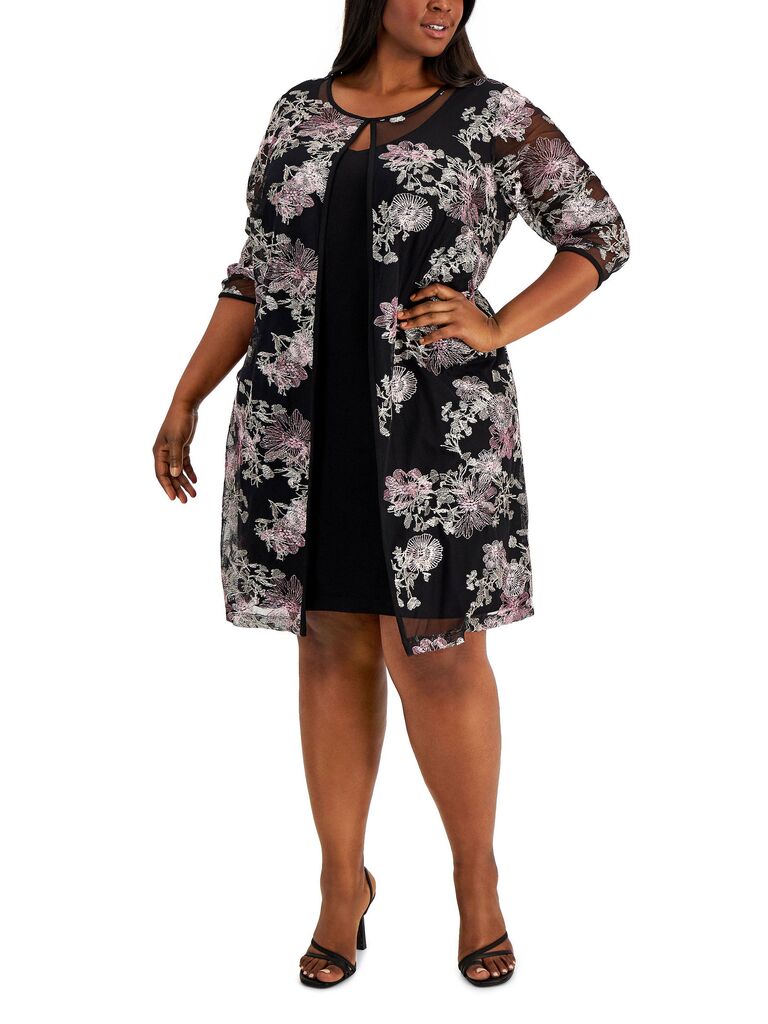 An embroidered floral overlay with three-quarter sleeves makes a beautiful addition to this black plus-size mother-of-the-bride dress for fall. The overlay pairs nicely with the round neckline and figure-hugging sheath skirt. All you need is a stylish pair of stilettos to finish your stellar outfit.
13. Teri Jon by Rickie Freeman Embroidered Tulle Tea Dress in Navy Multi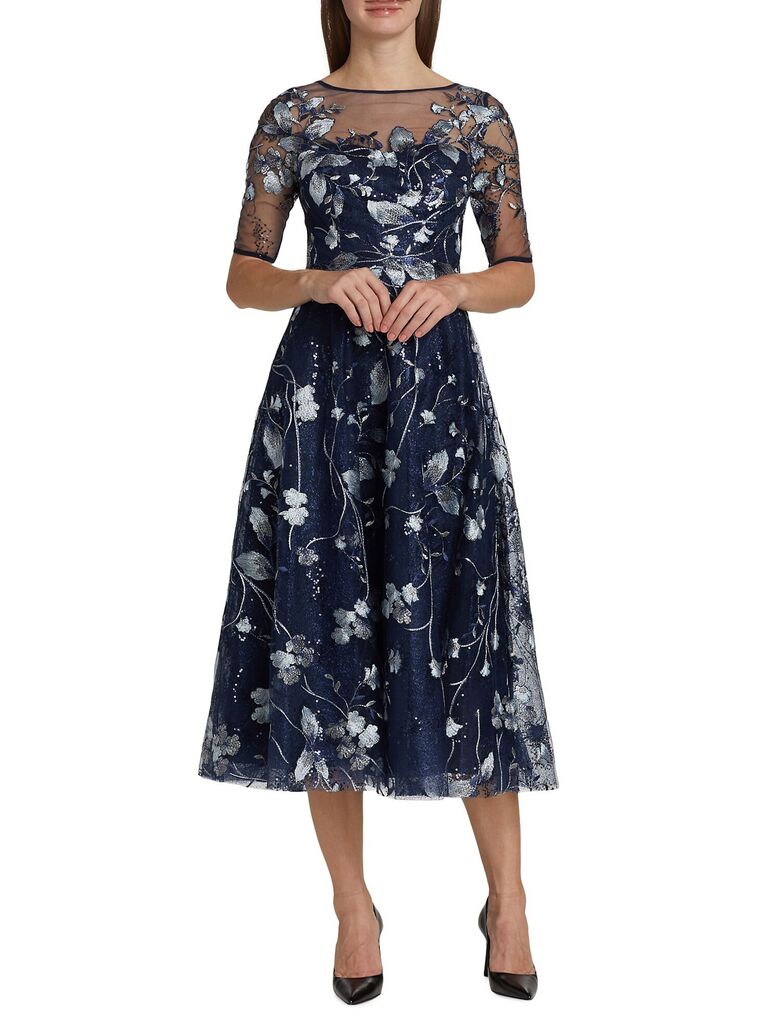 Talk about enchanting. This tea-length fall mother-of-the-bride dress is a striking option for autumn celebrations. From the illusion bateau neckline and sparkly embroidery to the delicate tulle overlay, it's safe to say we're in love (and you will be too).
14. Oleg Cassini Off-the-Shoulder Crepe Gown with Illusion Sleeves in Navy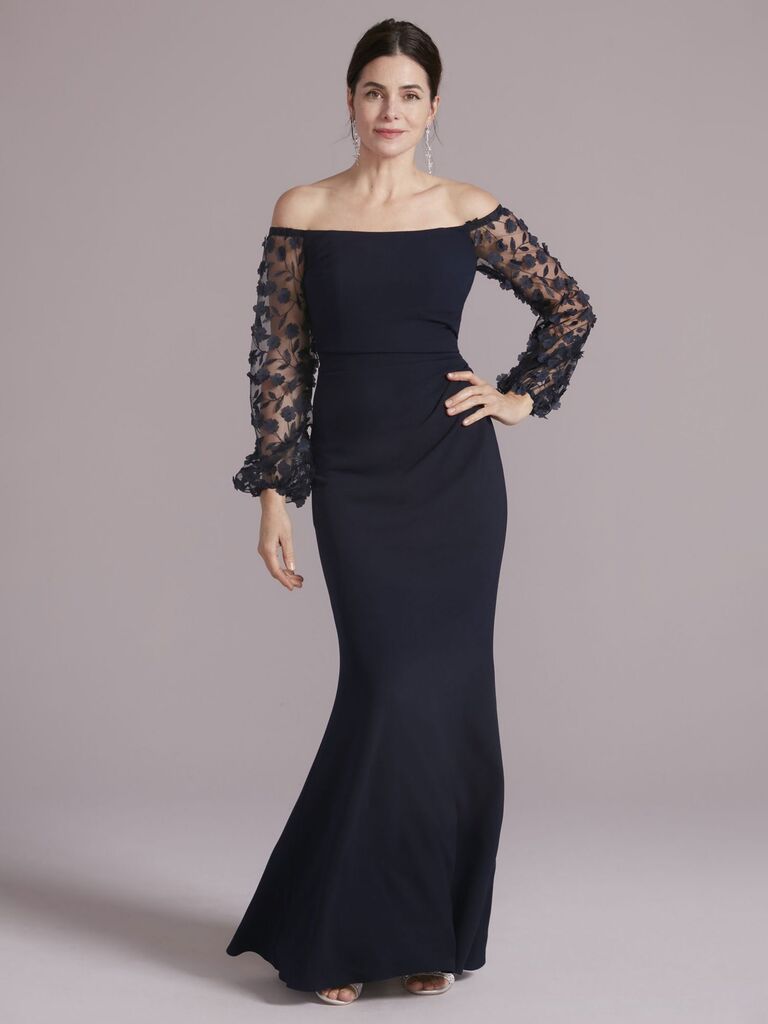 You'll only need to wear minimal accessories if you opt for this romantic mother-of-the-bride gown. The crepe dress has elegant off-the-shoulder sheer sleeves embellished with 3D floral appliques. The deep blue hue and botanicals make it a classy and stylish pick for fall nuptials.
15. Teri Jon Off-the-Shoulder Stretch Velvet Portrait Collar Column Gown in Wine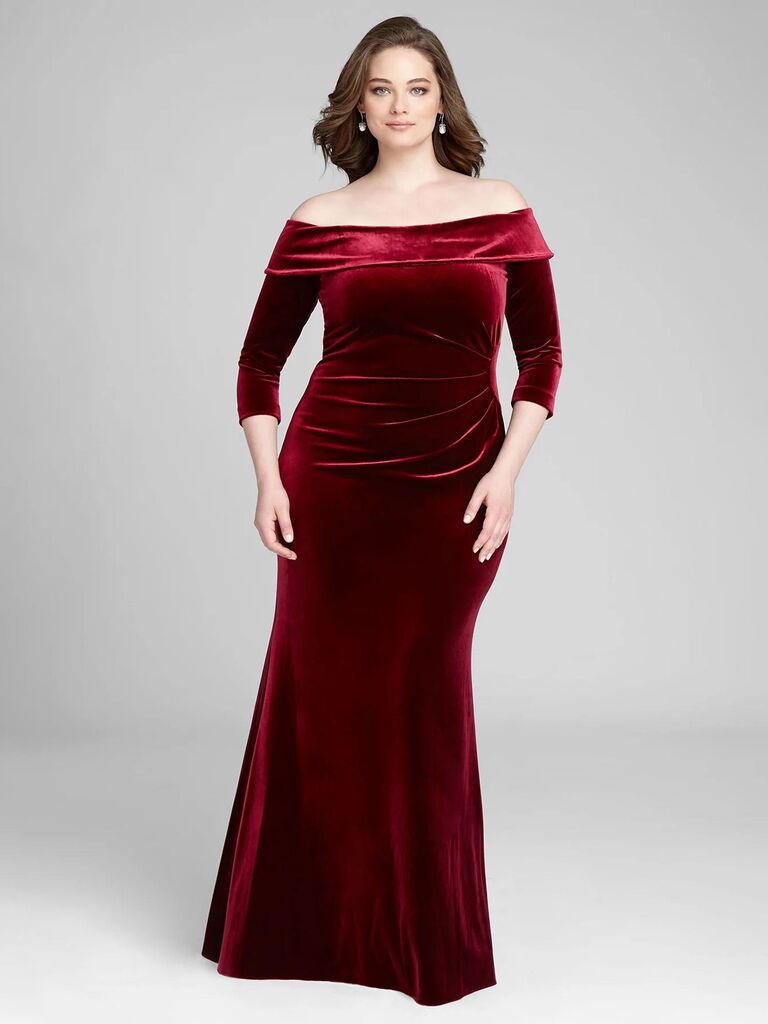 We're getting major heart eyes over this autumn mother-of-the-bride dress, from the soft velvet fabric to the rich Wine hue. The gown is completed with a portrait collar neckline, off-the-shoulder long sleeves and a floor-length skirt. Don't want to wear Wine? The Sapphire and Black shades will look equally beautiful for autumn.
16. Adrianna Papell Petite-Size Metallic Mesh Floral Print V-Neck Short-Sleeve Thigh High Slit Gown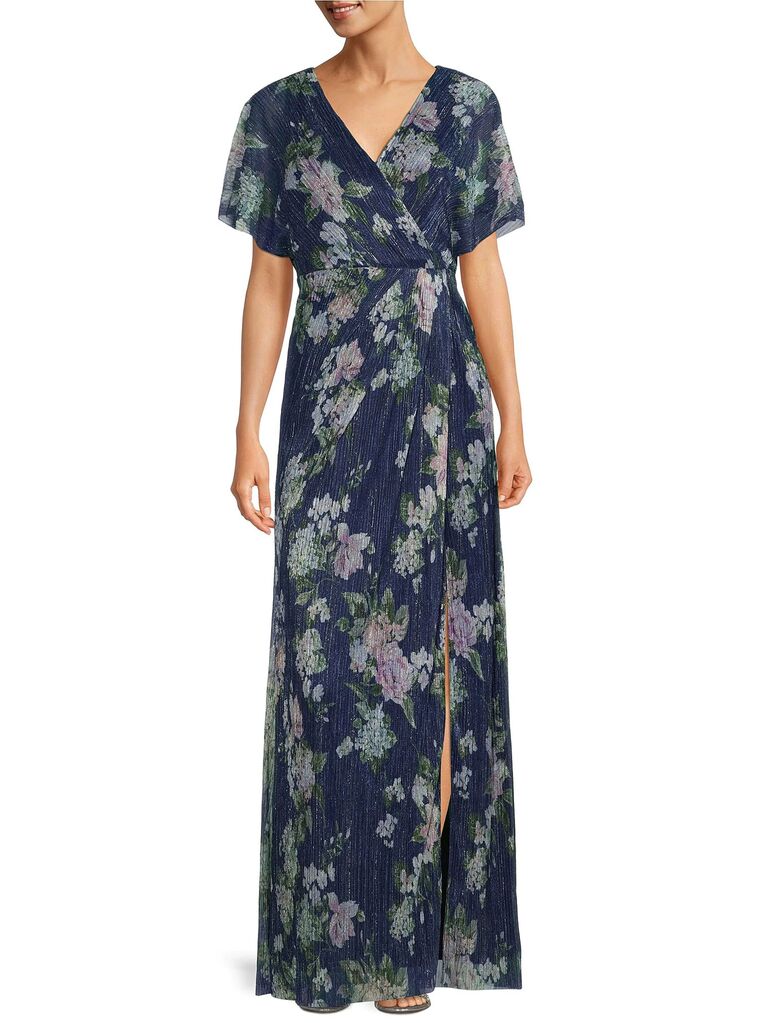 Looking for casual mother-of-the-bride dresses for outdoor fall weddings? This petite gown can be dressed down for a laid-back event. It has a navy and multicolored floral print, as well as V-neckline, short sleeves and metallic printed fabrication that gives it a cool edge. Pair your fall MOB dress with simple jewelry and block heel sandals or wedges.
17. Giorgio Armani Gathered Monili-Tab Jersey Dress in Green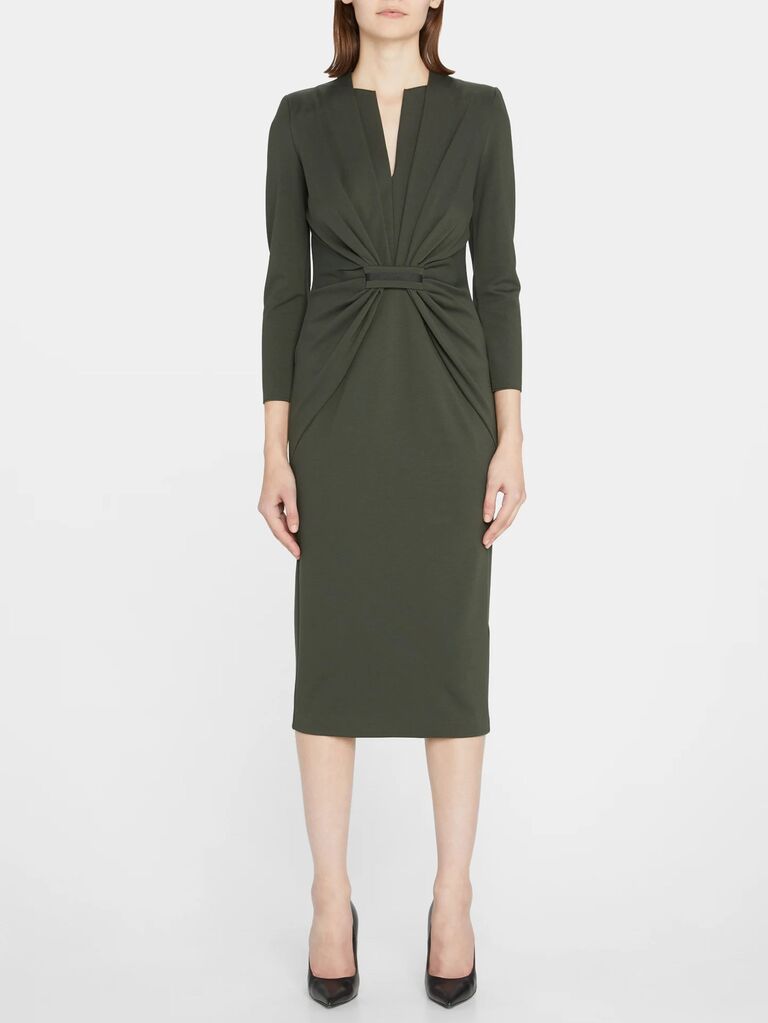 Classy and sophisticated, all eyes will be on you in this simple mother-of-the-bride dress for fall weddings. The monili-trimmed tab front and gathering detail define this piece, which also features a V-neckline and long sleeves. The skirt hem falls just below the knee, which is the perfect length for formal, cocktail or casual functions.
18. Adrianna Papell Plus-Size Matte Jersey Twist Front Tuxedo Long Gown in Black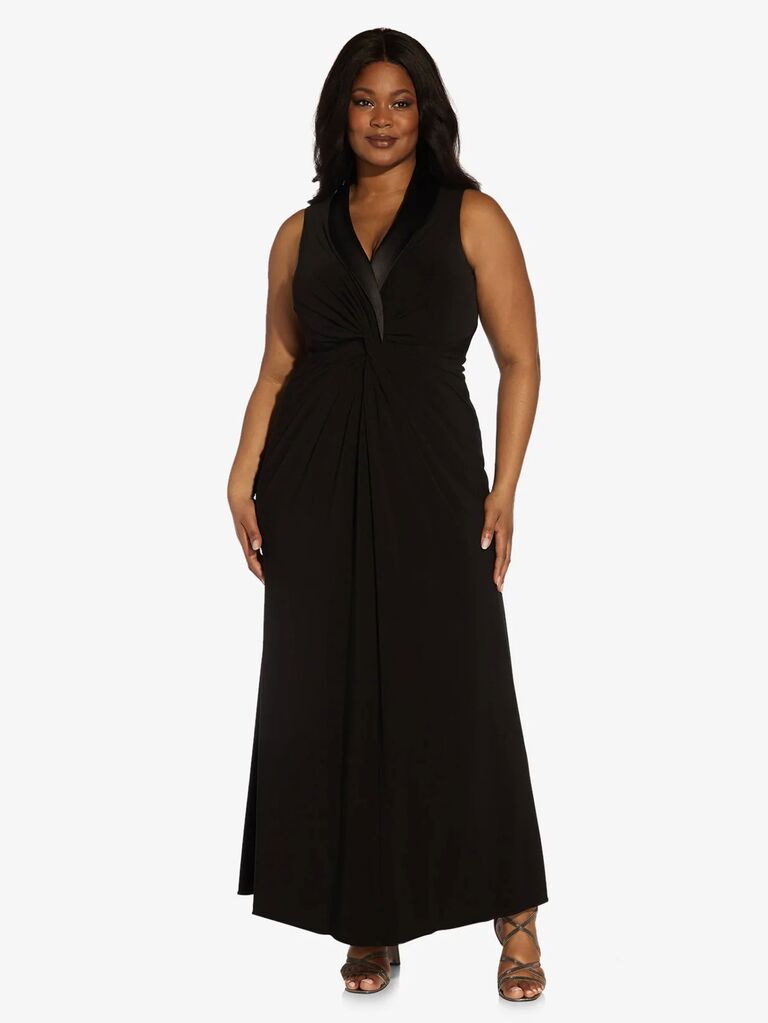 There's something so intriguing about this menswear-inspired tuxedo gown for mothers of the bride. From the twist-front bodice with a surplice neckline to the satin shawl collar, it's a unique and fashion-forward fall MOB dress for black-tie or formal soirées.
19. Teri Jon Metallic Jacquard Shirtdress Gown with Floral Print in Emerald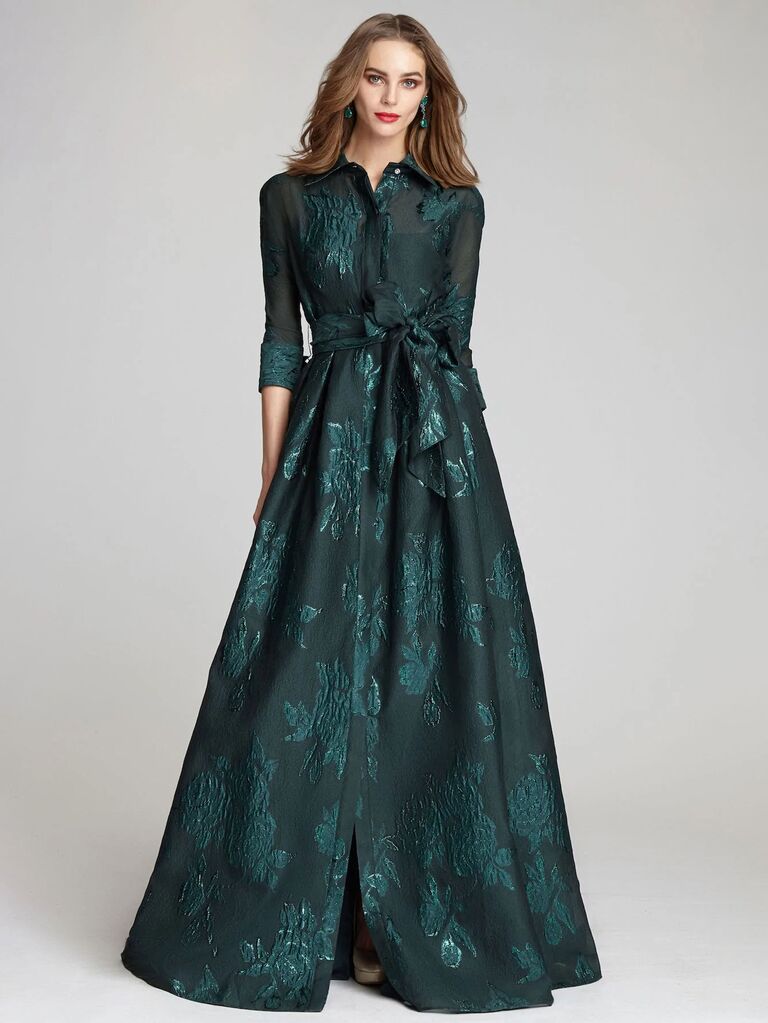 You'll definitely stand out in this spectacular fall mother-of-the-bride gown. The floor-length piece is covered in a shiny metallic jacquard print—perfect for an upscale evening affair. Style your day-of ensemble with minimalist jewelry and simple black pumps to let the print shine.
20. Phase Eight Simara Ombré Pleated Halterneck Dress in Espresso/Nude
You'll be prepared for your upcoming fall wedding wearing this ombré espresso and nude pleated design. The contemporary MOB dress has a chic halter neckline that flows into a flowy midi-length skirt. The dress even comes with a chic leather waist belt to show off your figure.
21. Betsy & Adam Plus-Size Floral Chiffon Gown in Navy/Blue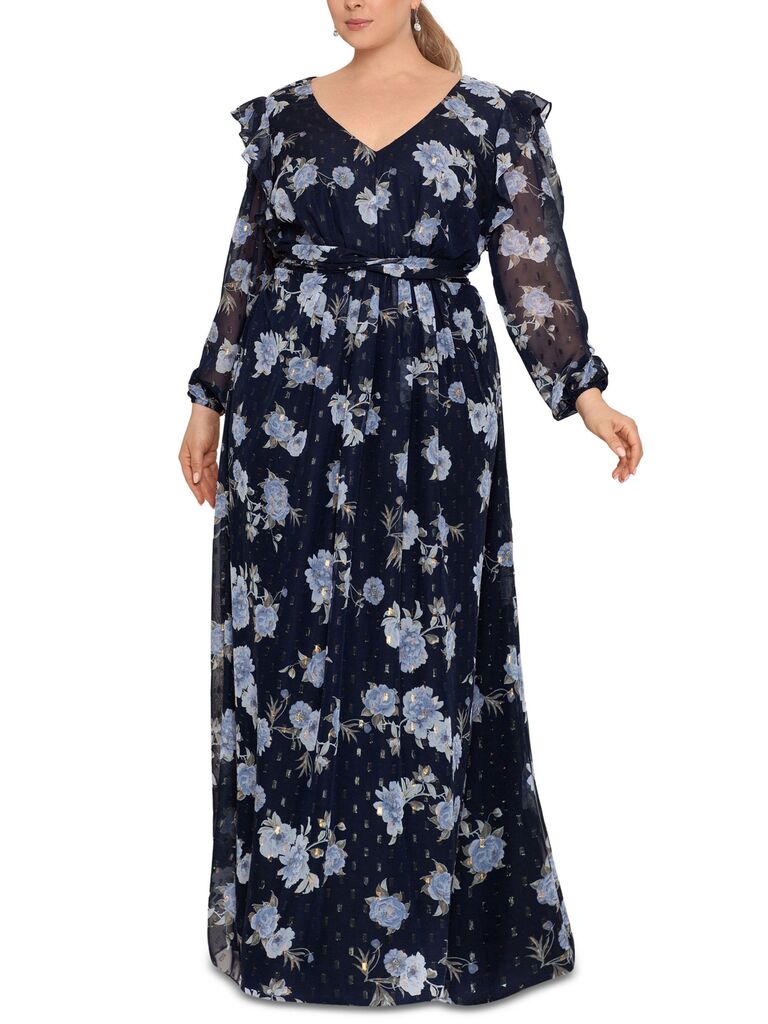 As you can tell, we love a good floral print (and bonus points if there are ruffles involved). This navy blue floral chiffon gown for the mother of the bride is one of our go-to styles for autumn. With a gentle V-neck, gathered waist and romantic ruffles on the sheer long sleeves, you can't go wrong with this floor-length formal number.
22. Pisarro Nights Beaded Cold-Shoulder Ankle-Length Plus-Size Dress in Mauve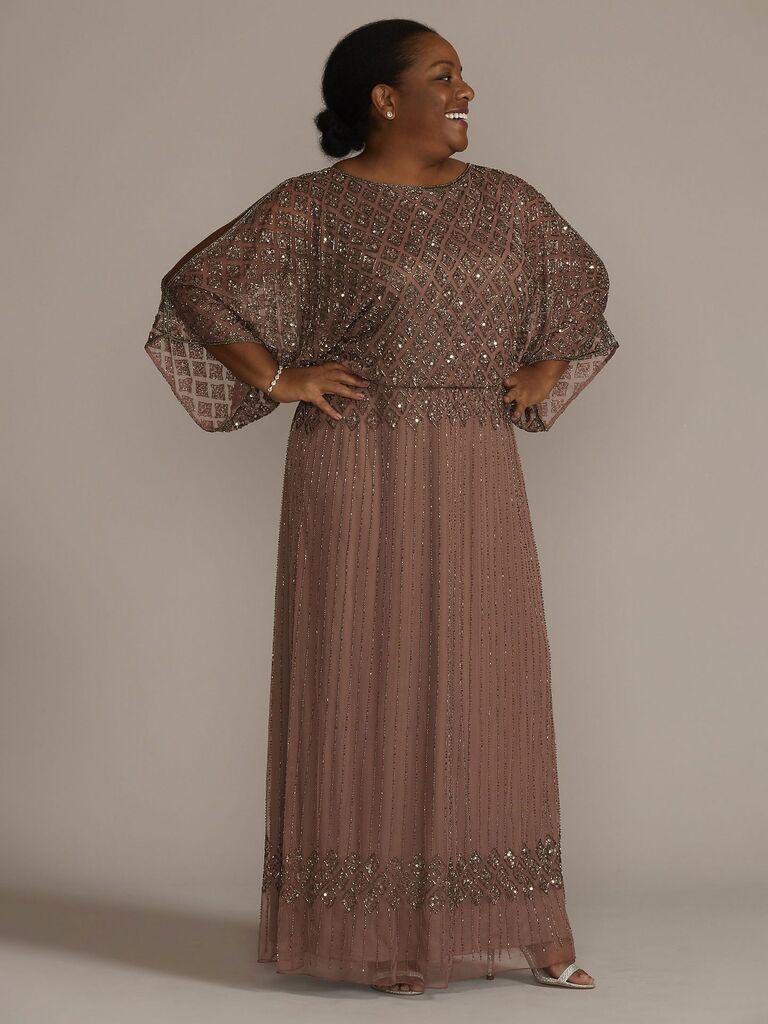 For those who love the sparkly things in life, this glittering mother-of-the-bride dress for fall was made for you. The deep Mauve hue is a unique and beautiful shade for fall, while the bedazzled beaded pattern will ensure you stand out. The flowy full-length skirt will also make dancing a blast.
23. Kiyonna Socialite Sweetheart Dress in Black Shimmer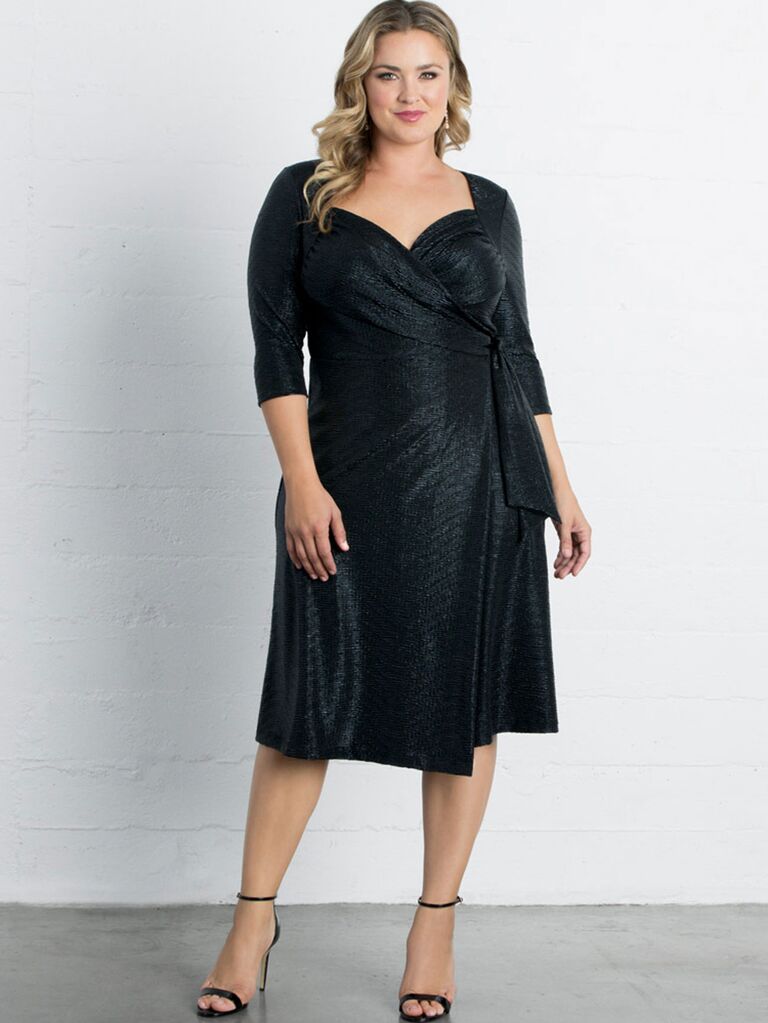 We love the sparkly black shimmer that captivates this fall MOB ensemble. The casual wrap dress is accentuated with a sweetheart neckline, three-quarter sleeves and ruching on the bustline. The gathered waist meets with a wrap tie on the left side of the dress, which will ensure a comfortable fit. Show off a glittering pair of heels to complete your showstopping outfit.
24. Oleg Cassini Metallic Brocade Off-the-Shoulder High-Low Gown in Champagne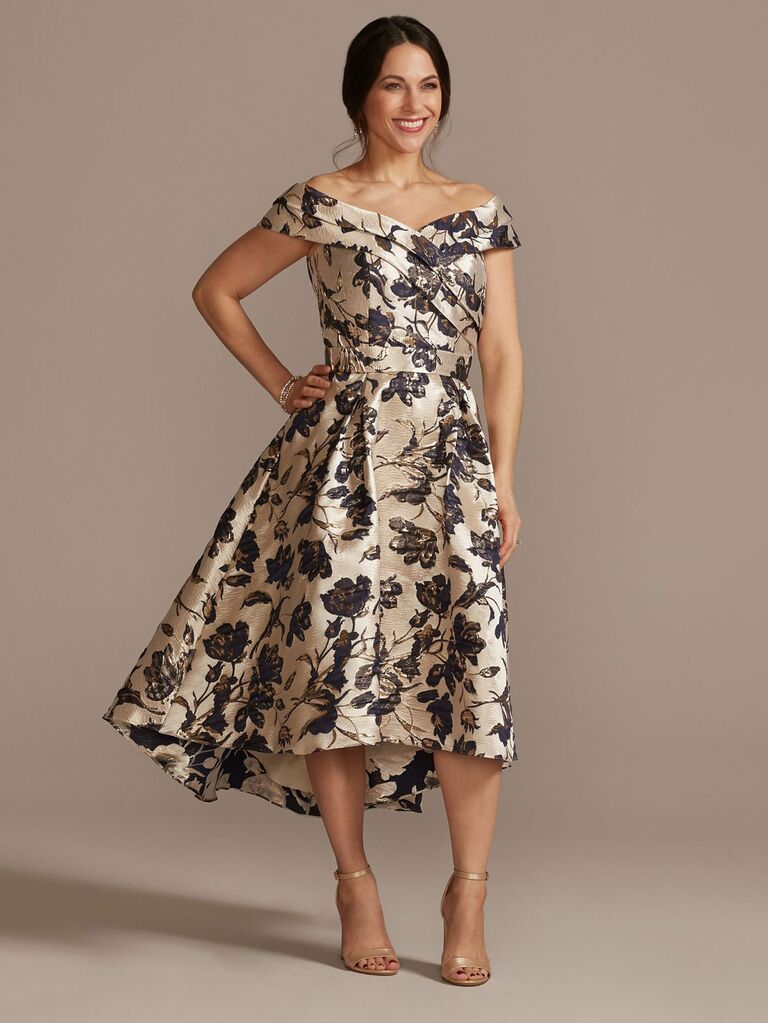 Whether the wedding's at a woodsy park or an arboretum, this fall mother-of-the-bride dress will blow guests away. We're digging the off-the-shoulder sweetheart neckline, high-low skirt and floral design with a metallic shimmer. Elevate your outfit even further with statement earrings and sparkly pumps.
25. Ulla Johnson Angelica Long-Sleeve Printed Knit Maxi Dress in Mustard
Boho mamas, this mustard-colored mother-of-the-bride dress is a bohemian dream. From the intricate printed design to the knit maxi skirt, you'll feel sophisticated and comfortable for your child's big day. Other callouts include the sleek crew neck, graceful long sleeves and slim-fitting silhouette.