The Complete Amalfi Coast Honeymoon Guide
From Positano to Capri, read our tips for this type of Italy honeymoon.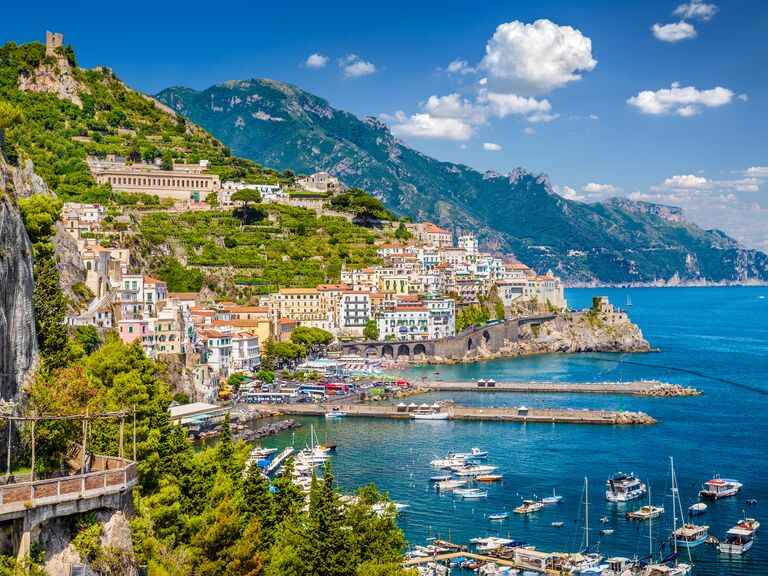 Canadastock/Shutterstock
It doesn't get more romantic than the Amalfi Coast. With its breathtaking villas, secluded beaches along the Mediterranean, sumptuous and iconic properties, and mouthwatering fresh Italian cuisine (think: pasta, seafood and wine), the Amalfi Coast is a destination of choice for newcomers and refined travelers alike. Couples will enjoy eating their way through gorgeous towns like Ravello, Positano and the island of Capri. Here's our guide to an Amalfi Coast honeymoon so that you can experience la dolce vita ("the good life") during your romantic getaway to Italy.
Is the Amalfi Coast Good for a Honeymoon?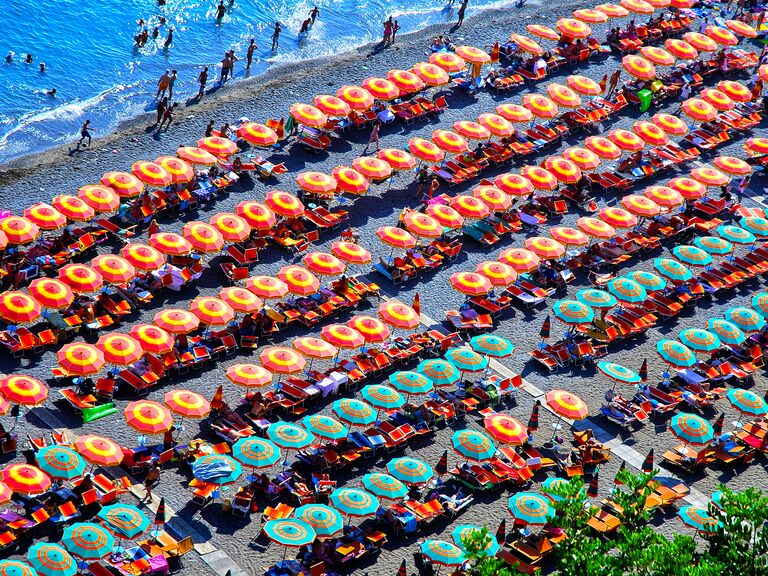 From the photogenic towns of Positano and Amalfi to the islands of Capri and Ischia, this stunning stretch of coastline in the Campania region of Southern Italy offers much to see and do. Gary Portuesi, Managing Director of Authentic Italy, suggests accessing the area by flying to Rome or Milan. From there, couples will want to connect to Naples. Options for honeymooners include taking a one-hour train ride via the Frecciarossa from Rome to Naples, or hiring a driver for the roughly two-hour ride.
Pros of an Amalfi Coast Honeymoon
On the Amalfi Coast, you'll witness jaw-dropping scenery at every turn, from the dramatic rocky cliffs to the turquoise-blue Tyrrhenian Sea. "Romance, romance, romance," emphasizes Portuesi. Picture exploring the charming towns via private boat with your partner, followed by a relaxed afternoon sipping Aperol Spritzes or Negronis. Selective couples will also experience refined luxury at the top hotels in the world.
Cons of an Amalfi Coast Honeymoon
From June through September, the area gets crowded and somewhat touristy. Positano, Amalfi and Capri, in particular, are exceptionally busy, says Portuesi. Depending on your level of stay, you'll be required to shell out top dollar for distinctive properties. It's recommended couples be prepared for high demand and equivalent prices during peak season.
The Best Times of Year to Go on an Amalfi Coast Honeymoon
Shoulder seasons are recommended along the Amalfi Coast as climate is still moderate. Try to honeymoon May to June or September to early October. July and August can be very hot, not to mention it's incredibly crowded (Europeans flock to the region in August). Then, towards the end of October, the Amalfi Coast largely shuts down.
Cities and Towns to Visit on the Amalfi Coast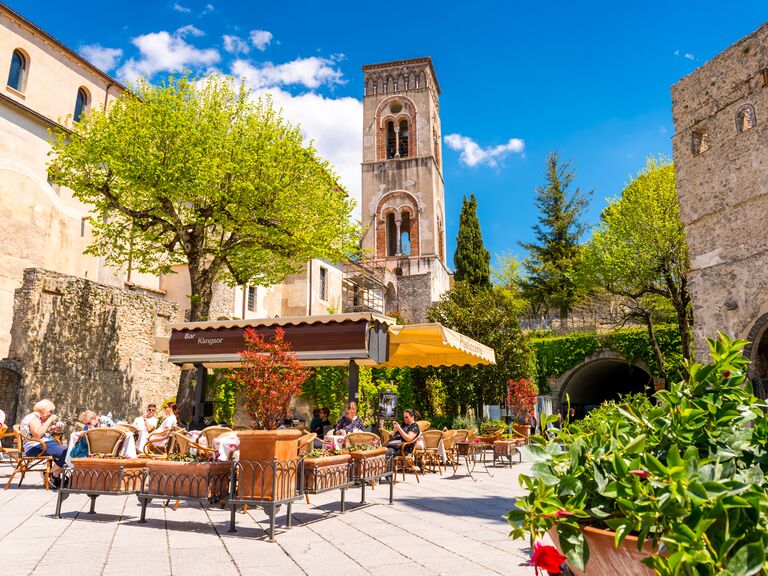 Naples
Hidden gems, museums and palaces abound in what Portuesi describes as a "gritty and glorious" major city. Perhaps most enticing fact about Naples, however, is that it's the birthplace of pizza. Couples compelled to sample authentic Neapolitan pizza, or pizza Napoletana, will appreciate its consistency of tomatoes, mozzarella, basil and olive oil. Try L'Antica Pizzeria da Michele, which was mentioned in Elizabeth Gilbert's Eat, Pray, Love. After lunch, visit The Capodimonte Museum overlooking the city. This 150,000-square-foot palace includes more than 47,000 works of art from the Middle Ages to the 21st Century.
Find your kind of venue
From barns to ballrooms, discover reception venues that feel like you.
Sorrento
A lively town referred to as the gateway to the Amalfi Coast is a soothing first stop to the region. Shop for linens and visit a limoncello factory, such as Sapori E Colori Sorrento. (Limoncello is a lemon liqueur, usually served chilled and sipped before or after a meal.)
Capri
Drop by the Island of Capri for a serious serving of glitz—many celebrities and billionaires anchor their yachts at Marina Grande. Hobnob with the rich and famous by lunching at La Fontalina (arguably the most iconic property in Capri) or Il Riccio. Both are two exclusive restaurants on the island only accessible by boat. And, if you can, explore the famed Blue Grotto, a sea cave on the coast. Reservations are recommended for everything.
Positano
With colorful cliffside villas, sloping streets and views of the sea, this picture-perfect town epitomizes the beauty of the Amalfi Coast. For a truly romantic experience, dine during sunset at La Sponda, the restaurant at the famed hotel, Le Sirenuse.
Ravello
A medieval hilltop village, boasting cobblestone streets and winding lanes, has inspired famed writers like Gore Vidal and D.H. Lawrence. For some of the most dramatic views along the Amalfi Coast, visit the Villa Rufolo (the town's historical and cultural center) and Hotel Villa Cimbrone, a 12th Century residence converted into a luxury hotel. Or, if you decide to brave the summer crowds, take in a classical music concert or dance performance at the Oscar Niemeyer Auditorium during the annual music festival.
Things to Do During an Amalfi Coast Honeymoon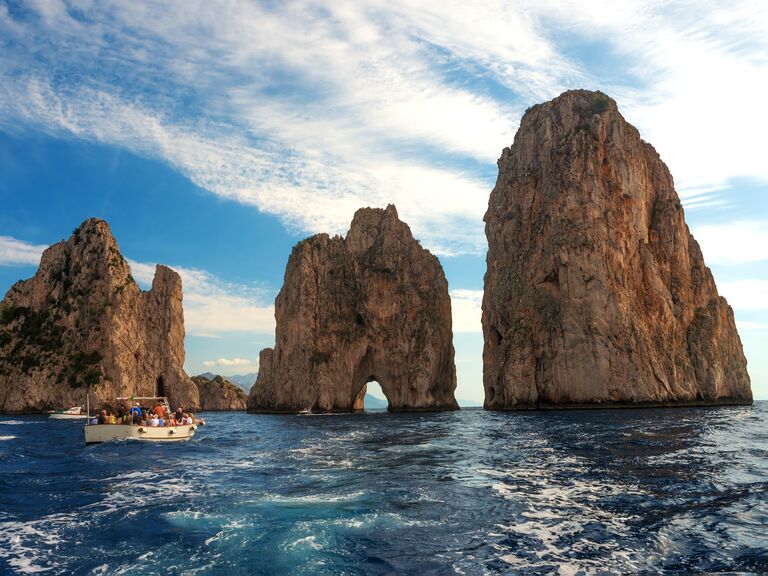 Explore the Area by Private Boat
The best way to see these towns is from the sea, says Portuesi. For the most ideal vantage points, reserve a boat and circle the private islands of Li Galli; circumnavigating Capri. Along the way, stop for lunch at one of its beach clubs or restaurants; then, slowly venture through the iconic Faraglioni (iconic rock formations off the coast of Capri.
Hike and Bring a Picnic Lunch
For scenic views and outdoor activity, hike The Path of the Gods (Sentiero degli Dei), a clifftop trail overlooking the sea and several towns. Choose from a variety of hiking trails all at different levels. Don't forget to bring a picnic lunch, such as the area's popular caprese salad (with fresh mozzarella, basil and tomato).
Tour the Ruins of Pompeii
History buffs should definitely tour the famed ruins of Pompeii. Covering around 440,000 square meters, the day trip destination is an archaeological site that's preserved an entire ancient city. The town was likely founded around the 8th-Century BC and it was destroyed by the eruption of Mount Vesuvius in the year 79 AD. A sobering walk through Pompeii reveals the doomed volcanic ash that poured down upon its residents.
Indulge in the Mud Baths of Ischia
What would a honeymoon be without a spa treatment? Come to this "authentic" and "subdued" island, as Portuesi describes it, to indulge in its famed spas, like Terme Ischia.
Indulge in Fresh Seafood
The Amalfi Coast is known for its seafood, especially shrimp, redfish and octopus. Try it at the Michelin-starred Marina Grande or casual Cuoppo D'Amalfi in the town of Amalfi. At the latter, we recommend calamari and fried sardines. Or, stop by the Ristorante Il Pino or Trattoria Da Armandino in Praiano. Round out your meals with limoncello and gelato.
Take a Cooking Class
Learn how to prepare the area's trademark dishes, such as ravioli caprese (pasta with tomatoes, cheese, and basil), fritto di paranza (fried seafood), pizza Napoletana, gnocchi, tiramisu and more. You can find culinary courses in Positano, Sorrento and Ravello.
Best Hotels and Resorts on the Amalfi Coast for a Honeymoon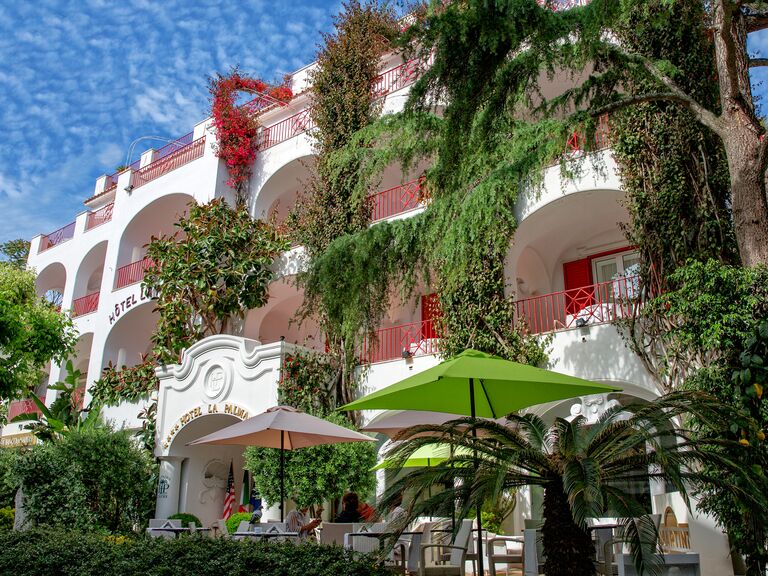 A Dominican monastery erected in the 17th Century, this luxury property sits along the "Divine Coast" of Italy's famed Amalfi Coast. Sonnets and books have been written about the surrounding fishing community, while guests will enjoy the Monastero's perfect perch and everything the region offers.
Located just outside the city center, this quiet, five-star hotel boasts a beautiful rooftop bar with spectacular sea views—a must for sunset cocktails. Plus, it features a new spa and outdoor pool surrounded by a scented garden.
Take an elevator through a mountain to access this 50-year-old romantic hotel's private floating pier. Carved into the cliffside, the exclusive spot offers views of the Amalfi coastline and the Mediterranean Sea.
Close to the town of Amalfi, this new spot is one of the few luxury hotels with a private beach. Overlooking the charming fishing village of Conca dei Marini, it's set 90 meters above sea level.
With a staff-to-guest ratio of two employees per room and limousine and helicopter service, this five-star hotel offers serious luxury. Housed in a villa built in the 12th Century, it includes a one-star Michelin restaurant (Rossellinis), lobster and martini bar, spa, and a sun deck with an infinity pool.
Hotel Caruso A Belmond Hotel, Ravello
To feel like Sophia Loren or Marcello Mastroianni, book this hotel for the ultimate luxury experience, says Portuesi. Nestled on a cliff a thousand feet above sea level, the former 11th-century palace features marbled hallways, antiques and paintings by old masters.
Grab a spritz and unwind at Capri's first modern hotel, originally built in 1822. The Oetker Collection property, which opens in 2022, is located just steps from the Piazzetta and has been widely anticipated by glamorous couples and honeymooners. The property features elegant, large rooms and suites and its own beach club, Marina Piccola. If you're hungry, you won't need to venture far to enjoy a negroni at its rooftop restaurant.
What to Pack for an Amalfi Coast Honeymoon
An appetite is the most important thing to bring, jokes Portuesi. Seriously, though, he advises packing linen clothing, sandals, chic swimwear, crisp button-down shirts and sunglasses. Of course, don't forget a converter, adapter and portable charger for your cell phone. You'll also want to prepare digital and paper copies of key documents, as well as some euros for when you arrive.