Your Guide to a Historic and Scenic Vienna Honeymoon
Celebrate married life in this one-of-a-kind city in Austria.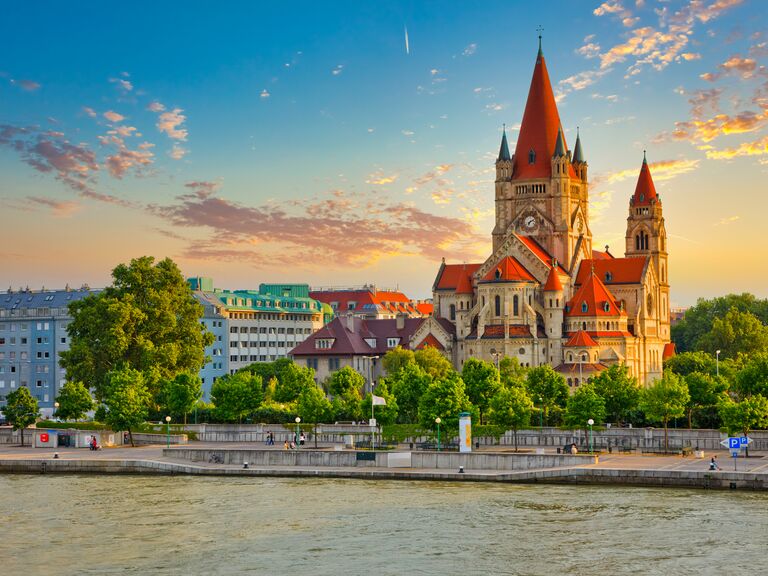 S.Borisov/Shutterstock
We have included third party products to help you navigate and enjoy life's biggest moments. Purchases made through links on this page may earn us a commission.
If you enjoy music and art, want to see beautiful architecture and love relaxing with food and wine, a Vienna, Austria, honeymoon could be perfect for you. As the birthplace of musicians like Mozart and Beethoven, Vienna is known as the "City of Music," so you'll often find live music in cafes. Vienna is also known for its Baroque architecture and opulent palaces that once housed the grand Habsburg Monarchy.
There are direct flights to Austria from New York, Washington, DC, and Chicago, making it an easy flight for those on the East Coast and in the Midwest. If you're using your honeymoon to tour Europe, you'll find that most European cities offer direct flights and train rides to Austria, so you can easily make it a stop on your trip. Whether you're visiting for 10 days or one, you'll love spending time in this romantic city.
Is Vienna Good for a Honeymoon?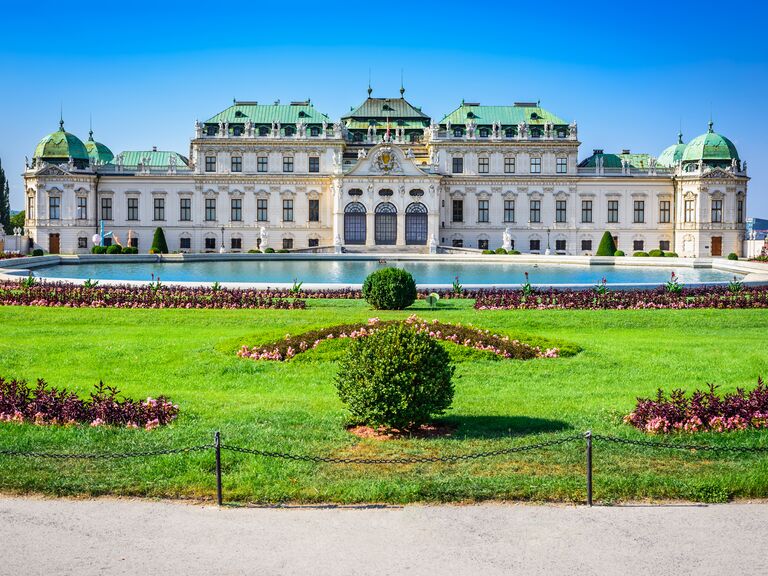 Pros of a Vienna Honeymoon
Vienna combines old-world history with modern luxury, as the city's beautiful and well-maintained architecture lends itself to many upscale hotels and romantic tourist attractions. Because Vienna ranks as the European Union's sixth-largest city, there are plenty of interesting and beautiful attractions, but it does not have the large tourist crowds that you may find in Rome, Paris or London.
You'll also find the Viennese people to be warm, approachable and welcoming. Vienna's excellent public transportation will make it easy for you and your spouse to explore the city and surrounding area without a car or expensive rideshares, and you'll likely find yourselves taking day trips to the ski resorts and vineyards that surround the city.
Cons of a Vienna Honeymoon
While Vienna's public transport is some of the best in the world, keep in mind that the city is rather spread out. You may find yourselves having to walk long distances while sightseeing. As a large and historic city, Vienna can get pricey, so doing research and budgeting before your trip may be necessary.
The Best Time of Year to Go on a Vienna Honeymoon for Good Weather
Vienna gets very cold and snowy in the winter, but stays sunny and moderately warm in the summer. Most couples will enjoy visiting Vienna in the late spring, summer or early fall.
Things to Do During a Vienna Honeymoon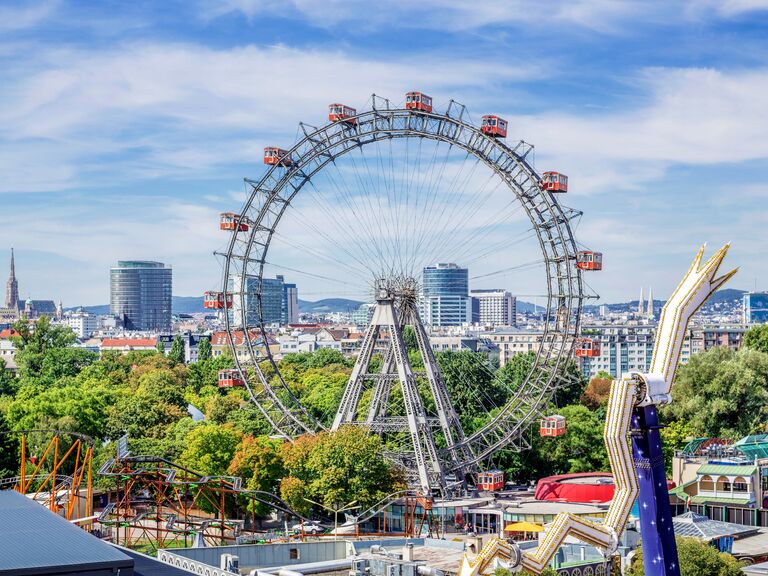 Explore the Imperial Palaces
The Hofburg Imperial Palace is the former home of the Habsburg Monarchy. The palace now includes the Sisi Museum, which features personal items of Empress Elisabeth, Austria's longest-serving empress. You'll also see Imperial Apartments (the main residence area) and the Silver Collection (a collection of cultural artifacts). You can explore this grand palace and museum on your own, follow a guided tour or book a private tour. You can also visit the Schönbrunn Palace, the Habsburg family's summer home in Vienna.
Visit the World's Oldest Zoo
Established by the Habsburgs in 1752, Tiergarten Schoenbrunn is the world's oldest zoo. The zoo features over 700 species, from pandas and elephants to everything in between. People come from all over the world to visit this zoo, which was voted Europe's best zoo in 2008, 2010 and 2012.
See the City From the Donauturm
The Donauturm, also called the Danube Tower, overlooks Vienna and the Danube River, and offers a 360-degree view of the area. You can even turn your visit into a romantic afternoon, as the tower includes both a quaint coffee shop and a delicious restaurant.
Eat Wiener Schnitzel at Local Taverns
A staple Viennese dish, wiener schnitzel is a thin, breaded, pan-fried meat cutlet (though vegetarian recipes exist). You can explore various Viennese restaurants and taste the many different interpretations of this classic dish, or you can learn to make your own.
Ride the Wiener Riesenrad
Located in Prater amusement park, the Wiener Riesenrad is Vienna's giant Ferris wheel. You can ride this Ferris wheel for amazing views of Vienna or book a private cabin for a romantic dinner in the sky.
Visit the Belvedere Palace
The Belvedere is a historic complex that includes two Baroque palaces that have now been converted into an art museum. You can see some of the world's most famous art, including pieces from Van Gogh and Monet, in what is largely considered Europe's most stunning Baroque building.
See Beethoven's House
Beethoven was born in Germany, but he moved to Vienna at 21 and lived there for the rest of his life. The Beethoven Museum takes you through the apartment that Beethoven lived in, and you'll learn about his life, music and personality.
Best Hotels and Resorts in Vienna for a Honeymoon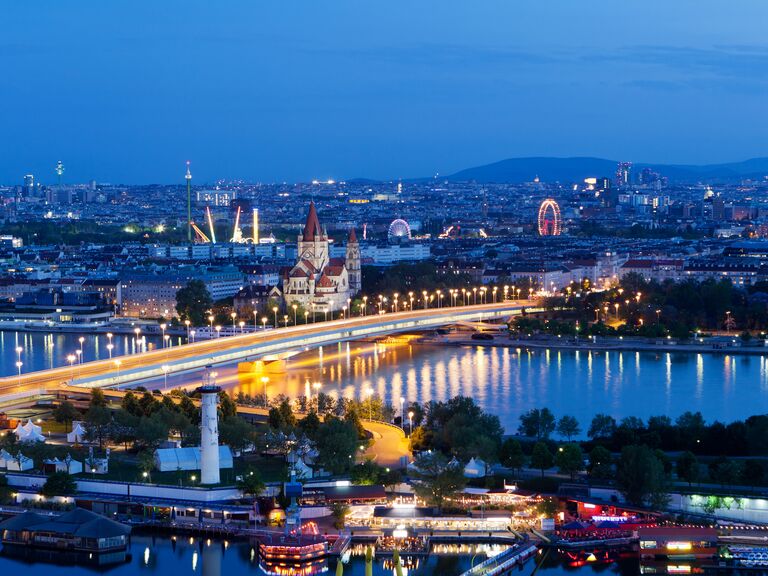 Seeking an authentic Vienna experience? Hotel Bristol's luxurious and historically decorated rooms will make you feel like you're staying in an imperial palace. Plus, you'll have stunning views of the Vienna State Opera House just across the street.
The Ritz-Carlton's iconic and historic presence extends into Austria. This five-star hotel boasts a spa, an indoor pool, four restaurants and bars, and luxurious, modern rooms.
Couples seeking a contemporary or artistic hotel will love Le Méridien Vienna. The rooms feature bold colors and designs, and local bands often play live music at this boutique hotel's restaurant and bar.
Seeking a hotel rooted in history? This five-star hotel opened in 1870 as the first Viennese luxury hotel and was a popular choice for aristocrats and royalty. Today, couples can choose from many different historical rooms and dining options, which range from artistic Japanese cuisine to a classic Austrian lunch outside.
The Hotel Kaiserhof Wien, located just minutes away from the city's center, features superb customer service and free breakfast. You and your spouse will appreciate filling up on a buffet breakfast to help save money on delicious Viennese meals later.
This five-star hotel was originally built as the home of Duke Philipp of Württemberg, but became a hotel for the 1873 World Fair. To date, it remains one of the most well-known hotels in the world. (Don't forget to try the Imperial Torte, the hotel's specialty chocolate and marzipan cake.)
What to Pack for a Vienna Honeymoon
When you visit Vienna, you'll want to pack a few casual outfits for exploring the city, and dressier outfits for enjoying dinners out. Many restaurants have rules against shorts and flip-flops. You'll find that many Viennese people dress "smart casual" day-to-day, meaning blouses, shirts and fitted pants rather than T-shirts or sweatpants.
Bring comfortable walking shoes, as the city is a bit spread out. Even if you're traveling in the summer, you'll want to pack a sweater or jacket, as evenings can become cool. While Vienna is a landlocked city, you may want to bring a swimsuit if your hotel has a pool.