My First Hookup Made Me Hate My Body
What started out as a casual encounter had much deeper consequences.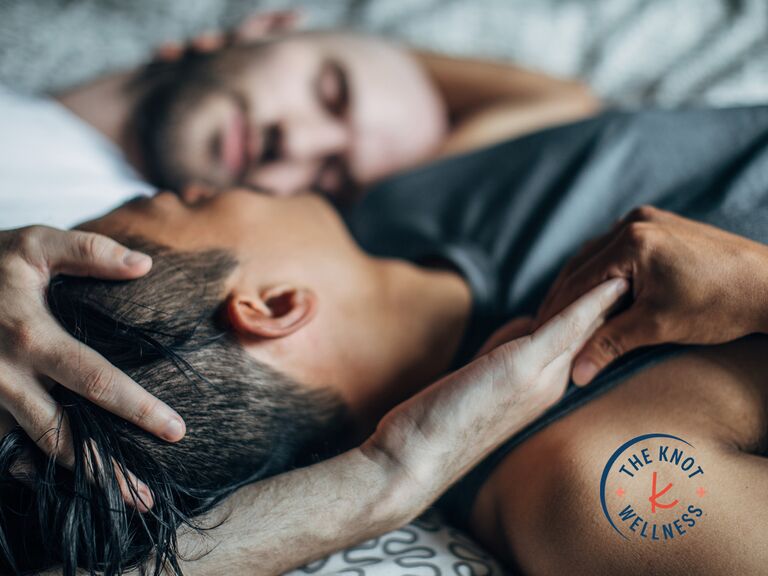 South Agency/Getty Images
I put on a few pounds the first couple of years after I graduated from college. My gradual gut growth coincided with my foray into the murky waters of online dating. After months of flirting with the men I was chatting with, I worked up the courage to meet up with a guy at his apartment. What I perceived to be an innocent hookup had far greater consequences. The encounter resulted in my fractured and turbulent relationship with my body image and self-worth, particularly in the eyes of other gay men.
Getting Physical
He didn't come right out and say, "You're chubby." The look on his face, the lack of interest in his tone and his overall demeanor throughout the entire night spoke volumes. His lack of eye contact made me feel nervous and when he did look at me, I felt like he was sizing me up and judging my appearance—behaviors I've detected as clear red flags after years of dating. At the time, I was a spry, young gay who was thrilled that someone who looked like him could be into someone who looked like me, so I stayed.
I was, and am, always conscious to use updated, albeit flattering, photos of myself on dating apps, so it's not like I catfished him. After we watched some TV, we moved to the bedroom where he no longer had to assume what I looked like without a shirt on. I was thrilled about being intimate with such a gorgeous man.
Afterwards, our conversation shifted from getting to know one another to his desire to ultimately be with someone who took fitness and health as seriously as he did. That was my cue. I rolled over, put on my clothes and shoes, got in my car, and slid my hand down my throat from the tip of my chin down to my neck, searching for any sign of definition I could. I knew I wasn't as fit as I was in my prime, but damn!
From Tubby to Toned
I ignored his terrible personality and reconciled that if I wanted to be with someone that looked like him again, I needed to aspire to look like the gay Adonises I would see on Instagram and TV. It became incredibly clear to me that my personality wasn't enough in the gay dating world, but a six pack, like those I saw on the Grindr photo grid, would help me get a foot in the door almost every time. So, I began waking up at 5:30 AM every morning to drive to the gym and work out for an hour. I meal prepped, ate clean, and substituted my four-night-a-week oven baked pizza diet for one consisting of chicken and veggies.
As the pounds started to shed and my shoulders broadened, I grew intoxicated by compliments about how toned I'd gotten. I was sacrificing time with friends and began defining my entire self worth by how much abdominal fat I could squeeze with my hands, and who I was matching with on dating apps. I was changing so much of myself for the validation of others.
A Perspective Shift
After a while, my schedule prevented me from going to the gym as frequently and I allowed myself more trips to fast food restaurants. Slowly but surely, the pounds started to come back and my love handles returned. I still went on dates, but was hyper-aware of men specifying in their profiles that they were solely into "fit" or "athletic" body types. I would simply avoid those people or swipe left.
When COVID-19 forced us into lockdown, I resolved that my relationship with the gym was done forever. I opted for bike rides with friends and other outdoor activities that kept me off the couch and mobile. One bike ride with a girlfriend gave me the perspective I didn't realize I needed.
As an addiction specialist, she saw her clients begin to relapse on a regular basis. She explained that since in-person human connection and other distractions were, more or less, cut off in an instant, people were suddenly alone. "You know," she said, "what we're seeing now is that people genuinely don't really like themselves and what happens when people have to face that reality." It was like a lightbulb went off. While the pandemic has been a great source of anxiety for me, isolation helped me realize that I am happy being who I am and I genuinely love myself, belly fat and all. I can't equate what I was going through with someone experiencing addiction, the logic still resonated with my ideas of body image and self-perception, and I realized my strength wasn't in how I looked on the outside, but how I felt on the inside.
It became clear that the pressure from the gay community, that so openly places value on looks, is where the roots of my poor body image were planted prior to lockdown. I reflected on dates where I'd lead by apologizing for how I looked. I was putting so much pressure on myself, all because one guy made me feel like crap years ago. Nowadays, when I'm with someone, I joke, "Hope you're not expecting a six pack here, because I like to eat." It's proven to be a great way to set expectations and see if senses of humor mesh well.
Moving Past the Past
Ultimately, a fit lifestyle is obviously a positive one and isn't always overtly rooted in vanity. Fitness activities can be exceptional ways to alleviate anxiety, boost endorphins, build community, or be a source of joy for people. For me, I personally needed to get to the point where I knew I loved myself as I was on the inside no matter what I looked like—full stop. That way, any trip to the gym, spin class or yoga studio would be a positive addition to an already solid foundation of self-worth.
I still see that guy on dating apps to this day. He's still as gorgeous as he was when we met, but I realized that even though I physically transformed myself for his validation, I am much more intrigued by romantic suitors who are looking for more than washboard abs and muscles. Thanks to this journey of self-acceptance and realizing my worth isn't rooted in how I look, but who I am as a person, I'm content with staying as active as I want to be, when I want to be, while still enjoying a full medium pizza every now and then.