A Florida Keys Honeymoon Comes With Stateside Adventure
Bet you didn't know it's a honeymooners' paradise.
Zhukova Valentyna / Shutterstock

We have included third party products to help you navigate and enjoy life's biggest moments. Purchases made through links on this page may earn us a commission.
The Florida Keys is a destination that offers romance, oceanfront views, the feel of the Caribbean and vast adventure. Honeymooners have all types of options, whether they select a luxury resort in Key Largo or a gentle, small-town experience on Islamorada. The Keys is beloved by couples for its vibrant offerings. Home to adorable dolphins, colorful coral reefs, local artists and fun nightlife options, the destination is ideal simply for its sheer number of attractions. Plus, the incredible natural beauty of the string of tropical islands makes a Florida Keys honeymoon ideal for newlyweds.
Couples can fly directly into Key West from most places in the US. Nonstop flights are more likely available if you're heading straight to Miami, an option for couples who find the 170-mile drive to Key West, which includes 113 miles on the stunning Overseas Highway, more than worthwhile. Flights to Key West or Miami take about three-and-a-half hours from New York and about five to six hours from Los Angeles. Midwesterners and Southerners can reach Miami or Key West in two to three hours.
Are the Florida Keys Good for a Honeymoon?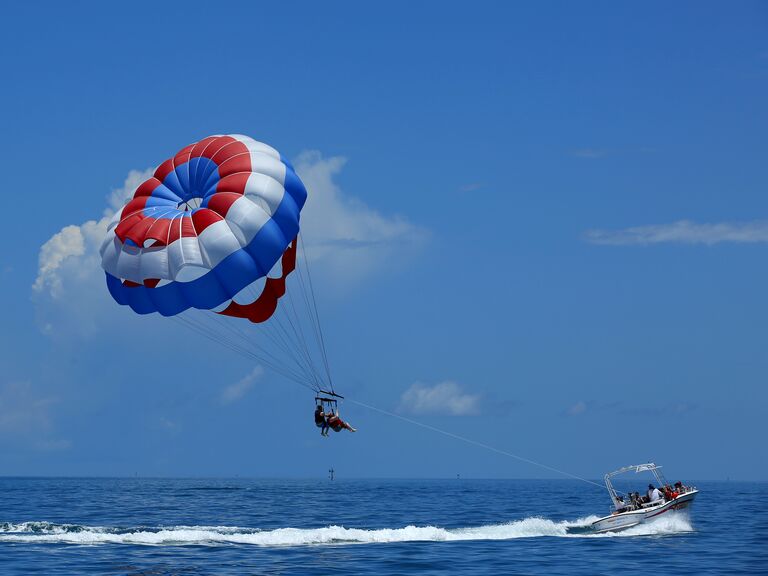 Pros of a Florida Keys Honeymoon
Couples will enjoy the convenience of staying in the US (without the hassle of currency exchanges or the challenges of language barriers). The Florida Keys offers a variety of resorts and quaint hotels. There's also plenty of natural adventure for couples, making it simple to plan day trips. Considering all of the popular attractions and hideaways, honeymooners can take advantage of all-inclusive resort deals and adorable B&Bs.
Cons of a Florida Keys Honeymoon
There are parts of the Florida Keys that might be a bit too family-friendly and bustling, or just too party-centric. For those who want that relaxing and rejuvenating experience, a destination like Maui might be a better bet. On the other hand, if you also like city exploration and a large variety of landscapes, then perhaps parts of Europe or Mexico might suit your adventure needs.
The Best Times of Year to Go on a Florida Keys Honeymoon for Good Weather
Peak tourist season in the Florida Keys is from mid-December to April, and August tends to be slow regarding tourists, but it's also hotter than usual. April to June and November to mid-December are ideal for a combination of lesser crowds and low chances of a hurricane.
Places to Visit in the Florida Keys for a Honeymoon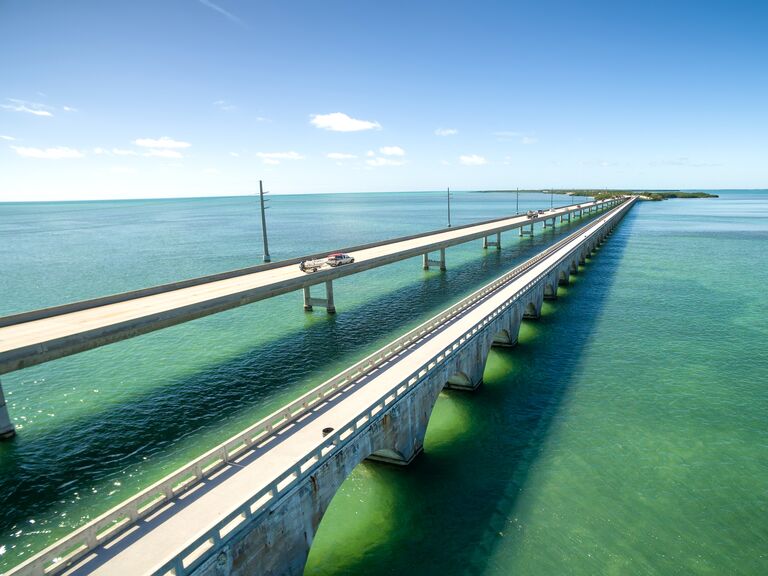 Key Largo
Key Largo is an island and city about 70 miles southwest of Miami. It's home to several national parks and the Dolphins Plus Marine Mammal Responder (DPMMR), where you can go swimming with these friendly aquatic animals. There's also a plethora of other activities, including grabbing a slice at the Blonde Giraffe Key Lime Pie Factory, taking the African Queen canal cruise and snorkeling, scuba diving, and other watersports. There are also adorable boutique hotels, seaside cottages and larger luxury resorts on the island.
Islamorada
Islamorada is a village comprised of six islands between Miami and Key West. It's known for small-town ambiance with activities like fishing and enjoying fresh seafood. There's also lush greenery and deep blue waters. Quiet beaches run along the islands, should you prefer the pristine nature of the local spot.
Marathon
Southwest of Islamorada is Marathon, a city of 13 islands where you can walk the Seven Mile Bridge. Other activities include swimming with dolphins, diving into coral reefs, and taking in its breathtaking collections of beaches.
Key West
Key West, the famed "Southernmost Point" of the US, has some of the clearest waters in the Gulf of Mexico. You can take in the breathtaking sunset at Mallory Square, visit Dry Tortugas National Park, and explore Ernest Hemingway's mansion. Key West is also home to Old Town's Duval Street, a famed strip with local pubs, restaurants, art galleries and shops.
Things to Do During a Florida Keys Honeymoon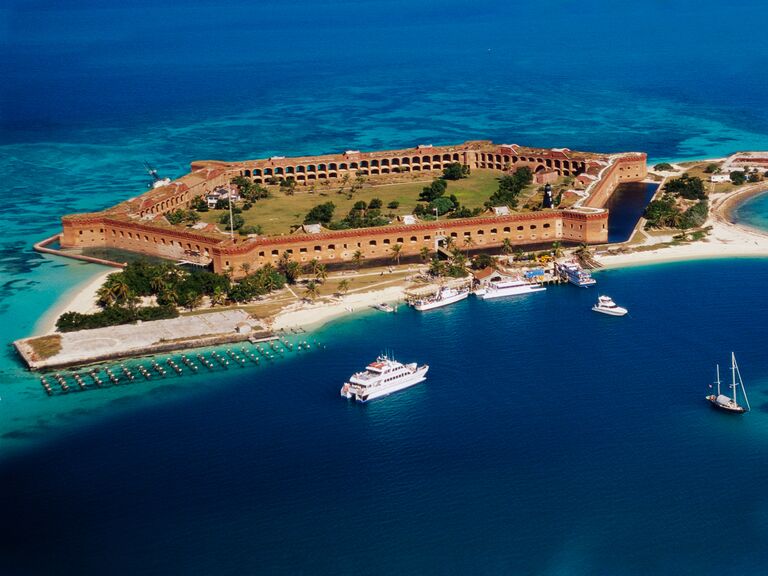 State and National Parks, Key Largo
John Pennekamp Coral Reef State Park rests amid the tranquil waters of Key Largo. It boasts 70 square miles of mangrove swamps and coral reefs, the latter of which you can see through a glass-bottomed boat. Key Largo also offers the largest subtropical forest in the US with Everglades National Park. The Crocodile Lake National Wildlife Refuge is another park for those who want to live on the wild side.
Bahia Honda State Park, Big Pine Key
Bahia Honda State Park has some of the most renowned beaches in Key West. There's also plenty of flora and fauna to discover locally, including marine birds, tropical fish, dolphins and sea turtles. You can go fishing, kayaking, and camping; stargazing is another popular activity. The trail to the historic Old Bahia Honda Bridge, which was built for trains in the early 1900s, is another attraction.
Dry Tortugas National Park, Key West
This 100-square-mile wonder boasts waters prime for snorkeling and scuba diving. The park includes campsites, hiking, and bird watching. Couples can enjoy its beautiful beaches and even take a history lesson. It's home to a Civil War fort that once imprisoned Dr. Samuel Mudd, who assisted John Wilkes Booth after the Lincoln assassination.
Old Town, Key West
The old town is home to Duval Street, which you can tour through on a trolley or join a pub crawl for some extra fun. Notable destinations on Duval Street include Kermit's Key West Key Lime Pie Shoppe, which serves Food Networks' favorite key lime pie, and Turtle Kraals, where you can catch a turtle race in between courses on an oceanfront dining deck. There are also notable art galleries, including the marine-life works of Savlen and the modern Effusion, and some great nightclubs and local bars.
Old Town Key West's Mallory Square throws the nightly sunset festival, where street performers walk on stilts, breathe fire and play instruments, as sailboats float across the horizon to join in the celebration.
Southernmost Point, Key West
Key West's southernmost location is celebrated by an anchored buoy marked with the tagline "90 miles to Cuba." It's a great stop for taking pictures for those back home. There's also a butterfly conservatory, some great Cuban cafes, and art galleries nearby.
Best Hotels and Resorts in the Florida Keys for a Honeymoon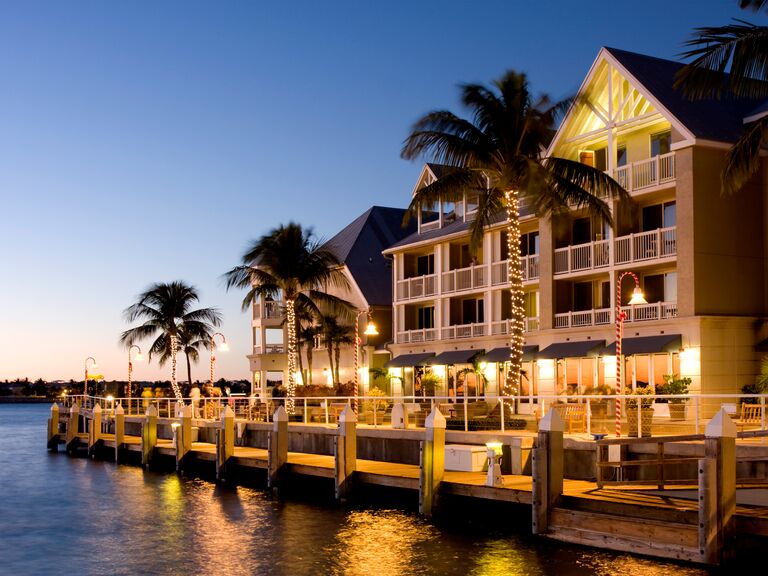 Cheeca Lodge & Spa, Islamorada
Known as the "Queen of the Florida Keys" for its notable guests, including some presidents, Cheeca Lodge emphasizes barefoot elegance. You'll feel like a Kennedy as you stroll through its green lawns and open courtyards. Couples will enjoy dining in the plush chairs at Leonardo's and other restaurants. Its proximity to clear ocean waters makes Cheeca ideal for keeping yourself entertained.
The Mermaid & The Alligator, Key West
This Victorian home provides a tranquil B&B experience in Old Town, Key West, right across from the Hemingway mansion. Offerings include on-call couple's massages, a heated pool, verandas to relax in, and romance packages with champagne and chocolate. The concierge will help you with all that Key West has to offer.
Parrot Key Hotel & Villas, Key West
Parrot Key's iconic, 20th-Century white facade is surrounded by lush tropical flora. The property juts out along the Atlantic. Guests will find quiet gardens, lounge spaces and watersports, like paddleboarding and jetskiing, on the property.
Ocean Key Resort & Spa, Key West
This resort on Duval Street offers some of the best ocean views, along with a colorful and balanced aesthetic. There's a large dock for romantically lit oceanfront dining, beachfront rooms with soaring seascapes and a luxurious spa. Honeymooners can enjoy a romance deal, which involves an oceanfront room, spa treatments and dining credits.
Little Palm Island Resort & Spa, Little Torch Key
This private island resort, which is accessible via seaplane, doesn't offer televisions or telephones in its rooms. You'll feel like Hollywood royalty as you stroll through Little Palm's lush tropical gardens or dine beachside under tiki torches. Honeymooners will enjoy evening cocktails on deep green mid-century couches under banana leaves. The property's idyllic spa includes a romance package with a couple's massage, and there's also plenty of adventure.
What to Pack for a Florida Keys Honeymoon
In addition to reef-safe sunscreen, you'll also want to pack water shoes and walking shoes, a light sweater or windbreaker, aspirin for any motion sickness, and long sleeves and pants to prevent sunburn. Depending on your stay, the Florida Keys is a dressier spot for evening dinners, so bring the pretty sundresses and espadrilles too.