Florida Keys Honeymoon: Weather and Travel Guide
by The Knot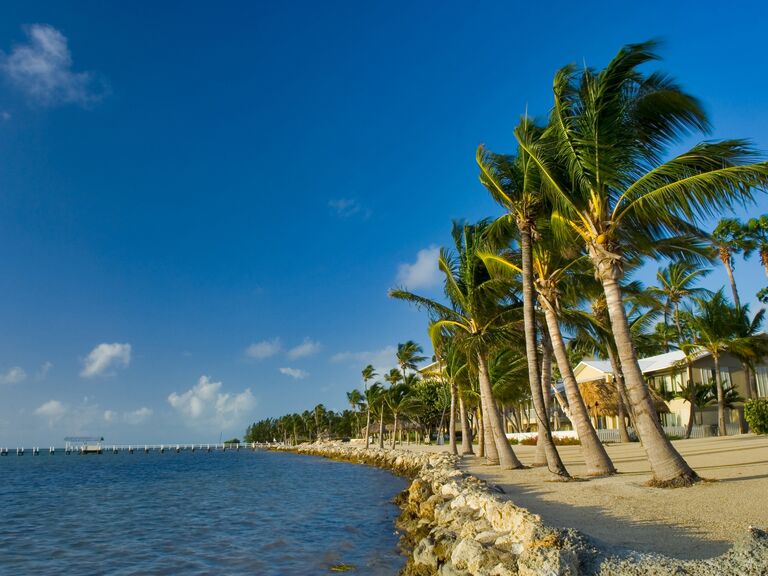 A true paradise, the Florida Keys provide mainlanders with a taste of the tropics in a locale that's easy to reach, even by car. The crystal-blue waters of the Atlantic Ocean and the Gulf of Mexico surround this 120-mile island chain, which includes Key Largo, Islamorada, Marathon, Big Pine and the Lower Keys, and Key West. Adventure-seeking couples and beach bums alike can enjoy a vacation in the Keys, home to some of America's most beautiful beaches and thriving marine life.

Before You Go: Need-to-know info
Language: English
Flight time: 5 hours from New York City (with stops); 9 hours from LA
Getting around: Bus, car, taxi, boat and ferry

When to Go: The Keys at their best
Best Weather: Winter, although temperatures hover between 73 and 85 degrees Fahrenheit year-round.
Best prices: June to September (warning: this is hurricane season, so you might want to splurge for travel insurance)

What to Do:
Mother Nature: Just north of Key West are the Lower Keys, a natural bonanza that include the Bahia Honda State Park (home to one of America's most beautiful beaches), Looe Key National Marine Sanctuary, and the National Key Deer and Great White Heron Wildlife Refuges. The star of this area is the adorable Key Deer (a smaller and fuzzier version of mainland deer) that can swim between islands to forage for food.
Swim with dolphins: Multiple facilities offer the chance to swim with dolphins, including the Dolphin Research Center on Grassy Key; Dolphin Connection on Duck Key at Hawk's Cay Resort; Dolphins Plus on Key Largo; and Islamorada's Theater of the Sea, a family-owned version of Sea World that also offers sea lion and stingray swim programs.
Islamorada: The name of this group of islands, which means "purple isles," was inspired by the violet sea snail and purple bougainvilleas in the area. It's a mecca for sport fishing, but landlubbers will love the local art galleries and kitschy '50s-style pastel roadside bungalows.
Fishing: Thanks to the convergence of several different bodies of water, the Keys offer a diverse and abundant supply of fish, resulting in the highest number of world-record-breaking catches on Earth (fish stocks are maintained by conservation measures such as catch-and-release fishing and size and bag limits). Three main types of fishing are available: offshore (sailfish in winter and dolphin fish -- the actual fish, not the mammal -- in summer); shallow or flats (tarpon from April to June, bonefish from spring through fall); and angling (snapper and grouper year-round).
Scuba diving and snorkeling: Highlights on Key Largo, the largest Key, include John Pennekamp Coral Reef State Park and Key Largo National Marine Sanctuary, home to 80 types of coral, more than 6,000 species of marine life and a nine-foot bronze Christ of the Deep statue. Scuba dive, snorkel or snuba dive (a hybrid of the two) for face-to-face encounters. Marathon is a scuba diver and snorkeler's paradise, with access to North America's only living coral barrier reef.
Key West: Closer to Cuba than Miami, this tiny island (only about eight square miles) has long been a haven for writers -- including Ernest Hemingway, Tennessee Williams and Robert Frost -- artists, treasure hunters and fun seekers. Its mix of creative and eccentric characters and the carefree attitude of natives, who live year-round on Key West (the southernmost point in the continental United States), make the self-titled "Conch Republic" anything but your average island getaway.