Why Financial Guilt is the Most Taxing Wedding Expense
I succumbed to the pressure of the price tag so you don't have to.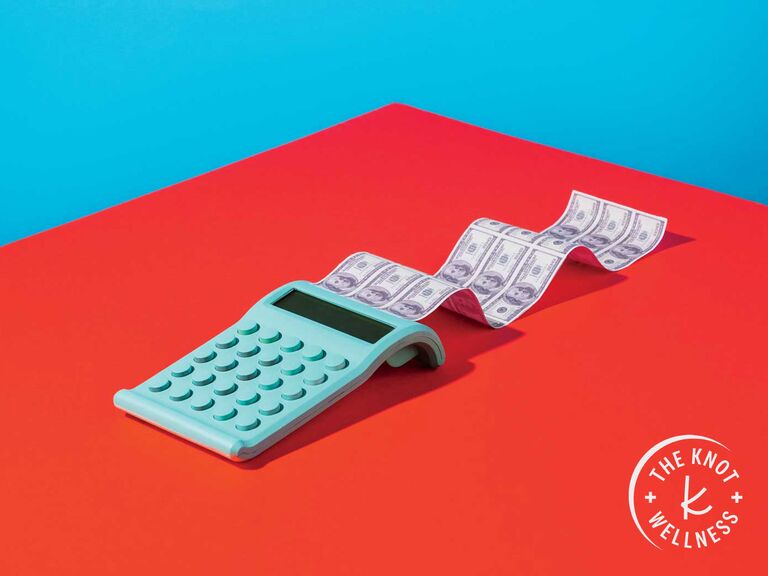 Stocksy
In 2015, I walked into a department store searching for a wedding dress. I found a simple, cream-colored floor-length dress for $99; it wasn't what I wanted, but it was the cheapest. So I purchased it—the tax of wedding guilt included. First was the dress, next it was the hair, then the flowers, and lastly, the food. I talked myself out of having the wedding I truly wanted in exchange for less expensive and free options, all for the sake of "saving money."
I couldn't fathom spending thousands of dollars on a wedding when I believed the money could be spent on more important things. But what's more important than one of the happiest, most exciting moments of your life? Why did I feel the need to convince myself that there was? The answer: wedding budget stress. I spent less than a few weeks planning my "budget-friendly" wedding, which may have cost less than $600. I've also carried around the guilt and regret of not having the expensive wedding I wanted. There is a different type of wedding guilt that exists, the one where you plan to have the expensive wedding of your dreams, but you regret and feel a ton of shame for wanting to spend so much money.
Sometimes, cheaper is expensive. If you aren't paying cash for something, you're probably going to pay for it in some other way, like guilt. That $99 dress was just the beginning of my attempt to save money on things for my wedding, which only ended up costing me psychologically. Weddings are back in full effect, and nearly 2.6 million couples will host weddings this year. With the price of everything increasing, couples feel pressure to curb their spending by hosting low-cost weddings or encounter the pre or post-wedding guilt and shame many feel after having an expensive wedding.
Find your kind of venue
From barns to ballrooms, discover reception venues that feel like you.
What Is Causing Wedding Guilt in 2022?
Yes, inflation is happening and there's been a swift increase in the cost of everyday items, along with essentials like food, vehicles, housing and gas. Usually, this would signal a growing economy, but not when the average income decreases or tapers out. Everything has a domino effect because of the financial impact of the global pandemic; it has caused the prices of almost everything to surge. The surge in prices has caused corporations to cut costs resulting in a labor shortage.
With so much happening in the world, it's normal to feel guilty about having an expensive wedding or celebrating while many others have had to cancel or postpone their weddings. You know that gut feeling that you can't ignore with a mixture of shame and regret about spending money to cover the costs associated with your wedding or simply feeling bad for moving forward with your ceremonial plans–that's wedding guilt.
How to Address Wedding Guilt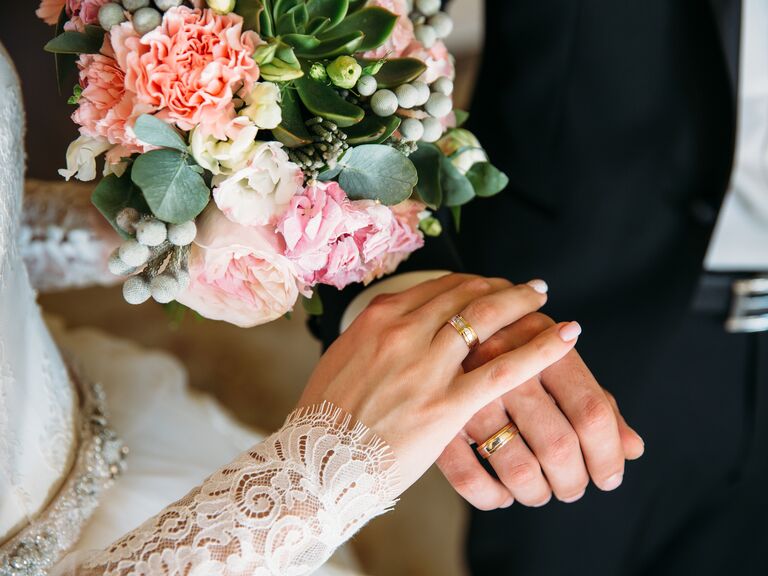 The truth is, your family and friends are probably looking for a reason to celebrate your love. The tricky thing about guilt is that we usually put more pressure on ourselves than what's necessary. Here are ways to free yourself of this feeling.
Change your perspective.
If wedding guilt is consuming your life, you need to reassess who and what you are taking the blame for. In spending money to celebrate your love and union with your partner, you're also supporting how other people have chosen to make a living. The more money you spend on your wedding is an investment in local and small businesses. Freelance artists who create your wedding invitations, the local chef who caters your reception or the pastry chef who designs your wedding cake can all make up for a loss in revenue from the loss they've had as a result of the last two years.
Be honest with yourself.
If the wedding you want is expensive, but it's the wedding that'll make you and your partner happy, can you really put a price on that? Sure, stay within a reasonable budget and have those discussions with your wedding vendors. And once you explain your feelings and talk through some options, take control: Act on your decision to cut costs or actively decide not to feel guilty. A wedding is one of the few occasions where spending equates to a once-in-a-lifetime experience. If you value that experience over material things, then it's worth the cost.
Consider what you've sacrificed.
Like any other significant expense that we have in our life, it takes time, preparation and plenty of sacrifices to save money to cover a large purchase. Maybe you wanted a newer car but settled to hold on to your current one for a bit longer, or perhaps you passed on your annual vacation. Some couples may have even remodeled their bathroom over hiring a contractor in order to preserve savings for the wedding experience. When you look back on what you've prioritized, that wedding guilt diminishes over time.
Know that you're deserving of a beautiful wedding.
It's easy to think "less is more" across all aspects in life. Often, we're so inclined to this train of thought that we forget we're deserving of beautiful experiences. Even if it costs a pretty penny, there's no need to feel guilty about celebrating you and your love. Of course, it's worth keeping a budget and finding ways to save on non-necessities. (Remember to sit down with your partner and talk through your must-haves and nice-to-haves.) Still, it's OK to throw the wedding of your dreams–and to spend where it matters. Because prioritizing your wants, what you can fix and what you should just forget about will make the days from now until your wedding night run much more smoothly. You won't regret that.