An Unforgettable Grand Canyon Honeymoon With Gorgeous Views and Adventure
Start your new life surrounded by Arizona's breathtaking natural beauty.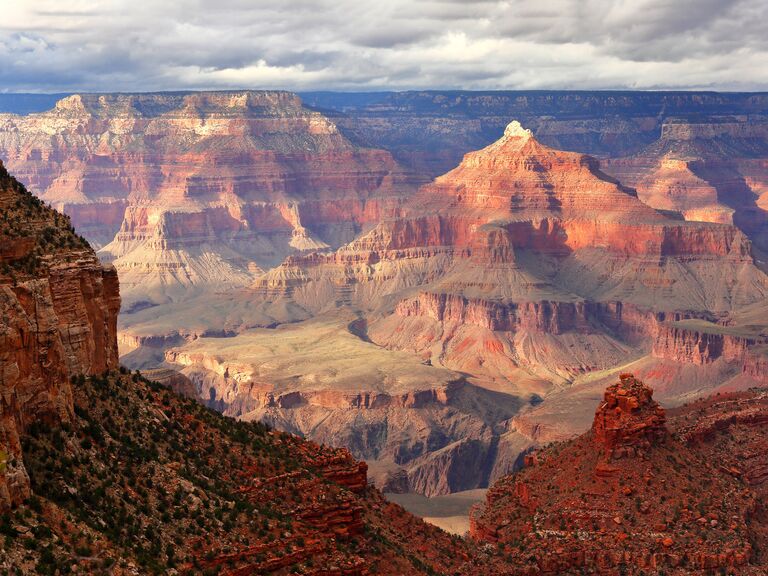 Kazuki Yamakawa / Shutterstock
We have included third party products to help you navigate and enjoy life's biggest moments. Purchases made through links on this page may earn us a commission.
A Grand Canyon honeymoon allows newlyweds to share a once-in-a-lifetime, awe-inspiring adventure. The sprawling red rock canyon spans 277 miles, is 6,093 feet deep and holds millions of years of geological history.
Sightseeing at a place with otherworldly natural beauty is just one of the many reasons why the Grand Canyon makes for a romantic getaway. There are plenty of opportunities for fun day trips, like horseback riding and rafting in the Colorado River. Grand Canyon lodges and hotels allow you to unwind without losing sight of the beautiful geological wonder when the sun sets.
Ready for adventure? Here's everything you need to know.
Is the Grand Canyon Good for a Honeymoon?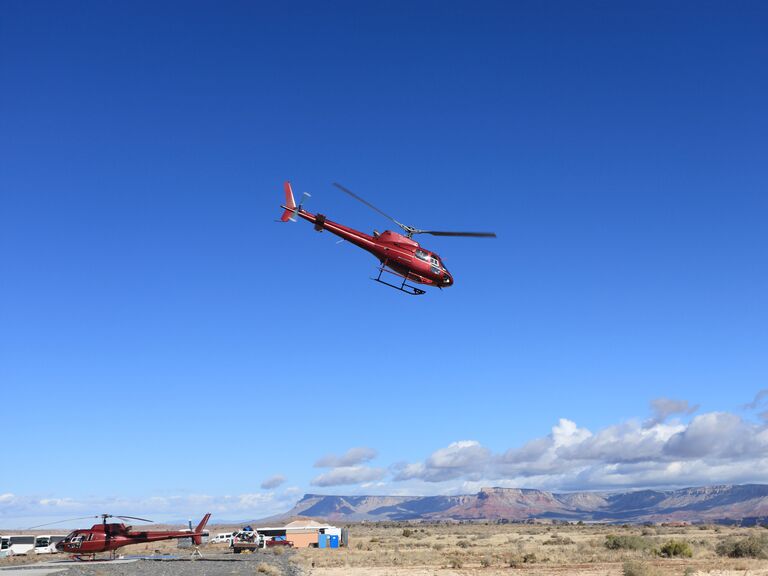 The trip to Arizona is fairly straightforward for Californians and others on the West Coast. It's about two hours by plane from San Francisco to the airport in Flagstaff, Arizona. Couples flying from Houston will spend about three hours in the air. Those from the Northeast will have a longer trek—about five hours by plane, sometimes with a layover. People coming from Utah or the Las Vegas area are so close they often drive.
Pros of a Grand Canyon Honeymoon
The Grand Canyon is perfect for honeymooners who want to do plenty of al fresco sightseeing. There's a ton to do outside, from standing in awe of the Grand Canyon's South Rim to walking along Bright Angel Trail. There are numerous hotels in the area, or you can look into vacation rentals with Airbnb and Vrbo for a one-of-a-kind experience. Honeymooners with time to spare can also visit other areas of Arizona like Sedona and Phoenix.
Cons of a Grand Canyon Honeymoon
As gorgeous as the Grand Canyon is, the trip is not for every couple. The canyon is a bucket-list vacation for many people, so it can get crowded. You'll be spending a good bit of time outside, but it's definitely not a beach vacation.
The Grand Canyon area also isn't known for its lively nightlife scene. If you're looking for that on your honeymoon, you might consider going to Las Vegas instead and taking a helicopter tour or hot air balloon ride over the canyon. (The West Rim of the Grand Canyon is about 130 miles from the Las Vegas Strip.)
The Best Times of Year to Go on a Grand Canyon Honeymoon for Good Weather
Arizona summers are scorching—think 100+ temperatures from June through September, and July and August can be rainy. Temperatures are milder (and rainfall is lower) in the spring. The best time to see the Grand Canyon is from April to early June.
Things to Do During a Grand Canyon Honeymoon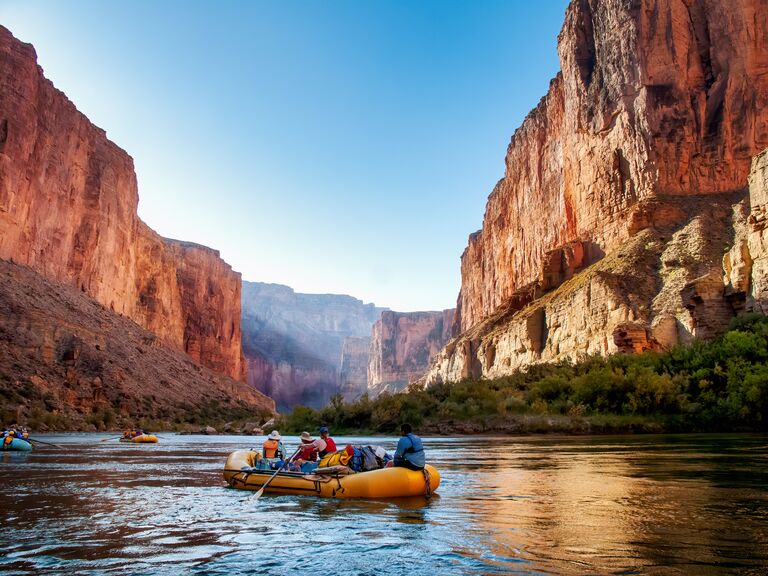 Once you're in the area, the main attraction isn't hard to find. But knowing the nuances of the honeymoon destination will help you make the most out of your time there.
Hike the South Rim
The Grand Canyon South Rim is the most developed area of the expansive national park. Yavapai Observation Station provides panoramic views of the Grand Canyon and an unobstructed look at the Colorado River. While on the South Rim, honeymooners can experience one of the canyon's most famous hiking trails: Bright Angel Trail. It's considered a relatively easy walk and boasts shady areas. The South Kaibab Trail is ideal for more experienced hikers. The historic Mary Colter's Hopi House is also worth seeking out.
Take in Beautiful North Rim Views
For a little more elbow room, head to the North Rim. It's harder to access and only open from mid-May to mid-October. To get there, you'll have to hop on the Trans Canyon Shuttle (which only runs once per day) or drive. It's complicated, but those who've been there before swear it's worth it for the beautiful views and sense of serenity.
Go on a Rafting Adventure
Honeymooners often enjoy the canyon from above, but it's just as beautiful from below. Couples can take guided rafting adventures on the Colorado River. The rafting trips are equal parts thrilling and serene, and you'll work with each other and a small group to navigate the waters. All the while, the guide can clue you in to the history of the river and the Grand Canyon.
Visit Sedona
Located about two hours from Grand Canyon National Park, Sedona is a worthwhile day trip. Couples can gain a different perspective of the Grand Canyon by taking a helicopter tour over it. And if you haven't seen enough red rock during your time at the canyon, you're in luck: Sedona is home to Red Rock State Park, a 286-acre nature preserve with meadows, creeks and plentiful wildlife.
Best Hotels and Resorts in the Grand Canyon for a Honeymoon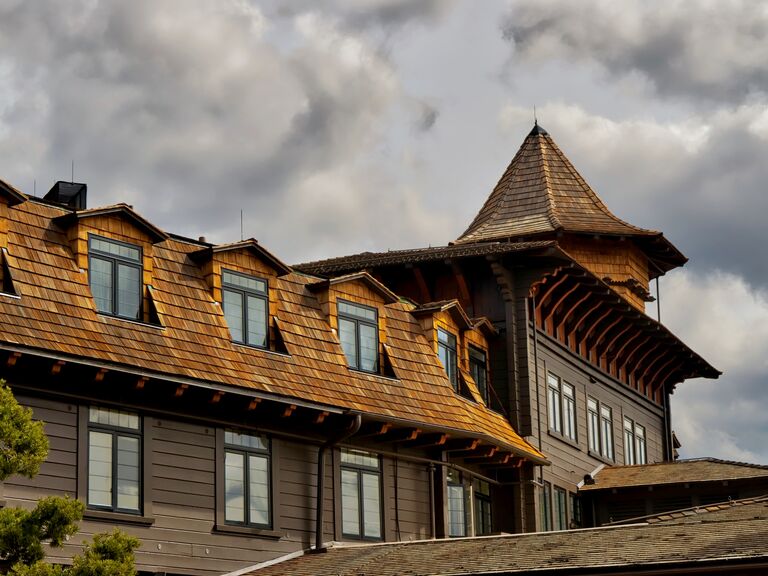 El Tovar Hotel was built using Oregon pine and local limestone in 1905. Theodore Roosevelt, Albert Einstein, Oprah Winfrey and Sir Paul McCartney are some of the famous names who've stayed there during their time at the Grand Canyon. Now considered a National Historic Landmark, the hotel has a gift shop, full bell service from check-in to departure, and cozy beds. You'll find it on the rim of the canyon, and a 14-minute walk from Grand Canyon Village.
Phantom Ranch is in the bottom of the canyon. Getting there is a bit of an adventure—it's only accessible by raft, mule or on foot. Once you've checked in, Phantom Ranch provides guests with a unique experience ideal for couples who enjoy camping and being outdoors. Cabins fit two to 10 people and have a shared bathroom and shower. The ranch provides bedding and towels.
Located in Flagstaff, Little America Hotel is a 10-minute drive from Grand Canyon National Park. The decor is warm and inspired by the area's history and natural beauty. And the accommodations are comfortable and refined, with goose-down bedding and spacious bathrooms. Guests also gain access to a hotel pool, hot tub and an expansive 500-acre private forest.
Grand Canyon Lodge is the only lodging you'll find on the North Rim inside Grand Canyon National Park. The scenic spot offers rustic cabins and rooms. Guests can fill up in the lodge's dining room, then take a mule ride and hop on a free shuttle to the Kaibab Trailhead. Like the rest of the North Rim, Grand Canyon Lodge is only open from mid-May through mid-October.
Grand Canyon Western Ranch leans heavily into a cowboy-style experience. The decor feels straight out of the Wild West—think wagon wheels and horse saddles—and live musicians are almost always donning cowboy hats. The ranch hosts nightly campfires, has a live rodeo arena, and offers horseback riding excursions and helicopter tours. As for the accommodations, guests can choose between luxe glamping tents and pine cabins with claw tubs.
Located in Tusayan, the Grand Hotel at the Grand Canyon has rustic-meets-modern decor, like wooden furnishings and plush luxury mattresses. Honeymooners can book mule and horseback riding trips, helicopter tours and tandem skydiving adventures through the hotel.
What to Pack for a Grand Canyon Honeymoon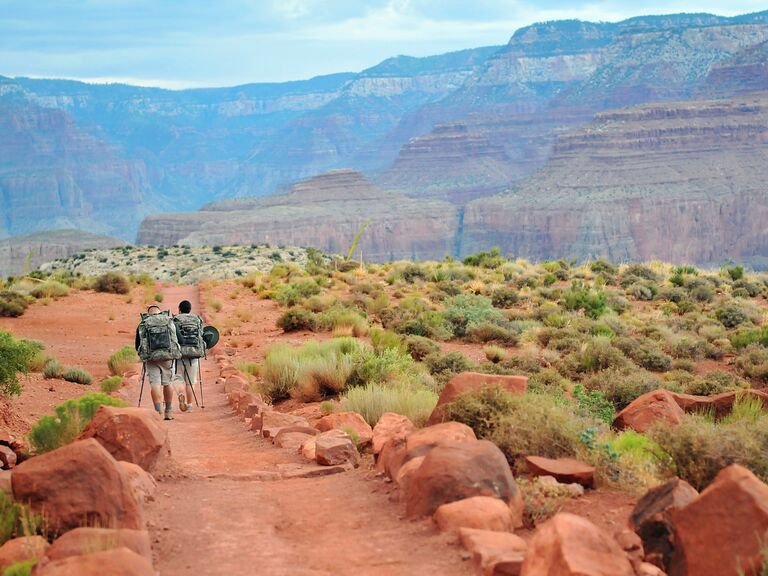 Arizona temperatures can go up and down, so you'll want to come prepared for warmer or cooler weather. Pick casual, hiking-ready clothes you can layer, like T-shirts, pants and sweatshirts.
Hydration is key when you hike—bring a reusable water bottle. You'll also want to prepare for rain or shine with a waterproof coat, sunglasses, sunscreen and a hat. A backpack to stash all your layers in will also help.
If you plan on having some upscale dinners at resorts, bring collared shirts, slacks and sleek-but-not-too-formal dresses. Some nice restaurants call for more casual attire, like nice denim and a cute top or polo. Bathing suits are a must if you plan to take a dip in the hotel pool or hot tub.