24 Honeymoon Destinations You've Never Thought Of
Okay, you've definitely heard of these places -- but we're willing to bet you don't know many couples that have honeymooned in them. Be the first! These are serious hidden honeymoon gems.
Sapa, Vietnam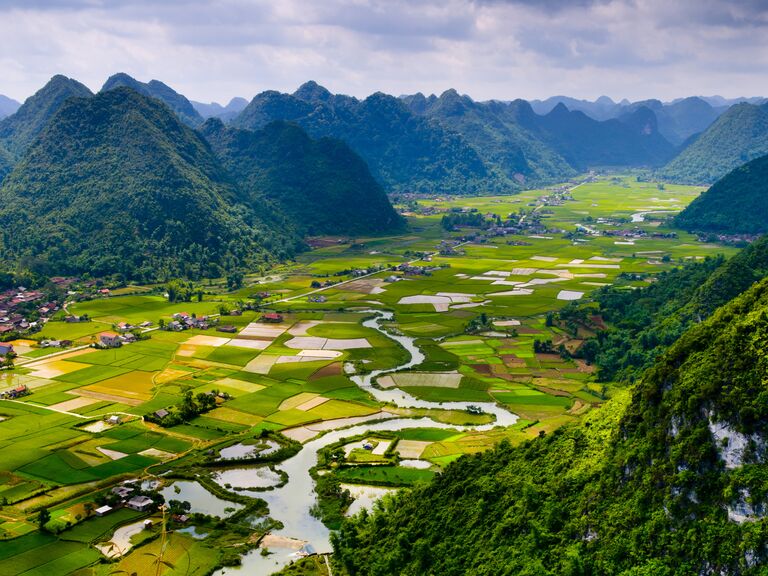 Terraced fields and the forest-like Hoang Lien Son Mountains surround this ethnically diverse town, putting you in the middle of the culture sans the city bustle.
What to Do: Ask your hotel to arrange for a Jeep to take you from Sapa to the Bac Ha Market on a Sunday morning, when trade is at its peak. It's about a three-hour drive to get there, but the trek is well worth it if you want to mingle with members of local tribes. Also have a car take you to Hoang Lien National Park, where a guide can take you to "Heaven's Gate" or the Silver Waterfall.
Good to Know: The market is all about bargaining; you should be able to haggle your way down to about half of the original price.
Quebec, Canada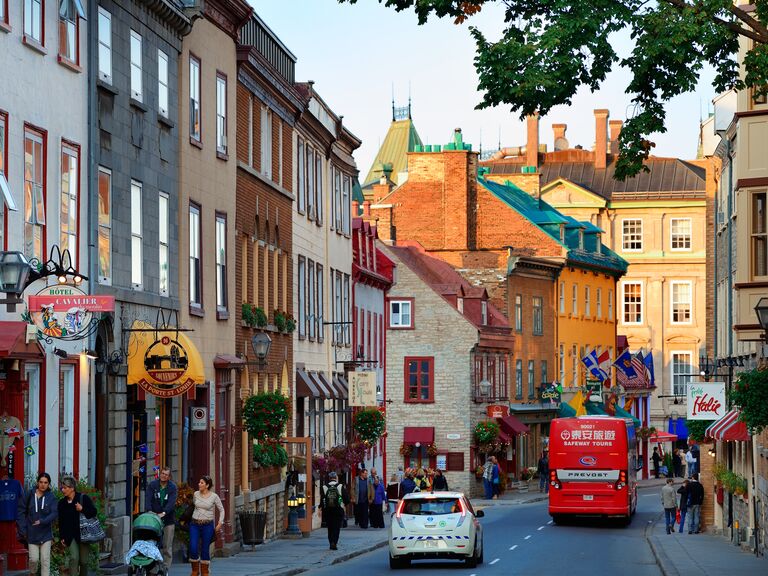 Feel like you flew to Europe (in less time, for less money) in this French-speaking region known for its powder-packed trails.
What to Do: From December to April, ski at the world-famous Mont-Tremblant. There are 95 runs to keep you busy all week, plus a snowboard park if you're looking to get some air (Tremblant.ca). Feeling lucky? Take the gondola that runs between the Versant Soleil and the Versant Sud to the resort's casino, where you can play the tables, lounge at the bar and catch live shows (CasinosDuQuebec.com).
Carefree, Arizona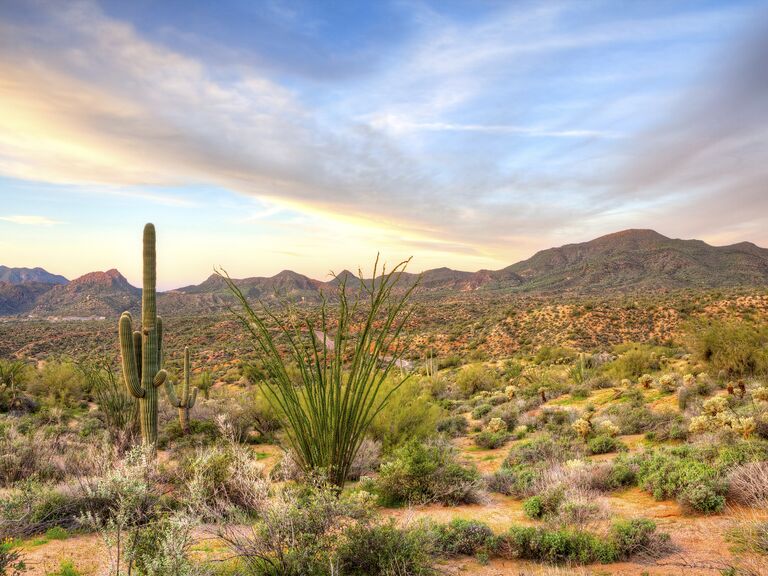 The name just about says it all: You won't have a care in the world (except maybe your golf score) at this super-secluded spot in the Sonoran Desert.
What to Do: Rock climbing, mountain biking, horseback riding and even guided astronomy tours are all available through The Boulders resort. Of course, you can't leave without trying a few treatments at the on-site Waldorf Astoria spa. Day packages are pricey (starting at $385) but worth it after 18 holes at one of the area's scenic golf courses.
Good to Know: The cool city of Scottsdale is about 40 minutes away if you're looking to step out of serenity for a night and hit the bars.
Woodstock, Vermont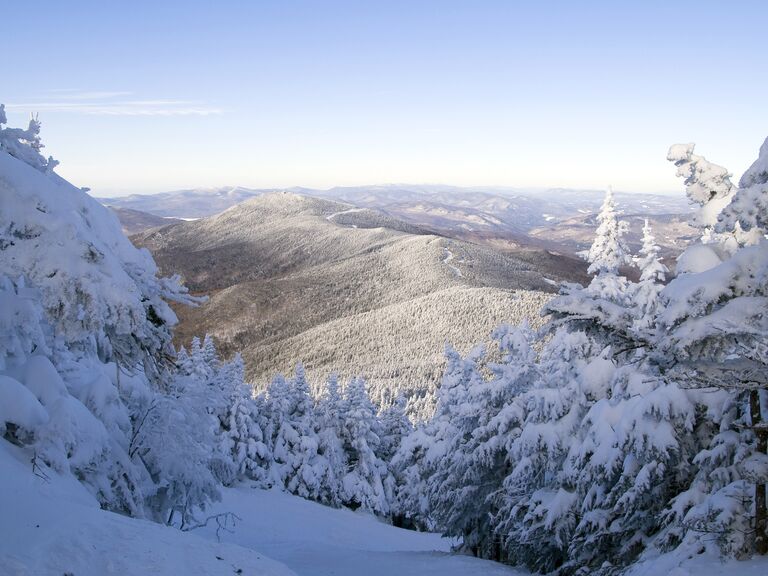 This isn't your parents' Woodstock (that actually didn't even take place in Woodstock...or Vermont!). Think more along the lines of a quaint inn, top-rated ski resorts and delicious cuisine (good-bye, wedding diet!).
What to Do: Head to Killington Resort to go skiing, snowboarding, ice climbing, snowshoeing and more between November and April. Rentals are available on the mountain if you don't own your own gear (Killington.com). After a day in the snow, get a hot-stone massage at Woodstock Inn & Resort's spa. You won't need to go far for dinner -- the inn's The Red Rooster restaurant is steps away.
Good to Know: If you're flying in, rent a car. The ski resorts are about a half-hour drive from the inn, and there's no shuttle.
Islamorada, Florida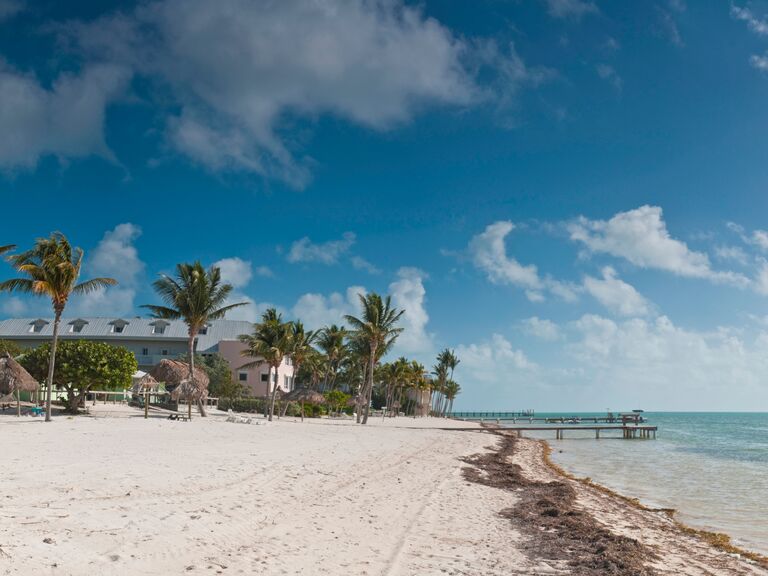 You get the feel of the Caribbean without leaving the States, including pale-blue water that teeters at 70 degrees in cooler months and around 80 degrees in summer.
What to do: Exchange flirty glances while getting a couple's massage in an oceanfront tiki hut at the spa at Cheeca Lodge. Then put those muscles to work on the resort's nine-hole golf course designed by golf pro Jack Nicklaus (or get competitive at night on one of the six lit tennis courts). End the evening with a romantic dinner at one of The Beach Café at Morada Bay's ocean-side tables.
Good to know: Crowds are at their peak from mid-December to early April, so make hotel and restaurant reservations at least a month beforehand if you're traveling then.
Dubai, United Arab Emirates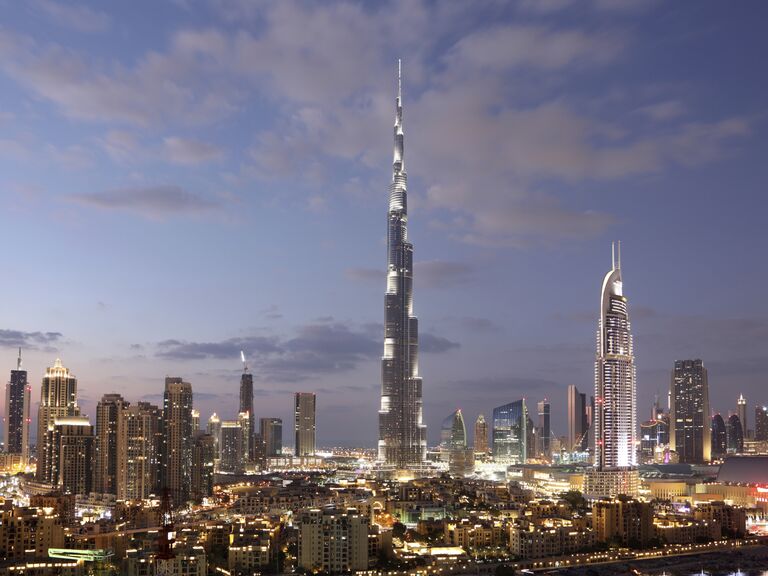 It's hard not to soak up the sexy vibe at this locale full of mystique, romance and history. The long plane ride (it's about 16 hours from New York City) is so worth it.
What to Do: For a meal outside of your hotel's posh restaurant options, drive or cab it to Al Dhiyafah, where you'll find cheap but delicious street food (try kibbe, a tasty minced-meat patty).
Good to Know: While Dubai is a modern city, it's still Islamic, meaning that even though this is your honeymoon, kissing or other displays of affection in public can warrent arrest. Bathing suits, revealing attire and alcohol are all limited to hotels only.
St. Anton, Austria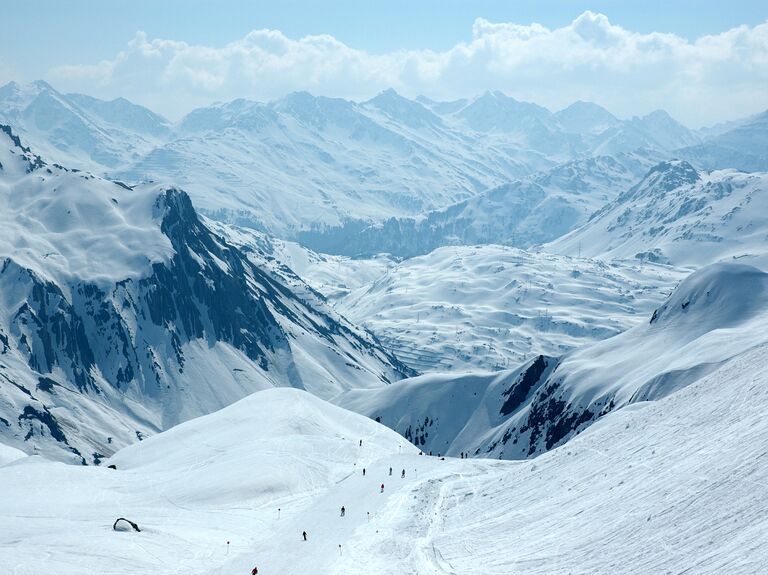 Not only is St. Anton home to some of the best skiing in the Alps, it's also a party town -- meaning you'll have lots of options for throwing back drinks after skiing.
What to Do: Buy your ski passes right at St. Anton am Arlberg (they take Visa, American Express and MasterCard, so don't waste your euros). This resort is scenic but intense; don't hesitate to sign up for lessons (StAntonamArlberg.com). Afterward, down a few mugs of beer at Platz'l Bar, a chill piano bar. For a wilder night, try Krazy Kanguruh, where loud music and strong shots are standard fare.
Good to Know: Fly into Zurich and take the Ski Express Arlberg to St. Anton -- it's half the price of a cab (ArlbergExpress.com).
Atacama, Chile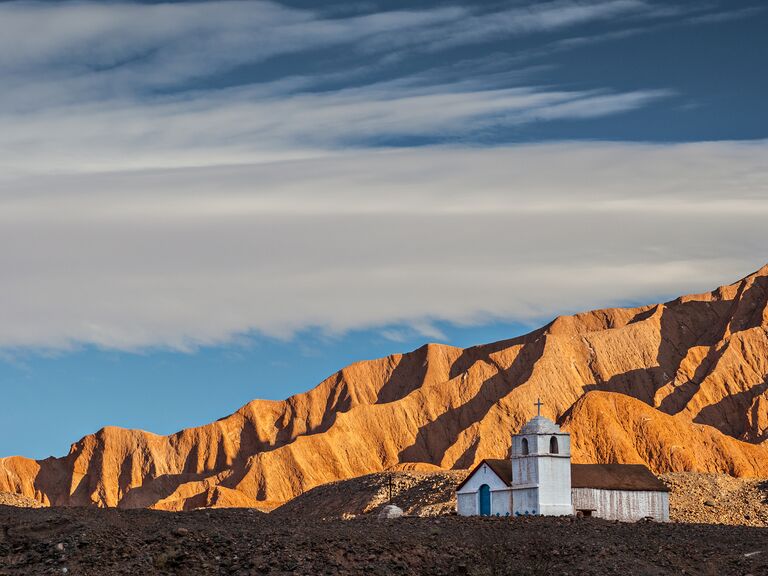 The Atacama Desert was first inhabited more than 10,000 years ago but feels just as pristine today. Plus: Its sunsets will take your breath away.
What to Do: At Explora Atacama, expert guides are on hand to take you on everything from treks almost 15,000 feet up the Andes mountains to a horseback riding tour along the Salado River. Then relax with a massage for two in the "Turi Puri" room, a restored colonial adobe-straw building.
Good to Know: Temperatures tend to drop dramatically from day to night. It's possible for it to go from about 104°F to 48°F. Pack accordingly (and then get close to conserve heat!).
Uluru, Australia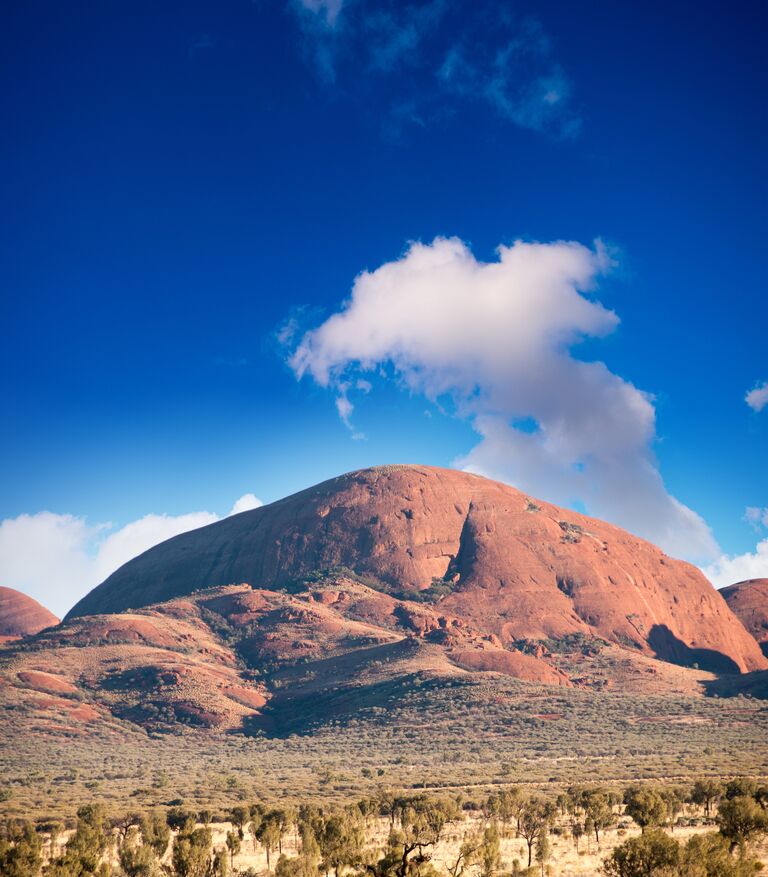 This eco-friendly desert destination also known as Ayers Rock (or even just "The Rock") is far from civilization, giving you a real taste of the outback.
What to Do: Chat with other travelers at dinner under the stars, while a chef serves you food from a contemporary Australian menu. Then get ready for a day of touring the desert, either from up high in a helicopter or on the ground with a camel ride. Take a sunrise walk to the nearby Mutitjulu water hole, where a guide will show you cave paintings and share the local history.
Good to Know: You'll have to fly into Sydney before taking a separate four-hour flight to Ayers Rock, a good excuse to check out the popular city for a day or two.
Carate, Costa Rica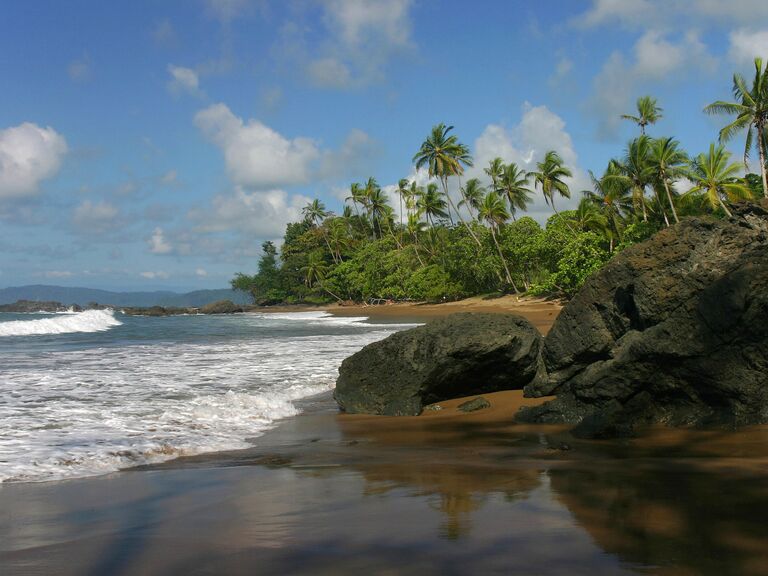 Carate is situated near Corcovado National Park and is just a short boat ride to Caño Island, making it easy to explore the rain forests and get your scuba on.
What to Do: Start your mornings with yoga or a hike to nearby waterfalls and wading pools. Sign up for a scuba adventure with Caño Divers (you can get certified there, but we recommend doing it beforehand to save time) (CanoDiversCostaRica.com).
Good to Know: If you rent a car, make sure it has a GPS. Costa Rica is known for having dodgy street signs, making it easy to get lost.
Queenstown, New Zealand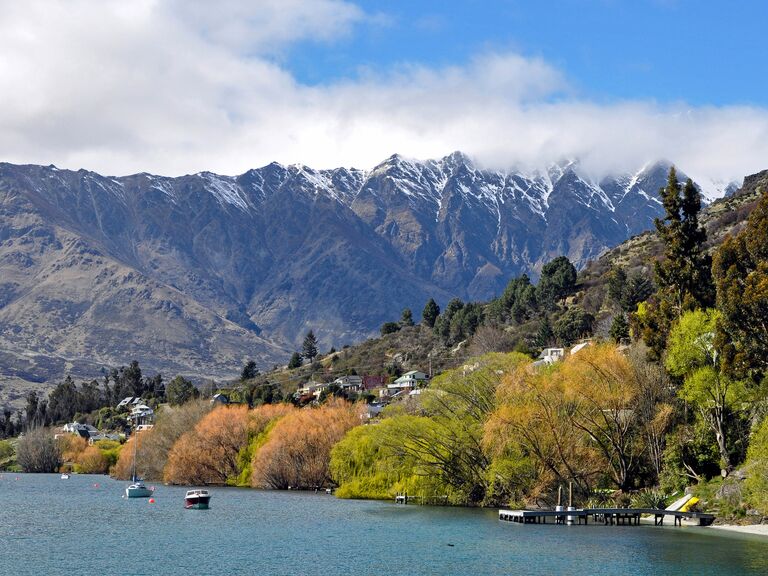 This destination is an action junkie's dream, with miles of untouched wilderness waiting to be explored.
What to Do: Strengthen your bond -- and scream your heads off -- by bungee-jumping together 43 meters off the Kawarau Bridge (Bungy.co.nz). After your adrenaline rush, take in the scenery on a guided day hike on the Routeburn Track through Ultimate Hikes, a company specializing in natural tours (UltimateHikes.co.nz).
Good to Know: New Zealand's winter is our summer, so go between November and April. Avoid the two weeks post-Christmas when families (meaning kids) vacation there.
La Rioja, Spain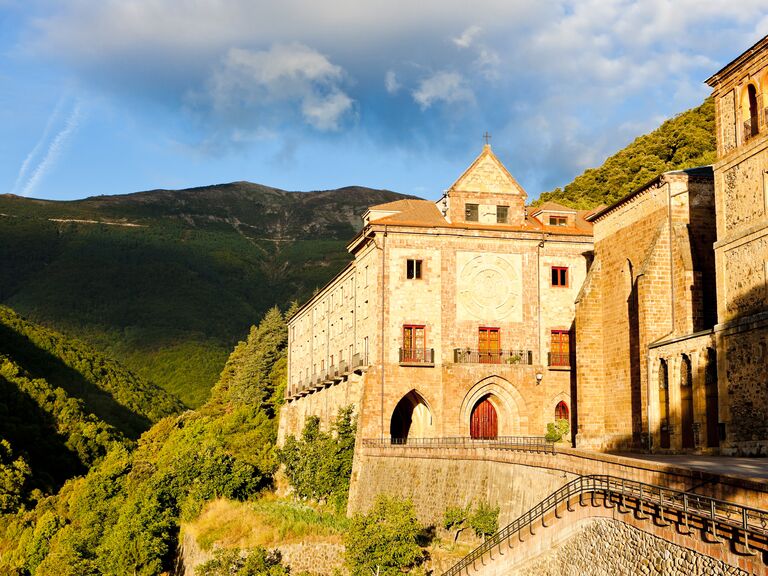 Spain's northern wine region combines culture with cuisine -- not to mention miles of rolling, green vineyards.
What to Do: Wine museums can be a bit blah ("Oh look, another old photo of people picking grapes"), but the Vivanco Museum of Wine Culture, the brainchild of winemaker Pedro Vivanco and his two sons, is anything but. Check out the corkscrew collection, wine bottles from ancient Rome and original Picassos; then have lunch at the museum's café overlooking the vineyard (VivancoCulturadeVino.es). If just drinking wine isn't enough, treat yourselves to the Wine Maker's Massage at Hotel Marqués de Riscal's famous Caudalíe Vinothérapie Spa, where even the spa's oils are made with grape extract.
Good to Know: If you're looking for a true taste of Spain (and cheap eats), head to nearby Logroño, where the town's center has narrow streets full of traditional tapas spots. Be sure to make a pit stop at Bar Soriano for grilled mushrooms topped with local shrimp.
Tanzania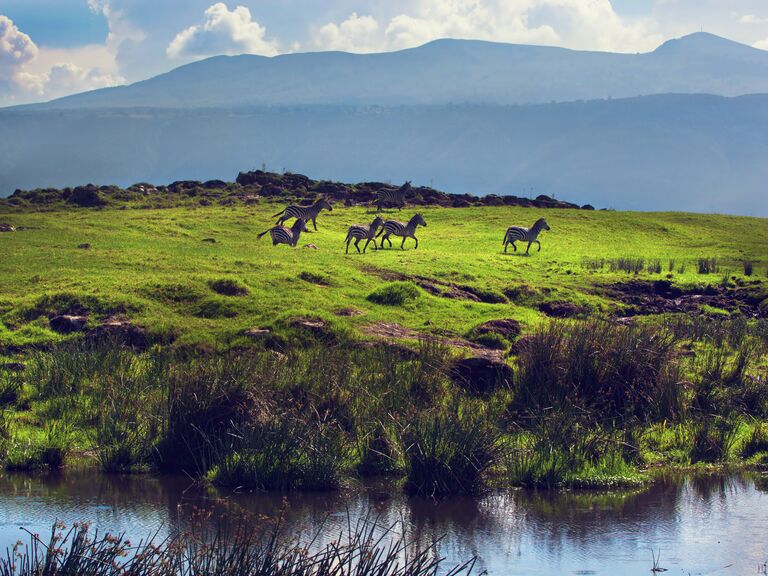 The northern part of this African country is home to more than 25,000 large mammals and the scenic Ngorongoro Crater, a lush stretch of land that stands where a volcano collapsed about two million years ago.
What to Do: After spending a full night partying it up in Arusha (located near the airport, it has a lively bar scene), relax on a flight to Lake Manyara (planned by andBeyond, andBeyond.com) and get ready to whip your camera out to snap shots of Masai giraffes (put it away to soak in the hot springs); then head to Serengeti, Tanzania's oldest game reserve, for a classic safari ride (TanzaniaParks.com). At Ngorongoro Crater, sip local wine on a terrace and keep your eyes peeled for black rhinos.
Good to Know: You'll both need to get a tourist visa to enter Tanzania, which comes with a $100 price tag each. You can download an application to mail in at TanzaniaEmbassy-us.org. Expect to wait up to two weeks for them to arrive.
Hong Kong, China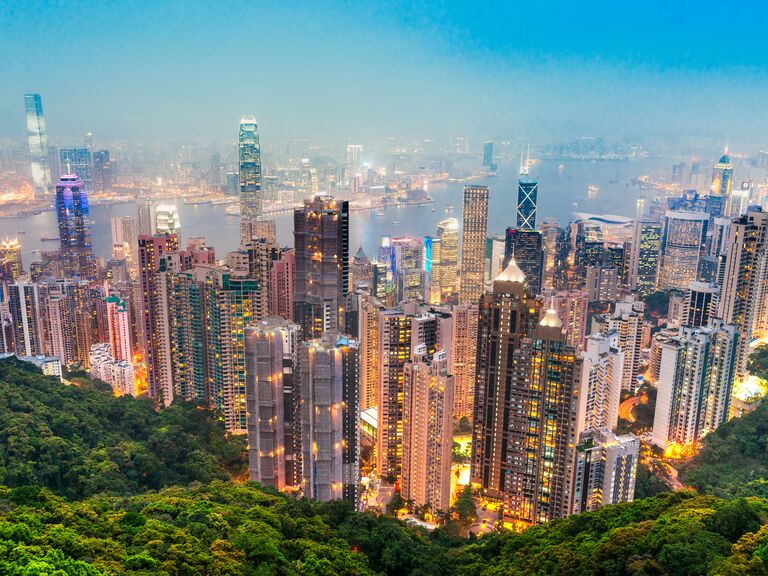 If you're after culture and plenty of shopping and restaurants, consider Hong Kong.
What to Do: Take the tram to the Victoria Peak and view the city from the Peak Tower. Once you have your scenic shots, head over to a Star Ferry docked in Tsim Sha Tsui for a cruise around the city. For a taste of Old China, check out Tai O fishing village, a community of houses built on stilts.
Good to Know: Most places accept Visa, MasterCard and American Express -- so be sure to bring at least one credit card.
Cape Town, South Africa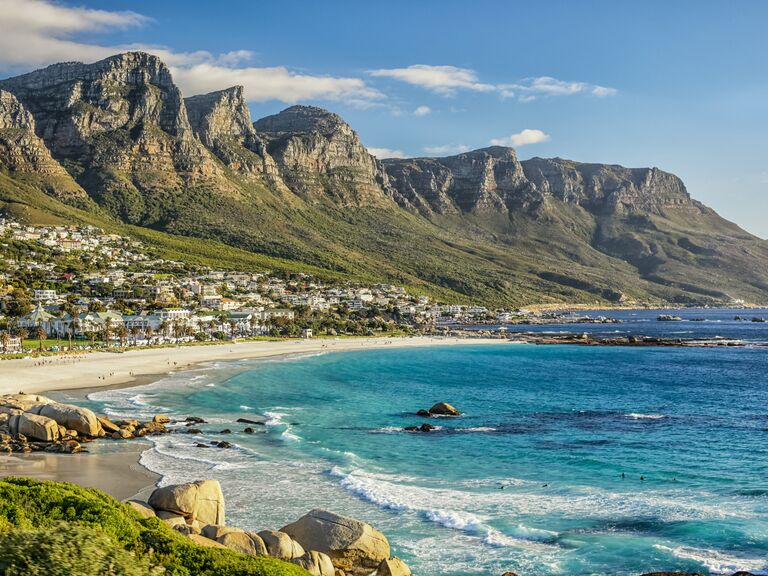 Action junkies, athletes, and animal lovers: This place is for you.
What to Do: Walk across the iconic Table Mountain, which, as its name suggests, is flat on top. Also take a ride through Stellenbosch, a region of the Cape Winelands known for its Cape Dutch architecture and vineyards. A day trip idea: Swim with the African penguins at Boulders Beach.
Good to Know: Make sure to pack hiking boots.
Algarve, Portugal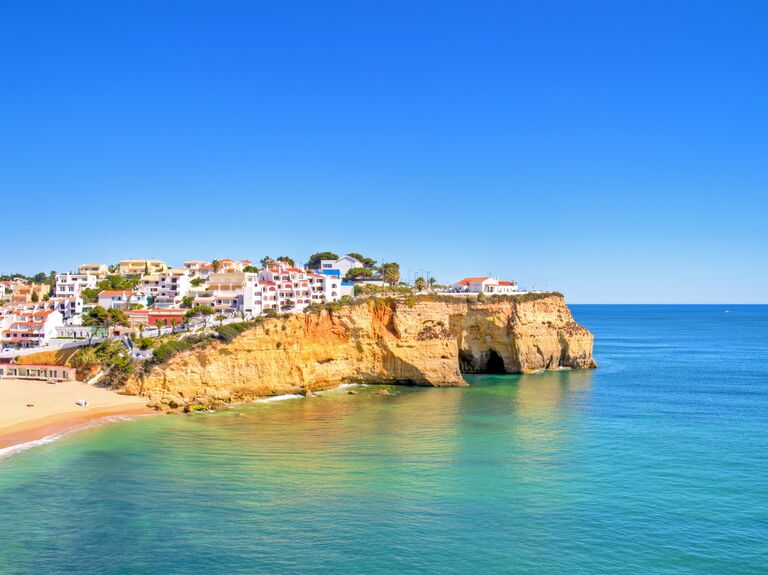 Why we love it: This bustling beach town with royal-blue waters and towering cliffs is loaded with European flair -- not to mention some serious old-world romance.
What to do:
Charter a yacht to Arte Náutica, an oceanfront restaurant on Armação de Pera beach. Ask for a table out on the terrace, and be sure to try the Mozambique tiger prawns. Or spend a day strolling the Herdade dos Grous (country "estate of the cranes"), 1,465 acres of orange groves, olive trees and vineyards that smell as gorgeous as they look (HerdadedosGrous.com).
Good to know: Count on bringing back some Portuguese crafts, like hand-painted tiles and pottery. You're also likely to get a deal on lace, leather and silver items.
Istanbul, Turkey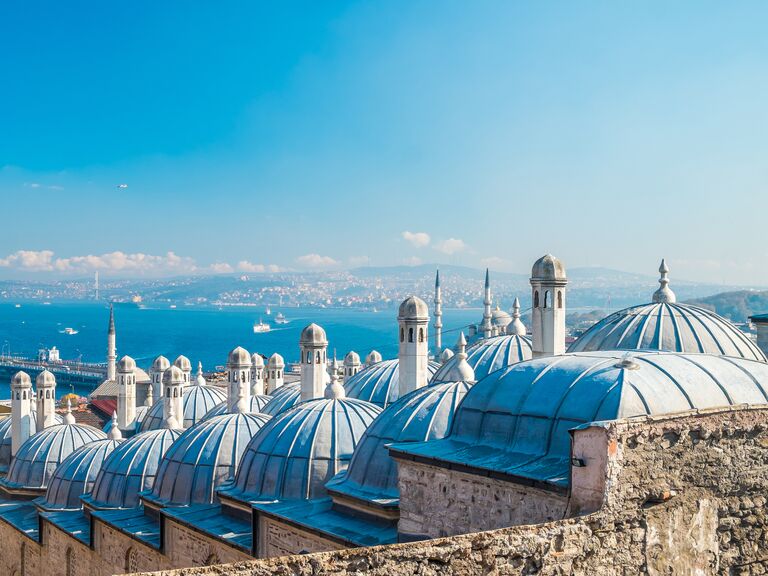 It's nothing but culture and adventure in and around this historic city.
What to Do: Take a short flight to the Dalaman River, a popular spot for white-water rafting. Also head to Istanbul's Grand Bazaar. Get a history lesson in Anadolu Kavagi, home to a Byzantine fortress.
Good to Know: Leave extra room in your suitcase for handcrafted pottery souvenirs.
Portland, Oregon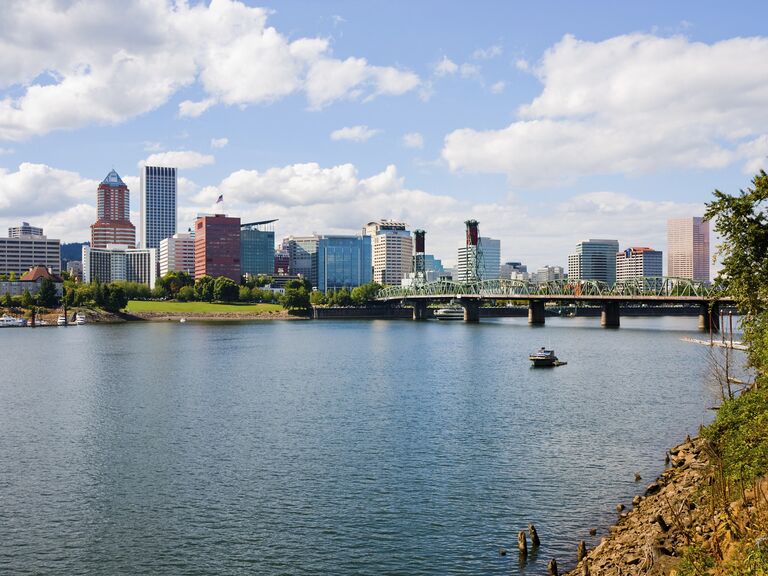 Calling all foodies and nature-lovers! Look no further.
What to Do: Stroll through the Portland Japanese Garden (JapaneseGarden.com) and then cool off with a beer at one of the city's many breweries. Love fresh food? Portland is loaded with farmers markets, so pick up all the fruits and gourmet cheeses you can carry (PortlandFarmersMarket.org). Also get out on the city's running and biking trails.
Good to Know: Portland is all about being laid-back, so no sequins required.
Park City, Utah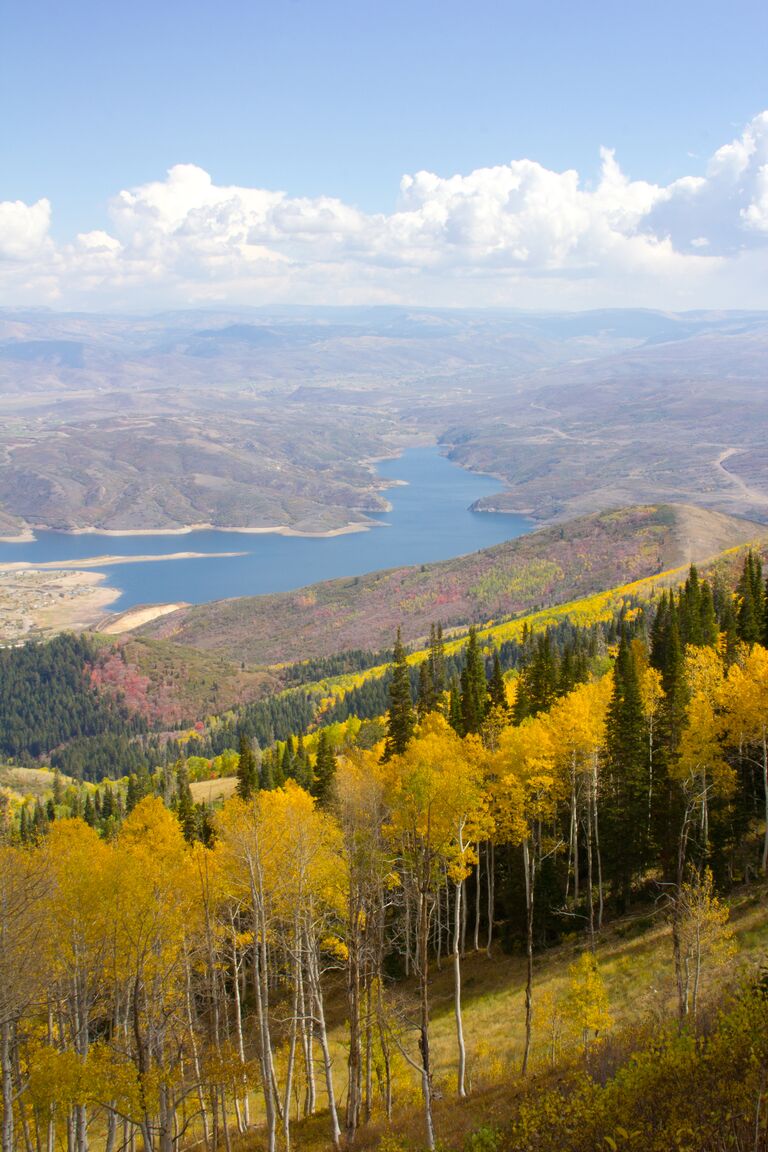 You'll find all the beauty of Aspen with a lower-key vibe at this ski locale. It was also host to the 2002 Winter Olympics, so you know the slopes are first-class all the way.
What to Do: The St. Regis Deer Valley has ski-in, ski-out access to 2,026 acres of snowy ski trails and ski butlers, so you don't have to worry about lugging all of your equipment to the car every morning. If you each ski at different levels, go to Bald Eagle, one of the Valley's six mountains. There's an easy route but also more than enough runs for the more advanced crowd (DeerValley.com). For dinner, take a cab to The Spur Bar & Grill, a Western-themed local hangout. Order the BBQ spareribs, then burn them off by dancing to the live music (TheSpurBarandGrill.com).
Good to Know: Avoid traveling here in late January -- the town (and restaurants and hotels) are insanely packed for the Sundance Film Festival.
Charleston, South Carolina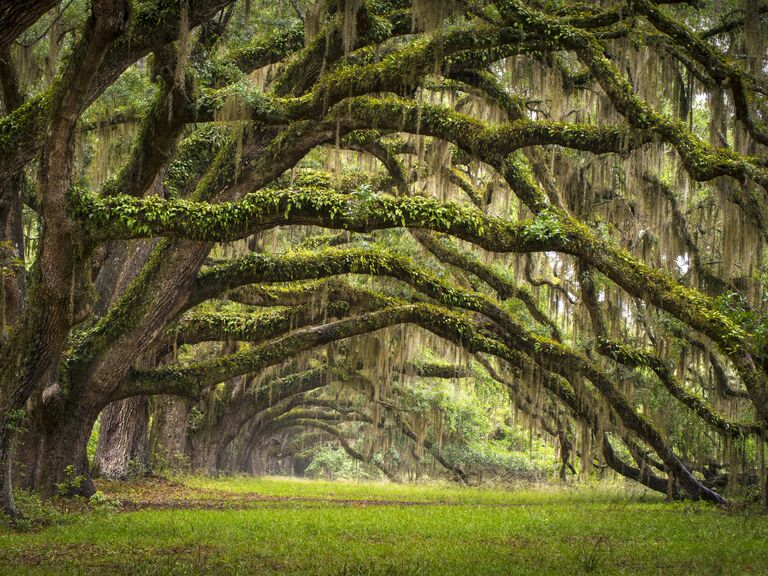 Attention history buffs: A honeymoon to South Carolina's oldest city could be your ideal trip.
What to Do: Take a carriage ride around Charleston's seaport. Private tours are $150 (ClassicCarriage.com). Then learn about the city from local guru Ed Grimball on one of his walking tours (EdGrimballTours.com).
Good to Know: Bring sneakers. There's not a lot of public transportation.
Prince Edward Island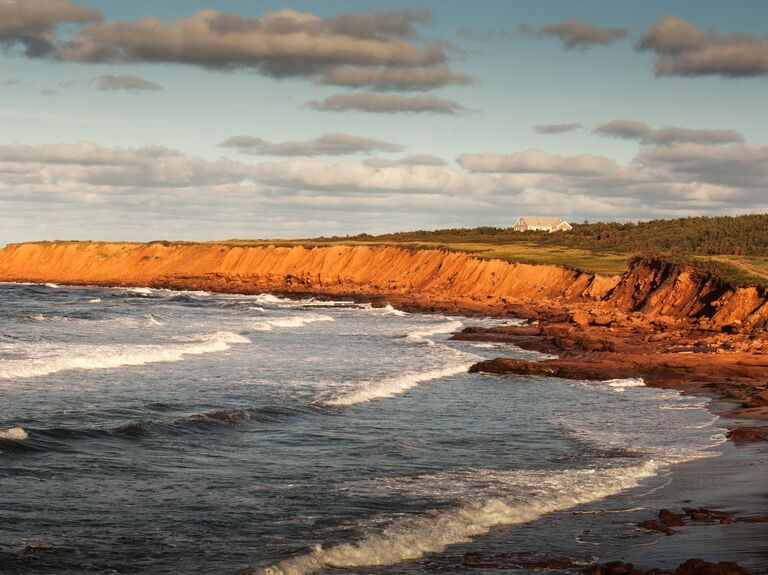 Go if you're a golfer or nature-lover, or if you just want to relax.
What to Do: Work on your drive at one of Prince Edward Island's famous courses. Then grab some alone time with a scenic ride on the Points East Coastal Drive. Biking, fishing, hiking, boating -- pretty much anything outdoors or on the water -- are also must-dos during your visit.
Good to Know: If you're feeling really adventurous, bring a tent and a double sleeping bag and spend a night together cuddled up under the stars at one of the island's campsites.
Bariloche, Argentina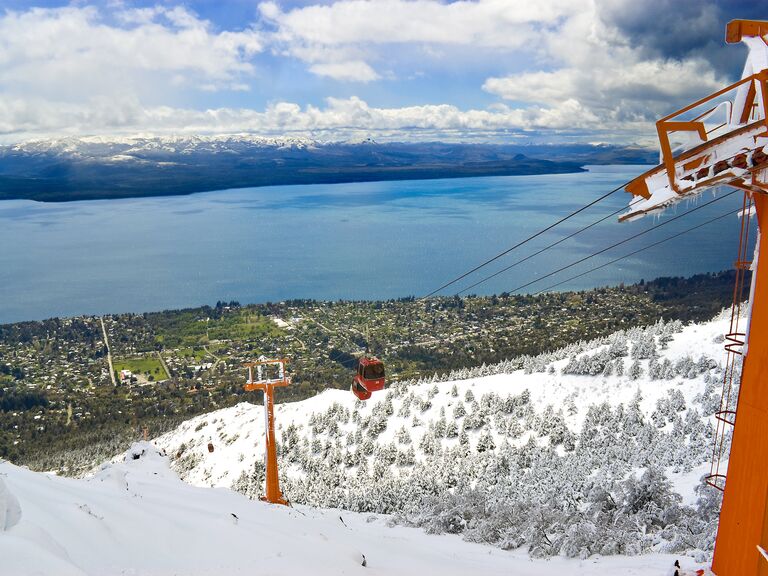 Our hottest months are Argentina's coolest, making this the perfect spot to chill out come July and August.
What to Do: No need to be intimidated here: 60 percent of Cerro Catedral's ski runs are at the intermediate level. If you're beginners, take the chairlift up Punta Princesa, recommended for all levels. Looking for a challenge? Test your skills at De la Garganta, a ski trail that goes through a canyon (CatedralAltaPatagonia.com). For a more low-key day, get the scoop on local history at the Museo de la Patagonia (Bariloche.com.ar/museo). Then grab a bite at the Llao Llao Hotel & Resort's Los Césares, a formal restaurant with rustic décor (LlaoLlao.com).
Good to Know: One US dollar equals about eight Argentine pesos -- so even though the airfare's not cheap, you'll snag deals once you're there. Exchange at the airport to avoid fees you might find at local banks.
Nantucket, Massachusetts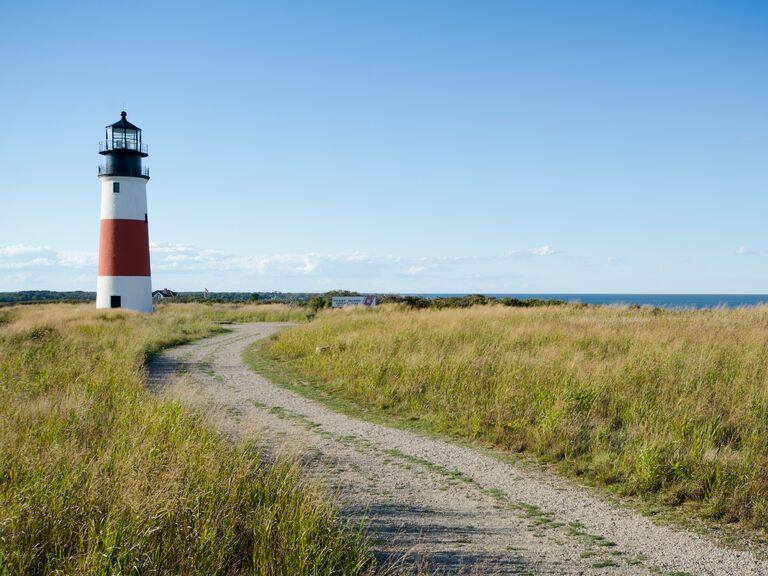 This is the perfect honeymoon spot for laid-back prepsters.
What to Do: Take photos together outside Brant Point Lighthouse, the second-oldest lighthouse in the country. Into golf? Tee off at Miacomet Golf Club (MiacometGolf.com). Then spend the afternoon at Nantucket Vineyard tasting local wines. There's also a renowned brewery if you're more of an ale couple (CiscoBrewers.com).
Good to Know: Bring sunscreen and any other drugstore buys (like toothpaste); these items usually cost more on the island.
Austin, Texas
Go for good music, nightlife, culture and activities.
What to Do: Sip on the popular sangria with a Mexican meal at Fonda San Miguel. Ask for a table in the courtyard near the fountain (FondaSanMiguel.com). Take a dip in Barton Springs Pool, a natural swimming hole (AustinTexas.gov). One night, mix it up with the locals on 6th Street and enjoy an eclectic mix of live music.
Good to Know: Pack bug spray. The mosquitoes are out in full force during the summer months, especially if it's rainy.