The Best LGBTQ+ Friendly Honeymoon Destinations
These idyllic destinations (from Mykonos to the Caribbean) are welcoming to all couples.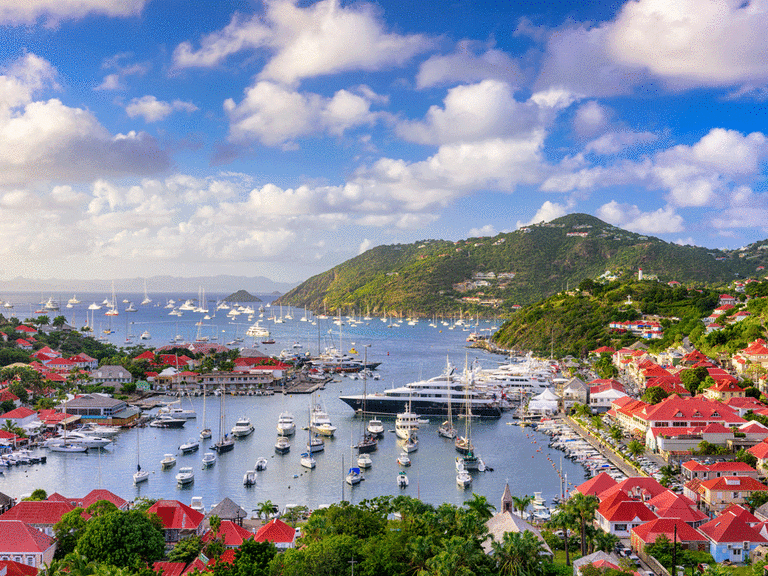 Sean Pavone/Shutterstock
You've finished planning your wedding and now you're preparing to plan the honeymoon of your dreams. If you're focused on visiting the best LGBTQ+ honeymoon destinations, we've done the research for you, with the help of a few experts who specialize in LGBTQ+ wedding planning and travel. So sit back, relax and read more about the must-see LGBTQ+ friendly honeymoon destinations that you and your future spouse will never want to leave.
The Difference Between LGBTQ+ Friendly and LGBTQ+ Inclusive
If you're aiming to find an LGBTQ+ honeymoon destination, you may have noticed the phrase "LGBTQ+ friendly" pop up during your search. But what does that phrase really mean, and is it different from "LGBTQ+ inclusive?" Kirsten Palladino, co-founder and editorial director of Equally Wed and Equally Wed Pro, says there's a distinct difference between the two phrases. "LGBTQ+ friendly has become a tired phrase used by businesses that simply mean, 'We will take your money without much of an attitude,'" says Palladino "It's transactional and it says nothing of how they feel about the LGBTQ+ community, if the employees are trained in inclusive practices [or] if they are inclusive in their offerings."
With that being said, do your research to determine if the city or country's policies for LGBTQ+ couples line up with your values. This will help you decide if the destination is truly promoting inclusivity through action and not just verbally. If you're booking a resort or excursion, Palladino also recommends calling or emailing in advance to get a sense of whether or not their inclusivity is genuine.
LGBTQ+ Friendly Honeymoon Destinations in the United States
Going on your honeymoon is a beautiful, romantic experience you and your partner will never forget, but worrying about feeling unwelcome because of your sexuality shouldn't be on the itinerary. "[LGBTQ+ couples] deserve safety like every other couple traveling anywhere in the world," says Brian A.M. Green, event planner and owner of By BrianGreen in Atlanta, Georgia. Additionally, Palladino adds that staying in the U.S. for your honeymoon does have its perks: "Honeymooning in the U.S. can be a lot of fun, as well as safer for the LGBTQ+ community, since we have more rights in certain areas of the country and our marriages are legally recognized," says Palladino.
When it comes to LGBTQ+ honeymoon destinations, there are a few that might come to mind immediately. "Of course, everyone thinks immediately of San Francisco, NYC and Miami when they think of LGBTQ+ locations, but there are some exciting under-the-radar ones as well," says Green. Green recommends Charleston, South Carolina, Portland, Oregon and Austin, Texas as other LGBTQ+ friendly cities. Need even more ideas? Consider the following U.S.-based destinations.
1. New York, NY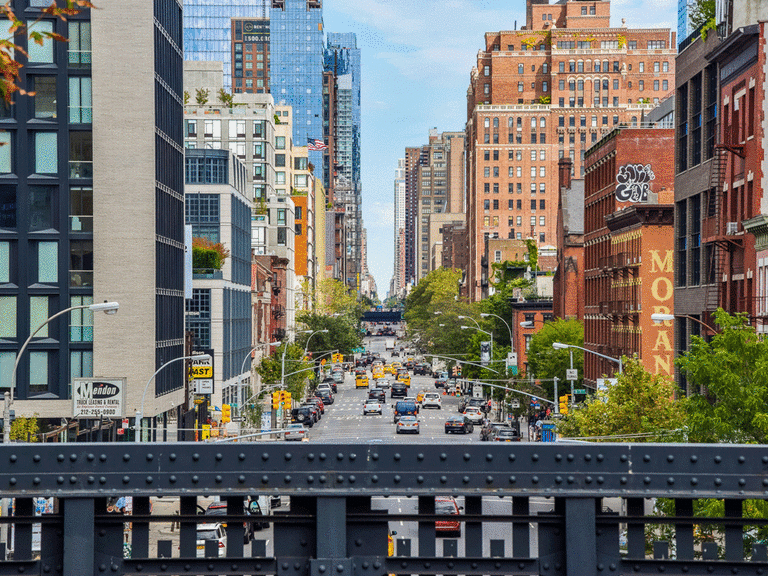 The Big Apple has an abundance of LGBTQ+ friendly neighborhoods, like Greenwich Village, Chelsea, West Village, Hell's Kitchen and many more. Of course, you can visit the classic tourist spots like Times Square, the Museum of Modern Art and the Empire State Building, but there are a lot of areas you can explore that are a little off the beaten path. Engross yourself in LGBTQ+ history by visiting the Stonewall Inn, the bar where the 1969 Stonewall riots occurred, in Greenwich Village. Walk hand in hand at High Line, New York City's only elevated park built on old railroad tracks, to catch scenic views of the city in Chelsea. Enjoy some music at the historic Village Vanguard jazz club in West Village (legendary acts like John Coltrane and Miles Davis have played there). If you and your spouse are foodies, take a stroll down Restaurant Row in Hell's Kitchen and indulge in some of the most delicious food in New York.
2. Provincetown, Massachusetts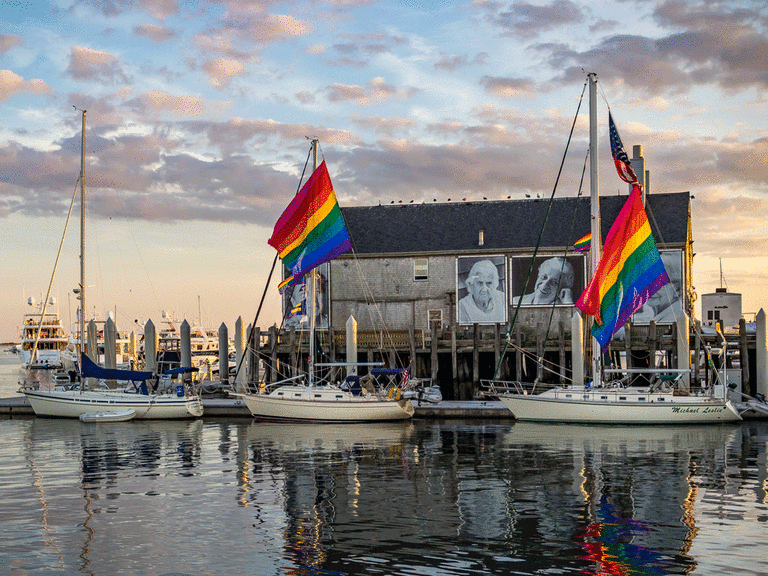 This seaside town on the tip of Cape Cod is considered a longtime haven for people in the LGBTQ+ community. You can relax on the beach, visit Commercial Street to go shopping or check out art galleries, go on a whale-watching tour or slurp down fresh local oysters. With so much to do, it's no wonder why Provincetown is one of our favorite LGBTQ+ friendly honeymoon destinations.
3. Austin, Texas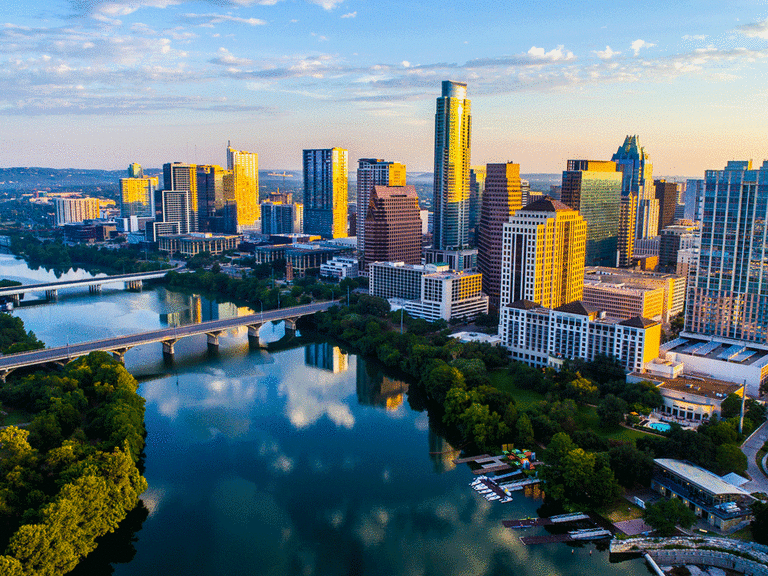 Austin is one of the best gay honeymoon destinations, not only because of its prominent and diverse LGBTQ+ population, but because of all of the infinite fun activities and yummy food it has to offer. Eat like a local and grab a bite of Tex-Mex before going to one of the many shows in the city known as the "Live Music Capital of the World." Take a romantic stroll through Zilker Botanical Garden, where you'll find multiple themed gardens and serene koi ponds. If you and your partner really want to spice things up, visit Hippie Hollow Park, the only clothing-optional public park in Texas.
4. Key West, Florida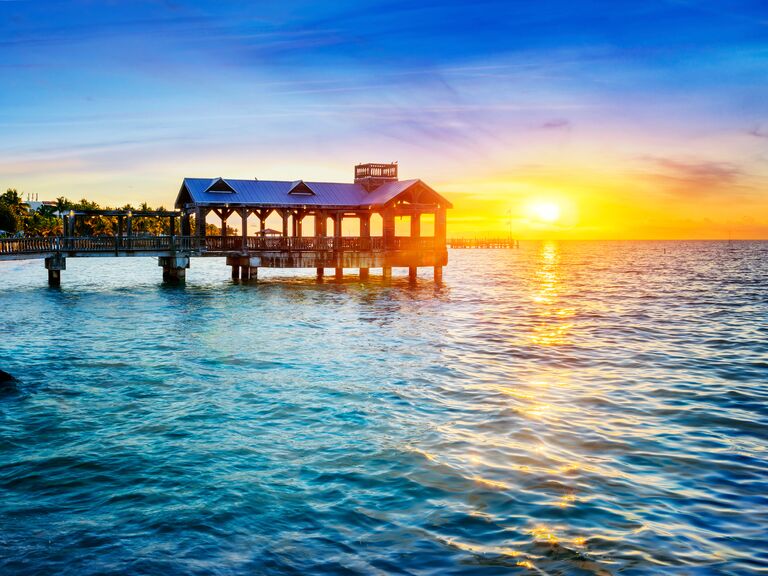 This colorful island (literally—local architectural gems are painted yellow, pink and turquoise) is like an eclectic paradise for honeymooners, with avant-garde art, theater and live music that ranges from salsa to show tunes. A drag queen or two only adds to the funky, warmhearted charm of the Key, whose official motto is "One Human Family." Choose from a variety of couple-friendly activities: Take the gay and lesbian historic trolley tour of Key West, visit Ernest Hemingway's former-home-turned-museum, snorkel above the coral reefs or sip mojitos on palm-lined nightlife hub, Duval Street.
5. Atlanta, Georgia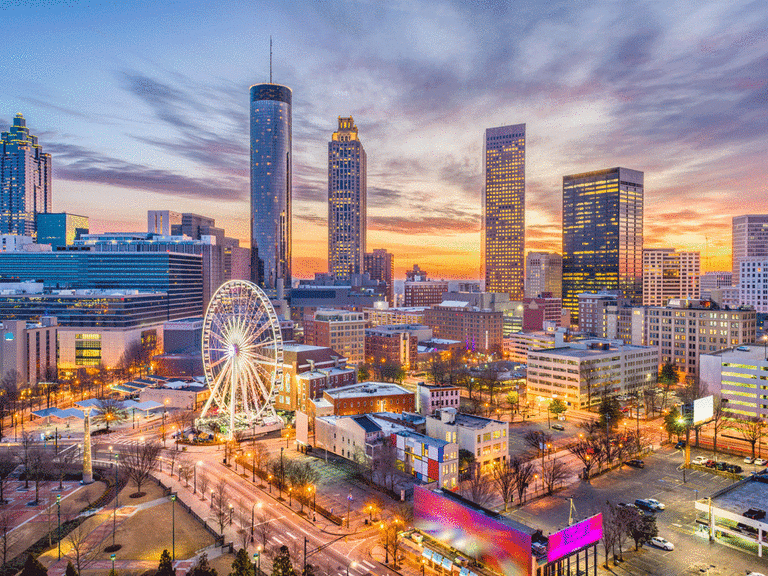 Considered the LGBTQ+ capital of the South, Atlanta has plenty of entertainment for everyone to enjoy. If you love dolphins (because who doesn't), make your way to the Georgia Aquarium, the largest aquarium in the United States, for some water-filled fun. Get lost in beautifully sculpted nature at the Atlanta Botanical Garden or go to a drag dining show for some nighttime fun.
6. Charleston, South Carolina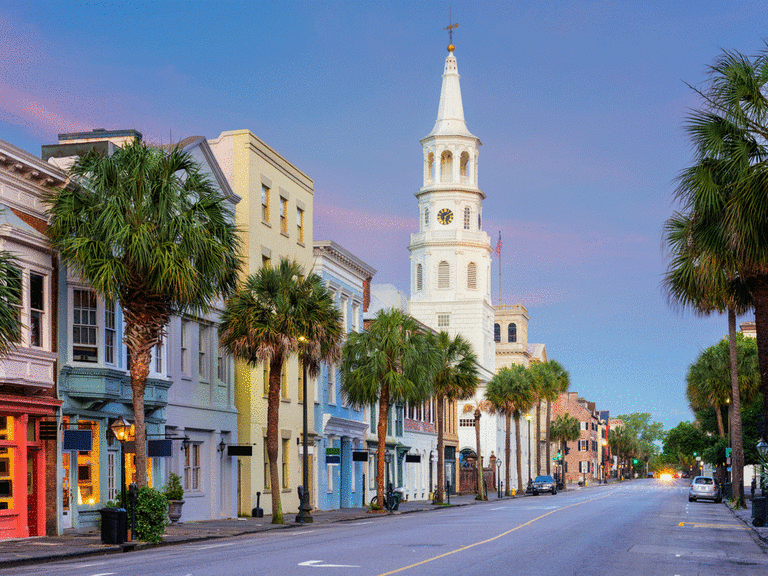 This gay-friendly honeymoon destination has always attracted visitors with its rich history, delectable food and iconic European-inspired architecture. Enjoy this cobblestone city by going to the Historic Charleston City Market, a vibrant open-air market with over 300 artists and vendors. Once you're done shopping, spend some time in the ocean by visiting Folly Beach, just south of Charleston. And don't forget to get a picture of the Angel Oak tree before you go. It stands at 65 feet and is estimated to be 300 to 400 years old, one of the largest and oldest live oak trees east of the Mississippi. Our tip: Visit Charleston during the spring or fall, so you can enjoy the city without dealing with the (sometimes unbearable) humidity.
7. Manchester, Vermont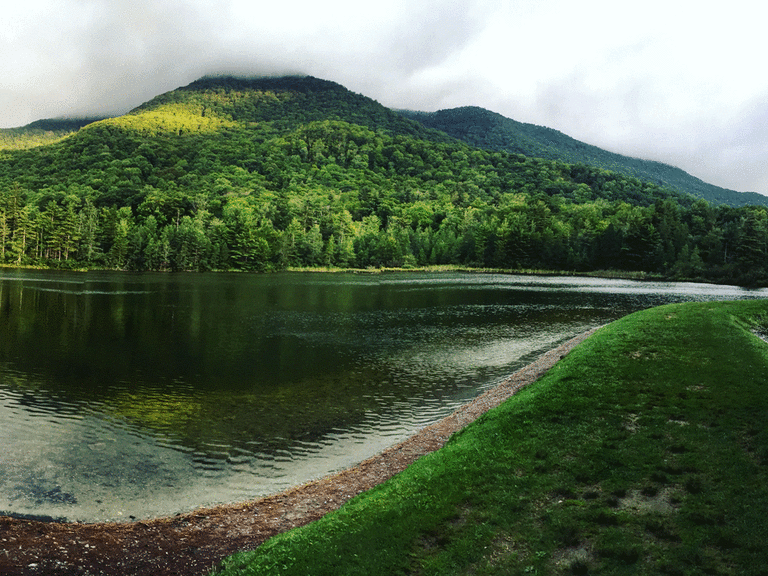 If you're an outdoorsy couple, Manchester, Vermont is the perfect place for you. This small town is nestled in the beautiful Green Mountains with numerous hiking trails available for beginners and experts. You can also visit countless farms, antique stores and museums. The most popular must-see attraction is the Hildene: The Lincoln Family Home, which is the gorgeous estate of Abraham Lincoln's son, Robert.
8. Portland, Oregon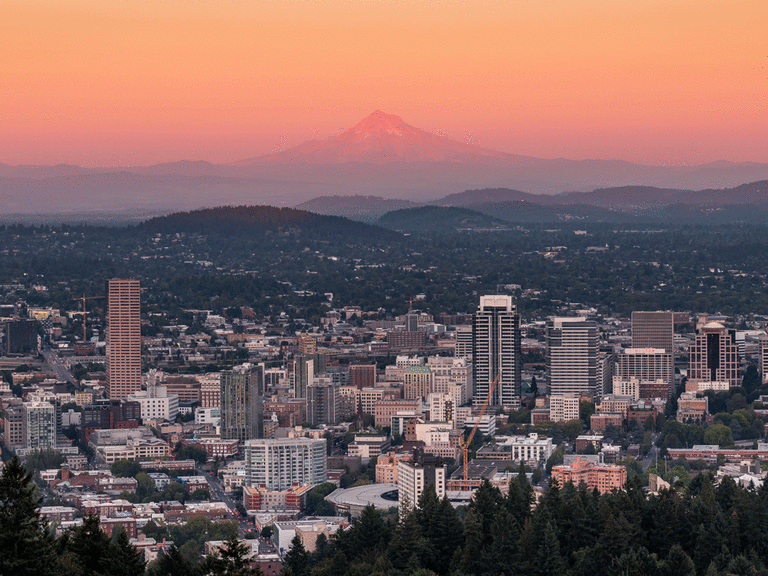 Portland, Oregon is one of the best LGBTQ+ honeymoon destinations and has famously embraced the community for decades. Portland was the first major city to elect an openly gay major in 2008 and now has one of the five largest LGBTQ+ communities in the United States. There's so much to do in this quirky city, like indulging in the food truck culture, seeing Mill Ends Park (the world's smallest park, which is only two feet across) and spending time at Portland's stunning Japanese Garden.
9. Las Vegas, Nevada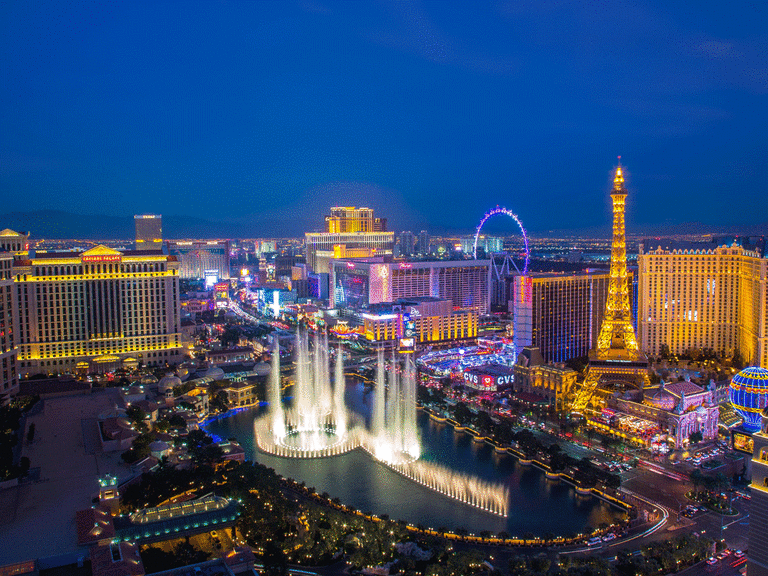 Whether it's Britney Spears, Celine Dion, or J.Lo, Sin City has your favorite celebrity (or celeb impersonator) to serenade your new coupledom. Hit the jackpot at roulette, snag front-row seats to a Cirque du Soleil show, book the 16-course tasting menu at famed French spot Joel Robuchon or dance 'til dawn at Piranha Nightclub. The nonstop party atmosphere is perfect for celebrating your nuptials.
10. Napa Valley, California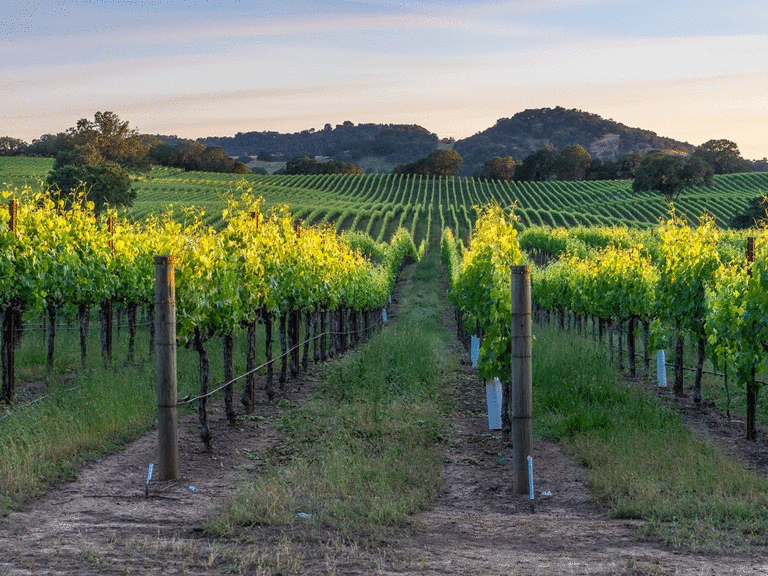 With more than 400 wineries, picturesque Napa Valley is the closest you can get to Tuscany sans passport. Whether you're wine connoisseurs or vino virgins, you'll enjoy meandering through the breathtaking vineyards, funky farmhouses and charming wine cellars while sipping on a full-bodied cabernet. For a break from the pinot, indulge in some pampering in Calistoga, a town known for its mud baths, volcanic hot springs (including the famous geyser, Old Faithful) and world-class spas.
11. Waikiki, Hawaii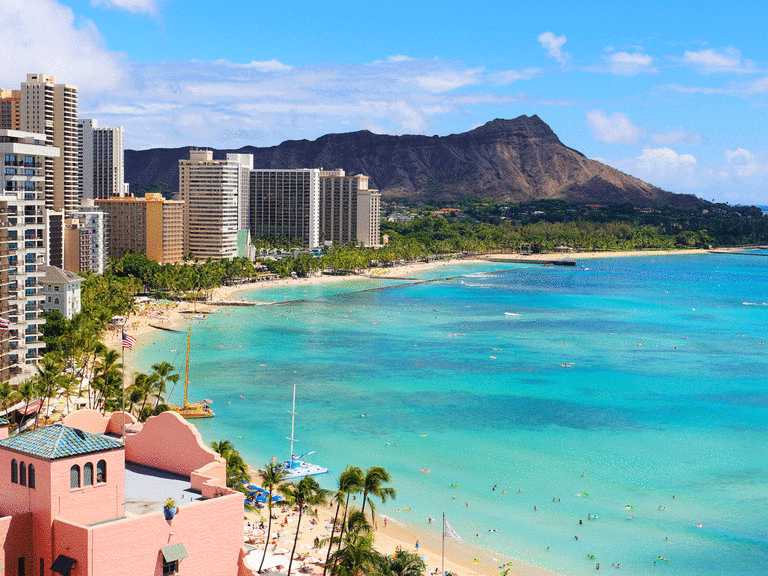 Honolulu's famous urban beach is the ideal place to unwind. Take in the suntanned scene at Queen's Surf Beach in Kapiolani Park, arguably Hawaii's most popular gay beach, then head to the less crowded surfing haven of Diamond Head Beach. For the chance to celebrate and mingle with other couples, don't miss Hula's Bar & Lei Stand's weekly gay catamaran cruise.
12. Beaver Creek, Colorado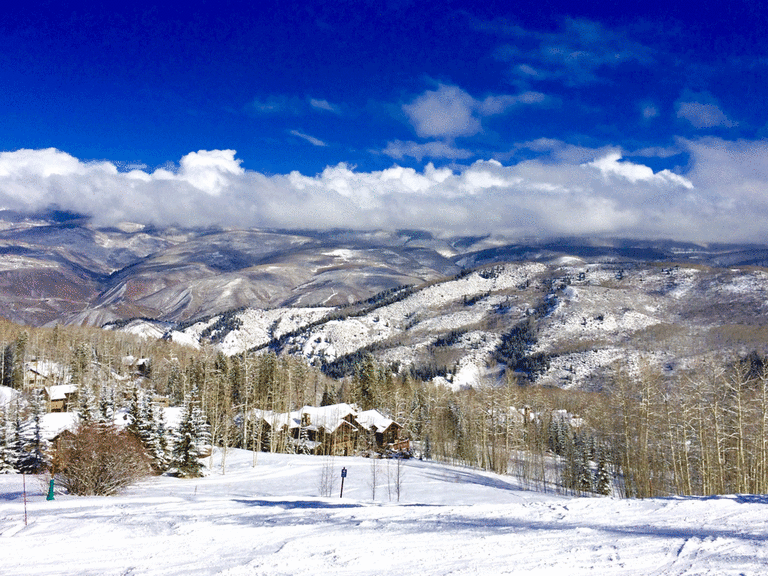 Naturally, winter is prime time to hit the slopes of this exclusive mountain enclave, but it's also an idyllic honeymoon spot during the other three seasons. In the spring and summer, go hiking up Beaver Creek Mountain, plan a horseback riding excursion, try river rafting or check out local music festivals. In the mood to relax? Kick back in a mountain-view hot tub with a bottle of champagne.
13. Sedona, Arizona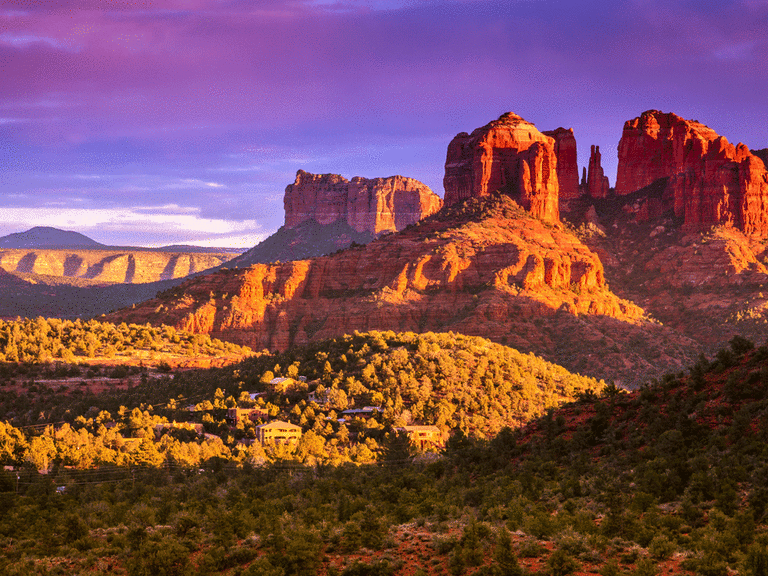 Spiritual and serene, northern Arizona's breathtaking red-rock country is a romantic getaway for both the artsy and outdoorsy. Here, "relaxed" is the key word. Thanks to its high elevation, Sedona escapes the desert heat and serves as a year-round creative hub for dozens of galleries and festivals, not to mention its museum-quality sunsets. Feeling adventurous? Hop in a Jeep and take a day trip to the Grand Canyon, about 110 miles south.
LGBTQ+ Friendly Honeymoon Destinations Abroad
With international travel slowly becoming commonplace again after COVID delays, many newlyweds are looking to jet off abroad for their honeymoon. If you're considering doing the same, Palladino suggests you complete all your legal paperwork before marrying and make copies for the trip. "Should one or both of you need medical care, you'll be able to stay with each other in the hospital and make important decisions for each other," says Palladino. Once you get those logistics taken care of, you can start planning your honeymoon. Palladino recommends Toronto, Canada, Amsterdam and Lisbon, Portugal as a few of the best honeymoon destinations for LGBTQ+ couples. Want more options? Check out the following abroad destinations for your honeymoon.
14. Toronto, Canada
Toronto has a thriving LGBTQ+ community and holds one of the largest LGBTQ+ Pride events in the world, which is typically at the end of June. But don't worry if you can't make it to their Pride weekend because there are a lot of other places and activities for you to take advantage of while you're there. Go to the top of the CN Tower, the world's tallest building for 32 years until 2007, and appreciate the gorgeous panoramic views. While you're there, make a reservation at the 360 Restaurant, where you can have the best fine dining experience while eating in the revolving restaurant. Love art, food and beer? Take a trip to the Distillery District, where you'll find art galleries, numerous restaurants and a beer hall. The last must-see Toronto landmark is Casa Loma, a 98-room majestic castle built in the 1800s, where you can learn about its origins in the museum or listen to the Casa Loma Symphony Orchestra while sitting in the castle's gardens.
15. Puerto Vallarta, Mexico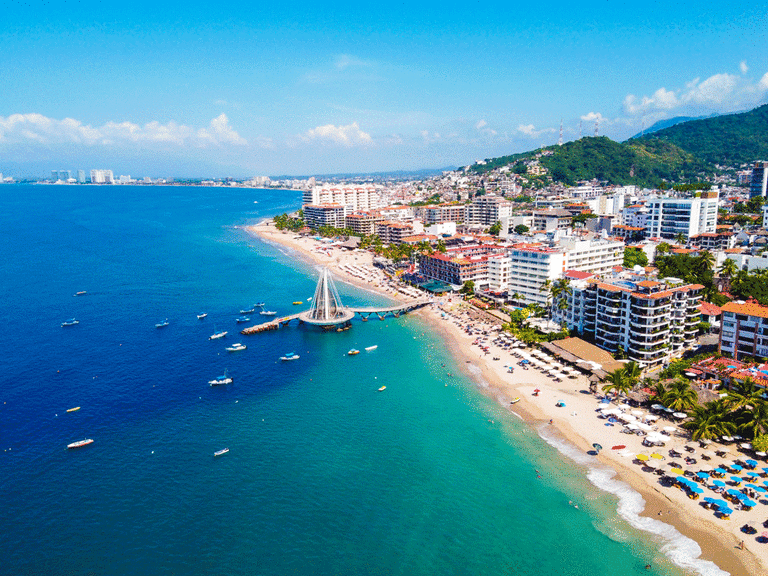 Puerto Vallarta is one of the top beach destinations in Mexico because of its bright blue water and white sandy beaches. This location is very accepting of the queer community, resulting in a large influx of LGBTQ+ visitors every year. If you don't want to be a part of the party atmosphere, there are 27 miles of coastline, so you'll be able to find a private place for just you and your spouse. Make sure to book a tour to Islas Marietas, a group of exquisite uninhabited islands, where you can snorkel, kayak, paddleboard and scuba dive.
16. Saint Barthélemy (a.k.a. St. Barths)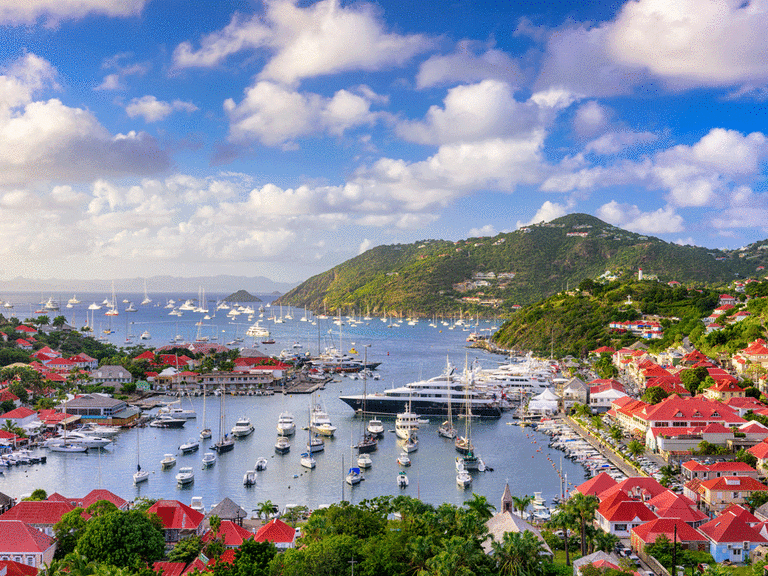 St. Barths' active night scene, along with its 22 mesmerizing beaches and delicious cuisine, solidifies why it's a playground for the rich and famous. When it's not the holiday season, the island is perfect for a newlywed romantic getaway. Bonus: The picturesque Dutch island of Saba is only 16 minutes away by helicopter.
17. Curaçao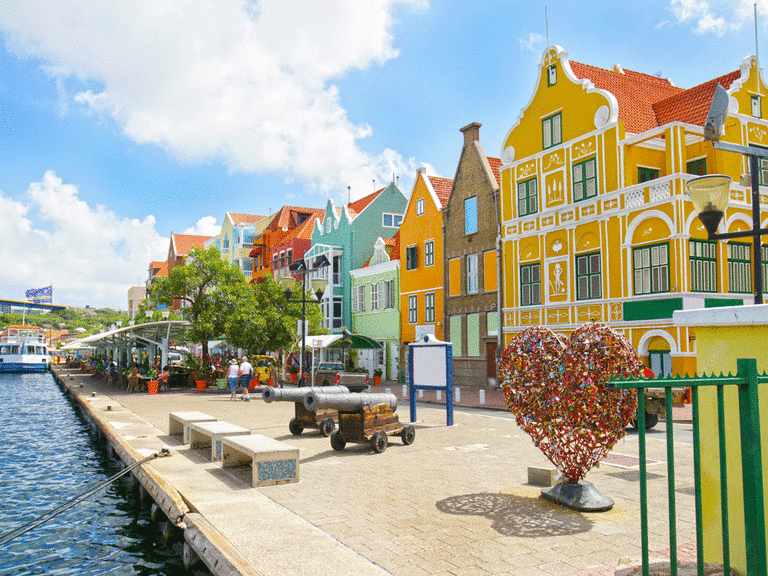 This culture-rich Dutch Caribbean island has a laid-back "live and let live" philosophy, making it a welcome spot for LGBTQ+ couples. Plus, its position below the hurricane belt means year-round sun. The island's charming capital, Willemstad, is a UNESCO World Heritage site that's worthy of an afternoon stroll. Go snorkeling or diving, or explore Curaçao's world-famous underwater life in the Curasub, a sleek mini-submarine that takes you down 1,000 feet below the sea's surface to reveal gorgeous coral, shipwrecks and exotic fish.
18. Saba
This romantic and secluded volcanic island is known as the "unspoiled queen" of the Caribbean. You won't get masses of sun-deprived tourists here—just welcoming locals and plenty of privacy. See pretty black-eyed Susans (the national flower) on a hike up Mount Scenery, explore the village's gingerbread-like houses and picnic on the black-sand beach. Keep in mind that this is the smallest island in the Caribbean, with no to very few beaches.
19. Aruba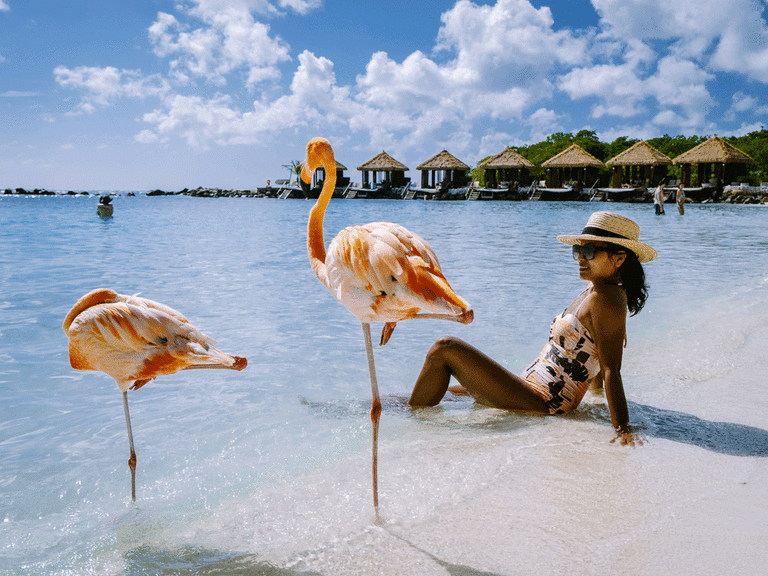 Aruba is considered one of the most LGBTQ+ friendly islands in the Caribbean. Locals have created (and continue to create) spaces for people in the community to have fun while feeling safe. The island has pleasant weather year-round and lies outside of the hurricane belt. So, you can relax on the beach, go on a submarine tour or hang out with flamingos without worrying too much about the weather.
20. Iguazu Falls, Argentina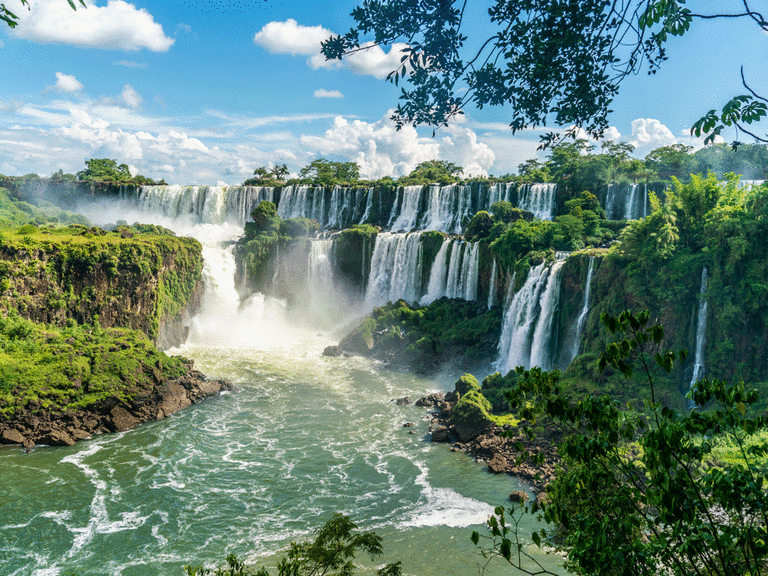 Considered one of the world's natural wonders, unspoiled Iguazu is among the most magnificent waterfalls on earth. Iguazu Falls is the largest waterfall in the world (twice as tall as Niagara Falls) and creates a natural border between Argentina and Brazil. Wind through twisting hiking trails with unbeatable vistas, or arrange a canopy tour to explore the surrounding subtropical rain forest. For a complete experience, tour the falls on both the Argentinean and Brazilian sides. Bonus: Buenos Aires is only a 90-minute flight south.
21. Amsterdam, the Netherlands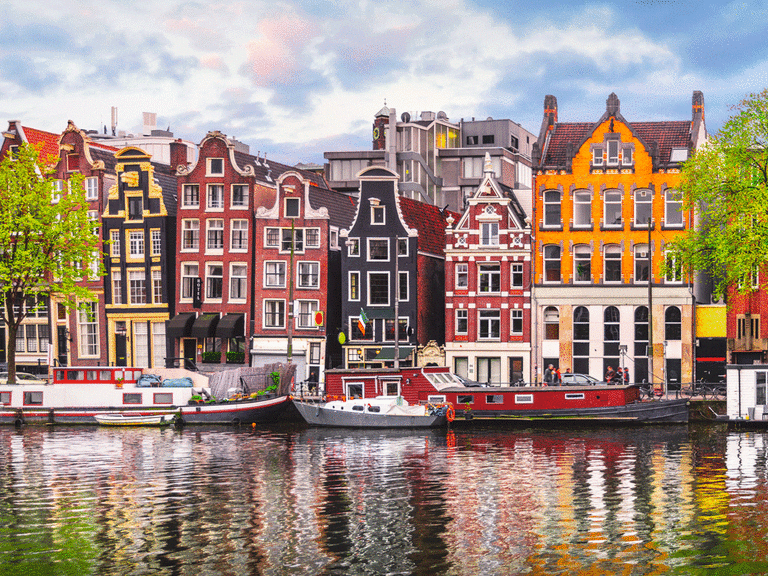 We bet you'll fall in love with this gay-friendly honeymoon destination as soon as you get off the plane. This eclectic Dutch capital with rich history, entertainment and unique food is the ideal place for newlyweds to celebrate. You can take a boat tour through Amsterdam's famous canals and if you want a more romantic feel, there are boats serving dinner and cocktails in the evenings. Feeling hungry but can't decide what cuisine to choose? Head to Foodhallen, an indoor food market that offers a plethora of options to satisfy any craving. We have to say our favorite attraction is A'dam Toren, a 22-story tower filled with restaurants, bars, a hotel and even a swing that hangs over the edge of the rooftop with the best city view.
22. Mykonos, Greece
Paul Shark/Shutterstock
Reportedly, Jackie Onassis and Grace Kelly's travels to Mykonos in the 1970s made Mykonos internationally famous. Since then, people haven't stopped going to this Mediterranean delight. There are numerous beaches, nightclubs and shops that will leave you and your spouse spoiled for choice. Mykonos is known for its white-washed buildings, but don't forget to take a picture of the 16 historic windmills sitting seaside, built around the 16th century.
23. Lisbon, Portugal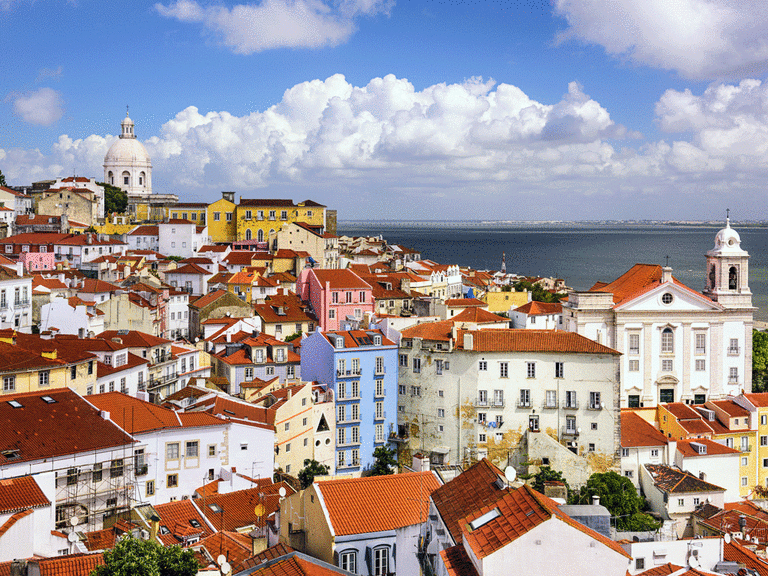 Truly a wine-lover's paradise, Portugal has a long list of world-class wines available so you and your partner can quench your thirst. But sipping on wine isn't the only thing to do—check out almost 150 years of Portuguese art at The National Museum of Contemporary Art, or visit the Torre de Belém, which stands right on the Tagus River, for its mesmerizing mixture of architectural styles. And if you're interested in learning something new on your trip, take surf lessons at Caxias Beach, just west of central Lisbon.
24. Ibiza, Spain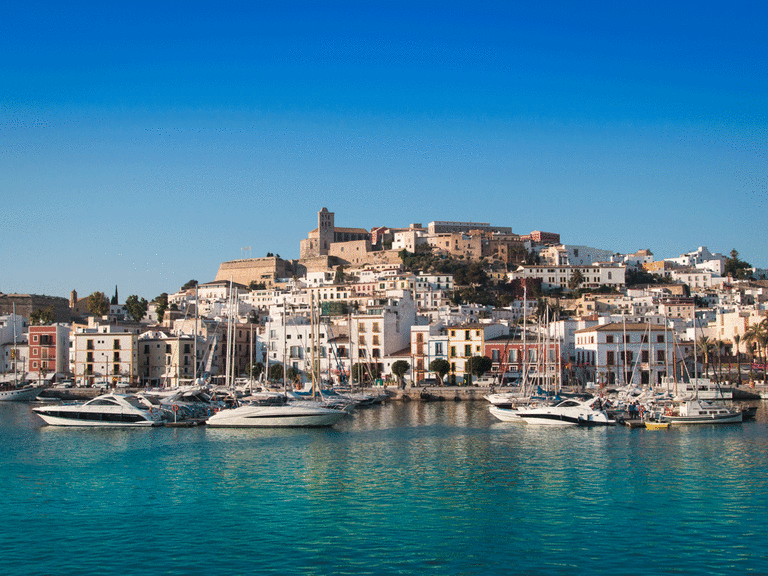 If you really want to go all in after your wedding, celebrating in Ibiza is the best option for you. Known for its huge party scene, Ibiza will quench your thirst for nonstop luxurious nightlife. If you want to take a break from it all, visit some of the island's ancient villages, scenic beaches and hidden coves.
25. Tel Aviv, Israel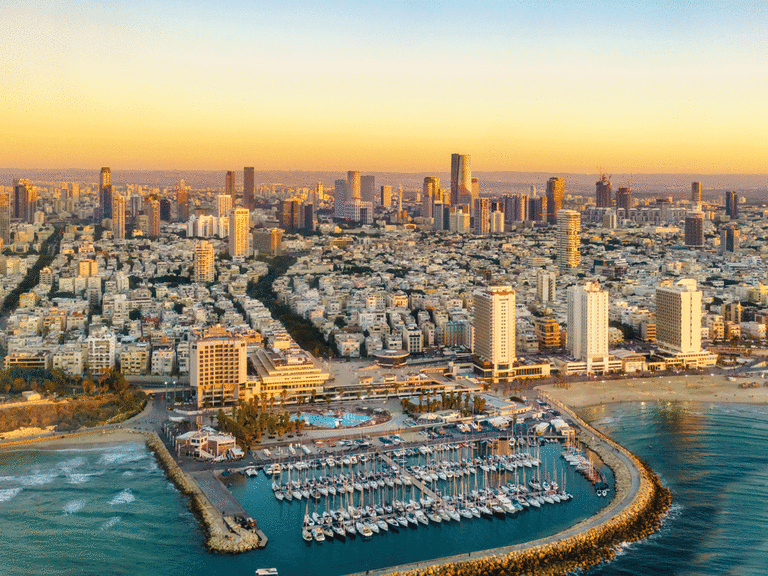 Tel Aviv is known as one of the most gay-friendly cities in the world, resulting in it being one of the best LGBTQ+ honeymoon destinations on our list. Take the time to go to Jaffa, an ancient port city with impressive architecture, meander through one of the city's museums or visit the sparkling coastline to have a dip in the Mediterranean Sea. We promise you that you'll love everything that Tel Aviv has to offer.
26. Cape Town, South Africa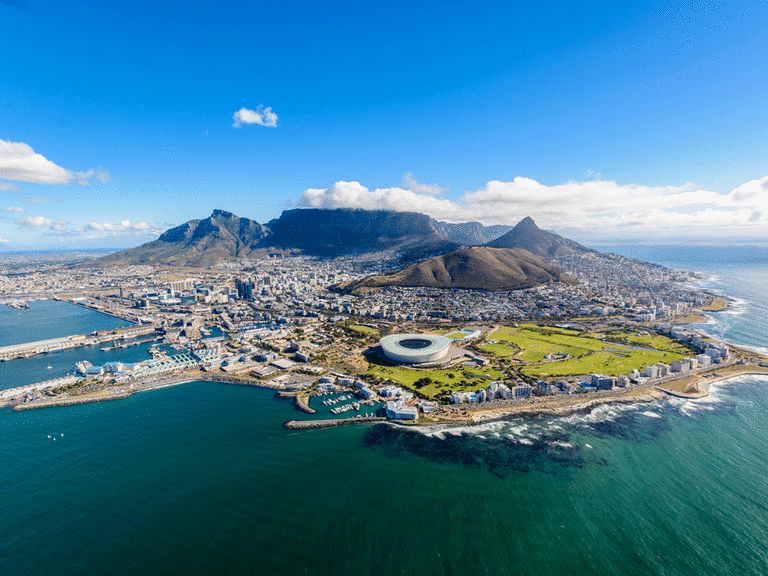 Cape Town is arguably the most welcoming city in Africa for LGBTQ+ couples and is a great place for newlyweds to immerse themselves in African culture. Cape Town has slowly become one of the most frequented cities in Africa and has blossomed into a bustling city with plenty to do. Take a trip to the famous Table Mountain, where you can hike or go to the top by cable car, sunbathe on the beach or tour a vineyard in the Cape Winelands.
27. French Polynesia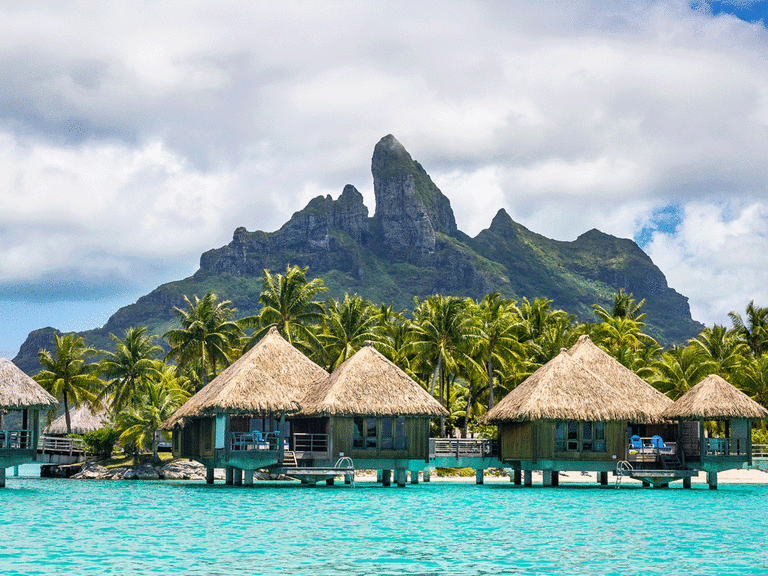 French Polynesia is made up of 118 islands that spread out among the South Pacific Ocean. Known for its volcanoes, piercing blue oceans and overwater bungalows, French Polynesia, or its capital island Tahiti (some people use the names interchangeably), is the perfect luxury honeymoon getaway. Bora Bora, another destination famous for its turquoise ocean waters, is a part of this French Polynesian island group. Its breathtaking scenery provides one of the best environments for you to bask in your marital bliss. No matter if you want to go island hopping with your spouse, snorkeling or stuff yourself with mouthwatering French Polynesian cuisine, you'll find something that you can check off your bucket list.
28. Phuket, Thailand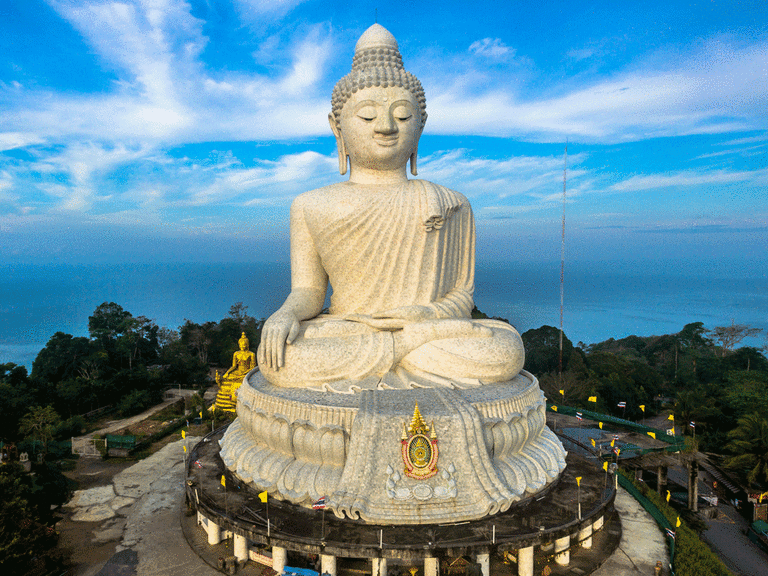 Even though a flight from the U.S. to Thailand is about 20 hours, we promise you it's worth the trip. According to Green, it's one of the most inclusive cities in the world and has some of the best food, nightlife and watersports too. Sail through Phang Nga Bay to see the famous "James Bond Islands," climb the Nakkerd Hill to see the 148-foot tall Big Buddha or walk through Bangla Night Market to try tasty street food. The options are truly endless in Phuket.