An Arizona Honeymoon Has More to Offer Than Just the Grand Canyon
From Sedona to Scottsdale, these are the best spots to visit on your romantic getaway.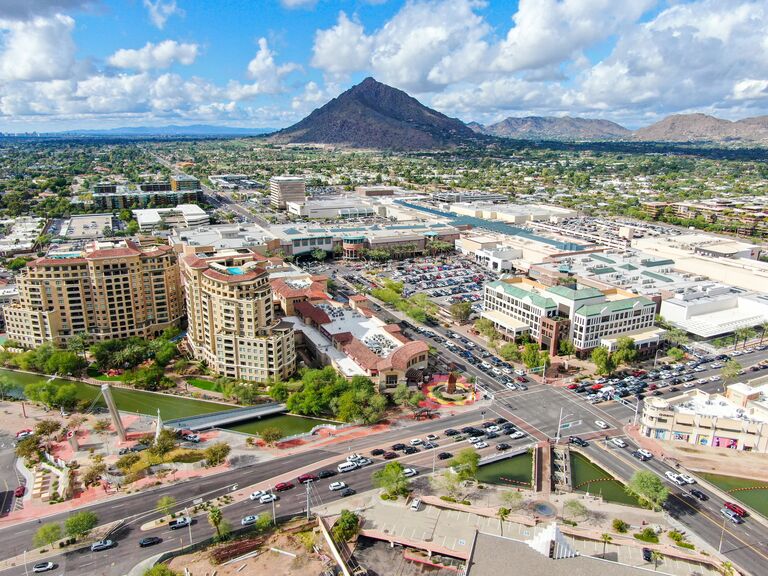 Bonandbon/Shutterstock
We have included third party products to help you navigate and enjoy life's biggest moments. Purchases made through links on this page may earn us a commission.
With its hot climate and gorgeous desert landscape, Arizona is the perfect location for the honeymoon of your dreams. Full of breathtaking national parks, artistic towns, world-renowned golf courses, monuments and, of course, the Grand Canyon, a romantic Arizona honeymoon will include its fair share of sightseeing, not to mention it will be the perfect backdrop for your cute newlywed photos.
If you're stationed on the West Coast, a trip to Arizona will be quick and easy, and you can even turn it into a road trip if that's the type of adventure you're looking for. If you're based on the East Coast, nonstop flights to Arizona will take around five hours, so while it's still totally manageable, you'll want to budget for a little extra travel time.
Ready to hike, admire nature and take Insta-worthy pics? We thought so.
Is Arizona Good for a Honeymoon?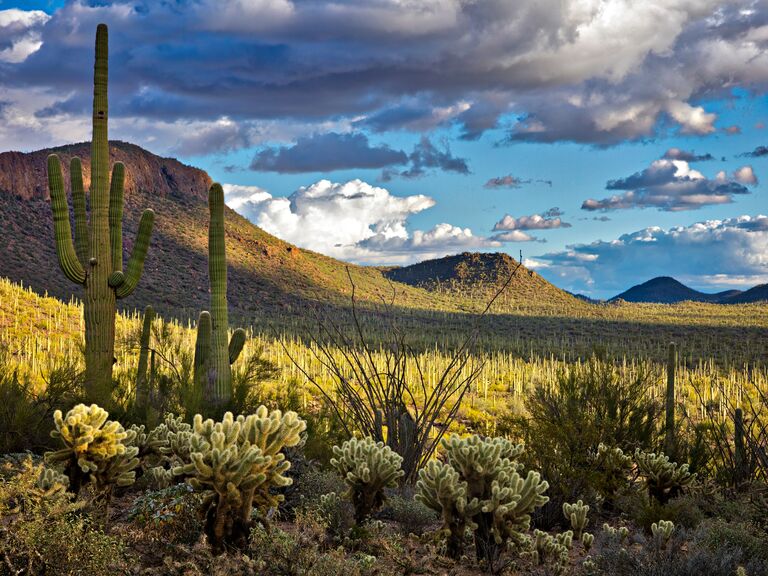 Pros of an Arizona Honeymoon
No matter where you live in the US, getting to Arizona is pretty easy. The state is full of gorgeous scenery, wonderful national parks and natural beauty. It has a little bit of something for everyone, whether you want to spend the day at a luxury resort or try your hand at some outdoor activities. No matter when you go, the weather is bound to be amazing, since Arizona is known for its gorgeous sunny days and warm temperatures.
Cons of an Arizona Honeymoon
Arizona is a landlocked state with a hot climate, so if you're more of a snow bunny or you're interested in seeing the ocean, this isn't the place for you.
If you're traveling to Arizona, you have to keep in mind that the desert climate may be a completely different environment than what you're used to. It's important to drink water and stay hydrated if you're out in the sun. Also, pay attention to the temperature to ensure that you aren't about to go outside when it's way too hot. Arizona is also home to some wildlife that you won't want to mess with, like snakes and scorpions, so watch where you step.
The Best Times of Year to Go on an Arizona Honeymoon for Good Weather
Arizona is the sixth largest state in the US, which means different times of year are best depending on which area of the state you plan to visit (though you'll typically want to avoid June through August). If you're taking a trip to Phoenix, it's best to visit from November through April, but if you're looking to visit Flagstaff, it's best to go between September and November after the summer crowds have left and before the snowy winters begin.
Those interested in seeing the artsy town of Sedona or spotting the Grand Canyon should go between the months of March through May, before the temperature gets too hot. If you're looking to hang out in Tucson, it's best to go in April, May, September or October for the best weather.
Places to Visit in Arizona for a Honeymoon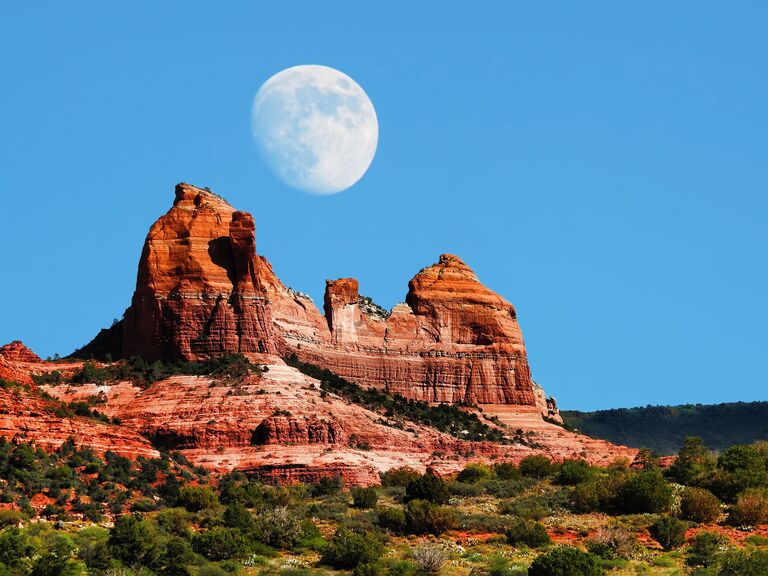 Arizona has some of the best natural sites and historic towns in the country, so there's a lot to see. If you want to jump between a few different cities, we recommend renting a car since it's difficult to get very far on your own. Depending on the city you're heading to, there are a ton of fun and unique opportunities for exploration in the Grand Canyon State.
Phoenix
If you're looking to spend some time in a luxury resort, Phoenix has a number of wonderful options. It's also a great spot to visit if you're looking for a dose of Southwestern culture. Head over to the Desert Botanical Garden, or spend some time hiking up Camelback Mountain. Phoenix is also home to some wonderful museums, golf courses, spa resorts and gorgeous parks.
Tucson
Head to Tucson in the southern part of Arizona to spend some time hiking through the Sabino Canyon or wandering through Saguaro National Park. If you're looking to explore the city itself, Tucson is home to the University of Arizona, so take a walk through the campus or hop on a historic bike tour.
Sedona
For those interested in exploring the artsy side of Arizona, Sedona has some of the best sights around. While you can still take advantage of gorgeous hiking trails and state parks like Red Rock, Sedona is also home to an arts and crafts village, the Verde Valley Wine Trail and calming spas perfect for that couples getaway.
The Grand Canyon
If you really want to catch sight of one of the seven natural wonders of the world, take a trip to the northern part of Arizona to see the Grand Canyon. Hiking through the Grand Canyon can take hours—if you want, trade in your walking shoes for a saddle and go horseback riding while admiring the view. You can also go on the Grand Canyon Skywalk to catch sight of one of the most beautiful places in the world from a new angle.
Flagstaff
For those who are embarking on an Arizona road trip, Flagstaff is the perfect stop between Sedona and the Grand Canyon. Flagstaff is home to Walnut Canyon, Lowell Observatory and the Wupatki National Monument, which is full of Native American archeological sites.
Best Hotels and Resorts in Arizona for a Honeymoon
If you want to experience a truly romantic and private getaway, head to the Loews Ventana Canyon Resort, which is just two hours from Phoenix. This spa resort will help you unwind with its two swimming pools, private balconies and delicious restaurants.
Royal Palms is a Scottsdale-based resort that boasts amazing wellness opportunities, including a spa, yoga classes, award-winning Mediterranean cuisine and romantic private cabanas.
At the super-romantic L'Auberge de Sedona, you'll be able to choose from a variety of private cottages. During the day, hike through Red Rock State Park, and at night, enjoy dinner on your private balcony while stargazing.
This five-star hotel will definitely sweep you off your feet. Aside from offering beautiful guest rooms and suites, The Canyon Suites at The Phoenician has a variety of activities to keep you entertained all week long. Get the golf experience package and spend as much time as you want on the course, or opt for the Phoenician spa package to get pampered all day long.
Take in the one-of-a-kind view at this Marriott located in the historic Twin Buttes area. Dine at the Top of the Rock restaurant, spend your days sightseeing in the Sonoran Desert, and gaze out your guest room windows to catch a truly breathtaking view.
What to Pack for an Arizona Honeymoon
Arizona is known for its dry and arid climate—in most cases, you can leave your snow boots and raincoats at home. Make sure to pack plenty of sunscreen, a hat and light clothes. If you're planning on taking advantage of Arizona's many outdoor activities, don't forget to bring heavy-duty walking shoes or hiking boots, comfortable clothes and a backpack.