The Honeymoon Road Trip Destinations of 2023-2024, According to The Knot Editors
Biggest tip: Always remember to fasten your seatbelts and prepare a solid playlist.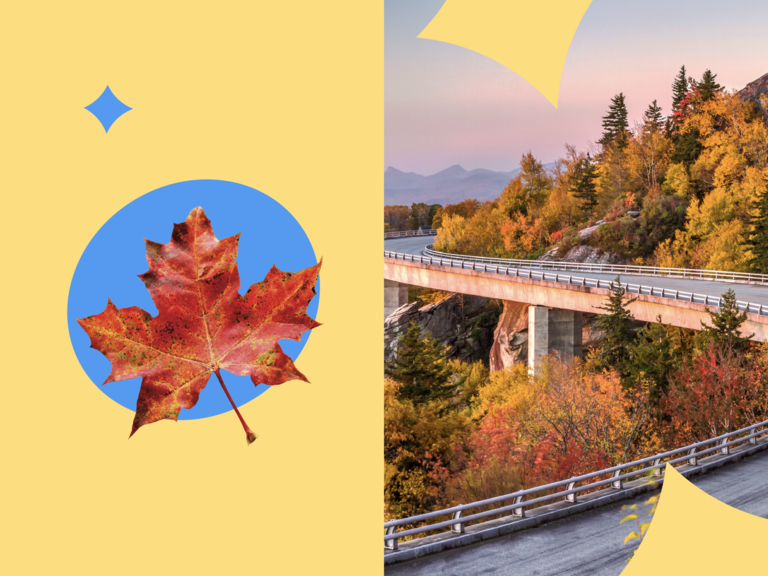 Photo: Creativ Studio Heinemann, Pierre Leclerc Photography,Design: Natalie Romine
We have included third party products to help you navigate and enjoy life's biggest moments. Purchases made through links on this page may earn us a commission.
Alternating playlists, open highways, blissful lookout points, and quality time with your partner are just a few perks to consider if you choose to venture down, ahem, the route of a honeymoon road trip. The US, particularly, is home to numerous prized honeymoon destinations. Out West, sloping mountains make way to lush valleys and otherworldly and arid desert landscapes. Both the Pacific and Atlantic Coasts are home to scenic routes that carve through farmland, vast mountainous regions, small towns and sprawling cities. A honeymoon road trip is particularly memorable because you're experiencing travel and passing precious time together. Read up on the best road trip honeymoon locations, including the best places to eat and stay with prized tips from The Knot Editors.
In This Article:
Why a Honeymoon Road Trip?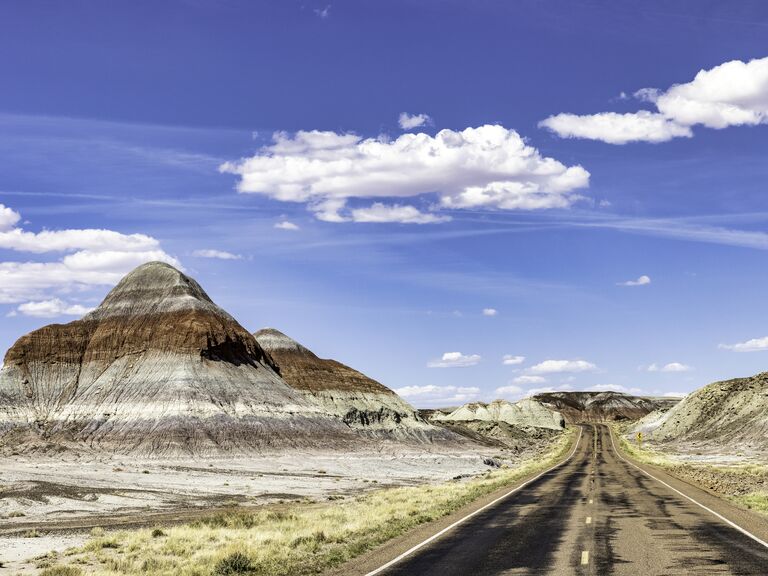 The US is home to some of the most renowned scenic roads in the world. Under President Dwight D. Eisenhower's Federal Aid Road Act of 1916, the government's herculean effort to create interstate highways and connecting roads is still enjoyed by citizens and tourists today. So, what makes a road trip honeymoon particularly enticing to couples?
As half of all couples honeymoon in the US, according to our internal data, there's something alluring about renting a car or igniting the engine of your own vehicle, packing up your road trip essentials and voyaging through scenic bypasses and highways. There's a deeper sense of bonding that occurs during long road trips—one that feels more exclusive and romantic; after all, the voyage is part of the overall experience.
In addition, couples prefer the intimacy of long drives and self-contained travel without the variables involved across international airports and public transportation hubs. A response to counter never-fading revenge travel, road trip honeymooners are the types to seek slower experiences without having to stare down long lines at airports and frustrating delays. While the trek may take longer, the experience of a road trip honeymoon is more personal. And, one of the best perks of all is that pending location, it's a considerably more cost-effective and affordable way to experience a destination (or multiple, if that's your preferred getaway style).
The Best Honeymoon Road Trip Destinations of 2023-2024
Pacific Coast Highway, California
There's no place in the USA like the Pacific Coast Highway, which carves through Big Sur's stunning Jurassic landscape and leads drivers to some of the most beautiful sights in the country. This single-lane highway is arguably one of the most beautiful road trip honeymoons to consider in the world. It's romantic, plus you end up losing cell service for several hours. How's that for unplugged time together? A convertible is encouraged, especially during the warmer months. Take it from this editor, who drove from San Francisco to LA, and would do it again in a heartbeat.
Where to Stay: Splurge for a night (or week) with a stay at the Alila Ventana Big Sur. The restaurant on site has arguably one of the best lattes of all time, and there's a neat art installation that looks out to the Pacific too. If you prefer to be in a forest setting, Fernwood Resort is another option.
Where to Eat: The burger is the main attraction at Nepenthe. The scenic views of the Coastal Redwoods and the Pacific are a bonus.
Editor's Tip: Start in San Francisco and drive towards Los Angeles. You'll be on the outermost part of the road with untainted views of the Pacific; plus, you'll be able to easily pull to the side of the road and enjoy lookout points.
The Lake Tahoe Scenic Bypass, Nevada and California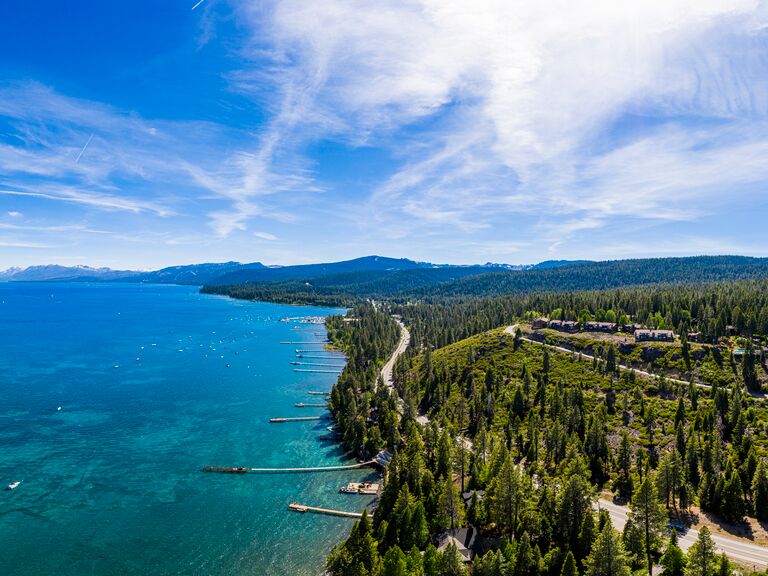 Along the perimeter of Lake Tahoe is a glistening 28-mile stretch of highway that runs from Stateline to Crystal Bay. Incline Village is a perfect destination for couples who prefer a mountain retreat honeymoon with the amenities of a local town. Tahoe activities are seasonal, so when you decide to visit may determine your activities and even where you choose to book a stay. Some of the best activities include Thunderbird Lodge Historic Tours for couples who want a taste of culture and history, the hidden gem of Diamond Peak Ski Resort for adventurous snow bunnies, and Sand Harbor Beach for summertime honeymooners who want to swim and sunbathe.
Where to Stay: The lakefront Hyatt Regency Lake Tahoe Resort Spa & Casino is conveniently located in Incline Village and has 500 feet of private beach along with Tahoe's sole floating pier bar. The property is stocked with on-site amenities and options for romance, including an on-site spa as well as pristine luxury cottages. (Something this editor loves.) A more affordable option that comes well-recommended is the Incline Lodge, a boutique property that's also situated in Incline Village. Close to Sand Harbor Beach, Diamond Peak, the Flume Trail, and more, this laid-back hotel also blends terrifically into North Lake Tahoe's laid-back energy.
Where to Eat: If we're on a first-name basis, ask locals for the best breakfast options across Tahoe. Other highly-rated alternatives include Lone Eagle Grille, located within the Hyatt Regency. For a quick lunch in Incline Village, locals recommend Mountain High Sandwich Co. for all-natural gourmet deli sandwiches—gluten-free options, included.
Editor's Tip: Of course, everything revolves around the lake, itself, but don't forget to take in the sweeping natural beauty along the way as you witness the cascading slopes of Jeffrey Pines and take in the crisp air.
The Road to Hana, Maui, Hawaii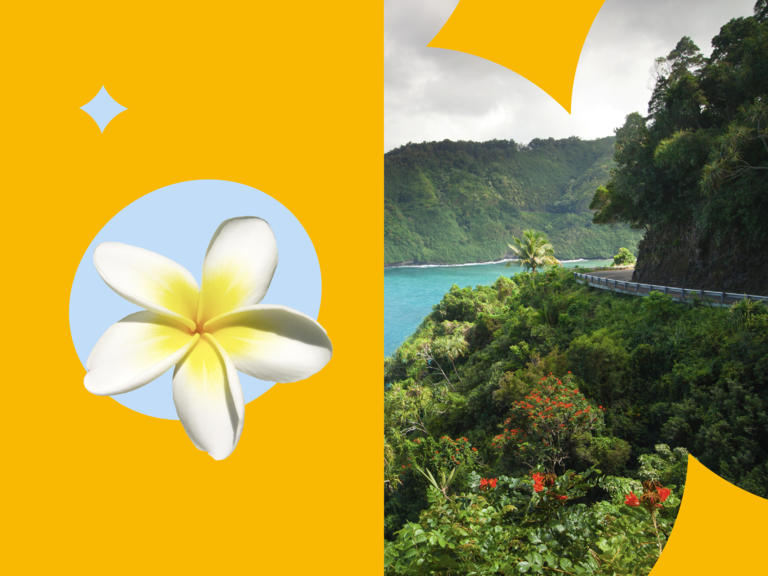 The Road to Hana features everything from bamboo forests to cattle ranches, waterfalls and Maui's splendid microclimates. The 64.4-mile stretch of highway starts at Kahului and famously leads to Mount Haleakala, the tallest summit of the island. Uninterrupted drives can be completed in just under three hours, but couples will want to make multiple stops along the way. Activities include jumping into waterfalls, watching the beloved honu (sea turtles) bob below and above the surface of the Pacific, hiking along gorgeous trails of bamboo forests, and more. If you're lucky enough to score tickets to witness the Haleakala sunrise, this editor recommends bundling up in layers and packing hotel blankets for that early morning wake-up call. Don't forget your camera. This is a once-in-a-lifetime experience.
Where to Stay: There's a reason why the Four Seasons Maui at Wailea was the property of choice for location scouts for the first season of HBO's White Lotus. With a trendy adults-only infinity pool, both privacy and people-watching are within reach in luxurious Wailea Beach. One of the best aspects of staying at this beloved hotel is the complimentary pool service provided daily at 3 p.m., where guests are handed cooling treats like mochi ice cream. Head to the neighboring Four Seasons Resort Lanai either before, after, or directly from the airport to focus on your well-being and indulge in top-rated service.
Where to Eat: For a special occasion, book a hard-to-snag table at Mama's Fish House in Paia or a sunset view perch at Ferraro's Bar e Ristorante in Wailea. For affordable eats, grab a poke bowl, especially from a no-frills market like Tamura's. Those with a sweet tooth should join legions of devoted fans with a stop at Ululani's Hawaiian Shave Ice. (The Lahaina location is closed—consider donating—and you can find this beloved local treat across other locations on the island.)
Editor's Tips: As one of the most popular honeymoon and family destinations in the country, Maui naturally balloons in tourism volume during the holidays and winter months. Book everything far in advance to secure rates and more. If you prefer a slower-paced experience, consider doing Maui for a few nights, then book a stay on the neighboring island of Lanai. In addition, Maui was recently impacted by devastating wildfires. As of print, West Maui properties (in Kapalua and Ka'anapali) remain closed until October 17, but the rest of the island is open for business. Tourism remains vital to the local economy. Consider supporting Maui and the neighboring Hawaiian Islands with your support and presence through the next few years.
Overseas Highway, Florida Keys, Florida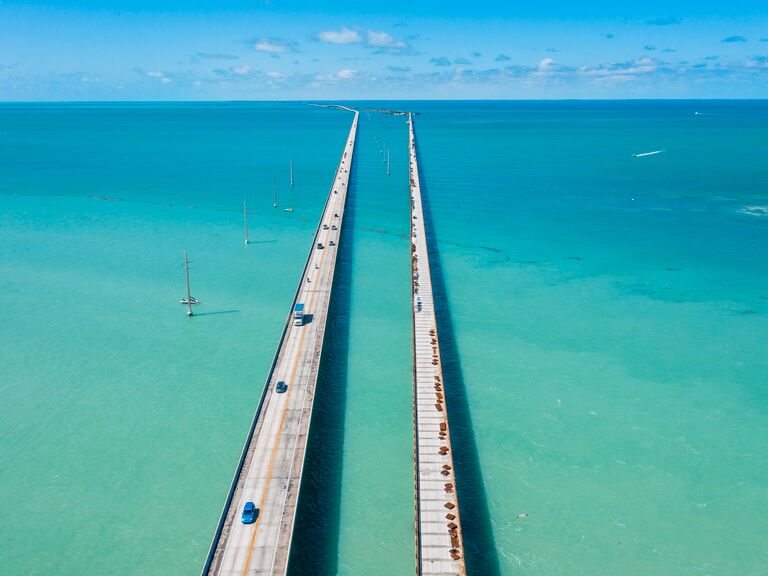 Couples should set aside a whole day to drive along the famed Overseas Highway leading down to Key West—especially because the commanding views, delicious restaurant stops, and discovery along the way will require several stops from Key Largo to Key West. Considered one of the top five drives in the US, the 113-mile Overseas Highway is arguably one of the most beautiful in the world. A roughly four-hour drive each way, without stops, this road trip honeymoon idea comes well-recommended by our Associate Director of Editorial Video, Ash Tulett. "The minute you hit the first bridge into Key Largo, you'll know there's something special about this road," he says. "Meander through surf shack towns, new construction sprawl, beach bunny havens and luxury resorts, all linked by bridges that offer achingly beautiful panoramas of the ocean. If you're lucky, you might even get to cruise alongside a pod of dolphins or manatees."
Where to Stay: Couples can find everything from campgrounds to a private island resort along the Keys. Tulett recommends the boat ride to Dry Tortugas National Park for a camping experience, which must be booked ahead of time. Other recommendations from our team include the romantic Playa Largo Resort & Spa, a 178-room luxury property featuring 10 private bungalows. Once you've arrived in Key West, consider a stay at Oceans Edge Resort & Marina or the Southernmost Beach Resort, known for its southernmost location down Duval Street.
Where to Eat: Lunch should be enjoyed at Alabama Jacks, where the crabcakes are beloved by locals and tourists alike. After a savory meal, couples should head to the outskirts of Key Largo to indulge in one of the most famous spots for key lime pie: the Blond Giraffe Key Lime Pie Factory. If you'd rather drive all morning and prefer to snag lunch in Islamorada, located halfway between Key Largo and Key West, Robbie's is the spot for everything from lunch to tarpon feeding. Upon arrival to Key West, Conch Republic and Schooner Wharf Bar are both viable options, according to Tulett. He also recommends the key lime pie from Kermit's Key West Key Lime Shoppe.
Editors' Tips: Prepare enough hours in the day to enjoy the scenic views offered along each stretch of the Overseas Highway. Tulett encourages couples to start early and to, indeed, pull over frequently. "Remember your beach towels should you fancy a quick hour of sun after a lunch pit stop (or picnic). There's an avalanche of water activities to enjoy along the way," he adds. To avoid traffic, Tulett says to skip the main US-1 route when leaving Florida's mainland. Instead, enjoy the road that goes past Crocodile Lake and Alabama Jacks.
The Oregon Coast Highway, Oregon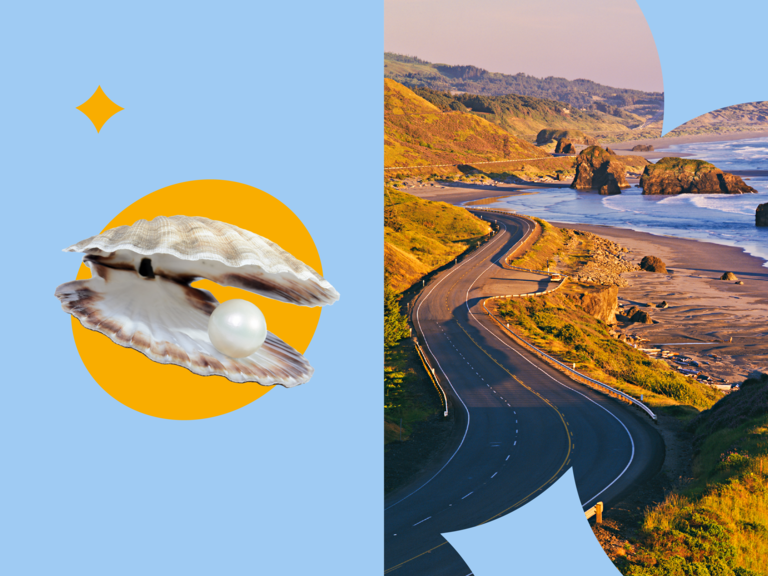 A drive along the Pacific Northwest's Highway 101 may have you thinking you're starring in a Twilight movie, says Editorial Designer Tiana Crispino. A former resident of Washington state, Crispino can attest to the region's sweeping and wondrous beauty. "I'm here to tell you it is not always rainy, and it's one of the most beautiful and unique places I've been," she says. "Looking back, it's still one of my favorite places. The landscape is breathtakingly wild. Plus, the intimate beach town feel along Highway 101 is not to be missed." The coastal forests dramatically drop off to the sea, making the Oregon Coast Highway the perfect road trip honeymoon for those who prefer to spend their days hiking, relaxing on the beach, and exploring local shops all the way down the 101. (Highlights include Tillamook Creamery and Haystack Rock, one of the most photographed treasures of Cannon Beach.) "My husband and I loved it so much that we ended up eloping on the coast at Hug Point Park," Crispino says.
Where to Stay: Options recommended by Crispino include Surfsand Resort and Land's End Hotel at Cannon Beach. Easygoing types may want to pitch a tent and camp under the stars at Humbug Mountain State Park.
Where to Eat: The PNW's coffee culture thrives along the Oregon coast. Stop by the Sleepy Monk Coffee Roasters, then head to The Wayfarer or Crepe Neptune for a meal.
Editor's Tip: To avoid surges in crowds and costs, try the off-season. October is an excellent time to visit as the weather is cool, crisp and sunny.
Ten Mile Drive & Ocean Drive, Newport, Rhode Island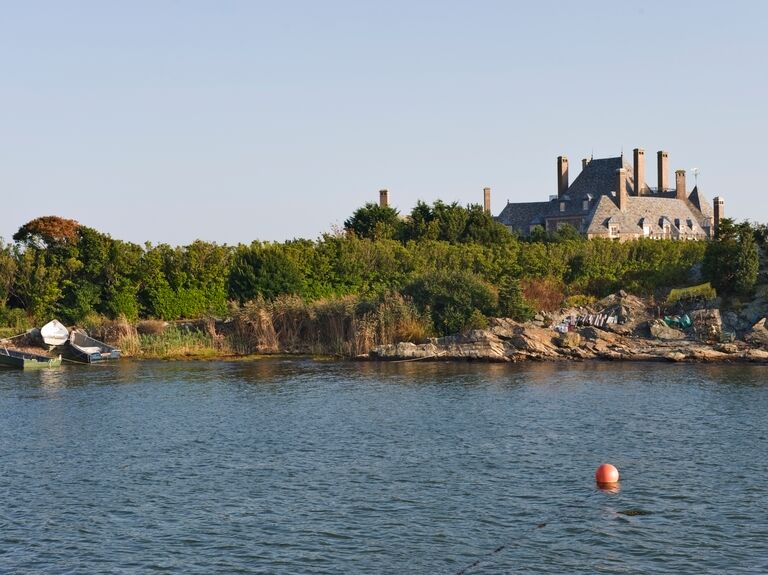 There's a reason why John F. Kennedy and Jackie Kennedy Onassis chose to marry in Newport. The glittering East Coast destination is a summertime favorite among stars and notables, including our Entertainment & Celebrity Editor Sarah Hanlon, whose first visit to Newport was with her mom. A welcome respite from the bustling city, she even booked two additional return trips within that year. Couples will appreciate Ocean Drive's 10 miles of coastline along the southern coast of Aquidneck Island, which features Gilded Age architecture. Most will start their Ten Mile Drive at the historic Bellevue Avenue and make their way around the coastline, which includes Ocean Drive. "It's one of the most breathtaking places I've ever seen in my life, thanks to its commanding view of the sea dotted by rugged bluffs and historic grand mansions," says Hanlon.
Where to Stay: Between historic properties like the famed five-star hotel, The Chanler at Cliff Walk, and well-recommended options like the well-appointed Brenton Hotel or the cozy Hydrangea House Inn, Newport is littered with options for a honeymoon stay. We also recommend looking into bed and breakfasts, which New England is especially known for doing well.
Where to Eat: Welcome to the land of clam chowder, fresh seafood and the prized New England treat of the lobster roll. "That's where The Landing, a laid-back, open-air restaurant on the dockside of Bowen's Wharf in downtown Newport, comes in," says Hanlon. Honeymooners seeking an extra special occasion should also consider stopping by the waterfront Anchor Room at The Coast Guard House in neighboring Narragansett, or the Dining Room at Castle Hill Inn. "If not for dinner, at least for a chilled glass of rosé on the sprawling lawn," she suggests.
Editors' Tips: "Leave time for a chartered boat lighthouse tour to get a fascinating history lesson on some of the state's prettiest landmarks," says Hanlon. Those seeking a cross between adventure and education may also enjoy an immersive guided oyster farm tour at a restaurant like Wakefield's Matunuck Oyster Bar. "Oh, and if you're a Swiftie, take a detour to Watch Hill and see Holiday House for yourself (IYKYK). While you're there, grab a table on the veranda of the iconic yellow Ocean House resort to enjoy the best lobster roll of your life."
Mountain Cloves Scenic Byway, The Catskill Mountains, New York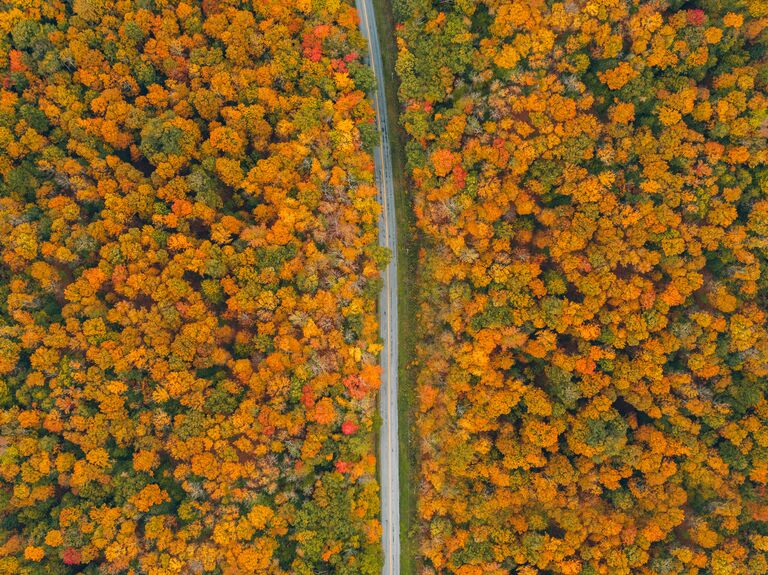 Autumn, with its crisp air and the turning of leaves, is an exceptional time of year to drive through the Catskills north of New York City. The Knot's Sr. Manager of Commerce Content Strategy, Emily Platt, elaborates why this road trip is worth taking. "The first time my partner and I drove along Route 23A during peak fall foliage, it took our breaths away," she reminisces. "The winding road carves through natural beauty that's truly magical in autumn. The surrounding area wowed us with glowing trees, flowing creeks, and, of course, mountain views. It's no wonder the Hudson River School artists were captivated by this region."
Where to Stay: Sixty freestanding cabins at Wildflower Farms across sprawling acreage provide ample privacy and seclusion—something frequently sought by New Yorkers who flee upstate for respite. Another stylish and popular option is Scribner's Catskill Lodge, off Route 23A, says Platt. "We have fond memories of the outdoor barrel sauna and roasting s'mores on the deck."
Where to Eat: Platt highly recommends Scribner's restaurant, Prospect, for its fresh dishes and seasonal cocktails at the bar. "We brought a round back to our room," she says. "Additionally, I highly recommend a dinner reservation at the Deer Mountain Inn, located on County Road 25. I'm always impressed with the food, drinks and service—plus, the rustic decor is certifiably romantic. I haven't stayed overnight, but it's on my bucket list." Pet parents should scope out West Kill Brewing for beer, food truck fare, and quality vibes.
Editors' Tips: "Kaaterskill Falls is mesmerizing from top to bottom—see it both ways by starting at the viewing platform up above, then descend down the trail to stand in awe of its base," says Platt. "We went during a light rain (thank you, slip-resistant shoes) and had the place all to ourselves. The moody sky made the colors of the trees look even more vibrant and the entire atmosphere felt mystical."
Blue Ridge Parkway, The Carolinas and Virginia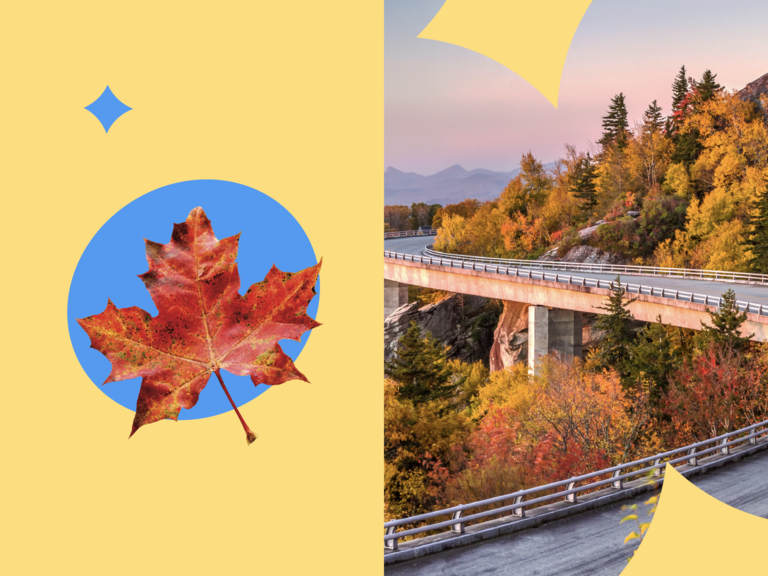 The twinkling Blue Ridge Mountains and lush greenery of the surrounding region are just a few reasons why our Senior Editor of Weddings, Hannah Nowack, advocates for a Blue Ridge Parkway getaway. "This road trip is especially great for outdoorsy couples as there's nothing better than a day hike along the Appalachian Trail," she says. "I recommend starting up near Washington, DC, and driving South toward North Carolina. You can spend a couple nights in Virginia and then relax for the bulk of your trip in either Asheville or the Highlands in North Carolina."
Where to Stay: Nowack has multiple recommendations for resorts along the Parkway, starting with Old Edwards Inn & Spa (or the OEI, according to locals) nestled in Highlands, North Carolina. "People travel from far and wide to stay at the resort, which is known for its luxurious accommodations, indulgent spa, great food and private golf course," she says. The five-star Salamander Resort & Spa in Middleburg, Virginia, is another popular option for couples traveling from Washington, D.C. Arguably the most famous stay along the Blue Ridge Parkway, however, is The Inn on Biltmore Estate in Asheville, North Carolina. The elegant and historic 19th-century estate built by George Vanderbilt is a favorite among honeymooners and couples celebrating special occasions. "It blends exquisite hospitality (including four-star dining), rich history and dreamy views of the Blue Ridge Mountains," says Nowack.
Where to Eat: Paying a nod to her alma mater of Virginia Tech, Nowack recommends dining at Cellar Restaurant in Blacksburg, Virginia. "I wouldn't be a true Hokie if I didn't include at least one suggestion in Blacksburg," she says. "This option is located a stone's throw from campus and is a beloved staple along Main Street. Pro tip: Order the BBQ chicken pizza, you can thank me later." The Cúrate in trendy and culinary-centric Asheville, North Carolina, is known for serving authentic Spanish dishes. "I'm here to assure you that this spot is a must-visit," she says. "Prepare to fall in love with Cúrate's tapas offerings and solid wine list."
Editors' Tips: Book your stay for the fall—the foliage glistens in an array of jewel tones as you drive along the Blue Ridge Parkway. What's more romantic than that? Nowack also recommends visiting local apple orchards to stock up on snacks for the road.
The Gulf Coast Road Trip, Louisiana and Texas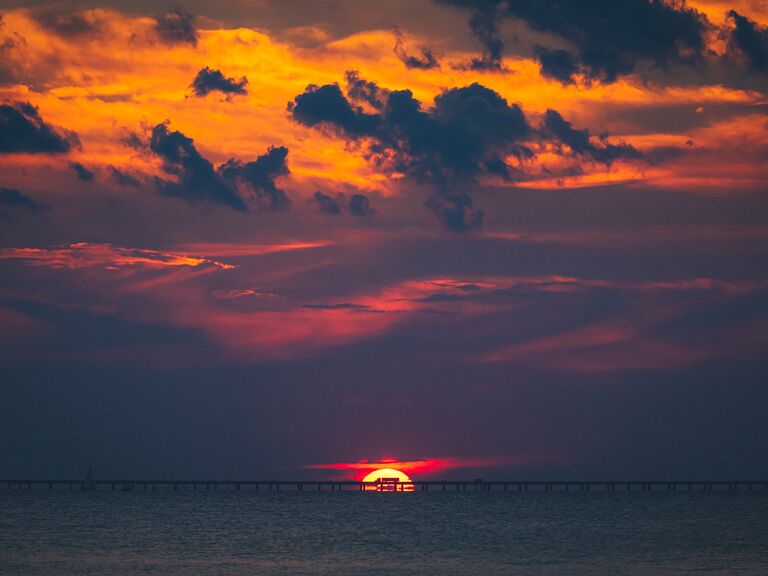 An unexpected choice for a road trip, US Interstate 10 from New Orleans to Houston is a lauded choice for couples who want to combine convenience with the exploration of numerous major US cities along the Gulf of Mexico. "This is arguably one of the least-famous road trip routes, but that just might be what makes it one of the best," says Nowack. "If you live in the Southeast and are looking for a convenient honeymoon road trip route then listen up. A trek along the coast of the Gulf of Mexico is a fun and non-traditional option you need to consider."
Where to Stay: For a splurge-worthy stay, consider the Four Seasons Hotel New Orleans, a 34-story property that's landed on the National Register of Historic Places. "The property has both a spa and pool as well as a great lobby bar," says Nowack. The other option is a favorite among couples: the Post Oak Hotel Uptown in Houston, Texas.
Where to Eat: Foodies will delight in this road trip honeymoon option. As you're making your way through some food-centric cities like New Orleans and Houston, couples will enjoy everything from simple bites to mouthwatering multi-course meals. "At some point during your trip you simply must buy a Po-Boy sandwich, ideally from a hole-in-the-wall spot that you stumble upon while exploring a small town in Louisiana or Texas," Nowack says. "But for the planners among us, consider visiting Cochon in New Orleans for a nicer date night or Jus Mac in Houston for casual eats (I'm a fan of the buffalo mac)."
Editors' Tips: "Off-the-beaten-path road trips like this one are all about spontaneity," says Nowack. "See a random sign for a mom-and-pop shops that catches your eye? Pull off the road without hesitation. Going with the flow and letting the region speak to you is the key to making the most of this trip route."
The Painted Desert Scenic Drive, Route 66, Arizona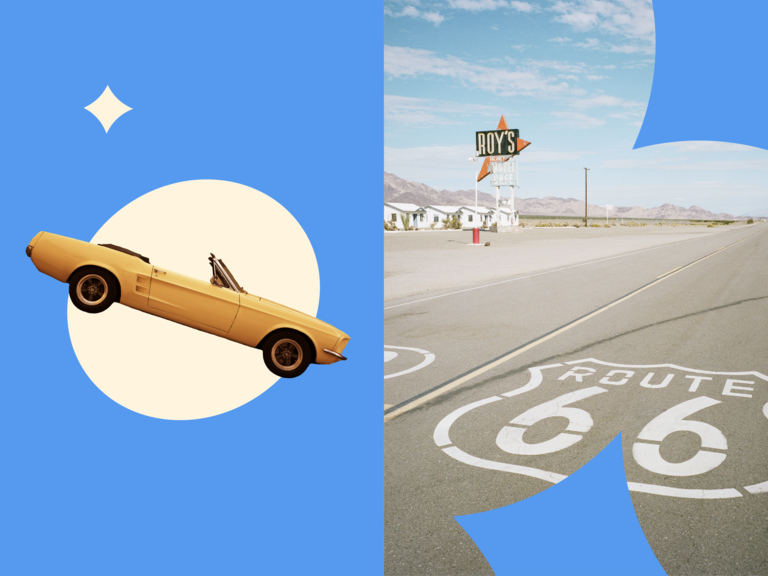 Route 66 is known as the "Mother Road" for its presence from Chicago through the southwest US all the way to California. The most well-recognized and scenic drive along the highway is a 28-mile road carving through the Painted Desert. This road trip honeymoon option feels otherworldly with the fairy tale landscape taking drivers across sun-bathed rock formations, arid desert fauna and flora, and the beating beauty of stillness that reverberates across the vast and open road. Couples will cruise past Newspaper Rock to witness Pueblo artwork, then head to Blue Mesa and Agate Bridge. Starting from the north means your drive will end near petrified Redwoods (millions of years in the making) in the Petrified Forest.
Where to Stay: Enjoy a stay at the Little America Hotel in Flagstaff, Arizona, or book a home rental for a more intimate and cozy experience in nature.
Where to Eat: With so many dining options across Flagstaff and Holbrook, couples should turn to reviews to track down top-rated spots along the way.
Editor's Tips: Don't forget to pack a cooler filled with water and ice, as well as sunscreen and shades. This is one road trip honeymoon trail that will be scorching hot, especially in the summer months. Oh—and get ready to take plenty of photos of the scenery.
Ross Maxwell Scenic Drive, Texas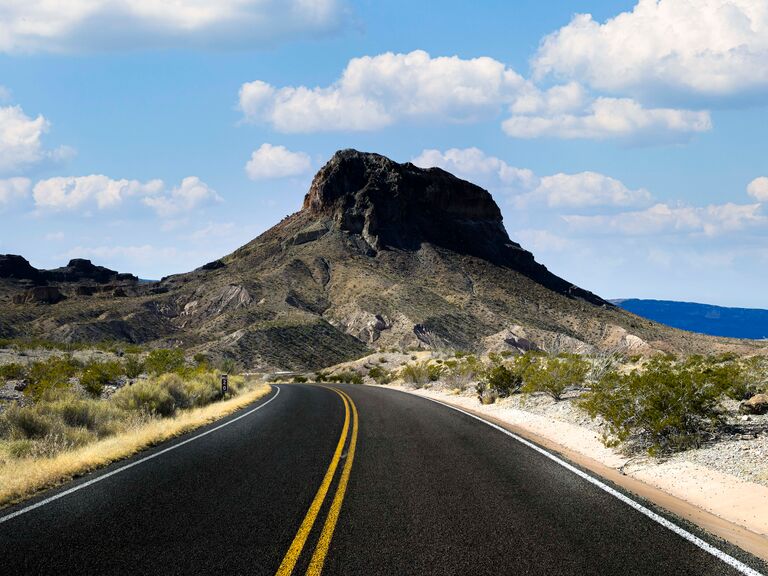 "One of the most memorable road trips I've ever taken was to Big Bend National Park along to Southwest border of Texas," says Nowack. "I did the trip with some gal pals (and it would make for a great bach weekend if you wanted), but I am eager to one day replicate this trip with a significant other. In the meantime, I'm saying no to gatekeeping and sharing my suggestions so you can make your honeymoon memorable with a Big Bend road trip."
Where to Stay: For a high-low mix of camping, then relaxing in a luxury property, then we have just the itinerary for you. "I recommend trekking down to Big Bend National Park early in the trip for a few nights of camping and hiking," says Nowack. "Then, drive back to Austin for R&R at one of the many amazing hotels and resorts the state capital has to offer. When you're back in Austin, consider relaxing at Miraval Austin Resort & Spa, Hotel Van Zandt or Hotel Ella."
Where to Eat: "Your time in Big Bend National Park will include a lot of camping meals, so let's focus on your ATX eats," admits Nowack. "Austin is not only a foodie's paradise, it's also packed with notable craft breweries. Consider planning out a tacos-and-beer crawl around the city so you can visit great taco spots (don't skip Nixta Taqueria, Suerte or Veracruz All Natural) in addition to awesome breweries (Live Oak Brewing Co, Zilker Brewing Co and AGBG are top picks). As a bonus: I always encourage Austin visitors to check out Jo's Coffee because my middle name is Jo and I just think it's the most adorable spot."
Editor's Tip: The stretch between the final stop for gas to Big Bend is long and you'll want to stock up on supplies (water, fuel and everything to prepare you for the national park). "Make sure to gas up your car in Marathon, Texas, before making the final descent into Big Bend National Park," says Nowack. "Once you get near to park there is very little infrastructure and you don't want to be left without necessary supplies. While you can purchase gas in the park it will cost you a premium."