It's Official: 2021 Is the Year of the Road Trip Honeymoon
And we have the scoop on the best places to go.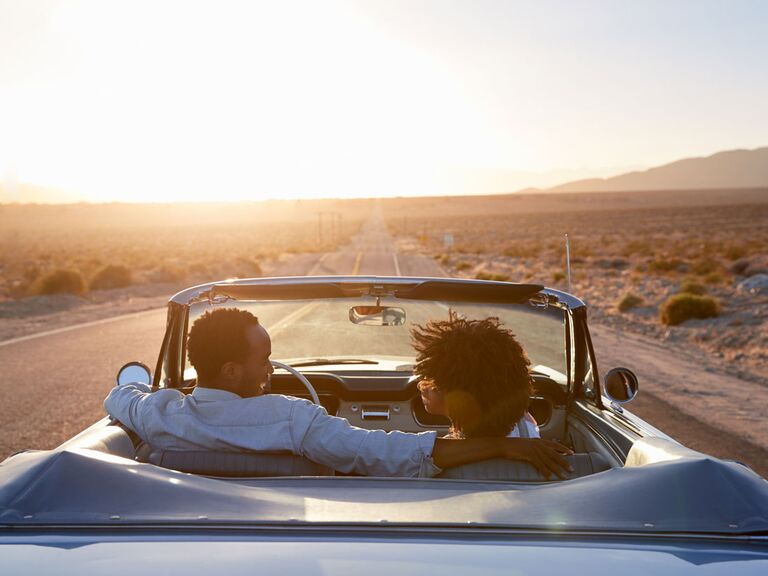 Monkey Business Images /Shutterstock.com
The coronavirus pandemic has certainly impacted the top wedding trends of 2021, and the same can be said for honeymoons. As couples rethink ways to safely marry and celebrate with loved ones, they'll also revamp the honeymoon experience. With the pandemic still affecting international and domestic travel, 2021 will be the year of the honeymoon road trip. Honeymoon trends fluctuate over time, as seen in new terminology created to describe trendy post-wedding vacations, like the minimoon, latermoon, and unplugged-moon. Now, the latest trend doesn't center around international or air travel—instead, the honeymoon road trip is all about reconnecting with your S.O. while safely experiencing local communities and nature-driven activities.
Since international travel is still deemed unsafe (and restricted in some popular tourist destinations), couples will turn to domestic trips to celebrate their marriage and spend quality time together. "We expect road trips to be one of the biggest 2021 honeymoon trends," says Ashley Grunska, Wedding Specialist at Hotel Crescent Court in Dallas, Texas. "Honeymooners may opt for a less traditional trip in favor of a COVID-friendly experience, like renting an RV or driving to explore their favorite state, a national park or local monuments and beaches."
While a road trip honeymoon might not be top of mind for some newlyweds, it's an ideal way to unplug and celebrate safely amid the pandemic. After all, a honeymoon isn't just about travelling to the trendiest destination to snap a few great Instagram pictures—what matters most is spending time with your new spouse. Here, we break down exactly why road trips are 2021's biggest honeymoon trend, as well as the top destinations to consider when planning your getaway.
In this article:
Why a Honeymoon Road Trip?
A road trip might not be the most common honeymoon option, but it's a great way to discover local, underrated sights. It also offers flexibility, something that a traditional vacation (like a cruise or all-inclusive resort) might not cater to. In creating a custom itinerary from scratch, you can choose the destinations and activities that excite you and your S.O. without straying too far.
"Our recent data finds that people want to find adventures closer to home," notes Ruzwana Bashir, founder of Peek, a marketplace travelers use to book vacation experiences and itineraries. "As a result, secondary cities have recently grown in popularity among our clients because they allow couples to travel safely."
Planning a road trip with stops at Airbnbs or small hotels will allow couples to plan experiences without being in close contact with others. It's for this reason that outdoor activities will be a key component of road trip honeymoons in 2021. "We've also found that our clients value getting into nature right now," adds Bashir. "People feel safer doing something outdoors, like camping, or isolated sports and activities on the water."
Flexibility is just one of many perks of planning a honeymoon road trip. We break down more below.
You and Your S.O. Can Reconnect
With an open road and no other couples or families nearby, a honeymoon road trip offers uninterrupted time together, something you wouldn't get in a popular tourist destination or on a group vacation. "A honeymoon road trip offers couples an intimate escape to commemorate their new journey together," says Jacob Holland, owner of Gordon Green, an event space in Cleveland, Ohio. "Plus, quick 'one tank destination' trips to places like the Cape or the Finger Lakes are more manageable and realistic."
The most important aspect of a honeymoon isn't the destination, but rather the person you're traveling with. The appeal of a road trip lies in the ability to focus solely on each other. In taking time to disconnect, you'll learn more about each other and your relationship by planning a trip that puts the focus on quality time—an ideal way to kick off married life.
You Can Rediscover the U.S.
There's a chance your travel bucket list includes plenty of cities and regions abroad, but you can still fuel your wanderlust without leaving the country. There are plenty of underrated sites that are rising in popularity as travelers find unique homeland destinations. "The U.S. is incredibly diverse, and a road trip allows you to see the rural, natural beauty of the country," says Bashir. "When we create a travel bucket list, the destinations can often feel really far away. A road trip is an opportunity to localize your travel bucket list and build closer connections to smaller, nearby communities."
While a road trip honeymoon can be more cost efficient, it can also help you travel to new areas of the country you wouldn't normally go to. You can also shop small and support local businesses along the way if that's of importance to you. As couples thoughtfully source their wedding team, the same trend will make its way to honeymoons. By planning a localized honeymoon in the U.S., you can support small businesses along the way. And in going off the beaten path, you and your S.O. will create plenty of invaluable memories together.
It Can Be a Safe Way to Travel Amid the Coronavirus Pandemic
The coronavirus pandemic is constantly evolving, so travel plans should be evaluated on a case-by-base basis. Before solidifying a road trip honeymoon, familiarize yourself with travel guidelines for all destinations on your itinerary. By forgoing air travel and stays in crowded hotels, a road trip honeymoon can be a safe alternative if you follow local and federal travel mandates.
If you plan a road trip honeymoon in 2021, be sure to wear a mask when in close proximity to others and social distance, as recommended by the Centers for Disease Control and Prevention and the World Health Organization. Add COVID-friendly activities to your itinerary, like hiking, camping and sightseeing. Even renting a house on a lake or near a national park will allow you to relax and enjoy each other's company without coming in contact with others. Of course, ensure that cross-state travel is permitted before making any arrangements. If you do have to stay local, a stay-cation can feel special when you're spending it with your S.O.
The Best Honeymoon Road Trip Destinations of 2021
If you're sold on a honeymoon road trip, it's time to find a place to go. Below, we outline the top honeymoon destinations of 2021. Use these honeymoon ideas to start ideating your trip. While you don't have to travel to these exact locations, they can guide your honeymoon itinerary based on your location and where you can realistically travel. Keep in mind that the best honeymoon road trips don't have to include stops at trendy parks or cities—the most important factor is that it's perfect for you and your S.O.
Sedona, Arizona
Arizona has been a trending bachelorette party destination in recent years. Now, it's an ideal honeymoon spot too. Sedona, Arizona offers more than just red-rock hikes, canyon views and pine forests—it's also located in an energy vortex, which claims to offer healing and spiritual benefits. Sedona is a great option for couples looking for something off-the-cuff. Book a psychic reading if you're all about a honeymoon focused on wellness, or take a Jeep tour through the rocks for something a little more physical. (Pro tip: If you're thinking of making a trip to the Grand Canyon, this is a great stop to add to your itinerary.)
The Ozark Mountains, Arkansas, Missouri, Oklahoma
You don't have to be a fan of Netflix's crime drama to enjoy a honeymoon road trip to the Ozark Mountains. Spanning across Arkansas, Missouri and Oklahoma, the Ozark region is one of the most scenic in the midwest. In Missouri, the Lake of the Ozarks State Park offers 80 miles of lake frontage for boating, fishing and swimming. In Arkansas, adrenaline junkies might prefer a white water rafting trip, while a stay at a luxury log cabin might be of interest to those who prefer "glamping." You can also book a variety of excursions in Missouri, like golf, horseback riding or ziplining. With a three-state radius, there isn't a shortage of activities for your road trip honeymoon in the Ozarks.
Pacific Coast Highway, California
One of the best honeymoon road trip destinations is the Pacific Coast Highway in California. The iconic path stretches 600 miles along California's coast, from San Francisco to San Diego. Take a pit stop to see the redwoods along Big Sur, or plan a picnic at Morro Bay. Don't forget to leave room for quirky sights too, like Bubblegum Alley in San Luis Obispo or the Denmark-inspired architecture of Solvang.
Cape Cod, Massachusetts
Cape Cod doesn't just have to be a summer destination. While the preppy Massachusetts town is perfect for a weekend getaway during the warmer months, winter on the Cape is just as beautiful. Spend an afternoon at an outdoor winery or brewery, or book a private whale-watching boat tour. If you're planning an extended stay, take the ferry to Nantucket for a day or drive along the state's historic Route 6A (also called Old King's Highway).
Hudson Valley, New York
If outdoor hikes and camping sites don't sound like a vacation you'd enjoy, you might prefer a honeymoon road trip to Hudson Valley, New York. Located about two hours north of New York City, Hudson Valley is a prime winery region with scenic views of local farms and orchards, as well as plenty of sustainable farm-to-table food experiences. You and your S.O. might enjoy socially distanced wine tastings or strolls through local farmer's markets to shop for hand-crafted artisan goods and gifts.
Lake Powell, Utah
Yep, luxury honeymoon road trips are a thing. If that fits your travel vision, consider a trip to Lake Powell, Utah. Rent a deluxe houseboat on the water, and enjoy upscale dining on the marina or on a dinner cruise. For a honeymoon that's a bit more relaxed, rent an RV on a lake-front campground and book a stargazing experience for the two of you. Don't forget to take a rafting trip around the iconic Horseshoe Bend in neighboring Page, Arizona.
Blue Ridge Parkway, Virginia
There's no denying that the Blue Ridge Parkway is well-suited for a honeymoon road trip. The road weaves through the Appalachian Mountains, spanning from Shenandoah National Park in Virginia to Cherokee, North Carolina. If you're the adventurous type, consider booking a bike tour along the oldest river in America. Or, queue a road trip playlist to blast while you and your S.O. take in the scenery of the Appalachians.
Jackson Hole, Wyoming
History and nature junkies might prefer a honeymoon road trip in Jackson Hole, Wyoming. Transport yourself to the historic "Wild West" in a secluded log cabin, or show off your skiing skills at a nearby resort. If you're set on Jackson Hole, consider planning a complete national park honeymoon road trip by adding stops at Yellowstone and Grand Teton National Parks. You can even book a relaxing wellness day at a local spa to cover all the bases on your honeymoon road trip.