An In-Depth Look at Traditional Haldi Ceremonies
If you've been invited to a prewedding haldi ceremony, here's what you need to know.
If you're reading this you're probably wondering: What is a haldi ceremony? What is expected of me when attending a haldi ceremony? Or even, how can I plan a haldi ceremony at my wedding to honor my heritage? If that's you, you've come to the right place. With expert insights from Rumela Sen, the lead editor of WeddingWire India, we're diving into everything you need to know about a notable Indian wedding tradition: the haldi ceremony. From frequently asked questions to outfit and decoration considerations, consider this your ultimate guide to haldi wedding ceremonies.
In this story:
Haldi Ceremony Frequently Asked Questions
Maybe you watched the Bridgerton haldi ceremony and were curious about the tradition or maybe you've been invited to attend a haldi ceremony for the first time. Whatever the case, we're taking a look at frequently asked questions about haldi ceremonies so you can understand the ins and outs of this ritual.
What is a haldi ceremony?
Like the sangeet and mehndi, the haldi is a prewedding ritual common at traditional Indian weddings. "The haldi ceremony is a significant prewedding event and ritual in almost every Indian regional wedding," explains Sen. "It is celebrated on the wedding day or one day prior to the wedding day and is usually a close-knitted event. The closest family, relatives and friends come together on this auspicious occasion to apply turmeric paste (haldi) on the bride and groom's face and body. Some families also smear chandan (sandalwood powder) with rose water on the bride's face and hands and shower flowers on the couples. The occasion is celebrated with dhol (drum beats), Bollywood songs and endless dancing."
What is a pithi ceremony?
According to Sen, a pithi ceremony is "the same ceremony but is identified with different names in different cultures. The haldi ceremony is also known as pithi, tel baan, gaye holud, ubtan or mandha in different regions of India." Punjabi weddings generally refer to the ritual as haldi while South Indian weddings usually refer to it as pithi.
Who receives a haldi ceremony invitation?
The couple's closest loved ones attend the haldi ceremony. Much like rehearsal dinner invitations, it's typical for just the couple's family and close friends to attend the haldi.
How do you make the turmeric paste for a haldi ceremony?
Turmeric is central to the haldi ceremony. According to Sen, "turmeric has a very auspicious significance in all Indian weddings. The color of turmeric is identified in Indian culture as a color of prosperity. In primitive India, turmeric was identified as an antiseptic solution from our grandma's kitchen and was often applied for radiant and blemish-free skin."
Find your kind of venue
From barns to ballrooms, discover reception venues that feel like you.
At the core, you simply need turmeric powder and a liquid to form the paste. Some will use yogurt or cream, others may opt for rose water, depending on skin sensitivities. Some couples may also mix in other ingredients such as gram flour. Sen encourages all to-be-weds to "consult your makeup artist before your haldi ceremony. Ask for tips to check for allergies, how to avoid haldi yellowness on skin before wedding makeup, product recommendations, etc."
Some modern couples, especially those with sensitive skin, may opt for a premade mask, such as Kiehl's Turmeric Cranberry Seed Energizing Radiance Masque, instead of mixing up their own haldi paste.
Haldi Ceremony Outfit Considerations
Selecting the perfect outfit is a critical part of planning both the wedding and every prewedding event.
What to wear to a Haldi ceremony as a guest?
For the haldi, practicality should be kept in mind when settling on attire. "For example, it's always a good idea to opt for drape sarees, sharara pants, bralettes and light lehengas if you are planning to dance through the day," says Sen. "Choose breezy and light outfits if you are planning a pool party."
What color is used for a haldi ceremony?
Bright colors, especially orange and yellow to mirror the shade of turmeric, are prevalent. Sen advises that "sarees, lehengas and suits in light and dark shades of yellow are the traditional haldi outfit choices. Modern-day brides are also opting for unique shades like hot pink, emerald and other jewel tones to complement their kitschy haldi decoration themes."
Haldi Ceremony Quotes
During the Haldi ceremony it is traditional for family members and loved ones to offer a few well-wishes to the couple. So if you're looking for the right words to share to express your appreciation for the to-be-weds as they enter married life, let these ideas inspire you. (And if you're composing a written note for the couple but are struggling to find the right words, take a peek at our list of the best quotes for wedding cards!).
"I can't think of two people who deserve true love, happiness, and a lifetime of both. Congrats to some of my dearest friends—a happy new beginning to you!"

"May your joining together bring you more joy than you can imagine."

"Dearest [name] and [name], may your marriage bring you an abundance of joy, gratitude, adventure, and enlightenment through the good times and even the trying times. Here's to many years of love."

"You are the cutest couple. Enjoy this haldi as well as everything that is to come in your marriage. May you live happily."

"May the love and happiness you feel today shine through the years."
Haldi Ceremony Decoration Ideas
Looking for trending haldi decor ideas for the special day? Your chosen color palette and theme will impact the haldi party decorations you choose for the big day. According to Sen, "a traditional haldi ceremony can have a complete marigold theme decoration in an outdoor venue. The bride and groom can opt for a traditional yellow saree and kurta pyjama to complement the theme. Or if you want to go in a different direction, the haldi ceremony can also have a quirky decoration theme with bohemian prints." We've gathered some of our favorite haldi party decoration ideas below to inspire you as you begin wedding planning.
Haldi Ceremony Decoration Background
This couple used floral garlands which alternated between white flowers and yellow ones to creatively form a checkered pattern for their backdrop.
Haldi Application Wands
Even small details, like the brushes or wands you plan to use to apply the turmeric paste, can play a role in the design aesthetic of the event.
Gold Draping at Haldi
Decor doesn't have to be busy or loud to make an impact. Here, elegant gold draping marked the spot where the couple planned to sit during the haldi ceremony.
Haldi Ceremony Marquee Sign
For their outdoor event, this couple decorated with oversized marquee letters.
Marigold Garland Haldi Decor
Marigold garlands brought color and whimsy to this haldi function.
Lotus Chair for Haldi Ceremony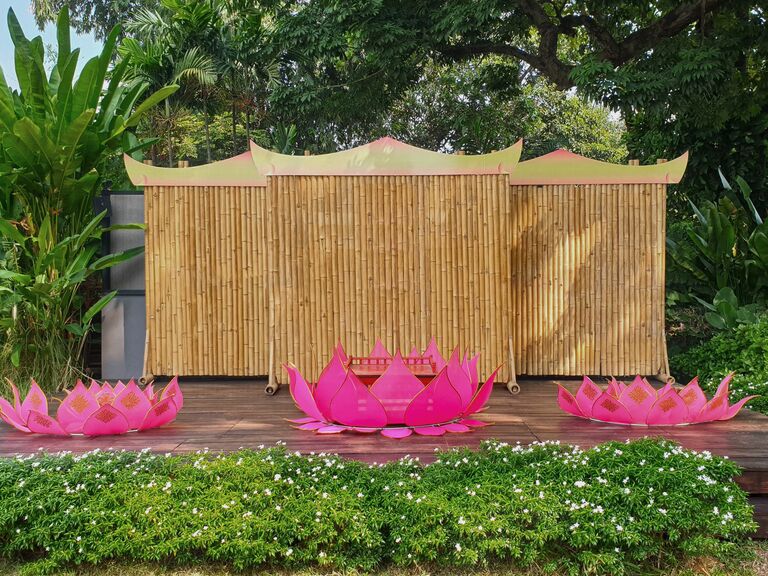 The lotus symbol, especially in chair form, is often woven into haldi ceremonies. The flower is generally said to represent wealth and fortune.
Prewedding Vidhi and Pithi Invitation
Much like you may include a rehearsal dinner insert in the invitation suite, adding a card for prewedding events (like the haldi) is a great way to make sure attendees know they've been invited.