The 91 Best Wedding Wishes and Messages to Write in a Congratulations Card
Our fave ways to say "congrats!"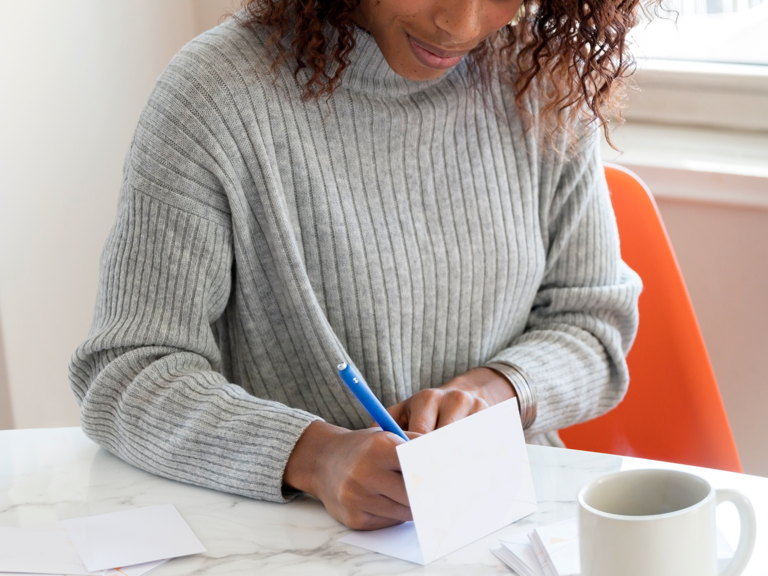 Jamie Grill/Getty Images
If there's a wedding on the horizon and you want to offer your best wishes to the happy couple with a congratulations message, we're here to help you find the right words for the perfect wedding wishes to write in a wedding card.
Ideally, your wedding message should be sentimental, sweet and tailored to the couple and your relationship with them. Whether you're looking for warm wedding wishes for a family member or a funny wedding card message for your hilarious college roommate who finally settled down, we've got dozens of examples of how to sign a wedding card with the best wedding wishes for every scenario. As long as your wedding congratulations message is heartfelt and offers the happy couple a positive wish for their marriage, you're good to go.
What to Write in a Wedding Card
Use the quick links below to craft an amazing wedding note based on the style of the wedding card message you're looking for and your relationship with the couple—plus some unique quotes and great sign-off options. Try and capture the tone of their love and big day the best you can, while also showing excitement and ending your card with a sweet and simple sentiment, like "best wishes." The most important thing when it comes to what to write in a wedding card, though, is that your note comes from the heart.
In this article:
Formal Wedding Wishes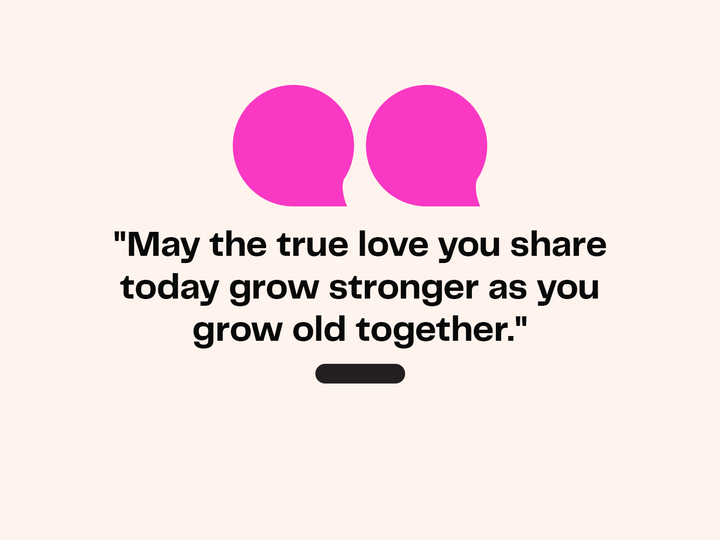 If you've been invited to a fancy wedding or if you've selected an elegant wedding congratulations card that's timeless and romantic, a formal wedding message is always appropriate. These wedding wishes will bring a touch of sophistication, no matter if the attire is black tie or casual.
Wishing you a lifetime of love and happiness.
Your wedding day will come and go, but may your love forever grow.
Best wishes on this wonderful journey as you build your new lives together.
May the years ahead be filled with lasting joy.
May the true love you share today grow stronger as you grow old together.
May your joining together bring you more joy than you can imagine.
May today be the beginning of a long, happy life together.
Thank you for letting [us/me] share in this joyful day. [We/I] wish you all the best as you embark on this wonderful union.
Wishing you joy, love and happiness on your wedding day and as you begin your new life together.
May the love and happiness you feel today shine through the years.
Casual Wedding Wishes
If you don't feel comfortable with formal wedding sayings, then go with something short, sweet and relaxed for your wedding card wishes. It's completely fine to write a more casual wedding message in the card, no matter the recipient. Put it this way: Short wedding wishes are always fine, as long as you're saying something sweet or including a wish for the couple's new journey.
Wishing you lots of love and a lifetime of happiness.
[We/I] love you. Congrats!
Lots of love today and beyond.
Here's a little something to start your life together.
Wishing you a long and happy marriage.
Here's to a long and happy married life!
Wishing you the best—today and always.
So happy to celebrate this special day with you both!
Warmest wishes for a fun-filled future together.
Wishing you a wonderful life together.
Funny Wedding Wishes
Go ahead and write a funny wedding card message if you're confident that it will make the happy couple laugh. Just be careful when you write humorous marriage wishes. What might easily come across as a joke in conversation could be taken the wrong way on paper. As a rule of thumb, avoid jokes that are sarcastic or snarky. Also off-limits: Anything that could be considered insulting, imply that one of them is the "better half" or hints at the couple taking way too long (or way too little time) to get married. Oh, and no divorce jokes, only happy married life wishes here.
As Bill and Ted said: "Be excellent to each other."
Thanks for inviting [us/me] to eat and drink while you get married. Congrats!
You two make almost as good of a team as the [their favorite sports team].
Our marriage advice: Love, honor and… scrub the toilet. (Or fill in any other funny advice you have.)
Congratulations—your wedding successfully made me sob like a baby.
Is someone cutting onions? Nevermind, those would be my happy tears.
Glad I got to break out my dance moves in honor of such a great couple. Lots of love to you both!
Thanks for the free booze. Best wishes and good luck for your long, happy marriage!
Since when are we old enough to get married? It's still 2007 in my mind. Congrats, lovebirds!
Please pack me in your honeymoon suitcase—I need a vacation.
Inspirational Wedding Wishes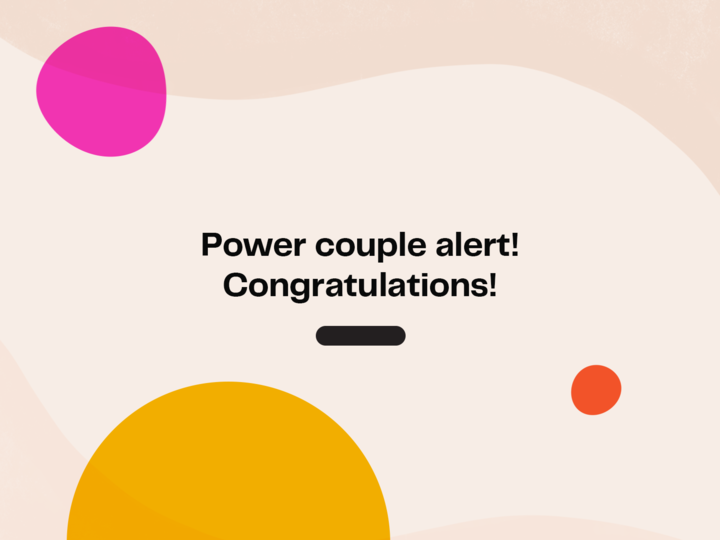 Inspirational wedding wishes should get the happy couple excited for their bright future together. It also is a sweet idea to reflect on how special your past has been with one or both members of the couple and how your relationship with them has shaped who you are today.
Your love inspires me—here's to my favorite couple.
You've come so far and your future together is so bright. Happy wedding day.
I can't wait to see how the rest of your love story unfolds.
Power couple alert! Congratulations!
May every day together see your love grow deeper.
Thanks for giving me an example of what true love is.
You shine so bright together.
Beyoncé and Jay Z have nothing on you two.
Your love is truly one for the ages.
The joy you give each other is so clear to see. We love you!
Religious Wedding Wishes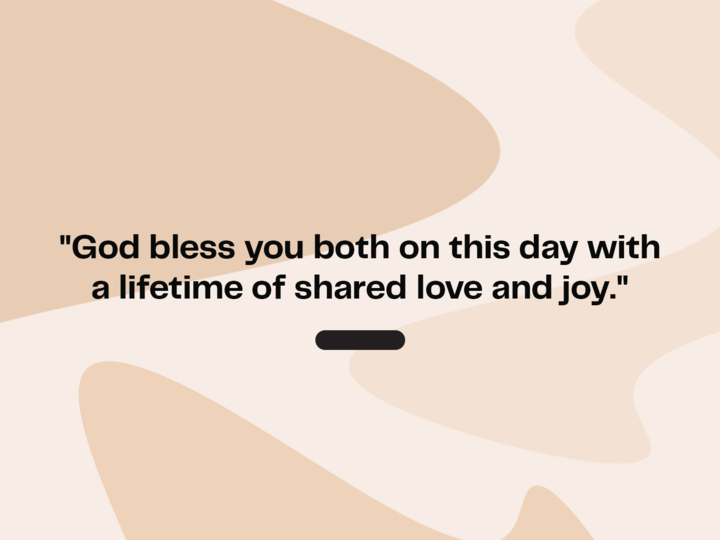 If the couple is religious, then this might be the best option. Religious wedding card messages can mention God, tell them of your prayers or relay bible verses about love and marriage. Before writing a religious message in a wedding card, consider the couple's beliefs and practices, and customize the message to them. If they aren't too religious or don't worship regularly, something very religious could make them uncomfortable, so it's best to tone down religious elements or avoid them altogether.
May your marriage be blessed!
Wishing you a marriage as strong as your faith.
Sending you prayers for unending love and happiness.
Love is the greatest blessing.
God bless you both on this day with a lifetime of shared love and joy.
Wedding Wishes for Friends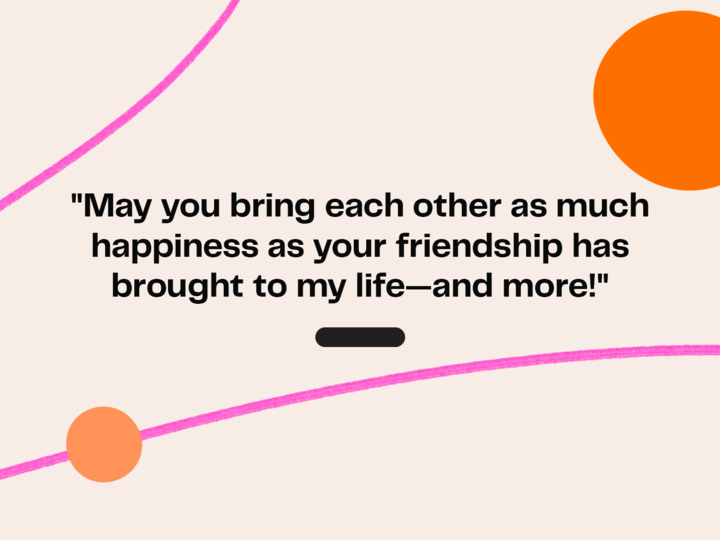 It's just as good of a choice to go classic with wedding wording on a friend's wedding card as it is to get specific and personal. Before you write, consider your relationship and how funny, serious, personal or sentimental you want to get with your wedding wishes. Then go from there.
I'm so happy to call you both my friends. Congratulations!
That fortune teller we saw in Vegas was right. You did meet the [man/woman/person] of your dreams. Best wishes to you both!
Of all the big life events we've celebrated over the years, today tops the list. Congrats!
Thank you for inviting me to share this day with you and your family. Best wishes.
[I'm/we're] so thrilled to celebrate this wonderful day with you both.
Best wishes for a long and happy life together.
May you bring each other as much happiness as your friendship has brought to my life—and more!
We've had so many laughs together! May you always make each other find humor and happiness in the little things.
Here's to love and friendship!
Congratulations to a wonderful friend and [his/her/their] new [husband/wife/spouse].
Wedding Wishes for Family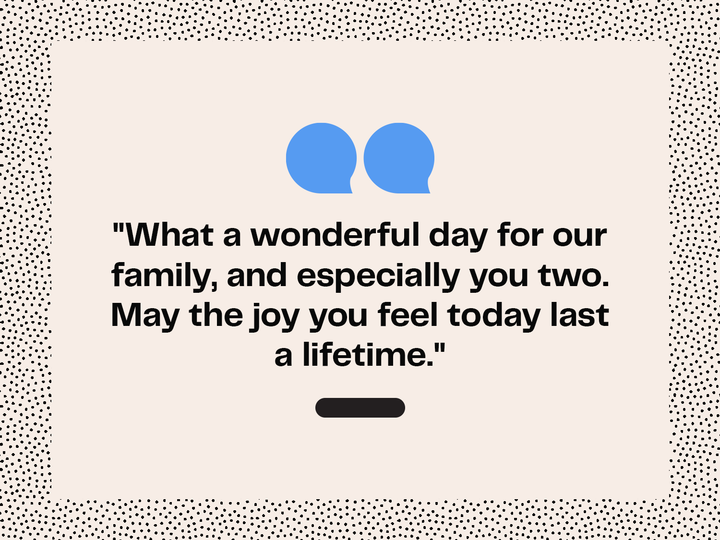 When writing a wedding card for a family member, you can go very general or very personal—it's completely up to you and the type of message you want to convey. The messages below work for familial relationships of all kinds, so you're sure to find a winner.
Congratulations on your marriage and welcome to the family!
[We're/I'm] so happy to welcome a new family member. Best wishes to you both!
[We're/I'm] so happy [name] has found the one. Welcome to the family!
We're delighted to share this day with you both.
May your love story continue with each and every passing year.
What a wonderful day for our family and especially you two. May the joy you feel today last a lifetime.
Today, we added one more member to our family and we couldn't be happier. Best wishes to you both in this next chapter.
What a wonderful addition to our family. [We're/I'm] so happy to share in your celebration. Congratulations!
[We/I] couldn't be happier to call you both family. Best wishes for a long and happy future together.
We love you both. Thanks for letting us share in your celebration!
Wedding Wishes for Coworkers
A wedding message to your coworker is already a very kind and personal gesture, so don't feel pressure to get too intimate with the wedding wishes you relay. Short and sweet is the name of the game, with perhaps a little leeway to be cheeky if you consider this person your "work spouse."
Congratulations on your special day!
Best wishes to you and your family.
My work [husband/wife/spouse] has the real deal now. Congrats!
Sending luck and love your way on your special day.
Congratulations, enjoy some well-deserved honeymoon time off!
Well wishes to you and your partner.
Congratulations on your wedding! I can't wait to hear the details when you're back in the office.
Wishing you both years of happiness.
Who needs Jim and Pam when you two exist? Congratulations!
Congratulations on this special milestone.
Wedding Card Quote Ideas
Sometimes someone else (or a favorite book, movie or TV show) just says it better. Find our favorite quotes for wedding cards below.
"[She's/he's/they're] your lobster. C'mon you guys. It's a known fact that lobsters fall in love and mate for life." – "Friends"
"Love is patient. Love is kind… Love never fails." – 1 Corinthians 13:4-13
"When you realize you want to spend the rest of your life with somebody, you want the rest of your life to start as soon as possible." – "When Harry Met Sally"
"A happy marriage is a long conversation which always seems too short." – Andre Marois
"People are weird. When we find someone with weirdness that is compatible with ours, we team up and call it love." – Dr. Seuss
"When we are in love, we open to all that life has to offer with passion, excitement and acceptance." – John Lennon
"The highest happiness on earth is marriage." – William Lyon Phelps
How to Sign a Wedding Card
Depending on which wedding message you choose, you may want to close with a few additional words before signing your name(s). Here are a few tried and true examples:
Wishing you all the best,
With love,
Best wishes,
Warmest wishes,
Congratulations,
Congrats,
Cheers to your happily ever after,
Lots of love to you both,
Blessings,