6 Honeymoon Activities for Adventurous Newlyweds
If you're looking for something a little more adventurous than laying on the beach, umbrella drink in hand—uh, not that there's anything wrong with that—get your hearts racing with one of these unique honeymoon activities.
Studies show that couples who do new—and adrenaline-pumping!—activities together form a stronger bond, so why not add some extra excitement to your honeymoon? During our extended two-year honeymoon around the world, my husband and I had dozens of adventures with the help of honeymoon registry, Honeyfund.com. I circled back with the registry's founders, Sara and Josh Margulis, to pick a few adventure honeymoon ideas that'll get your hearts racing. See all six ideas below, in order from least heart-pumping to most!
Tandem Kayaking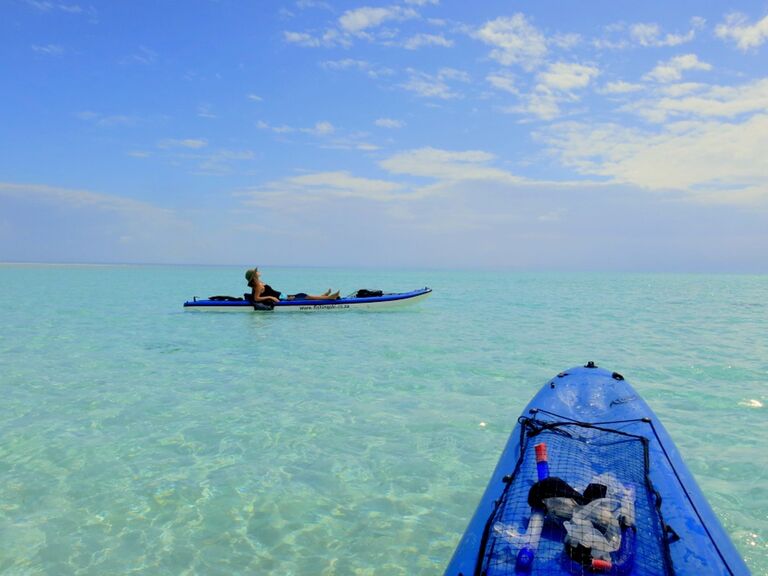 Kayaking is available almost everywhere there is water, but it doesn't have to be a run-of-the-mill experience. For couples looking for more of an adventure honeymoon, ditch the guide and paddle to a secluded beach or up a river branch for extra thrills and privacy. "Kayaking is one of the most popular water activities we see," says Margulis. "The open water, the quiet…it's magical." Consider packing a bottle of sparkling wine and some strawberries for a shoreside or floating picnic.
Environmental Volunteering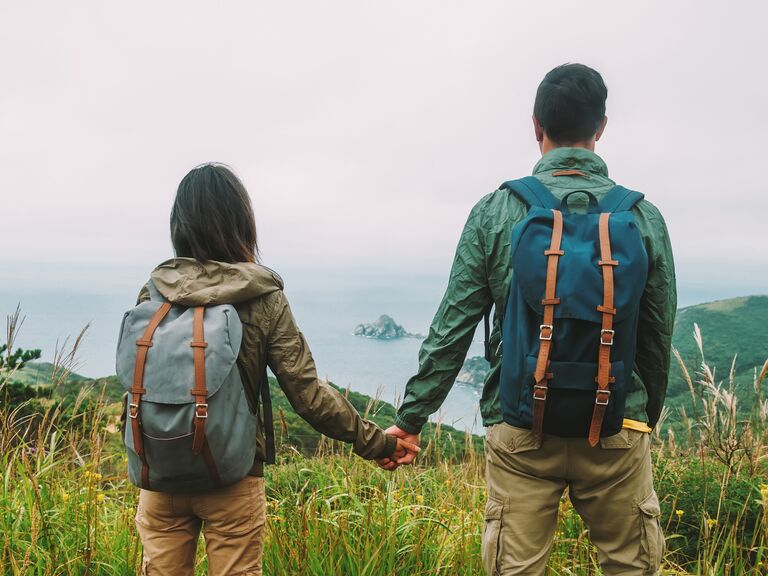 Get a dose of do-good on your adventures and volunteer for a conservation project. "We've noticed a lot of Honeyfunders are looking to immerse themselves in nature on their honeymoon," says Margulis. Be it with trees, dolphins or turtles, this is a chance to try something new and help mother nature along the way. Check out Nature.org for land-conservation projects in the States or Visit.org to book activities abroad that benefit local communities and the environment.
Scuba Diving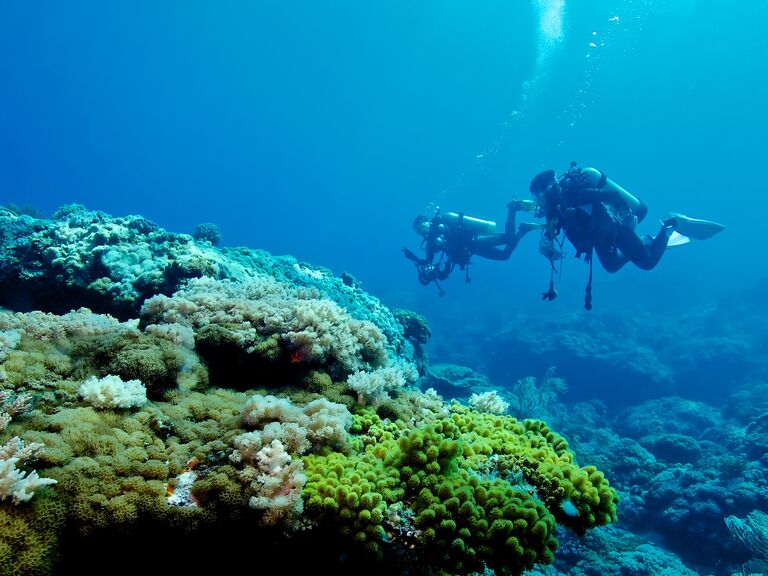 Explore the world of coral gardens, graceful manta rays, flapping sea turtles, and maybe even a shark's lair. Breathing underwater and immersing yourself in the deep blue is such a rush; plus, the built-in boat trip makes this activity a two-in-one winner. (Go on the last trip of the day and you'll get a free sunset cruise home.) If you aren't scuba-certified, take the PADI e-learning course and do the pool dives at home, then complete your open-water diver certification at your honeymoon destination.
Microlight Flights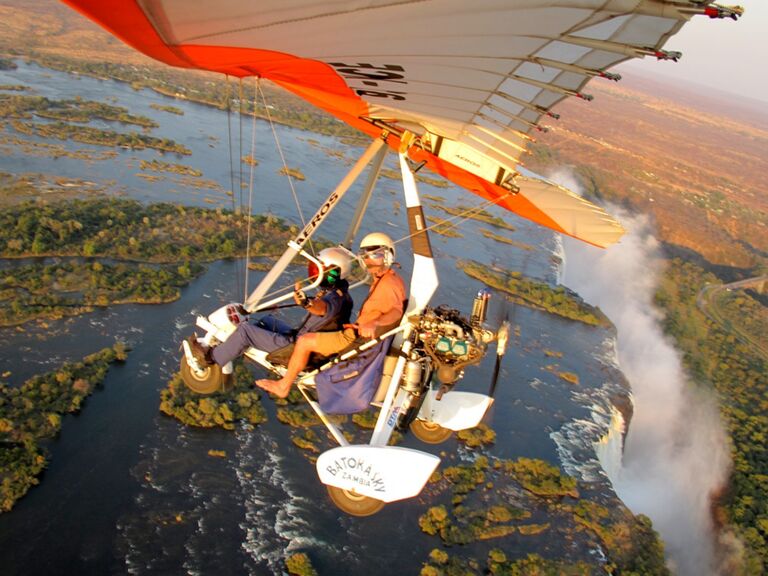 A cross between a paraglider and a moped, this open aircraft is the most exhilarating way to get an overview of your honeymoon locale. "Aside from the rush of literally soaring with wind in your hair," says Margulis, "our couples love the chance to see their romantic destination from up above." Swoop in front of Victoria Falls, follow the Costa Rican coastline, whale-watch in South Africa from the sky…just take this once-in-a-lifetime flight wherever and whenever you can.
Deep-Water Solo Climbing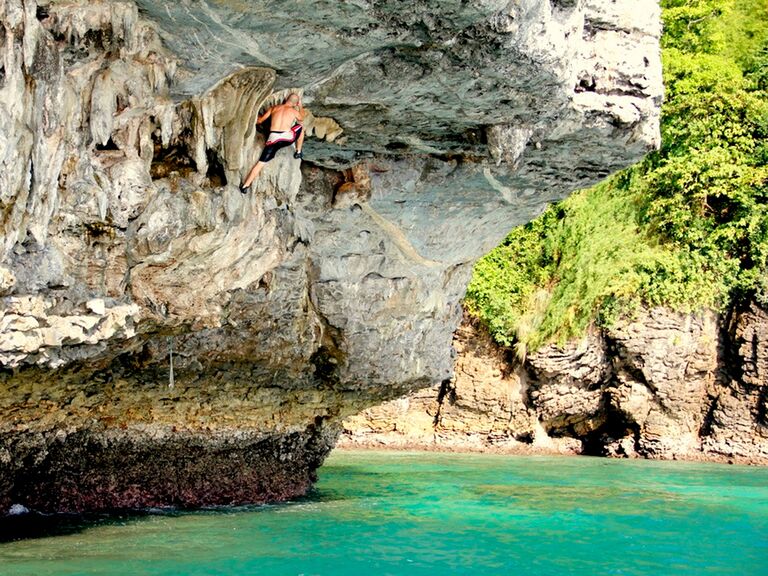 Imagine rock climbing, but instead of rappelling back to the ground, you end the route with a swan dive into the ocean below. This is deep-water soloing: the most dramatic, scenic, and sexiest way to climb. There are no ropes so your heart will definitely be aflutter, but with the turquoise sea as your net, you can push yourself to new heights. Swim, tan, and relax on the boat between climbs for a day that's got it all.
Couples Canyon Swing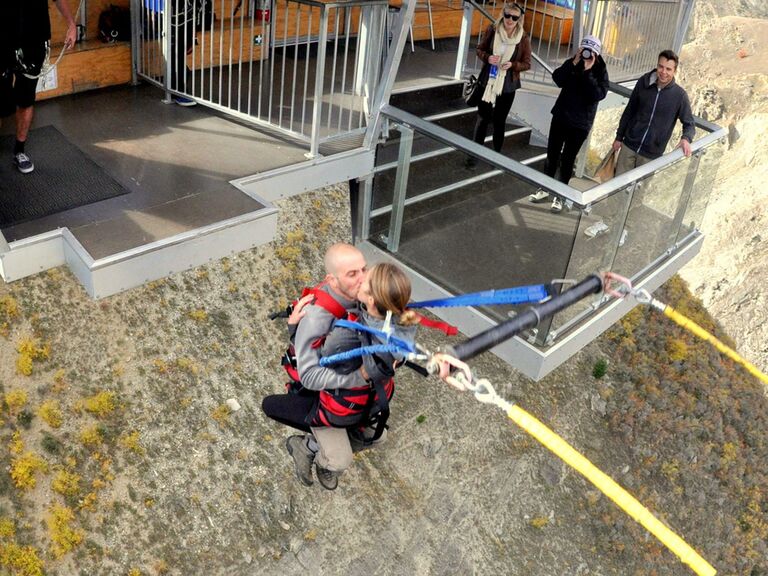 For couples looking to turn up the adrenaline with their honeymoon activities, the canyon swing is off the charts. Strapped together in a bear hug and dangling over a deep gorge, you free fall until the rope catches and you swing like a pendulum—at up to 75 mph and a 1,000-foot arc. Squeals turn to kisses as the swaying subsides and the gorgeous view comes into focus. "This type of heart-pounding activity might seem a touch scary," says Margulis, "but when you are clutching the one you love, it's the best kind of thrill!"