Why You Should Talk to Your Partner About Your Bach Party
Set your boundaries ahead of time.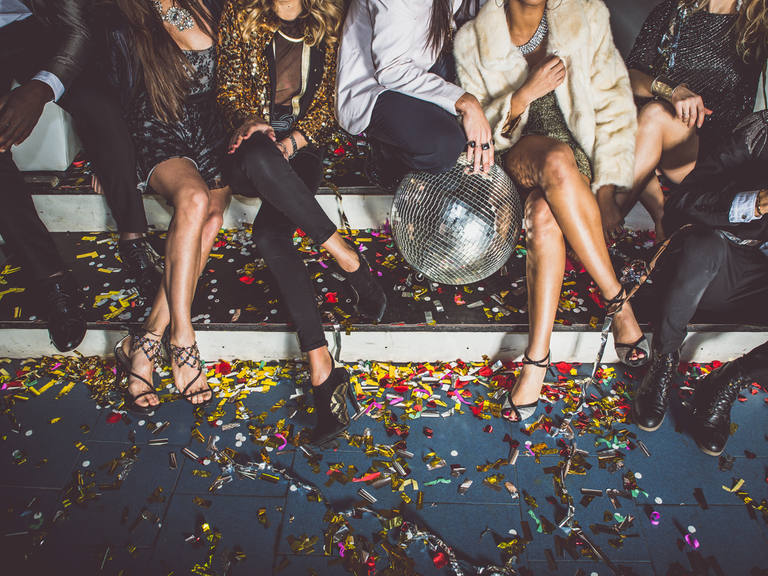 oneinchpunch / Shutterstock.com
There are several prewedding parties to get excited about: your engagement party, your wedding shower and, of course, your bach party. While the bach party should be a fun celebration, it can cause conflict among couples if it's not handled properly. If you're wondering what happens at a bachelor party or bachelorette party (and if the uncertainty is causing you stress and anxiety), it's best to talk to your partner directly. Television shows and movies (think: The Hangover) depict bach parties as "the last night of freedom": raunchy weekend getaways to Las Vegas filled with partying, strippers and debauchery.
Of course, that's typically not the case for bach parties. However, if you feel uncomfortable about the possibility of those things (or anything else) happening, we encourage you to speak candidly with your partner. Setting boundaries upfront and communicating your feelings will help mitigate conflict down the line. Plus, you won't have to feel stressed when they leave with their friends for the prewedding party.
What happens at a bachelor party?
The best man or the groom's best friend typically plans the bachelor party (also known as a stag party). However, standard etiquette says that groomsmen and other friends should ask the guest of honor what they want to do. Some common bachelor party ideas include boating, golfing, hiking, clubbing or enjoying a pool party. Popular bachelor party destinations include Miami, Nashville, New Orleans and Montreal. Despite what the media often shows, strip clubs and alcohol aren't always part of a bachelor party—though they can be.
What happens at a bachelorette party?
As with the bachelor party, the bachelorette party is usually planned around the bride-to-be's preferences. The maid of honor (or another one of the bridesmaids) plans the event (and the bridal shower) and should check with the bride first to see what she wants to do. Popular choices for a bachelorette weekend include boating, going to a spa, enjoying a pool party and clubbing. And common bachelorette part destinations include Nashville, Scottsdale and New York City. Similar to bachelor parties, strippers and alcohol aren't always a part of the prewedding party but can be.
How To Talk To Your Partner About Your Bach Party
Bach parties are often viewed as a taboo topic and, as a result, couples might avoid talking about them. Alternatively, they might feel asking about their partner's plans is an invasion of privacy. But as with any conflict in your relationship, it's best to face it head on. Tell your partner honestly how you're feeling and work together to reach a solution.
Set Boundaries Upfront
The easiest way to avoid conflict around this prewedding party is to talk about potential aspects that you're comfortable with or uncomfortable with. "Get granular," says Jean Fitzpatrick, a relationship therapist in New York City. "For example, I've heard partners say they're OK with a stripper but not with any sort of physical contact, including lap dances."
Doing this ahead of time is important, as it may affect the plans the best man or maid of honor (or whoever is in charge of party planning) is going to make. By setting these boundaries months in advance, your partner can communicate it to whoever is in charge of the bach party. If you don't feel the need to set any boundaries, state that upfront so your partner knows where you stand. Communication is key for any situation, and this is no exception.
Say If Something Makes You Uncomfortable
Remember: Your partner can't read your mind. If something makes you uncomfortable, you need to tell your partner upfront. "Start out by setting decIsions aside and focusing on understanding each other," Fitzpatrick says. "Rather than telling your partner what to do, talk to them about how you feel—avoid blaming, labeling, or attacking."
Instead, help them empathize with you, and ask them to talk about their worries and goals for the party. "Know that this topic is an opportunity for both of you to hone your skills at managing intimate conflict," Fitzpatrick.
Speak to a Professional
There's absolutely no shame in struggling with this topic. In fact, Fitzpatrick says it's quite common for couples to talk about this conflict in her office. If you're having trouble getting through this conversation or reaching a solution, seek out help from a professional. "Couples therapy offers an emotionally safe space where they can learn to express themselves honestly effectively, and discover how to empathize with each other and work as a team," Fitzpatrick says.
Remember The Purpose of the Night
And finally, remember the purpose of the night. A bach party is an opportunity to celebrate this exciting relationship milestone with loved ones. As the guest of honor, you should feel empowered to tell your friends or family members what you want to do. The party planner (and all other guests in attendance) should respect that and support you.