The Most Iconic Movie & TV Proposals We've Ever Seen
We'll always say "yes" to rewatching these sweet moments.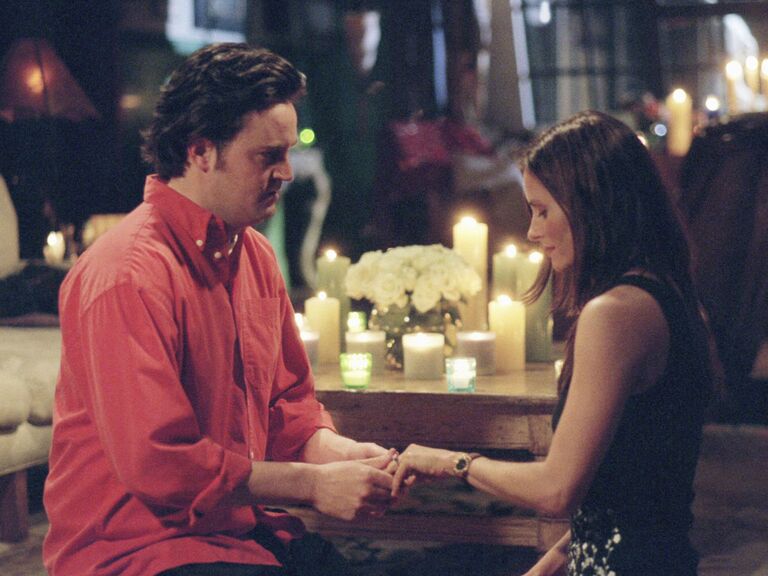 Photo: NBCU Photo Bank | Getty Images
From modern romantic comedies to '90s sitcoms, we've seen so many incredible movie and TV show proposals over the years. There's something extra special about an on-screen engagement, whether it's been a plot point in the making for several seasons or it's leading up to an iconic movie wedding. These moments tug at our heartstrings, and they may even provide inspiration for couples around the world who are planning their own bended-knee moment.
Although we've seen hundreds of fictional proposals, some do stand out from the rest. As connoisseurs of romantic entertainment, we've rounded up the very best movie and TV proposals we've ever seen. Relive these iconic scenes below, and let these adorable shows and films inspire the queue for your next date night at home.
In this article:
The Best Movie Proposals of All Time
These sweet big-screen engagements are so special and charming that they'll have you giggling and kicking your feet like a little kid. Relive the magic of the best movie proposals of all time below.
For his proposal, Jim surprises Katherine by whipping up a fully cooked dinner for her daughters and her mother. She's so taken aback, she asks if it's her birthday and she's forgotten about it. But her daughters assure her that's not the occasion they're celebrating. In front of her family, Jim gets down on one knee and presents Katherine with his mother's ring. He says that her parents were married for over 50 years, so it's about as lucky as a ring can get. As he asks her to marry him, he admits that he called his mom the night after he and Katherine met because he was that sure he was going to marry her. Her mother said, "She must be something," to which Jim responded, "No, she's more than something." For that sweet line alone, this is easily one of the best movie engagements in history.
Aurelia and Jamie, Love Actually
After breaking up with his girlfriend, Jamie heads to France to focus on finishing his novel. Aurelia is hired to work as his housekeeper during Jamie's stay. Despite not being able to understand each other, they grow extremely fond of each other. At the end of Jamie's stay in France, he and Aurelia share a kiss—both believing they'll likely never see each other again. However, Jamie quickly realizes he loves Aurelia, so he learns Portuguese, flies to her home and asks her to marry him in front of her entire family. She responds "yes" in English, as she learned the language "just in case."
Nick and Rachel, Crazy Rich Asians
Fact: The proposal scene in Crazy Rich Asians is *almost* as good as that iconic wedding. After Nick finally introduces Rachel to his family, it's clear they all disapprove of her. Given her background as a teacher, they don't believe she's a suitable match for Nick, considering he's one of Singapore's most eligible bachelors. The tension between Rachel and Nick's family ultimately causes her to break up with him. To prove how much he loves Rachel, Nick goes to his mother to get her approval. He chases Rachel and her mother down on a plane just before they take off and proposes. He reveals that he had a plan to fly her out to his favorite island and propose at sunset—but instead, he ends up proposing to Rachel on the plane. He gets down on one knee and presents her with his mother's ring, signifying that she's finally given her approval of the relationship.
Kristen and Jeremy, Think Like a Man
After separating, Jeremy comes back to Kristen and gives her the most romantic proposal ever. He tells her that she's the last person he thinks about before he goes to sleep at night. He's so nervous that while he's down on one knee, he says, "I want to be your wife, and I want to be your husband." Then he quickly corrects himself saying, "I want to be your husband, and I want you to be my wife." In our opinion, the labels don't matter, but we love how heartfelt this moment is.
Toula and Ian, My Big Fat Greek Wedding
Since My Big Fat Greek Wedding is one of our favorite wedding movies, it's only fair to classify the proposal scene as one of our top picks as well. Toula and Ian cross paths twice before they begin dating. But because her family only wants her to marry someone Greek, they have to keep their relationship secret. her parents eventually find out and forbid them from dating (which, to no surprise, doesn't end up working). They continue to see each other and spend time in secret at Ian's apartment. We love Ian's proposal in this classic film because it's simple and oh-so-sweet. As the couple is snuggling in bed together, and Ian asks her to marry him right there and then. He presents her with a ring and they happily celebrate.
Maggie and Ike, Runaway Bride
Anyone can propose to their partner, regardless of their gender identity. Maggie (brilliantly portrayed by Julia Roberts) proves this in Runaway Bride, when she gets down on her knee and asks Ike to marry her. In fact, her proposal speech might take the cake as our favorite. As she's proposing, she says, "I guarantee that we'll have tough times. And I guarantee that at some point, one or both of us will want to get out. But I also guarantee that if I don't ask you to be mine, I'll regret it for the rest of my life. 'Cause I know, in my heart, you're the only one for me."
Big and Carrie, Sex and the City
The best proposals don't always have to involve rings. In Sex and the City, Big proposes to Carrie by presenting her with a stunning blue stiletto. (Can you imagine anything more perfect for her?) Set inside a walk-in closet, the couple vows to love each other forever. *Swoon*
Jamie and Landon, A Walk to Remember
It's impossible to watch A Walk to Remember with a dry eye, and this movie proposal scene is proof. As Landon and Jamie spend more time together, Jamie reveals one of her life's wishes is to get married in the same church as her late grandmother. In order to fulfill this dream before she gets too sick, Landon proposes to her while they're stargazing one night. After they sit down, he takes her hand and asks if she'll marry him. No rings were exchanged—just a sweet, simple question.
Margaret and Andrew, The Proposal
Talk about an unconventional romance. In the beginning of The Proposal, Andrew dislikes Margaret because she's a controlling boss. However, upon learning she's going to be deported back to Canada, she blackmails Andrew into marrying her so she can keep her job. The couple visits Andrew's family to announce their engagement, but during their stay, they grow extremely fond of each other. Margaret feels so guilty about the situation, she leaves Andrew at the altar during their "fake" wedding. Only then does Andrew realize he actually loves her, so he chases her back to her office in New York City. He realizes the only way they can be together is if he proposes, since she's going to be deported in a few hours. He looks directly at her and says, "Marry me. Because I'd like to date you."
Melanie and Andrew, Sweet Home Alabama
In this popular romantic comedy starring Reese Witherspoon and Patrick Dempsey, Melanie is in a serious relationship with her boyfriend, Andrew, in New York. The night of the proposal, Andrew surprises Melanie by bringing her to the Tiffany & Co. flagship store in NYC. All the lights turn on at once, and she's surrounded by sparkling jewelry. Andrew turns to her and says, "Pick one." Goals, right?
June and Johnny, Walk the Line
After a failed attempt to propose on their tour bus, Johnny tries again—this time in a more public setting. During a musical set together, Johnny stops the song to propose to June in front of the audience. He insists he can't finish the song until she gives him an answer. Spoiler alert: She says yes. (Duh!)
Harry and Sally, When Harry Met Sally
This classic romantic comedy is not only known for its iconic autumnal New York City setting, but also for Harry's swoon-worthy line: "When you realize you want to spend the rest of your life with somebody, you want the rest of your life to start as soon as possible." If this movie proposal scene doesn't make you weak in the knees every time you see it, we don't know what will.
The Best TV Show Proposals Ever
You've likely seen many engagements unfold on television, but we picked these because they're all so unique and lovely. Below are the best TV show proposals of all time.
David and Patrick, Schitt's Creek
After becoming business partners, David and Patrick grow close—so close that they end up becoming romantic partners as well. Despite the obstacles they face during their relationship, Patrick eventually surprises David at the top of a mountain with a set of proposal rings (to match his existing jewelry, of course). David is so surprised he asks Patrick if he's sure, to which Patrick replies: "Easiest decision of my life." Cute, David!
Cece and Schmidt, New Girl
After dating on-and-off for several seasons, Cece and Schmidt *finally* realize they want to be with each other after seasons of pining and missed connections. Cece, who is off hiking a mountain to get over Schmidt, hurries back when her friends tell her Schmidt wants to be with her. Meanwhile, Schmidt is running out of the loft to track Cece down and tell her how he feels. The chase culminates when they both meet at the front door of the loft, where Schmidt reveals the five-dollar bill he had to donate to his "jar" after telling Cece he was going to marry her the first day they met. He gets down on his knees and repeats the statement he said to her all those years ago: "Girl, will you marry me?"
Bailey and Ben, Grey's Anatomy
Nothing demonstrates choosing to love someone despite their stubbornness more than this TV proposal scene. While in the operating room, Bailey and Ben get into a fight because Bailey missed their lunchtime crossword tradition. To prove her point, she starts doing the crossword during the operation. Little does she know, Ben made the crossword himself and one of the questions is "Will you marry me?"
Monica and Chandler, Friends
Any go-getter can appreciate Monica's sweet, candlelit proposal attempt. Lucky for her, Chandler was there to finish the act when she couldn't complete her sentence. "You make me happier than I ever thought I could be and if you let me, I will spend the rest of my life trying to make you feel the same way," he tells her in this iconic TV proposal.
Brittany and Santana, Glee
It's only fitting that Glee's Santana asks Brittany to marry her in that memorable music room. After all, it's where Santana came to terms with her feelings for Brittany in the first place. After performing a mash-up of "Hand in My Pocket" and "Feel the Earth Move," Santana tells Brittany that she wants to "mash up with [her] for life." Then, she presents the ring, gets down on her knee and asks Brittany to marry her.
Rachel and Mike, Suits
Long before she got engaged to Prince Harry, Meghan Markle acted in an iconic TV proposal scene for her beloved drama Suits. In the engagement episode, Mike completely surprises Rachel by taking her by the hands and listing all the reasons he loves her. In the middle of his speech, she realizes what's about to happen. He tells her that he went to get his grandmother's ring cleaned, and then gets down on one knee. He explains that he didn't want to be 40 years old, wondering why he didn't ask her one day sooner. He romantically asks her to marry him, and she tearfully says yes.
Charlotte and Harry, Sex and the City
When exes Charlotte and Harry found themselves at the same singles mixer, it only took a few seconds for them to realize they were meant to be together, diamond ring and all. Charlotte's hopeless romantic mentality made her fictional engagement to Harry that much sweeter.
Kurt and Blaine, Glee
What else would you expect from a Glee proposal? To pop the question, Blaine surprises Kurt with all of his McKinley High friends, as well as their fellow show choir competitors. All the while, there's dancing, flying rose petals and a lovely rendition of "All You Need Is Love." When the performance is over, Blaine tells Kurt that his soul "knew that [their] hands were meant to hold each other fearlessly and forever." Can someone pass the tissues, please?
Jim and Pam, The Office
Marriage is all about meeting each other halfway, and nobody demonstrates that more than Jim and Pam in The Office. When Jim insists that she meet him halfway between New York City and Scranton, Pennsylvania, at a gas station in the pouring rain, she's not too happy. "Hey! This is not halfway!" she yells. "I did the math. I had to drive way longer than you." Smiling, he gets down on one knee and asks her to marry him. Of all the iconic TV show proposals in history, this is one of *the* most memorable.
Toby and Kate, This Is Us
In This Is Us, Kate insists that she's fine with a low-key courthouse wedding, but Toby doesn't buy it. Later in the engagement episode, he has a heartfelt conversation with a picture of Kate's wedding, saying that he knows deep down she wants a big, beautiful wedding. He later surprises Kate by proposing to her with $200 worth of zip-up hoodies, telling Kate that he knows this is what her dad would have wanted.
Leslie and Ben, Parks and Recreation
It's a universally-known fact that Ben's sweet proposal to Leslie in Parks and Recreation stirs up every emotion. The adorable moment takes place when Leslie says she needs to back out of buying a house, since Ben may not be able to commit to moving in. But much to her surprise, Ben shows up in the house with a ring box. "I am deeply, ridiculously in love with you," he says while on a bent knee. "Above everything else,I just want to be with you forever. So, Leslie Knope, will you—" At that moment, Leslie interjects, saying, "Wait, wait... I need to remember every little thing about how perfect my life is, right now, at this exact moment." Those few seconds of silence remind us why Leslie and Ben are the definition of #relationshipgoals.
Jane and Michael, Jane the Virgin
Jane and Michael are happily dating—until she gets accidentally inseminated with someone else's baby. The unexpected pregnancy takes a toll on her and Michael's relationship, but that doesn't stop Jane from chasing what she wants. And what she wants, of course, is to be with Michael. In a twist of tradition, Jane dresses up in a gorgeous yellow dress and proposes to Michael at the police station where he works. He happily says yes, of course, making this one of our favorite on-screen proposals ever.