Why the Wedding Industry's Focus on Brides Needs to Change
Marriage is for everyone.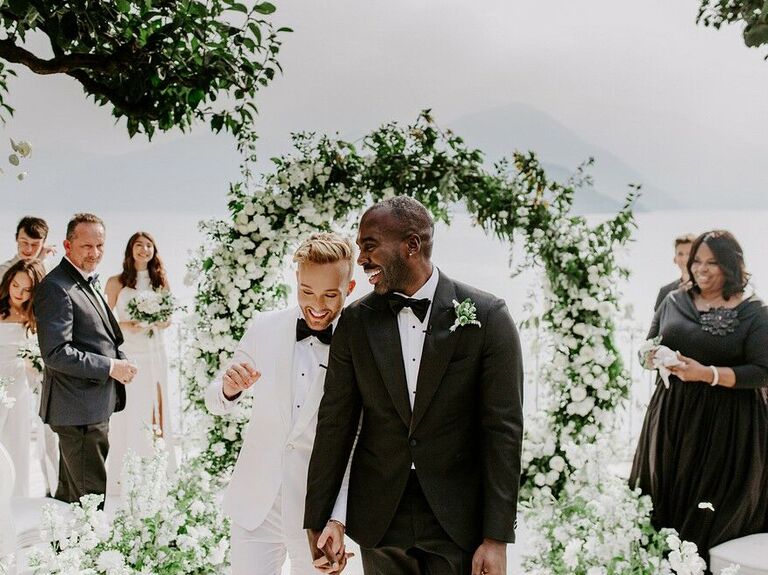 REGER AND CO.
Search the word "wedding" and you'll likely be met with the word "bride." Bride-focused movies, magazines and songs. Sparkly wedding planners created just for brides. Toxic weight loss programs for brides. Wedding dresses, shoes and purses for brides. And, of course, the ever-rampant "Bridezilla" caricature, which depicts a woman losing her sanity as she plans the wedding.
"A wedding is the joining of two people, yet it seems that one part of a couple is expected to do all the planning, make the guest list, pick the invites and choose the flowers," says Jove Meyer, owner and creative director of Jove Meyer Events. "Somehow movies and TV shows have assigned planning to one person, which is unfair." But in addition to being unfair, it's also harmful. This gendered terminology excludes anyone who doesn't identify as a bride—and the repercussions of that are significant.
"The power of gendered language is well documented in the psychology literature," explains Lucia Gilbert, Ph.D, professor emeritus in the department of educational psychology at University of Texas and Santa Clara University. "Gendered language plays a significant role in how individuals perceive the world and themselves—and how they think about themselves and others."
One example of this is girls and math, and the ways in which we use language to perpetuate the stereotype that girls are not good at math, Gilbert says. "Empirical studies have shown that girls internalize these stereotypes and inaccurately view themselves as less able at math than boys."
While there isn't much empirical research on wedding terminology, it isn't difficult to imagine this phenomenon in the context of a wedding. If society is constantly using gendered language to perpetuate the stereotype that weddings are only for brides, brides and non-brides might internalize that message and act accordingly. Meaning, brides take on all of the wedding planning responsibilities and non-bride folks feel left out.
"Being invalidated for who you are—especially for an identity that infringes on no one else's freedoms, rights, and responsibilities as citizens of the U.S.—can cumulatively have an adverse effect on a person's well-being," explains Francisco Sánchez, Ph.D, associate professor of educational, school & counseling psychology at University of Missouri.
Historically, Weddings Have Focused Only on Brides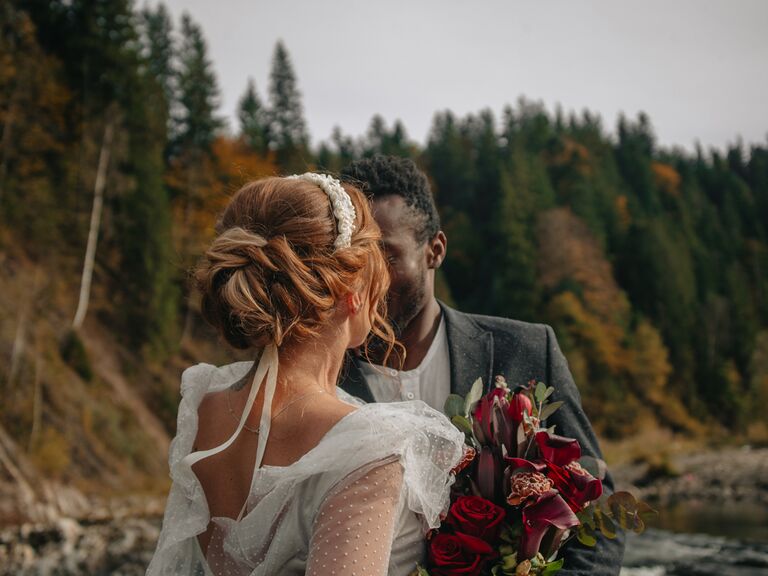 This isn't anything new. Traditionally, weddings have been centered around brides. Marriage was initially seen as an alliance between families with the bride at the center of the transaction. Despite the institution evolving for romantic love interests rather than familial financial interests, wedding traditions are still focused on the bride. Some examples include the expectation that the bride's family pays for the wedding and that the bride does all of the planning. Many couples have evolved past this outdated model, but it took time for that to happen, and unfortunately, it still lingers today.
This narrative's persistence in modern society is largely due to its reinforcement in pop culture. Magazines, books, television shows, and movies almost always focus on brides. Stories about weddings usually show a young girl dreaming about her wedding from an early age. As she grows older, she meets her partner (who is almost always a man), gets engaged and plans the wedding herself.
Eventually, these stories turn into a familiar narrative of "bride gone crazy." The tale involves a woman who slowly loses her mind as the overwhelming weight of planning the wedding takes over. You might recognize this as the "Bridezilla" phenomenon. The term was initially coined in 1995 in an article slandering unreasonable brides. But the word caught on a few years later as reality television shows and movies used this idea as a central plot point.
This Puts the Weight of Wedding Planning Largely on Brides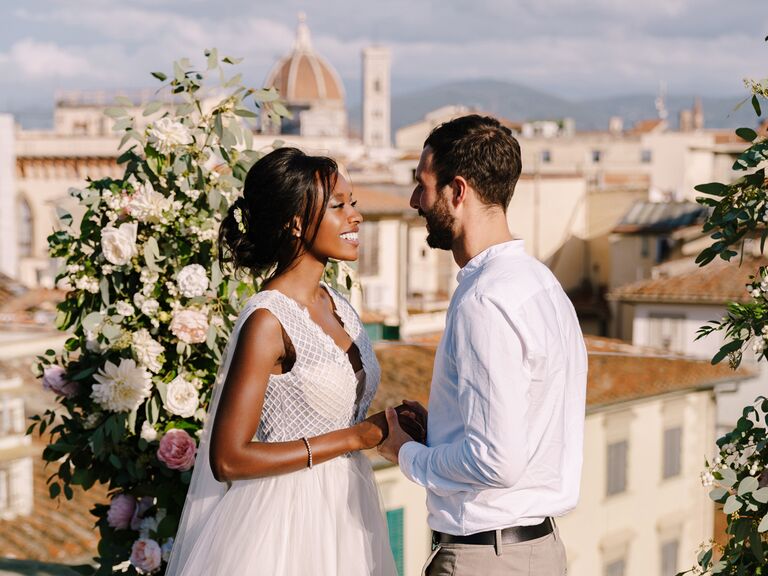 It's not difficult to imagine how this might affect people's views on the wedding planning process. The industry tells brides they're the only ones who can be involved in the wedding, which puts the weight of planning on women. And while that doesn't seem like a big deal, planning a wedding is a lot of work.
According to The Knot 2019 Real Weddings Study, the average engagement was 15 months long. That's over a year of calling vendors, booking appointments and making decisions. Due to COVID, some couples have been engaged even longer, as they've postponed their nuptials. According to The Knot 2020 Real Weddings Study, nearly half of all engaged couples postponed their weddings due to the pandemic. And with a postponed wedding (or two) comes more phone calls, more appointments and more decisions.
Society's belief that only women should plan weddings puts an overwhelming amount of work on their plates: They're expected to take on the second job of planning a wedding in addition to their professional responsibilities, the emotional labor they're expected to perform and the housework they're typically assigned. This pressure has all been heightened by the coronavirus pandemic too, as COVID has disproportionately put women out of the workforce.
So what's the fix? Getting both partners involved in wedding planning. After all, it's a celebration of two people's love. "For far too long, the wedding industry has been bride-focused, giving rise to 'Bridezilla' and creating a one-sided fantasy for her, done by her, all about her—and this has to change," Meyer says. "It's not fair to put this much pressure or work on one person in a two-person partnership. Let's rebalance weddings to be a team effort between soon-to-be-weds." And if you need more support, consider hiring a wedding planner to help manage the process.
It's 2021—Brides Aren't the Only Ones Getting Married
The reality is there's a considerable amount of people who identify as a bride. Those individuals should be celebrated, as everyone deserves to enjoy this chapter in their lives. But there are also many people who don't identify as a bride—and they deserve to be celebrated too. "The term 'bride' has a culturally specific meaning and typically means a woman about to be married." Gilbert explains. "Thus, men or gender nonconforming folks are not included in this definition."
The reliance on antiquated, gendered language can make people feel excluded or uncomfortable. "Weddings are not just for straight couples anymore, so we have to stop assuming everyone is straight and that every bride is marrying a man," Meyer says. "A couple is made up of two people, and there are many types of couples: two grooms, two brides, a bride and a groom. We have to stop assuming all couples have a bride, as many do not."
It comes down to making people feel comfortable. Weddings are a celebration of love—but it can be difficult for couples to fully celebrate when they don't feel like their relationship will be respected. "Weddings are for everyone, and no couple should be excluded based on something they cannot control," Meyer says. "Weddings are a public celebration of love, and love should be celebrated in all forms and never limited to what people think it should be."
Weddings Are For Everyone
But in order for couples to truly celebrate their love, the industry needs to rethink its fixation on brides. One of the most effective changes that can be made is switching out the word "bride" for something more all-encompassing (especially something that includes both members of the couple). "Weddings are not all about a bride and do not always include one, so we should use language that is inclusive," Meyer says. "Language matters, and we can all change our vernacular to remove 'bride,' and replace it with something else, like 'couple.'"
For example, "bridal suite" can be changed to "getting-ready room" or "VIP room." "Bridal party" can switch to "wedding party" while "bridal bouquet" can simply be "bouquet" (because anyone can hold flowers on their wedding day if they want to). These changes take the focus off of the bride and invite others into the celebration. These changes extend over to vendors as well, Meyer says. "On forms, remove the line that says 'bride/groom,' and put 'couple,' 'client,' or 'name,'" he says. "Use language that's welcoming and inclusive, not specific and limiting to one type of couple."
All of these changes seem small, but they make a big impact. "Ultimately, more neutral terms may only be noticed by those who have been historically excluded versus being noticed by people who are used to the wedding industry revolving around their heteronormative experience," Sánchez says. "But such non-obvious validation can have a profoundly positive effect on those who are used to being alienated, attacked and invalidated."
Gilbert agrees, adding that inclusive terminology can only help push the wedding industry forward. "Using more inclusive terms is almost always useful in helping people feel included and seen."