Everything to Know About Wax Seals on Wedding Invitations
Signed, sealed, delivered—emphasis on the sealed part.
Wax seals should be on every piece of mail—period. I want my birthday cards to have the gravitas of a Regency-era ball hosted by the hot "Bridgerton" duke. I want my electric bill to look like an old-timey love letter from my (nonexistent) spouse out at sea. Wax seals on wedding invitations feel especially essential. Being summoned to see you and your honey wed is a gift and, to me, a wax seal is like the elegant ribbon adorning a pretty present—the perfect finishing touch to signal something special awaits inside. Carey Lowe, the founder and artist behind event and stationery company The Idea Emporium, says it best: "Wedding invitations are sacred stationery…The addition of a wax seal further indicates this is not just any piece of mail, this is a thoughtfully curated moment of information and anticipation building for the experience to come."
If you're wondering about wedding invitation wax seals, I've chatted with a few of our favorite stationery experts to answer your most burning queries about this romantic adornment. From how to use a wax seal yourself, to how to mail wedding invitations with wax seals, to the ins and outs of creating a custom insignia with a seasoned pro, we're not keeping our lips sealed (pardon the pun) with this insider info. So light your taper candles, break out your quill pen and get ready to put wax seal stamps at the top of your wedding invitation checklist.
In this article:
How are wedding wax seals made?
Wedding wax seals are made using two key components: a stamp and sealing wax. According to Vidhi Dattani, founder and creative director of artisanal stationery producer Vidhi Dattani Designs, wax seal stamps typically have a head forged from brass, which is laser engraved one thin layer at a time to add depth to the design (taking anywhere from five to 35 hours), and a wood or metal handle. She says: "Sealing wax, traditionally, was made out of beeswax, coloring pigments and turpentine. Today, for wedding wax seals specifically, there is a more flexible wax option which is made from shellac or paraffin wax with resin added to it. Shellac is preferred to beeswax because it hardens much faster and without a waxy residue. The resin makes the wax more flexible and, hence, more practical for mailing letters."
Once you've acquired the necessary components, it's time to put them to work. Here's how to make a wax seal for wedding invitations: First thing's first, close your envelope with glue, tape or the attached adhesive (wax seals do hold the envelope shut to a degree, but the extra insurance is recommended). Next, select your sealing wax. Dattani prefers the precision of the glue gun-compatible version, which you can simply pop into a standard glue gun, heat on a low setting and keep its temperature regulated by shutting the glue gun off periodically (scorching wax is runny, while too-cool wax won't leave a lasting impression). Once it's ready to go, drizzle a dollop the size of a quarter on your envelope flap seam, firmly press your stamp of choice into the wax and release after a few seconds. Done! "A pro tip: always have a bowl of ice cubes nearby to cool your metal wax stamp and wipe off the excess condensation with a dry paper towel," says Dattani. "If the stamp gets too hot, then it won't release easily and might distort the impression."
If you're looking for the look of a wax seal without the labor, many companies also offer peel-and-stick wax seals that have a strong adhesive—no extra materials required!
How are wedding wax seals used?
Nowadays, wax seals err on the decorative side, especially on the wedding front. Wedding wax seals are most commonly used as a pretty flourish on some elegant wedding invitations—whether it's on the outer envelope or to help fasten belly bands surrounding the cards inside—but can also appear as a cohesive design element across your greater wedding paper suite (menus, place cards etc.). But historically, the detail played a big part in ensuring the security of steamy love letters and other important snail mail. "They worked as a form of security, holding letters closed and revealing when they have been opened for the first time with the break of the wax," says Lowe. "Different images and wax colors often communicated either the identity of the sender or the sentiment contained within (blue for passion, pink for congratulatory blessings, black for sympathy or general correspondence in red or rose)."
Can you mail wax seal wedding invitations?
Wax seals can totally go through the mail if you take a few precautions to ensure they'll be protected en route to your eager guests. The most important thing is to be sure to hand-cancel your wedding invitations (which we recommend anyway, wax seal or no wax seal). Basically, that just means a postal service worker will process them by hand and won't send them through a machine that could squish any delicate details or smack your exposed seals clean off the envelopes.
Do wax seals require extra postage?
While the presence of a wax seal in and of itself doesn't require extra postage, anything that makes your envelope irregular or a little heavier will require an additional charge. For example, wedding invitations—as aforementioned—should be hand-canceled and that will cost an extra $0.40 per envelope. A wax seal will add a little weight to the paper, too, so if it takes you over the weight limit up to the next ounce (from, say, under one ounce to between one and two ounces), you'll need some extra wedding invitation stamps. "The best way to get an accurate postage estimate is to bring a fully assembled sample of your mail to your local post office," says Jennifer Paquet, Director of sales and Business Development at Artisaire, which specializes in all things wax seals.
Do wax seals hold up in the mail?
Exposed wax seals are pretty delicate, so you'll need to put in a little extra TLC to make sure they're safe. "Don't simply trust the additional postage to get your sealed envelopes into the right place in the postal system, instead take them into your local branch and tell the clerk they are non-machinable," says Lowe. "They will confirm you have adequate postage and then place them into a separate bin for manual sorting. Skipping this step could mean that your envelopes go through the machines and your wax seals may or may not survive that journey." Another tip from Paquet: "After packing and embellishing your envelope, you can place it into a larger outer envelope for mailing. This will ensure scuffing does not affect the beautiful work you have put so much time and thought into."
How to design custom wax seal wedding invitations
If you're looking for a super-special insignia to adorn your wedding invites, we recommend finding a stationery professional to help you craft a custom wax seal for your wedding that's personal to you. (There are plenty of talented artisans on The Knot Vendor Marketplace, if you don't know where to start your search.) When creating custom designs for clients, Dattani uses a variety of custom graphic elements, shapes and colors to produce different digital renderings for the couple to choose from. Those are further refined based on the couple's feedback until they are completely happy with the final design. "What makes wedding wax seals so special is the extra layer of personalization—it's a way to express the couple's creativity and sense of style," says the stationery expert. "A portrait of a beloved pet, a family crest, a sentimental something or—instead of an impression—dried flowers, feathers and other elements can be used for yet another uniquely tactile touch."
If selecting every detail of a fully custom design gives you decision fatigue, opt for a semi-custom seal. You'll only need to choose elements like a font or a color and you can leave the rest to the professionals.
Where to buy wax seal stamps and supplies
If you're looking to get hands-on and wax seal your stationery yourself, good for you! Below, you'll find a handful of our favorite spots to scoop up your stamps, sealing wax and additional supplies.
Etsy: Given Etsy is a true treasure trove of artisans, it's no surprise the retailer is one of the top shops to buy wedding wax seals. You'll find lots of shops that offer custom and semi-custom seal designs featuring everything from monograms to dried flowers as well as ready-assembled wax seal kits to save you from finding each element individually.
Minted: There's such a quiet elegance when it comes to Minted's self-adhesive wax seal designs. Not only do they feature the classic stamped icons (like a bunch of lemons and a sprig of eucalyptus), but there are also text options adorned with phrases like "save the date" and "thank you." But it's the watercolor painting-like options that really have our heart, with delicately rendered wildflowers, pine trees and more gorgeous imagery.
Artisaire: Artisaire offers everything you could possibly want when it comes to wax sealing your wedding invites. There are ready-made options with built-in adhesive and stamps decorated with designs like lighthouses, desert landscapes and orchid blooms. But the retailer also offers both semi-custom and fully custom wax seals and stamps, so the sky's the limit when it comes to what you can create. Plus, they offer every shade of wax you could dream of, from dusty rose to autumnal bronze.
Check out these wedding wax seals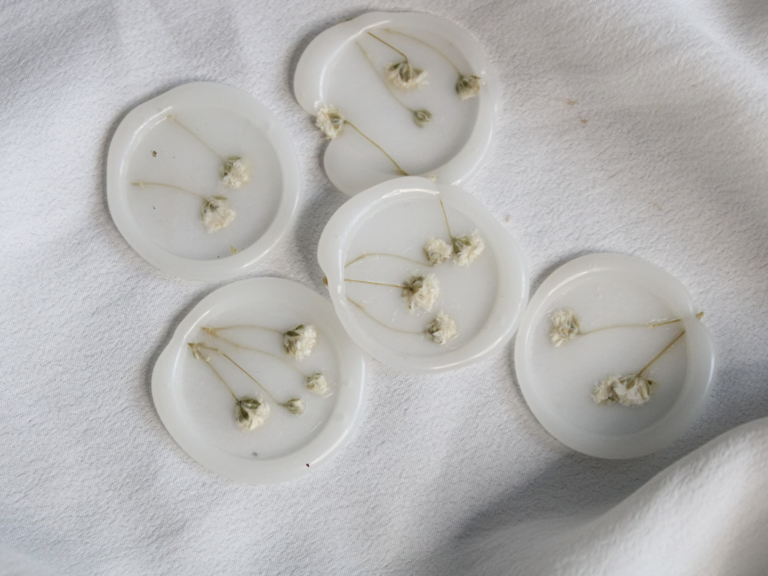 Delicate, real baby's breath blooms sit at the center of these romantic wax seals. We also love how the wax looks a little more transparent than a typical wax seal, adding to the ethereal vibe. So romantic.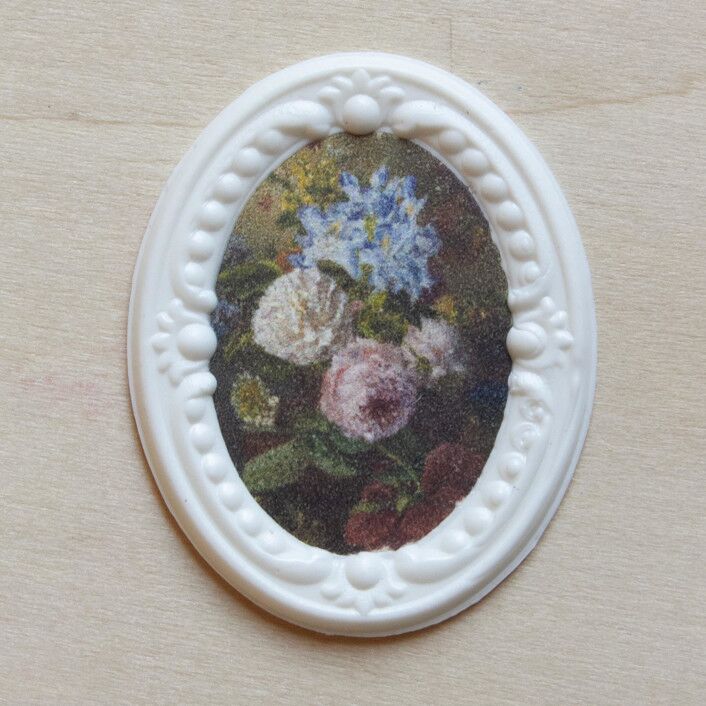 How dreamy is this fine art-inspired wax seal? It features a petite floral painting surrounded by an ornate white, antique-like frame. Just imagine how lovely this would be adorning correspondence for a spring wedding or nuptials at an art museum.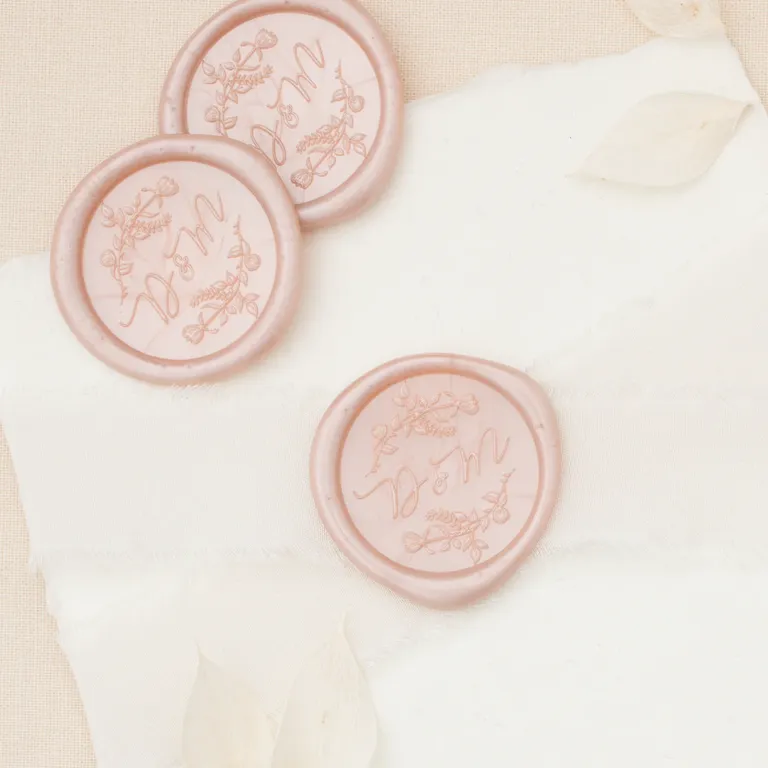 These are some of our favorite monogrammed wax seals we've seen—how stunning is that delicate script? The detail in each branch above and below the monogram is incredible, with perfectly rendered leaves and blooms. The best part: You can swap out the font for a look that fits your style and choose your color (we're partial to the pearlescent hues).