These Should Be the First People to Hear About Your Engagement
Don't let these VIPs hear your news from someone else.
by The Knot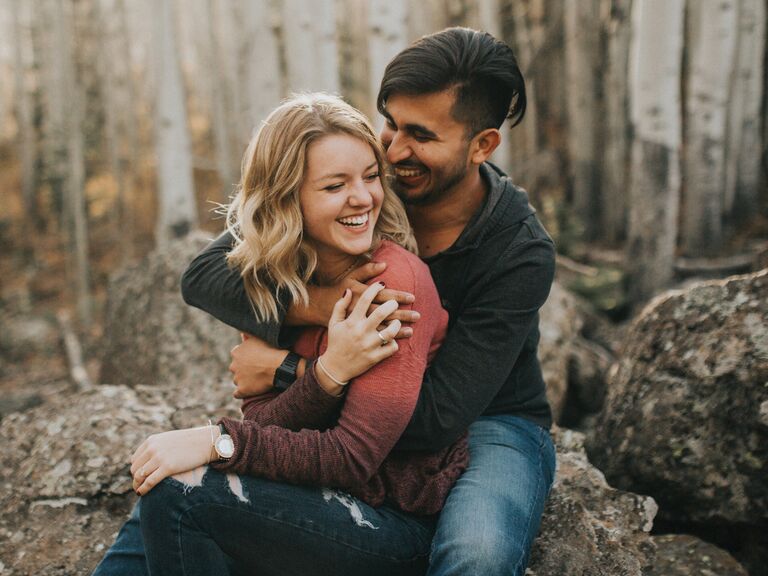 There are very few times more exciting than the hours following your engagement. You'll be overwhelmed with joy and want to jump at the chance to tell everyone you've ever met. But who should hear the news first? Of course, everyone's family and friend dynamics are different, but one thing's for sure: Tell your nearest and dearest in person (if you can) before posting on social media or making any other public announcents. When you're ready to share your happy news, here's who deserves to hear it first.
1.  Kids
If either of you has children from a previous marriage, they should always be the first to know—yes, even before your parents or ex-spouses. They're the ones getting a new stepparent (and maybe a stepsibling or two), and they'll need time to process. Give your kids lots of undivided attention: The two of you should have a one-on-one with each child, if you can.
2. Parents or Guardians (or a BFF)
Next, visit or call your parents—and if you don't have kids, parents or parent figures should come first. They deserve to hear the news before anyone else and share in your joy in its purest form. But pecking order does depend on how close you are and how they feel about your relationship. If yours is a circumstance where your parents won't be thrilled, it's beyond fine to turn first to a best friend or close relative who'll be overjoyed and supportive. Likewise, if you're not speaking with your parents for whatever reason, send them a thoughtful letter, at the very least, instead of leaving them out of the loop. Now's a time of new beginnings—hopefully the spirit will be contagious.
How you tell your folks depends on how well they know your partner and your partner's parents. Unless both your parents are already great friends, tell one set of parents at a time, so they'll be able to express their emotions freely and get quality time with the to-be-weds. Invite them over for dinner, wait until your next planned get-together or cut right to it with a phone or video call.
Are your parents meeting your partner for the first time? Sounds like an awesome excuse for a trip home! But be careful, introducing them and announcing your engagement on the same occasion isn't the right move for everyone. If you need to, wait until at least the second visit.
It's also okay—sometimes even best—to break the news to your parents without your partner. If they're less than enamored with your partner, get overprotective, have concerns about religious or cultural differences, they might need some time to process and hash things out. Telling them solo means you'll be able to talk openly without bringing your new fiancé into any tense conversations.
3. Immediate Family
Once your parents know, tell the rest of your immediate family members (or besties, depending on your family size or specific dynamic). Siblings, especially if they're much younger, should hear it straight from you.
4. Extended Family and Friends
If you haven't told your BFFs by now, definitely do so. Then don't forget the rest of the fam: Aunts, uncles, grandparents and cousins will be so happy to hear from you (even if your parents or sibs have already spilled the beans). Before doing the big social media sweep, consider getting in touch with any other close acquaintances you wan to tell, or who you think would be hurt if they found out through the grapevine. 
5. Go Public
Before you drop the mic on Instagram, do a last-minute check to make sure you've told, texted or called anyone in your family and inner circle of friends who'd feel snubbed if they found out online. It's much better to do a quick mental check than have to deal with an offended cousin or step-relative while you're on cloud nine.
When you're ready to post, go for it. When people call or text you, graciously thank them and tell them everything you want to—or text back and let them know you can't wait to tell them the whole story in person soon. You can also start building your wedding website to share your proposal story, wedding info and engagement photos as things start coming together (just be sensitive about sharing the link with those who'll actually be invited to the wedding).