The Most Romantic Restaurants in Chicago for Date Nights
Our 32 reputable Windy City picks serve up romance and fine fare.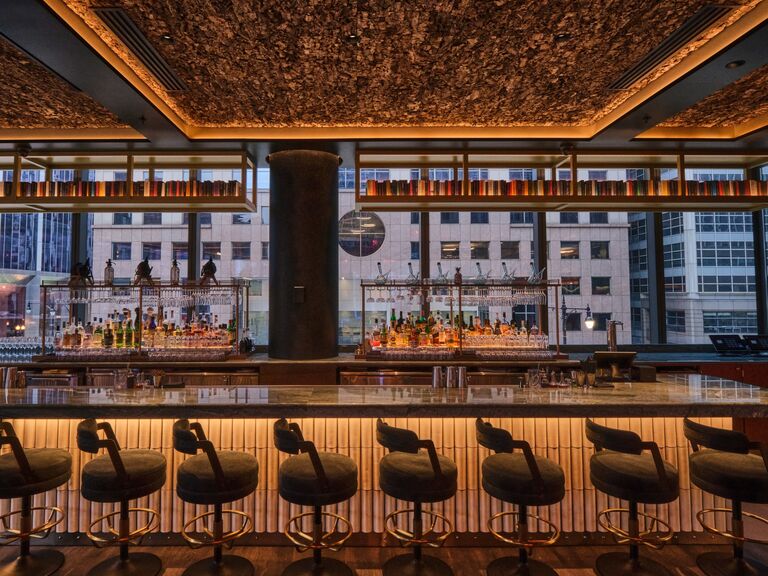 Bazaar Meat by José Andrés, The Loop

We have included third party products to help you navigate and enjoy life's biggest moments. Purchases made through links on this page may earn us a commission.
A dinner out makes for a quintessential date night, but some restaurants offer an extra helping of romance for couples. The most romantic restaurants in Chicago range in styles: some have views while others are cozy and intimate. There's plenty of variety too: seafood options, Italian spots, French fare and more. Nothing is off the table for date night in Chicago.
Chicago's romantic restaurants are ideal for celebrating Valentine's Day, a proposal, promotion or just another Saturday. Whether you're looking for an affordable spot to take someone on a first date or go all-out for a milestone anniversary, you'll find it in the Windy City. Consider these the 32 most romantic restaurants in Chicago.
Aba, Fulton Market District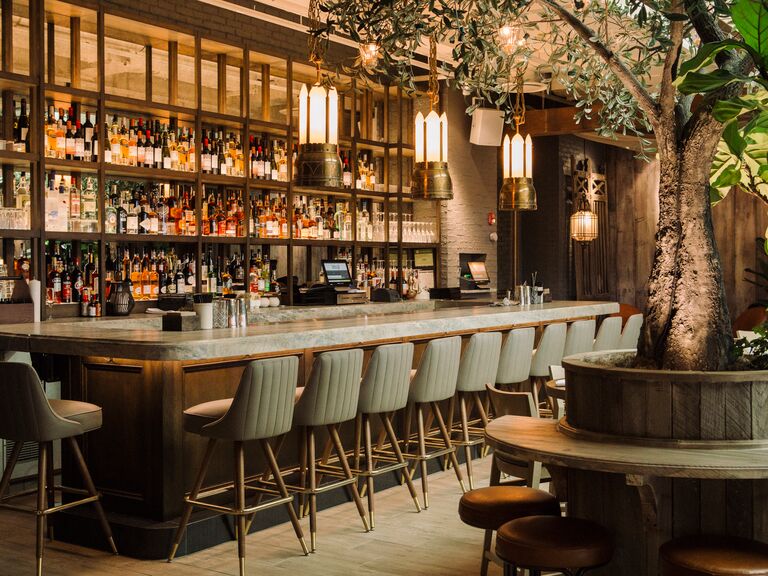 A rooftop patio and notable Mediterranean fare make a date night at Aba an easy way to elevate an anniversary celebration. The lounge-style seating blends comfort with cool and allows for fun double or triple dates. The menu draws inspiration from Israel, Lebanon, Turkey, and Greece. Expect classics made for sharing, like hummus, whipped feta spreads, and charred eggplant. The wine list is full of off-the-beaten-path vinos from around the Mediterranean region.
302 N. Green St., 3rd Floor, Chicago, IL 60607
Adalina, Gold Cost Neighborhood
Adalina, the high-end Italian restaurant with homemade pasta, has the elegance you'd expect from a spot in Chicago's historic Gold Coast neighborhood. It's designed for a special night out, especially for couples who want to dress to impress. Book a space in the smaller Rose Lounge for a more intimate experience catered toward cocktail-loving couples. The speakeasy-style area feels exclusive and hidden, and the next-level cocktail menu features creative twists on classics like margaritas.
912 N. State St., Chicago, IL 60610
Bavette's Bar & Boeuf, River North
A trip to a steakhouse automatically gives off "special date" vibes, and Bavette's Bar & Boeuf certainly fits that bill. The dimly-lit dining room, illuminated by decorative table lamps, offers immediate date-night appeal. As for the food, the flavorful French sourdough bread is known for being "love at first bite," and the steaks are cooked to perfection. Fair warning: Bavette's isn't a hidden gem, and waits for tables are the norm. Reservations are recommended to prevent a hangry date.
218 W. Kinzie St., Chicago, IL 60654
Bazaar Meat by José Andrés, The Loop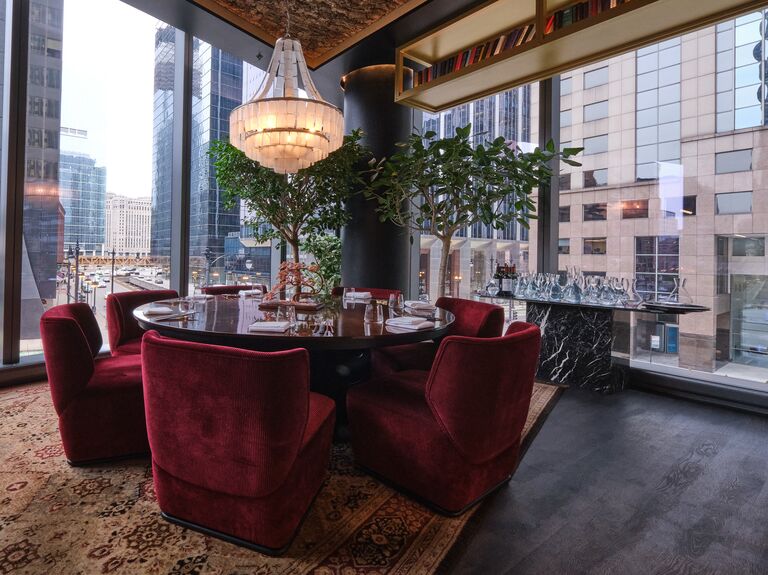 This restaurant has an upscale ambiance with prices to match—which is why Bazaar Meat is an establishment for special occasions. Dine at tables underneath sparkling chandeliers. The surf 'n turf menu is a carnivore's delight, as you may have gathered from the name. Steaks, tenderloins, and rib eyes all make appearances in various forms. There's also a "say when" caviar menu, where the staff will serve you until you tell them you're all good.
120 N. Upper Wacker Dr., Chicago, IL 60606
Beatnik West Town, West Town
When designing the space, the Beatnik team took inspiration from three countries: the colors of Morocco, the music and artistry of France, and the "sexiness" of Itay. Such groundwork has paved way to a space with sparkling chandeliers, throw rugs and a wooden interior, all of which combine to give this romantic Chicago restaurant a farmhouse-elegant look. The menu has approachable new American fare. Couples who brunch can rejoice too—it's available starting at 10 am on weekends.
1604 W Chicago Ave., Chicago, IL 60622
Bistro Campagne, Lincoln Square
If anyone knows how to combine romance and beauty, it's the French. Bistro Campagne, an upscale French eatery in Lincoln Square, certainly draws inspiration from the country that inspired its seasonal menu. Simply put, it's one of the most beautiful restaurants in Chicago. The small, intimate interior is warm, inviting, and cozy but elegant with its white tablecloths and dark wooden furnishings. On a warm day, ask to be seated outdoors in the courtyard patio, tastefully lit with glimmering string bistro lights.
4518 N. Lincoln Ave., Chicago, IL 60625
BLVD Steakhouse, West Loop
BLVD Steakhouse has a wide selection of champagne and other sparkling wines, making it the perfect spot to celebrate something special. The rest of the wine list is also highly regarded as the establishment has been honored with Wine Spectator's "Award of Excellence" every year since 2019. In other words, there's plenty to order when you want to clink glasses. The ambiance is stylish and sophisticated, with whitewashed walls, long and elegant draping and muted gray seating.
817 W. Lake St., Chicago, IL 60607
Brass Heart, Uptown
This Uptown restaurant is a hidden gem. With only 20 tables, Brass Heart is an intimate spot for actual conversation. The seasonal, eight-course tasting menu includes toast-worthy cocktails like Tequila Sunrises and wine pairings. Brass Heart may fall under "fine dining," but there's no snobbery in these parts. Expect friendly service too.
4662 N. Broadway, Chicago, IL 60640
Boka, Lincoln Park
One look at the intimate, six-table back patio, and you'll know why Boka is considered one of Chicago's most romantic restaurants. The oak tree, illuminated by string lights, serves as a gorgeous centerpiece. Michelin-starred executive chef Lee Wolen's menu changes by the season and includes shareable and sophisticated tapas-style starters like foie gras toast and dry-aged beef tartare. There are also tasting menus that include up to seven courses and can include wine or non-alcoholic pairings for adventurous foodies.
1729 N. Halsted St., Chicago, IL 60614
Ciccio Mio, River North
This sometimes-overlooked restaurant epitomizes a date-night destination. It's small and intimate with a cozy fireplace for warmth, especially when the Windy City is living up to its moniker. Dim lighting gives it a sultry feel, and chandeliers add a touch of throwback glamour. The food at Ciccio Mio is comforting too, including staples like chicken parmesan and every pasta dish, all impeccable options.
226 W. Kinzie St, Chicago, IL 60654
DMK Burger Bar, Lakeview
This cool, laidback spot has an approachable menu and trendy interiors, making it a safe spot for a first date. Couples can expect flavorful grass-fed burgers with traditional and unexpected fixings at DMK Burger Bar. (Think fried eggs, blueberry BBQ sauce, and eggplant.) Vegetarians are welcome in these parts too. Toast to new adventures with something off the rather long beer menu. Wine, cocktails, and even homemade soda are also on the menu.
2954 N Sheffield Ave., Chicago, IL 60657
Ever, West Loop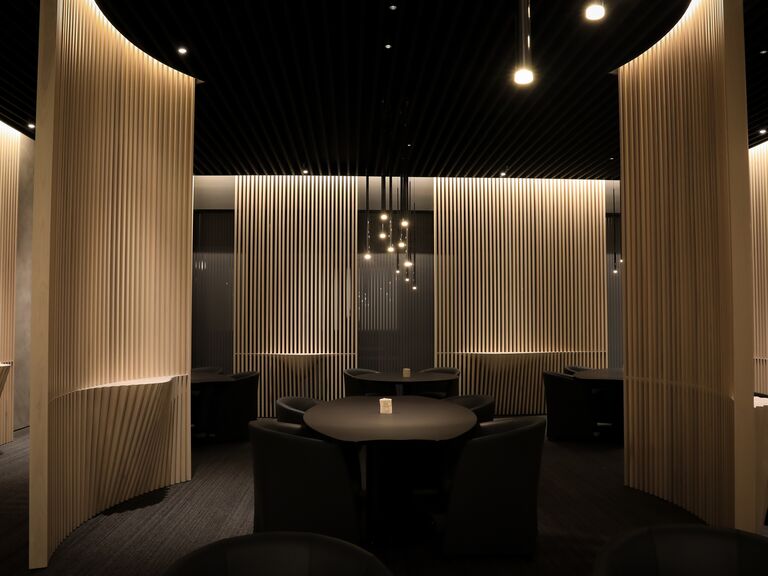 Ever, the name of the establishment itself, exudes romance. The Michelin-starred spot is upscale and certainly a prime candidate for one of those kinds of dinners. The eight-to-10 course tasting menus are seasonal with surf and turf themes. Ever's menu changes frequently, so there's always room for adventure; plus, wine pairings. The spot is ideal for couples looking to taste, converse and stay for a bit as dinners typically last a little under three hours.
1340 W. Fulton St., Chicago, IL 60607
Geja's Cafe, Lincoln Park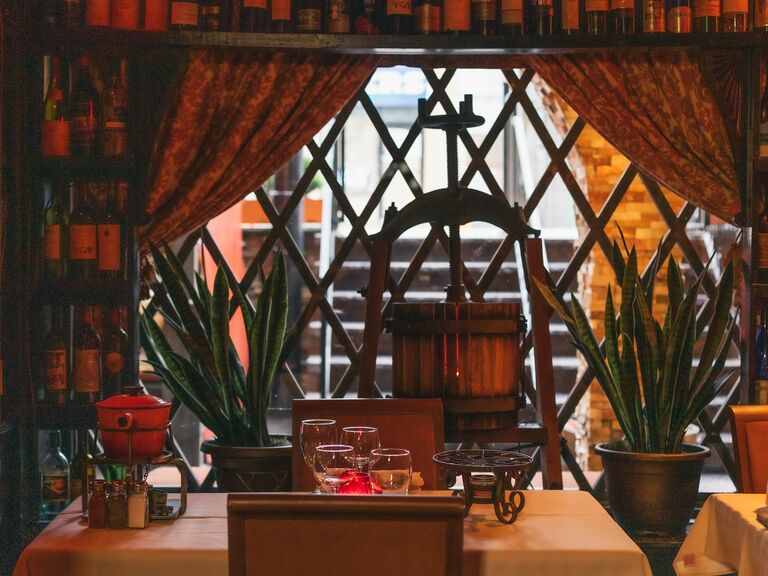 The foodie scene can be fickle, but Geja's Cafe has stood the test of time. The intimate, cozy space is nearly 60 years old. The restaurant is warm and romantic, and the service is friendly. But the fondue dinners are the real draw. Expect assorted bread, vegetables, and fruits made for dipping into the savory and legendary Swiss Gruyere cheese fondue. For those with sweet tooths: there's a Belgian chocolate fondue on the dessert menu.
340 W. Armitage Ave., Chicago, IL 60614
Gene & Georgetti, River North
This iconic Chicago restaurant has been a date-night destination for more than eight decades. Gene & Georgetti is the city's oldest steakhouse. With its vintage-inspired interiors, including chandeliers and red leather chairs, the restaurant has a throwback appeal. Though steak is big here, seafood also has its place. The fried calamari is noted, and there's always a catch of the day. Generous portions make dinners easy to share with your loved one.
500 N. Franklin St., Chicago, IL 60654
Gilt Bar, River North
Stepping into this upscale-but-approachable restaurant feels like stepping back to the age of Gatsby or into the library scene in Beauty and the Beast. The dimly-lit, vintage-library aesthetic is dark and brooding, but gorgeously romantic. Dark wooden furnishings and beautiful studded, cushioned red chairs give it a sophisticated vibe. For a true Prohibition-era experience, reserve a table in Gilt Bar's library, where you'll enter through an anonymous door and don't forget to order a martini.
230 W. Kinzie St., Chicago, IL 60654
il Porcellino, River North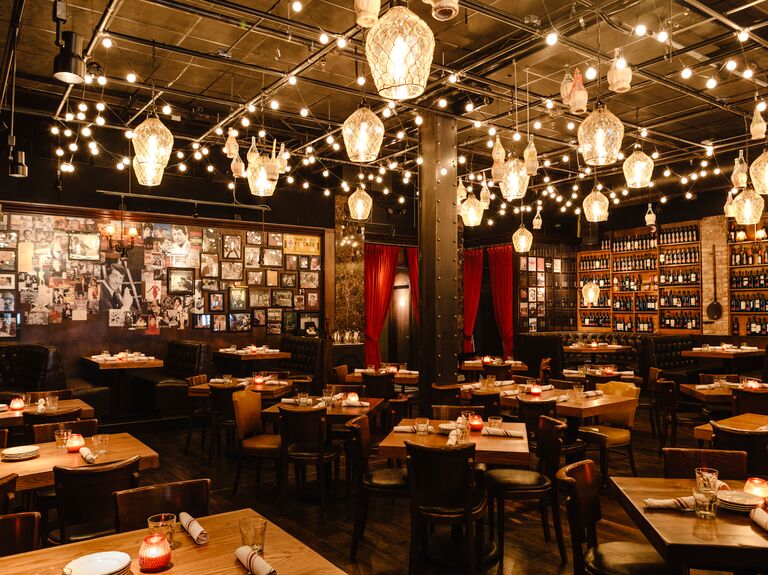 Comfort food is the order of the day, every day, at this establishment located in the heart of downtown River North. It's ideal for any type of date night, but il Porcellino is an especially impressive-yet-approachable spot for a first outing. The culinary team rather leans into time-honored Italian classics, like calamari and housemade spaghetti with meatballs.
59 W. Hubbard St. #2, ​​Chicago, IL 60654
Little Madrid Tapas-Café, Andersonville
This small storefront restaurant is one of Chicago's best-kept secrets. With flavorful dishes and major date-night appeal, Little Madrid's intimate setting means couples can focus on one another. The lauded Spanish-inspired fare also lives up to the rave reviews from in-the-know Chicago foodies. Small plates like tortillas and chicken-stuffed, Spanish-style creamy croquettes invite sharing and discussions. On a balmy evening, dine al fresco. Candlelit outdoor seating is also available.
5661 N. Clark St., Chicago, IL 60660
Mon Ami Gabi, Lincoln Park
This bistro serves classic French fare like streak frites and French onion soup in an upscale, approachable setting. With dark interiors and white tablecloths, Mon Ami Gabi exudes an elegant-yet-homey feel. Every evening begins with an authentic French baguette and perhaps champagne—which, of course, is on the menu. It's perfect for celebrating or simply having one of those kinds of dinners with that special someone.
2300 N Lincoln Park West, Chicago, IL 60614
Moody Tongue, South Loop
At Moody Tongue, couples can find a 12-layer German chocolate cake is on the menu. (Yes, you read that right.) It's arguably the most indulgent way to end a special night in Chicago with your favorite human. Moody Tongue is a culinary brewery with a hip vibe, offering an exotic beer menu and fresh oysters. Where most restaurants offer wine pairings, expect beer pairings on the menu. It is also the only brewery with two Michelin stars in the world.
2515 S. Wabash Ave., Chicago, IL 60616
Monteverde Restaurant & Pastificio, West Loop
If Italian food is your date's love language, the way to their heart is easily accessible with a reservation at this beloved West Loop restaurant. Monteverde Restaurant & Pastificio puts contemporary twists on Italian classics like grilled octopus, meatball ravioli, and carrot and lamb merguez lasagna. The food menu alone makes it an approachable-but-adventurous date-night spot. A comprehensive list of available wines and cocktails gives couples plenty of options for toasting to a new engagement or milestone anniversary.
1020 W Madison St., Chicago, IL 60607
North Pond, Lincoln Park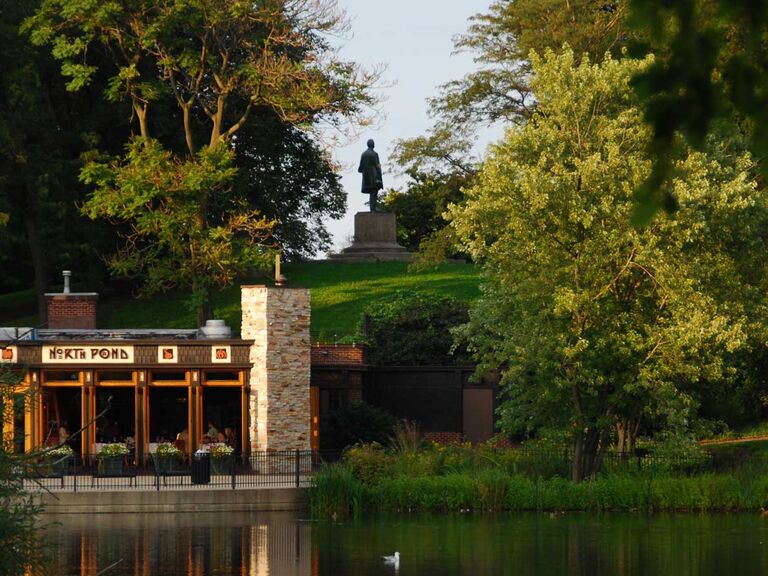 This farm-to-table restaurant is in the heart of Lincoln Park and has stolen the hearts of locals and visitors to the Windy City alike. The airy and intimate dining room at North Pond has small candlelit tables for two. The seasonal, Michelin-starred tasting menu with optional wine pairings turns a date night into a culinary adventure. Despite changes, elegant favorites include foie gras, rabbit and to-die-for dark chocolate cake. There's also a brunch menu.
2610 N. Cannon Dr., Chicago, IL 60614
Piccolo Sogno, West Town
This West Town restaurant is known for its wood-burning oven, ample wine list, and charming garden with seating. Piccolo Sogno's cheery yellow umbrellas provide the perfect covering for conversations over the perfect slice of pizza. Its ivy-covered trees add tranquility too.
464 N Halsted St., Chicago, IL 60642
Rooftop at Nobu Hotel, West Loop
This rooftop restaurant topping the Nobu Hotel provides stunning skyline vistas, perfect for a special night out for both visitors and locals. Walk-ins are welcome, making it a win for couples looking for spontaneity. The views can feel like the main course at the Rooftop at Nobu Hotel, but don't sleep on the Japanese-inspired menu that includes sushi.
155 N Peoria St., 11th Floor, Chicago, IL 60607
RPM Seafood, River North
Just walking into RPM Seafood feels like a breath of fresh air. The sprawling, multi-level space is light and airy. Greenery adds natural pops of colors without taking away from the crisp ambiance. The dramatic river views are rivaled only by the seafood, which includes a tangy citrus-cured salmon and savory king crab mac and cheese. Seafaring couples can splurge on seafood towers perfect for sharing.
317 N Clark St., Chicago, IL 60654
Shanghai Terrace, Magnificent Mile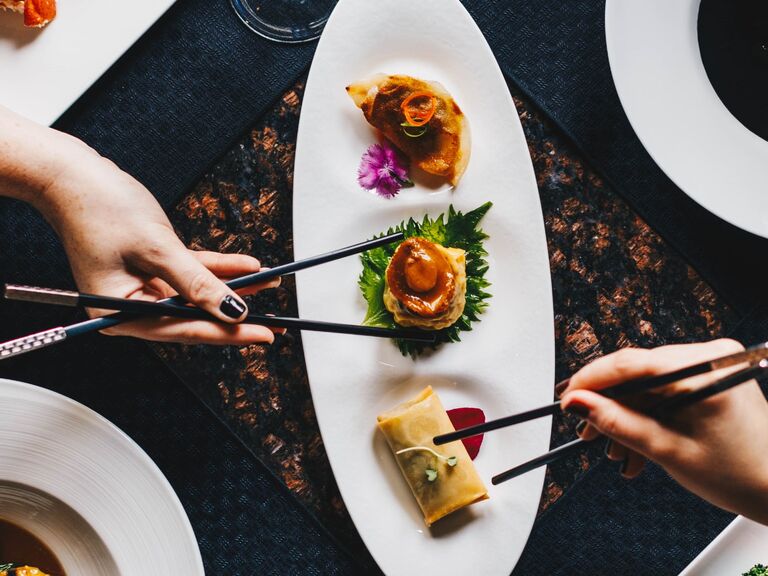 Located in the Pennisula Hotel along the Magnificent Mile, Shanghai Terrace is one of the city's best Chinese restaurants. It also gets points from hopeless romantics for its 1930s-era decor and terrace with sweeping city skyline vistas. In the winter, the terrace becomes a skating rink: a popular spot to pop the question. Inside, glistening chandeliers and towering ceilings give the establishment an air of sophistication. Dim sum is a must.
108 E. Superior St., Chicago, IL 60611
Smyth, West Loop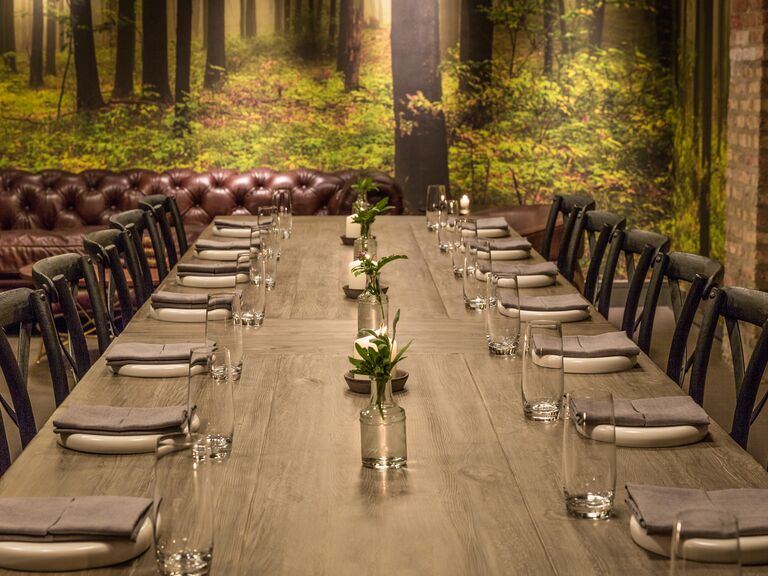 Wooden furnishings, interior brick walls, an open kitchen, and large windows give this restaurant an elegant but approachable vibe. The ambiance is informal and friendly, but the dining experience is what makes Smyth so special. With two Michelin stars, the establishment is an elevated spot for a romantic evening out.
177 N. Ada St. #101, Chicago, IL 60607
Superdawg Drive-In, Norwood Park
A hot dog stand with carhop service may not immediately scream "romance," but stick with us here. This affordable spot provides a no-fuss, all-fun and retro drive-in experience that's perfect for a first date or late date. (It's open until 2 am on weekends.) Grab a pair of straws to split a so-creamy malt super shake. Burgers, waffle fries, and all-beef Superdogs made from a passed-down family recipe are also on the menu. Pro-tip for Superdawg first-timers: Don't put ketchup on your Superdawg.
6363 N. Milwaukee Ave., Chicago, IL 60646
Tao Chicago, River North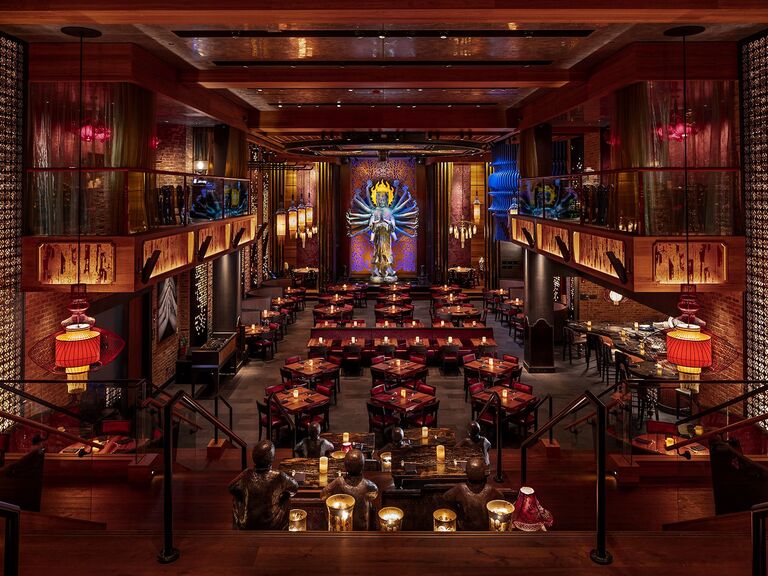 Tao Chicago is the city's outpost of the New York establishment that rose to fame during the early seasons of Sex and the City. The sprawling 34,000-square-foot Chicago space turns into a nightclub for dancing until sunrise. Adventurous couples are welcome to stay. For those who simply want dinner, and a scene, can find it here.
632 N Dearborn St., Chicago, IL 60654
The Duck Inn Bar & Grill, Bridgeport
This casual neighborhood watering hole is a perfect spot for a no-fuss first date. Retro booths give the Duck Inn Bar & Grill some style points, though its rotisserie duck is one of the most underrated Chicago attractions. The dish is tender and flavorful, courtesy of three hours of slow roasting. For an authentic-but-low-key Chi-Town experience, opt for the Duck Inn Dog served with homemade mustard and relish.
2701 S Eleanor St., Chicago, IL 60608
Travelle, River North
Situated inside the Langham, a swanky hotel with an on-site spa, Travelle is an easy spot for dining. Lounge seating gives the establishment a touch of sophistication, while large windows open up to the city's famed river vistas. Speaking of windows: Travelle's frame the bar, making it an ideal spot for a cocktail before dinner.
330 N Wabash Ave., Chicago, IL 60601
Virtue, Hyde Park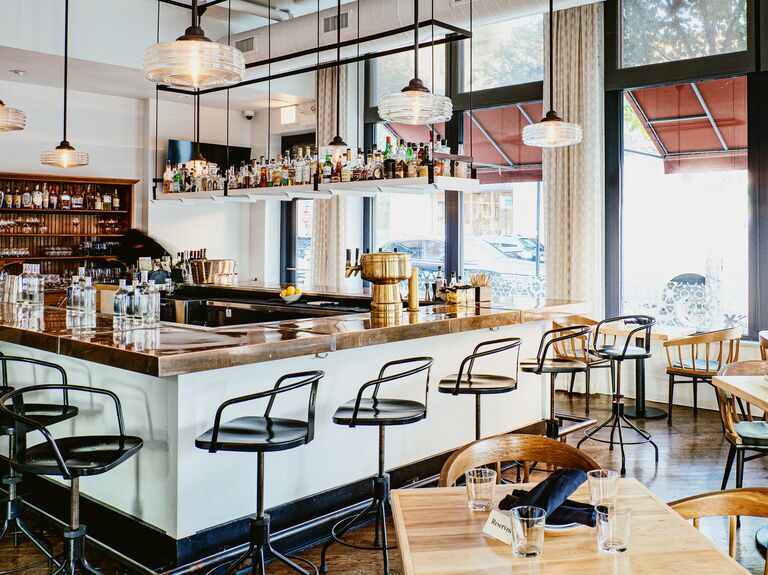 This trendy restaurant boasts a James Beard Award-winning chef and southern fare that hits the spot. (Imagine otherworldly mac-and-cheese you won't want to share… even with your main squeeze.) Virtue's steak for two also screams "date night." The open kitchen provides a unique atmosphere. And the staff is known for being friendly, even by Midwest standards, so you'll both feel like royalty. It's an ideal way to break out of a date night rut or to impress a new partner.
1462 E 53rd St., Chicago, IL 60615
Wherewithal, Avondale
This happening spot changes its tasting menu daily. A trip to Wherewithal is an exercise in spontaneity and good food. The greenery-filled space with light gray walls offers tranquility to a dining experience that otherwise leans into surprises. It's intimate with only 50 seats, which book up quickly. Reservations are needed and often must be made well in advance.
3472 N Elston Ave., Chicago, IL 60618