The Most Popular Places to Propose, What Usually Goes Wrong and More Proposal Stats
Did you know that only 13 percent of proposals go according to plan?
by Andrea Fowler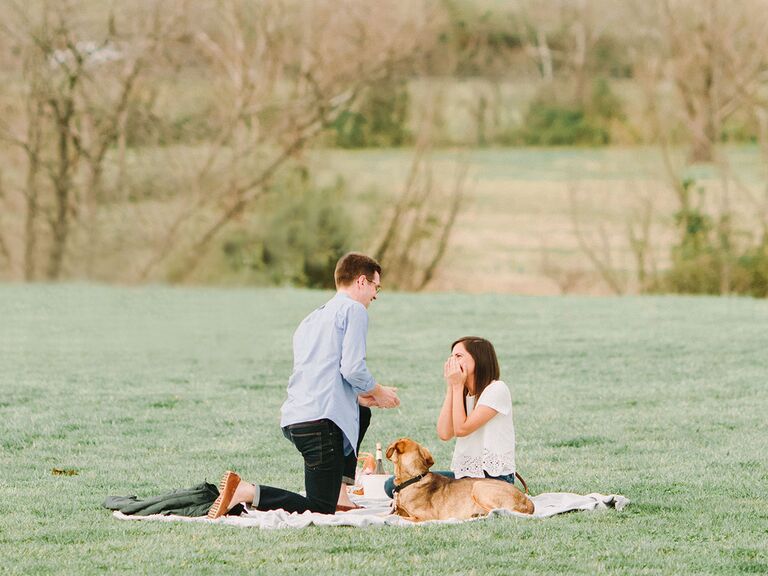 Meredith Sledge Photography
All Speeches Great and Small, an independant wedding speechwriter service by Adrian Simpson, surveyed over 500 grooms in the UK, Republic of Ireland, North America, Australia, New Zealand and South Africa to figure out what goes right during a marriage proposal, what goes wrong and how to avoid the latter.
The outcome? "Men are too ambitious and indulgent when it comes to proposing. Why pop the question somewhere quiet, meaningful and subtle when you could do it in the middle of one of the world's busiest cities, coordinate it with a 21-gun salute and then water-ski to lunch?" Typical men, amirite?
The study continues to say that men's perception of romance is made up of big, blingy gestures with as many moving parts as possible. How could anyone perform under that pressure? Apparently the answer is 65 out of 500 men could.
That's right, only 13 percent of proposals go according to plan, and even more than that, only 10 percent of grooms actually said what they had prepared. That's not to say the proposals crashed and burned, but that's a lot of planning that fell to the wayside. What usually goes wrong? Locations are too crowded, stage fright kicks in or the location is closed.
Ironically, even being upstaged by witnessing a different proposal makes the top 10 list. Which translates to: If you're proposing in one of the most popular places to pop the question (the Empire State Building or Central Park in New York, for example) you might run the risk of getting down on one knee next to another hopeful groom-to-be who intends to do the same thing. Other top locations include Sacre Coeur in Paris, The Shard and Primrose Hill in London, and Grand Central Station in New York. 
When it comes down to it, Simpson has a gold nugget of advice to offer: "Tell her how much you love her, how much she means to you and then ask her to marry you."
Go check out the rest of the survey to get a rare peek into how men propose, what happens when they do and what prospective grooms can learn from their mistakes.