How Much Does It Cost to Get Married Around the World?
Learn the average wedding cost and guest count across 14 different countries.
While planning your dream wedding, you'll have to make a plethora of decisions so you can complete tasks on your wedding checklist. The first thing on your wedding checklist should be setting your wedding budget since all of your wedding decisions (from the venue to table settings) directly impact your budget. While determining your wedding budget, you may wonder, "How much is it to get married?" And if you're considering having a destination wedding, you may ask yourself, "How much does it cost to get married in each country?" So if you want answers to both of these questions, read the average cost of getting married below from The Knot Worldwide's 2019 Global Wedding Report, where we acquired feedback from more than 20,000 couples across 14 countries (including Argentina, Brazil, Canada, Chile, Colombia, France, India, Italy, Mexico, Peru, Portugal, Spain, United Kingdom and United States).
How Much It Costs to Get Married in Argentina
The average cost of an Argentina wedding is approximately $3,700, with roughly 125 guests in attendance. Simply put, the price tag is close to about $30 per guest.
Around the world, vendors are essential to help couples plan and pull off their ideal day—whether it's teeming with cultural traditions or designing a personalized installation to cater to the millennial pursuit of the unique and experiential event. In Argentina, the top vendors hired by couples were photographers (74%) followed by music and entertainment (57%). To Argentinians, a party is often accompanied by a lively dance floor and vivacious music.
How Much It Costs to Get Married in Brazil
Brazilian weddings edge out any other country with the highest percentage of hometown weddings at 57%, which means a little more than half of the couples choose to wed where they were raised. This means access to the venue is convenient for guests, averaging about 159 attendees per wedding in this particular country. The cost is nearly double the cost of a wedding in Argentina, rounding out to roughly $6,600.
How Much It Costs to Get Married in Canada
Couples in Canada have a longer average planning duration of about 14 months before the wedding day, and the most coveted month to host a wedding is in September—which is quite a lovely time to marry in the Northern Hemisphere. About 20% of Canadian couples choose to host their wedding in that time frame, whether they host an outdoor ceremony against the scenic backdrop of Banff or share their wedding in a cool, industrial venue in Vancouver's Gastown neighborhood.
So how much does it cost to get married in Canada? Due to higher average incomes, the guest count in Canada is similar to Brazil, with an average of 154 attendees per wedding. However, the cost is nearly 3.5 times the average cost of a wedding in Brazil, with Canadian couples putting down roughly $21,900 for their big day.
How Much It Costs to Get Married in Chile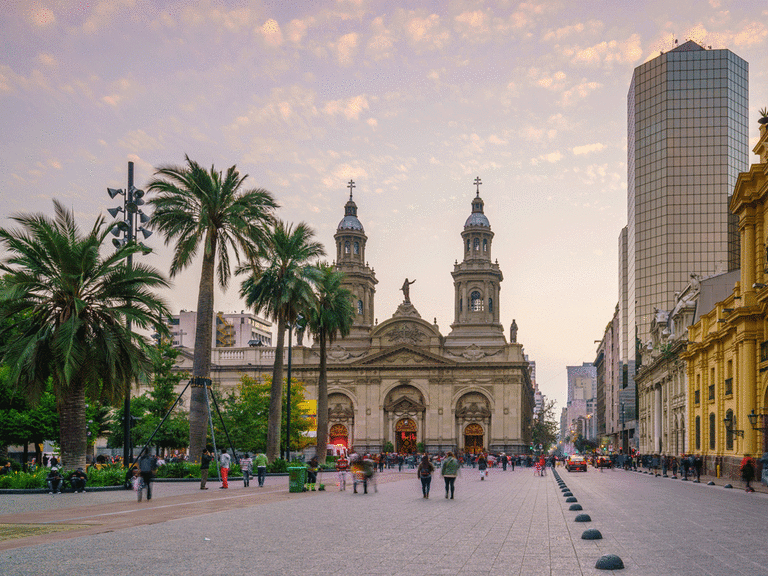 Unlike Canada and the U.S., October through February is the wedding season for couples hosting their nuptials in the Southern Hemisphere. Of course, that includes Chile. So how much is it to get married in Chile? Couples from this spectacular country, which geographically spans nearly the entire continent of South America, spend about $7,400 in average wedding costs on their approximate 114 guests.
Traditionally, guests at Chilean weddings are treated to a one-of-a-kind late-night party known as "la hora loca," which directly translates to "the crazy hour." Couples in Chile have the lowest percentage of hometown weddings (28%), unlike Brazilians, who nearly doubled that amount in terms of venue preference.
How Much It Costs to Get Married in Colombia
Out of all the countries in the world, Colombian weddings have the lowest average guest count, with 90 people per wedding. Colombian couples also have the shortest wedding planning timeline of just seven months, with 79% of them making sure to incorporate religion into the ceremony.
With the intimate guest count and a relatively no-frills approach to the big day, the average cost of a wedding in Colombia amounts to about $3,300. The most in-demand vendors for Colombian weddings include photographers (69%), jewelers for the rings (66%) and tailors for suits (55%).
How Much It Costs to Get Married in France
While couples in all other countries prioritized finding photographer vendors, to-be-weds marrying in France opted instead to seek out caterers first and foremost for the wedding day. French weddings typically include decadent desserts like the croquembouche—which is a surging trend in the U.S.—and a divine cocktail reception known as the vin d'honneur.
Want to know how much a wedding costs in France? The average number of guests at a French wedding is approximately 105 people per party, with couples being set back about $17,600 for the mouthwatering affair.
How Much It Costs to Get Married in India
Did somebody say massive party? India has the largest average guest count of about 524 people per wedding. Since Indian weddings are multi-day events—including the puja and the mehndi ceremonies—some of the events will veer toward a smaller size. However, the reception is a huge gathering that's typically paid for by the parents.
Due to numerous factors, the cost of weddings in India ranges from $15,000 to $22,000, which is a midpoint of spending for educated couples in the country. However, 20% of couples will spend more than $45,000. For context, the average middle-class person in India makes at least $14,000 a year.
How Much It Costs to Get Married in Italy
Renting a Tuscan villa is a fabulous choice—even if it comes at a hefty price tag. The average Italian wedding cost is slightly higher than its French counterparts––setting couples back roughly $22,500 for 114 guests. Out of all the countries, couples hosting weddings in Italy were the only ones to have flowers among its top three vendor categories. Roughly 68% of to-be-weds in Italy sought out florists, which was more than any other country.
How Much It Costs to Get Married in Mexico
The wedding guest count is the second highest in the world in Mexico, with the average number at 185 attendees per nuptial. Approximately one out of every two couples hosts a hometown wedding, which lends itself to a higher guest count. How much does it cost to get married in Mexico? The average cost of a wedding in Mexico is slightly above Brazil's at about $8,600.
How Much It Costs to Get Married in Peru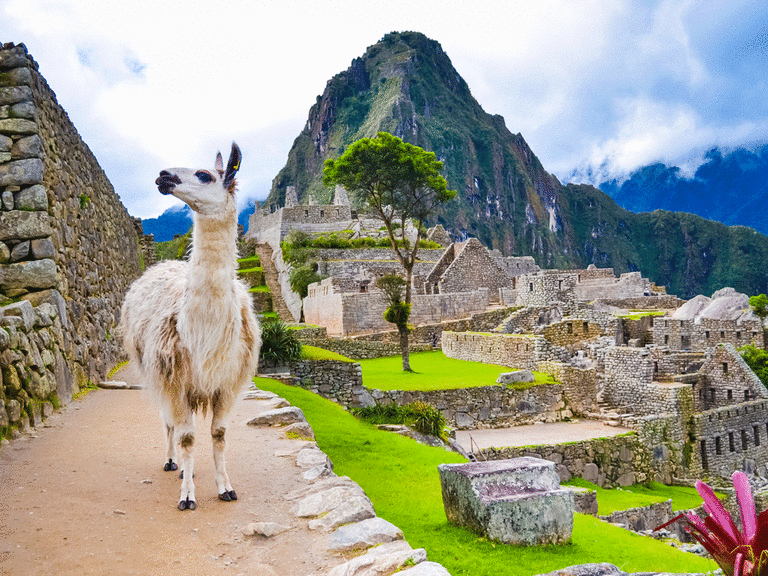 In countries like Peru, couples pay for about half of the wedding costs—and from there, a big percentage will take out a loan or incur some form of debt to pay for the nuptials. Based on that, how much is it to get married in Peru? The average cost of a wedding in a massive country like Peru is about $7,700 with 151 guests.
How Much It Costs to Get Married in Portugal
Weddings in Portugal cost $16,700 with an average of 126 guests. However, unlike Peruvian to-be-weds, couples in Portugal will rarely take out loans and credit card debt to pay for the wedding day. Only 7% of couples will take out loans to help pay for nuptial-related costs.
How Much It Costs to Get Married in Spain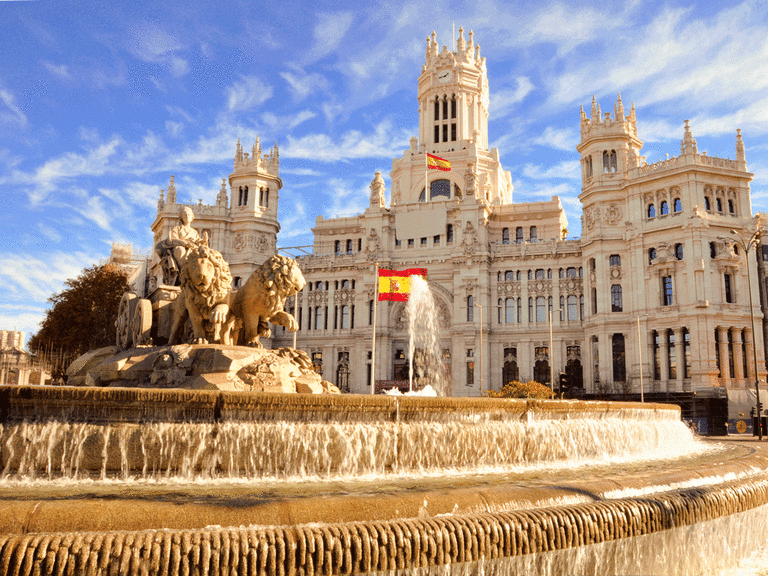 In countries like Spain, couples receive even more financial support from their parents and family members, who'll provide roughly two-thirds of their expenses. But how much is it to get married in Spain? The average cost of a Spanish wedding is $23,400 for a guest count of 130.
Couples in Spain place the biggest emphasis on vendors like the photographer (89%), the dress designer (88%) and music (73%).
How Much It Costs to Get Married in the United Kingdom
Couples in the U.K. have the longest wedding planning timeline of 15 months, but that's not the only factor that distinguishes British couples. In the U.K., Meghan Markle and Kate Middleton wore tiaras on their wedding days, and 22% of British brides choose to do the same.
How much is it to get married in the U.K.? Even with the longest lead time for planning, the U.K. cost of a wedding is still less than the average cost of a wedding in the U.S. Couples spend about $19,200 and have about 104 guests.
How Much It Costs to Get Married in the United States
No surprise here! According to The Knot 2021 Real Weddings Study, where we surveyed more than 15,000 U.S. couples married in 2021, wedding costs are the highest in the U.S. at $34,000 with about 105 guests in attendance. These costs are after a wedding planning period of roughly 16 months.
Fun fact: The Knot 2021 Real Weddings Study found that 50% of U.S. couples choose to marry someone of a different background. This stat included differing religious upbringings, ethnicities, regions of the U.S and much more.
Chapelle Johnson contributed to the reporting of this article.